Summary
Windows Automatic repair can get stuck in a loop of repairing, then restarting only to go back into the repair. There are a few quick fixes that will help most people get out of the loop. If these don't work, there are a few more advanced repairs that will get you out of the Windows Automatic Repair Loop in Windows 10/8.1/8. If you need to quickly access files from your stuck PC and save them elsewhere, you can download data recovery software.
PAGE CONTENT:
Overview of Windows Automatic Repair Loop

Three Quick Fixes for Automatic Repair Loop

Two Advanced Methods to Solve the Repair Loop
"My Windows 10 PC has been stuck in a Windows Automatic Repair loop for a couple of days. I didn't do anything differently, I just started my laptop and up came the "Preparing Automatic Repair" screen. It then rebooted automatically and goes right back into Automatic Repair. I figured I should just wait it out, but it's been caught in this loop for days now. How do I fix this?"
The Windows Automatic Repair Loop
Automatic Repair is a built-in feature designed to fix PC issues for you. But far too often, it can do more harm than good by getting stuck in a startup repair loop. It is a well-documented issue Windows 10/8.1/8 and there are two common variations of the Windows Automatic Repair loop:
1. Windows Automatic Repair gets stuck on a black screen with "Preparing Automatic Repair" error message.
2. Windows Automatic Repair fails and says, "Automatic repair couldn't repair your PC".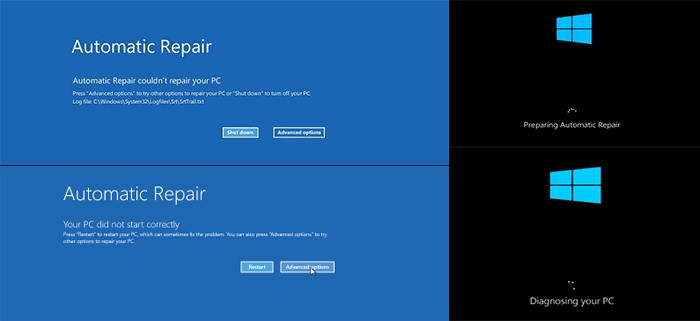 When Automatic Repair fails to complete and gets stuck in a loop, unfortunately, waiting it out usually does not solve the problem. However, there are reliable methods available to fix this issue, without requiring a Windows disc.
Quick Fixes for the Windows Automatic Repair Loop
Fix 1. Refresh or Reset PC
The official Microsoft solution to an endless 'Preparing Automatic Repair' loop is to directly refresh or reset the PC. They state:
"Upon the 'Preparing automatic repair' window, press-and-hold Power button 3 times to forcefully shut down the machine. The system will enter boot repair page after 2-3 times of reboot, choose Troubleshoot, then go on to Refresh PC or Reset PC."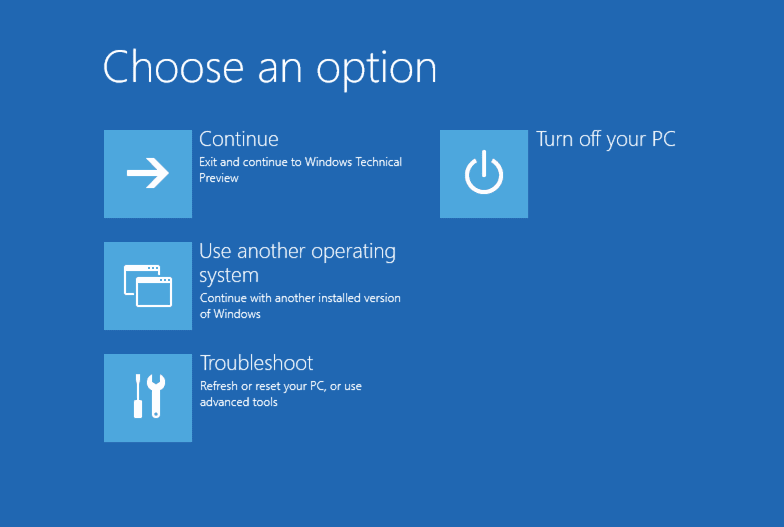 Fix 2. Disable Early Launch Anti-Malware Protection
Another way to get out of the Windows Automatic Repair loop is to disable early launch anti-malware protection. You can do this from Command Prompt in the Windows Boot Options menu which will begin to appear after your restart your computer several times.
1) Navigate to Troubleshoot > Advanced Options > Startup Settings. Your computer will restart then present you with a list of options.
2) Choose "Disable early launch anti-malware protection".
3) Restart your PC and check if you can boot into Windows.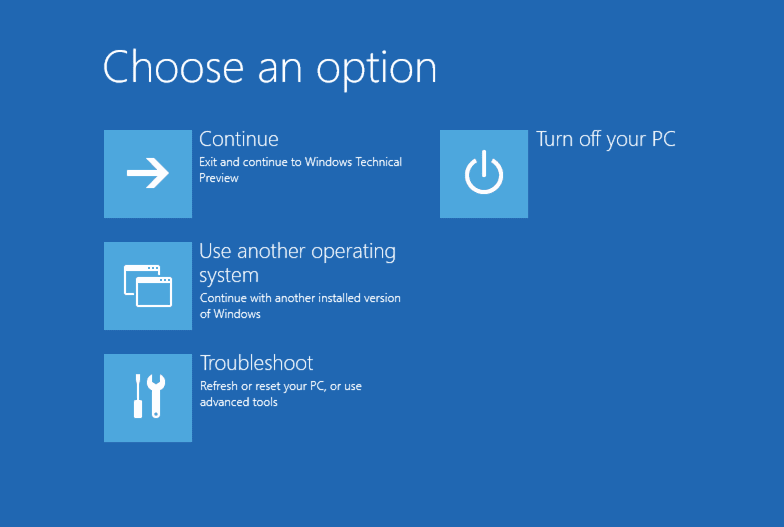 Fix 3. Delete a Problematic File
Occasionally Windows will be stuck in an Automatic Repair loop due to certain corrupt files. To check if this is your issue, and resolve it:
1) In the Windows Boot Options menu, choose "Troubleshoot > Advanced Options > Command Prompt".
2) In the command line, enter: C: cd Windows\System32\LogFiles\Srt. SrtTrail.txt
If you see something like Boot critical file c:\windows\system32\drivers\vsock.sys is corrupt, navigate to the specified location using the Command Prompt and enter the del command to delete the problematic file.

 Note

The corrupted file can vary, so you might need to navigate to a different folder and delete a different file in your case.
These are the quick fixes that can often get out of the Windows Automatic Repair loop with the least amount of effort. If they cannot help, continue on to the more involved solutions to resolve this issue.
Advanced Fixes for Windows Automatic Repair Loop in Windows 10/8.1/8
Method 1. Manually Repair MBR and Rebuild the BCD
If the Master Boot Record (MBR) and Boot Configuration Data store (BCD) are missing, corrupted, or not properly configured; Windows won't be able to start. If this is the case, to enter Windows, manually repair the MBR and rebuild the BCD.
To do this:
1) In the Windows Boot Options menu, choose Troubleshoot > Advanced Options > Command Prompt.
2) When Command Prompt appears, enter the following lines in succession:
bootrec.exe /rebuildbcd
bootrec.exe /fixmbr
bootrec.exe /fixboot
Method 2. Perform a System Restore or Reset
If the Windows Automatic Repair loop issue still exists, try the final method – perform a system restore.
1) In the Windows Boot Options menu, choose Troubleshoot > Advanced Options > System Restore.
2)Follow the Wizard instruction and select the appropriate restore point. Finally, click Finish to restore the system.
These are all the possible solutions that might fix the Windows Automatic Repair loop issue in Windows 10/8.1/8. If none of these solutions were successful for you, you can recover your data with EaseUS Data Recovery Wizard Pro with Bootable Media which is able to recover data when a PC won't boot or start. Save your data to another location, reinstall your OS, then restore your data. This is the last-ditch effort to save your PC. In most cases, the problem will be solved by one of the previous methods, so you won't have to go through the trouble. in Windows 10/8/7/Vista.
100% of people found this article helpful.
Frequently Asked Questions
1. Why choose EaseUS Data Recovery Wizard?

"EaseUS Data Recovery Wizard is the best we've seen. It's far from perfect, partly because today's advanced disk technology makes data-recovery more difficult than it was with the simpler technology of the past, but it's fast and efficient..." —PCMag

"The first thing you'll notice about EaseUS Data Recovery Wizard Pro is that its interface is very clear and uncluttered, with only a small collection of self-explanatory controls. You won't find lots of extra options hidden in a system of hidden menus, either; what you see really is what you get." —techradar

"Recover lost files, even after deleting a partition or formatting your drive." —Macworld
2. Why cannot I recover 2GB data for free?

It is recommended to check the version installed is Free or Trial because they are different versions.

Trial has data preview function but cannot save any files, while the Free version enables to recover 2 GB files. The default free space is 500 MB and you may share the product on social media to get another 1.5 GB.
3. Why cannot the recovered files be opened?

A file is saved as 2 parts on the storage device: directory info (which is comprised by file name, time stamp and size info, etc.) and data content.

If the files with original file names and folder structures cannot be opened, one possible reason is the corrupted directory info. There is still a chance to recover the data content with the RAW Recovery method in our software.
4. Why isn't it suggested to recover the files back to the original drive?

The storage structure of the lost files would be altered or damaged by any changes on the drive. If you save the recovered files back to the same drive, the original data structures and data content would be corrupted or overwritten, which causes permanent data loss. So you should prepare another disk to save the files.
5. How can I check whether my data is recoverable or not before purchase?

The Free version helps you save 2GB files to better verify the recovery quality of our product before purchase.
6. How long does it take to scan the drive?

It strongly depends on the capacity of your hard drive and the performance of your computer. As reference,most drive recoveries can be completed in around 10 to 12 hours for a 1-TB healthy hard drive in general conditions.
About Data Recovery Wizard
It's super easy to recover 250+ types of files after deletion, disk formatting and virus infection. Click the links and compare the difference of each version.