How to tell your hard drive MBR is damaged or corrupted
What's the sign of your hard drive MBR is damaged? Except that the apparent error message shows you that master boot record is damaged, there are other clues you can determine whether your MBR is corrupted and needs instant repair! For example, MBR error 1, MBR error 2, MBR error 3...
The problem along with a damaged MBR on a hard drive or some externals is that Windows will no longer work, and it'll fail to find and load the operating system because the master boot record is a key part of your PC's startup system.
What's the best MBR repair tool
In fact, there are many free methods for you to fix and repair the corrupted MBR on any storage device in Windows, among which one of the widely applied MBR repair methods is to use a Command Prompt and run the bootrec.exe /fixmbr command. Even so, it's not a smart choice because they need to search for more tutorials to learn how to create a system repair disk to enter the Windows Automatic Repair mode.
Alternatively, things become much easier when you get acquainted with an MBR repair tool! EaseUS Partition Master comes with a feature called Rebuild MBR. This unique and powerful feature makes it the most popular free MBR repair tool in fixing the damaged master boot record of your hard drive.
How to fix MBR on a hard drive, external hard drive and USB flash drive
EaseUS MBR repair software assists you easily in rectifying MBR problems on a hard drive, external hard drive and USB flash drive in Windows operating system and Windows server operating system without any hassle. All you need to do is to download the partition magic software on a normal computer and automatically repair MBR with a few clicks.
MBR repair tool user guide:
Step 1: Create a WinPE bootable disk.
1. Download and launch EaseUS Partition Master on a new PC which runs the same system as yours.
2. Click "WinPE Creator" on the toolbar. And select to create the bootable disk on a USB drive. If your computer has a CD/DVD drive, you can also create the bootable disk to CD/DVD.
3. Click "Proceed" to finish the process.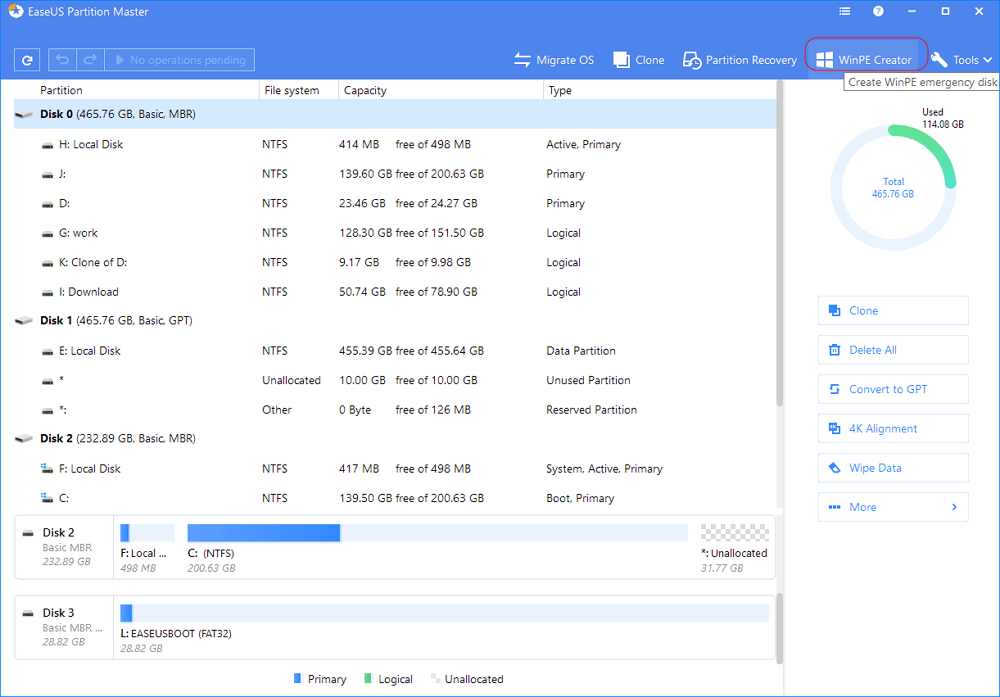 Step 2: Rebuild MBR.
1. Connect the bootable USB or CD/DVD to your PC.
2. Press "Del" when you are restarting the computer. Boot your computer from "Removable Devices" or "CD-ROM Drive". And then EaseUS Partition Master will run automatically.
3. Right-click the disk whose MBR is damaged. Choose "Rebuild MBR" to continue.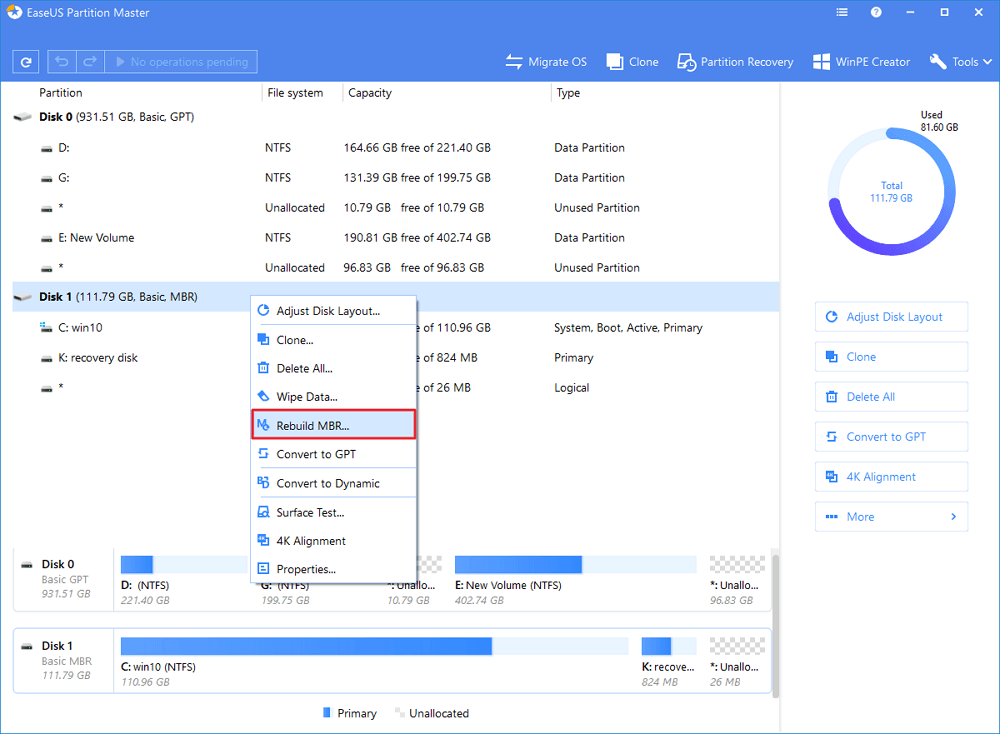 4. Select the type of MBR with the current operating system. Then, click "OK".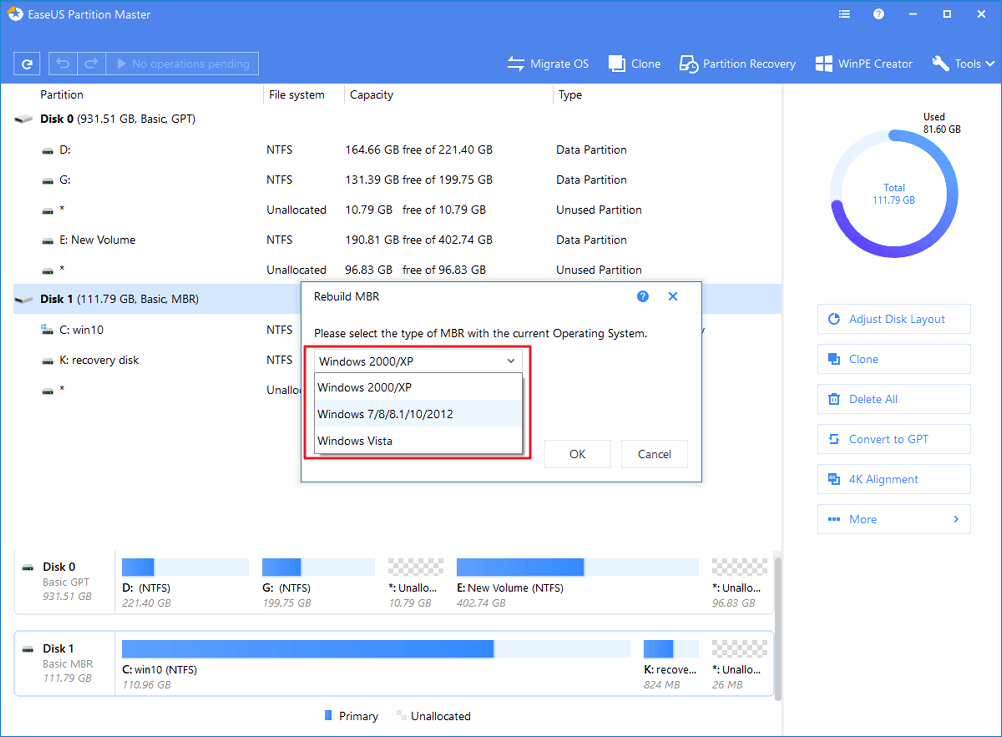 5. Click the "Execute 1 Operation" button at the top-left corner and click "Apply" to build the MBR. After that, your computer can boot normally again.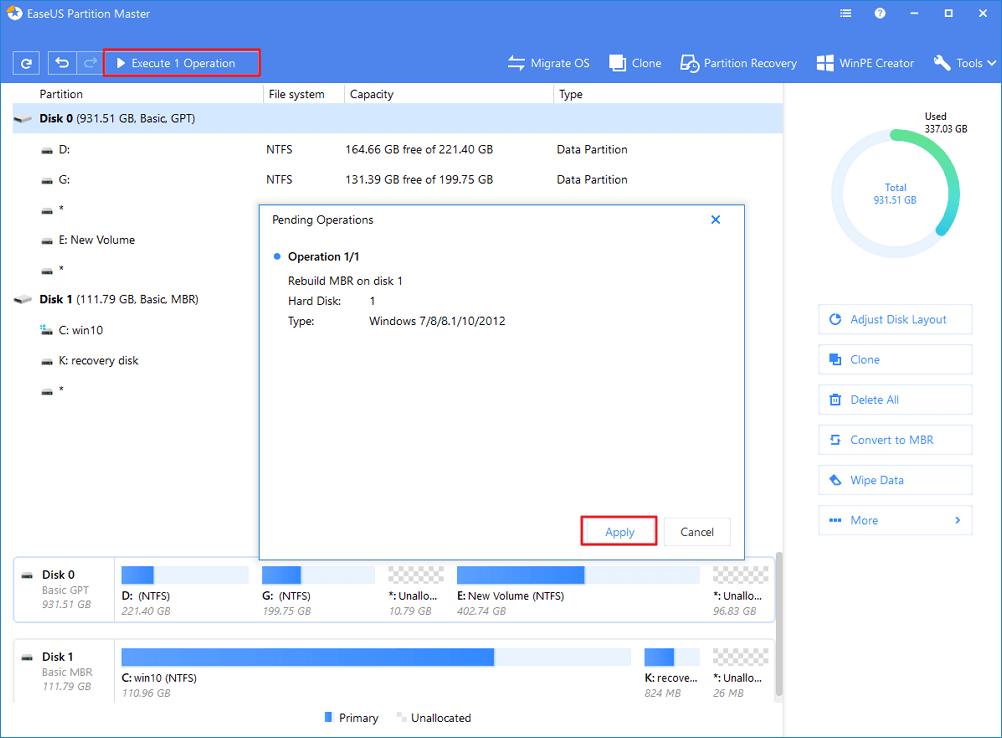 By fixing the corrupted MBR on a hard drive with EaseUS MBR repair tool, you can now reconnect the drive back to the original computer and try to boot from it.