What can you get from this article?
1. Correct option of "What is a typical symptom that might indicate the MBR record is damaged."
2. More knowledge of symptoms of corrupted or damaged MBR.
3. Two methods of how to fix or repair MBR in Windows 10/11.
You may be scrolling through the web to search for the correct answer -"What is a typical symptom that might indicate the MBR record is damaged?"
A. Loud clicking noise - More complex things; your fan blade or hard drive nearly says goodbye to the world.
B. Invalid partition table error (Correct Option)
C. Invalid boot disk error - It is often caused by hard drive failure, virus infection, or other software issues during system startup.
D. RAID not found error message - A virus infection causes it, unexpected power shut down, overheating, etc.
Is option B enough for the question? Not! A damaged MBR record usually means something somewhere is wrong. Check more signs in the next part.
Symptoms of Corrupted/Damaged MBR
There is no single answer for a sophisticated computer if it encounters a damaged issue. Of course, the symptom of damaged MBR will not tie to one correct answer. 
Error loading operating system.
Invalid partition table error.
No bootable medium found.
Reboot and select proper boot device.
Operating system not found.
Non-system disk.
Black screen without the prompt message.
If you found one of these indications, your MBR is corrupted. Read on to know how to repair MBR in Windows 10 and Windows 11.
How to Fix/Rebuild Corrupted MBR in Windows 10/11?
Here are some great methods to fix a corrupted MBR hard drive:
Preparation for Method 1 - Create Windows Installation Media
Note: Method 1 requires to create Windows installation media first. If you want to skip this part, jump to method 2 to use free software - EaseUS Partition Master.
Microsoft provides a utility to create Windows installation media on a USB drive or disc. This is useful if you're planning to install Windows on multiple PCs or if you want to create a backup in case your current PC becomes unusable. 
The process is simple: download the Media Creation Tool from Microsoft's website and run it. Then select the "Create installation media for another PC" option and follow the prompts. The tool will create the Windows installation media on your chosen drive or disc. After that, you can use the media to install Windows on any PC that meets the minimum system requirements.
Method 1. Repair MBR Using Command Prompt 
Step 1. Insert the Windows Installation Media and boot the PC from it.
Step 2. Then you can see the Windows Setup screen and click Repair your computer.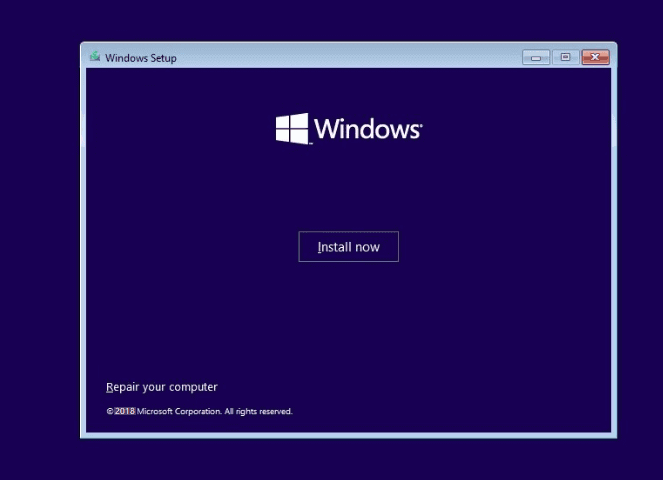 Step 3. Click Troubleshoot on the "Choose an option" screen > Select "Advanced options" on the "Troubleshoot" screen > Click Command Prompt on the "Advanced options" screen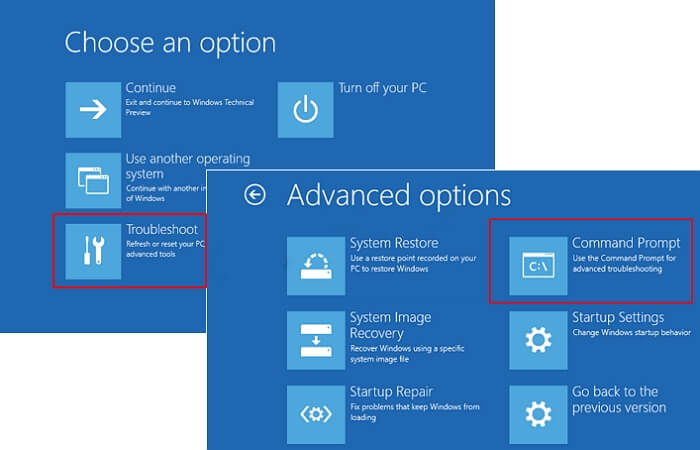 Step 4. Type the following commands and press Enter button each time:
bootrec /fixmbr
bootrec /fixboot
bootrec /scans
bootrec /rebuildbcd
Step 5. Enter exit to close the command prompt and reboot Windows 10/11.
Method 2. Fix Damaged MBR Using MBR Repair Tool
Indeed, the Command prompt does serve as a powerful rule in fixing Windows boot errors. However, if you are not good at the command line, it will cause another nightmare on your PC. So we offer a more straightforward tool to rebuild Windows 10/11 MBR. EaseUS Partition Master Free can help you get through it with a few clicks regardless of how this issue happens. And you can also perform more features not included in disk management, including wipe disk, resize/move, copy system disk, etc.
How Can Free MBR Repair Tool Help You?
Step 1. Create a WinPE bootable disk
Launch EaseUS Partition Master, and click "Bootable Media" on the toolbar. Select "Create bootable media".
Click "Next" to finish the process.
Step 2. Boot EaseUS Partition Master Bootable USB
Connect the bootable USB or CD/DVD to your PC. 
Press F2 or Del when you restart the computer to enter the BIOS screen. Set and boot your computer from "Removable Devices" or "CD-ROM Drive". And then EaseUS Partition Master will run automatically.
Step 3. Rebuild MBR
Click "Toolkit" and choose "Rebuild MBR".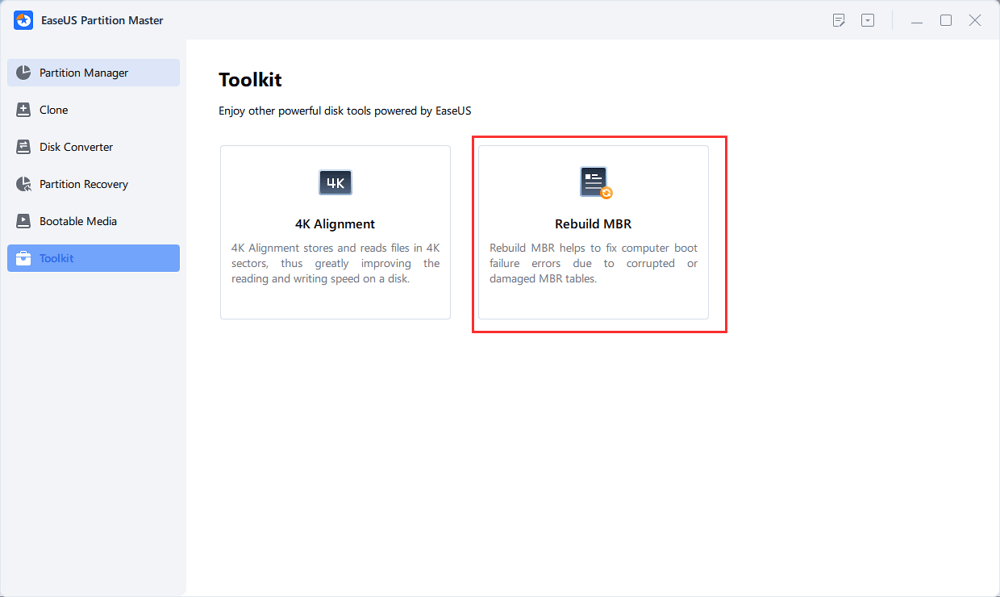 Select the disk and the type of MBR. Then, click "Rebuild".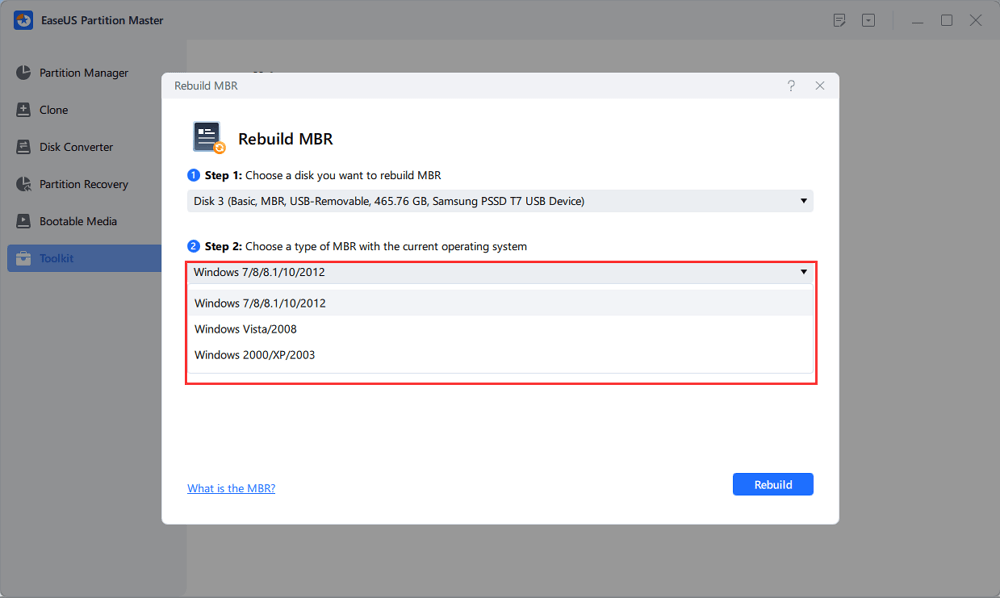 After that, you can see "MBR has been successfully rebuilt on Disk X".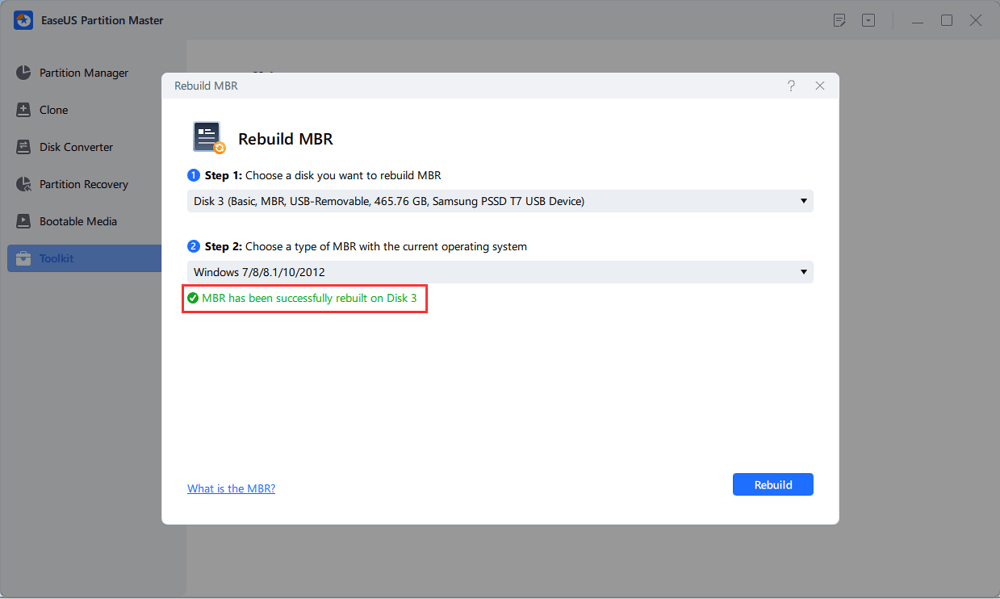 Conclusion
What is a typical symptom that might indicate the MBR record is damaged? I guess it's no challenge anymore if you focus on each part. We hope you can pick the right option immediately!
A few typical symptoms might indicate that the MBR record is damaged. One is if the computer is unable to boot up at all. Another is if the computer boots up but freezes or operates unusually slowly. Additionally, if the computer starts up but then crashes frequently, this could be a sign that the MBR record is damaged. If you experience any of these issues, it is recommended that you run a diagnostic test on your computer to check for damage to the MBR record. Try EaseUS Partition Master Free or command prompt. Check the pro version if you want to try more functions to manage the hard drive.

Roxanne is one of the main contributors to EaseUS and has created multiple posts on digital devices like PCs, Mobile phones, tablets, Mac, etc. She loves to share ideas with people of the same interest.