
About the Author
Hot Topics in 2022
How to Repair MBR on Windows Server (Two Quick Ways)
Can I Repair MBR?
MBR are two of the most common abbreviations you must have heard multiple times from avid PC users. In case you are not aware, MBR is the abbreviation for Master Boot Record. It is also known as the master partition table or partition sector. The MBR is a part of the hard drive that keeps the information regarding the partitions of the hard drive. MBR is useful because it acts as a loader for your operating system. There are two important components in the MBR partition, which are Master Boot Code and Disk Partition Table. Both the components work in unison to transfer programs in the boot sector for an efficient booting process. There are many instances where MBR gets corrupted. The reason behind the corruption is subjective. From improper plugging to virus infection, MBR can get corrupted for a simple reason. It is essential to repair the MBR earliest to avoid the extended hassle.
Quick Navigation:
How Do I Know If MBR is Damaged?
How To Repair MBR in Windows Server - 2 Ways
How Do I Know If MBR is Damaged?
If any of the possible reasons mentioned below has happened with your system, you will not be able to work on your operating system. The major causes and errors messages of MBR failure are:
Drive failure: If one of your drives is not working in optimum condition, your operating system will witness MBR damage.
Virus Infection: Sometimes, we plug in external devices and forget to check for viruses that could harm the system. The presence of the virus also leads to MBR damage. If the virus is severe, you might also lose important data.
Missing Operating System: If you cannot see your operating system, it is likely that your MBR is corrupted.
Invalid Partition Table: If you are not aware, an invalid partition table is an error that occurs in the operating system partition. Users witness a black screen that does not allow them to reboot their computer system.
Non-System Disk Error: Non-System disk error is another major cause of MBR corruption in your operating system.
System Shutdown: If your system is shutting down frequently without any valid reason, you must check your MBR.
If you see your operating system working differently or failing to boot up correctly, you should repair your MBR.
How To Repair MBR in Windows Server
There are ample ways to repair your MBR in a Windows server. In this article, we will list easy and feasible methods that you can use for the process. One of the simplest ways to repair MBR in Windows servers is using a Windows server repair tool. Windows has created a dedicated tool to help users in fixing MBR failures. Apart from this, the two other methods that you can use to repair MBR in Windows server are:
Repair MBR over EaseUS Partition Master
Fix MBR via Command Prompt
Follow the article to the end for a detailed guide regarding the methods mentioned above.
Repair MBR over EaseUS Partition Master
EaseUS has developed a variety of software to cater to the needs of users. If you are dealing with corrupted MBR, you can rely on the EaseUS Partition Master professional disk management tools that have been designed for server users. With the help of software, you can create bootable media, follow simple steps to repair the error, and use the operating system without hassle. Some of the salient features of the EaseUS Partition Master are:
The software offers the best disk management tools for Windows PCs. Not only this, but you also get comprehensive management tools for Windows servers.
The partition recovery feature of the software has been designed simply and efficiently to aid users in the entire process.
No matter the problem, you can create bootable media and repair specific errors in the Windows server.
EaseUS Partition Master offers different licensing modes to meet your offerings.
EaseUS Partition Master Enterprise
Your trustworthy Windows Server disk manager.
 Extend System drive, combine/split partitions.
 Clone disk, migrate OS to HDD/SSD.
 Convert MBR to GPT, GPT to MBR, no data loss.
 1-click adjust disk layout, create volumes at one time.
24/7 Tech Chat
Free Inquiry
Apart from repairing MBR, EaseUS Partition Master offers various other utilities to users. The comprehensive disk manager features of the software are:
Creating/ Resizing Partitions: With the help of EaseUS Partition Master, you can allocate storage on the hard drive with just one click.
Format Partitions: If you want to prevent disk errors, you can select a partition and format to check for disk errors
Merge Partitions: You can combine two different partitions for a larger space by using the software.
Migrate OS: One of the best features that EaseUS Partition Master offers is OS migration. You can clone the system drive into a new drive without reconfiguring Windows.
Adjust Disk Layout: Depending upon your requirements, you can select a disk and resize the partitions.
Clone Partitions: You can completely copy a partition and paste it into a new HDD/SDD without any hassle.
The EaseUS Partition Master provides comprehensive disk utilities for a hassle-free experience. You can also convert MBR to GPT in Windows without losing any data.
Step 1. Create a WinPE bootable disk
Launch EaseUS Partition Master, and click "Bootable Media" on the toolbar. Select "Create bootable media".
Click "Next" to finish the process.
Step 2. Boot EaseUS Partition Master Bootable USB
Connect the bootable USB or CD/DVD to your PC. 
Press F2 or Del when you restart the computer to enter the BIOS screen. Set and boot your computer from "Removable Devices" or "CD-ROM Drive". And then EaseUS Partition Master will run automatically.
Step 3. Rebuild MBR
Click "Toolkit" and choose "Rebuild MBR".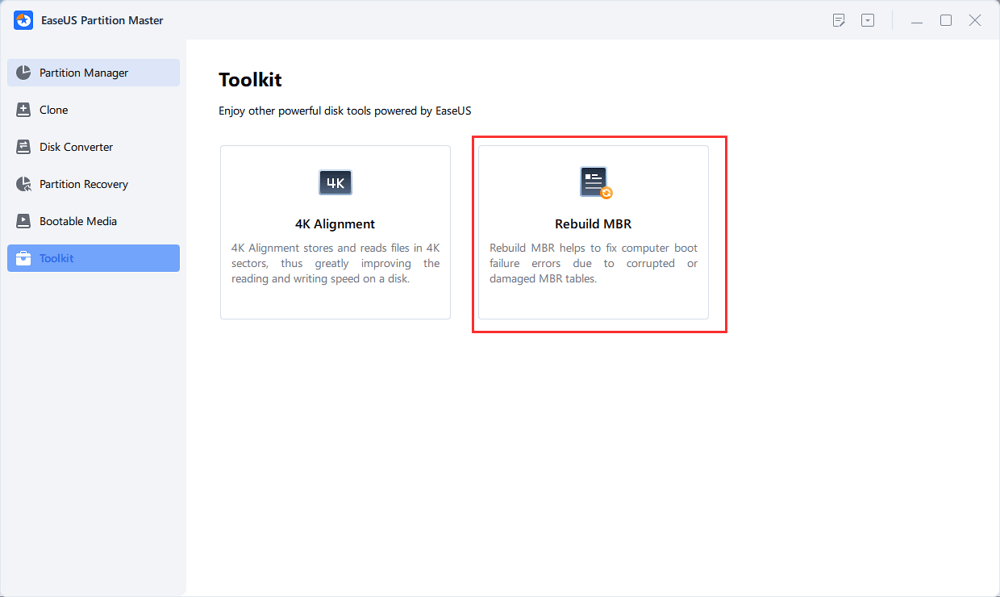 Select the disk and the type of MBR. Then, click "Rebuild".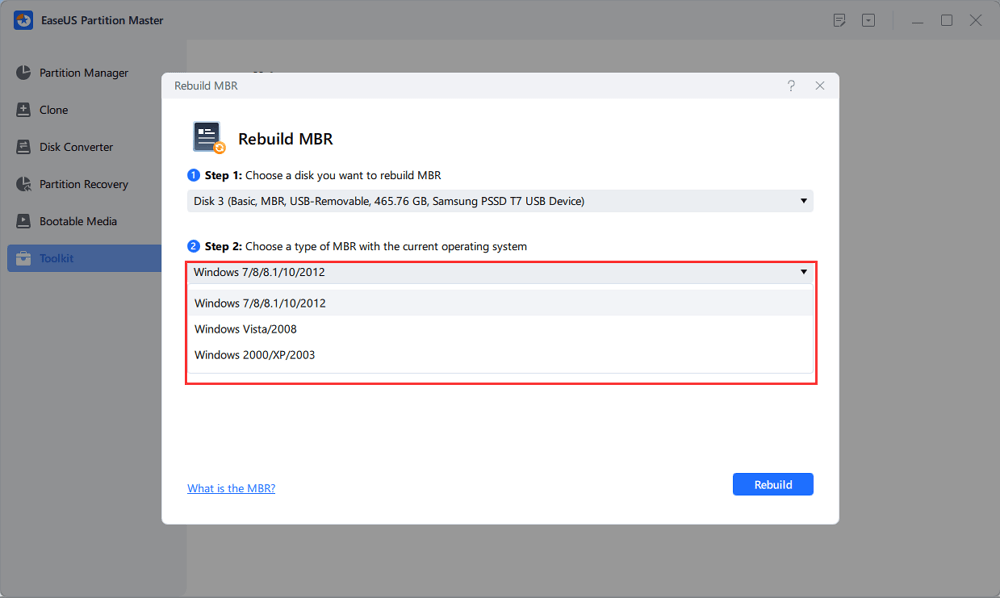 After that, you can see "MBR has been successfully rebuilt on Disk X".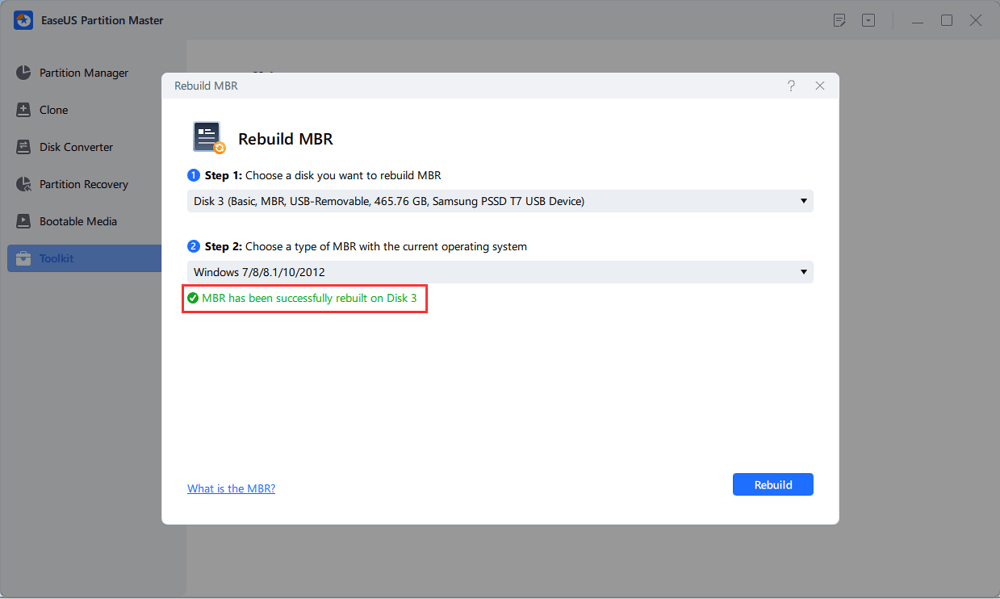 24/7 Tech Chat
Free Inquiry
Fix MBR via Command Prompt
Another method that you can use to repair MBR is the command prompt. If you are familiar with the interface and language, you can manually solve the MBR issue. To fix MBR with command prompt, follow the steps mentioned below:
Boot your computer system from the original Windows installation (DVD or USB)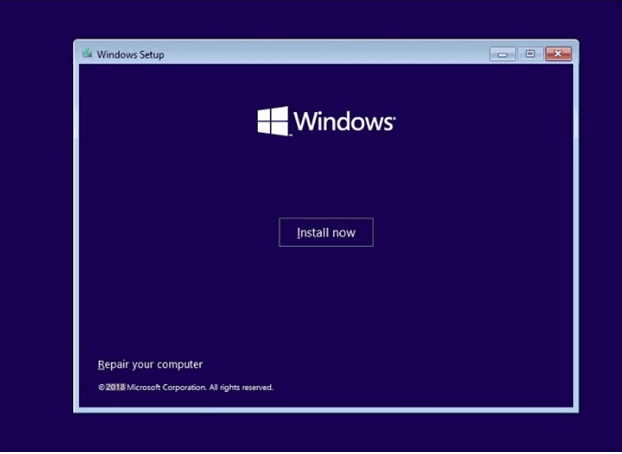 As soon as the welcome screen opens, click on Repair Your Computer option.
Under Troubleshoot option, click on the Advanced Options and navigate to Command Prompt.
Type the commands mentioned below in the CMD window and hit Enter each time.
bootrec /fixmbr
bootrec /fixboot
bootrec /scanos
bootrec /rebuildbcd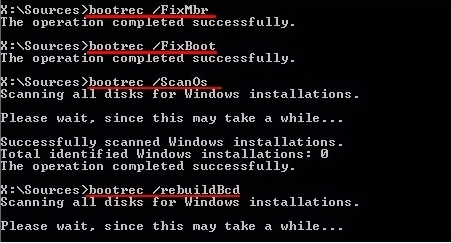 Exit the CMD window and restart your Windows.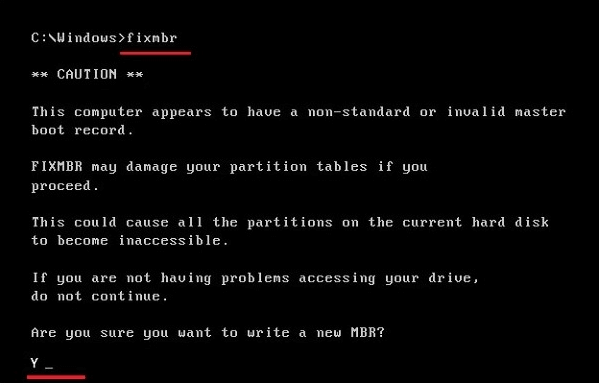 Once you have completed the steps, you should be able to boot your system successfully.
Conclusion
If you are facing MBR issues, you must resolve them without any delays. In general cases, your data remains safe. However, you must safely backup your data for a hassle-free experience. As per your requirement, you can use any of the methods mentioned above. We would advise you to explore EaseUS Partition Master. The technical assistance and array of features make it one of the best software for repairing MBR failures. You can also check out the other features offered by the software, including disk cloning, partition, and more.
About the Author
Daisy is the Senior editor of the writing team for EaseUS. She has been working in EaseUS for over ten years, starting from a technical writer to a team leader of the content group. As a professional author for over 10 years, she writes a lot to help people overcome their tech troubles.

Roxanne is one of the main contributors to EaseUS and has created multiple posts on digital devices like PCs, Mobile phones, tablets, Mac, etc. She loves to share ideas with people of the same interest.
Product Reviews
I love that the changes you make with EaseUS Partition Master Free aren't immediately applied to the disks. It makes it way easier to play out what will happen after you've made all the changes. I also think the overall look and feel of EaseUS Partition Master Free makes whatever you're doing with your computer's partitions easy.

 Read More

Partition Master Free can Resize, Move, Merge, Migrate, and Copy disks or partitions; convert to local, change label, defragment, check and explore partition; and much more. A premium upgrade adds free tech support and the ability to resize dynamic volumes.

 Read More

It won't hot image your drives or align them, but since it's coupled with a partition manager, it allows you do perform many tasks at once, instead of just cloning drives. You can move partitions around, resize them, defragment, and more, along with the other tools you'd expect from a cloning tool.

 Read More