
About the Author
Hot Topics in 2022
How to Repair MBR in Windows 11? Here Is Your Guide
Have you recently got your hands on Windows 11 and facing the MBR repair in Windows 11 issue? If yes, then you are at the right place because we are here to help you out!
Well, Master Boot Record or MBR is one of the essential pieces of information that allows a computer to locate and identify the location of the second data disk to enable Windows 11 to boot. There are times when viruses or other malware, incorrect shutdown, or errors can corrupt the Master Boot Record (MBR). Other times, you may even come across the "Bootmgr is missing" error message that will prevent your device from starting. So, if you are facing such an issue, you will have to fix the MBR to allow Windows 11 to load your MBR disk again.
In this guide, you'll learn how to repair MBR on Windows 11 with two easy and quick methods but before moving to the methods, let's get an insight into what MBR is and what are the symptoms of a damaged MBR!
What Is MBR?
MBR stands for Master Boot Record, which is basically the information in the first sector of any diskette or hard drive that identifies where and how an operating system is located so that it can be loaded or boot into the main storage or Random Access Memory (RAM) of the computer.
The MBR is often called a "master partition table" or "partition sector" because it involves a table that locates each partition into which the hard disk has been formatted. Additionally, MBR also consists of a program that reads the boot sector record of the partition containing the operating system to be loaded into RAM.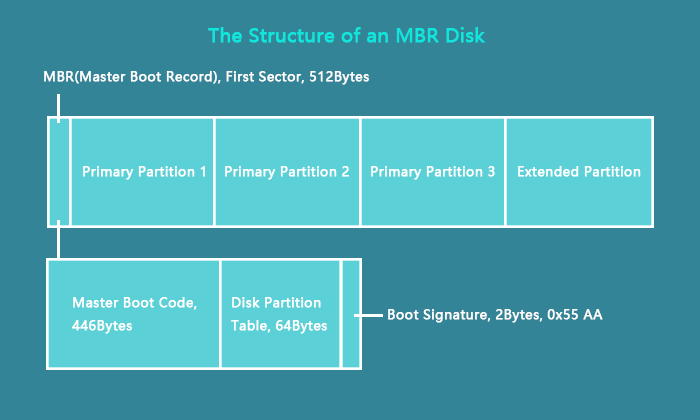 Talking about the basic features of MBR, these are as follows:
The maximum number of primary partitions possible on an MBR disk is 4, where each partition needs 16 bytes of space.
MBR partitions are of 3 types, i.e., Primary Partitions, Logical Partitions, and Extended Partitions.
The partition table in MBR consists of details regarding the extended and primary partitions only.
Symptoms of a Damaged MBR
As stated above, Master Boot Record or MBR is an essential part of booting the computer. Therefore, when it is corrupted or damaged, Windows 11 will fail to load the disk, and you will also encounter multiple boot errors.
But if you're confused regarding how to identify a damaged MBR, then we have got your back. Here's a list of boot errors that you will face on Windows 11:
Error loading MBR disk
Bootmgr is missing
Invalid partition table
Reboot and select the proper boot device
Operating system not found
So, in case you encounter any of these boot errors in your Windows 11 PC, then it is a clear indication that the MBR is damaged.
How to Repair MBR (Data) Disk in Windows 11? 
When it comes to MBR repair Windows 11, we have two easy and quick ways to do so! The first method will teach you to repair MBR in Windows 11 with a professional and highly advanced tool, whereas the second method will guide you to repair MBR via Command Prompt.
No matter which method you choose, you will get desirable results!
Method 1: How to Repair MBR in Windows 11 with EaseUS Partition Master
"How to repair MBR in Windows 11" is no longer an issue and hassle with EaseUS Partition Master. Yes, you read that correctly.
EaseUS Partition Master is a top-notch tool that offers you the quick fixes and easiest solutions to fix damaged MBR data disk in your Windows 11 PC. This amazing partition manager tool boasts a "Rebuild MBR" feature that allows users to rebuild MBR Windows 11 in just a few minutes.
So, if the MBR is corrupted or damaged, then you can simply apply this feature of the EaseUS Partition Master Tool to fix the MBR issue without even destroying the disk partition table.
Step 1. Create a WinPE bootable disk
Launch EaseUS Partition Master, and click "Bootable Media" on the toolbar. Select "Create bootable media".
Click "Next" to finish the process.
Step 2. Boot EaseUS Partition Master Bootable USB
Connect the bootable USB or CD/DVD to your PC. 
Press F2 or Del when you restart the computer to enter the BIOS screen. Set and boot your computer from "Removable Devices" or "CD-ROM Drive". And then EaseUS Partition Master will run automatically.
Step 3. Rebuild MBR
Click "Toolkit" and choose "Rebuild MBR".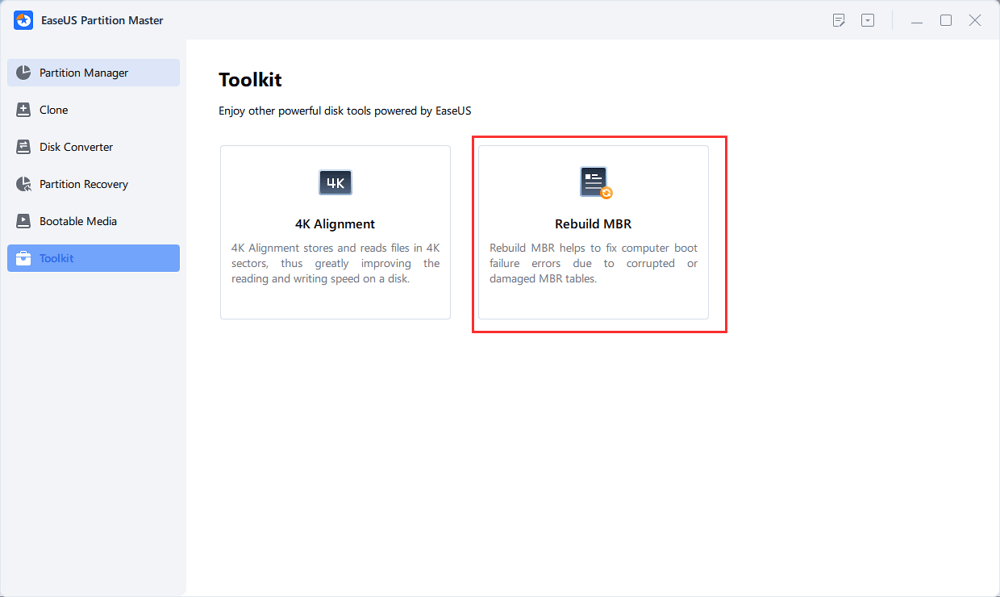 Select the disk and the type of MBR. Then, click "Rebuild".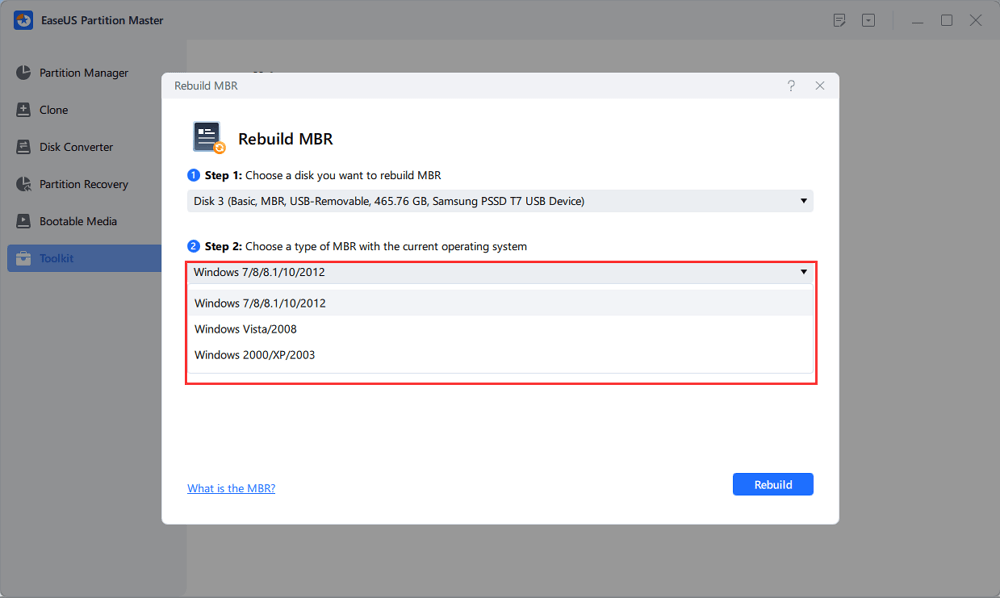 After that, you can see "MBR has been successfully rebuilt on Disk X".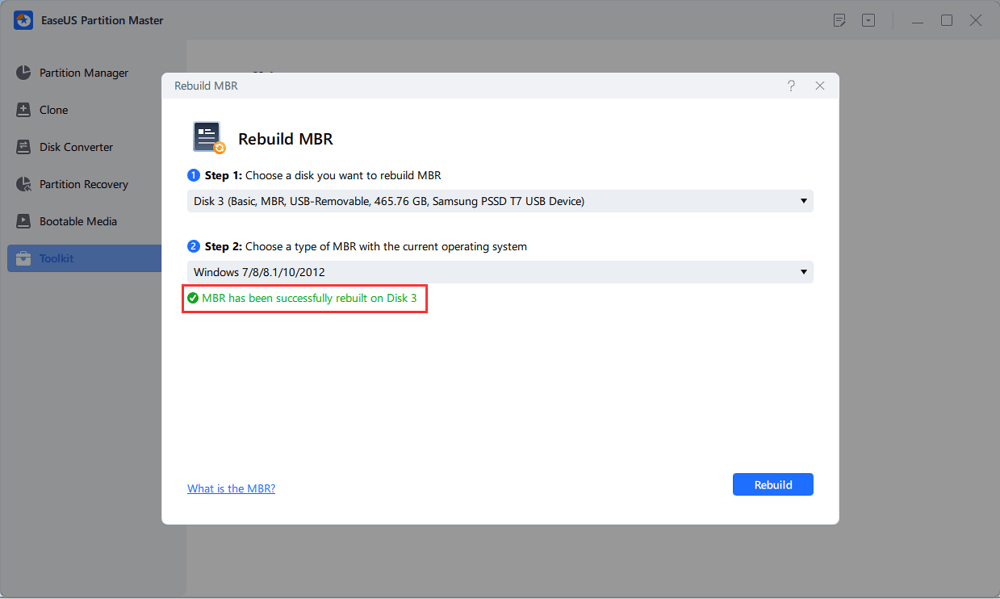 The other useful features that EaseUS Partition Master Tool involves are as follow:
EaseUS Partition Master changes the label of a partition or a drive letter in order to improve the data organization.
This professional tool checks the selected partitions for issues and errors and fixes them seamlessly in just a couple of minutes.
EaseUS Partition Master Tool correctly aligns the partitions on SSDs in order to maximize the PC performance.
With a handful of features, EaseUS Partition Master becomes the best and the most recommended tool to help you handle any partition-related problem with ease. Choose EaseUS Partition Master Tool now and get MBR repaired flawlessly on your Windows 11 PC!
Method 2: How to repair MBR in Windows 11 with Command Prompt
Another way to repair MBR in Windows 11 is to do it with Command Prompt. When MBR is damaged or corrupted on Windows 11 PC, you can easily apply the Command Prompt method to fix the MBR issue manually.
Here's a step-by-step guide on how to repair MBR in Windows 11 via Command Prompt.
Step 1: Boot your Windows 11 PC from the original Windows Installation media.
Step 2: At the Install screen, hit the "Repair Your Computer" option at the bottom of the screen.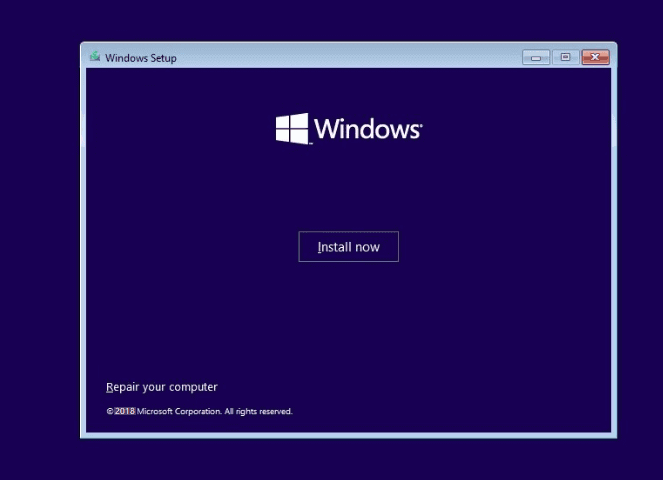 Step 3: Here, enter Command Prompt window from the Creation Tool by choosing "Troubleshoot"> "Advanced Options"> "Command Prompt."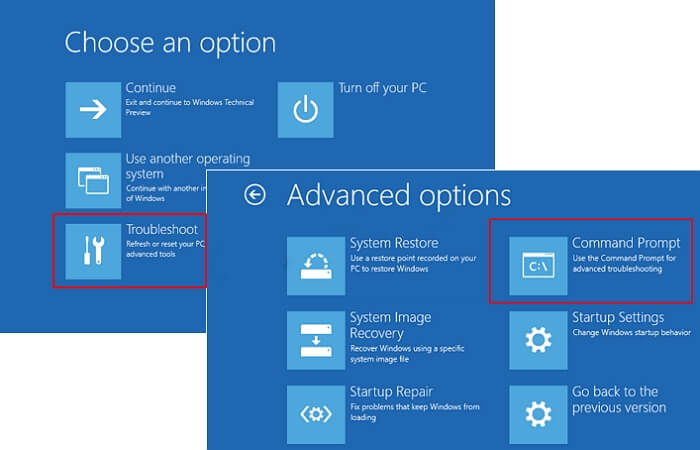 Step 4: Now, type the below-mentioned command in Command Prompt and hit the "Enter" button each time:
bootrec /fixmbr
bootrec /fixboot
bootrec /scanos
bootrec /rebuildbcd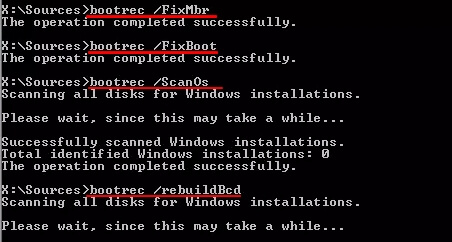 Step 5: Finally, type "exit" to close the Command Prompt and restart Windows 11.
Now, you should be able to boot Windows 11 flawlessly. 
Conclusion
This was all about what MBR is, symptoms of damaged MBR, and how to repair MBR in Windows 11! It is hassle-free with both the above-stated methods, but if you are looking for a more professional tool and a quick fix for MBR repair Windows 11, EaseUS Partition Master is worth a try! This partition master tool is highly efficient and quick in repairing MBR and making your Windows 11 computer bootable again.
About the Author
Updated by Tracy King 
Tracy joined in EaseUS in 2013 and has been working with EaseUS content team for over 7 years. Being enthusiastic in computing and technology, she writes tech how-to articles and share technical solutions about Windows & Mac data recovery, file/system backup and recovery, partition management and iOS/Android data recovery.
Product Reviews
I love that the changes you make with EaseUS Partition Master Free aren't immediately applied to the disks. It makes it way easier to play out what will happen after you've made all the changes. I also think the overall look and feel of EaseUS Partition Master Free makes whatever you're doing with your computer's partitions easy.

 Read More

Partition Master Free can Resize, Move, Merge, Migrate, and Copy disks or partitions; convert to local, change label, defragment, check and explore partition; and much more. A premium upgrade adds free tech support and the ability to resize dynamic volumes.

 Read More

It won't hot image your drives or align them, but since it's coupled with a partition manager, it allows you do perform many tasks at once, instead of just cloning drives. You can move partitions around, resize them, defragment, and more, along with the other tools you'd expect from a cloning tool.

 Read More