Overview
Making an installation media, backing up all important data, you have done all the preparation job and started to reinstall Windows, but just getting stuck during the process because Windows could not format the partition while preparing the partition selected for installation? This will finally result in "Windows cannot be installed to disk 0 partition 1" error. You are not the only one. Many other users have such an unpleasant experience in Windows 10/8/7.
And in different Windows versions, you may get different error messages, from "Windows could not format a partition on disk 0" or "Failed to format the selected partition" in Windows 7, to "We couldn't format the selected partition" in Windows 8/10. And following these messages, there are different error codes like 0x80070057 or 0x8004242d. Next, let's learn how to fix the error step by step.
How to fix Windows Could Not Format a Partition on Disk 0 with error 0x80070057 and 0x8004242d
Method 1. Format Partition during Windows Installation Process
To fix the issue, you can first choose to delete the existing partitions, create a new partition, and continue with the formatting.
1) Boot from the Windows installation DVD, click Install Now.
2) At the setup screen, click Custom (Advanced).
3) Delete all the partitions on disk 0.
4) Create a new partition of the unallocated space on disk 0.
5) Select the partition to install Windows on and then continue with the install.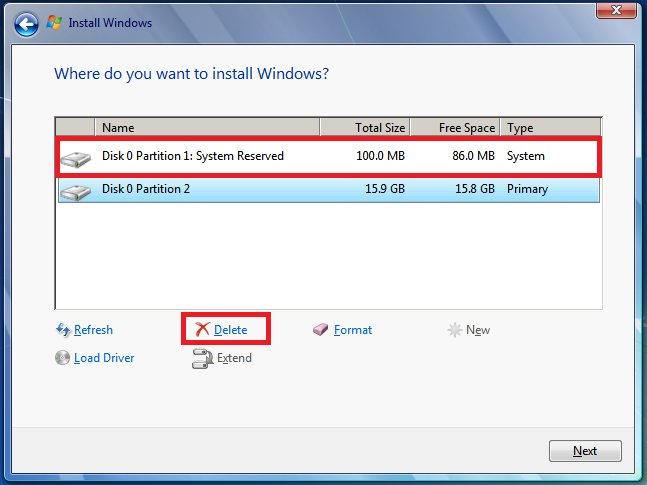 Note: Sometimes, you may get the error "We couldn't create a new partition" in step 4. When it occurs, please try to format the partition in Command Prompt Window to solve the problem.
Method 2. Format Partition using Diskpart in Command Prompt
Run the installation media. Select repair windows > Advanced Startup > Command Prompt(admin). In the command prompt, type the following lines and press Enter after each line:
diskpart
list disk
select disk 0
clean
create partition primary
select partition 1
active
format fs=ntfs
Finally, exit the Command Prompt and try to install Windows again. Feel it is too difficult for you to operate command line? Here EaseUS bootable format tool is coming to help!
Method 3. Format Partition using EaseUS bootable partition manager
1. Connect a USB flash drive, pen drive, memory stick, etc to a working PC.
2. Download and install EaseUS Partition Master, select "Create WinPE bootable disk" on the main window.
3. Select the external USB device and then start to create a bootable disk of the software.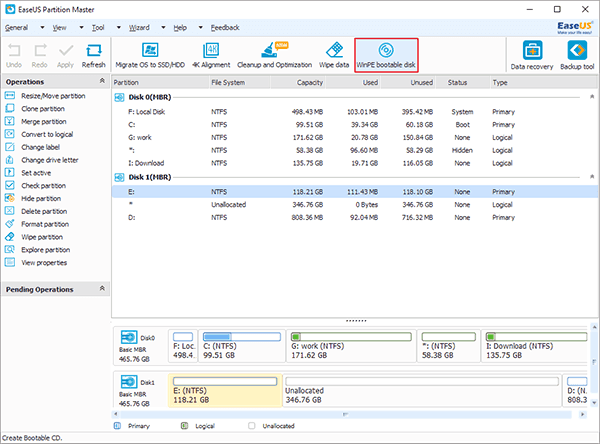 4. Launch EaseUS partition tool from the USB bootable disk you have made on the PC that you want to reinstall Windows.
5. Right-click the disk that you want to format and choose "Format partition".
6. In the Format Partition window, edit the partition label and choose the NTFS file system and click "OK".
7. Click "Apply" to conform to format the hard drive you have selected.