Can I Merge C and D drive in Windows 10 without losing any data?
I upgraded my computer from Windows 7 to Windows 10 and installed some new game software. As everything defaults to C, there are more and more data stored in C drive. Now I find that my system partition is nearly out of space while D drive has lots of free space. So, for a better performance, I would like to merge C & D drive to enlarge the boot partition. But I don't know how can I do it in Windows 10. And I am also wondering that if I will be required to delete all the data. Any suggestion?
Many users have encountered the situation that C drive is running out of space. While facing such a problem, you can choose to merge C & D drive in Windows 10 to solve the problem easily, especially when the D drive is nearly empty or has lots of free space. But how can you merge partitions without data loss? I think it is the topic that many users are interested in. Next, we will talk about it in details.
Combine/Merge C and D drive in Windows 10 with EaseUS partition tool
Many people may know that Windows built-in Disk Management can help to merge C & D drive in Windows 10 for free. But the program has its own drawback. It requires you to delete the other partition before merging the C and D drives since the Disk Management cannot directly resize the partition.
So to protect your files on D drive without deleting the partition, you might need a third-party partition tool for help. We recommend you EaseUS partition tool. It supports to merge partitions directly without deleting other partitions in advance.
Three steps to combine and merge C and D drive in Windows 10 without losing data:
Step 1: Install and launch EaseUS Partition Master on your PC
Right-click on the partition which you want to add space to and keep on the hard drive, and select "Merge".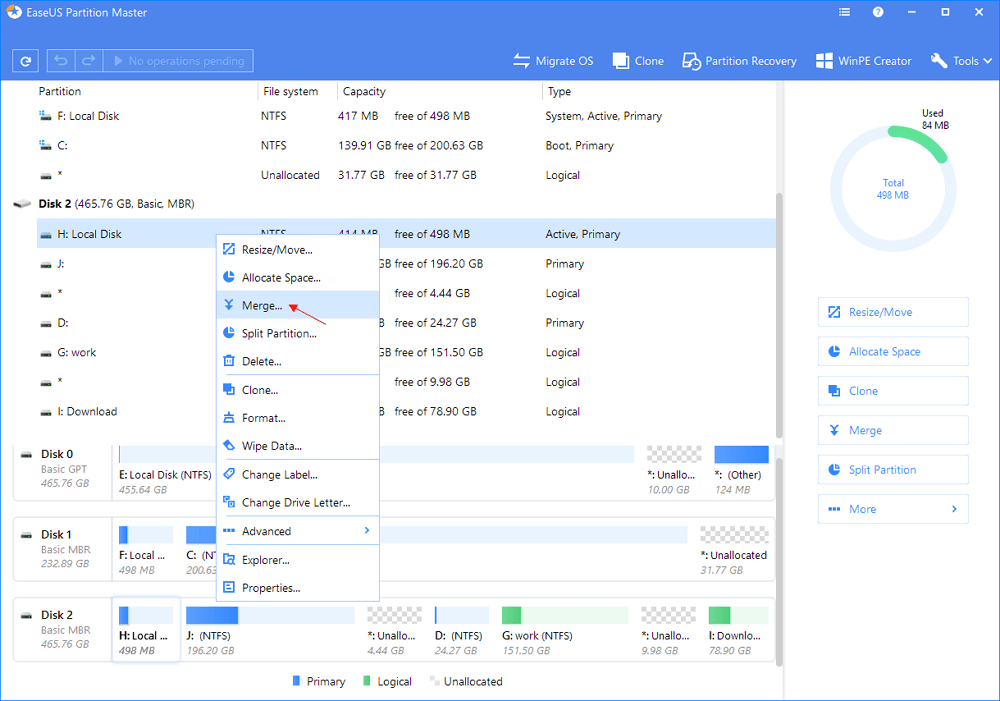 Step 2: Select partitions to merge
Step 3: Merge partitions