Can I Merge C & D drive in Windows 10 without losing any data?
I upgraded my computer from Windows 7 to Windows 10 and installed some new game software. As everything defaults to C, there are more and more data stored to C drive. Now I find that my system partition is nearly out of space while D drive has lots of free space. So, for a better performance, I would like to merge C & D drive to enlarge the boot partition. But I don't know how can I do it in Windows 10. And I am also wondering that if I will be required to delete all the data. Any suggestion?
Many users have encountered the situation that C drive is running out of space. While facing such a problem, you can choose to merge C & D drive in Windows 10 to solve the problem easily, especially when the D drive is nearly empty or has lots of free space. But how can you merge partitions without data loss? I think it is the topic that many users are interested in. Next we will talk about it in details.
Merge C & D drive in Windows 10 with EaseUS partition tool
Many people may know that Windows built-in Disk Management can help to merge C & D drive in Windows 10 for free. But the program has its own drawback. It requires you to delete the other partition before merging since Disk Management cannot directly resize the partition. So to protect your files, you might need a third-party partition tool. We recommend you EaseUS partition tool. It supports to merge partitions directly without deleting other partitions in advance.
Step 1.Launch EaseUS Partition Master. Select one of the partition you want to merge, right click and then select "Merge partition".
Step 2. Select the two partitions you want to merge and then specify the merge destination by selecting a partition label in the drop-down list of "Merge selected partitions to".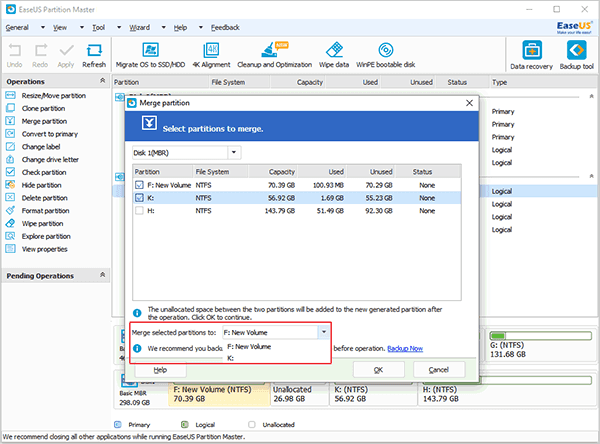 Step 3: Click OK, the program will check file system on the partitions. Next, click Apply to merged two partitions.