Is It Possible to Move All Games to SSD
We all know the low space of disk is a hassle. Sometimes your HDD is running out of space, and you may choose to delete some big files. What about the critical files, such as games?   
Today we are going to introduce some reliable solutions to solve how to move games to SSD. Without redundant steps, you will get the method to move games from HDD to SSD, including move Steams games to SSD, move Epic, Blizzard, and Origin to another drive.
Carry out the one best suited to your needs on the following list.
Workable Solutions
Step-by-step Troubleshooting
Fix 1. Move Steam Games to SSD
1. Steam game mover...Full steps
2. Move Install Folder feature of Steam...Full steps
More ways...
Fix 2. Move Epic Games to the SSD
Find your game folder > Open Epic game store...Full steps
Fix 3. Move Blizzard Games to Another Drive 
Uninstall Blizzard games on the Blizzard Battle.net Desktop App...Full steps
Fix 4. Move Origin Games to SSD
Open Origin and right-click the games, choose...Full steps
All the transfer processes can achieve by applying a game mover tool - EaseUS Todo PCTrans. Enjoying the easy steps with a few clicks.
How to Move Steam Games to SSD
1. Move Steam Games to SSD with Free Steam Game Mover Tool
For moving all games from HDD to SSD, you can try the most recommended solution - move Steam games from HDD to SSD with a third-party Steam game mover tool. Here you can try EaseUS free PC transfer software, a professional and user-friendly utility that can assist you to transfer Steam games to your SSD without reinstalling safely and easily.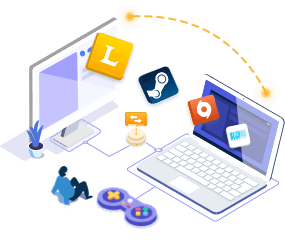 EaseUS Todo PCTrans
Transfer to a new PC: Steam, Origin, LOL, Blizzard.
Transfer to a new drive: DIABLO, WORLD OF WARCRAFT,
OVERWATCH, HEARTHSTONE, HEROES OF THE STORM, etc.
3 steps to migrate games apps to a new pc or a new drive.
Step 1. Run EaseUS Todo PCTrans to start
Run EaseUS Todo PCTrans on your Windows 10/8.1/8/7 computer. Navigate to the "App Migration" transfer mode and click "Start".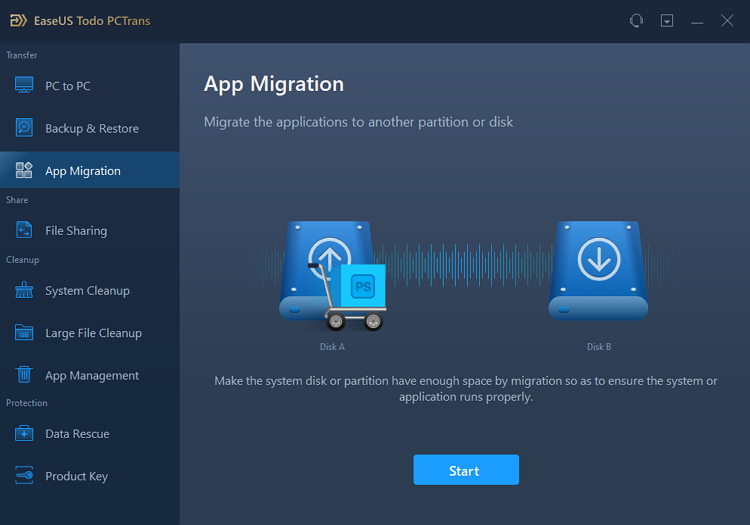 Step 2. Choose the games you want to transfer
On the left bar, you need to choose the drive where the games are installed. Next, find the games you want to transfer and tick the box. Since you're going to move the selected games to the SSD, click triangle icon to set the SSD as the target location. Finally, click "Transfer".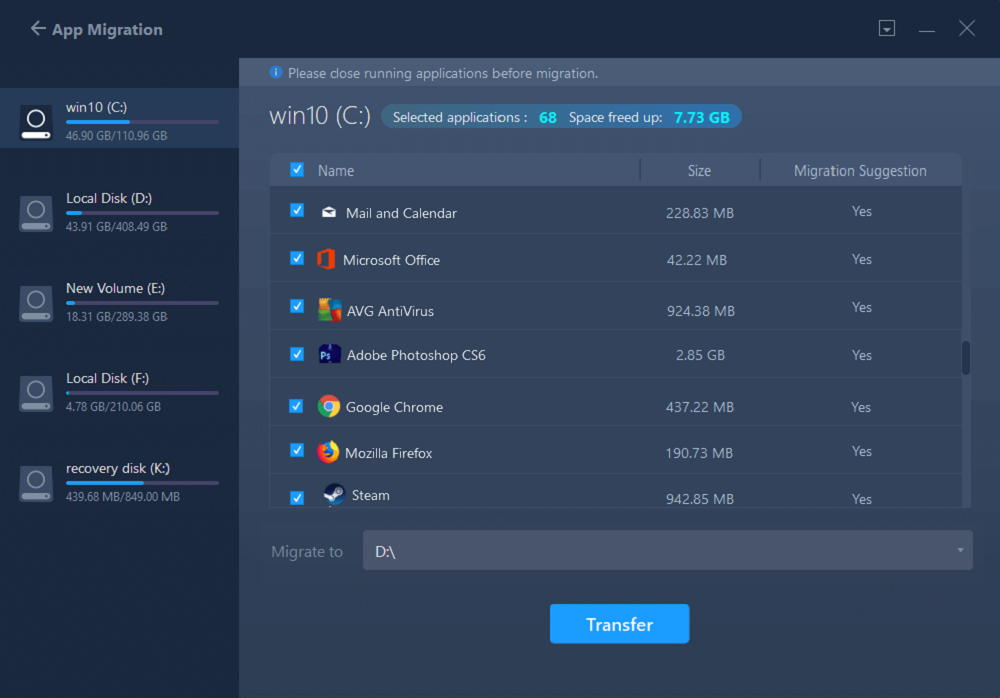 Step 3. Initiate the transfer process
EaseUS Todo PCTrans will start immediately to migrate the games from one hard drive to the SSD. Wait for the process to complete.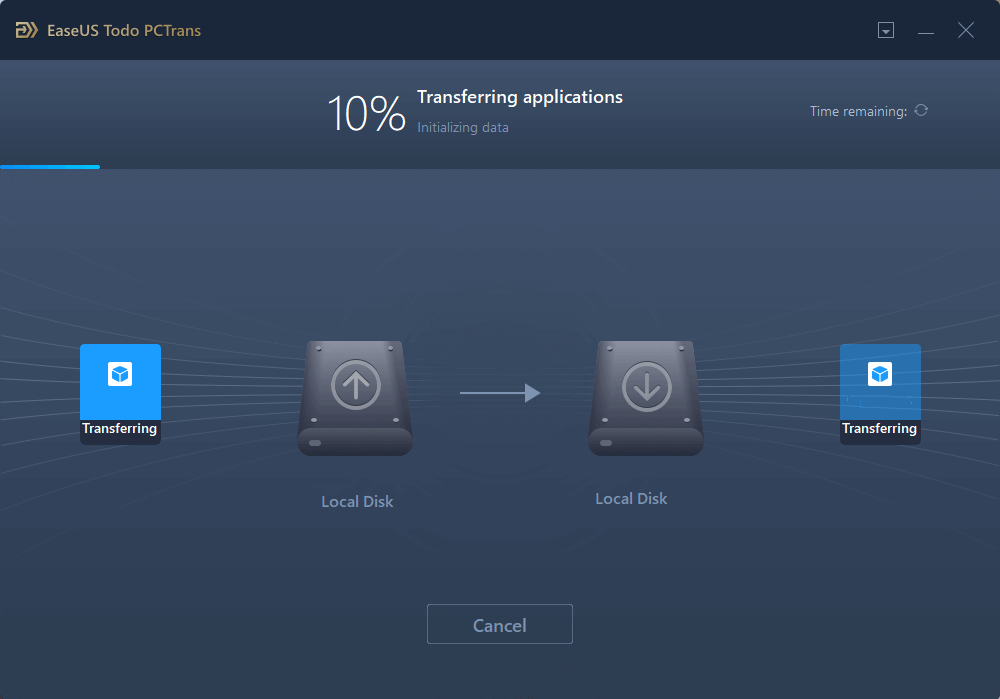 Besides, to move games from HDD to SSD, you may have such a need for moving Steam games to a new computer. We already write a useful guide on how to transfer game from pc to pc.
2. Move Steam Games to the SSD with "Move Install Folder" Feature
The Steam also has a built-in feature to help you move Steam games to another drive. However, this method only works for moving games one by one. If you need to migrate a lot of games, please try EaseUS Todo PCTrans or the following three methods.
How to put Steam games on SSD:
Step 1. Create a new Steam Folder.
Choose Steam > Settings > Downloads > Add Library Folder > choose the drive you want > click New Folder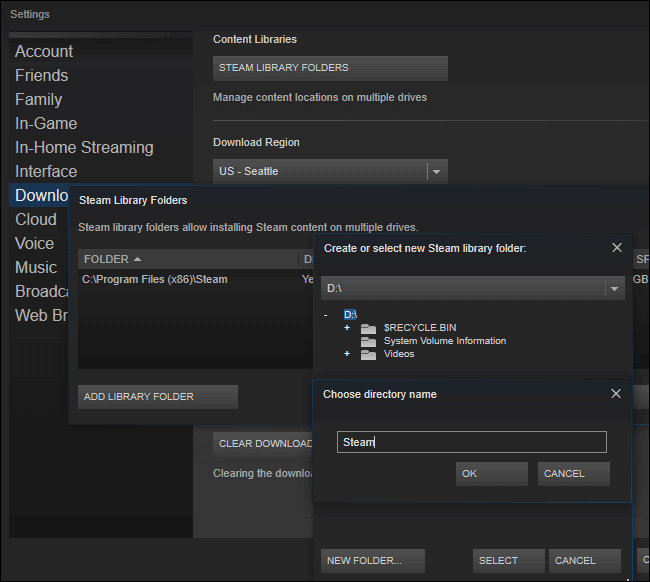 Step 2. Move the game files to the second Library.
1. On your Steam library, right-click the game and click Properties.
2. Then select the Move Install Folder under the Local Files tab.
If you are interested in such a topic, you can also read the related article on how to move steam to another drive.
3. Move Steam Games to Another Drive with Steam Library manager 
Steam Library manager can solve the problem of how to move games from HDD to SSD. When you open the main interface, you will see all the Steam Library on your PC. Just select the game, drag and drop the game to another Library on SSD. Follow the steps to move all Steam games to another drive:
Step 1. Download Steam Library manager from the official website.
Step 2. In the Steam Library manager's main interface, you can see which games are stored in the library. Then drag it to another drive.
Step 3. Head to Task Manager, click Start to move the Steam game to another drive.
Step 4. If you have any problems, check the log file below.
4. Move Steam Games to the SSD by Copying Steam Games Folder
Step 1. Go to "Steam" > "Settings" > "Downloads" and click on "Steam Library Folders". At the top and add the new location where you'd like to install the Steam games.

Step 2. Copy the game folder to your steam games folder on the SSD.
Step 3. In Steam, go to the game you just moved and right-click it and then delete local content.
Step 4. Go to that game again and install it, and when you're prompted to choose the install directory, select the SSD where you had copied the game.
Step 5. At this point, Steam will do a check and verify the files are there and won't download anything.
If some error happens after the program migration, please read the bonus tips at the end of the page.
How to Move Epic Games to SSD
Go back to the steam part and run EaseUS Todo PCTrans to finish the games transfer. Now we also teach you how to move games to another drive in a manual way. 
Step 1. Find your game folder. (Default path: C:\Program Files\Epic Games\Fortnite) And move it to the new location. Then change the folder name like Fortnite*.
Step 2. Open Epic Game store. > Click 3 dots of related games. > Choose Uninstall. > Once Uninstall is done, redownload the game.
Step 3. Choose the desired location. (Such as D:\Games\Epic\Fortnite) > When the installation begins, click the Downloads tab. > Click X to stop the installation.
Step 4. Navigate to the new folder on the targeted drive. Delete the Fortnite folder and rename Fortnite* as Fortnite.
Step 5. Open Epic launcher. > Click game to continue downloading.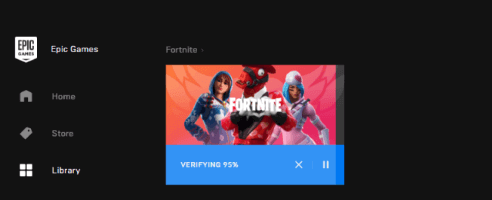 How to Move Blizzard Games from HDD to SSD
Click here to see the automatic way to move Blizzard games from the HDD to SSD. Also, let's take a look at the manual transfer method.
Step 1. Run Blizzard Battle.net Desktop App, uninstall blizzard games.
Step 2. Reinstall the games.
Step 3. Under the Install part, browse the right drive and click Start Install.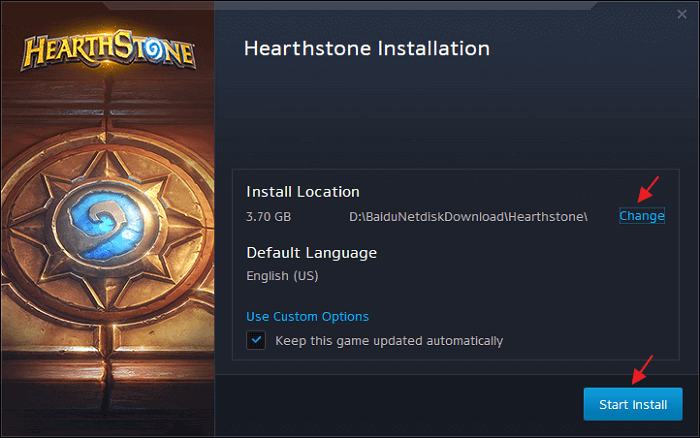 More details you can get:

How to Move Blizzard Games to a Different Drive
There are three proven ways to move Blizzard games to a different drive. One is transferring the games to the wanted drive without re-installation. Use EaseUS Todo PCTrans to change the drive. The other two are to install Blizzard games to another drive manually.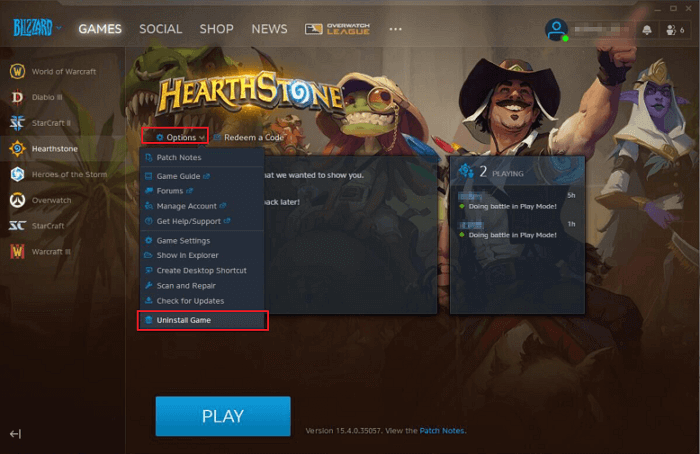 How to Move Origin Games to SSD
Open Origin games and click the built-in Move Game button.
On the Origin game library, right-click the game. Choose Move Game and your desired destination.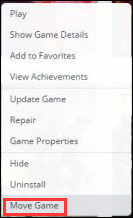 Bonus Tips: What To Do if Steam Error Happens
If there is something wrong after the migration, you can follow the solutions below to fix it:
Move the SteamApps folder from the Steam installation folder to your desktop.
Uninstall Steam (this must be done to remove your old Steam installation settings from the Windows Registry).
Reinstall Steam and copy your SteamApps folder back into the Steam installation directory
Ensure that you have moved the SteamApps folder into the new Steam installation folder to copy all of your downloaded game content, settings, and saved games to the new location.
If a game has become corrupt, you can also have Steam automatically seek and swap damaged files by verifying the integrity of your local data:
Right-click on the broken game in your "Steam library > Properties > Local Files > Verify integrity of game files"... Then, you can play your Steam games again.
All You Want to Know is Here! Take A Quick View!
There are some frequently asked questions from the internet. You can get your answers here.
Q; How do I move Windows 11/10 to SSD?
A: Users can install Windows 11/10 to an SSD without reinstalling Windows by cloning the system drive with disk imaging software. Also read - how to migrate Windows 10 from HDD to SSD.
Q: Should I put games on my SSD?
A: Yes, you should. SSDs (Solid-State Drives) perform much better than HDDs in many known aspects, like speed, reliability, and durability. SSDs use flash memory to deliver superior performance and durability. They deliver faster load times for games, applications, and movies. Because of the technology they use, SSDs are lighter and better able to withstand movement and drop page. Their advantages over HDDs are as follows:
Faster reading and writing speed
Better performance and reliability
More energy-saving and less noise-making
Stronger durability
As I have mentioned above, it is a wise choice to put games on an SSD. For your operating system, application programs, and most-used files, you should upgrade to an SSD, as it offers dramatically improved speeds.
Q: Can I move games from HDD to SSD?
A: Yes, you can. You can either move Steam games to SSD with software or manually changing the games folder. Most people are looking for ways to transfer Steam to another drive.
About the Author
Updated by Tracy King 
Tracy joined in EaseUS in 2013 and has been working with EaseUS content team for over 7 years. Being enthusiastic in computing and technology, she writes tech how-to articles and share technical solutions about Windows & Mac data recovery, file/system backup and recovery, partition management and iOS/Android data recovery.

Roxanne is one of the main contributors to EaseUS and has created multiple posts on digital devices like PCs, Mobile phones, tablets, Mac, etc. She loves to share ideas with people of the same interest.
Reviews and Awards
EaseUS Todo PCTrans Free is a useful and and reliable software solution created to serve in computer migration operations, be it from one machine to another or from an earlier version of your OS to a newer one.

 Read More

EaseUS Todo PCTrans is by the folks at EaseUS who make incredible tools that let you manage your backups and recover your dead hard disks. While it is not an official tool, EaseUS has a reputation for being very good with their software and code.

Read More

It offers the ability to move your entire user account from your old computer, meaning everything is quickly migrated. You still get to keep your Windows installation (and the relevant drivers for your new PC), but you also get all your apps, settings, preferences, images, documents and other important data.

 Read More