PAGE CONTENT:
1. Move Steam Games to SSD with Steam Game Mover 
2. Move Steam Games to SSD by Copying Steam Games Folder
Should I Put Games on My SSD
Yes, you should. SSDs (Solid-State Drives) perform much better than HDDs in many known aspects, like speed, reliability, and durability. SSDs use flash memory to deliver superior performance and durability. They deliver faster load times for games, applications, and movies. Because of the technology they use, SSDs are lighter and better able to withstand movement and drop page. Their advantages over HDDs are as follows:
Faster reading and writing speed
Better performance and reliability
More energy-saving and less noise-making
Stronger durability
As I have mentioned above, it is really a wise choice to put games on an SSD. For your operating system, application programs, and most-used files, you should upgrade to an SSD, as it offers dramatically improved speeds.
Can I Move Games from HDD to SSD
Yes, you can. You can either move Steam games to SSD with the help of a software or manually changing the games folder. Most people are looking for ways to transfer Steam to another drive. Here's a real case:
"I am running Windows 10 from a 1 TB Western Digital disk and have Steam installed on this HDD. Recently, I ran out of space and bought a 512G Samsung 830 SSD. Now I'm thinking about adding the SSD to my PC and moving Steam games (Dota 2, Global Offensive) to SSD to get some improvement of the performance. However, I don't know how to move this game to the SDD. Is there any Steam game mover tool that can help to transfer Steam games without re-downloading?"
Like the case mentioned above, sometimes you may need to move Steam games to an SSD for certain reasons but have no idea on how to do it. When you are facing such a situation, don't worry! Follow the two ways to migrate Steam games to SSD. How to move Steam games to SSD or another drive? I have provided you with two effective ways to transfer Steam games to SSD. One is moving Steam games to SSD with professional game mover - EaseUS PC transfer software. The other is transferring Steam games to SSD manually. Read on to get more details.
Tip 1. Move Steam Games to SSD with Steam Game Mover (Recommended)
EaseUS PC transfer software is a professional and user-friendly utility that can assist you to transfer Steam games to your SSD without reinstalling in a safe and easy way. It can not only migrate your files to another PC but also transfer applications locally between two disks. The "App Migration" feature can migrate applications from one disk to another locally, and free up space to settle down low disk space issue.
Follow the steps below to transfer Steam games to SSD easily and quickly if you want to read a step-by-step guide.
Step 1. Run EaseUS Todo PCTrans to start
Run EaseUS Todo PCTrans on your Windows 10/8.1/8/7 computer. Navigate to the "App Migration" transfer mode and click "Start".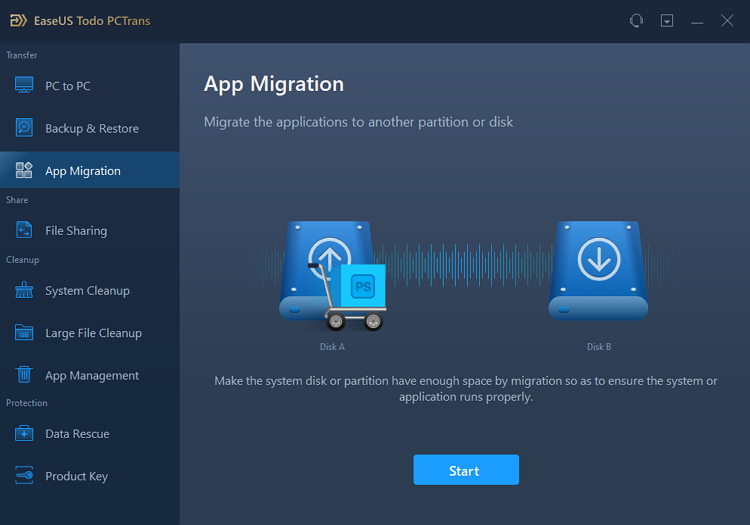 Step 2. Choose the games you want to transfer
On the left bar, you need to choose the drive where the games are installed. Next, find the games you want to transfer and tick the box. Since you're going to move the selected games to the SSD, click "Browse" to set the SSD as the target location. Finally, click "Transfer".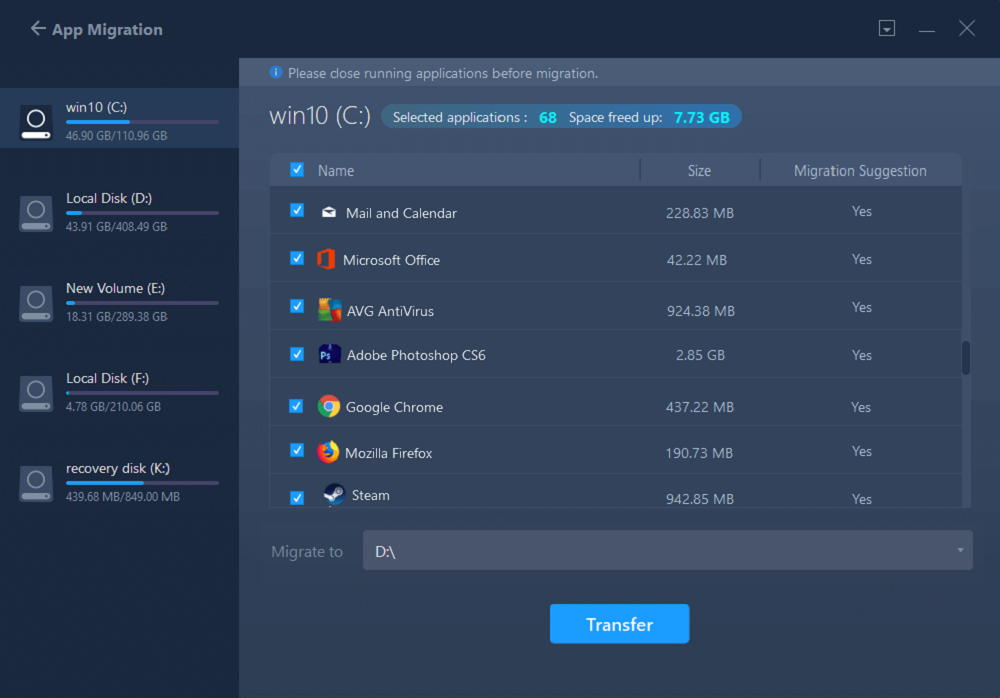 Step 3. Initiate the transfer process
EaseUS Todo PCTrans will start immediately to migrate the games from one hard drive to the SSD. Wait for the process to complete.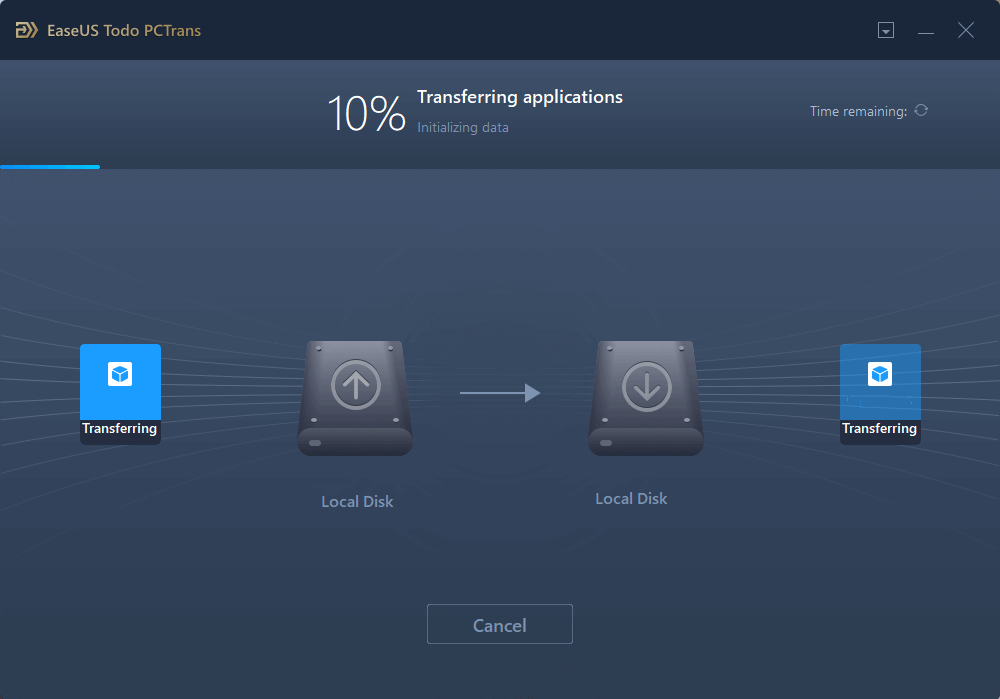 Also read: How to Transfer Steam Games from PC to PC
Tip 2. Move Steam Games to SSD by Copying Steam Games Folder
Compared with Tip 1, this solution is more complicated. You need to manually change the installation location.
Step 1. Change the default installation path of Steam.
Go to "Steam > Settings > Downloads > Steam Library Folders".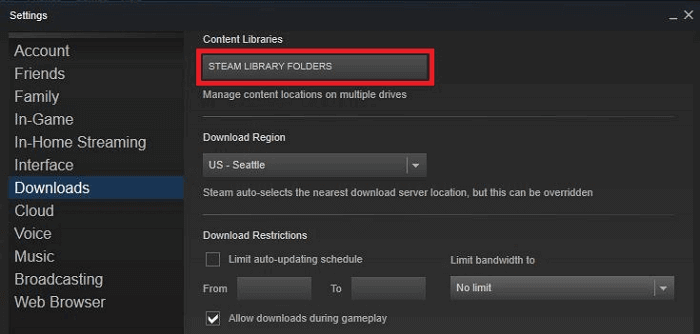 You can view your default installation path and create a new path by selecting "Add Library Folder". Then, add the new location where you'd like to install the Steam games.

Step 2. Copy Steam Installation to SSD easily.
Exit the Steam client application. Browse to the Steam installation folder you want to move, for example, C:\Program Files\Steam.
Copy game folder to your Steam games folder on the SSD, for example, E:\Games\Steam\
Step 3. In Steam, go to the game you just moved and right-click it and then delete local content.
Step 4. Go to that game again and install it, and when you're prompted to choose the install directory, select the SSD where you had copied the game.
Step 5. At this point, Steam will just do a check and verify the files are there and won't download anything.
What to Do If Steam Error Happens
If there is something wrong after the migration, you can follow the solutions below to fix it:
Move the SteamApps folder from the Steam installation folder to your desktop.
Uninstall Steam (this must be done to remove your old Steam installation settings from the Windows Registry).
Reinstall Steam and copy your SteamApps folder back into the Steam installation directory
Make sure that you have moved the SteamApps folder into the new Steam installation folder to copy all of your downloaded game content, settings, and saved games to the new location.
If a game has become corrupt, you can also have Steam automatically seek and swap damaged files by verifying the integrity of your local data:
Right-click on the broken game in your "Steam library > Properties > Local Files > Verify integrity of game files"... Then, you can play your Steam games again.