PAGE CONTENT:
How to Transfer Files from Flash Drive to Computer Windows 10 Manually How to Back Up and Copy Files from Flash Drive to Windows 10 with PC Data Transfer Software Also See: How to Transfer Files from Flash Drive to Mac
People who are new to computers have one common question about Windows 10: how to transfer files from a flash drive to computer. In this age of online storage, flash drives still help us quickly copy-paste files between computers and smartphones.
While the process is simple, it is important to know how to plug in a USB drive, format it, backup existing data, and manage if there is a problem when copying data. Too many things can happen if you are a novice user.
So, if you are about to perform a file transfer from the flash drive to a computer Windows 10, then you are at the right place. This article will discuss various methods of transferring files from the flash drive to a computer Windows 10.
How to Transfer Files from Flash Drive to Computer Windows 10 Manually
Step 1. First, locate the USB port on the computer. It can be in the front of the Desktop or the rear. If you are using a laptop, it can be on the side.
Step 2. When you plug it in, insert it properly; otherwise, it won't be detected. The best way o avoid confusion is to look at the USB port and the device port and then insert it.
Step 3. On your PC, go to My Computer. Find your listed USB drive. Double click to open it.
Step 4. Select the files you want to copy, right-click on the file, and select copy. You can also use Ctrl + C.
Step 5. Open Windows Explorer using Win + E. Then select My Computer and go to the folder where you want to paste the copied file. Use Ctrl + V or right-click and choose paste.
How to Back Up and Copy Files from Flash Drive to Windows 10 with PC Data Transfer Software
One of the biggest drawbacks of copying files using the Windows Explorer method is that it is not fast and indulges too much attention throughout the process. Copy and Paste or Drag and Drop methods are suitable for transferring a small number of files. Fortunately, there is a much faster method that you can use to transfer files from a flash drive to a Windows computer.
If you want to transfer large files in batch and transfer files quickly with almost zero mistakes, then a professional data transfer program such as EaseUS Todo PCTrans is recommended. The app manages the transfer process well, keeps files safe, and offers additional features that can come in handy.
EaseUS Todo PCTrans Features:
It's professional software that offers more than a data copy feature. It's an all-in-one tool that can backup files, restore them, clean up the computer from unwanted files and software, and finally help you with retrieving the product keys if you have forgotten about it.
Data Transfer Tools
There are tools here for all kinds of data transfer. You can transfer data from PC to PC, including user data and application data. If you need to take a backup and restore it to a new PC, you can use the Backup and Restore tool. You can also use the App Migration tool to copy installed programs from one drive to another without reinstalling. 
The last tool in this section is Data Rescue. It can be used when the old computer is not working but you have access to the hard drive. The software can smartly check the drive, and locate software, apps, and files.
Clean up Tools
These are straightforward tools that can clean the system of junk files, find out large files and apps. If Windows app removal leaves files behind after you uninstall a program, then you can use the App Management tool to clean all the files.
Product Key Scanning
Finally, the last piece of this software is the Product key Scanning. While it is easy to find the key on a working computer, finding the key from the offline computer becomes a challenge. However, you can scan the registry and other known places where the keys are stored and retrieve them for you using this software. 
All this makes it easy to transfer files from USB to computer. We recommend you use the software to make sure transfer is easy and without any mistakes or issues. When using EaseUS software, you can choose the Backup and Restore method to copy all the files from USB to the computer, and then restore them anytime you need.
Step 1. Create a backup file. 
1. Connect your USB (flash) drive/external hard drive to your source computer. Launch Todo PCTrans, click "Backup & Restore > Start" on the main screen.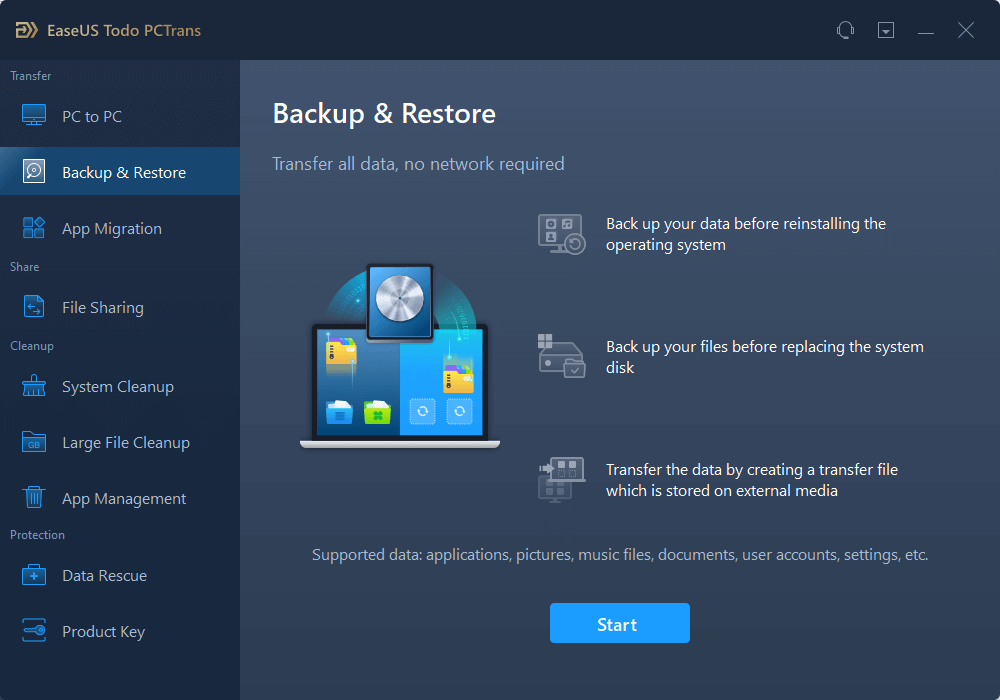 2. Select "Data Backup" to move on.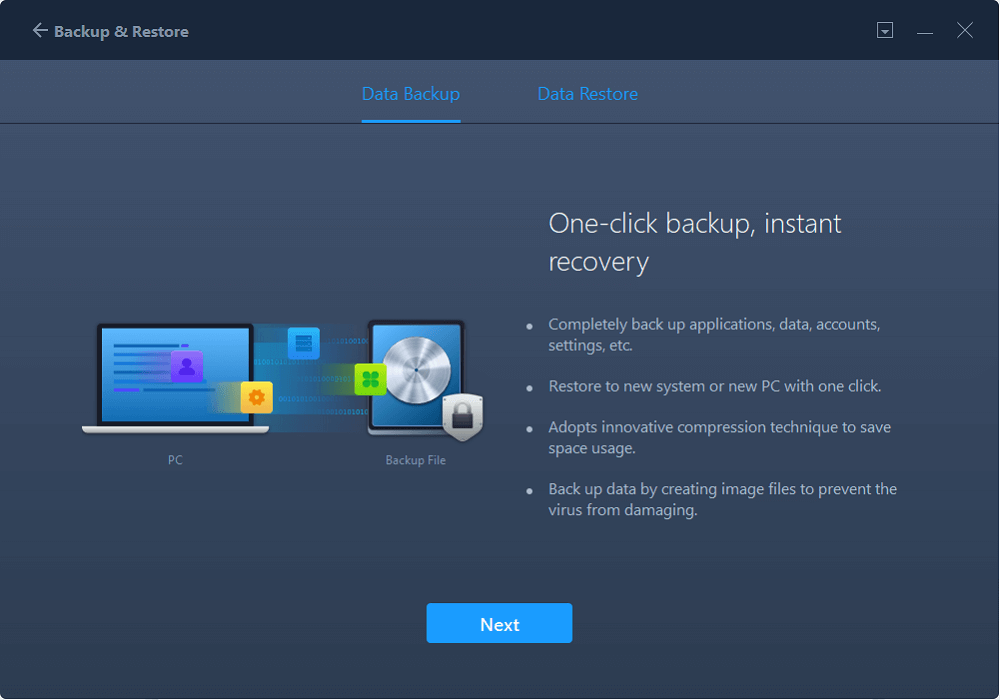 3. Hover over "Applications", "Files" and "Accounts" columns to choose the specific data, applications, etc., and click "Back up" to create a backup file.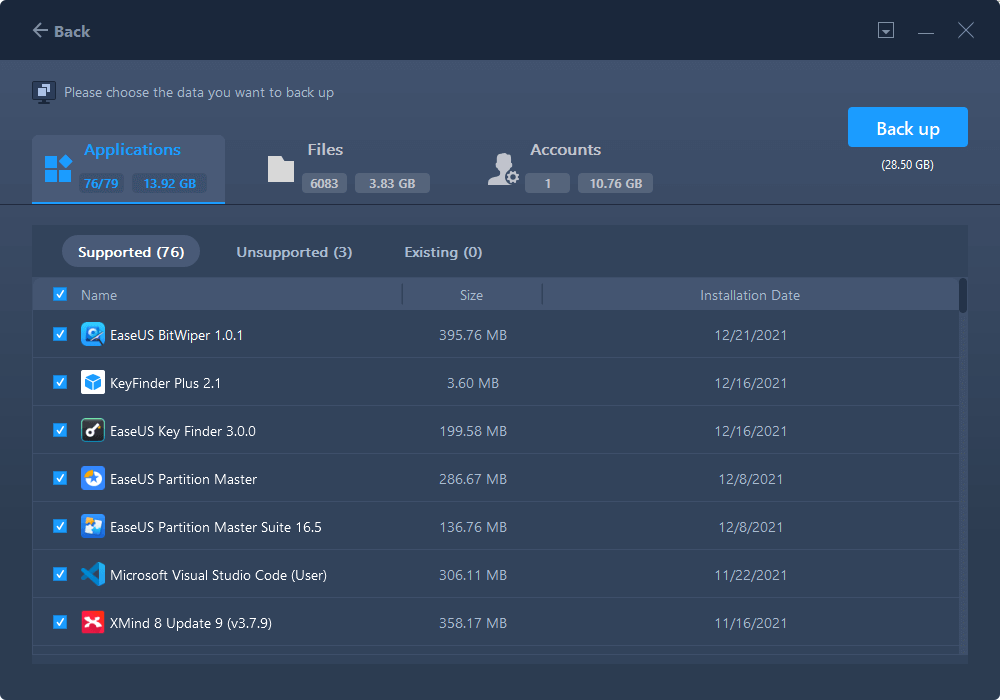 Step 2. Recover via the created backup file.
1. Plugin your USB drive which stores the created backup file to the target PC and open EaseUS Todo PCTrans. Click "Backup & Restore > Start > Data Restore".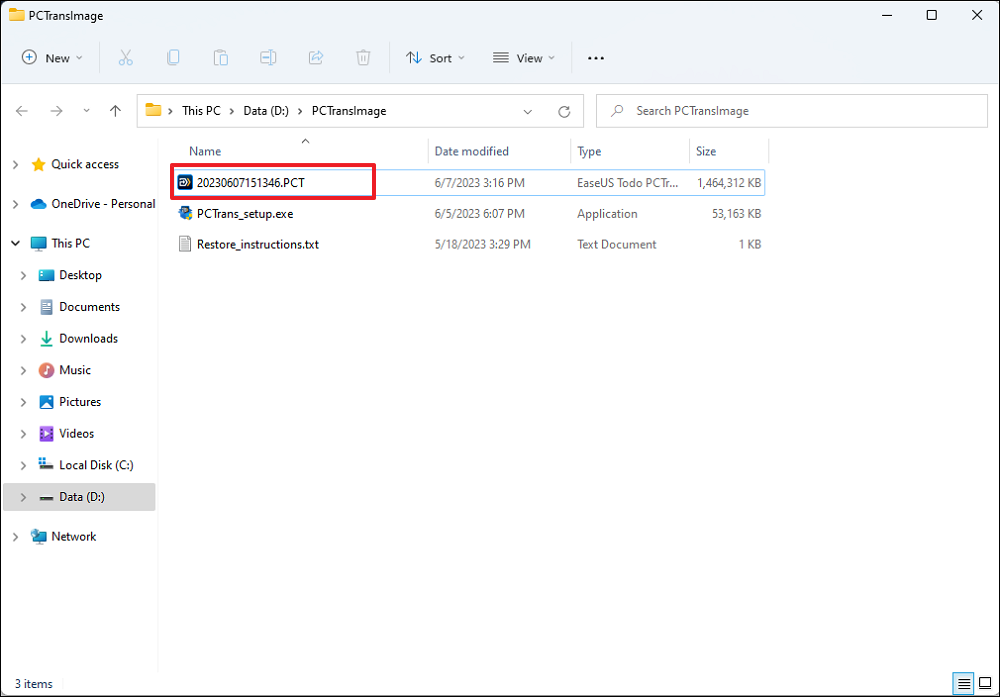 2. Click "Browse" to locate the Image file. Then, choose "Restore" and go to the next step.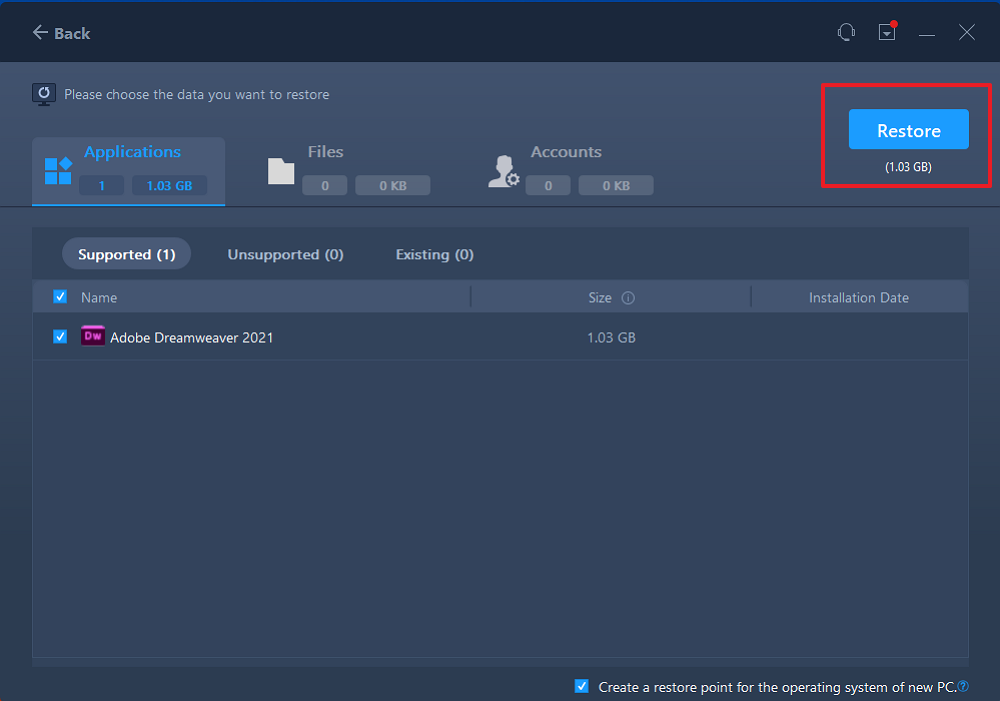 3. Now, you can select Applications/Files/Accounts you want to restore.
Over on Applications, Files, or Accounts to choose the specific data you want transfer flexibly. Click "Restore" to confirm. Besides, you can also click the "Migration Settings" icon to change the target path to recover and save the files.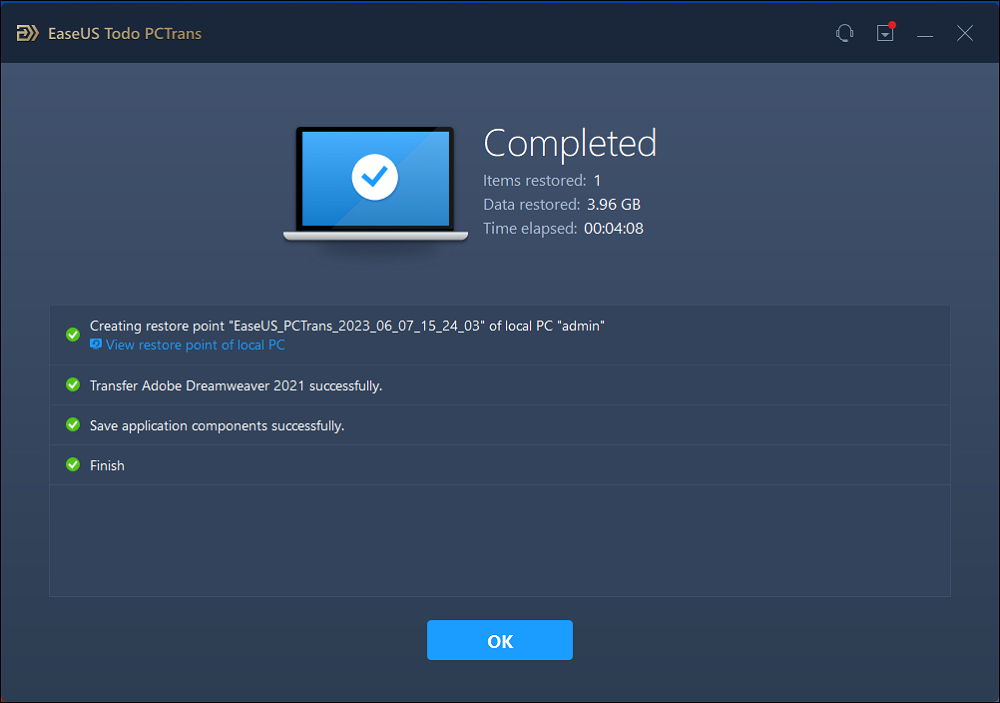 Conclusion 
Transferring files from the flash drive to Windows 10 PC is a straightforward job. All you need to is connect the USB drive, select files, and copy-paste it to the destination folder. However, it becomes complex if you need to handle more files, and that daily. You can use Windows Explorer for a smaller job, but with the bulk transfer and daily routine, it is better to use software like EaseUS PCTrans.
It is important to copy or move the data carefully and always keep a backup. If there is a data loss during the transfer and you don't have a backup, it will be a problem. 
Also See: How to Transfer Files from Flash Drive to Mac
Like Windows,  you can easily copy or transfer files from the USB flash drive anywhere on the Mac.
Step 1. Plug the USB drive into the USB port through the USB-C adaptor. Mac will automatically detect it, and you should get the USB drive to appear on the desktop.
Step 2. Double click to open the USB drive, and then navigate to the folder or file you want to copy. Once you find it, use CMD + C to copy the file.
Step 3. On Mac, navigate to the folder where you want to move the file, then use CMD + V to paste the file.
About the Author

Roxanne is one of the main contributors to EaseUS and has created multiple posts on digital devices like PCs, Mobile phones, tablets, Mac, etc. She loves to share ideas with people of the same interest.

Cedric Grantham is one of the senior editors of EaseUS who lives and works in Chengdu, China. He mainly writes articles about data recovery tutorials on PC and Mac and how-to tips for partition management. He always keeps an eye on new releases and likes various electronic products.
Reviews and Awards
EaseUS Todo PCTrans Free is a useful and and reliable software solution created to serve in computer migration operations, be it from one machine to another or from an earlier version of your OS to a newer one.

 Read More

EaseUS Todo PCTrans is by the folks at EaseUS who make incredible tools that let you manage your backups and recover your dead hard disks. While it is not an official tool, EaseUS has a reputation for being very good with their software and code.

Read More

It offers the ability to move your entire user account from your old computer, meaning everything is quickly migrated. You still get to keep your Windows installation (and the relevant drivers for your new PC), but you also get all your apps, settings, preferences, images, documents and other important data.

 Read More