Even though an old tech, USB or Flash drives are still an integral part of our daily computer usage. It is a fast way to copy files from one computer to another compared to other network transfer methods. The overall process is a no-brainer, and there are multiple methods to transfer files from a computer to a USB flash drive. 
When using Windows 10, you can use the following methods to transfer files to a flash drive:
PAGE CONTENT:
The first three methods are Windows built-in tools for small files transfer. And the PC data transfer software is suitable for large volume data transfer between two computers and is especially useful when upgrading or replacing computers. So, again, choose what works best for you.
How to Transfer Files to a Flash Drive in Windows 10 via Copy-and-Paste 
Copy and Paste is one of the oldest methods in Windows, where you use the mouse or keyboard to copy files and then paste them into the destination.
1. Copy and Paste by Right-Clicking the Files
Step 1. Open Windows Explorer and navigate to the location from where you want to copy the files.
Step 2. Using the left-click, select the files you want to copy. You can also use Ctrl+ Left-click to select files if you don't want to select all files in a row.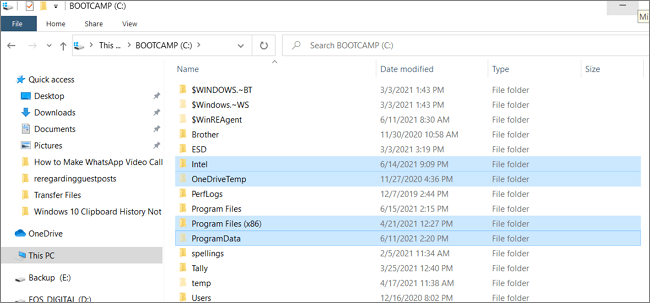 Step 3. Once done, right-click and select Copy from the options. Next, go to the Flash Drive visible in Windows Explorer.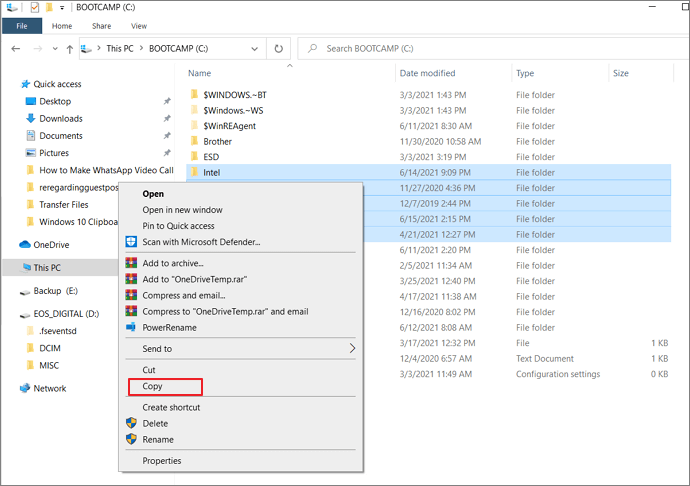 Step 4. Double click on the Flash drive to open it, then right-click on any empty area and choose Paste. It will copy all the files to the flash drive.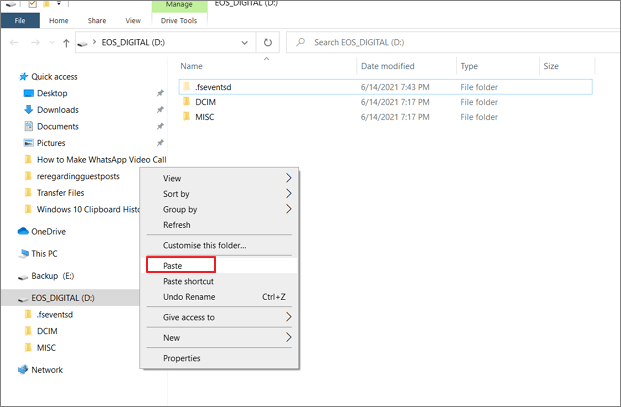 2. Copy and Paste Using Keyboard Shortcuts
Step 1. Go to the folder or file location which you want to copy.
Step 2. Use Tab to highlight the first folder or file, and then use shift to select the files. Once done, press Ctrl + C to copy all of them.
Step 3: Open Windows Explorer using Win + E and then the flash drive. Navigate to the location where you want to copy the files, and then press Ctrl + V.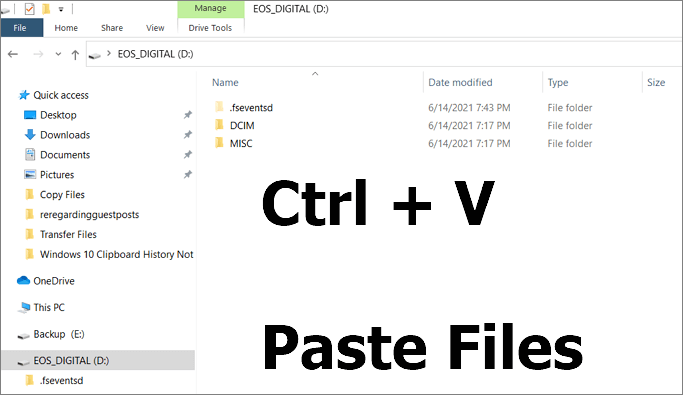 How to Copy Files to a Flash Drive via Drag and Drop
Another interesting way to copy the files to a flash drive is drag and drop. You will have to use the mouse, and it is relatively easy.
Step 1. Using Windows Explorer, first, open the flash drive and then the folder or file location you want to copy. Both should be in two separate windows.
Step 2. Using Win + Left and Win + Right arrows, set the windows side by side.
Step 3. Select the files you want to copy, and keep the left-click pressed, drag the files, and drop it to the window where the flash drive is, and release the left click.

You should then see the copy progress of the files you have drag and dropped.
Copy Files to a Flash Drive on Windows 10 with Send to Feature
Another cool feature in Windows that makes transferring files to external devices easy is the Send To option. The features have been there for a long time and allow you to send files to Bluetooth, mail, external drives, etc. You can also add more locations to this.
Step 1. Open Windows Explorer and navigate to the location of the file you want to copy.
Step 2. Select the files using drag and draw with the mouse to select the files in a row or use Shift + Left click to select individual files.
Step 3. Right-click and select "Send to", and then select the USB drive. The files will be copied to the root folder of the USB drive.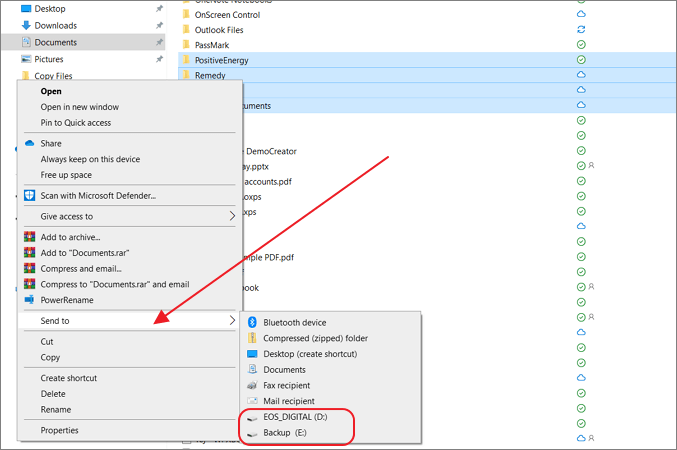 How to Transfer Files to a Flash Drive With a PC Data Transfer Tool
All the methods mentioned above—Copy and Paste, Drag and Drop, and send to methods— are only suitable for transferring a small number of files. If you want to transfer large files in batch or transfer all files to USB quickly, it is recommended to use a professional data transfer program - EaseUS Todo PCTrans. It can transfer files, applications, user account, and settings between PCs, laptops, orcopy files between computer and flash drive in simple clicks.
Here is the list of features and functions that EaseUS Todo PCtrans offers, which makes it a recommended software when it comes to PC data transfer.
Data Transfer Tools
PC to PC Transfer: This is the method to use if you switch PCs and transfer data between computers. You can use this feature to share files between two laptops using WiFi. 
Backup & Restore: Using this method, you can make a full backup of the current PC or a partial backup. Here, you can back up your computer and transfer the image to your USB flash drive to avoid data loss. 
App Migration: This method can be used if one drive has too little space to hold all of your applications. For example, you can transfer programs from C drive to D drive. 
Clean up Tools: The tools simplify the process of getting rid of junk files, finding large files and apps, and cleaning up your system. The App Management tool can be used to remove any files left over after you uninstall an application in Windows.
Product Key Scanning: It has one more piece of utility for product key scanning. With this software, you can scan the registry and other places where keys are stored, export and save keys to avoid losing them because of system crash. 
Step 1. Create a backup file. 
1. Connect your USB (flash) drive/external hard drive to your source computer. Launch Todo PCTrans, click "Backup & Restore > Start" on the main screen.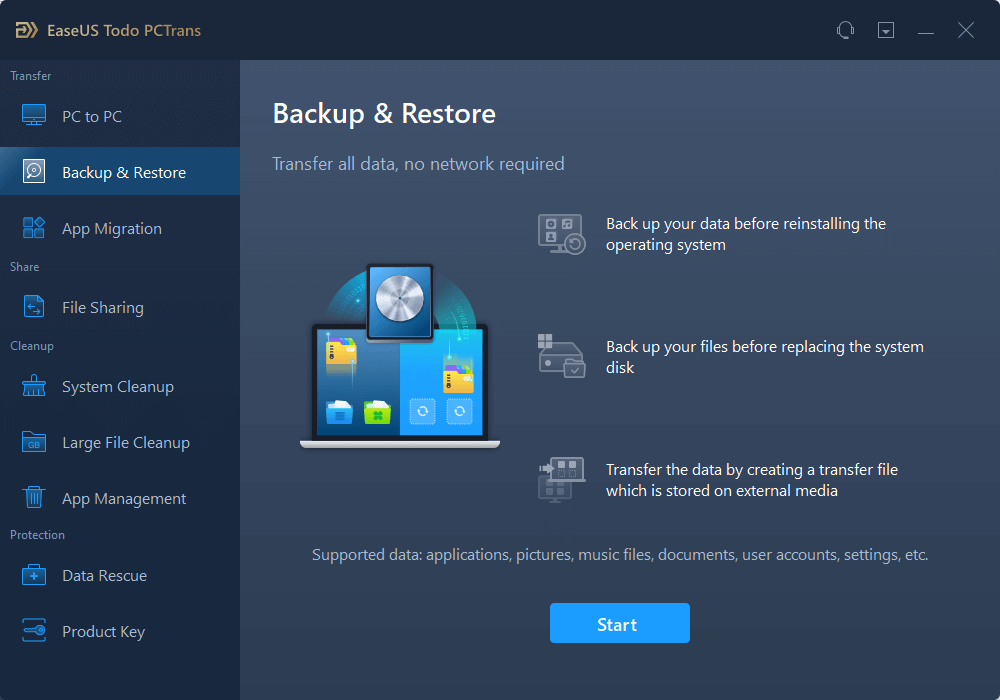 2. Select "Data Backup" to move on.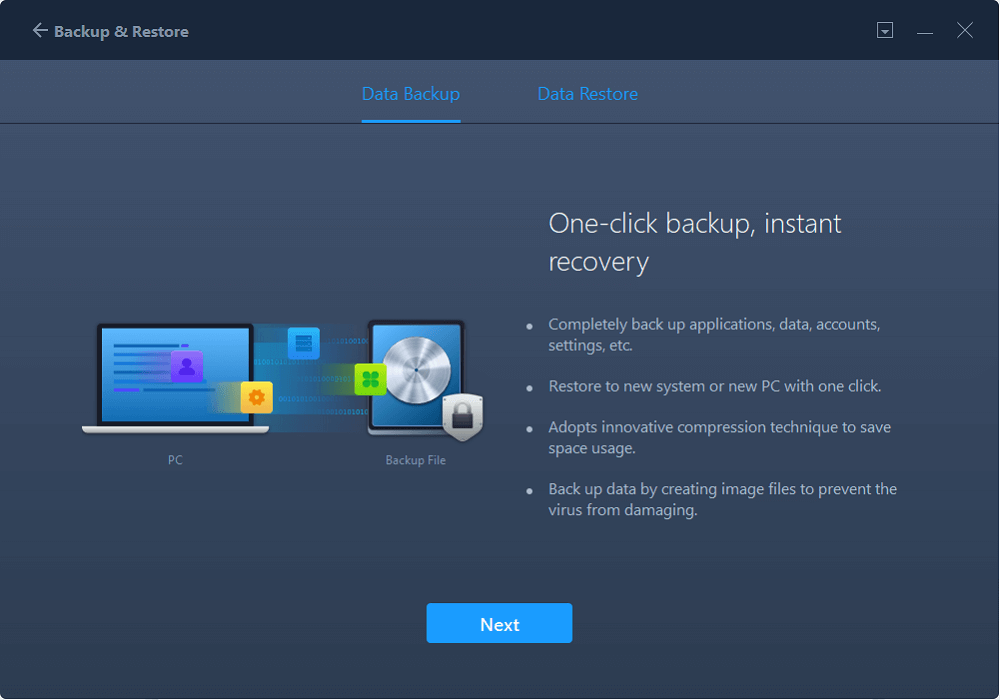 3. Hover over "Applications", "Files" and "Accounts" columns to choose the specific data, applications, etc., and click "Back up" to create a backup file.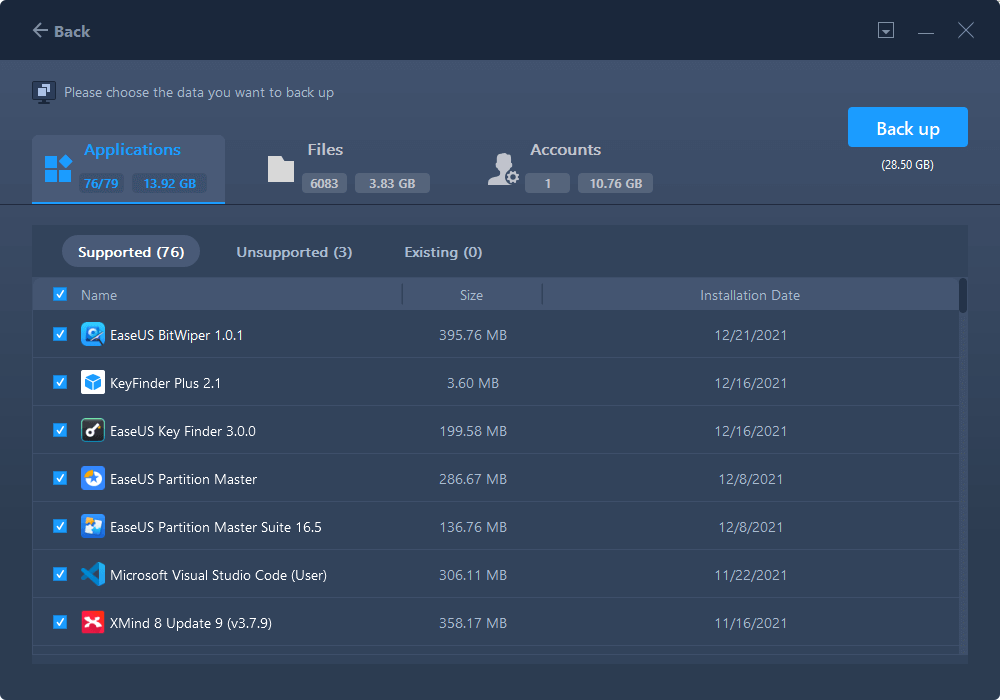 Step 2. Recover via the created backup file.
1. Plugin your USB drive which stores the created backup file to the target PC and open EaseUS Todo PCTrans. Click "Backup & Restore > Start > Data Restore".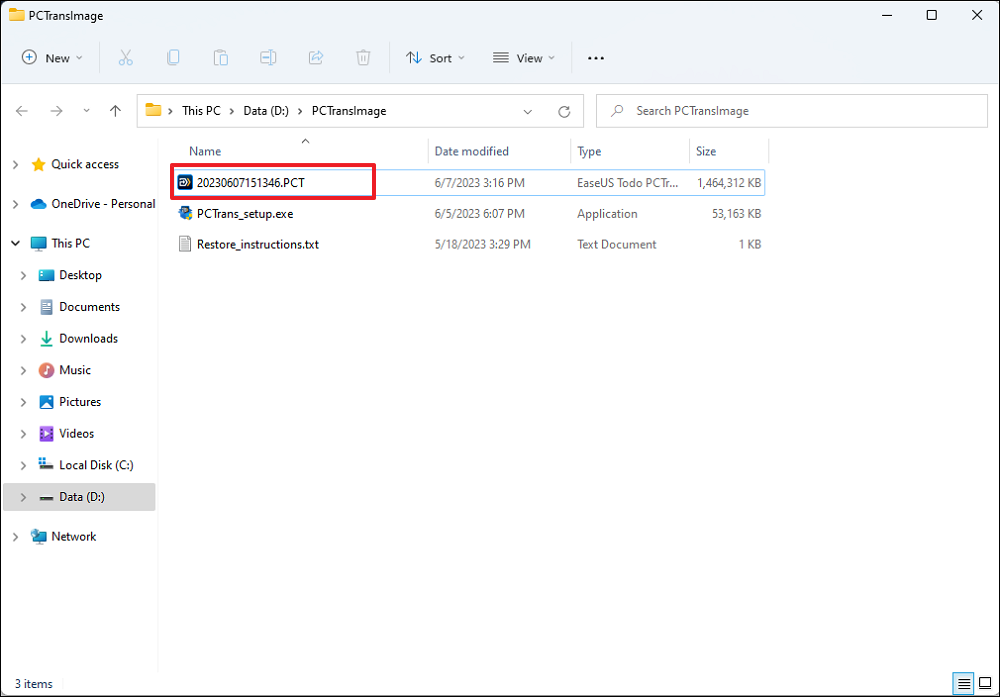 2. Click "Browse" to locate the Image file. Then, choose "Restore" and go to the next step.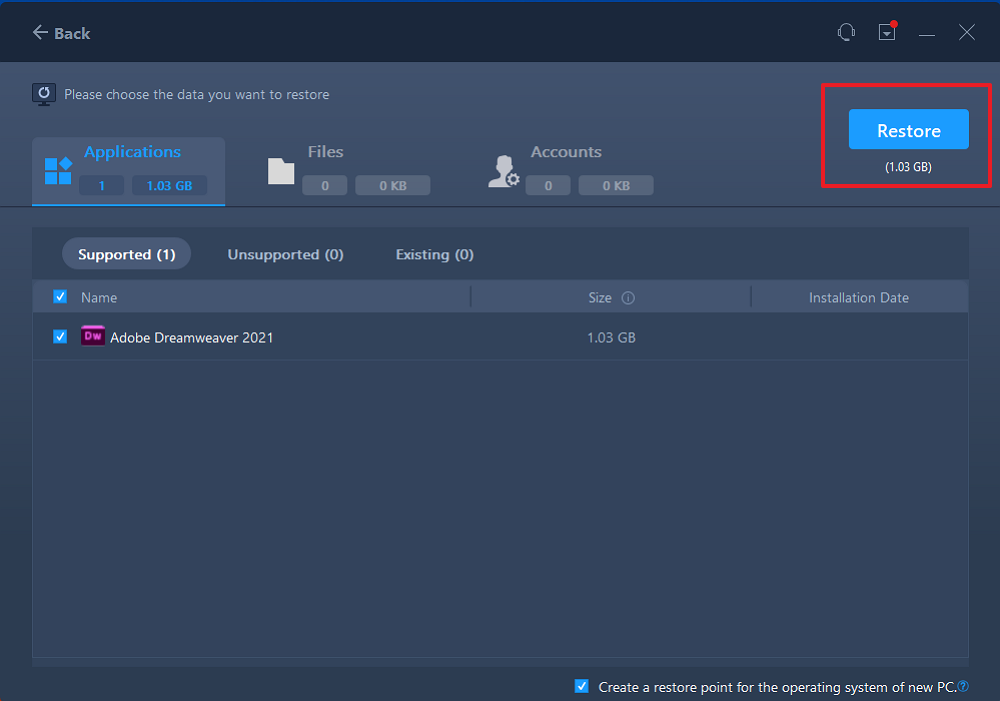 3. Now, you can select Applications/Files/Accounts you want to restore.
Over on Applications, Files, or Accounts to choose the specific data you want transfer flexibly. Click "Restore" to confirm. Besides, you can also click the "Migration Settings" icon to change the target path to recover and save the files.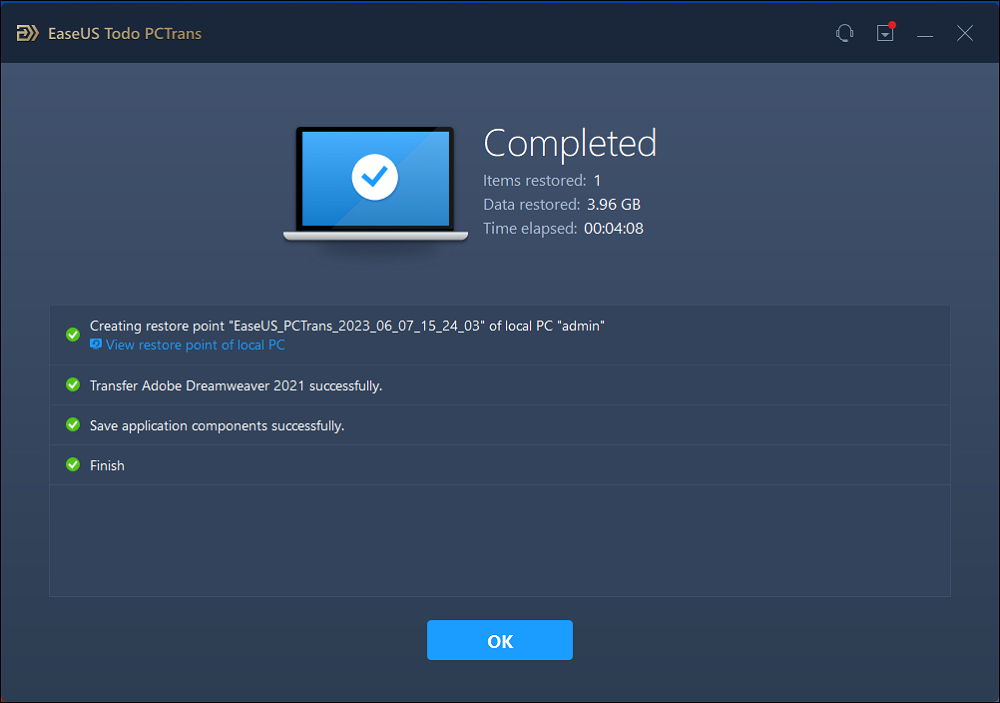 Conclusion
The process of transferring files to a flash drive is a simple one, one we do now and then. Most users are happy using the built-in method to copy files, but those methods fail when it comes to complex jobs. Therefore, it is important to understand that you require professional software such as EaseUS Todo PCtrans to perform data transfers, backups, and moving apps to between partitions.
About the Author
Updated by Tracy King 
Tracy joined in EaseUS in 2013 and has been working with EaseUS content team for over 7 years. Being enthusiastic in computing and technology, she writes tech how-to articles and share technical solutions about Windows & Mac data recovery, file/system backup and recovery, partition management and iOS/Android data recovery.

Cedric Grantham is one of the senior editors of EaseUS who lives and works in Chengdu, China. He mainly writes articles about data recovery tutorials on PC and Mac and how-to tips for partition management. He always keeps an eye on new releases and likes various electronic products.
Reviews and Awards
EaseUS Todo PCTrans Free is a useful and and reliable software solution created to serve in computer migration operations, be it from one machine to another or from an earlier version of your OS to a newer one.

 Read More

EaseUS Todo PCTrans is by the folks at EaseUS who make incredible tools that let you manage your backups and recover your dead hard disks. While it is not an official tool, EaseUS has a reputation for being very good with their software and code.

Read More

It offers the ability to move your entire user account from your old computer, meaning everything is quickly migrated. You still get to keep your Windows installation (and the relevant drivers for your new PC), but you also get all your apps, settings, preferences, images, documents and other important data.

 Read More