Workable Solutions
Step-by-step Troubleshooting
Part 1. Top 3 Best Windows Server Migration Tools

1. (Recommended) EaseUS Todo PCTrans..Full steps

2. Zinstall WinServ...Full steps

3. Storage Migration Service...Full steps

Part 2. How to Migrate Windows Server Data and Programs
Run EaseUS Todo PCTrans > Choose "PC to PC"...Full steps
Part 1. Why Migrating Windows Server Data and Applications By Hand is Hard
In the previous post, I talked about Windows Server 2016/2012/2008/2003 upgrade strategies and how to clone a Windows Server hard drive. Here, I am going to talk about why it is hard to move Windows Server programs and data manually. Moving applications by hand is hard because of the following reasons:
Complex reconfiguration
Production cutover
Time-consuming
...
Since manual Windows Server data migration is difficult and time-consuming, the best choice is turning to professional Windows Server migration tools. You can easily transfer programs, files, and settings to a new Windows Server PC with simple clicks. 
Part 2. Top 3 Best Windows Server Migration Tools
After testing, I have listed three reliable Windows Server migration tools. You can perform Windows Server application migration and transfer data and apps from an old server to another new server with them. Find out their advantages and select the best migration tool for yourself.
Top 1. EaseUS Todo PCTrans (Recommended)
Among these Windows Server migrating applications, EaseUS Todo PCTrans ranks top for its easiness and excellence. This PC transfer software can meet your exact needs with options ranging from file selection to account settings. You can move your stuff and get started with your new PC. What's more, this tool allows you to transfer settings, applications, files, and even user profiles from an old PC to a new one. It supports the most common applications/programs, including MS Office (Word, Excel, Outlook, etc.), Photoshop, Adobe software, AutoCAD, Dropbox.
Highlights:
It is compatible with Windows Server 2003/2008/2012/2016/2019 and Windows 7-10
This software allows you to move programs from PC to PC
It supports to change the installation location of programs on Windows Server local drive.
You can create images of your files, programs & account, and automatically export them from the source PC to the target PC
EaseUS Todo PCTrans Technician
 ☆ Deploy & install Todo PCTrans on multiple PCs.
 Transfer unlimited files, programs, apps between Servers.
 Transfer account, domain account, and settings.
 Data rescue, find product key of installed programs.
 One license for multiple PCs.
Top 2. Zinstall WinServ
Zinstall WinServ migrates applications, settings, shares, profiles, data, etc. from one Windows Server to another. It is compatible with Windows Server 2019, 2016, 2012, 2008, 2003.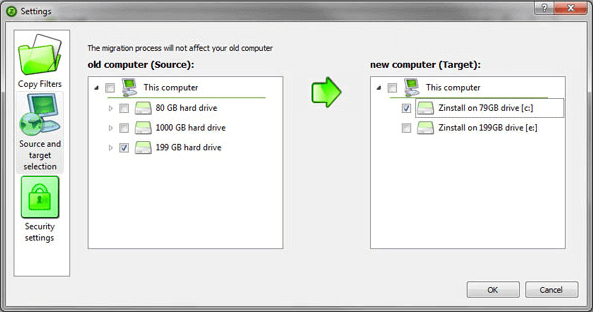 Highlights:
You can transfer programs, settings, profiles, shares, and data from one server to another.
WinServ can transfer from physical to virtual (P2V, V2V, V2P).
It also works with Windows 10 (including Windows 10 to Windows 10), Windows 8/8.1, Windows 7, XP, and Vista.
Cons:
It's more like a disk cloning process between PCs.
The interface looks old and hard to use.
Top 3. Storage Migration Service
Microsoft's recommended method for performing a migration from Windows Server 2008/R2 is what they call a Storage Migration Service. This tool provides a graphical tool that inventories data on Windows and Linux servers and then transfers the data to newer servers or to Azure virtual machines. With it, you build a new server, either physical or virtual, running a new Windows Server version and then move your roles and services to the newly built physical/VM Windows Server.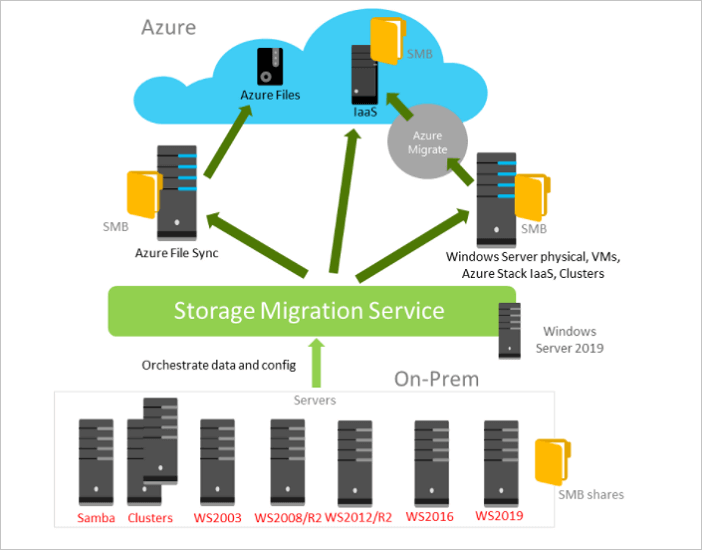 Highlights:
It can transfer files, file shares, and security configuration from the source servers rapidly. 
It takes over the identity of the source servers optionally so that users and apps don't have to change anything to access existing data.
You can manage one or multiple migrations from the Windows Admin Center user interface.
Cons:
It can only run on Windows Server operating systems.
The operation process is difficult for beginners.
Part 3. How to Migrate Files and Programs from Windows Server to Server
If you are looking for an easy and fast way to migrate data, applications, files, or settings from Windows Server to Server, my recommendation is using EaseUS Todo PCTrans. This easy-to-use Windows Server migration tool can move Windows Server data with simple clicks. Follow the steps below and migrate files from Windows Server to another quickly.
Step 1. Launch EaseUS Todo PCTrans on your source and target computers, connect both PCs via the internet.
1. At the "PC to PC" section, click "PC to PC" to continue.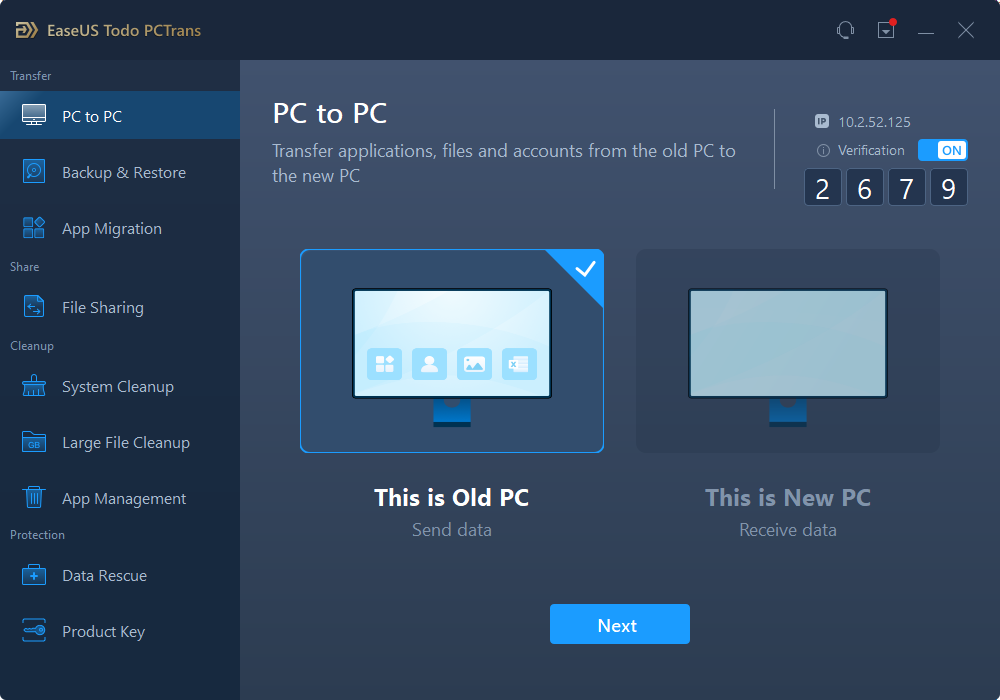 2. Select your target computer via its device name, then enter its account password or verification code and select the transfer direction. Then click "Connect" to continue.
You can check the verification code on the right top of "PC to PC" mainscreen on the target computer.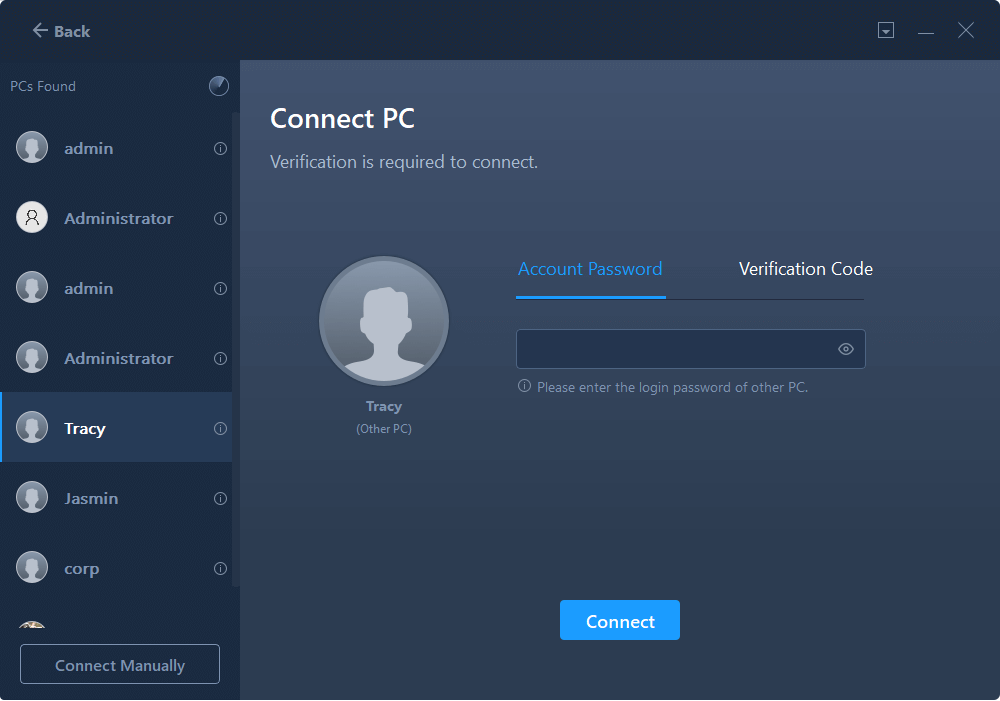 Step 2. Select the categories Applications, Files, and Accounts to transfer via the internet.
If you want to transfer data selectively, click "Edit" under each category, and choose the specific items.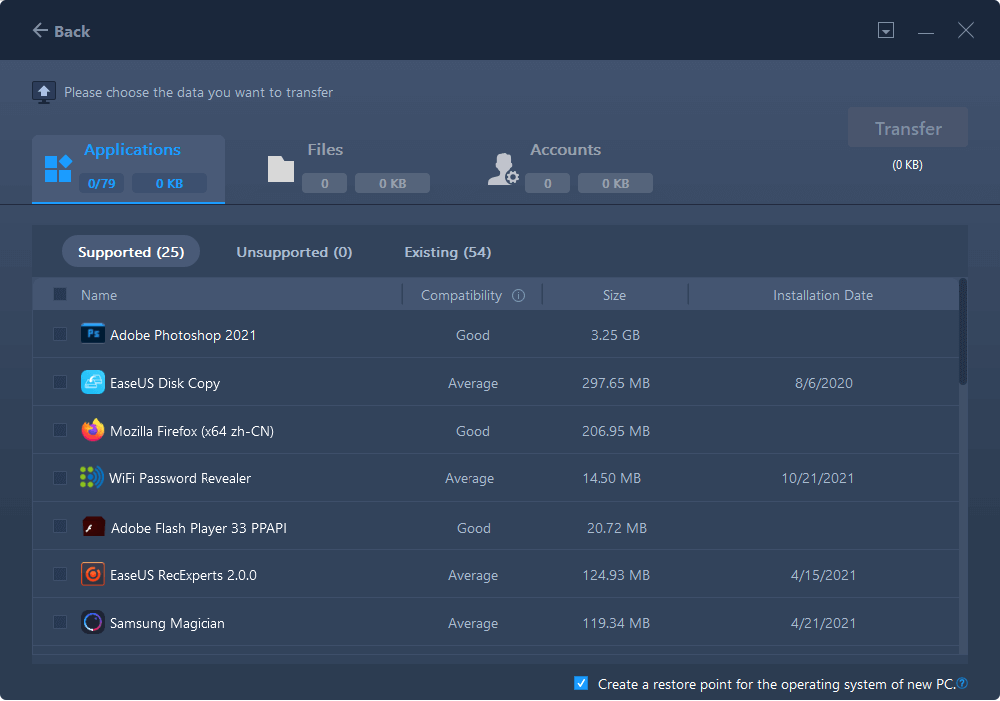 Step 3. Click "Transfer" to start transferring your apps/files/accounts from one computer to another computer via the Internet.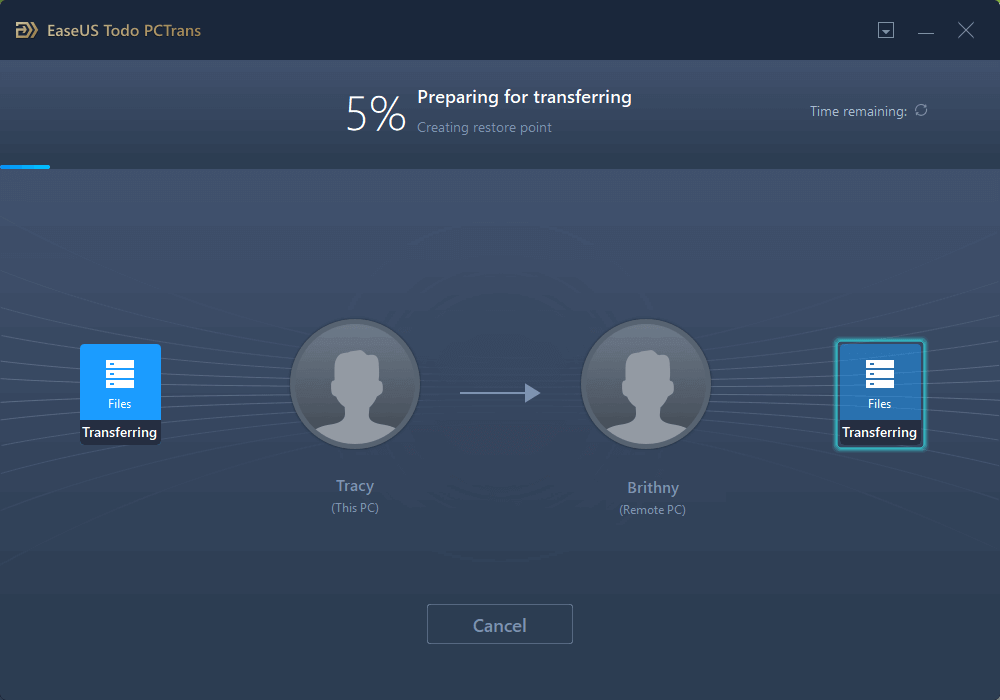 Conclusion
Even if you have no way to install your applications on a new server, you can still transfer them from the old one with a dedicated migration tool. So if you are looking for a way to automate a large part of your server migration project, EaseUS data migration tool is the right one for you.
Windows Server Migration Related Questions (FAQs)
It is hard to migrate installed programs to another PC or drive manually. It's an excellent choice to try a reliable application migration tool. We have talked about the top 3 Windows Server migration tools, and how to migrate wanted files. If you still have problems, read on.
What are Windows Server Migration Tools?
Windows Server Migration Tools are utilities that work with Server 2003 and newer Server OS versions. They can migrate Server applications, personal files, settings, and other data from Windows Server to another.
What is Windows Server migration?
Windows Server migration is when you move one role or feature at a time from a source computer that is running Windows Server to another destination computer that is running Windows Server, either the same or a newer version.
How long does server migration take?
It depends on a variety of factors, including the amount of data being migrated, the stability of the original server, or other unforeseeable issues, a typical migration can take anywhere from a few minutes to a few hours. 
How do I move my data from one Server to another?
To migrate Windows Server data:
Step 1. Open EaseUS Todo PCTrans on both of your computers. Choose PC to PC and go to the next step.
Step 2. Follow the interface guides to complete the connection between the two computers. 
Step 3. Click Files > Transfer to copy all the files from one server to another. Or you can click Edit > Finish > Transfer to migrate specific data you have chosen.
Step 4. Wait for the process finishes. PCTrans will transfer files at a fast speed.
About the Author
Updated by Tracy King 
Tracy joined in EaseUS in 2013 and has been working with EaseUS content team for over 7 years. Being enthusiastic in computing and technology, she writes tech how-to articles and share technical solutions about Windows & Mac data recovery, file/system backup and recovery, partition management and iOS/Android data recovery.

Brithny is a technology enthusiast, aiming to make readers' tech life easy and enjoyable. She loves exploring new technologies and writing technical how-to tips. On her spare time, she loves sharing things about her favorite singer - Taylor Swift on her Facebook or Twitter.
Reviews and Awards
EaseUS Todo PCTrans Free is a useful and and reliable software solution created to serve in computer migration operations, be it from one machine to another or from an earlier version of your OS to a newer one.

 Read More

EaseUS Todo PCTrans is by the folks at EaseUS who make incredible tools that let you manage your backups and recover your dead hard disks. While it is not an official tool, EaseUS has a reputation for being very good with their software and code.

Read More

It offers the ability to move your entire user account from your old computer, meaning everything is quickly migrated. You still get to keep your Windows installation (and the relevant drivers for your new PC), but you also get all your apps, settings, preferences, images, documents and other important data.

 Read More