How to Copy Games from PC to USB or Pen Drive Efficiently
USB flash drives are ideal for moving files from one device to the next. They can also help you free up disk space on your PC. If you're a die-hard gamer, your computer's hard drive may be full of game files. You can install some games that you don't play very often onto a flash drive if you buy one with enough memory.
You can just insert the Pendrive into a USB socket and transfer the games back to the computer when you're ready to play them. But first, you should know how to copy games from PC to USB.
How To Copy Games from PC to USB/Pen Drive in Two Ways
Is it possible to transfer games to a USB drive? Yes. You can put a majority of games on a USB flash drive and run directly from it. The method is straightforward and requires fundamental knowledge of working a computer. If you want to understand how to copy games from PC to USB, read the article further to know more!
Method 1. Copy Games from PC to USB with PC Data Transfer Software in 1-Click
Are you looking to transfer games to an external hard drive? EaseUS Todo PCtrans lets you easily migrate apps and PC games to external hard disks and free up space to resolve low disk space problems.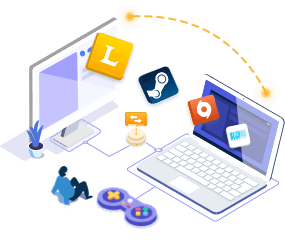 EaseUS Todo PCTrans
Transfer to a new PC: Steam, Origin, LOL, Blizzard.
Transfer to a new drive: DIABLO, WORLD OF WARCRAFT, OVERWATCH, HEARTHSTONE, HEROES OF THE STORM, etc.
3 steps to migrate games apps to a new pc or a new drive.
Find all extraordinary features for a seamless transfer. Moving games to an external hard drive is simple with a PC game mover – EaseUS Todo PCTrans. You can use this professional software to change the location where the program is installed, such as transfer programs from C drive to D drive. This PC game mover utility will ultimately answer the problem of how to transfer games to an external hard disk. 
This software can be downloaded and launched straight to assist you in moving games or apps from a PC to an external hard disk.
Step 1. Connect an empty USB drive to your PC and run EaeUS Todo PCTrans
Click "App Migration" on the main screen, and click "Start" to continue.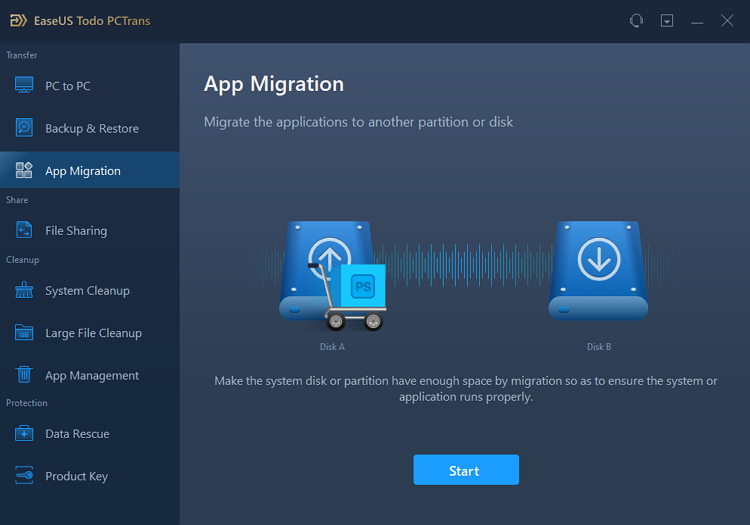 Step 2. Select applications, programs, and software to transfer
First, select the source partition where you installed apps and tick the programs marked as "Yes" that you'd like to move to your USB drive.
Next, click the triangle icon to choose the USB as your target location to move the selected programs without reinstallation.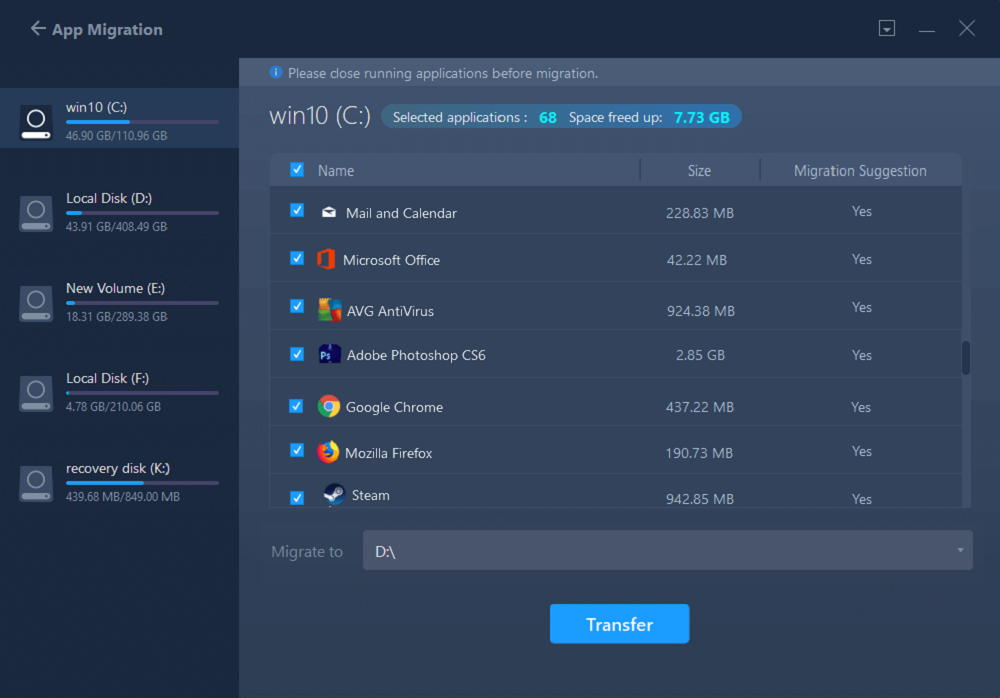 Step 3. Transfer and move selected apps, programs, and software to USB
Click "Transfer" to start the transferring process and wait for the process to finish.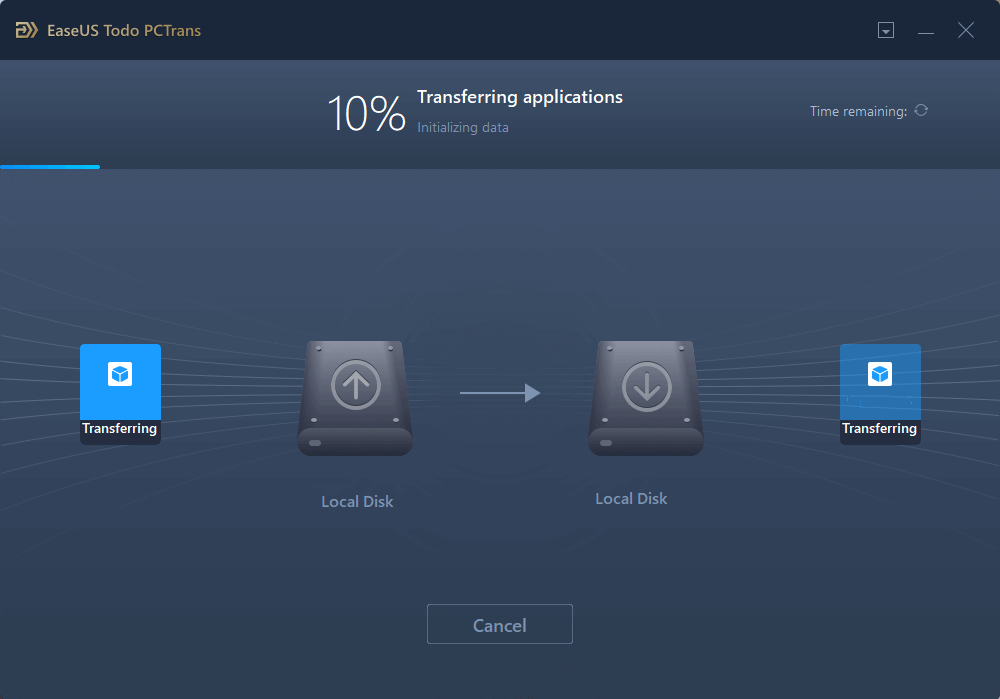 Note: 1. After the transferring, restart the PC if necessary. Then you can run the transferred programs on your USB drive without reinstallation. 
2. You can only run and launch transferred programs from the USB on your source PC. It won't work on other computers.
Method 2. Copy Games to USB Flash Drive by Copy-and-Paste
Step 1. Insert the flash drive into a computer's open USB port. In the AutoPlay pop-up Window, select "Open folder to view files".
Step 2. Go to the game files you wish to transfer to the flash drive and select them. While choosing the remaining files, click and hold the "Ctrl" button on one of the files.
Step 3. Hold the mouse button down while dragging the selected game files to the flash drive folder by clicking on one of the highlighted files.
Allow for complete file transfer before closing the flash drive folder. In the system tray at the bottom of the screen, click on the "Safely remove hardware" icon. Before removing the flash drive from the USB slot, please select it and wait for the system to notify you that it is safe to do so.
Even if the procedure works, you won't copy some secret files to the destination, causing your games to crash. So why not try the tried-and-true method of copying and transferring games from a computer to an USb or external hard drive? It is recommended to use EaseUS Todo PCTrans for flawless game sharing.   
How to Transfer Games from One PC to Another Without Redownloading
In addition to migrating applications from PC to USB/external hard drive, you can also use EaseUS PC data transfer software to transfer games from one PC to another. No need to re-download and re-install the game again. This tool seamlessly transfers all your info between two laptops or PCs.  
Securely transport everything: You can transfer software, data, settings, and even user profiles from an old PC to a new one using this free tool.
Automatically and quickly: All your apps are installed and ready to use when you first turn on your new PC. It shows you how to load your new computer in the easiest way possible.
Programs do not need to be reinstalled: Users can send data immediately without installing software, which can help you work more efficiently.
Step 1. Run EaseUS Todo PCTrans on both PCs
On the source PC, select "PC to PC" on the main screen of EaseUS Todo PCTrans and move on.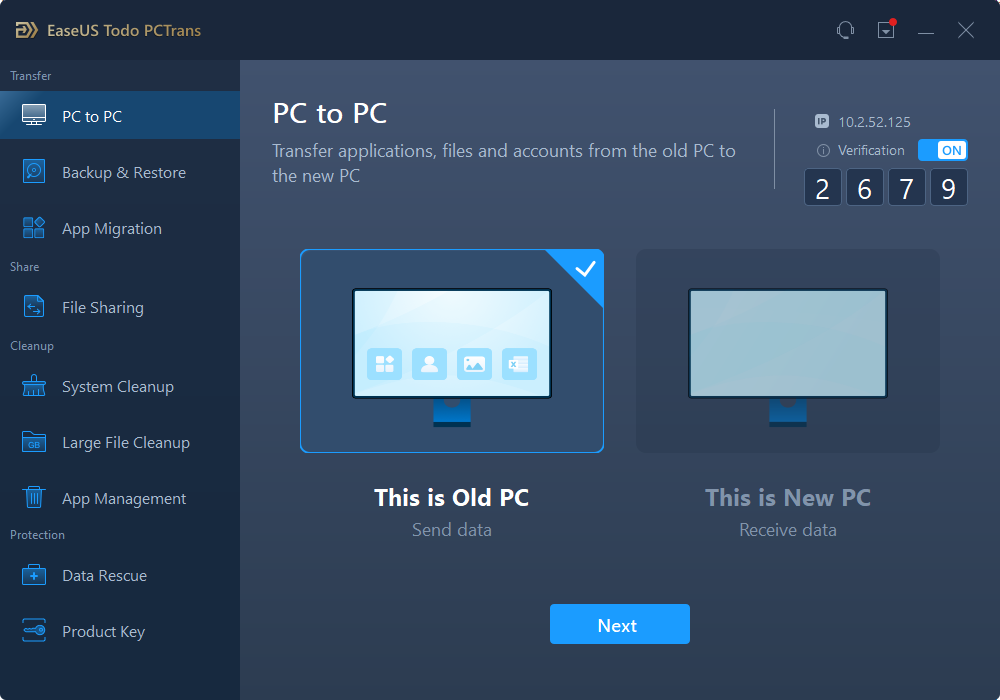 Step 2. Connect two computers
1. Select your target PC to connect via its IP address or device name and click "Connect".
2. Enter the login password of your target PC and click "OK" to confirm.
If you didn't see the target PC in the listed devices, you can also click "Add PC" to manually connect the target PC by inputting its IP address or device name.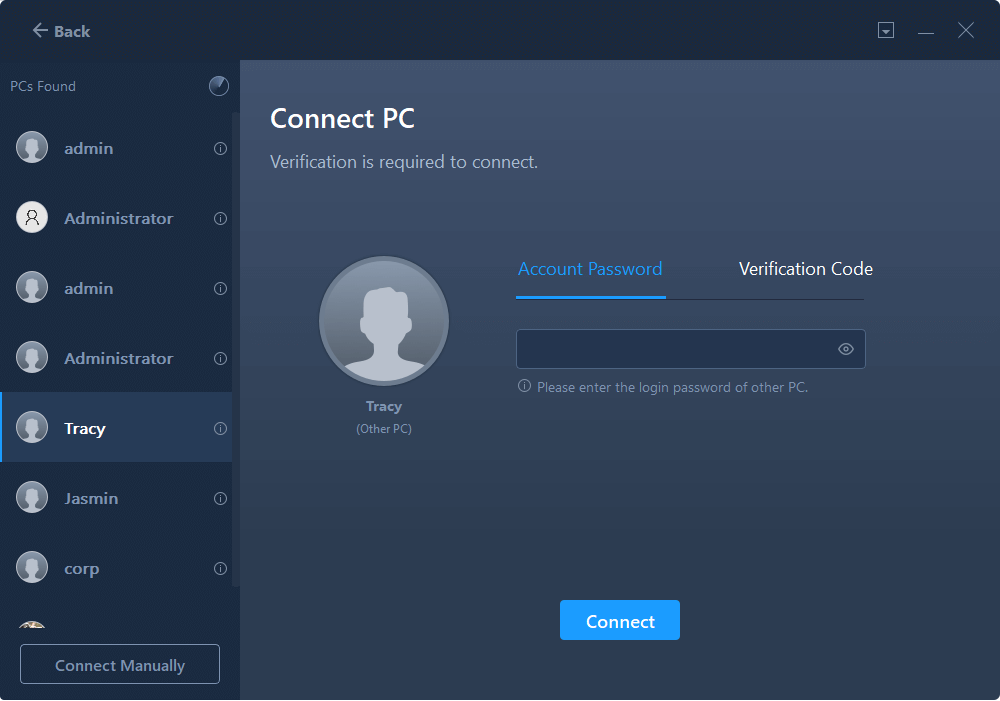 3. Set the transfer direction - "Transfer from this PC to other PC" and click "OK" to continue.
Step 3. Select apps, programs, and software and transfer to the target computer
1. Click "Edit" on the application section, then you can open up the application list.
Then you can select and choose what you want to transfer from the current computer to the target PC.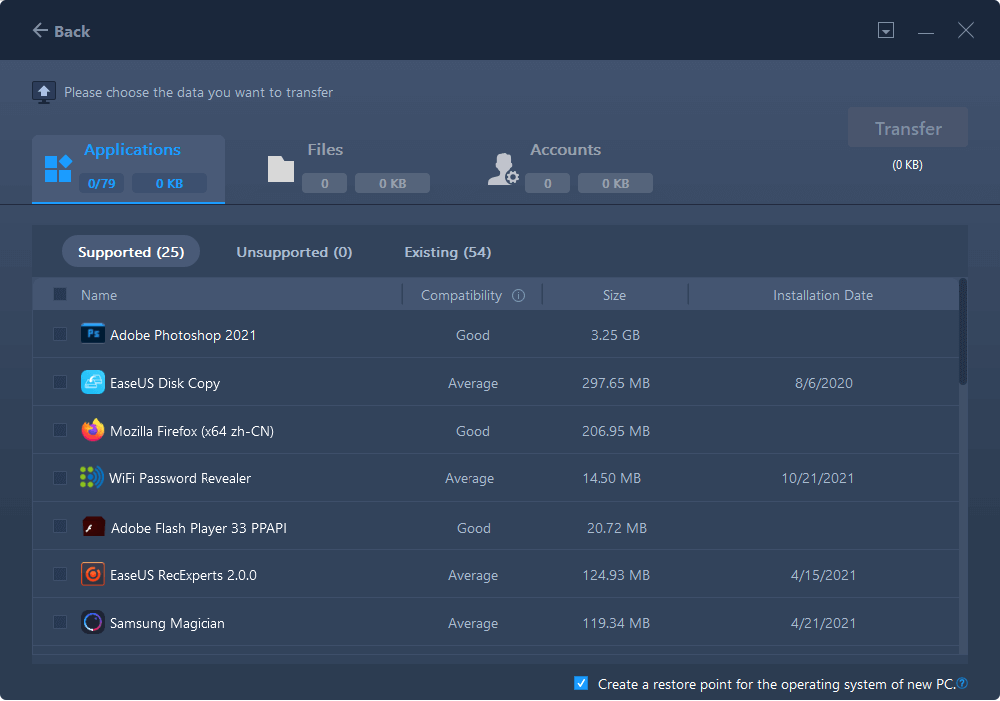 2. After selecting desired applications and programs, click "Finish" to confirm.
At last, click "Transfer" to start the transferring process.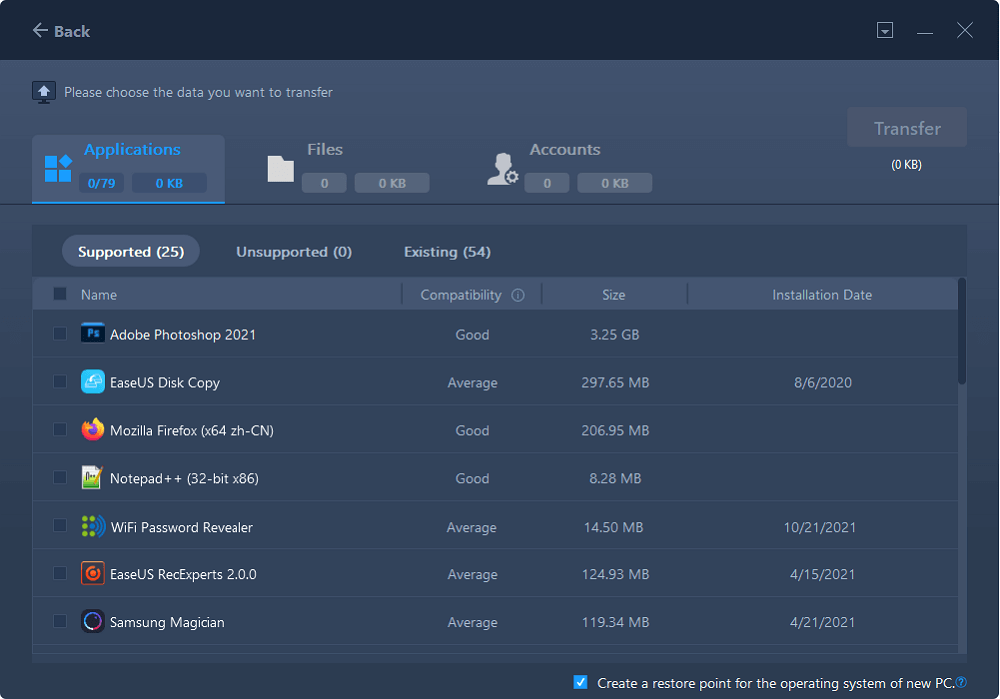 Conclusion
Directly copying the game sounds simple, but you have no way of knowing if it will function or not. Using third-party software is still a viable option.
EaseUS Todo PCTrans is a simple PC migration tool that allows you to transfer data, programs, and accounts from one computer to another or an external device. This transfer tool moves all of your desired games or data in just one click.
Updated by Tracy King 
Tracy joined in EaseUS in 2013 and has been working with EaseUS content team for over 7 years. Being enthusiastic in computing and technology, she writes tech how-to articles and share technical solutions about Windows & Mac data recovery, file/system backup and recovery, partition management and iOS/Android data recovery.

Cedric Grantham is one of the senior editors of EaseUS who lives and works in Chengdu, China. He mainly writes articles about data recovery tutorials on PC and Mac and how-to tips for partition management. He always keeps an eye on new releases and likes various electronic products.
EaseUS Todo PCTrans Free is a useful and and reliable software solution created to serve in computer migration operations, be it from one machine to another or from an earlier version of your OS to a newer one.

 Read More

EaseUS Todo PCTrans is by the folks at EaseUS who make incredible tools that let you manage your backups and recover your dead hard disks. While it is not an official tool, EaseUS has a reputation for being very good with their software and code.

Read More

It offers the ability to move your entire user account from your old computer, meaning everything is quickly migrated. You still get to keep your Windows installation (and the relevant drivers for your new PC), but you also get all your apps, settings, preferences, images, documents and other important data.

 Read More
About EaseUS Todo PCTrans
EaseUS Todo PCTrans can transfer settings, applications and data between PCs and HDDs. Your all-round PC transfer and migrate software to upgrade devices without re-installation.