Can I share apps between two laptops using Nearby Share? To answer this question, you'll first need to know what is Nearby Share, what can Nearby Share transfer, and is Nearby Share available on all Devices? 
This page gives answers to all these questions and even provides you with a straightforward solution to share apps, programs, and even games between two laptops in Windows 11/10/8.1/8/7. Let's see the details.
#1. What Is Nearby Share
Windows Nearby Share is a Windows built-in tool that enables Windows users to share documents, photos, links to websites, and other files to a nearby device.
As long as your computer contains Bluetooth or WiFi access and the operating system is Windows 11 or Windows 10 (version 1083 or later), you can have a chance to share files between computers by using Nearby Share.
#2. What Can Nearby Share Transfer
So what can you share via Nearby Share with a nearby computer? Here is the list of content that you can transfer:
Documents like Word, Excel, PowerPoint, PDF, Text document, etc.
Photos, images in .png, .jpg, .gif, tiff, etc.
Videos in .mp4, .avi, .3gp, and more.
Links to websites.
More...
For someone who wants to share files via Nearby Share on new Windows laptops simply, you can refer to this guide for help:

So what else can't Nearby Share transfer? Here is the list of limits in Nearby Share that you can refer to have a look.
List of Nearby Share Limits:
Can't transfer big files in GB size.
Can't transfer apps, software, and programs.
Doesn't support Windows 8.1/8/7/XP/Vista
File sharing is inconsistent, based on the WiFi or Bluetooth state.
#3. Is Nearby Share Available on All Devices
According to the above information, it's clear now that you can't share files on all Windows computer devices using Nearby Share.
It's not available on these devices:
Desktop computers that don't support Bluetooth or WiFi connection.
Old computers installed with Windows 8.1/8/7/XP/Vista.
#4. Can I Share Apps Between Two Laptops Using Nearby Share? Yes or No
Now the answer to the question 'Can I share apps between two laptops using Nearby Share' is clear, and it is NO!
Due to the limit of Nearby Sharing, apps, programs, installed software, and even downloaded games are not allowed to transfer via Nearby Share.
Here are the reasons:
1. Nearby Share doesn't support transferring apps.
2. Nearby Share can't share big files in GB sizes.
3. Nearby Share can't access or find root files that guarantee apps are running properly.
#5. How Do I Transfer Apps, Programs from Laptop to Laptop
It doesn't matter that you can't apply Nearby Share to share apps between laptops. You can successfully migrate any desired software to a new device by turning to a third-party Nearby Share alternative tool - professional data and app transfer software.
EaseUS Todo PCTrans is reliable in transferring files, apps, and even Windows account settings between PCs and laptops. It enables all Windows users to share and move everything on all old and new Windows systems flexibly.
EaseUS Todo PCTrans breaks the limit of Nearby Share and allows users to transfer files, apps, and account settings to a new computer via network connection or image.
In a word, it doesn't matter if your computer doesn't have Bluetooth or WiFi connection access.
Let's see how to transfer apps, programs from laptop to laptop, PC to PC, or between PC and notebook:
First, Find App and Program Product Key
As most software requires a product key for activation, it's essential that you run EaseUS Todo PCTrans with its Product Key feature to discover the license code at first.
Step 1. Launch and run EaseUS Todo PCTrans on the PC, and choose "Product Key" on the left panel.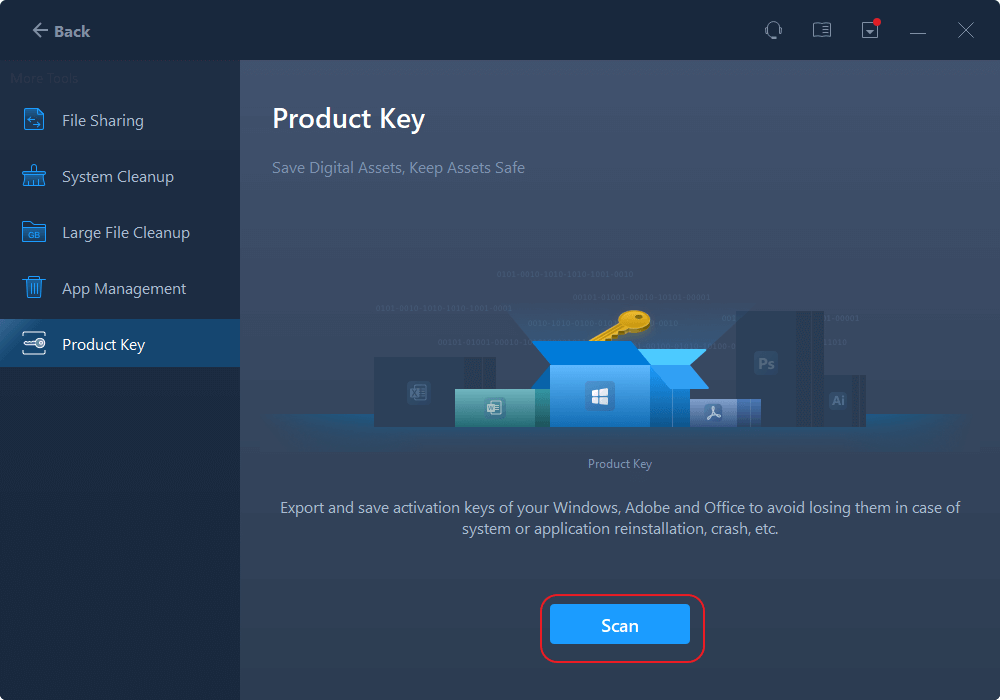 Step 2. Click "Scan", and you can see the product key of Windows, Adobe, and Office. Save the key to the selected location or choose "Copy" for direct use.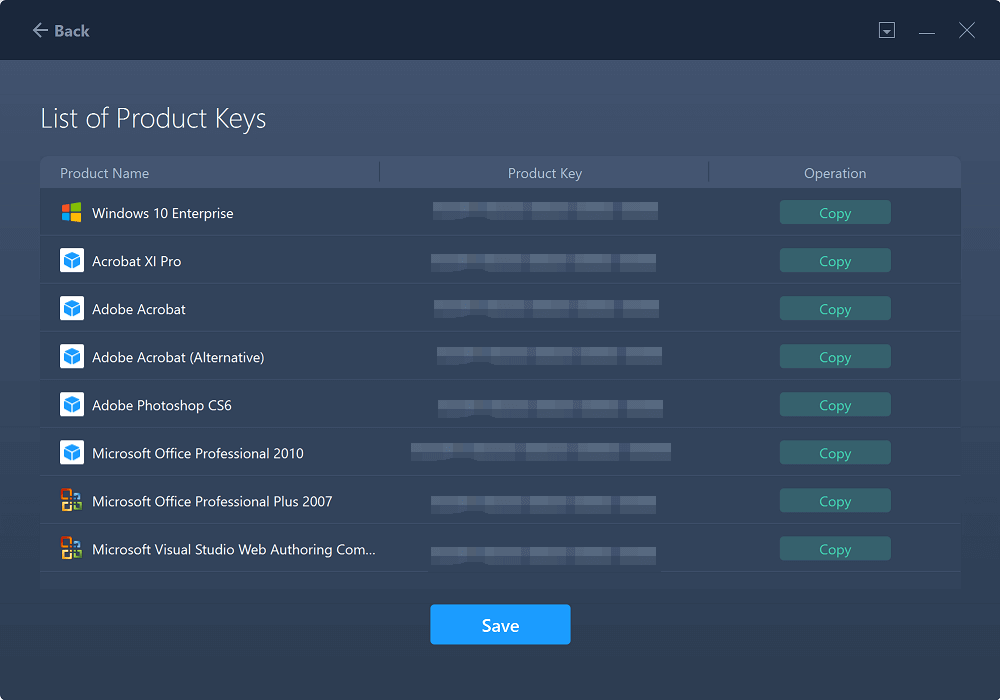 Second, Transfer Apps from Laptop to Laptop via Network
Now, you can run EaseUS Todo PCTrans on both laptops and transfer apps with the below steps:
Step 1. Run EaseUS Todo PCTrans on both PCs
On the source PC, select "PC to PC" on the main screen of EaseUS Todo PCTrans and move on.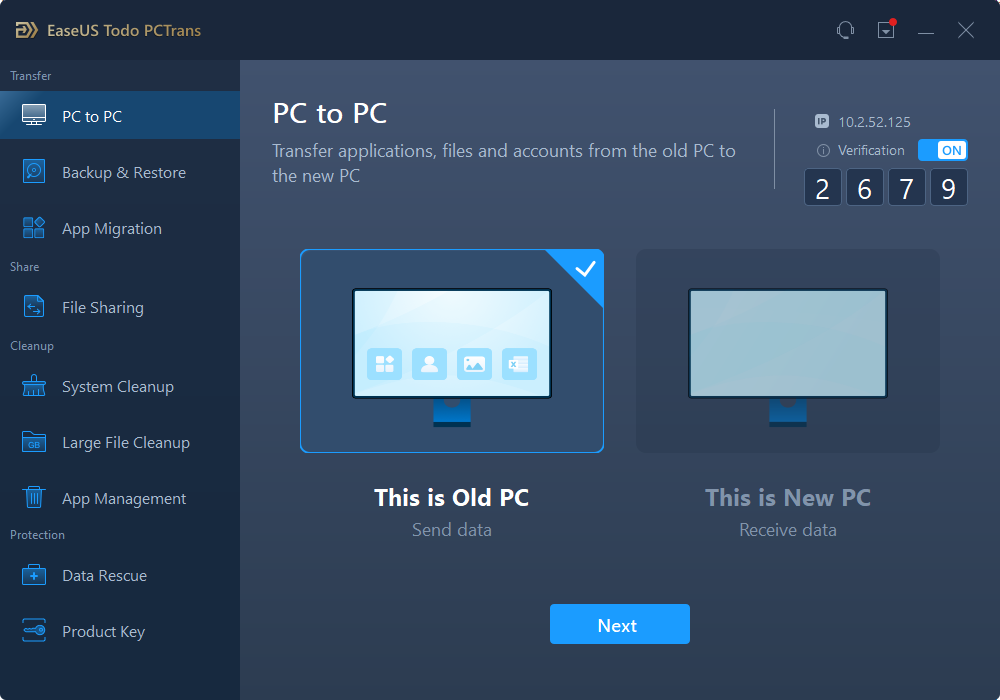 Step 2. Choose transfer direction - Old or New Computer
"New" - Transfer all data from remote old computer to current new computer.
"Old" - Transfer all data from current old device to a new computer.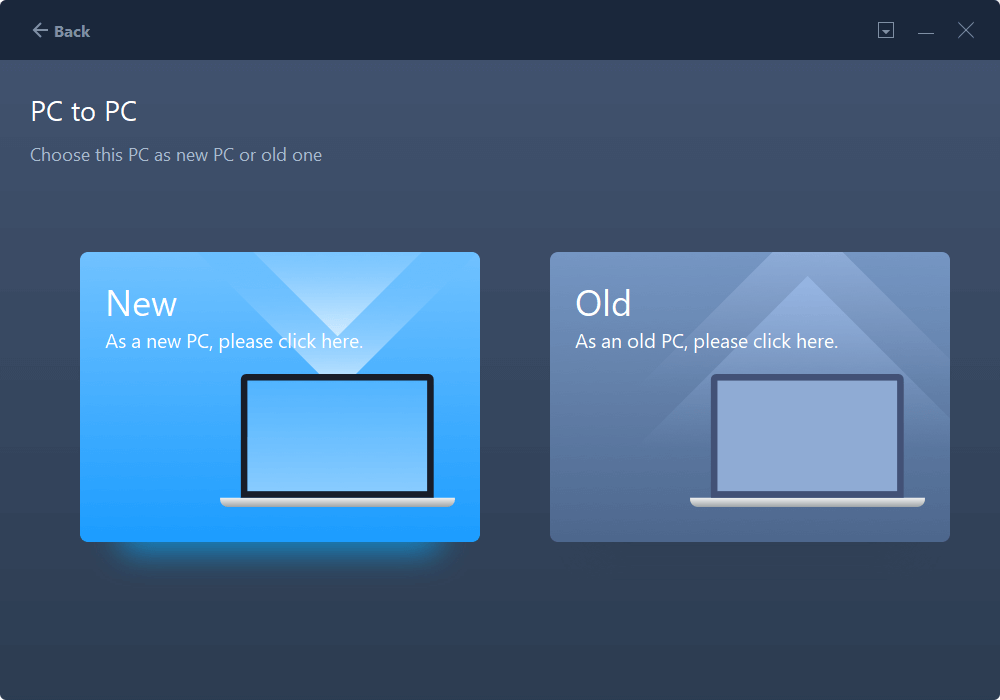 Step 3. Connect two computers
1. Select your target PC to connect via its IP address or device name and click "Connect".
2. Enter the login password of your target PC and click "OK" to confirm.
If you didn't see the target PC in the listed devices, you can also click "Add PC" to manually connect the target PC by inputting its IP address or device name.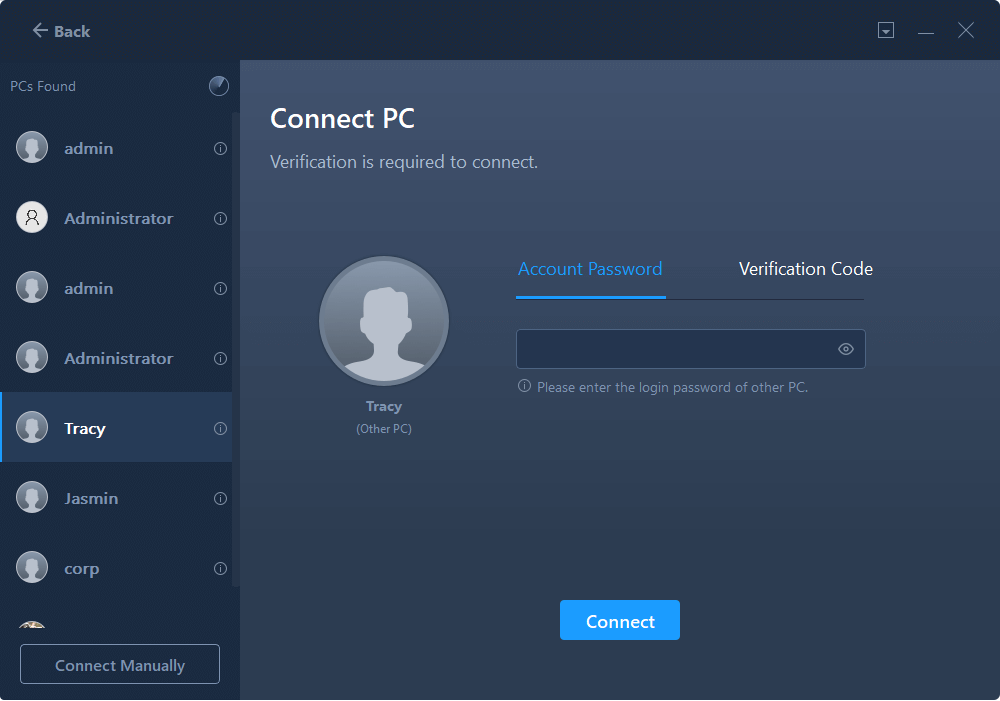 Step 4. Select apps, programs, and software and transfer to the target computer
1. You can select and choose what you want to transfer from the current computer to the target PC.
2. After selecting desired applications and programs, click "Transfer" to start the transferring process.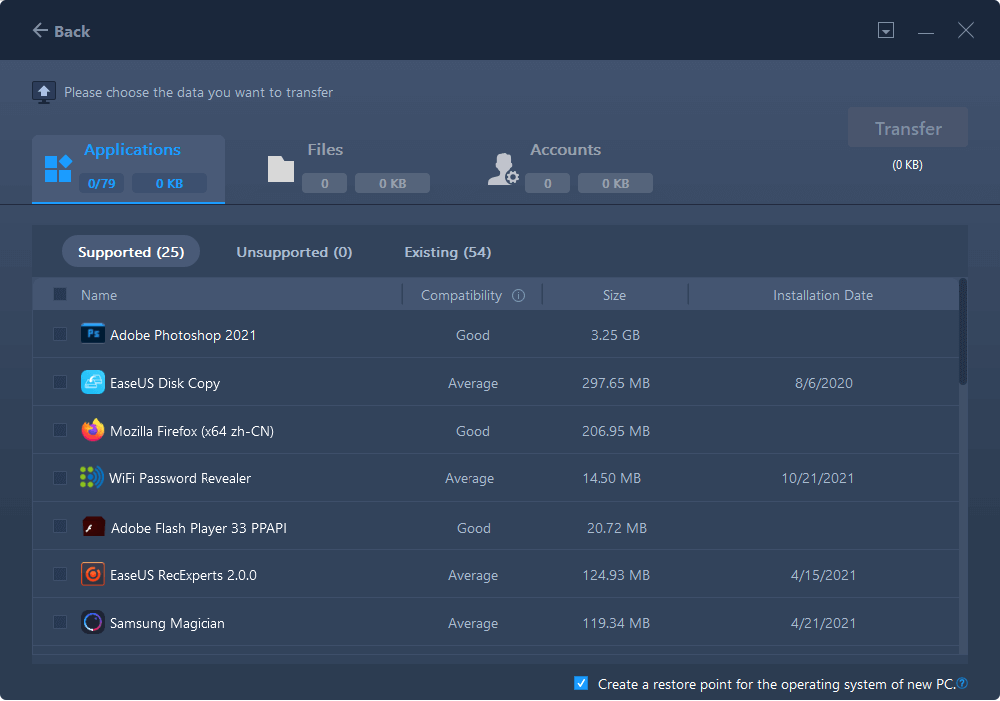 Once done, you can run the software on the new laptop and use the found key to activate the software without any issues.
Nearby Share FAQs
This page directly answers the question of 'Can I share apps between laptops using Nearby Share' and provides an alternative solution to help Windows users resolve this issue.
Some of you may have more questions about Nearby Share, and you can check the questions and answers below. In addition, you may get the desired answer here.
1. Can I use Nearby Share between Android and Windows?
No, Windows and Android Nearby Share are not sharing the same protocol. It means that even you open the Bluetooth or WiFi discovery feature, neither your Android phone nor the Windows laptop will discover each other in the same LAN.
2. Can I use WiFi Direct to transfer files in Windows 11?
WiFi Direct is an offline way to connect computers or smartphones directly. Compared to traditional WiFi, it can transfer large files, connect printers, etc.
To use WiFi Direct for transferring files, you'll need to check whether your computer supports it first. For a step-by-step guide, you can follow this link for help: Send Files from PC to PC via WiFi Direct.
3. How Do I Fix It When Nearby Share Is Not Working
The reasons why Nearby Share is not working are complex, and when this error occurs to you, you need to check if your computer supports Nearby Share first.
Here are some tips for you to check:
1. Check if the computer OS is Windows 11 or Windows 10 1803 or later.
2. Check if both two computers support Bluetooth or WiFi connection.
3. Make sure two PCs are near to each other.
4. Make sure the Bluetooth or WiFi connection is smooth.
If your two computers meet all the requests, follow this link to Fix Nearby Share Is Not Working error. 
In a word, when you can't share large files or cannot use Nearby Share to share or transfer data, apps between computers turn to EaseUS Todo PCTrans. It'll always satisfy your demands.
About the Author
Updated by Tracy King 
Tracy joined in EaseUS in 2013 and has been working with EaseUS content team for over 7 years. Being enthusiastic in computing and technology, she writes tech how-to articles and share technical solutions about Windows & Mac data recovery, file/system backup and recovery, partition management and iOS/Android data recovery.
Reviews and Awards
EaseUS Todo PCTrans Free is a useful and and reliable software solution created to serve in computer migration operations, be it from one machine to another or from an earlier version of your OS to a newer one.

 Read More

EaseUS Todo PCTrans is by the folks at EaseUS who make incredible tools that let you manage your backups and recover your dead hard disks. While it is not an official tool, EaseUS has a reputation for being very good with their software and code.

Read More

It offers the ability to move your entire user account from your old computer, meaning everything is quickly migrated. You still get to keep your Windows installation (and the relevant drivers for your new PC), but you also get all your apps, settings, preferences, images, documents and other important data.

 Read More