Microsoft has embedded numerous new and fresh features into Windows 11 for better productivity and communication. However, Windows 11 has taken the gaming experience to a whole new level with a graphic-rich interface and easy access to over 100 high-quality games. 
But, unfortunately, if you can't enjoy the Windows 11 gaming experience, Epic Games isn't properly working on your computer. Then, no need to worry, folks. You simply need to move Epic Games to another drive. Why? 
You see, gamers, as you already know, Epic Games is a leading game developer. In fact, they have produced epic games like Bulletstorm, Fortnite, and War Machine. Epic Games also offers a distribution platform so users can easily download Epic Games products. 
However, by default, all Epic games and software are stored on C: drive. Therefore, if your C drive is full, Epic Games Launcher won't get sufficient space to run, and it can create an error for you. This might happen after Windows 11 update as Windows updates are also stored in C drive. 
So, what do then?
| Workable Solutions | Step-by-step Troubleshooting |
| --- | --- |
| Move Epic Games to Another Drive Easily using Software | Step 1. Connect a new drive to your computer...Full steps |
| Manually Transfer Epic Games to Another Drive | Step 1. Backup your Epic Games Folder...Full steps |
Simple, if you have sufficient free space on your other drivers, you can move Epic Games there and enjoy the dynamic Windows 11 gaming features on your computer. 
Wondering how to transfer Epic games to another drive? Well, no worries, you have two ways to move Epic Games to another driver. Let's check out both ways in detail. 
How to Move Epic Games to Another Drive Easily Using Free Software 
Yes, using the application moving tool, you can effortlessly shift Epic Games from C drive to any other drive like D, E, or F. But isn't downloading software expensive? 
Well, no. That's because you can use premium software like EaseUS Todo PCTrans Free immediately. This tool can automatically move all your installed programs or games to new locations for free without any effort. 
EaseUS Todo PCTrans has the App Migration feature to move Epic Games to another drive on your disk in just one click. Without any uninstalling or reinstalling hassle, you can safely move your Epic Games to a drive with adequate free space. 
Step 1. Connect the destination drive to your computer
Where do you want to place the games from their original location? Use the correct way to connect the drive to your computer, where EaseUS Todo PCTrans is installed. Run the games transfer software, choose "App Migration" and then click "Start".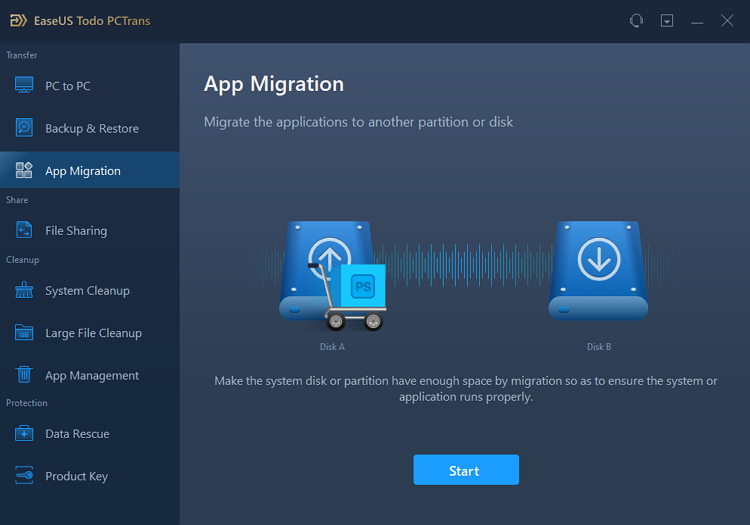 Step 2. Choose the games you want to change the location
On the left bar, choose the original drive where your game programs are installed, locate the games and tick the checkboxes. Click the triangle icon to choose the target drive as the file path. After all the selection, click "Transfer".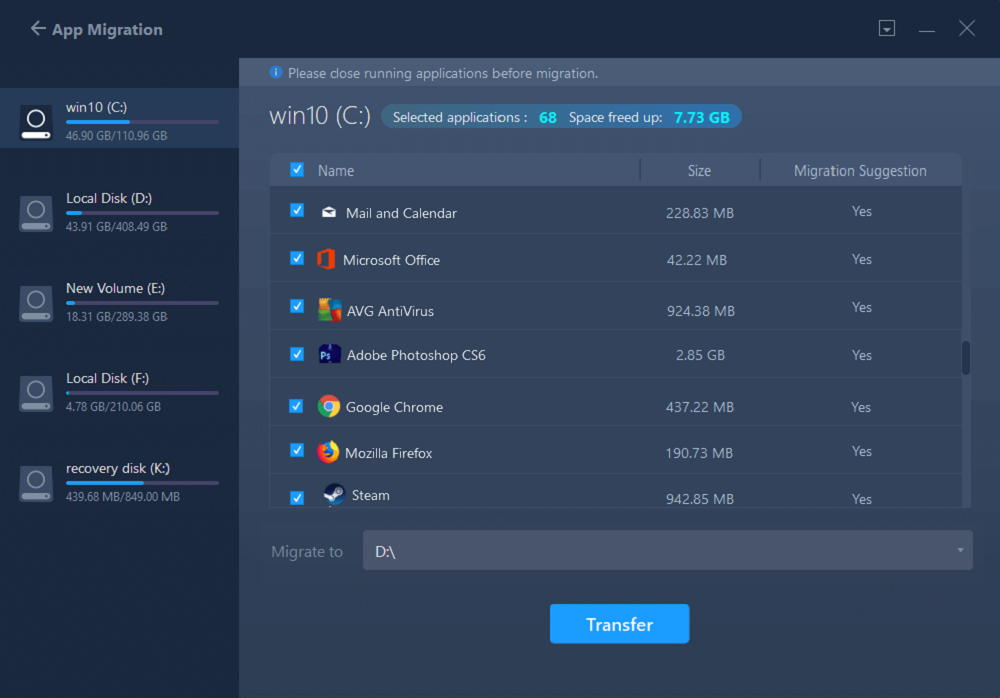 Step 3. Transfer the games to the destination drive
The software will work on moving the selected games from the original location to your customized location. Wait for the process to finish.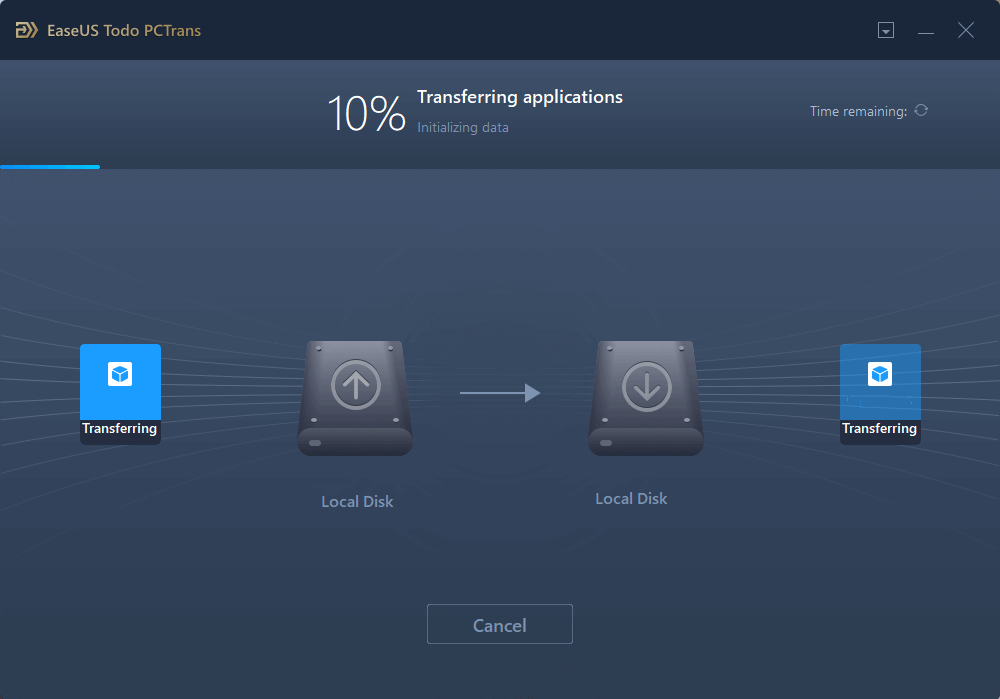 So, if you don't have sufficient time or experience to use Windows gadgets, moving software is the best option for you to launch Epic games on your computer. 
Manually Transfer Epic Games to Another Drive
If you don't want to use third-party software to move Epic Games to another drive, you can take a long, manual route. Manually you can transfer Epic games location by uninstalling and reinstalling the program like this:
Step 1. Backup your Epic Games folder.
Firstly, you need to create a backup of your Epic Games folder. By default, Epic Games is installed to C:\Program Files\Epic Games. 
So, open Epic Games in an Explorer window and right-click on the 'Epic Games' folder. Select 'Copy' to copy the folder.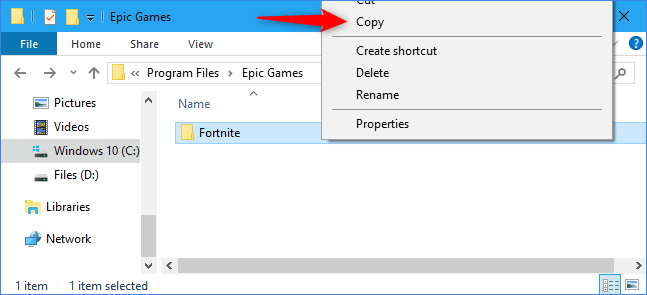 Now, paste the folder to another location like D: drive. You can also move Epic games to external storage devices to create a backup.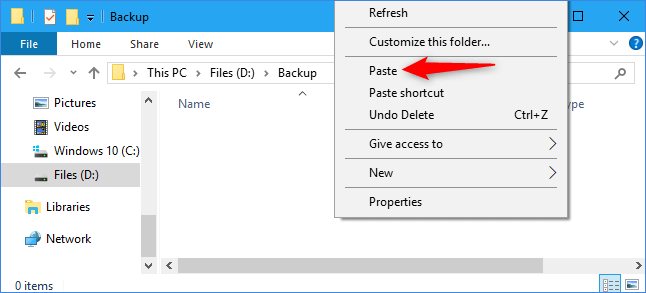 Step 2. Uninstall Epic Games.
Once the backup is safely created to another location, you can now uninstall Epic games from their original location. 
Go to the Epic Games Launcher app > select the Library > click on the Settings > Uninstall to uninstall Epic Games.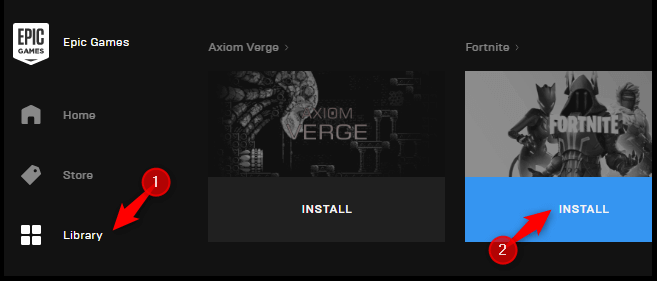 Step 3. Install Epic Games on the new location.
Now, you can install Epic Games on the drive where you have adequate space. For this, open any Epic Games product site like Unreal Engine or Fortnite and click on the Download. 
You have to sign in with your Epic Games account, or you can select the console option. With this, Launcher will automatically download to your desired location. 
Step 4. Replace your backed up file.
If you have backed up and installed Epic Games on the same drive, let's D: drive. Your computer will inform you that the same file already exists there. So, you simply have to click on the 'Replace the files in the destination' option. This will replace incomplete downloaded files with the files from your backup.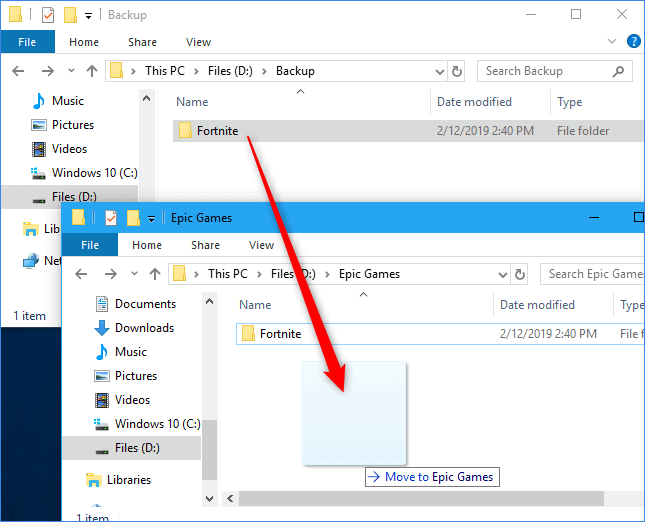 With this step, you can revive all your Epic Games products in the new location. Now, you just have to launch Epic Games Launcher and download all your games to the new location, ready to play. 
Alternative Method 
If you are a pro command line user, you can use Command Prompt to move Epic Games to another drive as: 
First, shut down the Epic Games Launcher on your device. 
Move the Epic Games folder to another location by Copy and Paste. 
Open run command box using Windows + R keys. 
Now, type the following command line in the box —
mklink /D "#" "*"
Note: # stands for the original location and * for the new location. 
Conclusion 
So, that's it. You have learned how to transfer Epic Games to another drive. Using the manual method, you have to move through a criss-cross of numerous steps. In contrast, the software can move Epic Games to another drive in one click. 
Plus, you can use free and robust tools like EaseUS Todo PCTrans to easily transfer Epic Games to new locations. Now, the final choice is yours, but consider both methods' pros and cons carefully before selecting the best one. 
About the Author

Roxanne is one of the main contributors to EaseUS and has created multiple posts on digital devices like PCs, Mobile phones, tablets, Mac, etc. She loves to share ideas with people of the same interest.
Written by Tracy King 
Tracy joined in EaseUS in 2013 and has been working with EaseUS content team for over 7 years. Being enthusiastic in computing and technology, she writes tech how-to articles and share technical solutions about Windows & Mac data recovery, file/system backup and recovery, partition management and iOS/Android data recovery.
Reviews and Awards
EaseUS Todo PCTrans Free is a useful and and reliable software solution created to serve in computer migration operations, be it from one machine to another or from an earlier version of your OS to a newer one.

 Read More

EaseUS Todo PCTrans is by the folks at EaseUS who make incredible tools that let you manage your backups and recover your dead hard disks. While it is not an official tool, EaseUS has a reputation for being very good with their software and code.

Read More

It offers the ability to move your entire user account from your old computer, meaning everything is quickly migrated. You still get to keep your Windows installation (and the relevant drivers for your new PC), but you also get all your apps, settings, preferences, images, documents and other important data.

 Read More