Workable Solutions
Step-by-step Troubleshooting
Share Files and Folders
1. EaseUS Todo PCTrans...Full steps
2. File Explorer...Full steps
3. OneDrive...Full steps
Share Printers
Step 1. Open Settings, and click "Devices" > "Printers & Scanners"; Step 2. Under the "Printer & scanners"...Full steps
Homegroup Not Showing up Windows 10/11
With the release of the Windows Version 1803, one of the changes Microsoft has executed is to remove the HomeGroup feature within Windows. After you update your PC to Windows 10 running 1809, 1903 or later version, you'll see:
HomeGroup won't appear in File Explorer.
HomeGroup won't appear in Control Panel, which means that you can't create, join, or leave a homegroup.
HomeGroup won't appear on the Troubleshoot screen when you go to "Settings"> "Update & Security"> "Troubleshoot".
You won't be able to share new files and printers using HomeGroup.
However, even though HomeGroup not working in Windows 10, you can still find other effective workarounds to share files and printers between computers on the same network. In this article, we will show you how to share files on Windows 10 without HomeGroup via a powerful PC data transfer tool and Windows built-in features.  
Also read: How to share files between computers on different networks
Alternatives to HomeGroup Windows 10/11 to Share Files and Folders
The following content explains how to share files and folders on your home network without using the HomeGroup feature. All these HomeGroup alternatives can apply to Windows 7 through Windows 10.
1. Use An Easy and Free PC Transfer Tool
Is there a free alternative? The first alternative we would strongly recommend is this EaseUS Todo PCTrans Free, an easy but powerful PC data transfer software. The HomeGroup feature in Windows made it possible for users to share pictures, music, videos, documents, and printers with other people in your home network. While EaseUS Todo PCTrans Free does a lot more than HomeGroup. 
Download this Free software: 
This ultimate software helps you transfer your data, applications, and account settings from one PC to another in one click with three transfer ways.
PC to PC: Connect two Windows PCs by local area network, and transfer files, apps, and accounts from one PC to another. We're going to use this function here to share files between computers without HomeGroup.
Image Transfer: When you don't have a network or have a different network, you can use this feature to make images of files, folders, and programs on the source PC, and transfer to the target device. See how to file transfer from PC to PC via USB.
App Migration: Copy installed programs from one disk to another locally, and free up space to settle down low disk space issue.
Now, download this PC data transfer application to start share files between computers on the same network in simple steps.
Step 1. Open EaseUS Todo PCTrans on both of your computers. Choose "PC to PC" to go to the next step.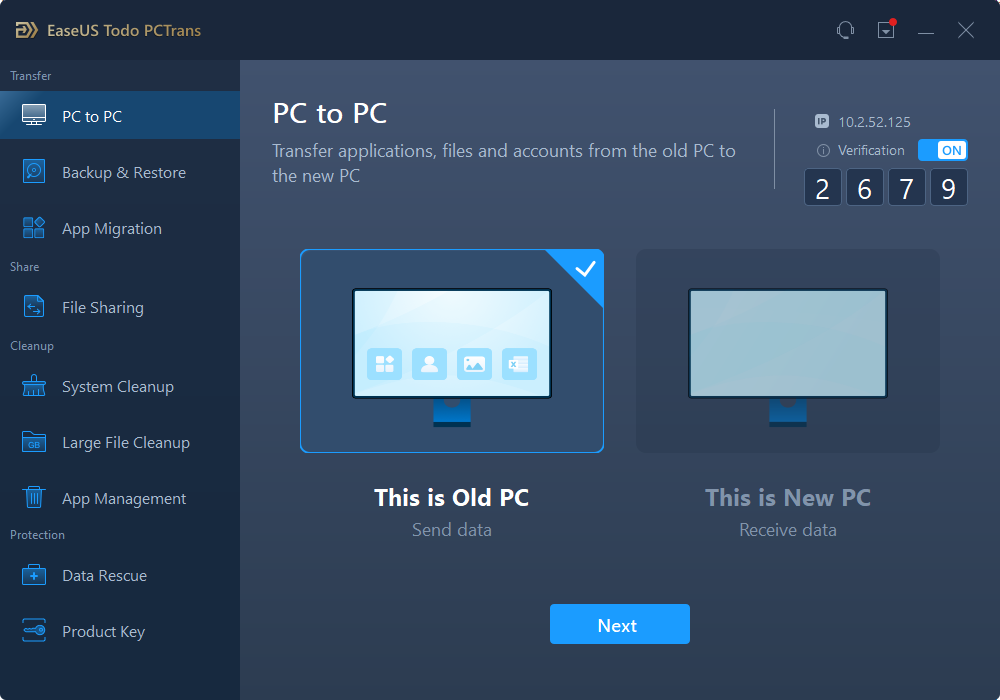 Step 2. Make sure you have chosen the right transfer direction.
"New" - Move data from old computer to current new computer.
"Old" - Move data from current old n computer to remote new computer.
Step 3. Connect two PCs via the network by entering the password or verification code of the target PC. Besides, make sure you have chosen the right transfer direction and click "Connect" to continue.
The verification code is on the right top of the "PC to PC" main screen on the target computer.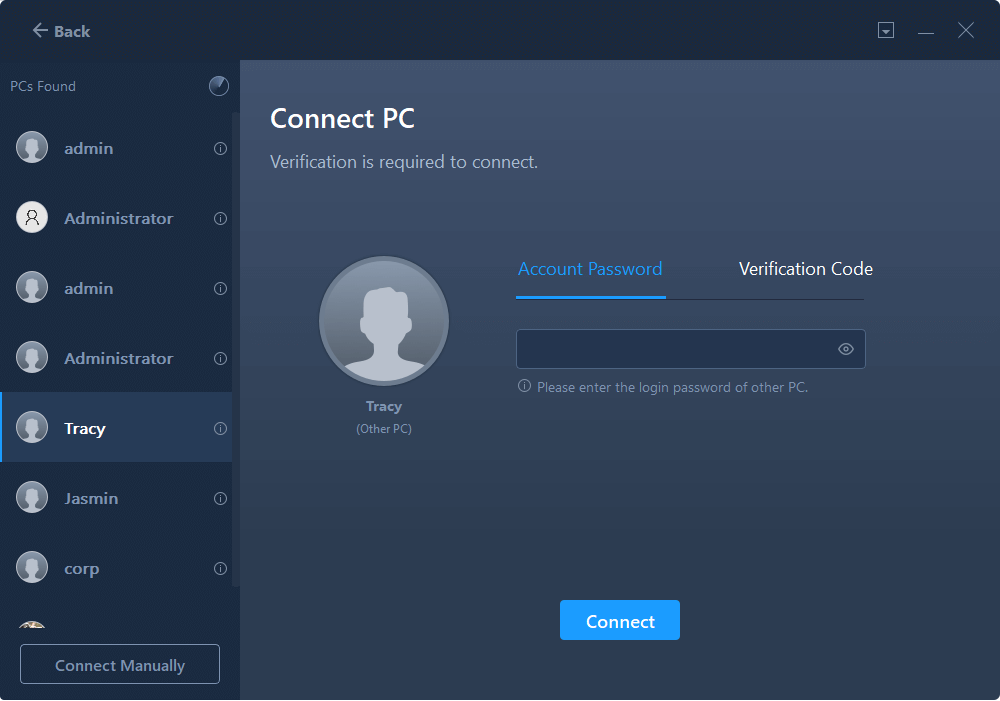 Step 4. Then, choose "Files" to select files to transfer. Select the specific files as you want. What's more, you can click the Edit icon to customize the storage path for transferred data.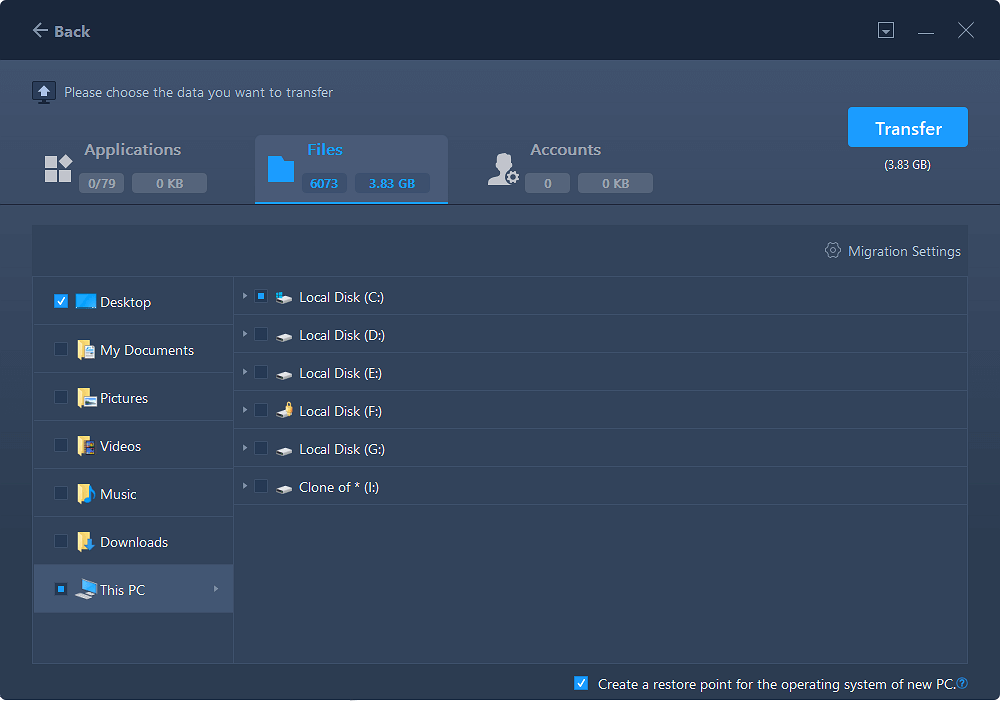 Step 5. Now, click "Transfer" to begin to transfer files from PC to PC. The size of the file determines the transfer time. Wait patiently.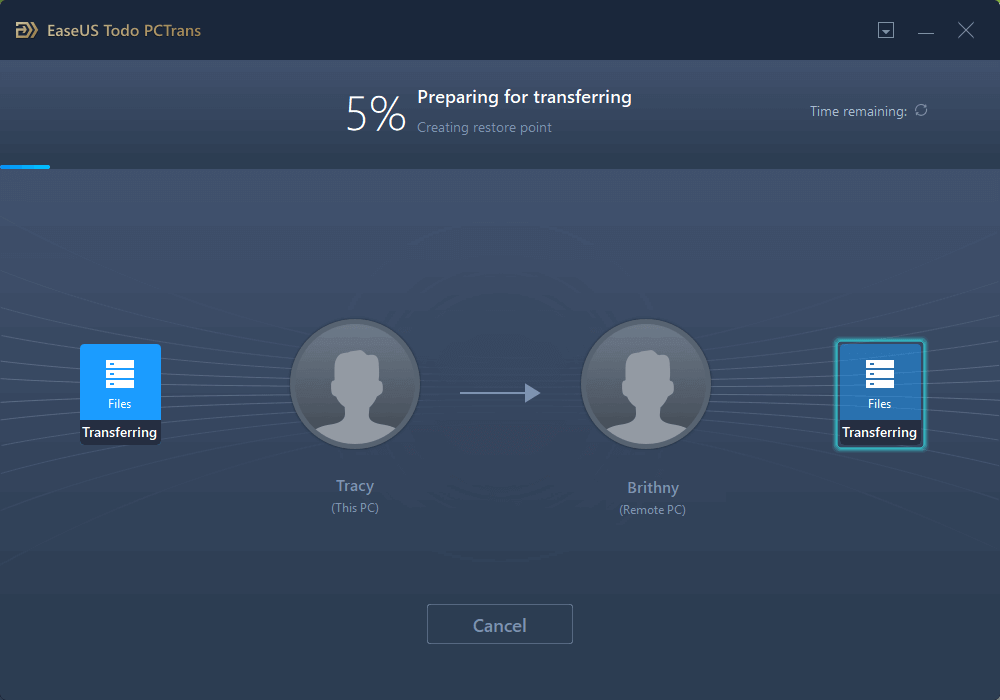 2. Use Share in File Explorer
If you don't want to use a third-party PC transfer tool, you can share one or multiple files to another computer with the "Share" feature, which comes built into File Explorer and most modern applications. But this utility doesn't allow you to migrate program and user account. So if you intend to move the application from one computer to another, such as transfer Microsoft Office from one laptop to another, resort to EaseUS Todo PCTransfer for help.
Step 1. Open File Explorer on your computer, select the folder or files that you want to share.
Step 2. Click the "Share" tab at the top panel. Alternatively, you can right-click your selection and click the Share option in the context menu. Click the "Share" button.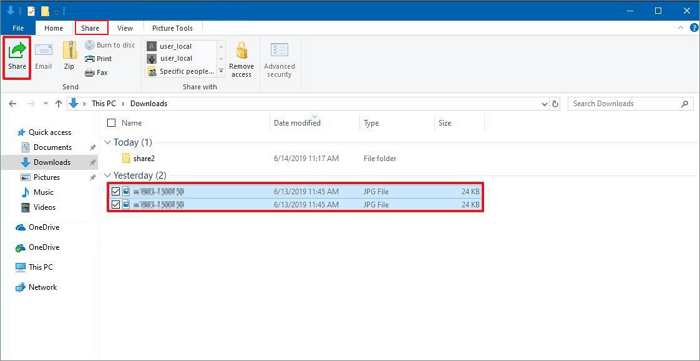 Step 3. Select a contact, nearby sharing device, or one of the Microsoft Store apps (such as Mail).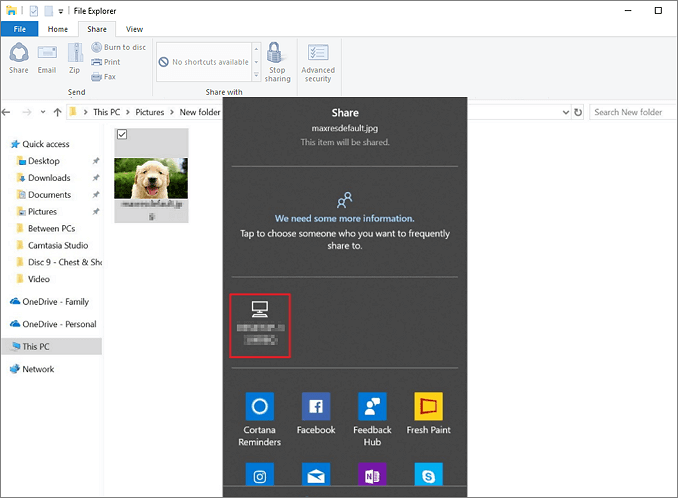 Step 4. Finish the process by following the on-screen directions. When a pop-up occurs on the target PC, choose "Save & open" or "Save".
3. Use OneDrive in Windows 10/11
Microsoft also offers another option to move files by using OneDrive. OneDrive offers 5 GB of storage space free of charge, with 50 GB, 1 TB, and 5 TB storage options available either separately or with Office 365 subscriptions ($69.99/year for Personal and $99.99/year for Home).
Step 1. Go to open the OneDrive on the source computer in Windows 10.
Step 2. Right-click the file or folder that you want to share and select "Share a OneDrive link". Now you can post the link wherever you like. Once you received the sent link on the target PC, you can access the shared files.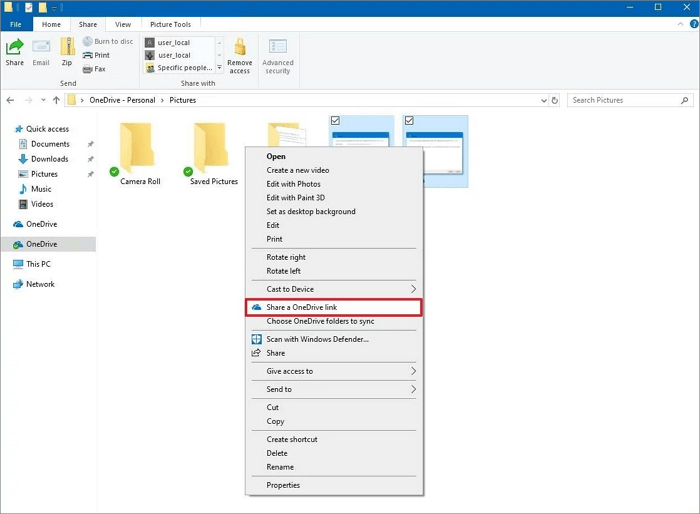 To Sum Up
Any of the three solutions here can help you quickly share files on Windows 10 without using HomeGroup. Windows 10 Share feature enables you to share files between two PCs without installing any software, but the process often fails due to unspecific reasons. OneDrive provides each user with only 5GB free space to upload files. For extra storage, you need to pay monthly or yearly; and it's a little expensive for Office 365 subscriptions.
EaseUS Todo PCTrans provides you the most comprehensive data transfer solutions without these problems. As you can see from the content before, this professional PC transfer program allows you to share files, folders, and user account without or without a network. What's more, Besides, it is the cheapest compared with other paid services.
How to Share Printers Without HomeGroup on Windows 10/11
You can still share a USB printer with other users in the local network without using HomeGroup.
Step 1. Open Settings, and click "Devices" > "Printers & Scanners".
Step 2. Under the "Printer & scanners" section, choose the printer you want to share, then select "Manage".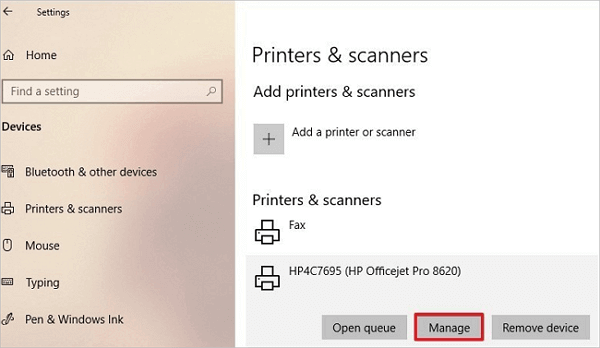 Step 3. Select "Printer Properties"> choose the "Sharing" tab > select "Share this printer". If needed, you can edit the Share name of the printer (this share name is visible from the other machines).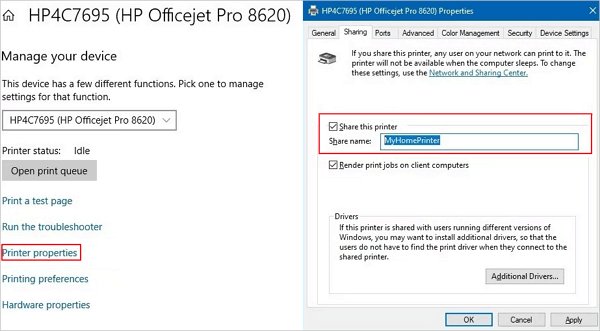 Step 4. Click the "Apply"> "OK". Once you complete these steps, the printer will be available to network users while your computer is powered on.
People also ask
1. Can't find HomeGroup in Windows 10/11?
Open the Settings, then navigate to the Network & Internet section. Select Ethernet from the menu on the left and choose HomeGroup from the right pane.
2. Is HomeGroup available in Windows 10/11?
A homegroup is a group of PCs on a home network that can share files and printers. Using a homegroup makes sharing easier. You can share pictures, music, videos, documents, and printers with other people in your HomeGroup. However, Microsoft has removed this feature from Windows 10 (version 1803). Now, HomeGroup is replaced by OnDrive and Share features after you install the update Windows 10.
3. How do I connect to a Windows 10 network without a HomeGroup?
Open Control Panel > select Network and Sharing Center > click on Change advanced sharing settings. In the Current Profile section, select Turn on network discovery, Turn on file and printer sharing and Use user accounts and passwords to connect to other computers. In the All Networks section, select Turn off password protected sharing. Then, click Save changes.
About the Author

Roxanne is one of the main contributors to EaseUS and has created multiple posts on digital devices like PCs, Mobile phones, tablets, Mac, etc. She loves to share ideas with people of the same interest.

Cedric Grantham is one of the senior editors of EaseUS who lives and works in Chengdu, China. He mainly writes articles about data recovery tutorials on PC and Mac and how-to tips for partition management. He always keeps an eye on new releases and likes various electronic products.
Reviews and Awards
EaseUS Todo PCTrans Free is a useful and and reliable software solution created to serve in computer migration operations, be it from one machine to another or from an earlier version of your OS to a newer one.

 Read More

EaseUS Todo PCTrans is by the folks at EaseUS who make incredible tools that let you manage your backups and recover your dead hard disks. While it is not an official tool, EaseUS has a reputation for being very good with their software and code.

Read More

It offers the ability to move your entire user account from your old computer, meaning everything is quickly migrated. You still get to keep your Windows installation (and the relevant drivers for your new PC), but you also get all your apps, settings, preferences, images, documents and other important data.

 Read More