How to Transfer Files from PC to PC in Windows 10
Have you bought a new Windows 10 PC and want to migrate your existing files from the old computer to your new computer? Or you have two computers running Windows 10, and you want to transfer data from PC to laptop wirelessly or in the vice versa. If you are not sure about how to transfer files from PC to PC in Windows 10 easily, here, you can get help with detailed tutorials.
When it comes to transferring data on a PC, the first reaction might be using an external USB drive. But it's not the best choice for mass or the whole PC data migration due to its limited space and slow transmission speed. So, is there an easier and faster way to transfer files between Windows 10 computers? On this page, you can learn two direct ways to transfer files from one computer to another by using a 1-click PC data transfer software and the Nearby sharing feature on Windows computer.
How to Transfer Files from PC to PC Using WiFi on Windows 10
To transfer files from PC to PC over the internet, using WiFi is the easiest way. EaseUS Todo PCTrans, an easy PC data transfer software, helps to move your data, applications, and account settings from one PC to another in one click in Windows 10/8/7.
This PC transfer program provides you three easy transfer ways to achieve different transmission purposes.
PC to PC: You can use this feature to transfer files via the network connection. Connect two Windows laptops/PCs by IP in the same LAN and move your files, apps & accounts off the old PC to a new one.
Image Transfer: You can use this mode to transfer files from PC to PC without the internet. Make images of files, folders, or software on the previous computer, and transfer to the next one. It also works as a backup.
App Migration: You can use the App Migration of this tool to copy installed software from one disk to another locally and free up space to resolve low disk space issues.  
Now, download EaseUS Todo PCTrans and follow steps below to start transferring files between two PCs effortlessly.
Step 1. Open EaseUS Todo PCTrans on both of your computers. Choose "PC to PC" to go to the next step.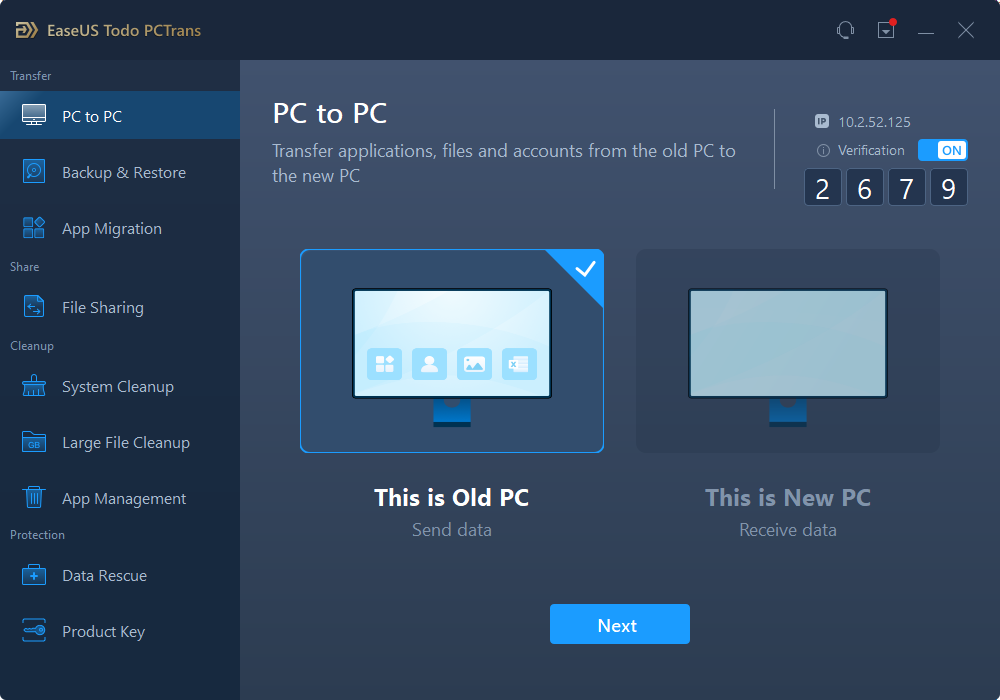 Step 2. Connect two PCs via the network by entering the password or verification code of the target PC. Besides, make sure you have chosen the right transfer direction and click "Connect" to continue.
The verification code is on the right top of the "PC to PC" main screen on the target computer.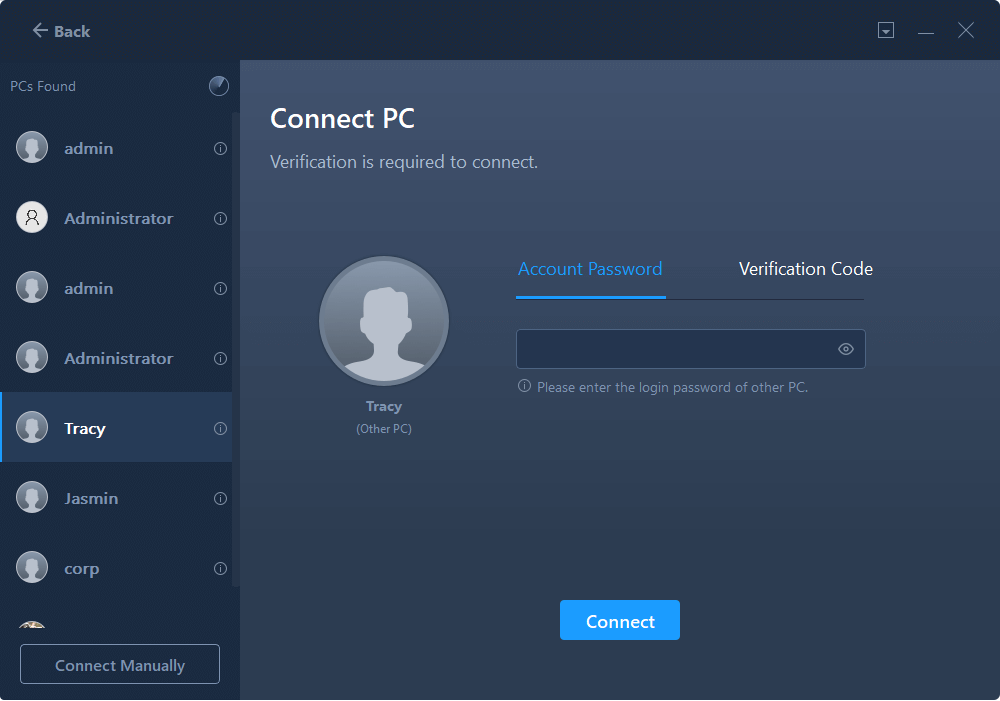 Step 3. Then, choose "Files" and click "Edit" to select files to transfer.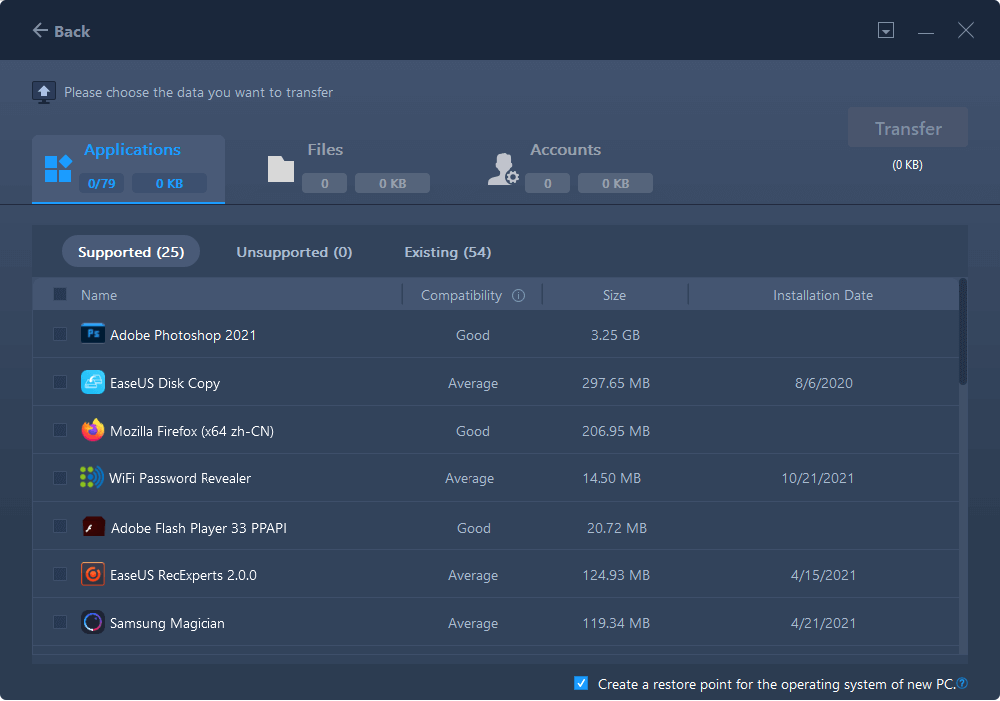 Step 4. Select the specific files as you want. What's more, you can click the Edit icon to customize the storage path for transferred data.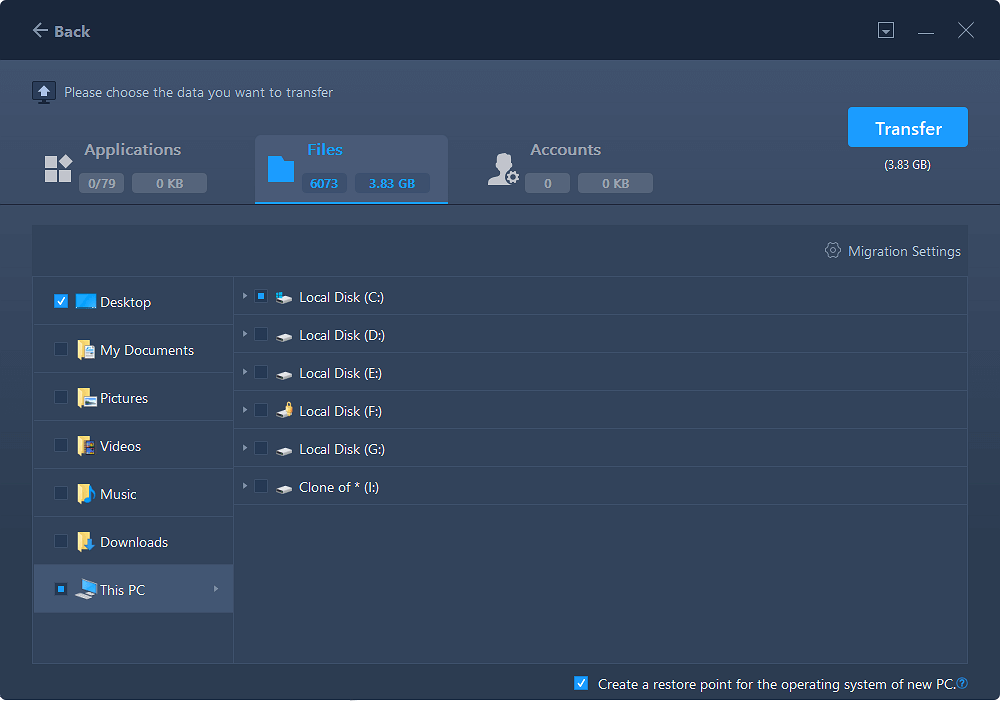 Step 5. Now, click "Finish" and "Transfer" to begin to transfer files from PC to PC. The size of the file determines the transfer time. Wait patiently.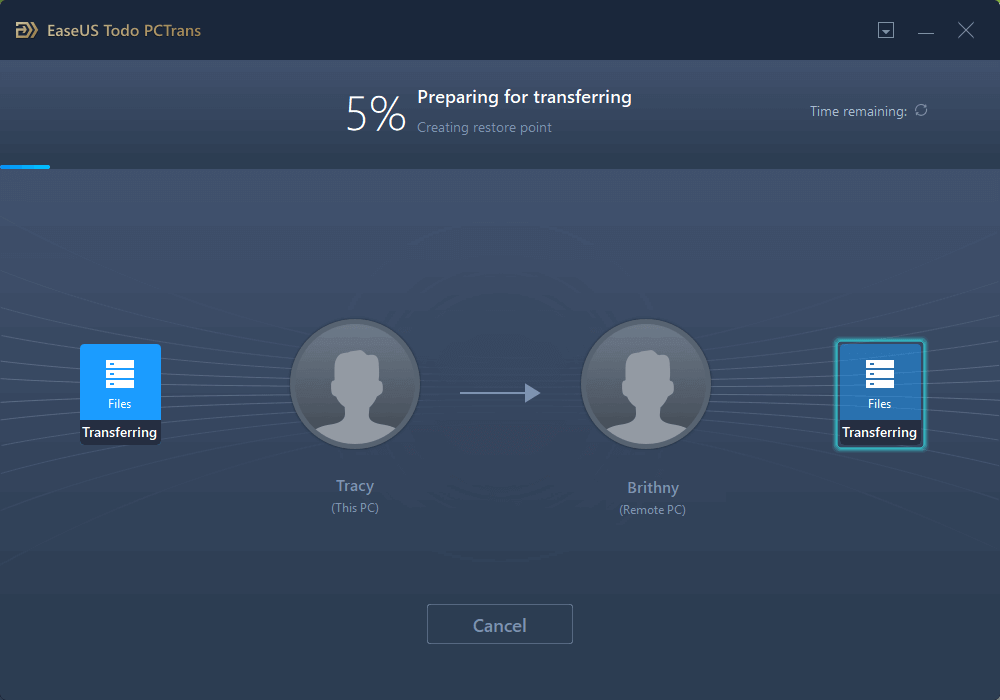 How to Transfer Files from PC to PC Using Nearby Sharing in Windows 10
The Windows 10 April 10, 2018 update (version 1803) introduces the "Nearby sharing" feature that allows you to quickly and wirelessly transfer files and links to nearby devices using Bluetooth and Wi-Fi.  
How to Enable Nearby Sharing
By default, the Nearby sharing is enabled on Windows 10 after installing the April 2018 Update. If not, you can manually turn it on using the Settings app.
1. Open "Settings". Click on "System" > "Shared experiences".
2. Turn on the "Nearby sharing" toggle switch. Under "I can share or receive content", you can select share files with "Everyone nearby" or "My devices only". Besides, you can click the "Change" button to set the location to save transfers.
How to Transfer Files Using Nearby Sharing on Windows 10
1. Open File Explorer.
2. Right-click the file you want to share.
3. Click the "Share" option.
4. Select the device from the list.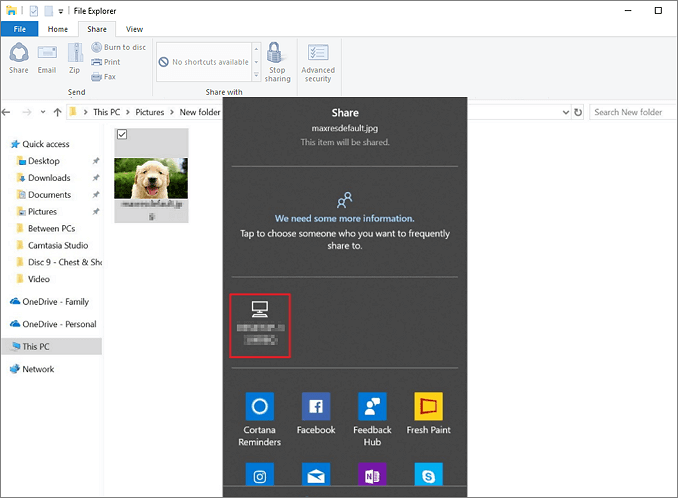 To ensure a successful transfer with Nearby sharing, you need to make sure the two PCs have Bluetooth and are within Bluetooth range. Also, both computers should run at least the Windows 10 April 2018 Update. If neither of your computers meets these requirements or one of them doesn't, go back to the previous method and move data with EaseUS PC to PC transfer application.
More FAQs About File Transfer in Windows 10
How to transfer files from laptop to laptop in Windows 10?
You can transfer files from one laptop to another with or without WiFi. We provide you with eight practical solutions in all to move data between two laptops. Read on and choose the one that works best for you.
Can you transfer files from PC to PC with a USB cable?
Yes, you can connect two PCs and laptops via a USB cable for fast data transfer. To do so, you need a USB-to-USB bridging cable or USB networking cable, which has a small electronic circuit in the middle allowing the two PCs to talk to each other. Once the two PCs are connected successfully through the USB cable, you can quickly transfer files from one computer to another. Learn details on how to transfer files from PC to PC with USB. 
How to transfer files from old PC to new PC in Windows 10?
What is the best way to transfer files from old PC to a new one in Windows 10/8/7? Actually, there are many ways feasible to make it. Go to the topic page on transfer files from old PC to new PC in Windows 10 and learn the top 7 methods to make things done. 
Daisy is the Senior editor of the writing team for EaseUS. She has been working in EaseUS for over ten years, starting from a technical writer to a team leader of the content group. As a professional author for over 10 years, she writes a lot to help people overcome their tech troubles.

Roxanne is one of the main contributors to EaseUS and has created multiple posts on digital devices like PCs, Mobile phones, tablets, Mac, etc. She loves to share ideas with people of the same interest.
EaseUS Todo PCTrans Free is a useful and and reliable software solution created to serve in computer migration operations, be it from one machine to another or from an earlier version of your OS to a newer one.

 Read More

EaseUS Todo PCTrans is by the folks at EaseUS who make incredible tools that let you manage your backups and recover your dead hard disks. While it is not an official tool, EaseUS has a reputation for being very good with their software and code.

Read More

It offers the ability to move your entire user account from your old computer, meaning everything is quickly migrated. You still get to keep your Windows installation (and the relevant drivers for your new PC), but you also get all your apps, settings, preferences, images, documents and other important data.

 Read More
About EaseUS Todo PCTrans
EaseUS Todo PCTrans can transfer settings, applications and data between PCs and HDDs. Your all-round PC transfer and migrate software to upgrade devices without re-installation.