Workable Solutions
Step-by-step Troubleshooting
Lenovo Migration Assistant

Mode 1: The Same Local Network...Full steps

Mode 2: USB...Full steps

Alternatives of Lenovo Migration Assistant
Solution 1: EaseUS Todo PCTrans...Full steps
Solution 2: Shared Folder...Full steps
Solution 3: Email...Full steps
Solution 4: Cloud device...Full steps
Lenovo Migration Assistant (LMA) is a fast, and smart file transfer tool in Windows. In this post, we will introduce what Lenovo Migration Assistant is and how to use it. Besides, the alternatives to windows easy transfer tool are on the list.
What is Lenovo Migration Assistant
Ready to enjoy your new PC? Upgrade your computer is cool, but how to seamlessly migrate files and settings from the old one may confuse you. You may hear about Lenovo Migration Assistant but don't know how to use it. 
Lenovo Migration Assistant is a file and setting transfer software released by Lenovo, aiming to help move files and the account settings of your new PC. Here are the main features of LMA: log in with Lenovo ID, fast migration for minimum user data, user-defined migration for files selection, and cloud-based migration. It is available on Microsoft Windows 7 (32-bit, 64-bit) and Microsoft Windows 10 (32-bit, 64-bit).
As the data migration tool we mentioned, you may want to download migration assistant for transferring files and setup to another new computer. Go ahead! And we will let you know how to use migration assistant in the next part.
How to Use Lenovo Migration Assistant
To meet users' need to move data in Windows, Lenovo Migration Assistant prepares two modes for LAN users or USB users. Try one of the methods on the following guide:
Mode 1: Use the same local network to transfer your data.
If your two PCs are on the same LAN network, Mode 1 is the best choice. It supports transferring files and other data from PC to PC without any external devices. 
Step 1. Download and Launch the Lenovo Migration Assistant on both PCs.
Step 2. Choose the WiFi option on the left side and click Next.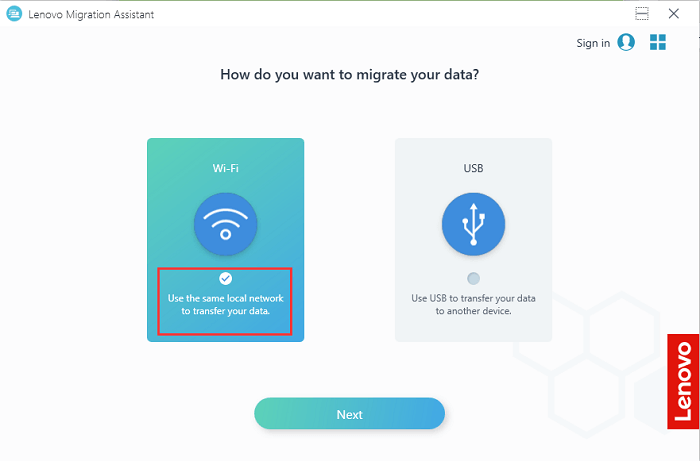 Step 3. Select which computer you are currently on. For the local PC, choose Old Computer; for the remote computer, choose New Computer. Click Next.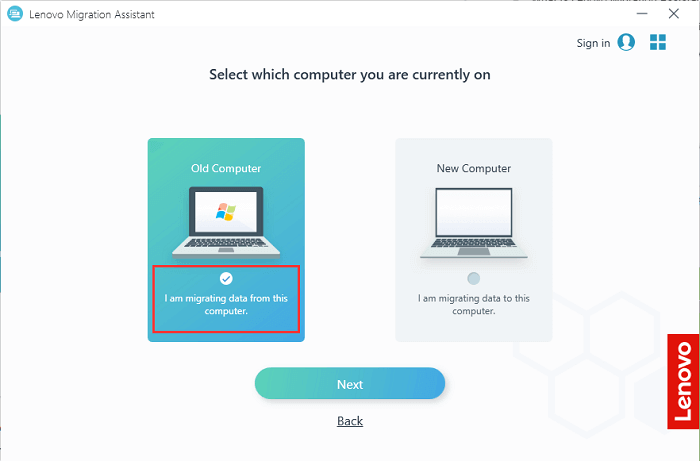 Step 4. Then you can see a PIN code. File it on the target PC for connecting.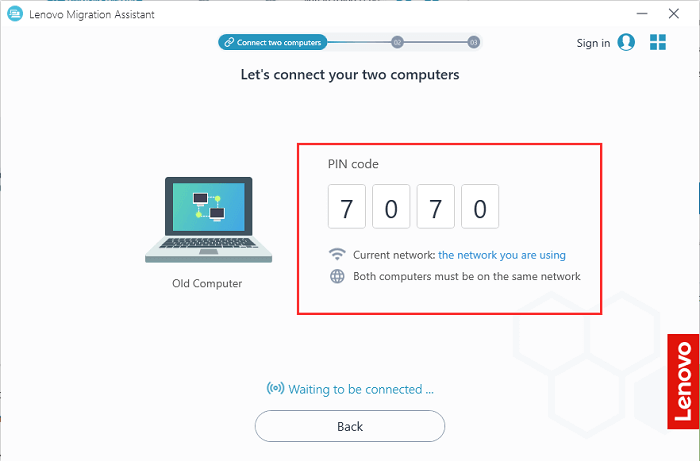 Step 5. After the connection between two computers, you can select items you want to migrate. 
You can choose Quick Access or System Settings to customize your preferred files or settings. Or you can select the arrow icon to select more individual files.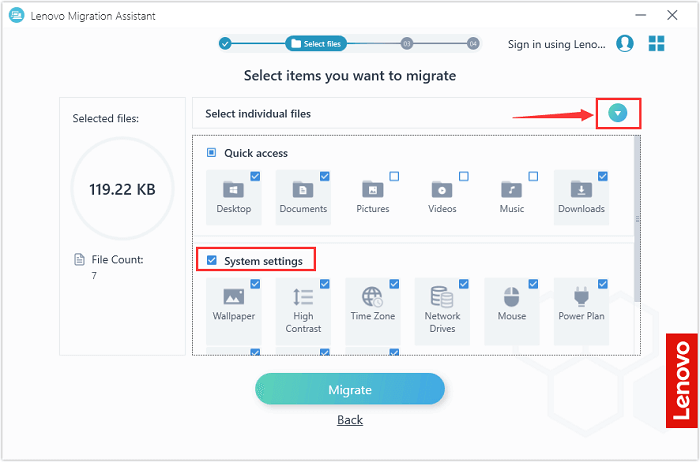 Step 6. Lenovo Migration Assistant will migrate the selected data. 
 Tip

The transferred files will be saved in the same storage path on the new PC.
Mode 2:Use USB to transfer your data to another device.
If your two devices are not on the same network, you can use USB to migrate data with one click. It also works well for saving time than copy and paste.
Step 1. Download and Launch the Lenovo Migration Assistant on both PCs.
Step 2. Connect your USB to the source computer and choose the USB option.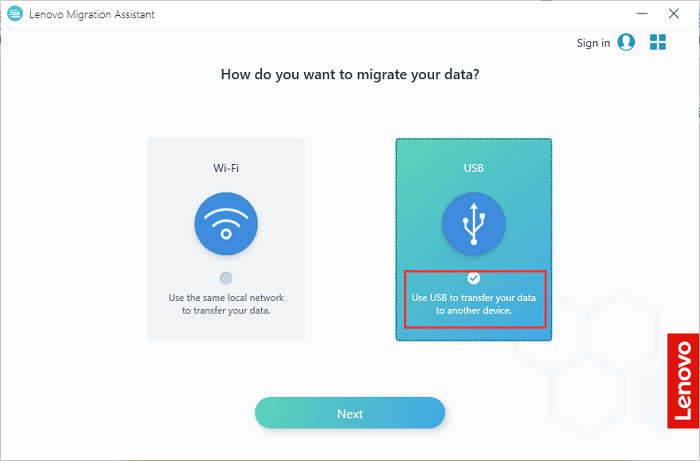 Step 3. Choose Create a backup to back up files from your computer to USB disk. Click Next.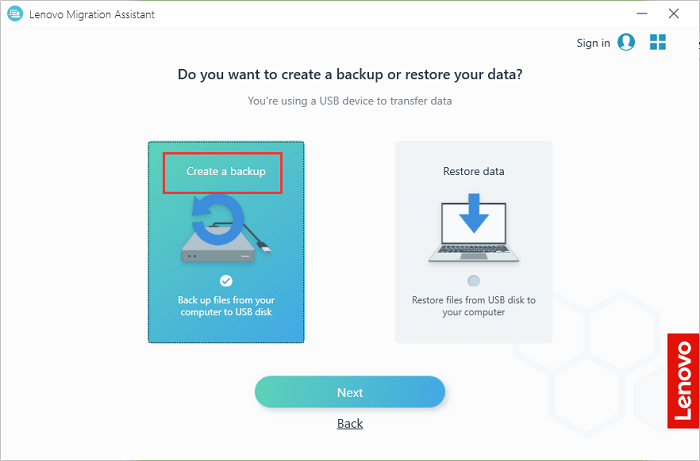 Step 4. It will detect your inserted USB, and you can choose the preferred files to back up. LMA will create a backup file on your USB.
Step 5. Connect the USB to the target computer. Choose USB and Restore data to restore files from USB disk to your computer.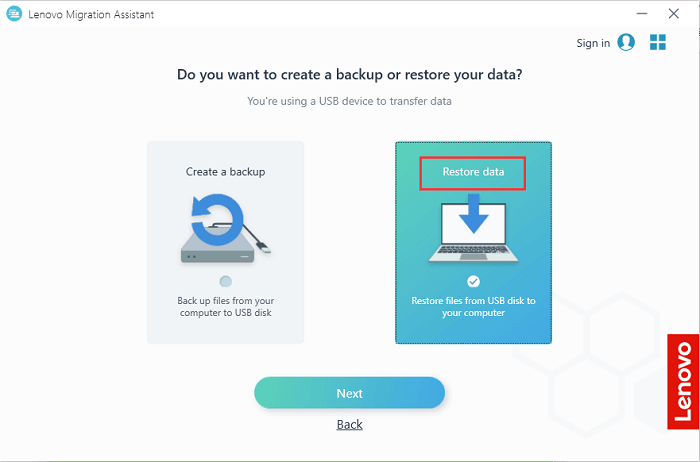 Step 6. Select the backup you want to restore and click Migrate.
Alternatives of Lenovo Migration Assistant
According to comments on the Reddit forum or other platforms, the problem appears, such as the migration assistant not working or migration assistant stuck. We have no idea why the difficulties arise, but we can let you view some alternatives of Lenovo Migration Assistant to transfer files from PC to PC.
Were you looking for another windows migration tool? EaseUS Todo PCTrans is a straightforward software designed to do PC transfer, including files, applications, and accounts. Here we set WiFi transfer as an example:
Step 1. Launch EaseUS Todo PCTrans on your source and target computers, connect both PCs via the internet.
1. At the "PC to PC" section, click "PC to PC" to continue.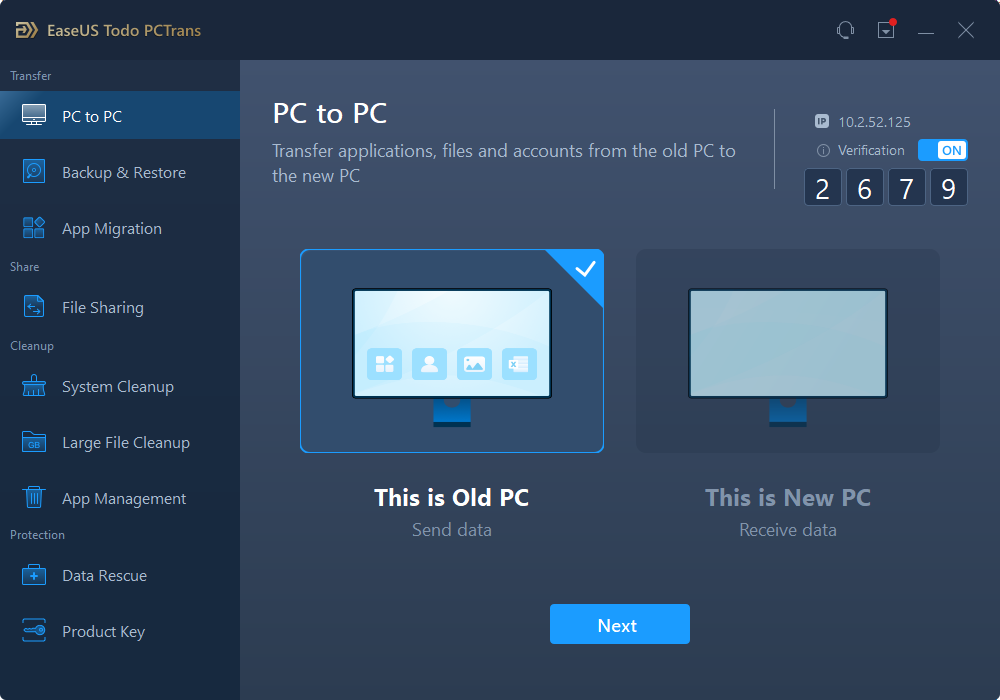 2. Select your target computer via its device name, then enter its account password or verification code and select the transfer direction. Then click "Connect" to continue.
You can check the verification code on the right top of "PC to PC" mainscreen on the target computer.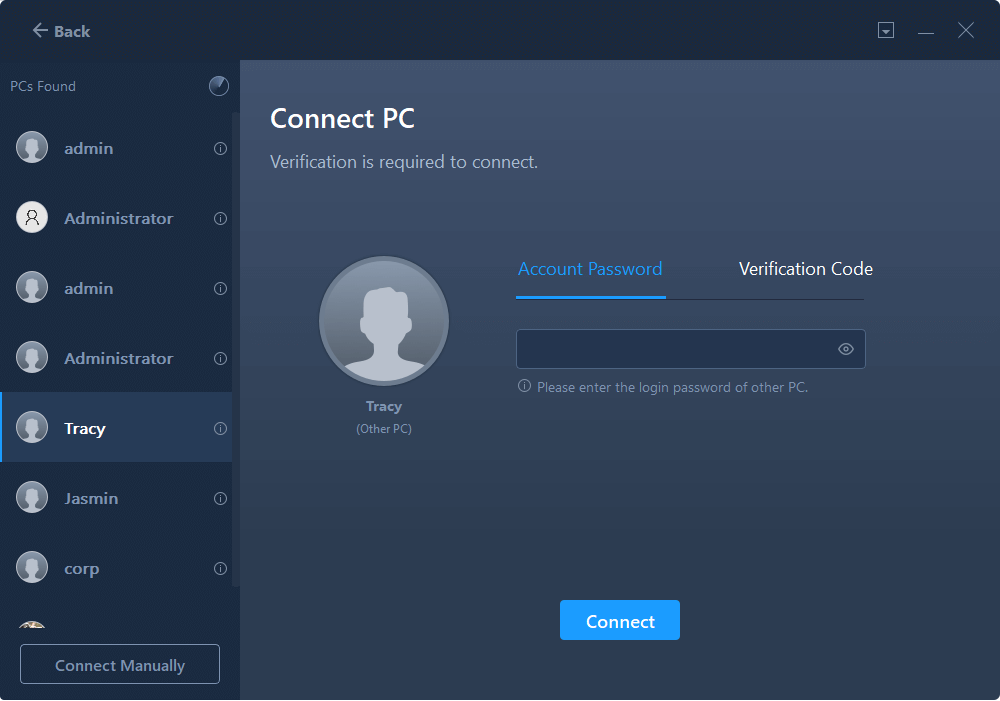 Step 2. Select the categories Applications, Files, and Accounts to transfer via the internet.
If you want to transfer data selectively, click "Edit" under each category, and choose the specific items.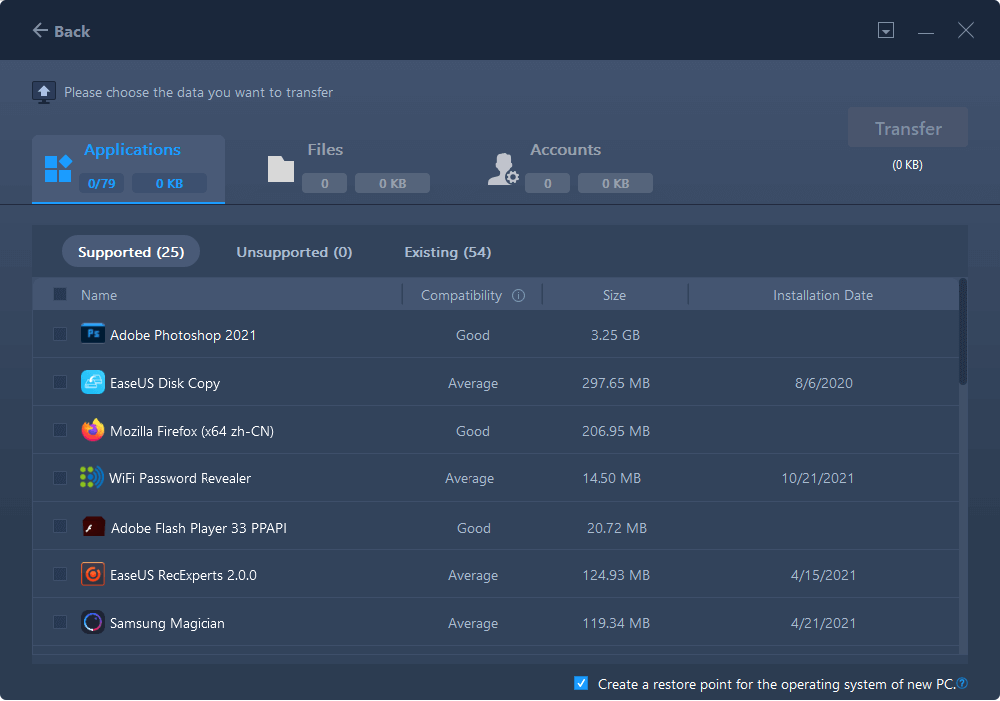 Step 3. Click "Transfer" to start transferring your apps/files/accounts from one computer to another computer via the Internet.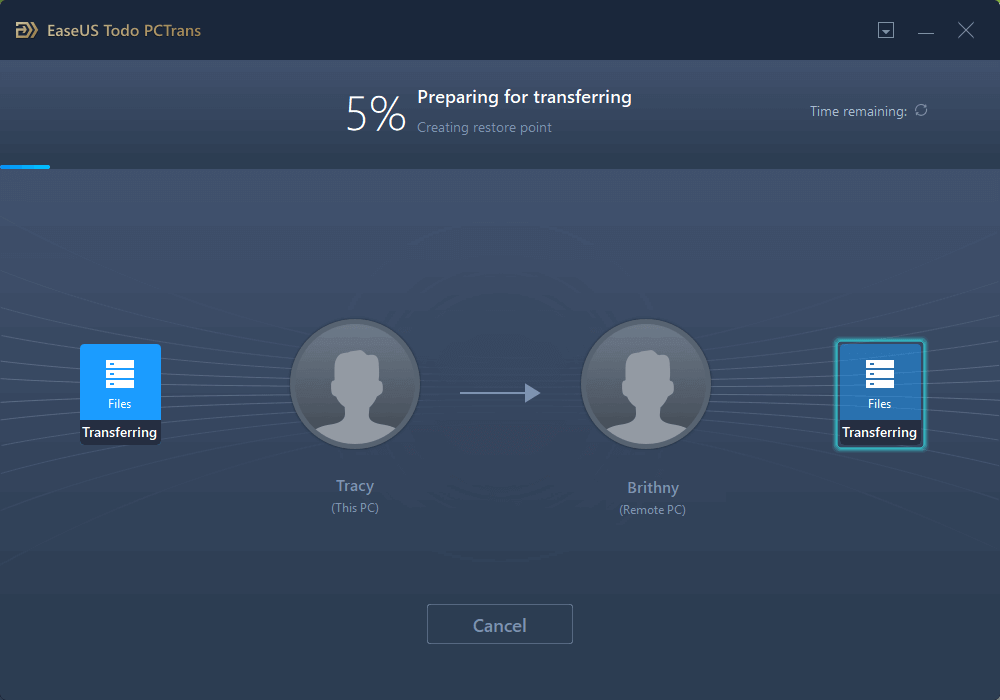 Solution 2: Create a Shared Folder.
You can create a shared folder to share files over the network. The solution is more complicated than the first one.
Step 1. Right-click the files > Give access to > Specific people
Step 2. Select a user or group to add > Add > Click Share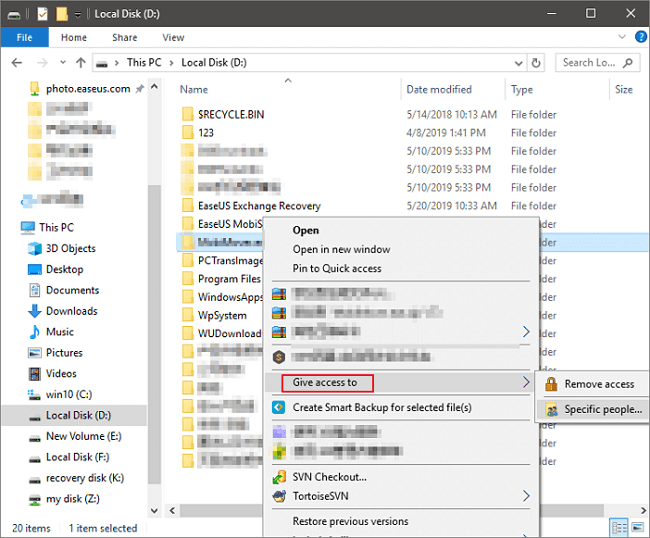 Solution 3: Use Email.
You can send an email from the old computer, then log in to your email account on the new PC. It is available for transferring small size data.
Step 1. Add file to email.
Step 2. Log in email account on the new one > Download files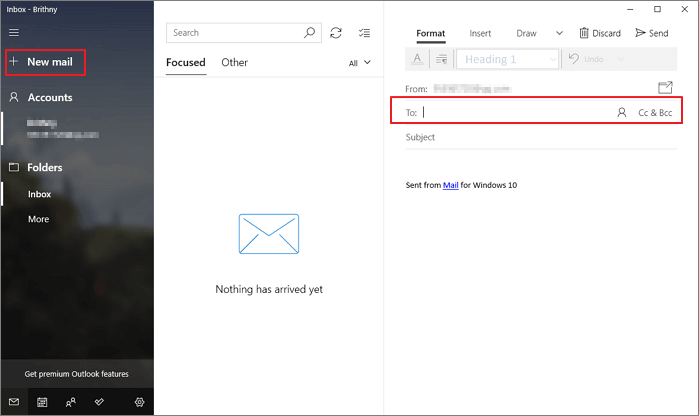 Solution 4: Use Cloud device.
Make sure your Cloud has enough space for data transfer. Let's take OneDrive as an example.
Step 1. Upload files to OneDrive.
Step 2. Download files on the new PC.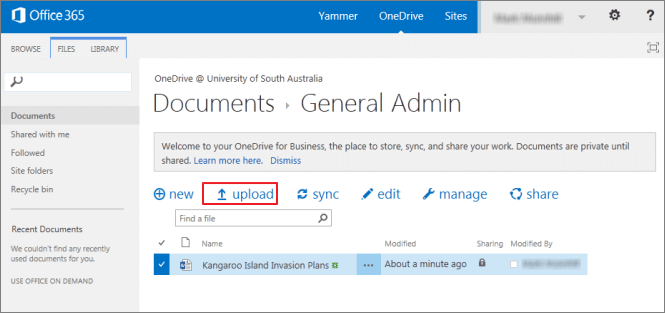 Updated by Tracy King 
Tracy joined in EaseUS in 2013 and has been working with EaseUS content team for over 7 years. Being enthusiastic in computing and technology, she writes tech how-to articles and share technical solutions about Windows & Mac data recovery, file/system backup and recovery, partition management and iOS/Android data recovery.

Roxanne is one of the main contributors to EaseUS and has created multiple posts on digital devices like PCs, Mobile phones, tablets, Mac, etc. She loves to share ideas with people of the same interest.