How to Transfer Avast with License to A New Computer
Applies to: Transfer Avast with license from an old PC to a new PC, or change the install location of Avast on Windows PC.
Support transferring: Avast Free Antivirus, Avast Premier
How Do I Transfer Avast from an old computer to a new computer
"How do I transfer Avast from an old computer to another new computer with the license? The Avast on my present old computer is a 3-year subscription, and it's the second year after the purchase.
Recently, I bought a new computer, and I'm wondering whether I can transfer Avast with its license to the new PC. Does anyone know how to execute the transferring process and moving Avast to a new PC without reinstallation?"
This is a real case that occurs to an Avast user who posts his question in a forum, looking for help. The most replies to this post are no. To re-download and reinstall a new version of Avast on the new PC and add the old key may not work due to the activation mechanism provided by Avast company.
So how to continue using Avast with your paid key on a new computer? If you have the same request, stay here. By going through this page, you'll learn how to effectively move Avast with the license to the new PC or another hard drive by the help of professional PC transfer software.
Preparations
Before you start the transferring process, here are some preparation jobs that you should do before starting the transferring process:
1. Download and install EaseUS Todo PCTrans on two PCs
EaseUS Todo PCTrans recently upgraded with a feature which supports you to transfer antivirus software like Avast,AVG, and Avira to a new PC or another hard drive with the license. 
If you need to transfer Avast from an old PC to a new PC, remember to install this software on both two computers.
2. Activate EaseUS Todo PCTrans for unlimited transfer
To ensure a smooth transferring process, you should activate this software in advance. 
Here, you can click this page to purchase an activation key to upgrade EaseUS Todo PCTrans to a pro version:
After the activation, you may follow the guidelines below to start the transferring process now.
Transfer Avast with License to A New PC

EaseUS Todo PCTrans with its PC to PC feature support you to transfer Avast with the license to the target computer effectively. 
Go through the process, and you'll move Avast with the license to your new PC:
Step 1. Run EaseUS Todo PCTrans on both PCs 
1. Install and launch EaseUS Todo PCTrans on both old and new PCs. On the source computer, click "PC to PC" on the main screen.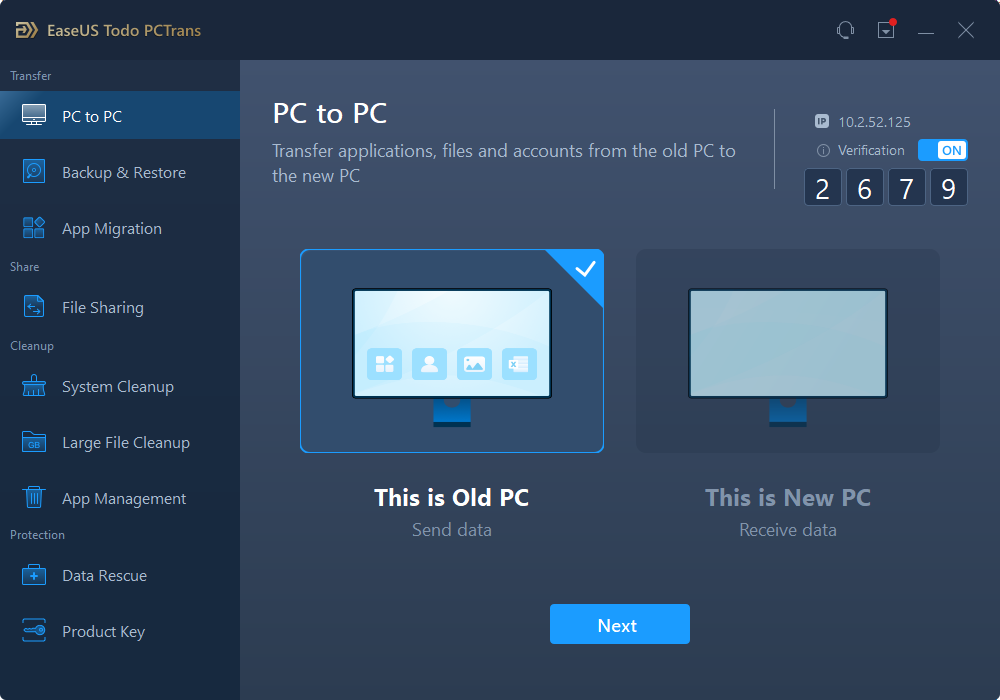 Step 2. Connect two PCs
Connect to target PC, input the account password, or verification code of the target PC.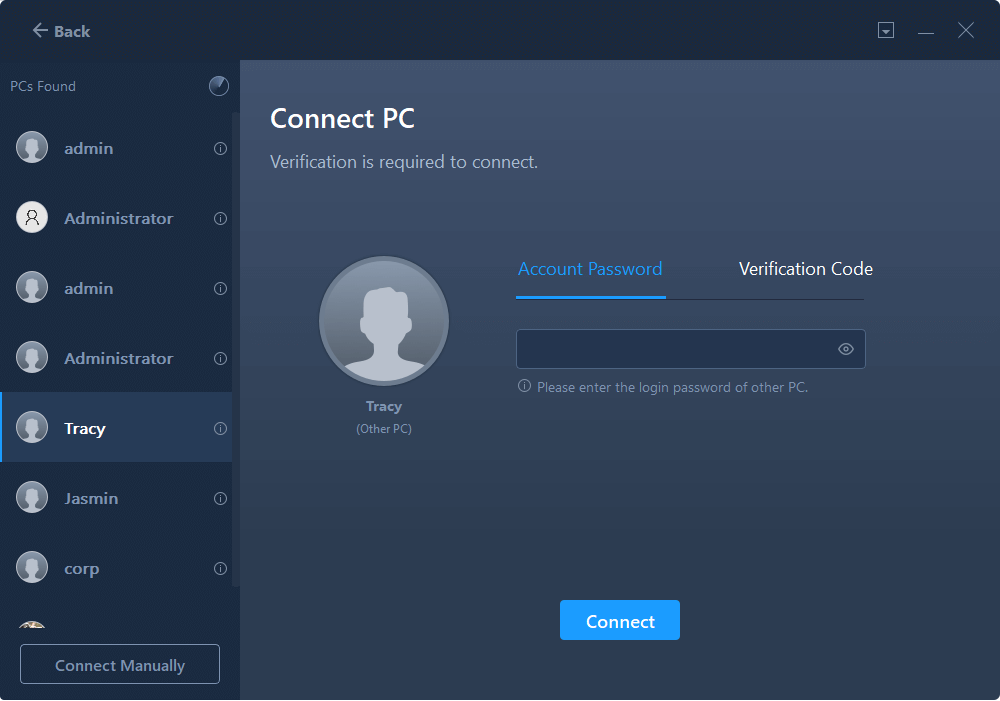 Step 3. Select Antivirus software to transfer to another PC
1. On the Application section, click "Edit" and select the desired antivirus software like AVG, Avast or Avira that you want to transfer to the new PC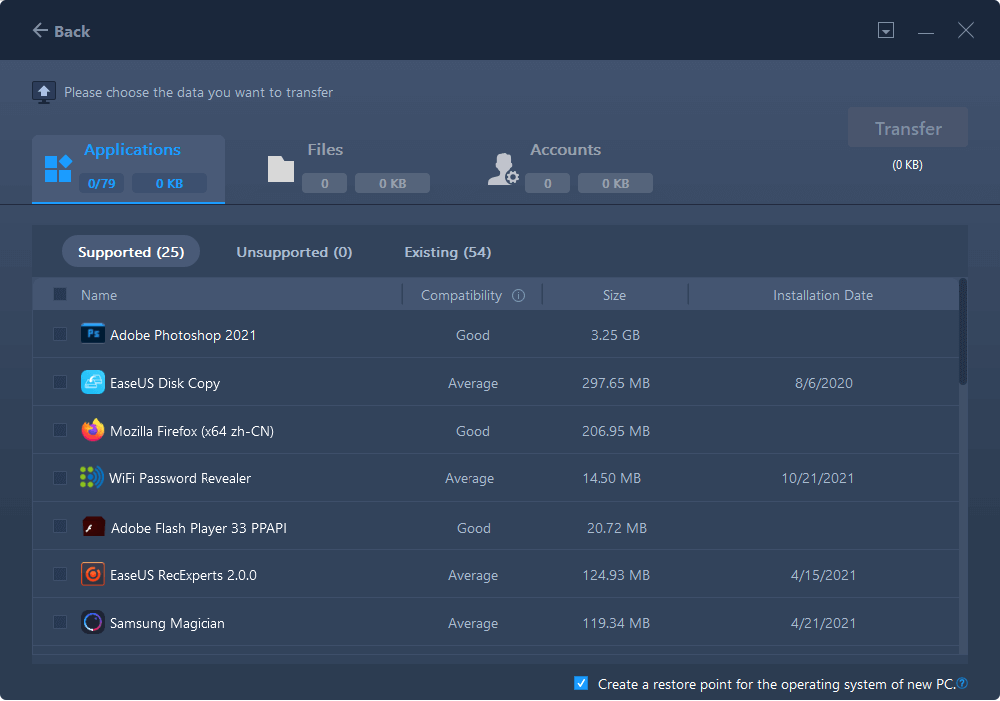 2. After selecting antivirus software, click "Finish" to confirm and click "Transfer" to start the transferring process.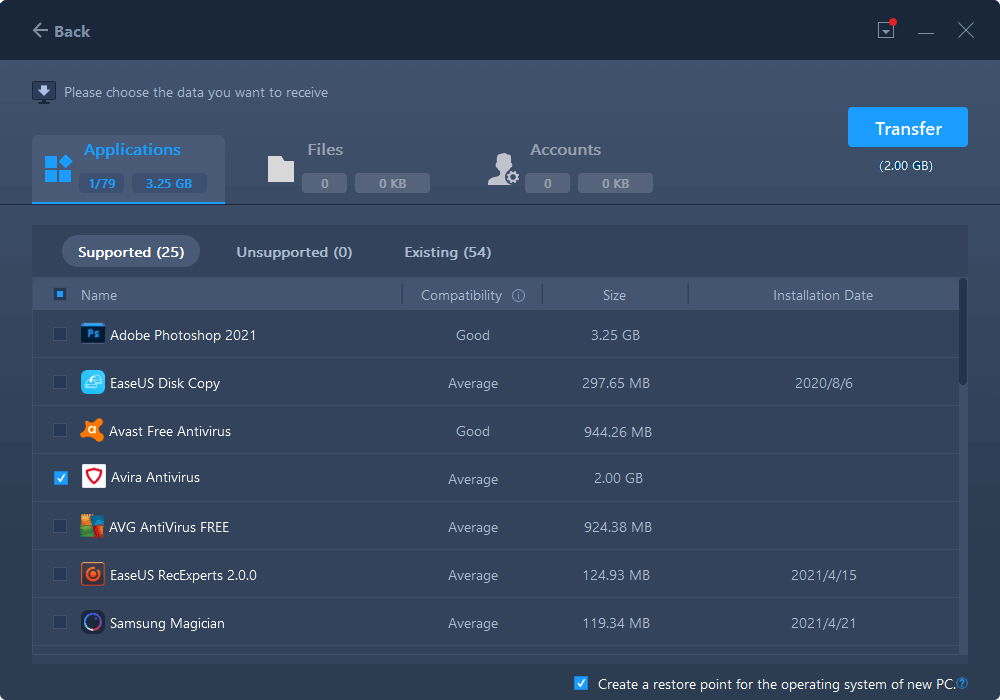 Follow UP:  After the transferring process, follow the below guidelines to make Avast activated and work on your new PC.
Step 1: Locate and find the Avast, and run it on your new PC.
Step 2: Click the Activation button on the program and finish the certifying process.
Step 3: Restart PC if necessary.
After this, you should be able to continue using Avast on your new PC and clearing virus, malware again.
Transfer Avast to A New Hard Drive, Change Install Location

If you prefer to change the Avast install location, you can use the App Migration feature in EaseUS Todo PCTrans for help.
Here are the detail steps to move Avast from C: drive to another drive:
Step 1. Run EaseUS Todo PCTrans on your PC
Go to "App Migration" and click "Start" to continue.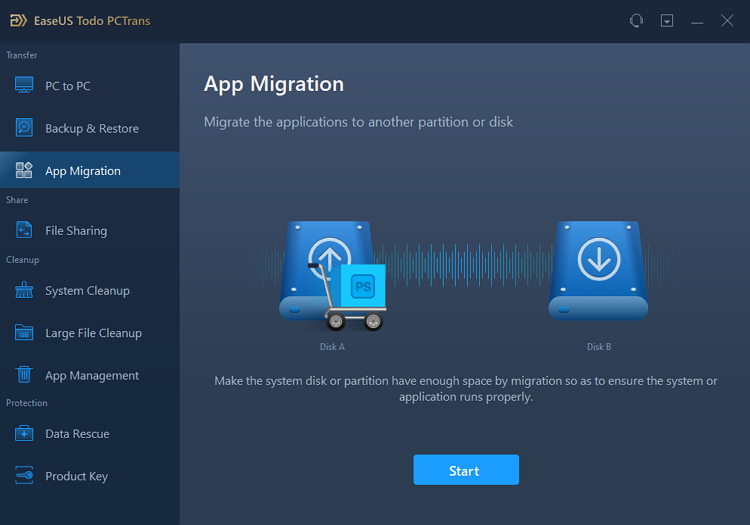 Step 2. Select programs to move from C drive to another drive
1. Tick the C drive and select programs (marked as "Yes") that you want to transfer.
2. Click the triangle icon to select another drive on your computer as the destination, and click "Transfer" to start the process.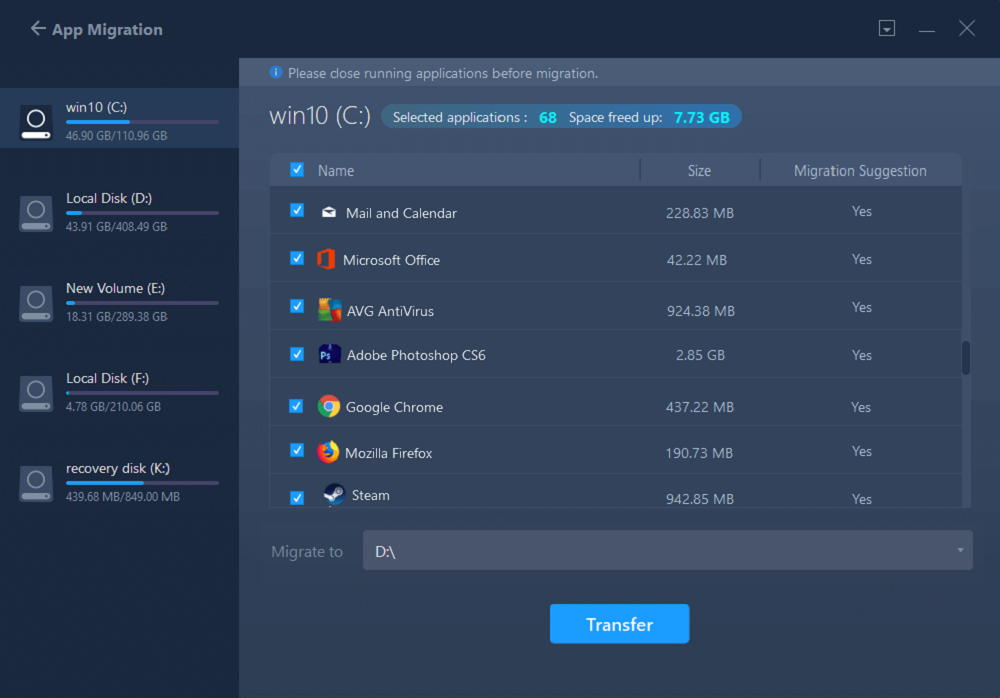 Step 3. Finish the transferring
Wait patiently until the transferring process finishes and click "OK" to confirm.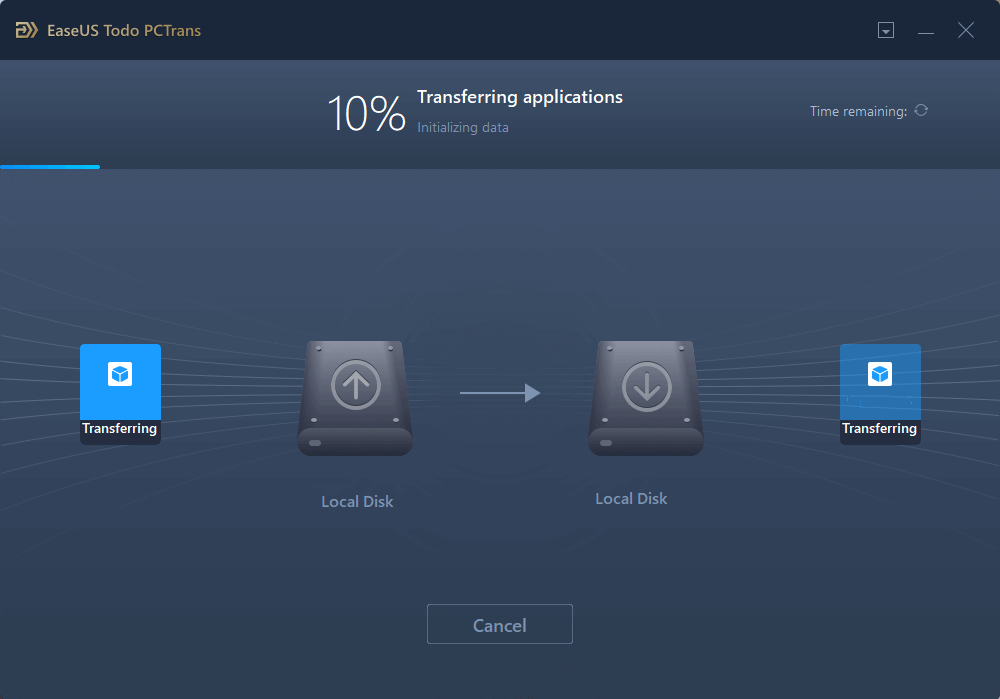 When it has done, you can restart PC if necessary. This will keep all changes on your PC and then you can run and programs from another hard drive without reinstallation.
Notice: When you finish the transferring process, if Avast requires activation, click the Activation or Upgrade button in the program.
It will detect your original code and finish the activation process for you.
Daisy is the Senior editor of the writing team for EaseUS. She has been working in EaseUS for over ten years, starting from a technical writer to a team leader of the content group. As a professional author for over 10 years, she writes a lot to help people overcome their tech troubles.
Written by Tracy King 
Tracy joined in EaseUS in 2013 and has been working with EaseUS content team for over 7 years. Being enthusiastic in computing and technology, she writes tech how-to articles and share technical solutions about Windows & Mac data recovery, file/system backup and recovery, partition management and iOS/Android data recovery.
EaseUS Todo PCTrans Free is a useful and and reliable software solution created to serve in computer migration operations, be it from one machine to another or from an earlier version of your OS to a newer one.

 Read More

EaseUS Todo PCTrans is by the folks at EaseUS who make incredible tools that let you manage your backups and recover your dead hard disks. While it is not an official tool, EaseUS has a reputation for being very good with their software and code.

Read More

It offers the ability to move your entire user account from your old computer, meaning everything is quickly migrated. You still get to keep your Windows installation (and the relevant drivers for your new PC), but you also get all your apps, settings, preferences, images, documents and other important data.

 Read More
About EaseUS Todo PCTrans
EaseUS Todo PCTrans can transfer settings, applications and data between PCs and HDDs. Your all-round PC transfer and migrate software to upgrade devices without re-installation.