In this article, you'll learn:
About SanDisk/Kingston/PNY
What is the Best SanDisk/Kingston/PNY Data Migration Software?
Powerful SanDisk/Kingston/PNY Data Migration Software Download [Pros & Cons]
FAQs
About SanDisk/Kingston/PNY
SanDisk is one of the world's largest suppliers of flash memory products, including memory cards and readers, USB flash drives, solid-state drives, and digital audio players. SanDisk manufactures and markets flash memory products for a variety of electronic systems. SanDisk's flash card products have promoted the development of digital cameras, multimedia mobile phones, USB flash drives, and other digital consumer devices. In 2016, the original company, SanDisk Corporation, was acquired by Western Digital for $19 billion.

Kingston was founded in 1987, and its headquarter is located in California. This company was named "America's Best Company to Work For" by Fortune Magazine. From a single-product producer in 1987, Kingston has grown to have more than 2,000 storage products, supporting nearly every device that uses storage products, from computers, servers, and printers to MP3 players, digital cameras, and cell phones.

PNY was founded in the United States in 1985. For 20 years, PNY has been developing and manufacturing storage products. Its products have gained a high market share around the world. At the same time, the PNY brand has also won a wide reputation in the storage industry.

What is the Best SanDisk/Kingston/PNY Data Migration Software?
Data migration software is used to move data from one computer to another. This can be useful when upgrading to a new computer or when data needs to be transferred for any other reason.
There are a number of data migration software available on the market, each with its own set of features. So, how do you choose the right one for your needs? Here are some factors to consider:
The data migration software should be compatible with the operating system you're using.
It should be able to migrate data from your old PC to your new one without any data loss.
The migration process should be simple and straightforward.
The software should offer customer support if you encounter any problems.
One data migration software that meets all of these criteria is EaseUS Todo PCTrans. It is compatible with all major Windows operating systems. It is easy to use, and it has a high success rate in terms of data transfer. In addition, EaseUS Todo PCTrans has excellent customer support in case any issues arise.
Powerful SanDisk/Kingston/PNY Data Migration Software Download [Pros & Cons]
EaseUS Todo PCTrans is a data migration software that is compatible with SanDisk, Kingston, and PNY storage devices. The software can be used to transfer data between computers and migrate data from an old storage device to a new one.
Step 1. Create a backup file of the source hard drive
Launch EaseUS Todo PCTrans on your Windows computer. Navigate to the "Backup & Restore" mode and click "Start".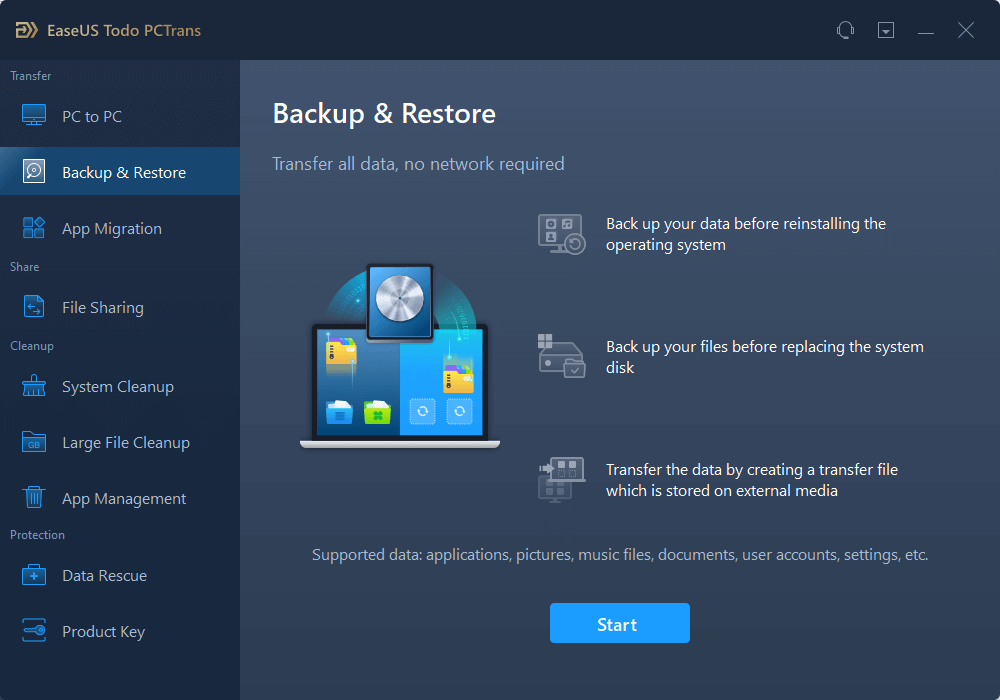 Hover your mouse over "Data Backup", and click "Next". Later, confirm the default settings of the file name and file path, or you can customize the settings on your own.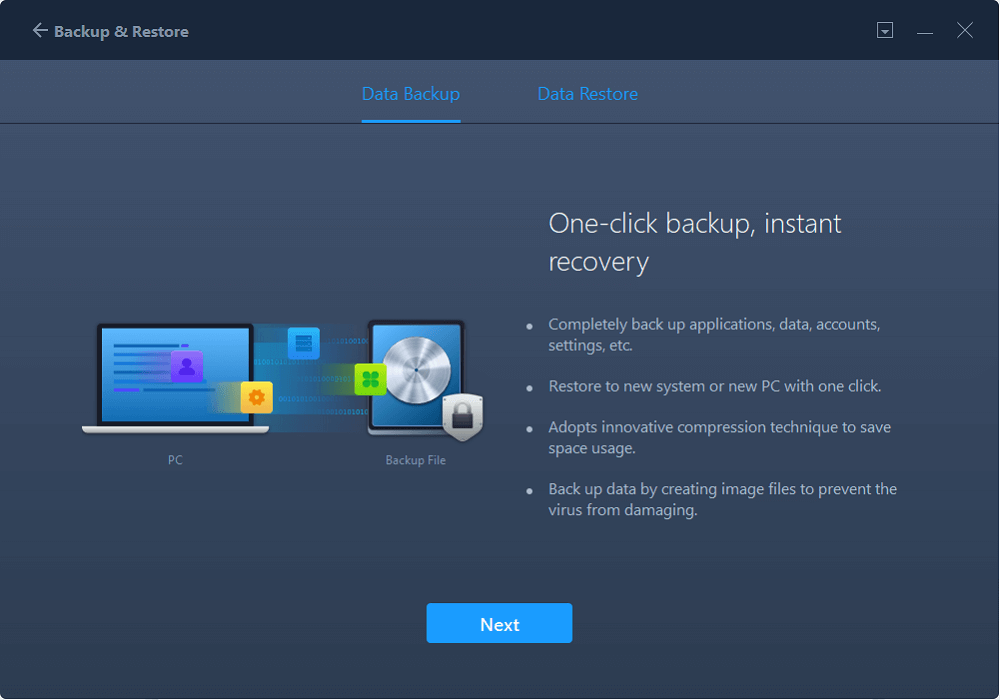 Now select the items you want to transfer to the other hard drive. EaseUS Todo PCTrans allows users to create backup files of multiple file types, including applications, personal data, and user accounts. To transfer files from one drive to another, deselect the "Applications" and "Accounts", hover your mouse over "Files", and click "Edit".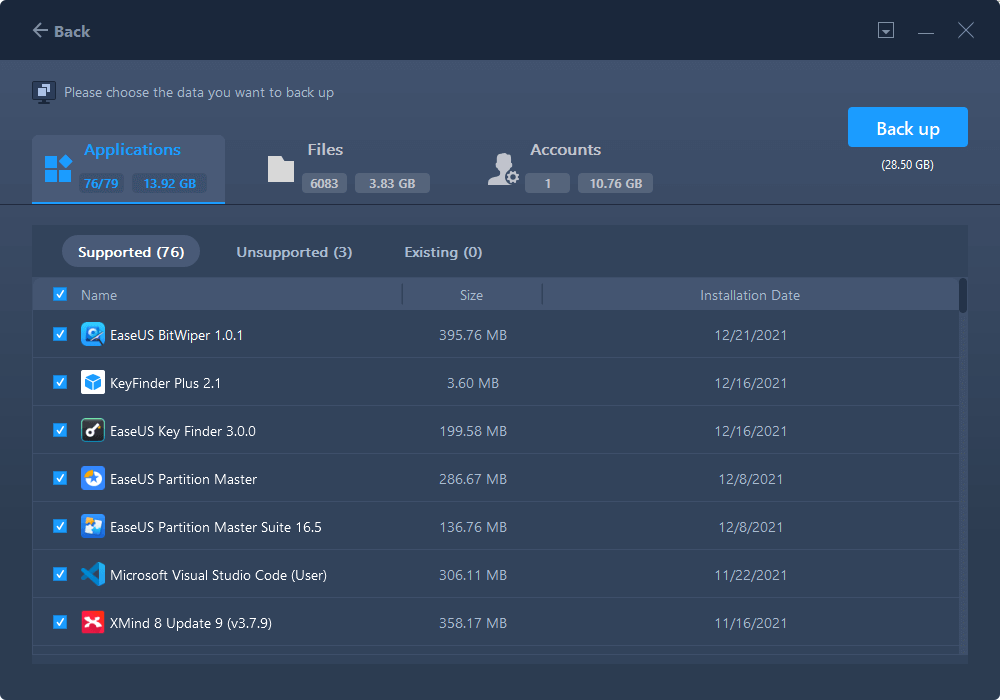 This is where you need to select files on the source drive. Expand the drive so you can selectively choose desired files, after then click "Finish". In the end, click "Backup". Wait for the process completes.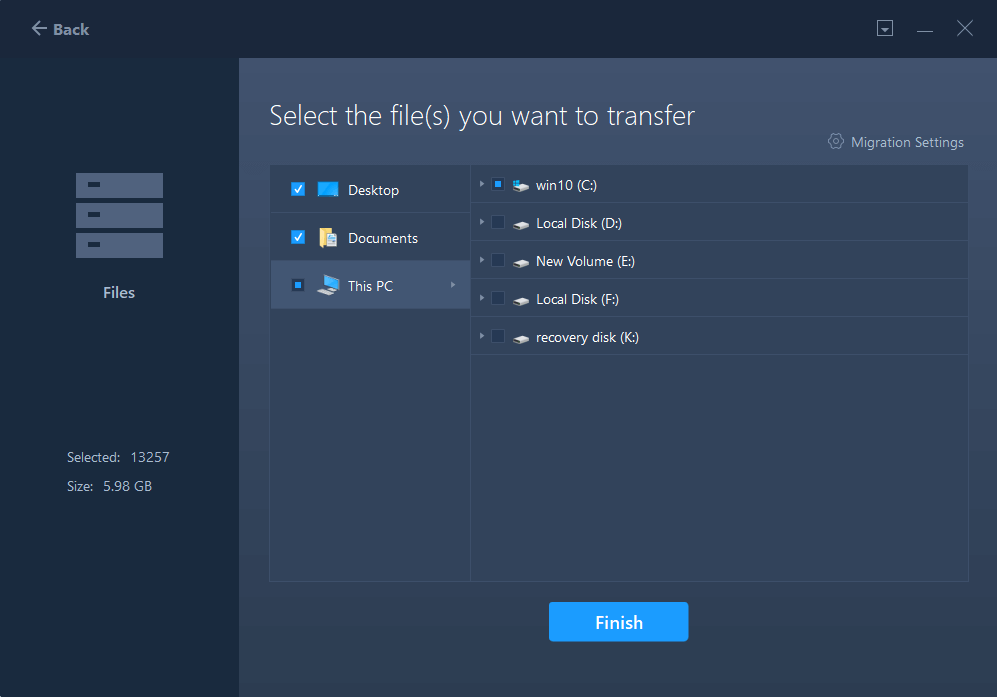 Step 2. Restore the file to the destination drive
Launch EaseUS Todo PCTrans and follow the same way to reach the step of selecting a transfer method. This time choose "Data Restore" and click "Next".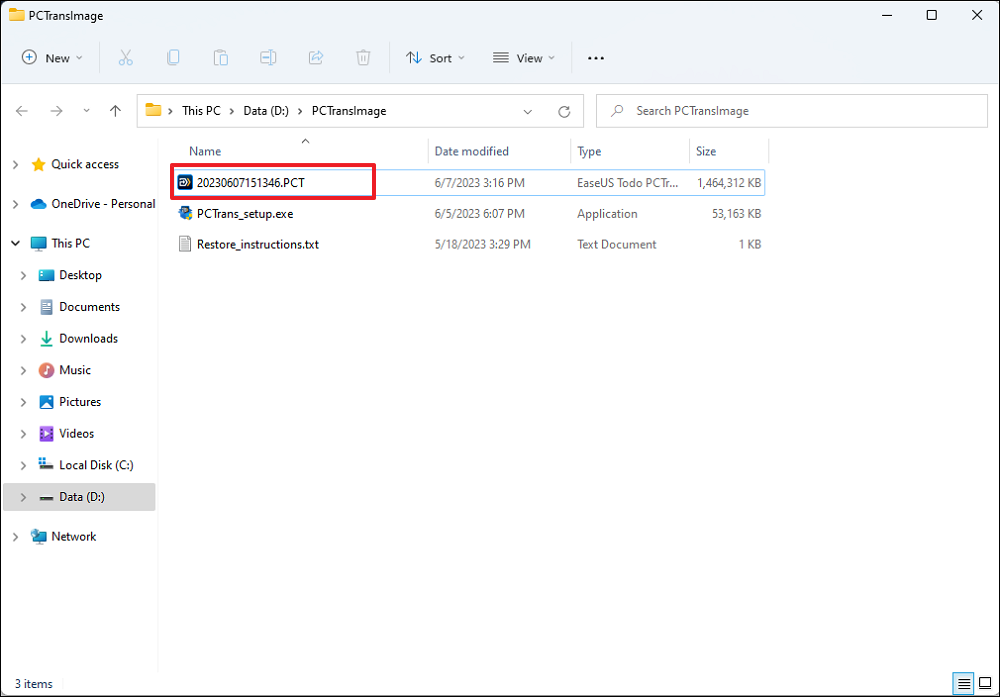 Choose the existing backup file presenting on the interface, or navigate to the exact file path where the backup file is, click "Restore".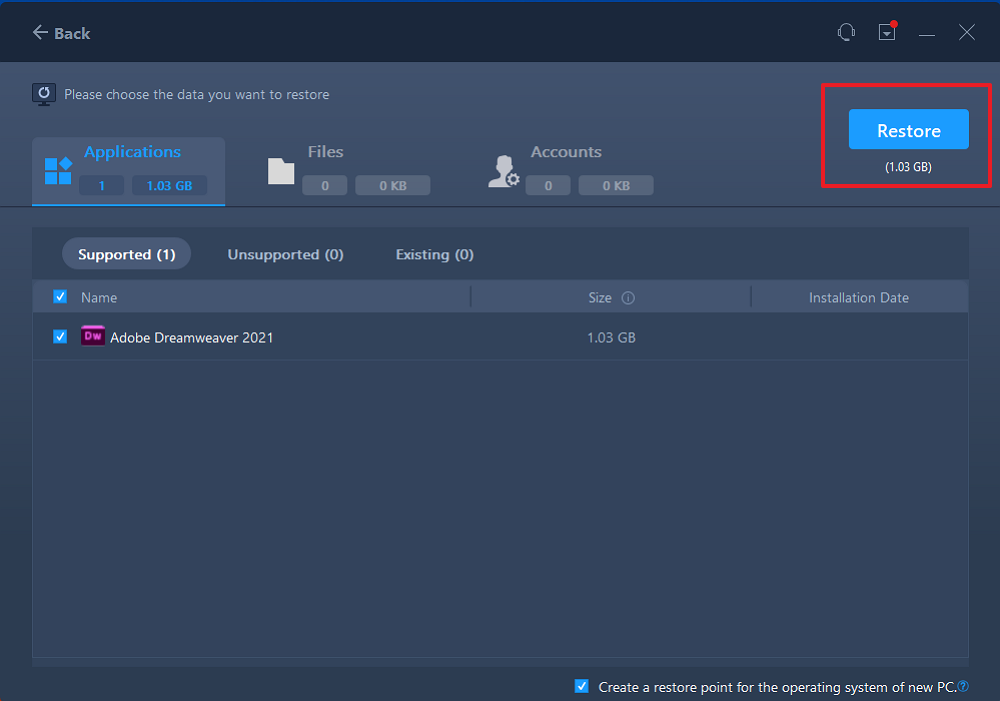 You're back to the "Files", click "Edit" to get in. The backup file is viewable here. You need to click the pencil icon to set the target location, which is the other hard drive, and submit the change. After the basic settings, click "Finish" and finally "Restore". Wait patiently until the transfer process is over.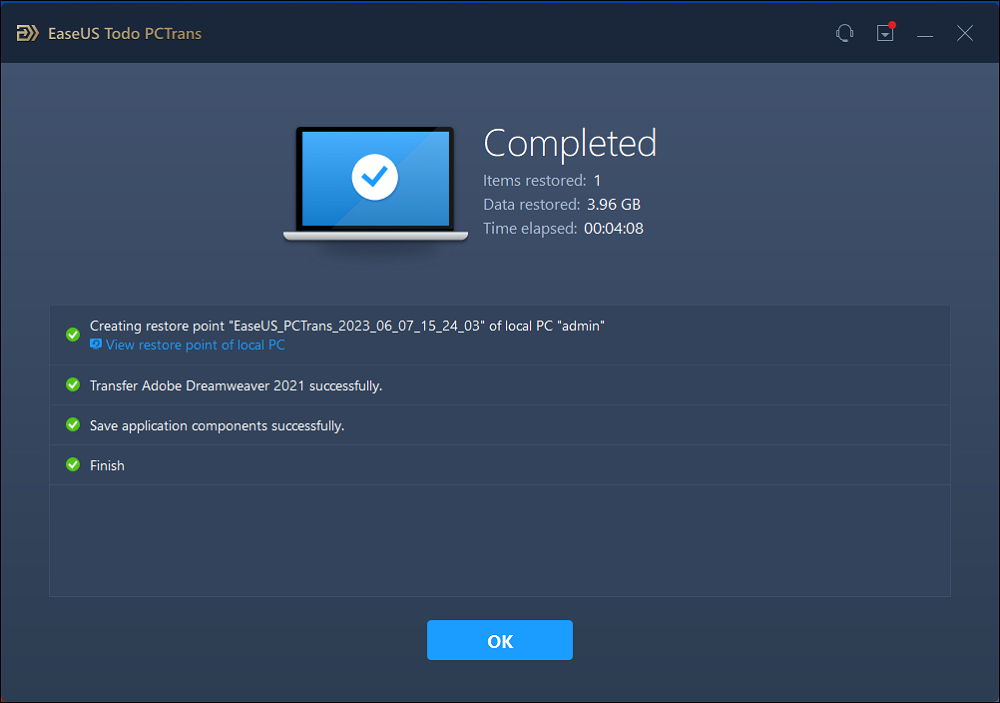 Pros:
Compatible with a wide range of storage devices
Transfer data via internet connection or image files
Free technical support
Recover data from a dead or non-bootable PC
Cons:
Limited features in the free version
No undo function
Overall, EaseUS Todo PCTrans is a good choice for those who need to migrate data between storage devices or computers. However, it should be noted that the free version of the software has limited features. Luckily, you can enjoy a trial time before purchasing.
FAQs
1. How do you clone a SanDisk?
Before cloning a SanDisk, you need to prepare a SATA data cable, 3.5-inch mounting adapter, screws, and a Phillips screwdriver. Connect your SanDisk SSD to your computer, and use third-party software to clone. If you are interested in learning more about SanDisk cloning, follow this link to know detailed steps and our best free SanDisk SSD cloning software.
2. How do I transfer my Kingston SSD?
Step 1. Connect the target disk to your PC.
Step 2. Make sure the target disk has an equal or bigger capacity than the used space of the old drive.
Step 3. Check the style of the new disk.
Step 4. Download a Disk Cloning Tool.
If you are interested in learning more about Kingston SSD cloning, follow this link to know the free Kingston cloning software for Kingston SSD.
3. How do I use a solid-state drive PNY?
It is easy to update your PC performance with a PNY SSD drive. Watch the video and learn the exact steps.
Conclusion
SanDisk, Kingston, and PNY offer a tool for users to store data. However, people may need to transfer data from these devices. We recommend EaseUS Todo PCTrans is the best SanDisk/Kingston/PNY Data Migration Software. I believe it will be the perfect choice for you.
Daisy is the Senior editor of the writing team for EaseUS. She has been working in EaseUS for over ten years, starting from a technical writer to a team leader of the content group. As a professional author for over 10 years, she writes a lot to help people overcome their tech troubles.

Roxanne is one of the main contributors to EaseUS and has created multiple posts on digital devices like PCs, Mobile phones, tablets, Mac, etc. She loves to share ideas with people of the same interest.