Updated by
Gemma
on Sep 22, 2022
If you are going to replace your HDD/SSD with a solid-state drive, this guide will help you with it. It provides simple instructions on how to upgrade your desktop or laptop HDD to a SanDisk SSD. Check the instructions included with your SSD for more details.
Preparations - What You Need Before Start SanDisk Cloning
To make sure that you can have a successful installation of your SSD, you need to get ready before you start. You'll need the following things:
Required Hardware
1. SATA data cable 
2. 3.5-inch mounting adapter and screws 
3. Phillips screwdriver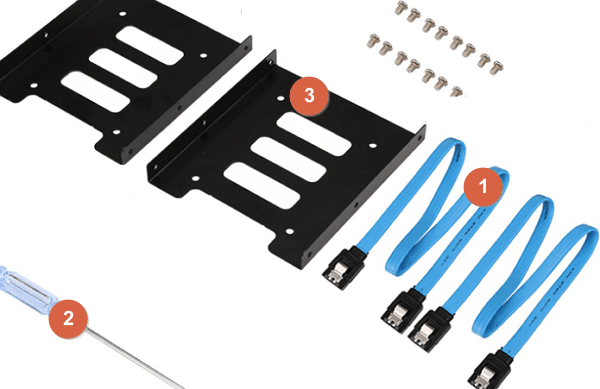 Required SanDisk Cloning Software
EaseUS Todo Backup, the renowned disk and partition backup and clone software, is now chosen as the best SanDisk SSD cloning software as well as SanDisk SSD data migration software. It's recommended as the best by regular customers and expertized editors of reliable review websites, like CNET, PCWorld, TopTenReviews...
The widely used SanDisk SSD products, mainly including SanDisk Extreme Pro SSD (240GB-960GB), SanDisk Extreme 900 Portable SSD (480GB-1.92TB), SanDisk Ultra II SSD (120GB-960GB), SanDisk Ultra II mSATA SSD (128GB-512GB), SanDisk Extreme 510 Portable SSD (480GB) and SanDisk Extreme 500 Portable SSD (120GB-480GB), can apply the software freely, as EaseUS backup software supports hard drive capacity up to 16TB.
1 - Connect Your SanDisk SSD to Your Computer
The very first thing you need to do is connect your SanDisk SSD to your computer in order to clone your data.
Step 1. Use the screwdriver to remove the computer case.
Step 2. Connect the SanDisk SSD to your computer via the SATA cable.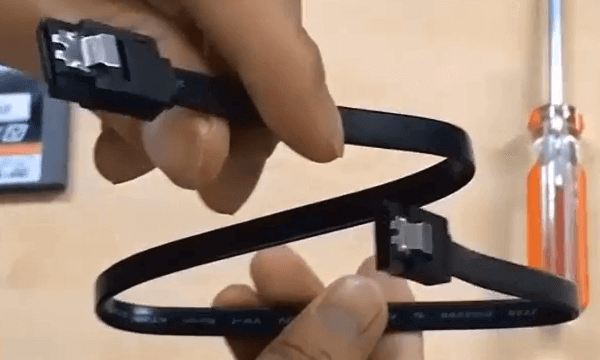 Step 3. Restart your computer and open "Disk Management", right-click on the new disk and select "Initialize disk". 
You need to initialize your SSD to the same partition style as your current system disk (MBR or GPT). If your SSD isn't a new one, you can convert it to GPT or MBR.
2 - How to Clone HDD/SSD to SanDisk SSD
Next, you need to clone the existing HDD (data, or OS) to your new SanDisk SSD. This process is the same for both desktop and notebook computers. It is typically completed in four steps:
Launch the cloning application
Follow the steps to begin the cloning process
Select the "source" drive/disk (your computer's internal drive)
Select your "destination" drive (Your SSD)
We are going to use EaseUS backup and recovery software cloning HDD to SanDisk SSD. Follow the step-by-step guide.
Step 1. Launch EaseUS Todo Backup and click "Tools" at the top right corner, you can see clone and other utilities.
Step 2. Choose the source disk or partition as well as the target disk. (Make sure the space of the target disk is larger than that of the source disk or partition.)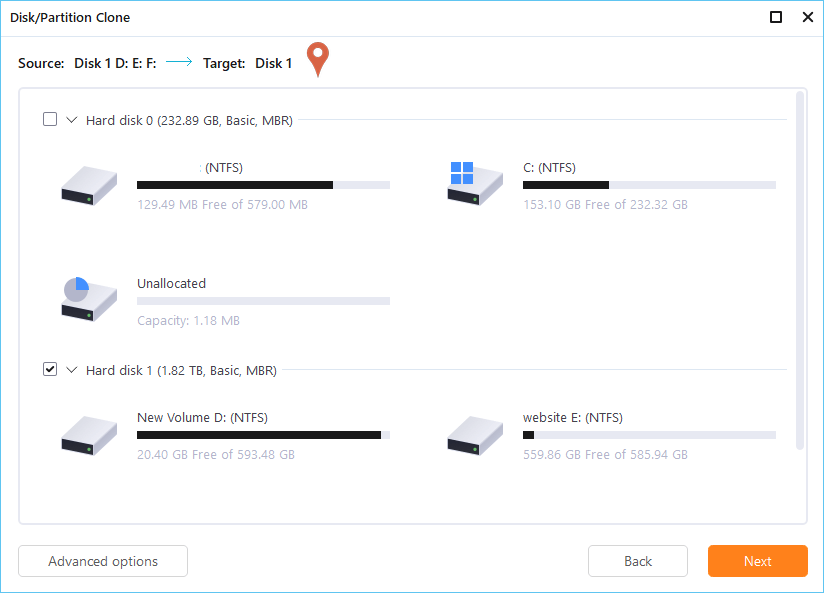 Step 3. The clone would permanently wipe out all data on the target disk/partition. If you have backup your data in advance, just click "Continue."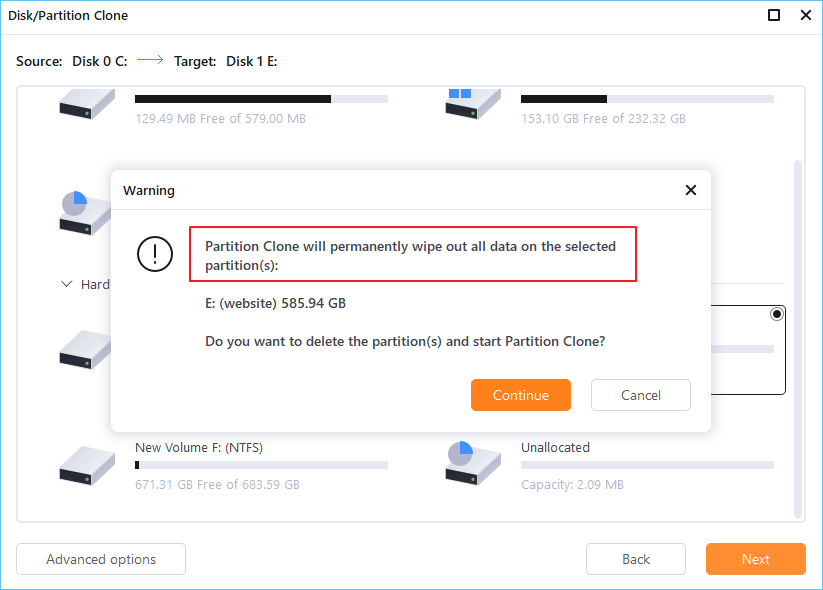 Step 4. Click "Proceed" to start cloning.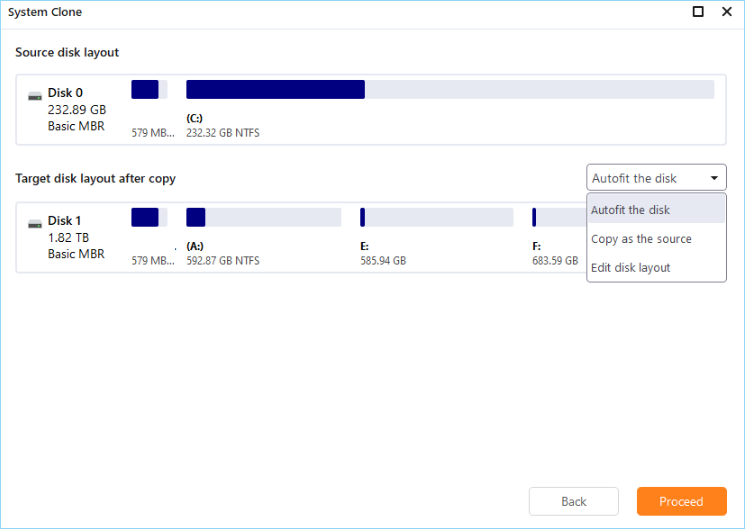 3 - How to Uninstall and Replace the HDD with SanDisk SSD
After cloning HDD to SanDisk SSD, you need to replace your old drive with the SSD. To install your SSD on a desktop computer, follow these steps.
 Tip

If your computer has a 2.5-inch drive bay, you will not need to install the 3.5-inch mounting adapter.
Step 1. Power off your computer and disconnect the power cable.
Step 2. Open your desktop computer case.
Step 3. Locate your existing HDD. Unplug the SATA data cable and SATA power cable from your existing HDD and remove the drive from the bay.
Step 4. In most desktop computers, before installing your SSD, first, you must install it into the 3.5-inch mounting adapter. 
Step 5. Install your SanDisk SSD into your computer's drive bay and connect the SATA data cable and SATA power cable.
Then, you can start your computer. If you have migrated Windows 10 to SSD, boot from SSD when you start your computer.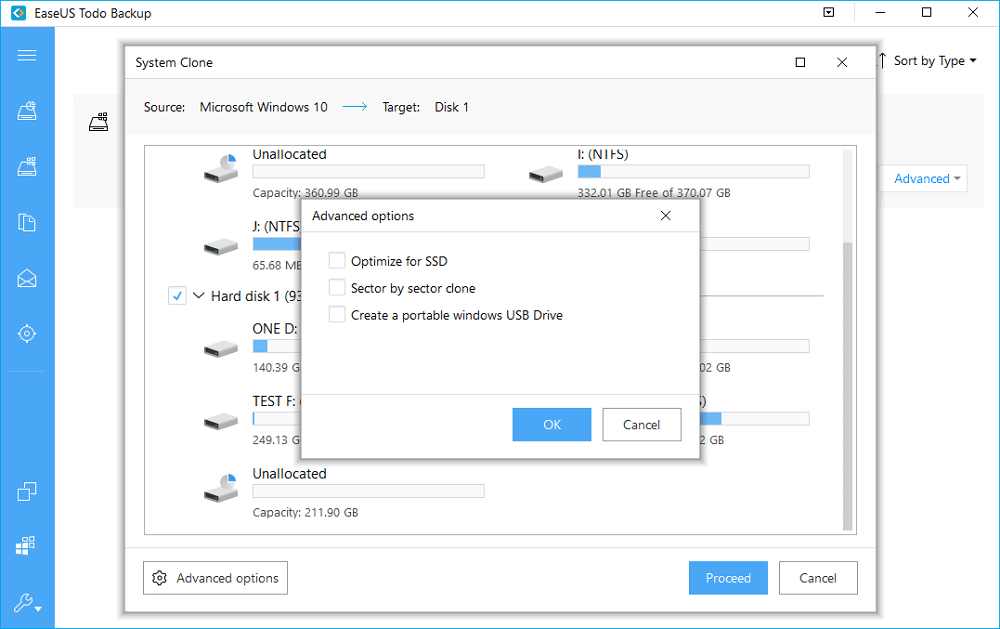 Useful Tips About Using SanDisk Clone Software
To accomplish SanDisk SSD clone and Windows OS, data migration successfully, here are some tips that we hope you read carefully. Your SanDisk SSD can be either the source disk or destination disk.
If the original hard disk contains the system partition, please tick the "Shut down the computer when the operation completed" option. The software will shut down automatically the computer when the clone completed.
To remove either the source disk or destination disk from the computer to make the computer boot normally if the source disk contains a boot partition.
If you want to boot from the destination disk, we recommend you replace the source disk with the destination disk.
If the computer fails to boot from the destination disk after the clone, we suggest you clone the source disk to another disk with the same HDD interface.
If you choose to clone a hidden partition, the cloned one will be unhidden.
A large hard drive can be cloned to the small hard drive so long as the capacity of the destination hard drive is equal to or larger than the used space of an original hard drive.
Conclusion
EaseUS Todo Backup is a powerful cloning tool for SanDisk SSD, which supports all Windows editions including Windows 7/8/8.1/10. You can also use it to back up files or systems to wanted places.
Updated by Gemma
Gemma is member of EaseUS team and has been committed to creating valuable content in fields about file recovery, partition management, and data backup etc for many years. She loves to help users solve various types of computer related issues.
Written by Tracy King 
Tracy joined in EaseUS in 2013 and has been working with EaseUS content team for over 7 years. Being enthusiastic in computing and technology, she writes tech how-to articles and share technical solutions about Windows & Mac data recovery, file/system backup and recovery, partition management and iOS/Android data recovery.
Taking everything into consideration, we can say that EaseUS Todo Backup Home can offer you a little extra sense of security with a set of advanced tools. The interface provides quick adaptation, every process guiding you all the way through so you don't get stuck or further damage your system rather than keeping it safe.

 Read More

EaseUS Todo Backup Free lets you create backups of your important files or your entire computer through its streamlined interface. Just choose the backup type you'd like to get started, and let the program do the reset.

 Read More

EaseUS includes all the features I expect from backup software like versioning, incremental backups, and scheduling. For more advanced users, EaseUS allows you to install a pre-boot environment onto your hard drive so you can use it to restore files without burning a CD or putting it on an external USB drive.

 Read More

EaseUS Todo Backup
Smart backup tool for your files and entire computer in Windows 10/8/7.
Install Windows on Multiple Computers at Once? No Problem!
Learn how to install Windows 11/10/7 and special programs/software on a batch of computers. Use 10 minutes to do the 10 hours work without making a single mistake!
Get Free Solution!