Why Need Kingston SSD Clone Software
Solid State Drives, known as SSDs, are designed with no moving parts, which are more durable as well as reliable than traditional hard drives. For desktop and laptop, Kingston solid-state drive can be an ideal replacement if you plan to upgrade the hard drive that's aging, such as Kingston A400 SSD. It will make your system more responsive so that your computer can boot and shut down more quickly, load applications faster, and run PC more quietly.
When you need Kingston cloning software:
Upgrade disk to a larger Kingston disk 
Upgrade HDD to Kingston SSD
Back up disk data without data loss
Migrate OS to Kingston SSD without reinstalling
Download The Best Kingston Cloning Software 
You may wonder what Kingston clone software that people use. EaseUS Todo Backup is the most popular and the best backup software that works 100% smooth on cloning HDD to Kingston SSD.
EaseUS backup software offers the following stunning functions:
Back up system, file, disk, and partition
Support full backup, incremental backup, and differential backup
Clone Kingston SSD or HDD with clicks
The pro version allows users to migrate Windows 10 to Kingston SSD
Besides being Kingston cloning software, this tool has been welcomed by Samsung SSD users, for it provides easy and quick Samsung data migration as well. So, download EaseUS Todo Backup and follow the step-by-step guides below to perform Kingston data migration.
How to Use Kingston Cloning Software to Clone HDD to SSD
Now, connect your Kingston SSD to your computer, and make sure it can be detected by Windows. Then, follow the steps below to clone HDD to Kingston SSD with EaseUS disk cloning software.
You can use it to clone large HDD to smaller Kingston SSD, as long as the usage space on HDD is less than or equal to the SSD size.
Step 1. Connect the New Second Hard Drive to the PC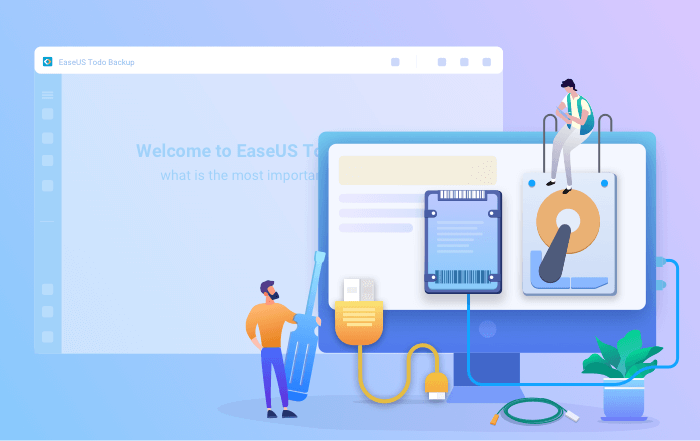 Preparations before cloning start:
1. To connect the target disk to your PC, you may need a screwdriver, a Power Splitter Adapter Cable, a SATA cable, or a USB to SATA adapter. 
2. Make sure the target HDD/SSD has an equal or bigger capacity than the used space of the old drive.
3. Check whether the style of the new disk is the same as that of the old disk. If not, Initialize a new HDD/SSD to MBR or GPT.
3. Download a Disk Cloning Tool – EaseUS Todo Backup
EaseUS Todo Backup is the cloning software that integrates multiple functions, including , etc. In the disk clone field, this tool stands out due to the following aspects:
Support system/disk clone, backup, restoring , and system transfer.
Covers as many as disk cloning demands, such as update hard drive to a larger one, clone OS, etc.
Disk cloning has the highest success rate among all similar products on the market.
Supports all kinds of disk types, including IDE, EIDE, SATA, ESATA, ATA, SCSI, iSCSI, USB 1.0/2.0/3.0.
Supports cloning of basic/dynamic disks and MBR/GPT disks.
Step 2. Step by Step Guide
System Clone: Choose System Clone > choose the destination disk > click Next to start. In Advanced options, you can choose the option of Create a portable Windows USB drive to clone the system to a USB drive.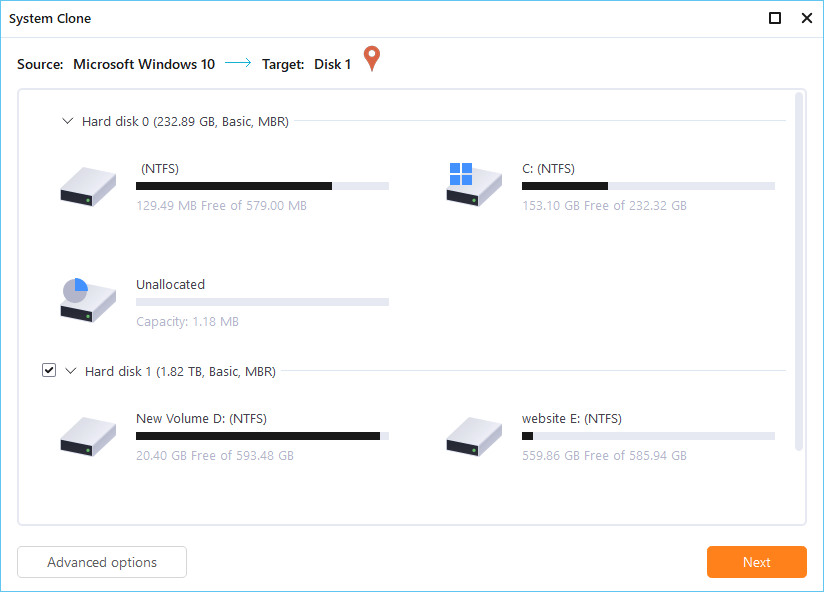 Disk/Partition Clone: Choose Clone > Select the resource disk or partition > Select the target disk > Click Next to start.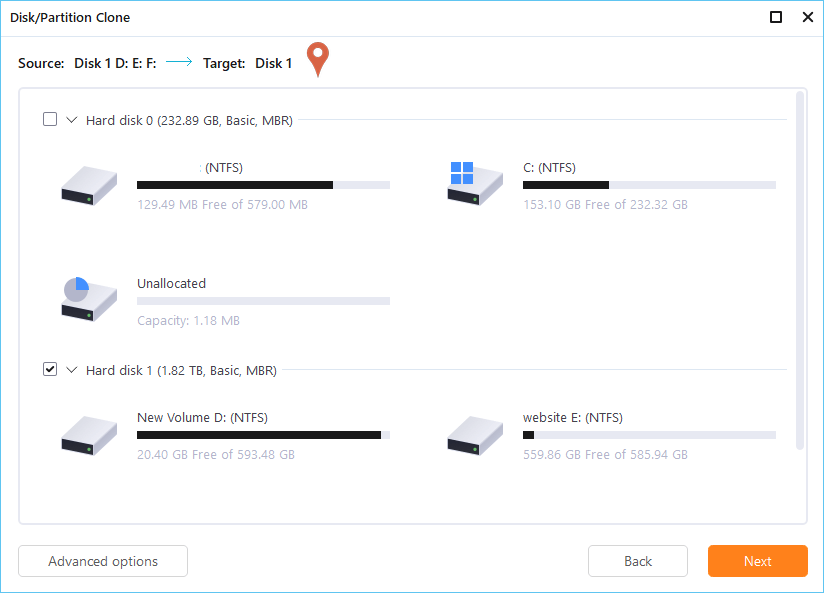 Step 3. Boot from the Clone Hard Drive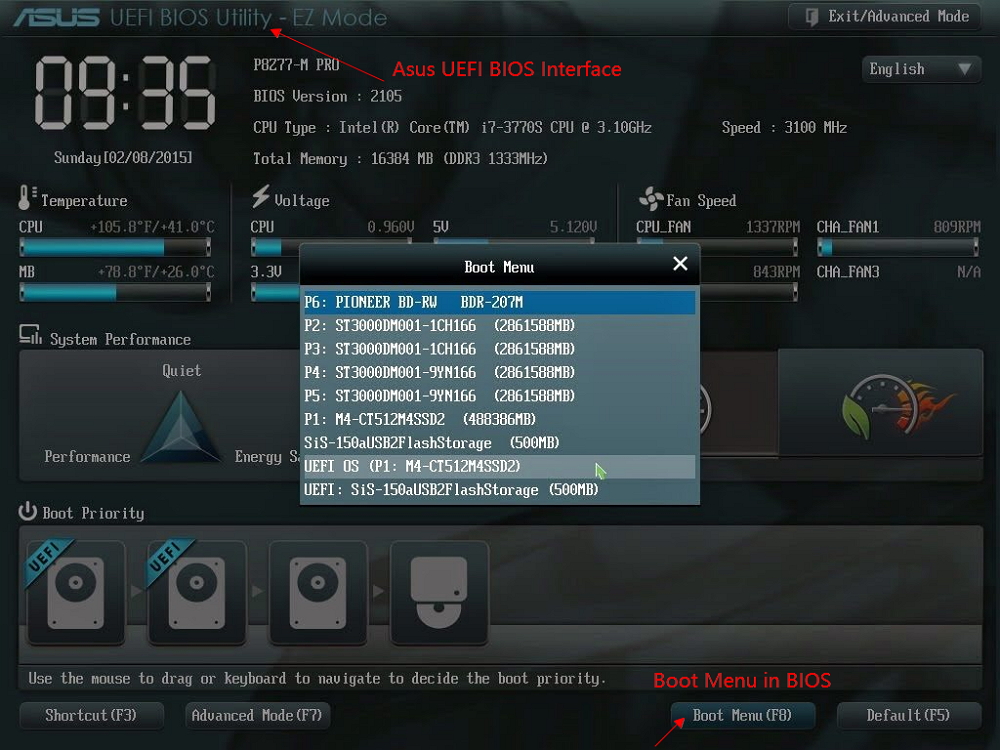 Case 1. If you want to keep both the old disk and the new disk
Restart PC and press F2 (F8,F10, DEL...) to enter BIOS settings.
In the Boot option, select new HDD/SSD as the new boot drive.
Exit BIOS and restart the computer.
Case 2. If you want to only keep the new disk
Unplug the old disk and make sure the new disk is well connected.
Connect the new disk and make sure it can be detected by the computer
Restart your computer.
Conclusion
In this post, we show you how to clone HDD to Kingston SSD with a professional Kingston SSD cloning software - EaseUS Todo Backup. If you want to clone an SSD disk or do OS migration, download this Kingston cloning software for a try.
Frequently Asked Questions About Kingston Cloning Software 
The following are the top topics related to Kingston SSD software. Check the brief answers to these problems.
Does Kingston SSD have cloning software?
The Kingston solid state drive does not include drive cloning software or SATA cables. If you require Kingston cloning software, you can turn to EaseUS Todo Backup. It enables you to clone HDD to Kingston SSD with the same disk layout. This Kingston data migration software allows you even to clone large HDD to a smaller SSD.
How do I clone my hard drive to Kingston SSD?
To clone hard drive to Kingston SSD easily and quickly, try EaseUS SSD clone software:
Step 1. Download and Launch EaseUS Todo Backup and choose "Clone".​
Step 2. Choose the source hard drive you're going to clone. Click "Next".​
Step 3. Choose Kingston SSD as the destination disk. Here, choose the SSD. To largely improve the SSD performance after cloning, tick the option for "Optimize for SSD" in "Advanced options". Click "OK" > "Next".
Step 4. Preview a disk layout and click "Proceed" to start to clone HDD to Kingston SSD.
What is the best software to clone a hard drive?
Best software to clone a hard drive - EaseUS Todo Backup
Other top hard drive clone software is:
Acronis True Image 2022
Clonezilla
PMacrium Reflect
Paragon Drive Copy Professional
Active@ Disk Image
Iperius Backup
Symantec Ghost Solution Suite
DriveImage XML
O&O Disk Image
What is Kingston SSDNow?
Replacing the hard drive with Kingston SSDNow V300 or Kingston SSDNow A400 solid-state drive is the most cost-efficient way to improve computer performance and the responsiveness of your system dramatically. You can use reliable Kingston SSD cloning software to clone HDD to SSD effectively.
Was this page helpful? Your supoport is truly important to us!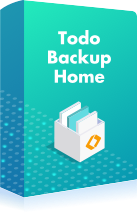 EaseUS Todo Backup
EaseUS Todo Backup is a dependable and professional data backup solution capable of backing up files, folders, drives, APP data and creating a system image. It also makes it easy to clone HDD/SSD, transfer the system to different hardware, and create bootable WinPE bootable disks.
Updated by

Jean is recognized as one of the most professional writers in EaseUS. She has kept improving her writing skills over the past 10 years and helped millions of her readers solve their tech problems on PC, Mac, and iOS devices. …

Read full bio