Does Dell Migrate sound familiar to you? What is Dell Migrate, and what does this tool do? How can Dell Migrate help in transferring data from Dell to another computer? 
This page covers everything that you want to know about Dell Migrate, including its features, pros, and cons. And, if you are wondering if there is any Dell Migrate alternative that makes things easier in data migration and app transferring from PC to PC, stay here. And, you'll find a perfect tool that helps to accomplish your tasks in PC to PC file transfer.
In this article, you'll learn:
What Is Dell Migrate
Is Dell Migrate Worth It, Pros and Cons
How Does Dell Migrate Work: Transfer Everything from One Dell to Another
Dell Migrate Alternative: Transfer Everything Between PCs & Laptops
Overview: What Is Dell Migrate
Dell Migrate is a paid service provided by Dell that enables Dell users to migrate personal files and settings from Dell to another computer on Windows 11/10/8.1. It simplifies the process of migrating data from an old computer to a new PC so as to sell or trade-in the old computer machine.
So is Dell Migrate free? No, as introduced, Dell Migrate is a paid service provided for Dell computer users. To enable it, you'll have to purchase the Migrate service for your PC. 
Here is a table that lists some basic information about Dell Migrate that you might feel interested in:
| Service | Dell Migrate |
| --- | --- |
| Cost | $49 |
| Source PC | Dell computers |
| Target PC | Dell computers |
| Supported OS | Windows 8.1 or later |
| Buy Online | https://www.dell.com/support/home/en-us |
| Phone Order | 1-800-822-8970 |
For now, you get the brief idea that Dell Migrate is actually a data transferring service provided by Dell on its own computers. But is it worthy of trying? What else can it do in PC to PC transferring aside from file transferring? Check through the details in the next part, and you'll get more details about it.
Is Dell Migrate Worth It, Pros and Cons 
It's essential to learn what can Dell Migration help in data migration between Dell computers so that you can decide if this service is worthy of trying, right?
Here is a list of features that you can check if the Dell Migrate service can fulfill your demands in PC to PC file transferring:
Date and time - additional calendar and clocks, user locale
Personalization - Background, File Explorer options, Taskbar, Colors, etc.
Hardware - Phone and Modem, Fax options, and accounts 
Bookmarks - Favorites in Internet Explorer, Bookmarks in Google Chrome, Mozilla Firefox, and Microsoft Edge
User Control - Mouse properties, Keyboard, PC sound, Gaming
Accessibility - High contrast, Magnifier, Color filters, Toggle keys, sticky keys, filter keys settings for the keyboard. 
So what are the advantages and disadvantages of this service? Check the list of Pros and Cons here in the below table:
Pros of Dell Migrate
Cons of Dell Migrate

One-station service: migrate and erase data from old PC.
Flexible file migration: allow you to choose what to move.
Wireless migration: transfer and migrate files via the network connection, it doesn't require transferring cables.
Transfer Windows settings, personal settings, and browser content to the new PC.

Doesn't support Windows 8/7/XP and Vista.
Doesn't support Windows Server systems.
Doesn't support migrating installed applications, games, programs, and PC games to new PC.
Complex for beginners.
Only available on Dell computers. 
Note that if you are looking for a tool that helps to transfer everything from old PC to new PC that is not Dell PCs or laptops, you can refer to the Dell Migrate alternative recommended below for help. 
How Does Dell Migrate Work: Transfer Everything from One Dell to Another
If both of your computers are Dell and you have decided to apply the Dell Migrate service to help you migrate data between two PCs, here is how to use this service for help:
Video Tutorial: How to Get Started with Dell Migrate Service
Source from: Learn IT Technical Courses and Hacking tips
Step-by-Step Guide: 
Be sure that you close these applications before migrating:
Browser applications: Chrome, Firefox, Edge, and Internet Explorer
System Settings
Registry Editor
Control Panel
Now, let's see how to transfer everything between your Dell computers:
Step 1. Install and Enable SupportAssist on the New Dell PC
Search SupportAssist on the new Dell PC and click it from the list of results. If the program was not installed on your computer, click the link here to download SupportAssist for Home PCs document page. 
Step 2. Launch Dell Migrate
1. Click "Yes" at the top banner to start using Dell Migrate.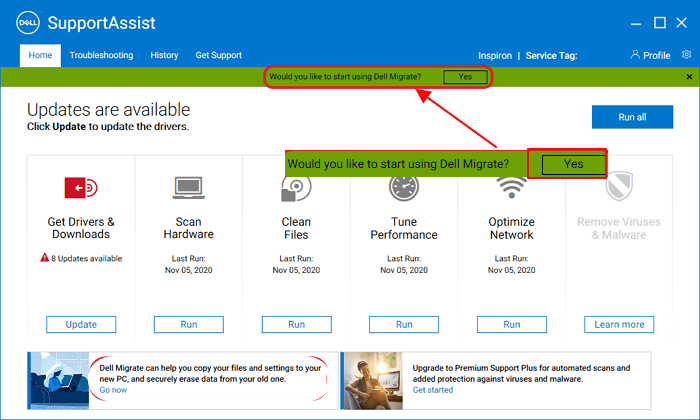 2. And click "Get Started" once Dell Migrate launches.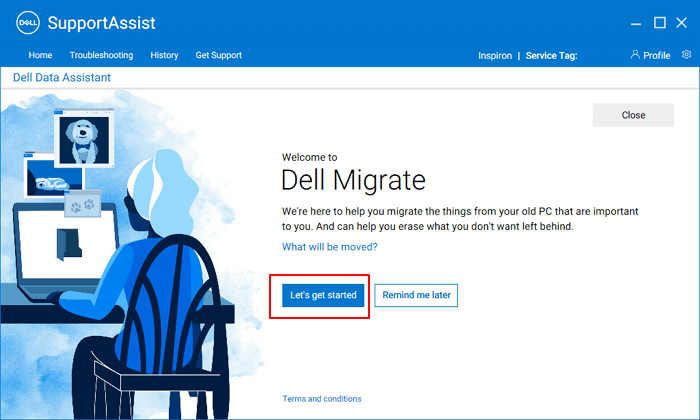 3. Connect the computer through a network.
Click "Trust network" to trust your current network to process the migration.
Then, wait for Dell Migrate to connect your old PC with your new computer.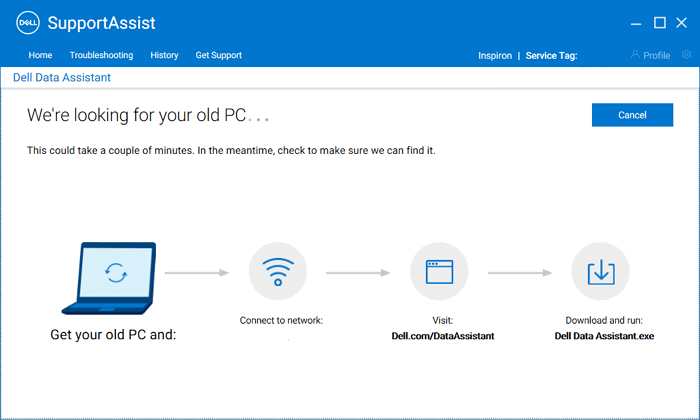 Step 3. Install and Run Dell Data Assistant on the old PC
1. Download and install Dell Data Assistant from www.dell.com/DataAssistant on your old PC.

2. Then, run Dell Data Assistant on the old PC.
3. Click "Trust Network" to allow Dell Migrate process migration through your local network connection.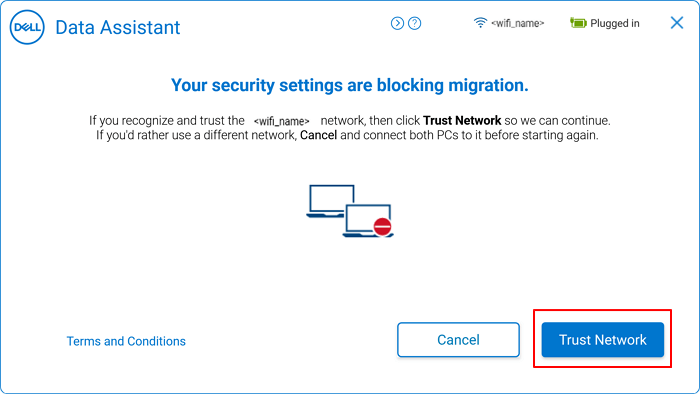 4. Click "Let's get started". 
Step 4. Connect Old and New Dell Computers
1. Follow the on-screen guidelines to connect your two Dell computers.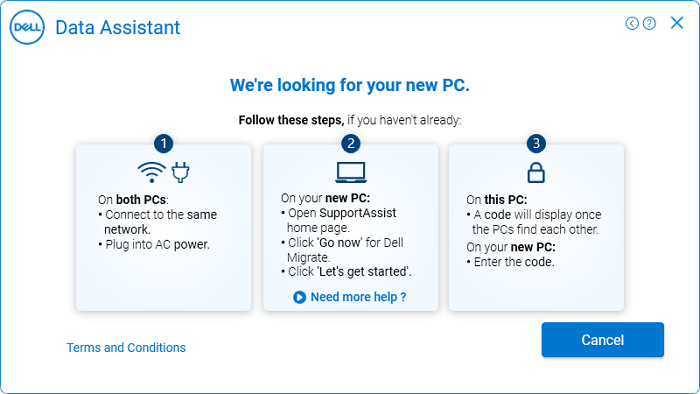 2. Find the verification code on the old PC and type it in your new PC.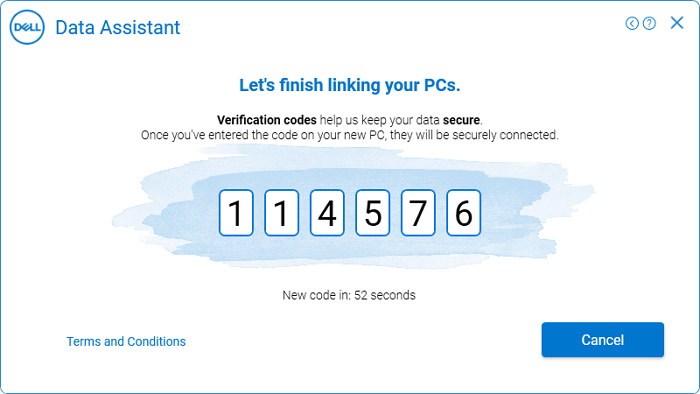 3. Click "Continue" once the verification completes. 
Wait for the tool to search files and settings on the old PC and new PC. Once completed, you can move to the next step to transfer files from the old Dell PC to the new computer.
Step 5. Transfer Files from Old Dell to New PC
1. Click "Move everything for me" or "Let me choose what to move".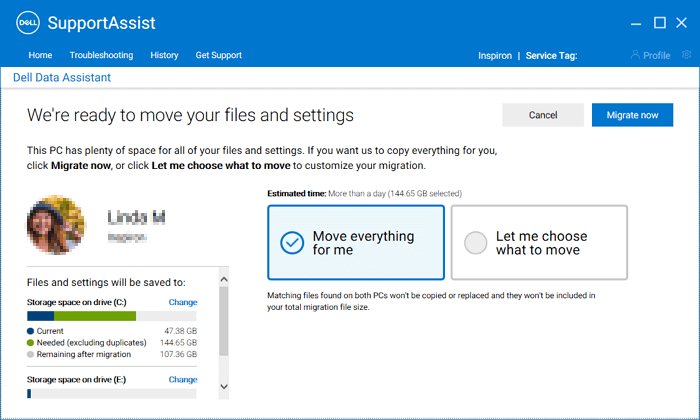 2. Configure what to be moved to your new computer. Click "Migrate now" to start moving data to your new PC.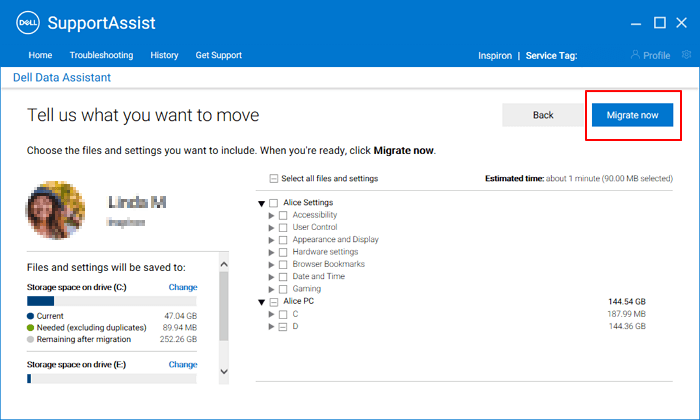 3. When the process completes, click "Finish" to accomplish the transfer.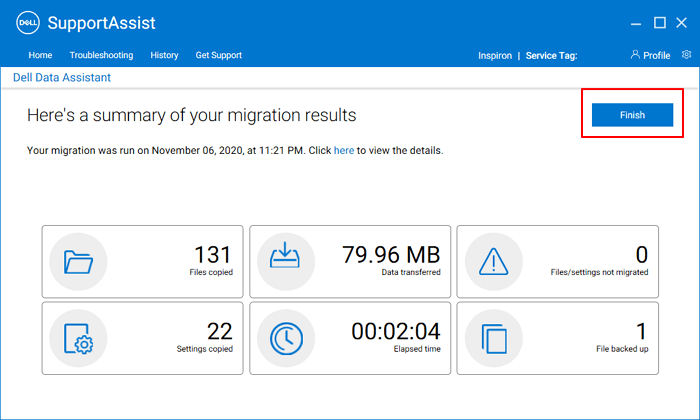 Though we simplified the migration procedure within 5 steps, the overall operation is somehow complex for beginners. So if you need one easier method that helps to migrate everything, including data, settings, and even applications, from your old Windows computer to another new PC, you can trust a Dell Migrate alternative - EaseUS Todo PCTrans is introduced below.
Dell Migrate Alternative: How Do I Transfer Everything Between PCs & Laptops
EaseUS Todo PCTrans is a similar file migration software to Dell Migrate but more than a service tool for transferring Windows computer settings and browser content. It does more than this.
See what you can do with EaseUS Todo PCTrans:
PC to PC Transfer: migrate files, folders, user data, accounts and settings, and even installed applications from an old PC to a new PC.
App Local Migration: transfer C drive installed applications, games, and other big software from the C drive to another non-system drive or even an external drive without boot issue.
System Cleanup: clear junk files and move big files from the system C drive.
Data Backup: create an image backup of big files, folders, games, and applications to an external drive. 
Rescue Data from Dead PC Disk: scan and recover data, programs, etc., from a dead computer drive.
Find Product Keys: scan and find Windows product keys, Office, Adobe, and other installed paid software product keys.
According to this list, it's obvious that EaseUS Todo PCTrans does more than Dell Migrate in assisting Windows users upgrading computers and transferring PC content. It not only works on Dell computers, all brands of Windows computer users can trust and rely on this software for help.
Is it worthy of trying? Sure, and here is how does EaseUS Todo PCTrans help in file transferring between your old and new computers:
Step 1. Launch EaseUS Todo PCTrans on both old and new computers. Click the "PC to PC" on the main screen to continue.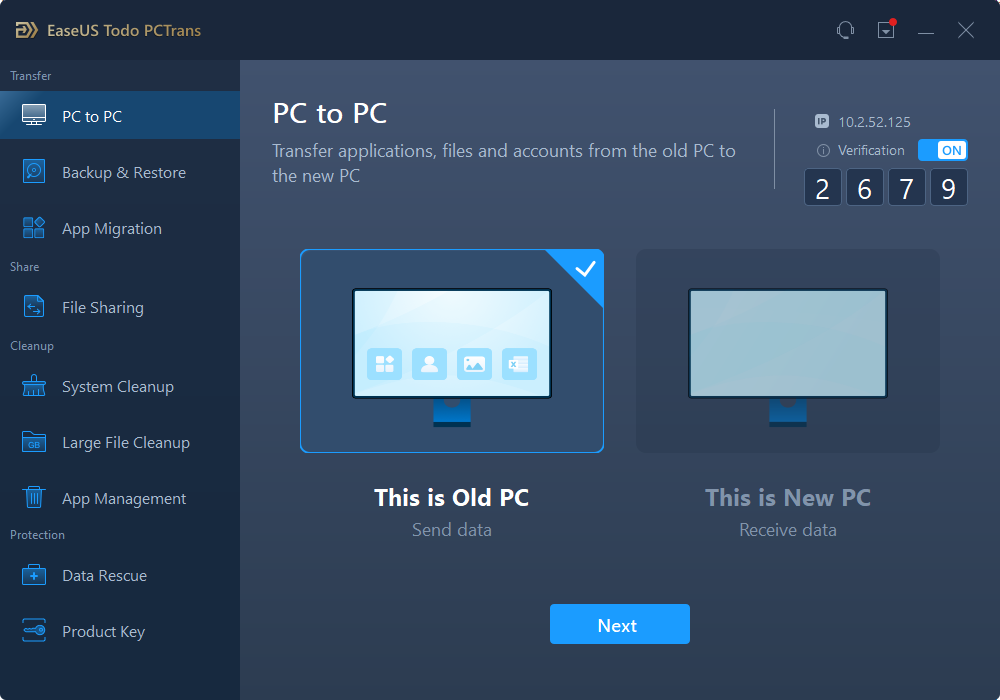 Step 2. Choose the right transfer direction.
"New": Transfer data from old PC to current new PC.
"Old": Transfer data from current old PC to remote PC.
Step 3. Connect the two PCs on the same LAN by entering the password or verification code of the target PC. Choose the right transmission direction and click "Connect" to continue.
The verification code is on the right top of the "PC to PC" main screen on the target computer. Turn on button behind Connection Verification.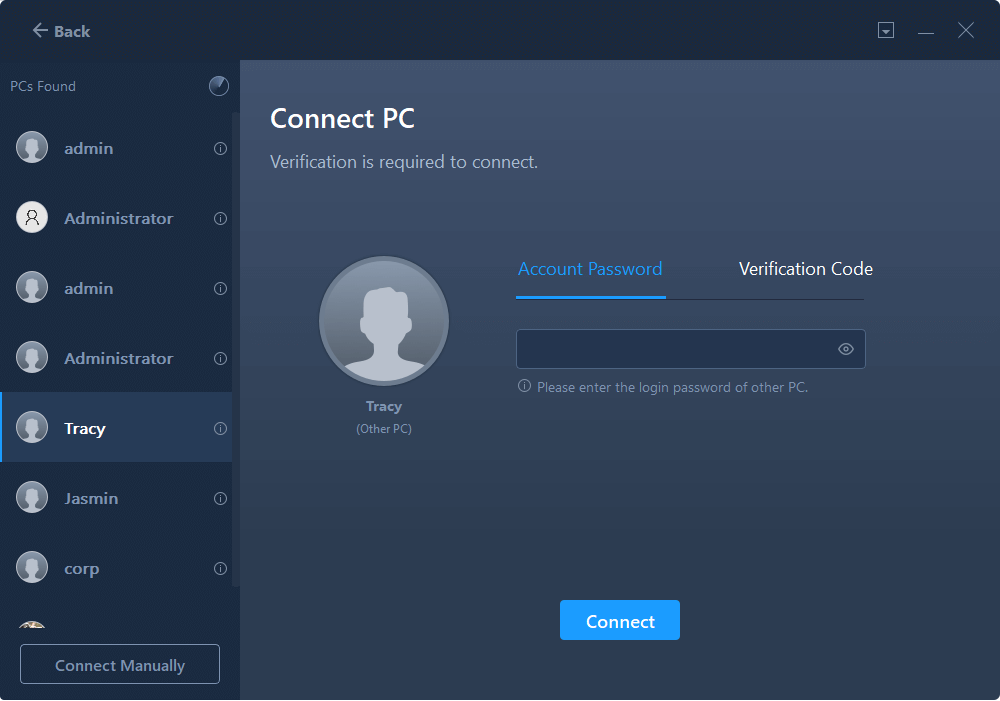 Step 4. Go to "Files" section, select the individual files you need to move.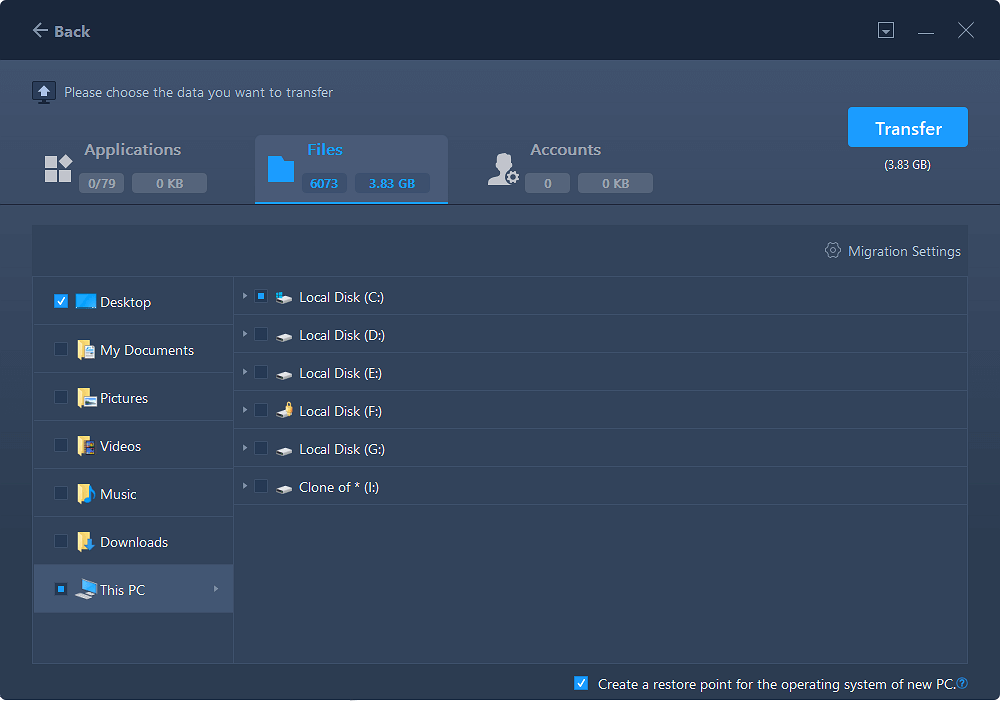 Step 5. And, click the "Transfer" button to begin the data migration. Wait for the transferring finishes. The time of the process varies based on the size of the files.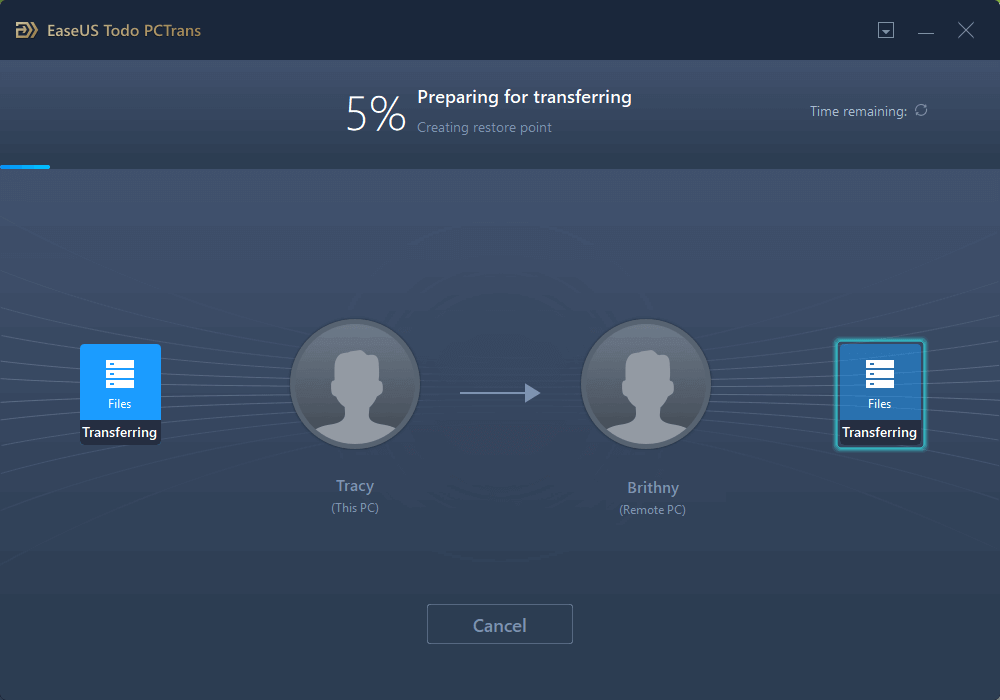 In The End
On this page, we briefly introduced what Dell Migrate is, what services it could provide you, and how to use it for transferring files and settings from a Dell computer to another computer.
Sometimes, you may find that Dell Migrate can't help when it comes to switching applications from one computer to another computer or changing install locations of programs. 
It doesn't matter if Dell Migrate is not working on your PC. You have a better choice which is to turn to powerful PC to PC transfer software - EaseUS Todo PCTrans for help. It'll always be ready to help when you need a PC to PC migration solution. 
Daisy is the Senior editor of the writing team for EaseUS. She has been working in EaseUS for over ten years, starting from a technical writer to a team leader of the content group. As a professional author for over 10 years, she writes a lot to help people overcome their tech troubles.
Written by Tracy King 
Tracy joined in EaseUS in 2013 and has been working with EaseUS content team for over 7 years. Being enthusiastic in computing and technology, she writes tech how-to articles and share technical solutions about Windows & Mac data recovery, file/system backup and recovery, partition management and iOS/Android data recovery.