Windows 11/10 Easy Transfer Tool
We're all expecting to upgrade to Windows 11/10, for its new charming features has built a fire under computer users. Wait! At the same time when you cheer up and applause for Windows 11/10, don't leave your old PC or OS behind which holds all your previous applications and data together with various accounts and settings. How to enjoy the new OS but still keep your accustomed applications? It would help if you had a Windows 11/10 easy transfer tool to achieve the goal.
What is Windows Easy Transfer Tool and How Does it Work?
Speaking of the Windows Easy Transfer tool, the common-used software, Easy Transfer developed by Microsoft, may rank in your search engine's prime position. The program does well in move user accounts, E-mail, Documents, Internet favorites, Music, Videos, Pictures, and more.
How to use Windows Easy Transfer on Windows 7, 8, 8.1: On the old PC, choose Start > Getting Started >Transfer Your Files > Next; On the new PC, enter your easy transfer key shown on the old computer > choose what to transfer > Click Transfer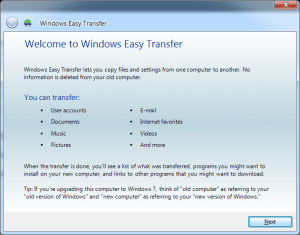 The Problem with Windows Easy Transfer
Not Available on Windows 11/10 
If you mentioned the former part, you should know Windows Easy Transfer still suit Windows 7, 8, 8.1. But the windows easy transfer is not available in Windows 11/10. On the transferring content, unfortunately, the tool can't migrate the application itself to another computer.
No 100% Data Transfer
The Windows 11/10 Easy Transfer Wizard only let you transfer a few folders and user account to another PC. What about your software on Desktop and more applications? 
So is there an alternative of the windows easy transfer to do data transferring in Windows 11/10? Move to the next part to get the windows transfer tool.
A Reliable Alternative to Windows 11/10 Windows Easy Transfer 
Before we find a Windows 11/10 easy transfer tool, we need to figure out why it is necessary to do the transfer. There are two situations for users to enjoy the latest OS. One, upgrade the current window7/8/XP/Vista to Windows 11/10 on the same PC as long as the PC hardware meets the requirements of installing Windows 11/10; two, install Windows 11/10 on a new PC.
Here comes the necessity of using a PC data transfer tool, especially for the latter situation we mentioned above. For every PC application, account along with setting, we'll still use them even changed a new computer using a new operating system. In this case, what bothers us becomes that we need reinstall various applications we get used to and reset the accounts, codes and more.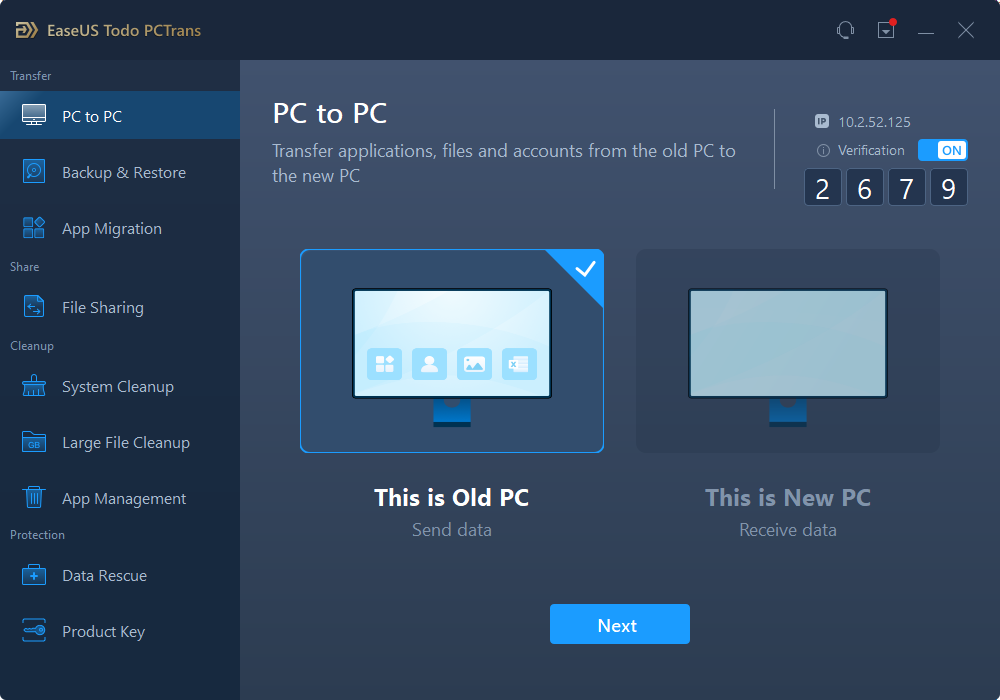 What if the third-party software will do all the transfer without any hassle? Will you take it? EaseUS PC transfer software is developed to realize every user's dream who wants to have a taste of the innovative OS but still desires to keep all the data on old PC.
Thus, speaking of a Windows 11/10 easy transfer tool, what should it be? Does EaseUS Todo PCTrans meet your demand?
First, the tool shall facilitate the transfer. It had better require a little technical background of users.
Second, the tool ought to support any old OS transfer to Windows 11/10. i.e., Win7/8/XP/Vista to Windows 11/10.
Third, using a transfer tool shall not do any damage to the old or new system.
Concluded from the basics required by a Windows 11/10 easy transfer tool, EaseUS Todo PCTrans can do the transfer well. No matter it is the transfer of data, software to Windows 11/10 on the same PC, or migration of applications from an old PC to a new one, it ensures a very convenient and smooth intangible move.
Let's dive into how to use Windows Easy Transfer in Windows 11/10 with EaseUS Todo PCTrans.
Steps - Transfer Everything with The Best PC Transfer Software
There are two methods available to transfer applications from the previous OS to Windows 11/10 with EaseUS Todo PCTrans, via the network connection or an image file. If the upgrade is performed on one computer, the transfer gets easier. Directly choose either of the methods and select the specific data or applications you want to transfer. While if the transfer happens from the old computer to a new one, let's see how to do it.
1. PC to PC Transfer via the Connected Network
Run Todo PCTrans on both of the two PCs and choose "PC to PC". The programs will detect another PC or click "Add a PC" and input an IP address to connect to another PC. After successfully connecting two PCs, we could select the specific data, folders, applications to transfer.
Step 1. Launch EaseUS Todo PCTrans on your source and target computers, connect both PCs via the internet.
1. At the "PC to PC" section, click "PC to PC" to continue.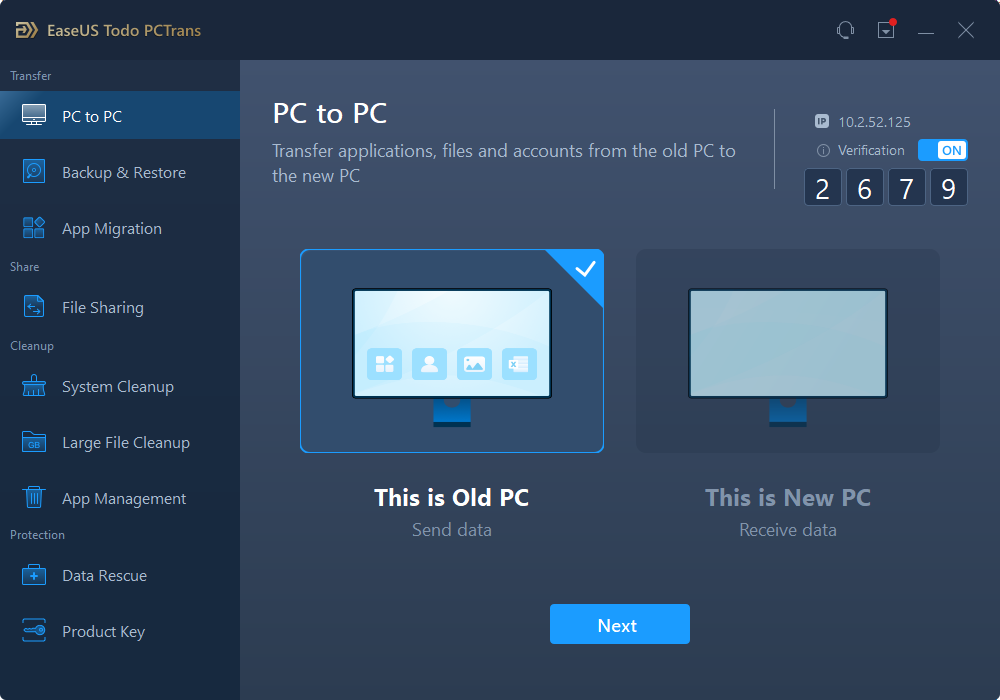 2. Select your target computer via its device name, then enter its account password or verification code and select the transfer direction. Then click "Connect" to continue.
You can check the verification code on the right top of "PC to PC" mainscreen on the target computer.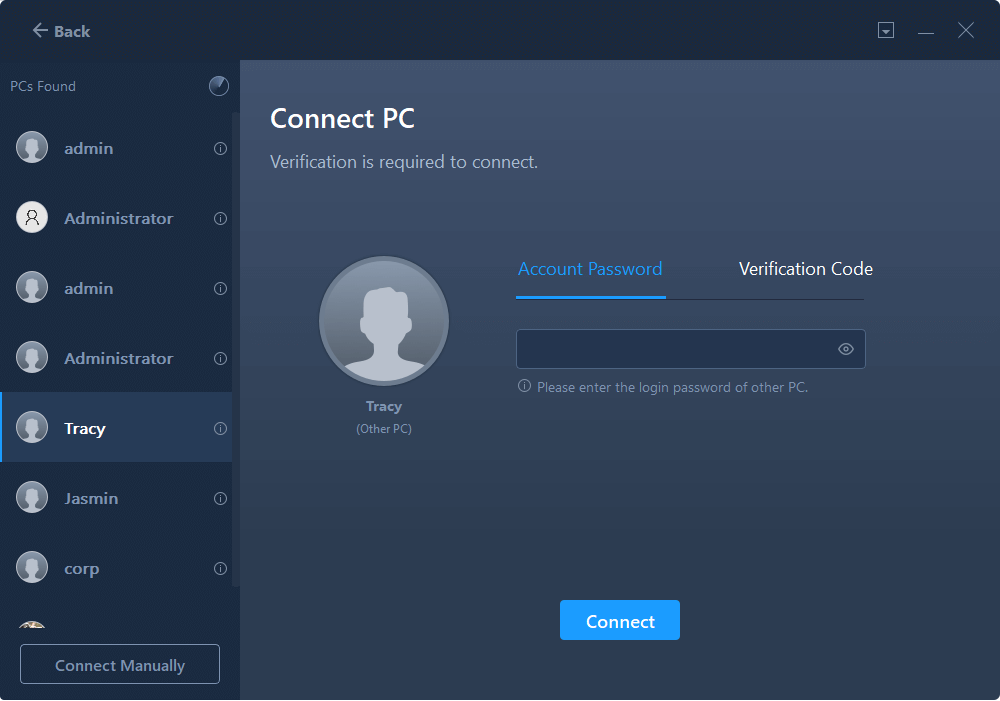 Step 2. Select the categories Applications, Files, and Accounts to transfer via the internet.
If you want to transfer data selectively, click "Edit" under each category, and choose the specific items.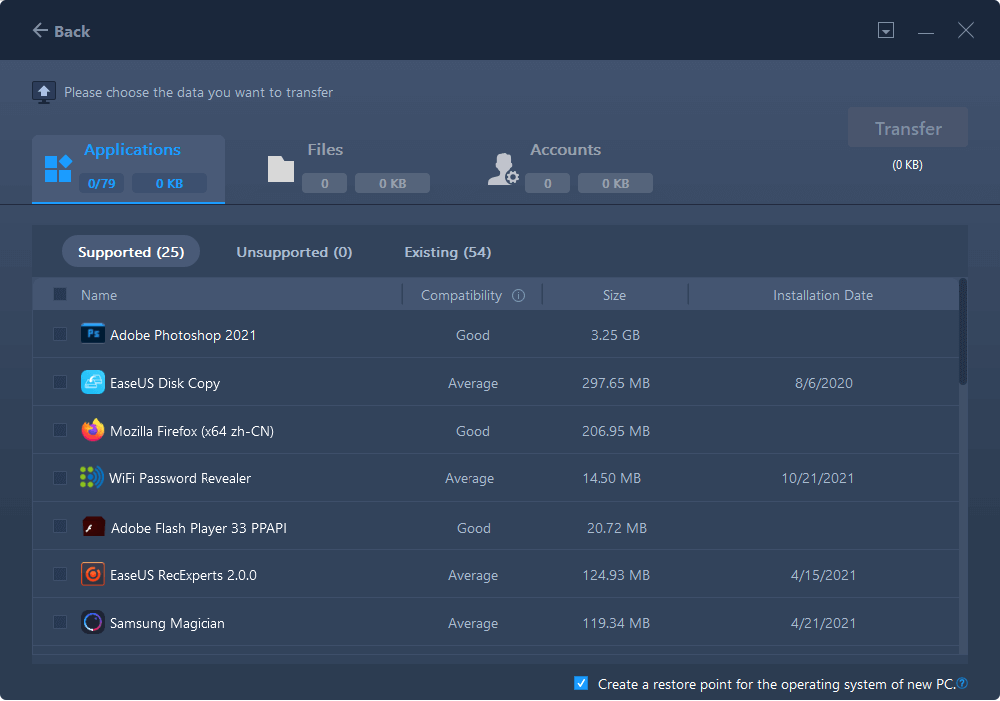 Step 3. Click "Transfer" to start transferring your apps/files/accounts from one computer to another computer via the Internet.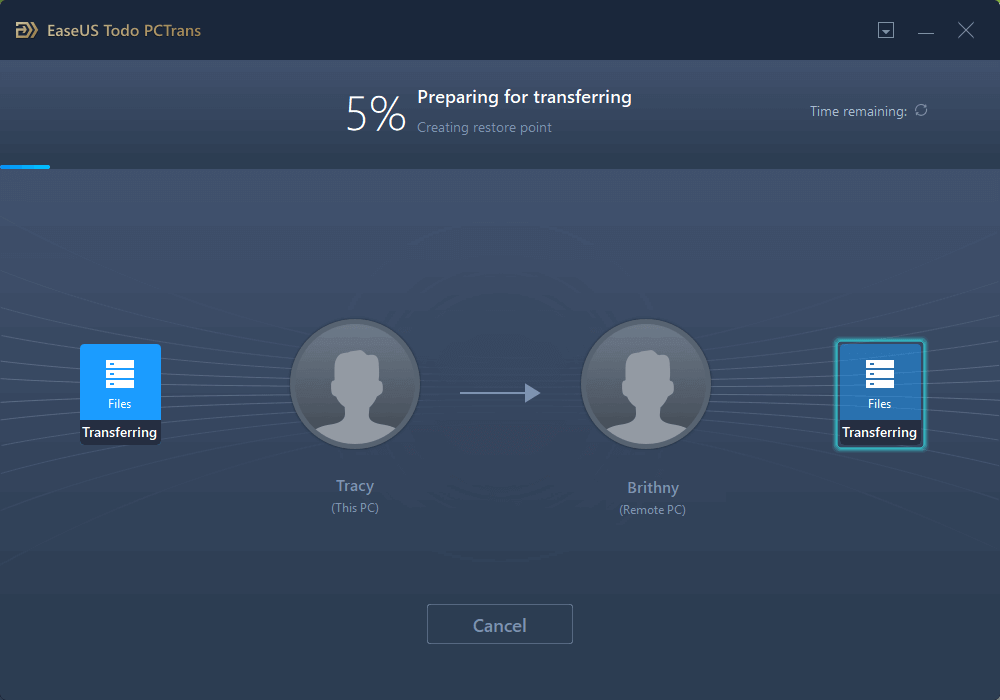 2. Transfer Files, Programs via the Image File
Launch Todo PCTrans, click "Backup and Restore" and "Data Backup", choose the folders, programs to create the backup file. Then copy the file to the targeted computer, run Todo PCTrans on the new system, choose "Backup and Restore" and "Data Restore".
You may need more details about how to use EaseUS Todo PCTrans to do Windows 11/10 transfer. Please click how to use EaseUS Todo PCTrans and learn more.
More Options for Easy Transfer Windows 11/10: Using Microsoft Account
This method is easy to operate. Microsoft account will automatically back up your Desktop, Documents, Music, Videos, and Pictures. Unfortunately, it can not transfer any program files like Office, Adobe, Outlook, etc. And the transfer speed may slower than the third-party software.
Step 1. Choose Settings > Update & Security > Backup > Choose Add a drive (Select your external hard drive)
If you want to transfer more folder, click More options, and choose what you want.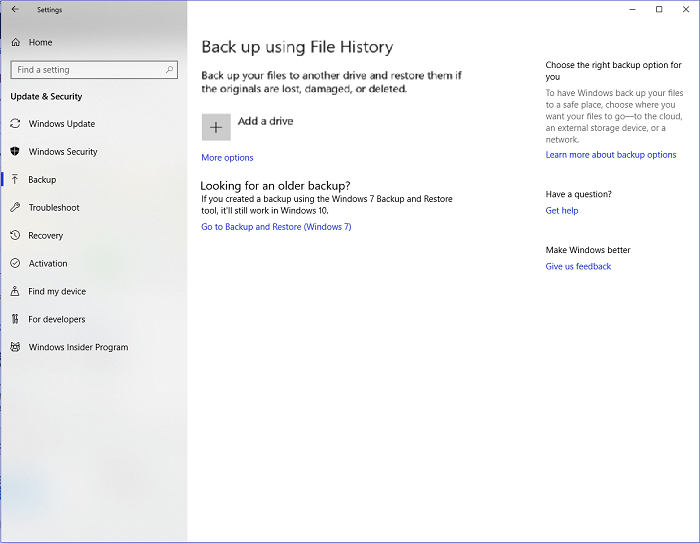 Step 2. Connect the external hard drive to the new PC.
Move to Settings > Update & Security > Backup > Choose More options > Scroll down to the bottom of the page and select Restore files from a current backup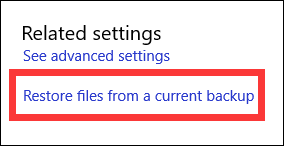 Step 3. Check your recent backup and choose what you want to restore.
It's Most Straightforward, Fast Speed to Transfer Data!
Windows Easy Transfer owned by Microsoft does not cover data transfer in Windows 11/10. Why not use EaseUS Todo PCTrans to do the 100% data transfer? For its newest feature, you can also transfer your user folder to another PC. Enjoying the fast transfer speed when you run the PC transfer tool, even your computer turns out broken. You can always transfer everything!
Updated by Tracy King 
Tracy joined in EaseUS in 2013 and has been working with EaseUS content team for over 7 years. Being enthusiastic in computing and technology, she writes tech how-to articles and share technical solutions about Windows & Mac data recovery, file/system backup and recovery, partition management and iOS/Android data recovery.

Author Jean has been writing tech articles since she was graduated from university. She has been part of the EaseUS team for over 5 years. Her special focuses are data recovery, disk partitioning, data space optimization, data backup and Mac OS. By the way, she's an aviation fan!
EaseUS Todo PCTrans Free is a useful and and reliable software solution created to serve in computer migration operations, be it from one machine to another or from an earlier version of your OS to a newer one.

 Read More

EaseUS Todo PCTrans is by the folks at EaseUS who make incredible tools that let you manage your backups and recover your dead hard disks. While it is not an official tool, EaseUS has a reputation for being very good with their software and code.

Read More

It offers the ability to move your entire user account from your old computer, meaning everything is quickly migrated. You still get to keep your Windows installation (and the relevant drivers for your new PC), but you also get all your apps, settings, preferences, images, documents and other important data.

 Read More
About EaseUS Todo PCTrans
EaseUS Todo PCTrans can transfer settings, applications and data between PCs and HDDs. Your all-round PC transfer and migrate software to upgrade devices without re-installation.