We're all expecting to upgrade to Windows 10, for its new charming features has built a fire under computer users. Wait! At the same time when you cheer up and applause for Windows 10, don't leave your old PC or OS behind which hold all your previous applications and data together with various accounts and settings. How to enjoy the new OS but still keep your accustomed applications? You need a Windows 10 easy transfer tool to achieve the goal.
What should a Windows 10 easy transfer tool look like?
Before we find a Windows 10 easy transfer tool, we need figure out why it is necessary to do the transfer. There are two situations for users to enjoy the latest OS. One, upgrade the current window7/8/XP/Vista to Windows 10 on the same PC as long as the PC hardware meets the requirements of installing Windows 10; two, install Windows 10 on a new PC.
Here comes to the necessity of using a PC data transfer tool, especially for the latter situation we mentioned above. For every PC application, account along with the setting, we'll still use them even changed a new computer using new operating system. In this case, what bothers us becomes that we need reinstall various applications we get used to and reset the accounts, codes and more.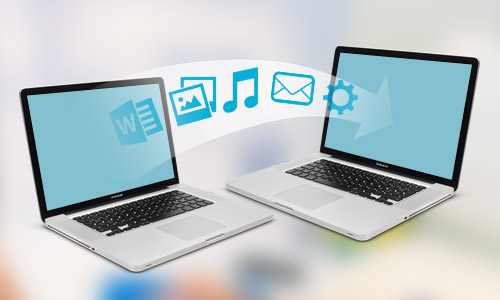 What if all the transfer will be automatically done without any hassle? Will you take it? EaseUS PC transfer software is developed to realize the dream of every user who wants to have a taste of the innovative OS but still desires to keep all the data on old PC.
Thus, speaking of a Windows 10 easy transfer tool, what should it be like? Does EaseUS Todo PCTrans meet your demand?
First, the tool shall facilitate the transfer. It had better require little technical background of users.
Second, the tool ought to support any old OS transfer to Windows 10. i.e. Win7/8/XP/Vista to Win10.
Third, using transfer tool shall not do any damage to the old or new system.
Concluded from the basics required by a Windows 10 easy transfer tool, EaseUS Todo PCTrans is able to do the transfer well. No matter it is the transfer of data, software to Windows 10 on a same PC or migration of applications from an old PC to a new one, it ensures a very convenient and smooth intangible move.
How to use EaseUS Todo PCTrans to transfer applications from previous OS to Windows 10?
There are two methods available to perform the transfer with EaseUS Todo PCTrans, which are via network connection or via an image file. If the upgrade is performed on one computer, the transfer gets easier. Just directly choose either of the methods and select the certain data or applications you want to transfer. While if the transfer happens from the old computer to a new one, let's see how to do it.
1. Transfer files via the connected network
Run Todo PCTrans on both of the two PCs and choose "Via the connected network". The programs will detect another PC or through clicking "+" icon and input IP address to connect another PC. After successful connecting two PCs, we could select the specific data, folders, applications to transfer.
2. Transfer files, programs via the compressed files
Launch Todo PCTrans, click "Via the compressed files" and "Create the image files", choose the folders, programs to create the image. Then copy the image to the targeted computer, run Todo PCTrans on the new system, choose "Via the compressed files" and "Transfer from the image files".
You may need more details about how to use EaseUS Todo PCTrans to do Windows 10 transfer. Please click how to use EaseUS Todo PCTrans and learn more.