How to Clone OS from HDD to SSD Windows 11/10 Easily
How Can I Clone OS from HDD to SSD
"I am currently trying to replace my 1 TB Western Digital Blue SATA HDD with a 128GB SSD for better performance. As you can see, the SSD will lack sufficient storage space if I clone the whole HDD. So I figured that I could only copy the OS (both the system and boot partition) to the SSD and keep everything else on the HDD. How can I clone OS to SSD? Any suggestion?"
HDD has dominated computer hardware over the decades. But this situation is being broken by the increasing popularity of SSD (Solid State Drive). Given the excellent performance of SSDs, shifts from an HDD to an SSD surge. Many users are attempting to switch from the HDD to an SSD, expecting an enhanced computer performance.
To replace an HDD with an SSD without reinstalling Windows, many users decide to clone the disk directly. However, since the capacity of an HDD is much bigger than that of an SSD in general, many users determine to clone OS to SSD only instead of cloning the whole HDD to the SSD. That must be done with the help of third-party software because manually copying the files from the system partition to the SSD will surely cause boot issues in the future.
How to Clone OS to SSD with Partition Management Software
To ensure you can clone OS to SSD smoothly, choosing the proper software is critical. Using the professional Windows partition manager - EaseUS Partition Master is a tested and proven way to copy the OS to an SSD successfully.
The elaborate guide to copy operating system to SSD:
Procedure 1. Prepare the Tools
A SATA cable used to connect the SSD to the computer
An SSD
Download the partition tool - EaseUS Partition Master
Make sure you get a working cable, or you will encounter hardware recognition problems. Besides, download and install EaseUS Partition Master on the computer where the HDD is installed.
Procedure 2. Prepare the SSD 
To clone OS to SSD without boot issues or other problems, you need to make the SSD meet the requirements below.
Initialize the SSD
Plug your SSD into the SATA-to-USB adapter, then plug that into your computer. If it's a brand-new drive, you need to initialize it first.
Right-click the Start menu, and open Disk Management. It'll prompt you to initialize the SSD using either the GPT or MBR partition table.
About the Partition Style
Different partition styles (MBR and GPT) use different boot modes (BIOS and UEFI). To avoid the boot issue, you should keep the SSD partition style identical to the source disk before the cloning. You can check the partition style of your SSD in this way: right-click the HDD in Disk Management, choose "Properties" > click the "Volumes" tab, then you can see the partition style.
You can use EaseUS Partition Master to convert MBR to GPT or vice versa when necessary.
About the Capacity
The SSD capacity should exceed the used space on your system and boot partition(s). 
If there is enough unallocated space in the front of the SSD, you don't need to delete any existing partition. 
If there is enough unallocated space but not in the front of the SSD, you can use EaseUS Partition Master to move it forward.
If there isn't enough unallocated space, EaseUS Partition Master will delete the existing partition(s) to ensure sufficient space for the operating system to be cloned. In such a case, you should back up your files in advance.
It's worth emphasizing that you should make sure the SSD capacity is larger than the used space on the system and boot partition(s). Even if the capacity is equal in size, you will receive a prompt saying, "The destination disk is too small." 
Procedure 3. Clone OS to SSD with EaseUS Partition Master Step-by-Step
Note: The operation of migrating OS to SSD or HDD will delete and remove existing partitions and data on your target disk when there is not enough unallocated space on the target disk. If you saved important data there, back up them to an external hard drive in advance.
Step 1. Select "Migrate OS" from the top menu. Select the SSD or HDD as the destination disk and click "Next".
Step 2. Click "Continue" after check warning message. The data and partitions on the target disk will be deleted. Make sure that you've backed up important data in advance. If not, do it now.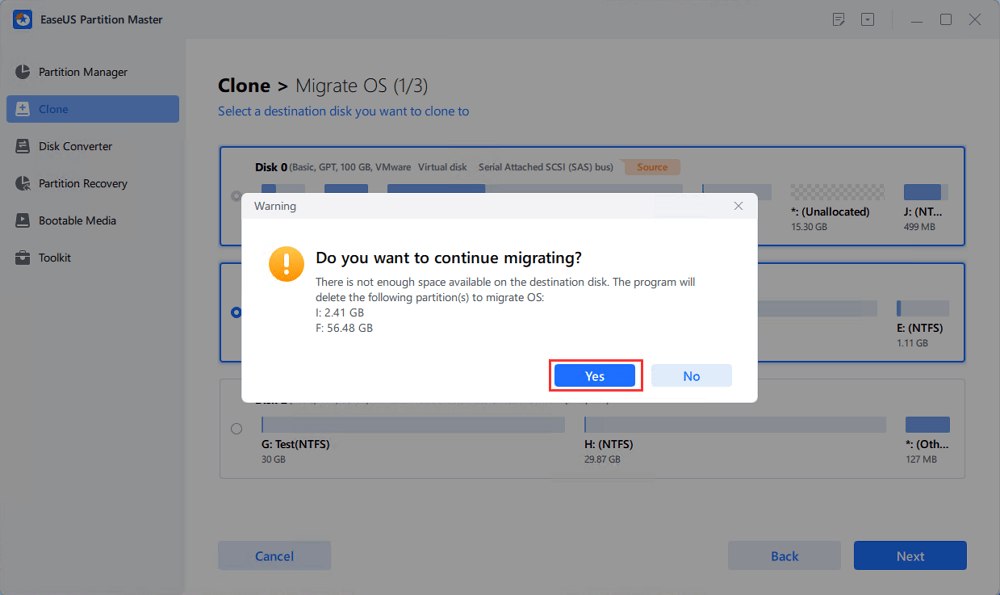 Step 3. Preview the layout of your target disk. You can also click the disk layout options to customize the layout of your target disk as you want. Then click "Proceed" to start migrating your OS to a new disk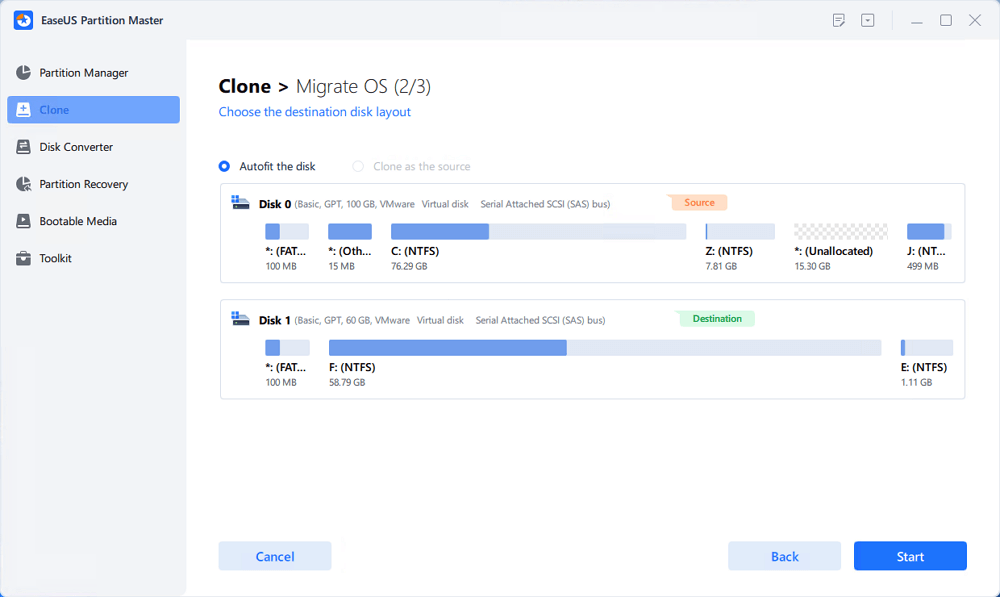 What to Do After Cloning OS to SSD
After successful operating system migration, you need to change the boot order in BIOS and set the installed SSD as the boot drive so as to boot up the PC from the SSD.
Here are the steps to make cloned SSD as the boot drive on Windows OS: 
Step 1. Restart PC and press F2/F12/Del keys to enter BIOS.
Step 2. Go to the boot option, change the boot order, setting OS to boot from the new SSD.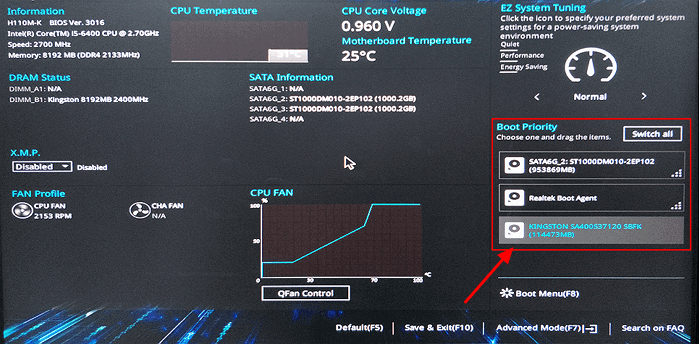 Step 3. Save the changes, exit BIOS, and restart your PC.
Wait patiently to let the computer boot up. After this, you can successfully use the new SSD as your OS disk. 
FAQs You May Have About Cloning OS to SSD
Based on the feedback given by our Customer Service Department, you may have the following questions after cloning the OS to an SSD.
"How to clone only Windows to SSD? How do I clone just my OS to SSD?"
Why are my applications and files also cloned? When you use the "Migrate OS" feature, EaseUS Partition Master will clone all the content on the system and boot partition(s). Thus, if you have installed programs or saved files on these partitions, they will also be copied to the SSD. 
For your information, both system partition and boot partition are necessary for Windows to boot properly. They could be the same partition or two different partitions.
"Why can't I boot my computer from the SSD?"
Generally, if you followed the preparations strictly, there will be no boot issues. Yet, there are expectations. Various reasons may cause boot failure from the SSD. To solve the problem effectively, you are recommended to contact our support team ([email protected]) for remote assistance.
"The destination disk is too small."
When there is insufficient disk space on the SSD, you will receive the message saying the destination disk is too small. You have two solutions in such a case: transfer some applications and files to another drive or switch to a larger SSD.
"Some errors are occurring while reading/writing sector on the disk."
If you see a message indicating some errors occurring while reading/writing sector on the disk, there are highly likely bad sectors on the source/target disk. 
To check for bad sectors, select the disk or partition and choose "More" > "Surface Test" in EaseUS Partition Master. If there are bad sectors on the disk, remove bad sectors first and then clone the OS to the SSD. If you fail to repair these bad sectors, you can use EaseUS Disk Copy to clone the HDD to the SSD. Disk Copy will skip these bad sectors while cloning.
The Bottom Line
It could be simple to clone OS from HDD to SSD with the help of third-party software. But do make sure the SSD meets the requirements of a successful cloning process. If unexpected errors occur, don't worry. The most frequent problems that may arise and the solutions to them are also provided. If you encounter any issues that you can't solve, you are always welcomed to contact our support team via email or live chat for help.
Updated by Tracy King 
Tracy joined in EaseUS in 2013 and has been working with EaseUS content team for over 7 years. Being enthusiastic in computing and technology, she writes tech how-to articles and share technical solutions about Windows & Mac data recovery, file/system backup and recovery, partition management and iOS/Android data recovery.

Roxanne is one of the main contributors to EaseUS and has created multiple posts on digital devices like PCs, Mobile phones, tablets, Mac, etc. She loves to share ideas with people of the same interest.
I love that the changes you make with EaseUS Partition Master Free aren't immediately applied to the disks. It makes it way easier to play out what will happen after you've made all the changes. I also think the overall look and feel of EaseUS Partition Master Free makes whatever you're doing with your computer's partitions easy.

 Read More

Partition Master Free can Resize, Move, Merge, Migrate, and Copy disks or partitions; convert to local, change label, defragment, check and explore partition; and much more. A premium upgrade adds free tech support and the ability to resize dynamic volumes.

 Read More

It won't hot image your drives or align them, but since it's coupled with a partition manager, it allows you do perform many tasks at once, instead of just cloning drives. You can move partitions around, resize them, defragment, and more, along with the other tools you'd expect from a cloning tool.

 Read More
About EaseUS Partition Master
All-round disk & partition management software for personal and commercial use. Let it manage your storage drive: resize, format, delete, clone, convert, etc.
Video Tutorial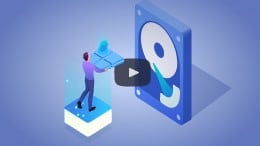 How to Partititon a Hard Drive on Windows 10/8/7
Was This Page Helpful
How Can We Help You
Find answers to common questions below.