Can I copy OS from HDD to SSD?
I am currently trying to replace my 1 TB Western Digital Blue SATA HDD with a 128GB SSD for better performance. As you can see, the SSD will be lack of sufficient storage space if I clone the whole HDD. So I figured that I could only clone the system partition to copy OS to SSD and keep everything else on the HDD. I have looked on the Internet for a solution for a long time but I couldn't seem to find a reliable one. Can you help?
Why you need copy OS to SSD?
Usually, transfer OS from HDD to SSD can be slow and painful process. It might cause any issue and cost you an entire day even a weekend or longer to reinstall all your applications and settings. EaseUS partition tool is a professional software allows you to safely transfer all data on system and boot partition from HDD to SSD with its "Migrate OS to SSD/HDD" feature. It is easy-to-use and making system transfer easy and safe.
Steps to copy OS to SSD with EaseUS partition tool
1. Launch EaseUS Partition Master, select Wizard -> Migrate OS to SSD/HDD wizard from the main menu. And then select SSD as destination disk.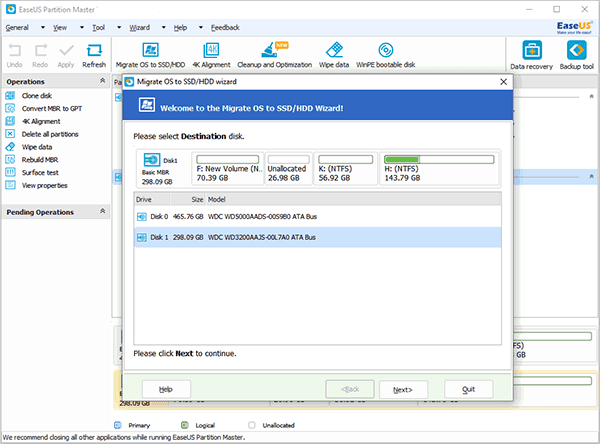 2. Delete partitions and data on the destination disk.
* If there are some partitions on the destination disk, please confirm to delete the partitions and data on the destination disk. The migration process cannot finish if you don't allow EaseUS Partition Master to delete all the partitions on the destination hard disk or click Back to choose another destination hard disk.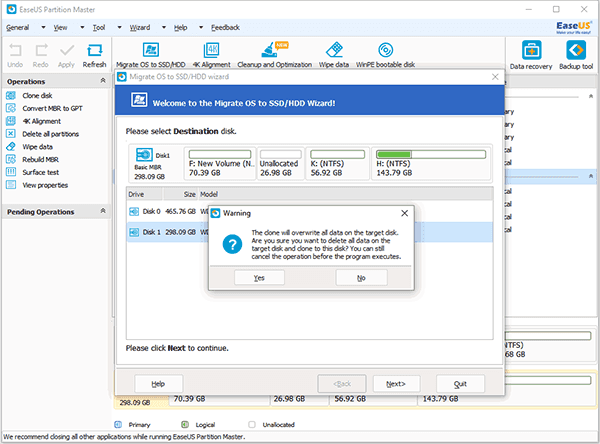 3. Resize partitions on the destination disk. Position the mouse pointer on the left or right partition handle; the mouse pointer changes to a double-headed arrow and drag the handle to the partition size you want. Click OK.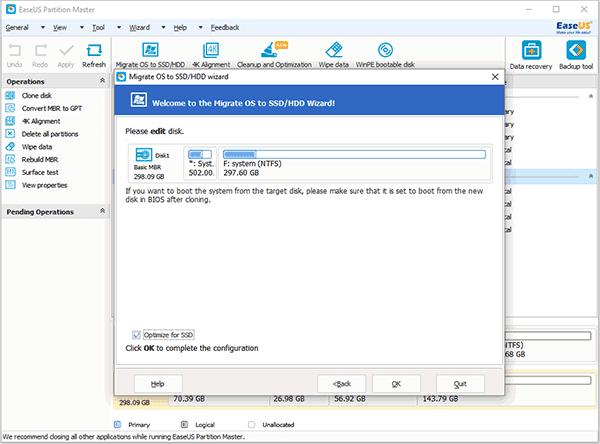 4. To preview the result on the left panel "Pending Operations". If it is right, then click "Apply". Tick "Shut down the computer after changes are applied" option.