
About the Author
Hot Topics in 2022
How to Install Windows 11 on SSD - SATA/M.2/NVMe on Your Own? Your Guide Is Here
Workable Solutions
Step-by-step Troubleshooting
Preparation
Get New SSD/M.2/NVMe SSD Ready for Windows 11 Installation...Full steps
Install Windows 11 on SSD

Method 1. Upgrade OS to Windows 11, and Transfer Windows 11 to SSD...Full steps

Method 2. Install Windows 11 on SSD from USB, Without Removing HDD...Full steps

Make SSD Bootable After Windows 11 Installation
Step 1. Restart PC and press the F2/F10/Del key to enter BIOS settings...Full steps
On June 24th, 2022, Microsoft released its first beta version of Windows 11, introducing its new features and new designs to worldwide Windows users. And on July 8th, the second beta version of Windows 11 is available for Windows Insider users to update.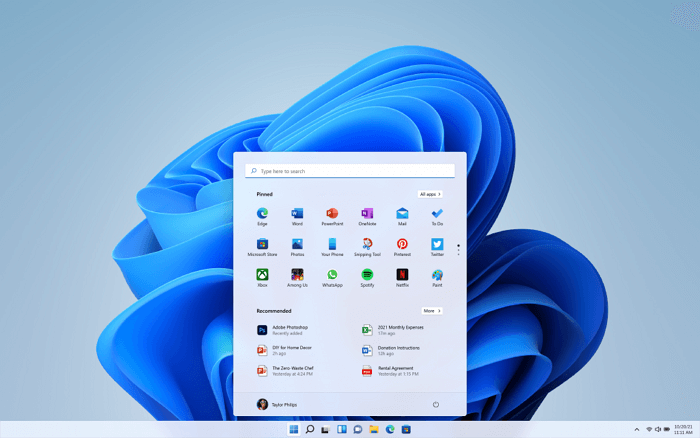 What's new in Windows 11? Check this link and find all the changes here: https://www.microsoft.com/en-us/windows/windows-11. 
Can I Install Windows 11 on M.2 SSD?
Yes, installing Windows 11 is not a technical procedure that can be done by anyone now. As long as you have a clear clue about what needs to be done for Windows 11 installation, you can enjoy the full features of Windows 11 on your PC now.
 Warning

Window 11 is currently only available for Windows Insider users to update and if you are worried about bugs and known issues in Windows 11, please stay with your current OS. 
Surely, Windows 11 will be available and become the major operating system in the next few years. 
So how to install Windows 11 and enjoy its new features on your computer? Follow this guide, and you'll get a step-by-step tutorial to safely update and install Windows 11 on your computer. Let's get started.
Preparation: Get New SSD/M.2/NVMe SSD Ready for Windows 11
As Windows 11 has a higher requirement in hardware and software for installation, to make sure that the computer obtains a high performance, you must select a suitable SSD disk as the OS drive.
Follow the tips here to get your new SSD disk ready for Windows 11:
#1. Select a suitable SSD - SATA, M.2, or NVMe SSD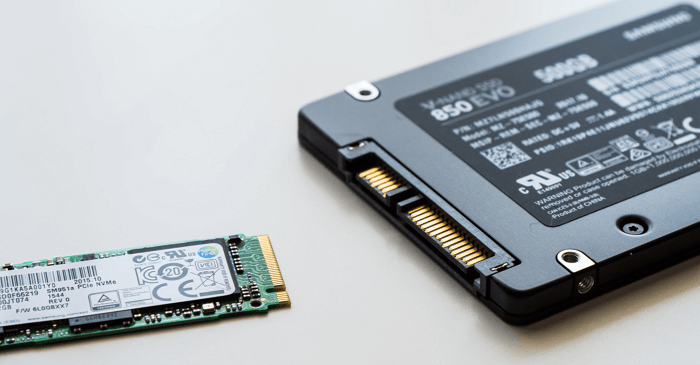 If you haven't got an SSD yet, here is a comparison table among SATA, M.2, NVMe SSD for you to decide which one work the best:
| Comparison | SATA SSD | M.2/NVMe SSD |
| --- | --- | --- |
| Connector | SATA connector | SATA, PCI-Express (PCIe)  |
| Reading & Writing Speed | 545~600MB/s | 3GB/s |
| Price | ~$.21/GB | ~$.50/GB  |
Editors' Pick: For a fast and endurable computer, the current M.2 SSD is ideal for installing Windows 11.

#2. Set Up SSD
 To make sure that your new SSD is suitable for Windows 11 installation, you must initialize the SSD as a GPT disk type. Here is how to do so:
Step 1. Shut down the computer, open the computer case, connect and insert the new SSD (M.2 or NVMe) into the SSD slot and fasten it with screws.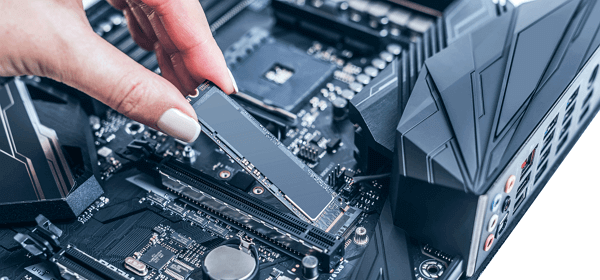 Step 2. Close the computer case and reboot the PC.
Step 3. Press Windows + R keys, type diskmgmt.msc, and hit Enter to open Disk Management.
Step 4. Right-click on the new SSD, select Initialize Disk, and select GPT as the disk type.
As Windows 11 requires GPT UEFI and Secure Boot mode that is only available on a GPT disk, to ensure that you can install Windows 11 smoothly, select GPT as the target type. 
How to Install Windows 11 on SSD (SATA/M.2/NVMe)? 2022 Tutorial
Basically, there are three ways that you currently can install Windows 11 on your PC: 
1. Update to Windows 11 as Insider
2. Update to Windows 11 by Checking and Install Update on Windows 10
3. Download Windows 11 and Install It on SSD from USB
Note that the former two options are to free update Windows 11 on your original OS disk which could be a hard disk drive. 
So what are the exact steps? How to get Windows 11 installed on your target drive? Follow the next two methods for help.
Method 1. Upgrade OS to Windows 11, and Transfer Windows 11 to SSD
Step 1. Download and update to Windows 11
#1. Get Windows 11 Update as Insider:

Go to Settings > Update & Security > Windows Insider Program > Get Started.
Select + to connect your account and select Dev channel.
Confirm the Privacy Statement and program terms, select Restart Now or Restart Later.
After computer restart, go to Settings > Update & Security > Windows Update > Check for Updates. 
#2. Check and Get Windows 11 Update on PC
Go to Settings > Update & Security > Windows Update > Check for Updates.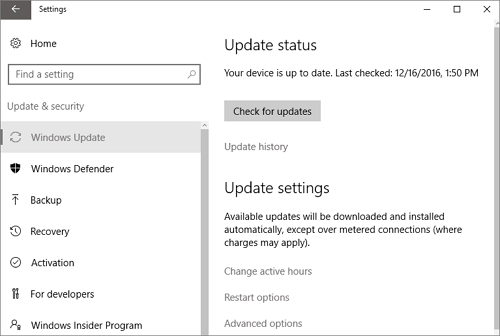 Step 2. When the new update is available, click Download and install.
Step 3. Follow the on-screen guidelines and wait for Windows 11 to be installed on your computer.
Step 4. After installing Windows 11, you can now move or transfer the OS to a newly installed SSD.
To do so, you'll need the help of professional partition manager software - EaseUS Partition Master. It allows you to transfer OS to a new SSD without reinstalling Windows 11. Here is how to do so:
Steps to migrate OS to HDD/SSD:
Run EaseUS Partition Master, select Migrate OS from the top menu.
Select the SSD or HDD as the destination disk and click Next.
Check Warning: the data and partitions on the target disk will be deleted. Make sure that you've backed up important data in advance. If not, do it now.
Then click Continue.
Preview the layout of your target disk. Then click Proceed to start migrating your OS to a new disk
Note: The operation of migrating OS to SSD or HDD will delete and remove existing partitions and data on your target disk when there is not enough unallocated space on the target disk. If you saved important data there, back up them to an external hard drive in advance.
After this, you can jump to the next part to set the new SSD as the boot drive in BIOS to make Windows 11 bootable.
Method 2. How to install Windows 11 on SSD from USB, Without Removing HDD
The other effective option is to directly install Windows 11 to SSD from a USB drive. Note that this option is current, not available as Windows 11 is only available in the Dev Channel. 
If you want to install it now, try method 1. 
If Windows 11 is available for free download its ISO files now, go through the guidelines as listed below:
Step 1. Prepare an empty USB external drive that has up to 8GB or bigger space.
Step 2. Go to the Windows 11 page and download its ISO file to your computer. 
Step 3. Burn the ISO file into your USB drive. 
Or you can directly download the Windows 11 creation media and install it to your USB drive.
Step 4. Reboot PC and enter BIOS, setting the USB drive as the boot drive.
Step 5. Once the computer boots on the USB disk, follow the onscreen instructions to install the new OS.
Step 6. Set Language, Time and currency format, Keyboard or input method, and click Next to move one.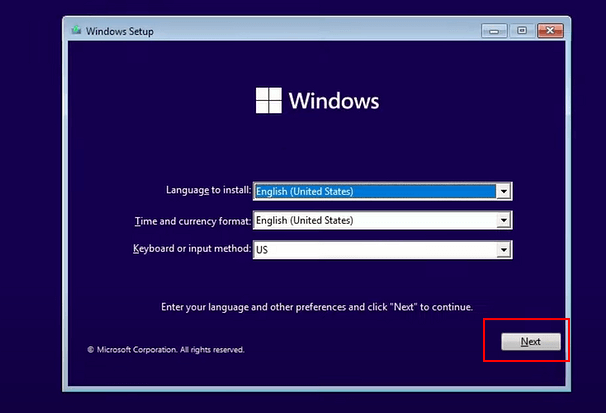 Step 7. Click Install Now to enter the next step.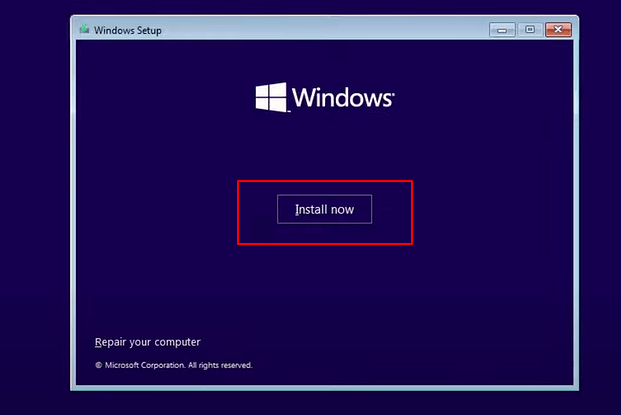 Step 8. Click I don't have a product key to continue. 
Step 9. Select Windows 11 edition that you want to install and click Next to continue.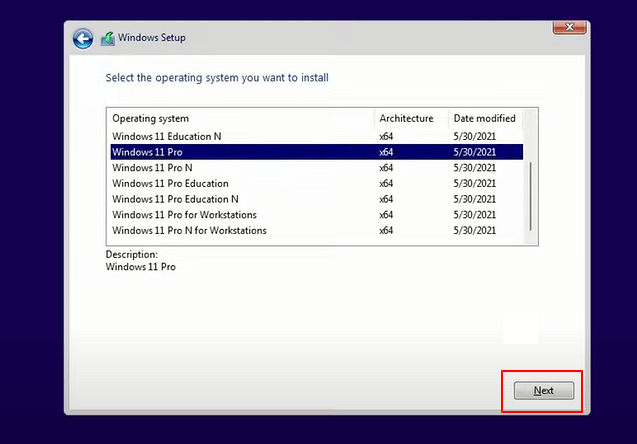 Step 10. Click to accept the Microsoft License Term and click Next.
Step 11. Click Custome: Install Windows only on the new disk.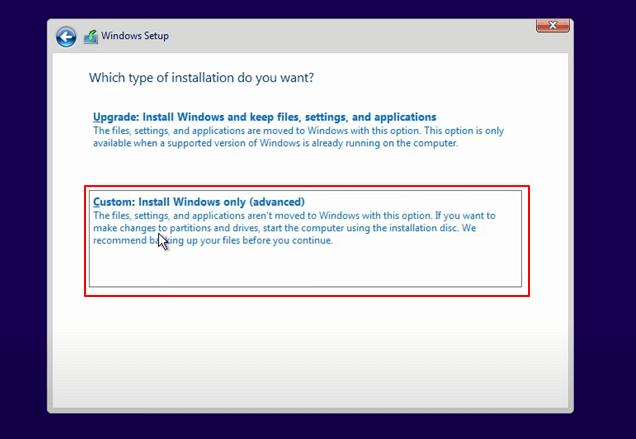 Step 12. Select the new SSD (SATA/M.2/NVMe) as the target disk and click Next to continue.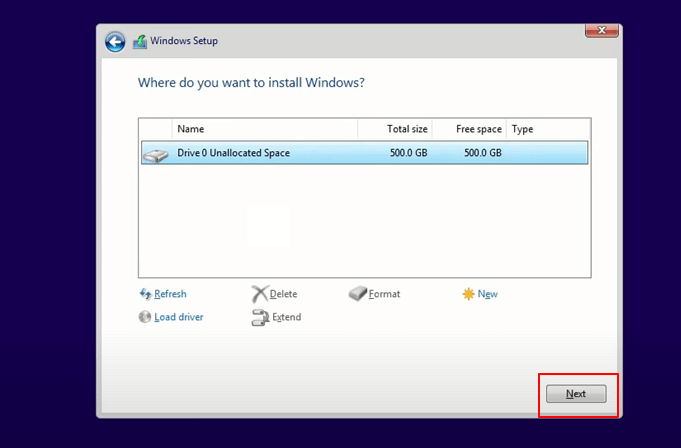 Or, if you create a single partition to install Windows 11 on the drive, click New to partition the SSD first.
Step 13. Wait for the installing process to complete, the computer will restart automatically.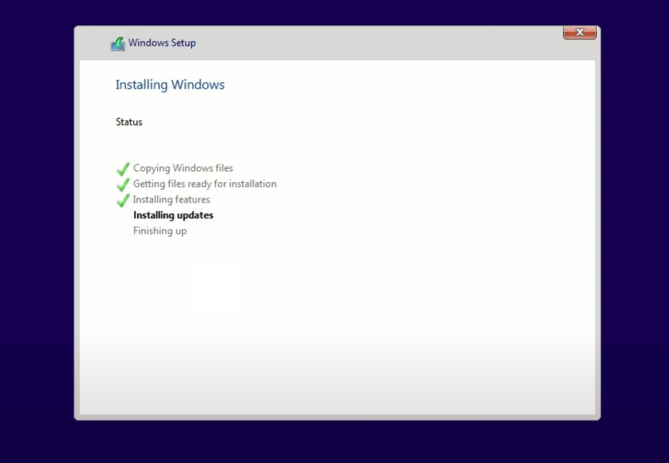 Then follow the on-screen guide to set up the computer. If your computer doesn't boot on the new drive, follow the next guide to enable it and set it to boot from the new SSD.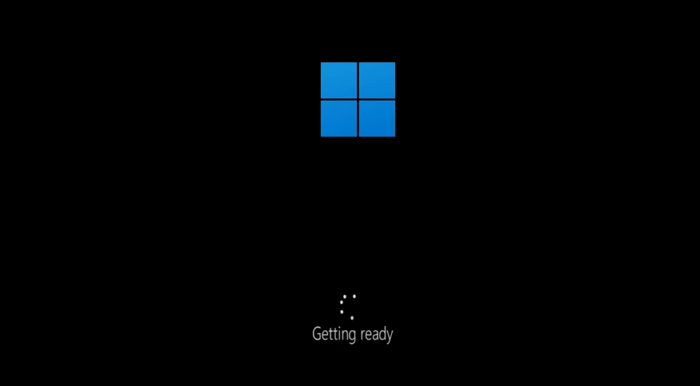 How Do I Make My (SATA/M.2/NVMe) SSD Bootable After Windows 11 Installation
After installing Windows 11 on your new SSD, you need to take one more step which is to set the new SSD disk as Boot Drive:
Step 1. Restart PC and press the F2/F10/Del key to enter BIOS settings.
Step 2. Go to the Boot Menu, and set the new SSD as Boot Drive.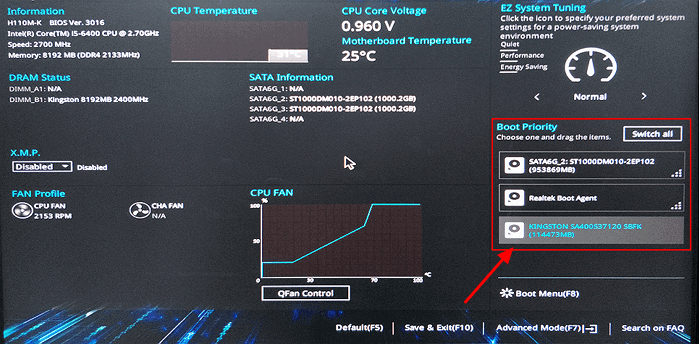 Step 3. Save the changes and exit to restart Windows 11 again.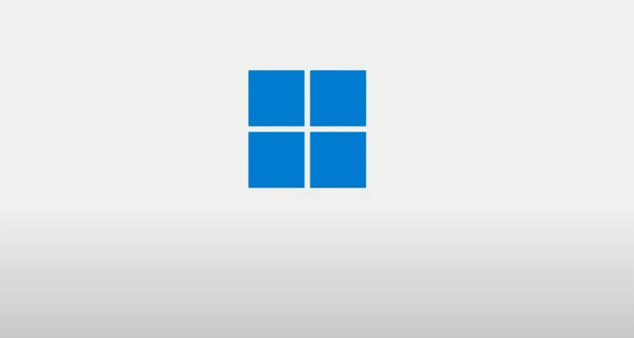 Windows 11 Is New & Get Your New SSD Ready to Install the Update Now
On this page, we provided the whole process to help you select a new SSD, get it ready, and install Windows 11 on it. 
If you are new or know nothing technical to install Windows 11, follow this guide, you'll be able to install the new update on your computer. 
If your OS drive is HDD and you installed the OS on it, you can directly transfer the Windows 11 to a new SSD on your own with EaseUS Partition Master.
For now, Windows 11 is only available for download and installation in the Insider channel. It's new, and as long as you want it, get your new SSD ready and install it on your computer now. 
Though Windows 11 still has known issues and bugs, Microsoft will update and fix all the bugs and issues for you. 
About the Author

Roxanne is one of the main contributors to EaseUS and has created multiple posts on digital devices like PCs, Mobile phones, tablets, Mac, etc. She loves to share ideas with people of the same interest.
Written by Tracy King 
Tracy joined in EaseUS in 2013 and has been working with EaseUS content team for over 7 years. Being enthusiastic in computing and technology, she writes tech how-to articles and share technical solutions about Windows & Mac data recovery, file/system backup and recovery, partition management and iOS/Android data recovery.
Product Reviews
I love that the changes you make with EaseUS Partition Master Free aren't immediately applied to the disks. It makes it way easier to play out what will happen after you've made all the changes. I also think the overall look and feel of EaseUS Partition Master Free makes whatever you're doing with your computer's partitions easy.

 Read More

Partition Master Free can Resize, Move, Merge, Migrate, and Copy disks or partitions; convert to local, change label, defragment, check and explore partition; and much more. A premium upgrade adds free tech support and the ability to resize dynamic volumes.

 Read More

It won't hot image your drives or align them, but since it's coupled with a partition manager, it allows you do perform many tasks at once, instead of just cloning drives. You can move partitions around, resize them, defragment, and more, along with the other tools you'd expect from a cloning tool.

 Read More