Can I Setup SSD/HDD and change my present system disk?
"Hi, do you know how can I change my present system disk? I mean to set up SSD as the OS disk and change the HDD as the storage disk for my computer. Can I do it on my own? How?"
"I recently bought a new SSD drive, and I want to install my present Windows 10 into the new SSD and leave the present HDD as a storage disk. How to make the change? I mean how to change the OS disk and set SSD as the system drive? Can you help me?"
If you are looking for a way to set new SSD/HDD as the system drive disk for your computer, you are at the right place. Here below, we have methods for you to solve this problem.
Tip: Backup Windows system and data firstly
To avoid unexpected system failure or data loss trouble while you are changing the system disk between SSD and HDD, it's highly recommended for you to backup your present Windows system and important data in your PC firstly.
Backing up to an external hard drive shall be the best option.
Method 1. Setup SSD/HDD as OS disk and change storage location with ease
This method is the straightforward way for users to directly change their OS disk without reinstalling system under Windows 10/8/7 etc. And only a few simple clicks will do. All you need is a professional partition manager software which supports to migrate system freely to HDD or SSD.
EaseUS software provides its partition software - EaseUS Partition Master for you to setup SSD or HDD as OS disk with "Migrate OS to HDD/SSD" feature. You can transfer system between HDD and SSD so to change the system disk and storage disk with ease. Free download this software and follow the steps to do it now:
1. Launch EaseUS Partition Master and click "Migrate OS to HDD/SSD".
2. Select SSD or HDD as destination disk.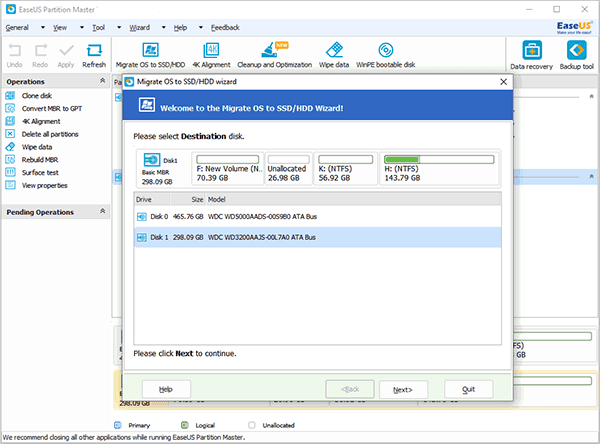 3. Delete partitions on the destination disk.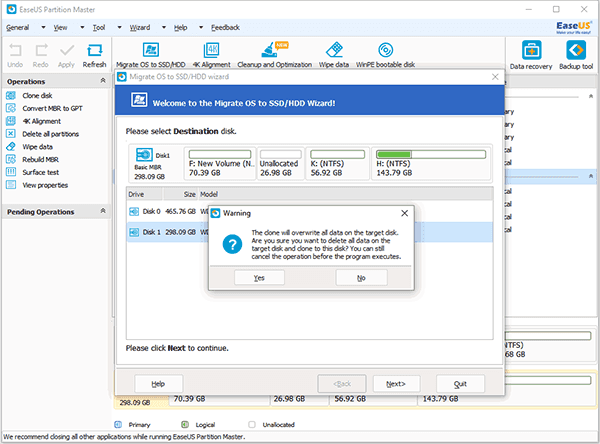 Resize or adjust partition size. If you do not adjust the partition size, the system will keep the original partition size by default.
4. Click Finish when the destination disk information is displayed.
Preview the result on the left panel "Pending Operations" and if it is right, click "Apply". Tick the "Shut down the computer after changes are applied."

5. Change boot orders in the BIOS and set new OS disk as the boot disk to start your PC.
After all these steps, you'll get a new SSD or HDD as your OS disk and set the old disk as a storage drive on your PC without losing any data now.
Other Solutions: Clean install OS to new SSD or HDD
These methods also work to set up SSD/HDD as new OS disk in Windows systems and it might be more complex. And you may also have to stand the system boot failure issue with this method due to improper operation.
1. Backup system and data into external hard drive;
2. Remove HDD or SSD from PC(the old one);
3. Perform a clean install in new SSD or HDD with a bootable media or installation media;
4. When the installing process is finished, reconnect the old disk with PC;
5. Reboot PC and change boot order from new SSD or HDD in BIOS;
6. Restore data backups to the storage disk.
Note: This method might cause system boot failure or unexpected system problem on your computer. And please do it very carefully.
If you need a more stable and proper way, please try Method 1 for the system and data security.