
About the Author
Hot Topics in 2022
Troubleshooting: M.2 SSD Not Showing Up in Windows 11
| Workable Solutions | Step-by-step Troubleshooting |
| --- | --- |
| FIX 1. EaseUS Partition Master | Step 1. Right-click the target partition that has a problem; Step 2. Choose "Advanced" > "Check File System"...Full steps |
| FIX 2. Windows and Hardware Troubleshooter | Step 1: Windows PowerShell can be accessed by right-clicking the Start button and selecting it (Admin)...Full steps |
| FIX 3. Disk Management | Step 1: To access Disk Management, connect the SSD to the computer and click on the Disk Management...Full steps |
| FIX 4. Update Storage Controller Drivers | Step 1: Device Manager can be accessed by right-clicking the Start menu and selecting it; Step 2: Locate the Storage...Full steps |
| FIX 5. Examine Cables and Connections | To rule out a cable problem, you can connect the SSD through a separate connection. Some SSDs do not need...Full steps |
| FIX 6. Format the Disk to NTFS | Step 1: cmd should be typed into the search box, then right-clicked and selected Run as administrator...Full steps |
Introduction
Many PC and laptop users have experienced the frustration of an M.2 SSD failing to be recognized. This issue is more common with NVMe SSDs, although it can also occur with M.2 SATA drives. M.2 drives are sometimes invisible to the BIOS, while other times they are visible to the BIOS but invisible to Windows.
Frequently, compatibility and configuration concerns are to blame. The driver, the operating system, and, in rare cases, a faulty solid-state drive all play a role in this issue. If you're having trouble with this problem, we've got a list of the potential reasons and solutions below. So, without further ado, you can fix M.2 SSD Not Showing Up In Disk Management Windows 11.

Guide to Diagnose M.2 SS Problems on Windows 11 Quickly 
The moment you get this problem, you will want to fix this. While there are many fixes, we must first focus on what leads to M.2 disk not showing on Windows 11 - it causes!
Virus or Malware infects SSD - Try anti-virus software if this is the difficulty you're having.
SATA Storage Controller Mode/Protocol is Wrong - It's possible that your motherboard storage controller and IDE ATA controller drivers need to be updated or uninstalled to fix your problem.
SSD is Facing Driver Issues - One of the possible causes of an SSD disk not showing up in Windows 11 is a driver problem. Both the "Hardware and Device Troubleshooter" and the Device Manager are available in Windows 11 for troubleshooting issues with hardware and devices.
SSD Has Hidden Partitions - There is a good chance that if you can't view your SSD disk partitions, they're concealed. Partitions are hidden, and you need to make them visible again.
The Drive Letter of SSD Partition is Missing or Conflicted - Device Manager or Disk Management can show an SSD, but Windows File Explorer doesn't. The drive letter can have been lost. In Windows 11, you're supposed to be able to choose a drive letter.
The File System of SSD Drive Cannot Be Recognized - NTFS or FAT32 is the best option for running Windows 11 on your machine. You'll need to format the drive to NTFS or FAT32 to avoid this.
SSD Partitions Are Lost and Become Unallocated Space - Your disk can be labeled as either Not Initialized or Online. The first thing you need to do if you lose a Windows 11 is to recover it.
New SSD is not Initialized - If it is a fresh SSD drive that has not yet been partitioned, it will not appear in Windows 11. In this situation, you can start it up. The quickest method to do this is to utilize the built-in Disk Management in Windows. "diskpart > list disk > choose disk n (n corresponds to the drive number of the new SSD) > characteristics read-only> online disk > convert MBR" (or convert gpt) in the command prompt and push Enter to start it.
It may be the time for you to do a thorough hard disk health check for your computer. 
Troubleshooting M.2 SSD Not Showing Up in Windows 11 [Fixes] 
Now that we are done with the causes, we can shift our focus to the potential fixes that will help you diagnose the M.2 Not Showing Up in Windows 11. Starting with the first fix…
FIX 1. Troubleshoot M.2 Not Showing Up Using EaseUS Partition Master - The Best in the Business!
Third-party Disk Management similar product EaseUS Partition Master, regarded as one of the best Windows disk management tools in 2020, addresses the drawbacks of Disk Management and provides customers with an alternative method of resolving the most prevalent hard disk difficulties. When you're attempting to edit, add, or assign a drive letter to a local disk or external hard drive in Disk Management but have encountered an issue, you'll need an alternate tool that can correct the problem and allow you to proceed.
When it comes to managing a hard drive or a removable/external hard disk, EaseUS free partition manager performs very identically to Windows Disk Management, including the ability to modify a drive letter and routes. It simply assists in changing and adding a new drive letter to an SSD, initializing a new SSD, and creating a partition for the new SSD to appear on the computer's hard drive.
Step 1. Right-click the target partition that has a problem.
Step 2. Choose "Advanced" > "Check File System".
Step 3. Confirm if you want to hide the partition or not.
Step 4. In the Check File System window, check the "Try to fix errors if found" option.
Step 5. Click "Start" to check errors on your partition.
Main Features
Fix the low disk space error by extending the Cover of all of the disks.
You can reformat windows 10 with a single click.
Migrate Windows 11 to a new SSD easily.
Convert the MBR to the GPT format for Windows 11.
FIX 2. Run Windows and Hardware Troubleshooter
Another way to fix M.2 disk not showing up in Windows is by running Windows and hardware troubleshooter. This fix will erase the root problem. Here's how:
Step 1: Windows PowerShell can be accessed by right-clicking the Start button and selecting it (Admin). As a result, Windows PowerShell will be executed as an administrator.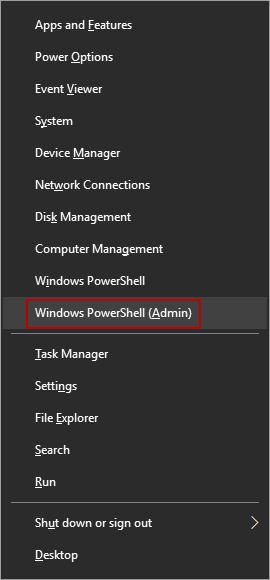 Step 2: Enter the command msdt.exe -id DeviceDiagnostic into the command line and hit the Enter key. The Hardware and Device troubleshooter will display on the screen after that.
Step 3: To finish the scanning and repairing process, click the Next button on the wizard.
FIX 3. Initialize SSD in Disk Management
One of the reasons behind the problem was that you could not initialize your SSD in the system. Here's how you can do that:
Step 1: To access Disk Management, connect the SSD to the computer and click on the Disk Management icon. Select Disk Management from the Start menu by selecting it with the right-click mouse button.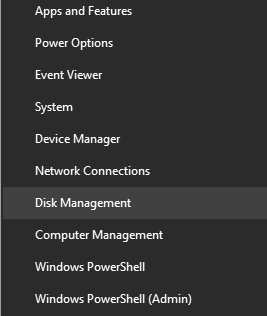 Step 2: If you have not yet initialized the SSD, you will see that it is labeled as Not Initialized. As seen below, right-click it and pick the Initialize Disk option from the menu: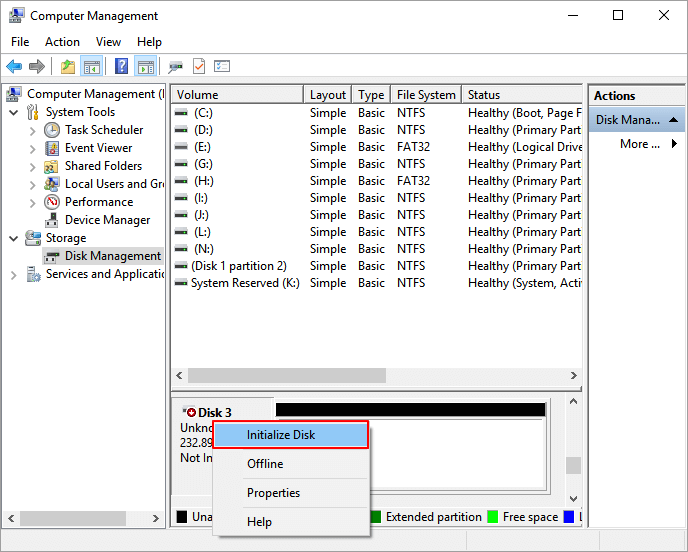 Step 3: Select a partition compatible with both the MBR (Master Boot Record) and the GPT (GUID Partition Table) and press the OK button.
Step 4: Select New Simple Volume from the context menu of the SSD. The wizard will guide you through the process of creating a partition and assigning a drive letter to your SSD.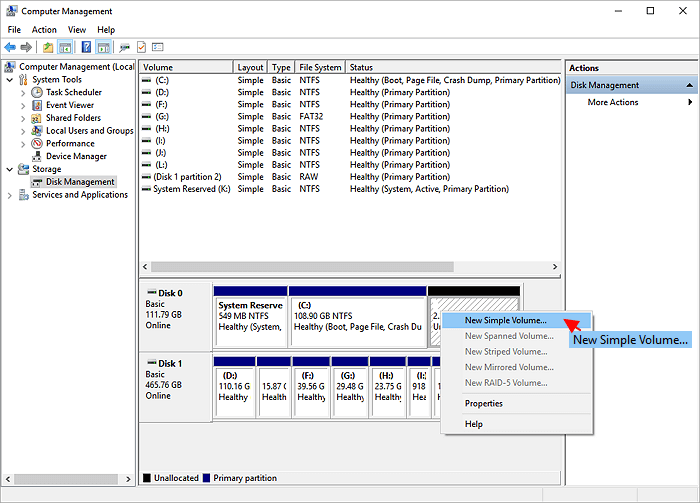 Note: In rare instances, the SSD can be inaccessible. You can make it reactive again by right-clicking it and selecting Online from the context menu.
FIX 4. Update Your Storage Controller Drivers
One of the major reasons your M.2 doesn't show up in Windows is old storage controllers that aren't updated. Here's how you can update their fix:
Step 1: Device Manager can be accessed by right-clicking the Start menu and selecting it.
Step 2: Locate the Storage controllers in Device Manager once they appear. Update the driver by selecting it from the context menu.
Step 3: With the option to search automatically for updated driver software selected, Windows will search your computer and the Internet for the most recent drivers available.
Step 4: After the new drivers have been installed, the computer should be restarted.
FIX 5. Examine Cables and Connections of Your System
In most cases, SSDs are linked to motherboards by SATA cables, and if the connections are damaged, the device will not be identified by the computer or even by the BIOS.
To rule out a cable problem, you can connect the SSD through a separate connection. Some SSDs do not need a connection to be attached, such as the M.2 SSD placed into a slot on the motherboard.
Whether this is the case, you can try installing the SSD on a separate computer to see if it is detected there.
FIX 6. Format the Disk to NTFS
Whether the file system is the problem, you can attempt to format it to NTFS using Diskpart or a third-party program to see if it solves the problem. First, you can use DiskPart.exe to reformat the disk to a file system compatible with your operating system.
Step 1: cmd should be typed into the search box, then right-clicked and selected Run as administrator.
Step 2: In the command prompt, type diskpart and press the Enter key.
Step 3: Enter the following instructions into the text box and Enter.
list disk
select disk n (n refers to the number of the disk containing unsupported or corrupted file system)
clean
create partition primary
Format fs=ntfs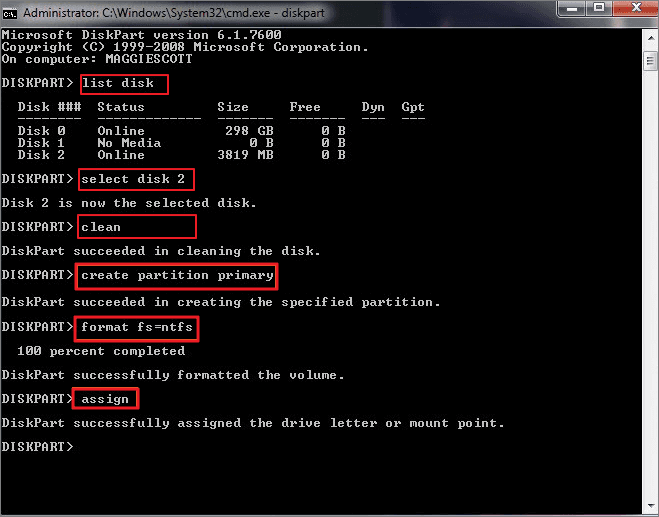 Step 4: To quit Diskpart, type exit and check to see whether it worked.
Conclusion 
After reading this article, you will understand that SSDs not showing up on Windows 11 can be caused by various factors. The probable reasons and remedies are discussed in detail in this article. You can test each of the possible options one at a time.
If you don't want to lose your data, please attempt to format the disk at the very end. EaseUS Partition Master is highly recommended for creating new partitions and labeling partitions with various letters, among other things.
About the Author

Roxanne is one of the main contributors to EaseUS and has created multiple posts on digital devices like PCs, Mobile phones, tablets, Mac, etc. She loves to share ideas with people of the same interest.
Product Reviews
I love that the changes you make with EaseUS Partition Master Free aren't immediately applied to the disks. It makes it way easier to play out what will happen after you've made all the changes. I also think the overall look and feel of EaseUS Partition Master Free makes whatever you're doing with your computer's partitions easy.

 Read More

Partition Master Free can Resize, Move, Merge, Migrate, and Copy disks or partitions; convert to local, change label, defragment, check and explore partition; and much more. A premium upgrade adds free tech support and the ability to resize dynamic volumes.

 Read More

It won't hot image your drives or align them, but since it's coupled with a partition manager, it allows you do perform many tasks at once, instead of just cloning drives. You can move partitions around, resize them, defragment, and more, along with the other tools you'd expect from a cloning tool.

 Read More