"Hi, I got stuck at formatting a 500gb Seagate external hard drive in Windows 10 and really need your help. How long does it actually take to format a 500gb hard drive? It seems that my hard drive takes forever to format. Is there a faster way to format the drive instead of typical Windows way?"
Why is your hard drive taking forever to format?
Speaking of quick format a hard drive in Windows Explorer or Windows Disk Management, there is no set time to tell how long it will actually take to complete the format, however, the process bar should never cease, not hanging there and even not responding.
For your information, you can always format a hard drive within minutes or half an hour, depending on the hard drive capacity and used space on it. Once it takes longer than usual to format an HDD or even a smaller USB flash drive or memory card, you have to accept the fact that Windows has detected a hard disk problem that there are too many bad sectors on it.
As a result, you can either wait for another half an hour to complete the format or cry out loudly until the error message pops up and tells you that Windows was unable to complete the format.
How to solve hard drive taking forever to format?
Since bad sectors on your hard drive are most likely to commit the crime, why not fix bad sectors in the first place and then start formatting? In fact, there is bad sector repair software for you to repair HDD or USB bad sectors without losing data, at the same time, if you prefer an advanced method, you can search tutorials about how to remove bad sectors using cmd.
In this article, we decide to introduce a do-it-yourself way of troubleshooting hard drive that takes too long to format in Windows operating system on a computer or laptop, with the help of EaseUS free partition manager, which enables you to fix hard drive errors and then format a corrupt hard drive that significantly slows down the formatting process.
Connect the drive if it's an external one to the computer where EaseUS Partition Master Free is installed. Launch the software and see if the hard drive was detected. Let's begin.
First, fix hard drive bad sectors
Step 1.Right-click the hard drive that won't format properly and select Check partition.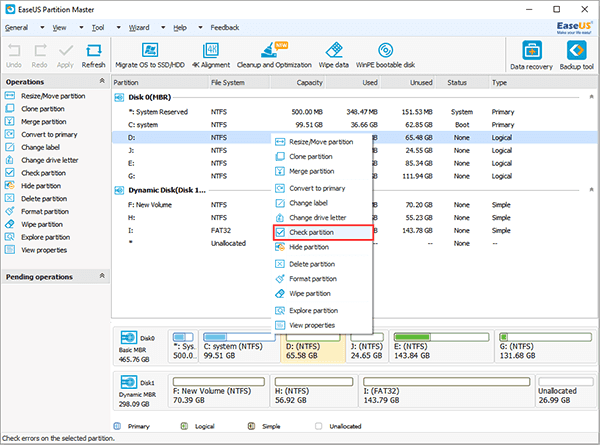 Step 2. On the Check partition window, you got 3 options to go: Check Partition Properties, Call Windows Chkdsk to fix errors & Surface Test. Tick the first two terms. Check partition is for checking file system errors, while Call Windows Chkdsk.exe will fix errors if it found some.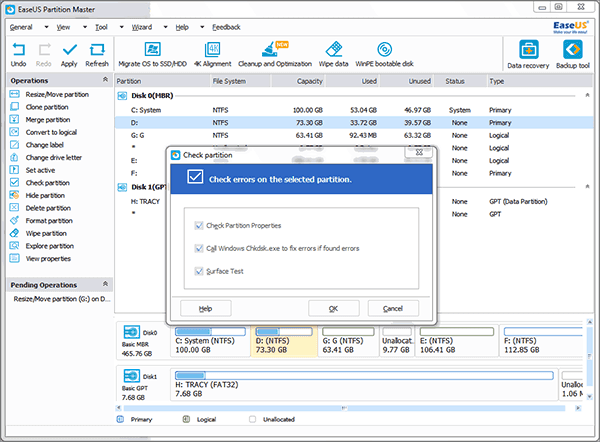 Step 3. Once errors were found, Windows Chkdsk.exe application would pop out immediately and perform 'chkdsk [sd card letter:] /f', for example, chkdsk G: /f to repair your corrupted hard drive.
Second, format hard drive
Now you have hard drive bad sectors repaired, please continue the format with EaseUS hard drive format software with ease.
Step 1. Right-click the hard drive that won't format properly and select Format partition.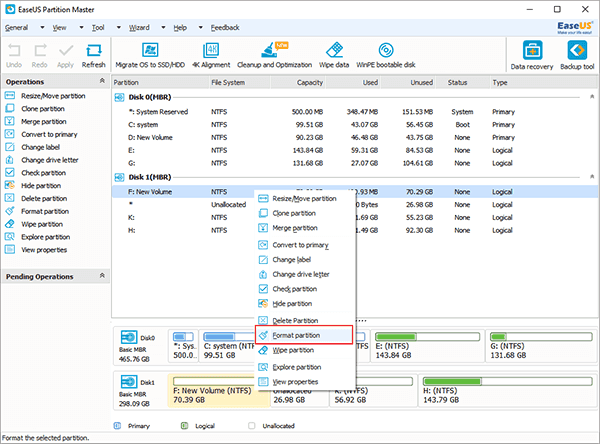 Step 2. A mini window pops out, on which you can edit the partition label and choose a file system such as FAT/FAT32, NTFS, EXT2/EXT3.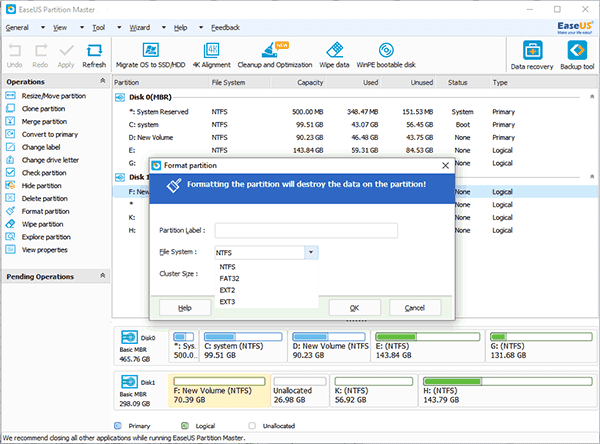 Step 3. Click Apply to confirm to format the corrupted hard drive without taking long.
By following the two procedures to fix hard drive bad sectors before formatting a hard drive that is failing due to too many bad sectors on it, you can easily get the problem resolved and nothing would slow down the hard drive formatting in Windows anymore.