
About the Author
Hot Topics in 2022
Download Partition Magic Freeware for Windows 10/11 Disk Partitioning [Don't Miss It]
PartitionMagic is a utility software program for hard disk drive partitioning originally made by PowerQuest, but subsequently owned by Symantec. As of December 8, 2009, the Symantec website stated that they no longer offer PartitionMagic. - by
Wikipedia
Though Partition Magic software is no longer serving people, there is multiple similar free partition manager software that can fully replace this disk utility to manage disk partitions on Windows computers successfully.
Keys Takeaways of Partition Magic Freeware Windows 10/11:
1. PartitionMagic no longer exists, but Partition Magic alternative free software does exist. 
2. Download reliable partition magic freeware here to simplify the process of managing disk drives on Windows 10 or Windows 11 now.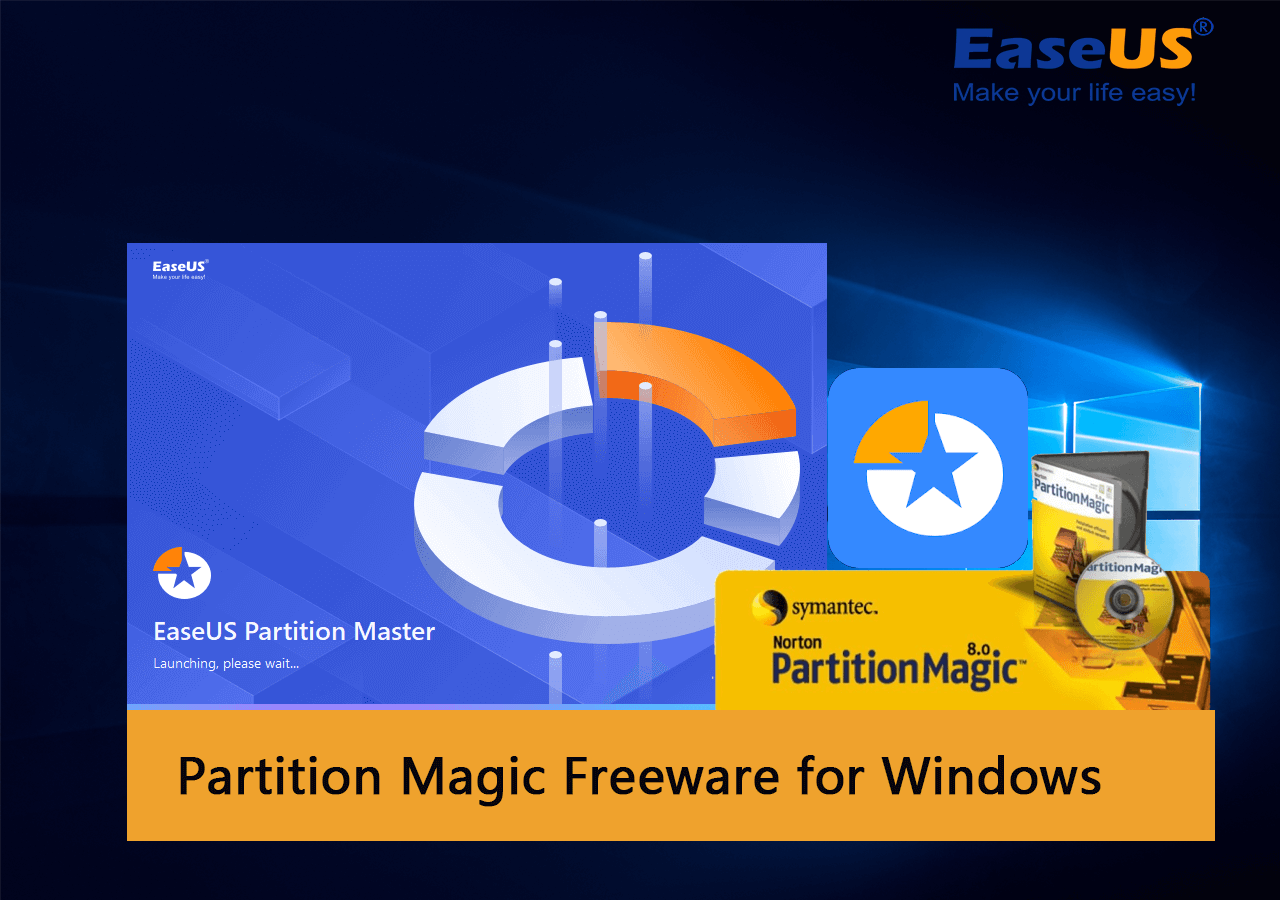 Is There Partition Magic Freeware for Windows 10/11?
Is there a free partition manager that can perfectly replace and work as Partition Magic freeware on Windows 10 and Windows 11?
Sure, search "Partition Magic alternative software", "Partition Manager Freeware", or "Magic partition freeware". You'll get a long list of recommended software that works equally and even better than the old Partition Magic software. 
So how do you select or define if the one that you select is suitable for your needs? Here is a list of factors for you to check.
Partition Magic Freeware Selection Checklist 2022
Free
100% secure and risk-free, with no virus or malware infection
No bundled software.
Support your operating system
Qualified to fulfill your demands to manage hard drive partitions.
Customer support is available to reach and support.
Regular featured update or quality update is also important.
Partition Magic Freeware Recommend and Download for Windows 10/11
Applies to: find and free download reliable Partition Magic freeware for Windows 10 and Windows 11.
In this part, we'd like to recommend a professional & 100% free partition magic software that you can fully trust and rely on for disk partitioning on Windows 10/11. Let's check the details here:
Suitable users
EaseUS Partition Master Free Edition
Supported OS:
Windows 11/10/8/1/8/7, and Windows XP/Vista
Supported Storage Devices:

Internal hard drives, including HDD, SSD, Hybrid-HDD/SSD
External storage devices, like USB flash drives, SD cards, external hard drives, external SSDs, etc.

Basic Disk Partitioning: 

Create, delete, extend, shrink, and merge partitions.
Wipe partition, wipe disk.
Format partition.
Convert NTFS to FAT32, convert FAT32 to NTFS.
Convert primary to logical, logical to primary

Advanced Disk Management:

Check and fix file system errors, repair soft bad sectors
Clone OS partition, clone data partition.
Clone data disk.
Convert data disk from MBR to GPT, convert data disk from GPT to MBR.
4K align SSD
Change disk cluster size
EaseUS Partition Master Free Edition is available here for you to download and apply to manage your disk partitions on Windows 10/11 computers now.
You May Also Like: Partition Magic Professional for Windows
Aside from partition magic freeware, some users may also want a Pro version of partition magic for Windows 10 64bit to free download. EaseUS Partition Master Professional, compared to its free edition, offers some bonus paid features to assist Windows users in processing advanced disk performance optimization tasks easier and faster:
Windows and Disk Optimization:
Migrate OS to HDD/SSD
Convert OS disk between MBR/GPT
Extend C drive with 2nd disk
1-click to partition the new hard drive.
Allocate disk space to extend any target partition.
So go get the partition magic professional software for Windows 10 or Windows 11? You can follow the links below to free download it instantly:
Apply EaseUS Partition Magic Freeware to Resize and Manage Windows 10/11 Disk
So how do I use EaseUS partition magic freeware - Partition Master to manage disk partitions Windows 10?
Follow the step-by-step tutorial guide below, and you'll learn how easy it could be to apply partition magic free software to allocate and make full use of disk space on Windows computers.
#1. Resize/Move Windows 10/11 Partition
Applies to: Resize and move partitions on Windows computers.
Step 1: Locate and select the target drive/partition
Launch EaseUS Partition Master and go to Partition Manager, select the target drive/partition to adjust its size, right-click on it and choose "Resize/Move".
Step 2: Resize or move the partition
1.To shrink the partition, simply drag one of its ends to free up unallocated space. Once done, click "OK". 
2. To extend the partition, make sure that there is unallocated space aside (if there isn't, follow the above steps to create some). In the same way, drag your mouse into the unallocated space. Click "OK".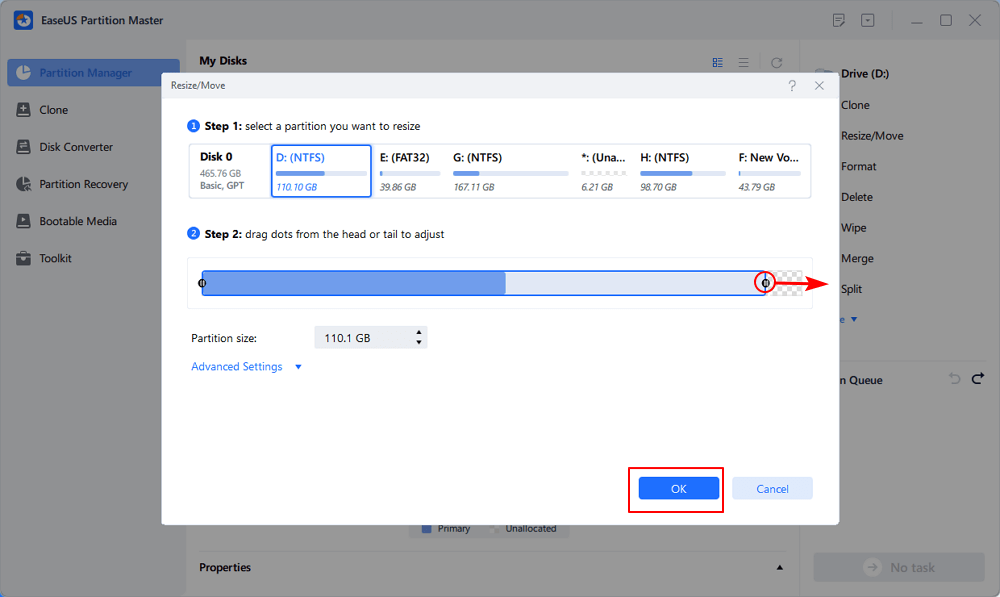 3. To move a partition position, you need to leave unallocated space next to the target partition. If no, free up some unallocated space first.
Right-click the target partition, select "Reize/Move". Then drag the whole partition leftward or rightward to adjust its position. Click "OK" to confirm. 
Step 3: Confirm the result and apply changes
At this step, you will see the new disk partition information & diagram.
To save changes, click the "Execute Task" button and then "Apply".
#2. Convert Data Disk Between MBR/GPT for Free
Applies to: changing data disk type to MBR or GPT without losing any data.
#3. Clone OS Partition to New Disk for Free
Applies to: cloning the system partition to a new disk and migrating OS disk without reinstalling Windows.
IMPORTANT: If your OS drive and boot drive are separated in two drives, you'll need to repeat the process to clone both two drives to the second new disk.
Step 1. Select "Clone" from the left menu. Click "Clone Partition" and "Next".
Step 2. Select the source partition and click "Next".
Step 3. Choose your the target partition and click "Next "to continue.
If you clone partition to the existing partition, you should transfer or back up data before cloning to prevent it being overwritten.
Check warning message and confirm "Yes".
Step 4. Click Start and wait for the clone to complete.
You can check how to clone partition or system reserved partition on this video tutorial.
Note that it's essential that you set the new disk as a boot drive once you apply EaseUS partition magic freeware to clone the OS system partition to a new drive successfully. Remember to restart the PC, press F2/Del keys to enter BIOS, and set the new disk with cloned system and boot drive as the boot drive. Then, you can restart the computer to boot from the new disk.
Partition Magic Freeware Is Available to Free Download, Get It for Disk Partitioning Now
On this page, we introduced what Partition Magic Freeware is and which is the best tool that you should get. EaseUS Partition Master Free Edition, with its full features functions, can efficiently improve your disk and Windows performance.
Aside from powerful disk management features, you can also get and enjoy new feature updates and professional technical support provided by EaseUS software.
FAQs about Partition Magic Freeware
If you have further questions about Partition Magic Freeware or free software, follow the questions listed below and find answers here instantly:
1. How go get Partition magic windows 10 64bit full crack?
Partition Magic crack is not a cracked edition of the old PartitionMagic software. Instead, it could be some modern partition manager software cracked by some geeks. This not only violates software producers' images and benefits, it only may cause some disasters to its users, such as data loss, privacy leaking, and even economic loss.
It's a wise decision to get genuine partition magic software for help instead of the cracked unknown software.
2. What is the best free partition manager?
A perfect partition manager software shall perfectly support your operating systems, fulfilling all types of disk managing demands, providing strong and instant tech support, and, last, be free! EaseUS Partition Master Free Edition is one of the best free partition manager software that you can fully trust and turn to for help.
3. What is the best partition software for Windows 10?
To partition disk drives on Windows 10, you can either try Disk Management or CMD for help. However, both two of them are not user-friendly to Windows beginners. 
EaseUS Partition Master Professional, with a simplified UI design, sophisticated disk partitioning algorithms, and powerful features, can assist any type of Windows 10 user in making changes and optimizing their disk drives efficiently.
4. How do I merge partitions in Windows 10 for free?
To merge partitions with EaseUS partition magic freeware - Partition Master Free:
Launch EaseUS Partition Master, right-click on the partition you want to keep and select "Merge".
Select a neighbor volume and click "OK".
Click "Execute Task" and "Apply".
To merge partitions for free with Disk Management:
Open Disk Management, right-click on a partition that is next to the target volume you tend to keep, and select "Delete Volume".
Click "OK" to confirm.
Right-click on the target volume you want to merge and select "Extend Volume".
Select to add the unallocated free space created by deleting the neighbor volume to the target partition, and click "OK".
About the Author
Updated by Tracy King 
Tracy joined in EaseUS in 2013 and has been working with EaseUS content team for over 7 years. Being enthusiastic in computing and technology, she writes tech how-to articles and share technical solutions about Windows & Mac data recovery, file/system backup and recovery, partition management and iOS/Android data recovery.
Product Reviews
I love that the changes you make with EaseUS Partition Master Free aren't immediately applied to the disks. It makes it way easier to play out what will happen after you've made all the changes. I also think the overall look and feel of EaseUS Partition Master Free makes whatever you're doing with your computer's partitions easy.

 Read More

Partition Master Free can Resize, Move, Merge, Migrate, and Copy disks or partitions; convert to local, change label, defragment, check and explore partition; and much more. A premium upgrade adds free tech support and the ability to resize dynamic volumes.

 Read More

It won't hot image your drives or align them, but since it's coupled with a partition manager, it allows you do perform many tasks at once, instead of just cloning drives. You can move partitions around, resize them, defragment, and more, along with the other tools you'd expect from a cloning tool.

 Read More