
About the Author
Hot Topics in 2022
Top 10 Best Free Partition Manager Tools for Windows 11/10 (2022 Guide)
When it comes to managing partitions on a computer, there are many different options available. Many users find that the free partition manager offers the best features and ease of use. And more important, a free partition manager is an attractive option for users who want to save money.
These free partition managers we listed in this guide often come with a wide range of features that allow users to manage their partitions easily. This includes features like resizing, creating, formatting and deleting partitions. As a result, free partition managers can offer a one-stop solution for all your partition management needs.
Read on to catch one of the handy partition software compatible with your Windows version. 
Is there A Free Partition Manager/Partition Magic?
No matter what operating system you use, you'll need to partition your hard drive sooner or later. Partitioning allows you to create separate areas on your hard drive for different purposes, such as storing documents, music, movies, and applications. This can be helpful if you want to keep your files separate from your work files or if you want to install multiple operating systems on your computer. While there are many commercial partitioning tools available, many free partition managers can get the job done just as well. Here's a look at some of the best free partition managers/partition magic software.
Comparing the Best Free Partition Manager
Product

Free or Paid

Safe (?)

Good For

Free version with basic features

Pro (Monthly): $19.95

Pro (Lifetime): $69.95

Yes

All-in-one partition magic for beginners and advanced users.

Free

Yes

Bootable CD and bootable USB users.

Free version with limited functions.

Business: $99

Yes

Free partition manager for personal and home use.

Free

Pro: $39

Server: $139

Yes

Fast and free partition software

Free

Yes

Windows Built-in Tool

Free

Dangerous for Beginners

Windows Built-in Tool

Free

Old-school style; Use function keys.

Bootable CD and bootable USB users.

Free

Pro: $59

Server: $139

Unlimited: $399

Yes

Free partition tool for novice

Free

Pro: $39.99

Server: $129.95

Unlimited: $399

Not stable.

Free partition program for home users

Free
Yes
Easy partition program for users
1. EaseUS Partition Master Free
Support the newest Windows 11!
EaseUS Partition Master Free is beyond most free partition manager software with more useful functions. The partition magic tool includes basic partition options, but it also supports the wipe disk, initializes to MBR or GPT, makes a disk surface test, changes drive letter, checks file system, etc.
Aside from an all-in-one disk partition program, EaseUS Partition Master also works as a disk partition clone wizard and disk converter, which can do partition copy, convert NTFS to FAT32 or convert FAT32 to NTFS, convert MBR to GPT or convert GPT to MBR. 
Free download EaseUS Partition Master:
Pros:
Simple steps - easy to use.
Support basic disk management: Resize, Create, Format, Delete, Move, Hide.
Free to copy everything from one drive to another.
Preview changes before executing functions.
Get other useful functions like change label, set active, initialize disk to MBR or GPT, etc.
Support the standard file systems: NTFS, EXT2/3/4, FAT12/16/32, ReFS, exFAT.
Cons:
How to Partition Hard Drive:
2. Gparted/GNOME Partition Editor
Is Gparted safe? Yes!
Gparted is free partition manager software that can be used to resize, create, copy, and move partitions on your computer. It is a trendy tool for people who need to optimize their disk usage. Gparted is very easy to use, even for beginners. Gparted is the perfect tool for anyone who needs to manage their disk space with its simple interface and straightforward features.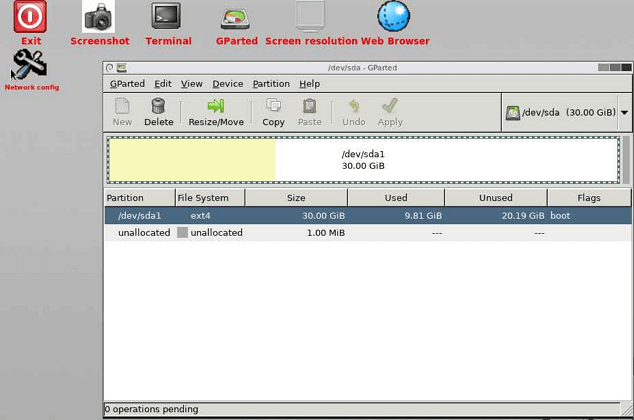 Pros:
Manipulate software on multiple file systems: btrfs, exfat, ext2/3/4, f2fs, FAT16/32, hfs/hfs+, linux-swap, luks, lvm2 pv, nilfs2, NTFS, reiserfs/4, udf, ufs, and xfs file systems
Clear interface.
Cons:
It takes a long time to download than other free partition managers, nearly 400MB.
Need to boot software from a bootable device. (You need to burn the iso file to CD and boot the PC from the bootable device.
How to Download Gparted:
Download Gparted-LiveCD-1.4.0-1-amd64.iso.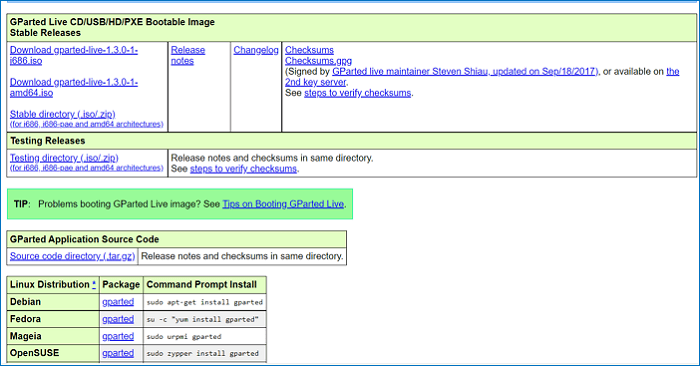 3. Paragon Partition Manager Free
Paragon Partition Manager is a free partition manager on Windows 10/8/7 that can be used to resize, create, format, and delete partitions. It also supports WinPE bootable disk and disk conversion (Convert MBR to GPT or vice versa) and provides an extensive range of features for home and business users. The software is available in both free and paid versions, with the latter offering more advanced features such as support for OS migration and disk backup.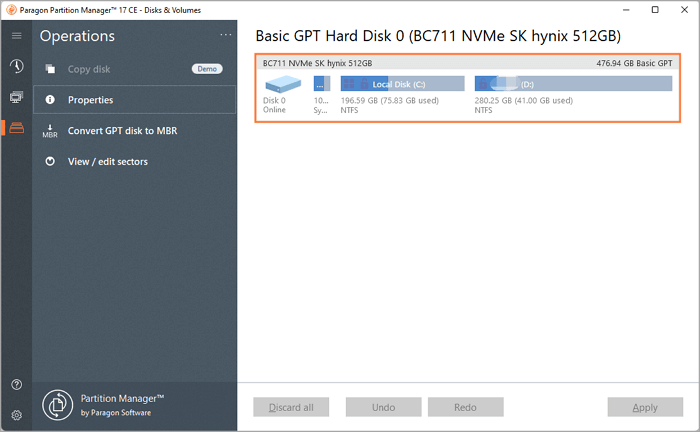 Pros:
Support basic partition management features.
Includes Preview function before making changes.
Support standard file systems. 
Cons:
Upgrade to Pro to get some advanced features.  
Take a bit longer to download.
Can't see Windows 11 support on the official website.
4. NIUBI Partition Editor
If you're looking for a free partition manager, I recommend NIUBI Partition Editor. It's a powerful yet easy-to-use program that lets you resize, create, format, and deletes partitions quickly. Plus, it comes with a host of other features, such as converting between NTFS and FAT32 file systems, changing cluster size, hiding or unhide partitions, and more. And if you run into any problems, the program's built-in help file is very comprehensive and should be able to answer any questions you have. Overall, NIUBI Partition Editor is an excellent choice for anyone who needs a free partition manager.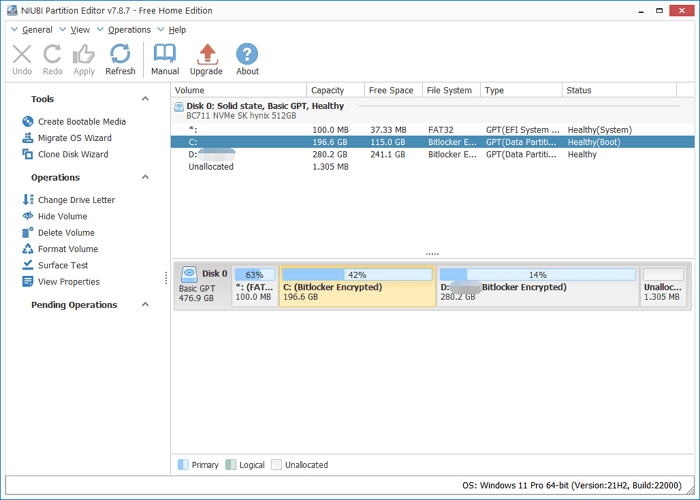 Pros: 
Free for using all functions: Resize/Move, Copy, Convert, 
Support Windows 11/10/8/7/Vista/XP.
Free disk converter: convert MBR to GPT, convert NTFS to FAT32, convert logical to primary.
Cons:
Limited hard disk capacity.
Not free for commercial use.
Bootable Media Builder and 1-Second Rollback requires in the paid edition.
5. Built-in Free Partition Manager - Disk Management
Does Windows 10 have partition software? YES! Windows Disk Management is good enough if you are searching for software to manage partitions on an NTFS drive.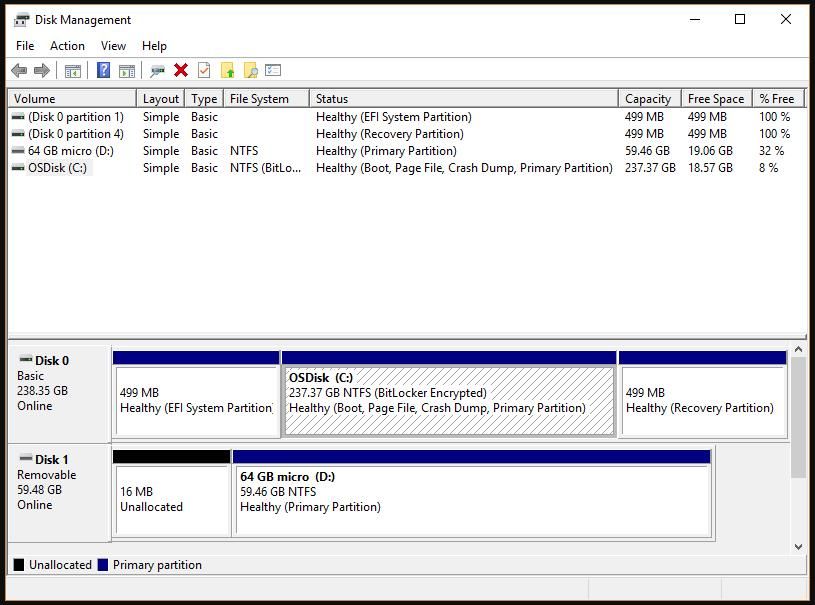 Pros:
Free.
Windows built-in tool.
Support standard features: extend, shrink, delete, format volumes, and change drive letters and paths.
Support all Windows versions.
Cons:
Only work for the NTFS file system.
Extend Volume grey out if there is no unallocated space next to the target partition.
No extra functions than others.
No undo option.
6. Built-in Free Partition Tool - Command Prompt
Another free partition manager like Windows Disk Management is command prompt. It enables to create, clean, delete, and extend disk partitions.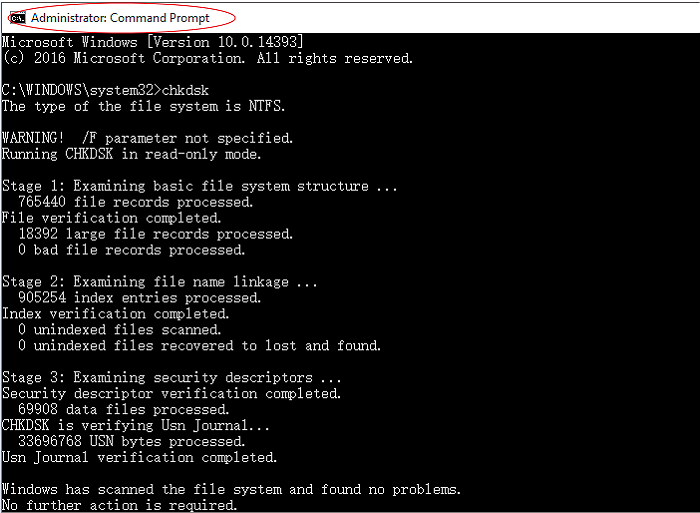 Pros: 
Free.
Support all Windows versions.
Cons:
No undo option. The wrong command line will cause data loss.
7. Cute Partition Manager
Like Gparted, Cute Partition Manager is a helpful HDD partition that only boots from a bootable device. You need to install software to a bootable USB or CD and reboot the PC to load the program. It can be used for creating, deleting partitions, and changing the file system.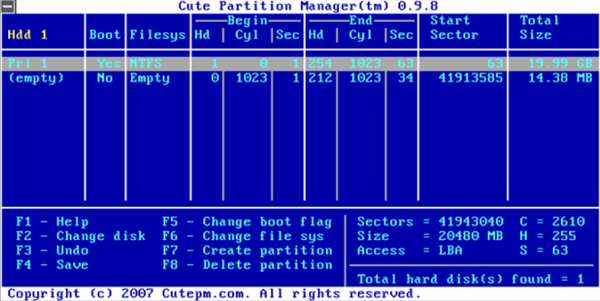 Pros:
Run from a bootable device with no Windows OS limitation.
Small file size - fast download.
Preview changes before saving them.
Cons:
Old-fashioned interface.
Take a long time to boot.
Enter partition size manually.
Can't resize and merge partitions.
8. IM-Magic Partition Resizer
IM-Magic Partition Resizer is a free partition manager that can resize, extend, move, copy, wipe and merge partitions without data loss. With this partition manager, you can convert MBR to GPT and logical to primary without data loss. It does not require any technical skills, and even a novice can use it to resize the partition. Just follow the wizard to complete partition resizing within minutes.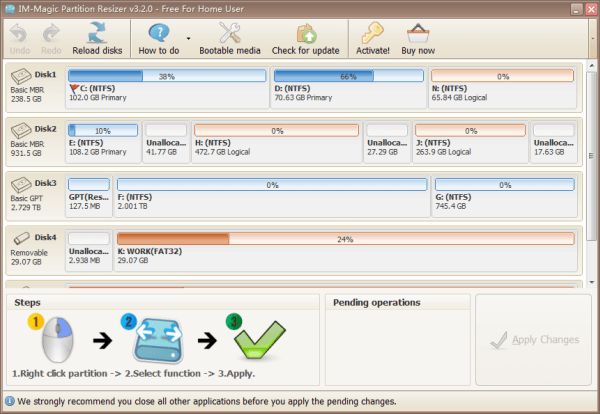 Pros:
Support portable version.
Provide a step-by-step tutorial on the interface.
Support lots of functions: essential disk management, partition clone, and disk conversion.
Cons:
Paid edition supports some advanced technology: 1-second extending technology, cancel-at-well technology, rollback protection, and bootable media.
9. Macrorit Partition Expert
Macrorit Partition Expert is a free partition manager for Windows XP, Vista, 7, 8, 10. With Macrorit Partition Expert, you can extend, create, and format partitions. Macrorit Partition Expert is compatible with GPT disk, and MBR disk. If you want to upgrade the hard drive, try its new free function - Migrate OS.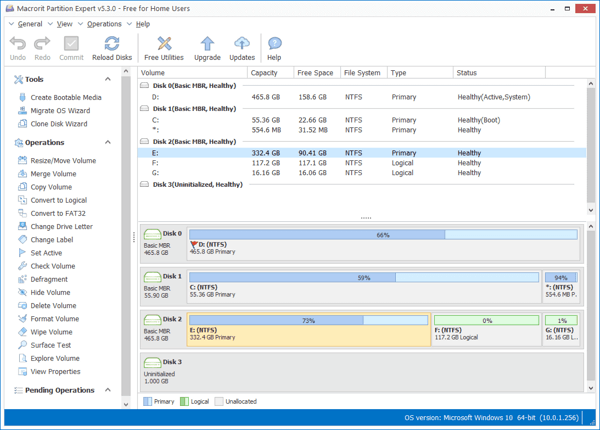 Pros:
Easy to use.
Include a portable edition.
Support basic and advanced options.
Cons: 
Can't manage a disk bigger than 16T on the free edition.
Windows 11 Microsoft defender released a risk warning when I installed the package.
[email protected] Partition Manager is a free partition manager from LSoft Technologies. It is an excellent tool for managing partitions and volumes on your computer. With [email protected] Partition Manager, you can easily create, format, delete, and edit partitions. After a long stuck time of product update, it released a new version on Nov 2, 2021.
Pros:
Easy to use.
Support common partition functions.
Support rollback changes.
Include a step-by-step tutorial if you click the "Help" button.
Cons:
Can't clone partition.
Fewer options for disk management.
About the Author
Daisy is the Senior editor of the writing team for EaseUS. She has been working in EaseUS for over ten years, starting from a technical writer to a team leader of the content group. As a professional author for over 10 years, she writes a lot to help people overcome their tech troubles.

Roxanne is one of the main contributors to EaseUS and has created multiple posts on digital devices like PCs, Mobile phones, tablets, Mac, etc. She loves to share ideas with people of the same interest.
Product Reviews
I love that the changes you make with EaseUS Partition Master Free aren't immediately applied to the disks. It makes it way easier to play out what will happen after you've made all the changes. I also think the overall look and feel of EaseUS Partition Master Free makes whatever you're doing with your computer's partitions easy.

 Read More

Partition Master Free can Resize, Move, Merge, Migrate, and Copy disks or partitions; convert to local, change label, defragment, check and explore partition; and much more. A premium upgrade adds free tech support and the ability to resize dynamic volumes.

 Read More

It won't hot image your drives or align them, but since it's coupled with a partition manager, it allows you do perform many tasks at once, instead of just cloning drives. You can move partitions around, resize them, defragment, and more, along with the other tools you'd expect from a cloning tool.

 Read More