The clone vs clean install option is one decision we make when fixing a replacement drive for our computer's HDD or SSD. By default, a new hard drive only serves as a personal storage option unless an operating system is installed.
There are two ways to put the Windows operating system on your hard drive. The one you choose would depend on personal preference. You can either decide to:
Clone the current hard drive and migrate OS without reinstallation.
Format the hard drive and clean install from a bootable USB drive.
Maybe you have seen a few suggestions on each of these methods, but the doubts persist. That's what this article contains. It will guide you through the clone vs clean install decision-making process and recommend an easy hard disk installation tool.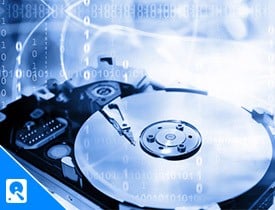 What's Disk/Partition Clone?
Disk/partition clone is the process of duplicating the entire contents of a hard drive to another storage medium, including Windows OS, system updates, installed programs, personal files, games, and data.
The process is fast, and many people prefer it when considering a clone vs clean install alternative. The cloned data also contains hidden files that would have been unnoticed during a manual copy and paste operation.
The storage medium can be either a removable media or another computer's hard drive. Ensure it has enough memory space to take the full content of the source drive. Unwanted files and junks folders would also be copied. Therefore, disk/partition clone should be the go-to option ONLY when you plan to transfer the old drive's entire content to the new one.
In addition, both source and target drives must be connected to the same computer via the internal installation or SATA-to-USB connectors for the external drives. There is no official Microsoft cloning software. So, you will have to get a trusted third-party cloning application. The EaseUS Disk Copy is our recommended option.
As shown above, the software would require permission to format the target drive before the process commences. A successful clone is where both the source and target drives have the same layout/partition after cloning.
What's Windows Clean Install?
A Windows clean install refers to formatting your present hard drive and installing a new Windows operating system through the Windows installation media. It's like starting from scratch and getting the computer to a brand new state.
Although it is the more time-consuming clone versus clean install option, it has its advantages. Windows clean install is advised to solve computer memory problems and performance issues or eliminate viruses and malware. You can think of the clean install method as getting the computer to be new again. That explains its effectiveness in solving the previously encountered problems.
The hard disk data, programs, and other essentials are also entirely erased. The screenshot below shows that. Files, settings, and other applications on the Windows OS version will be lost.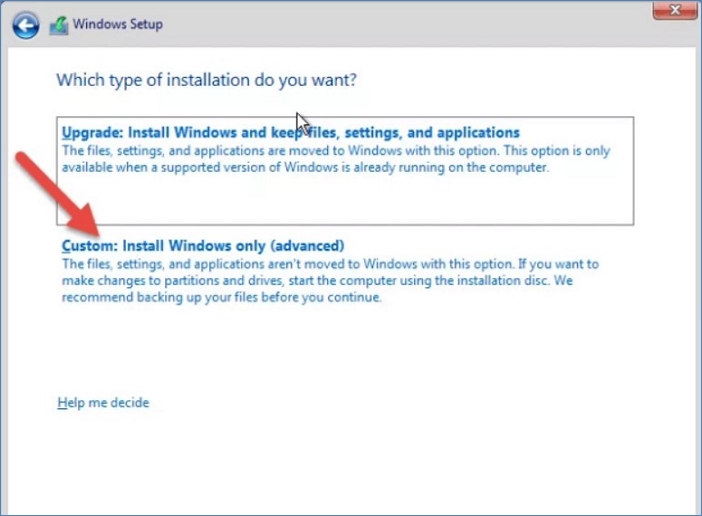 Hence, a backup procedure is often recommended before starting the clean install process or operating system upgrade. Failure to do that can result in data loss. Backups should be done to an external drive or another computer system to prevent the loss of files and programs during reinstallation.
Clone vs Clean Install: Which Suites You Better?
When you purchase a new HDD or SSD, the option to do a clone vs clean install arises. Both are excellent methods for a Windows OS upgrade but have more specific uses. That means each is more suitable depending on the particular situation.
Use a disk/partition clone method when:
You want to replicate the exact configurations of a PC on another computer.
Carrying out multiple installations of the same system OS and configurations on many computers.
Restoring an existing hard drive to its original settings and set-up.
Migrating important data and hard drive contents to a new disk.
Use a Windows Clean Install when:
Troubleshooting problems with the current computer's operating system.
Eliminating malware and other security threats.
Upgrading to a new Windows OS version without any side problems.
You experience low-performance challenges even after uninstalling some programs.
If You Want to Clone a System or Disk, Choose EaseUS Disk Copy
In terms of results, the clone vs clean install options is both effective. However, the clean install can be stressful when you have to manually backup data and files on an external storage medium. That is why it is recommended when there is a problem with the hard drive.
Otherwise, a clone is better. It is less time-consuming as well. The cloning process involves creating exact system data and configuration copies that serve as restore options or duplicate other computer systems. That long process of manual installation is skipped.
However, there is no official cloning software from Microsoft. So, you have to seek a third-party cloning solution that can effectively replace your hard drive, upgrade the disk and migrate the OS version. The EaseUS Disk Copy is a tool that does all that. Like other Windows cloning software, it does not require the typical time-consuming reinstallation process.
Why EaseUS Disk Copy?
It is a reliable cloning option with a straightforward interface that anyone can understand.
Effectively creates a 100% copy of your Windows OS version.
Guarantees zero file loss when transferring data and configuration settings to another SSD or HDD.
How to use EaseUS Disk Copy?
Step 1. Download, install and run EaseUS Disk Copy on your PC.
Click "Disk Mode" and select the hard drive that you want to copy or clone. Click "Next" to continue.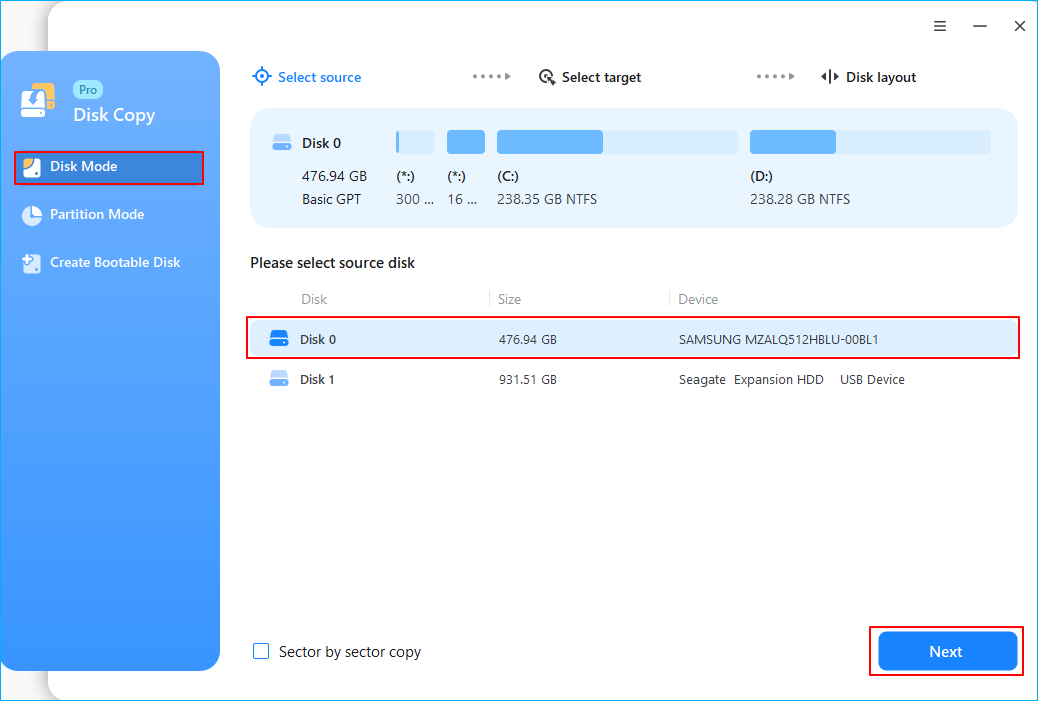 Step 2. Select the destination disk.
Note: The destination disk should be at least the same big or even larger than the source disk if you want to copy or clone the source hard disk.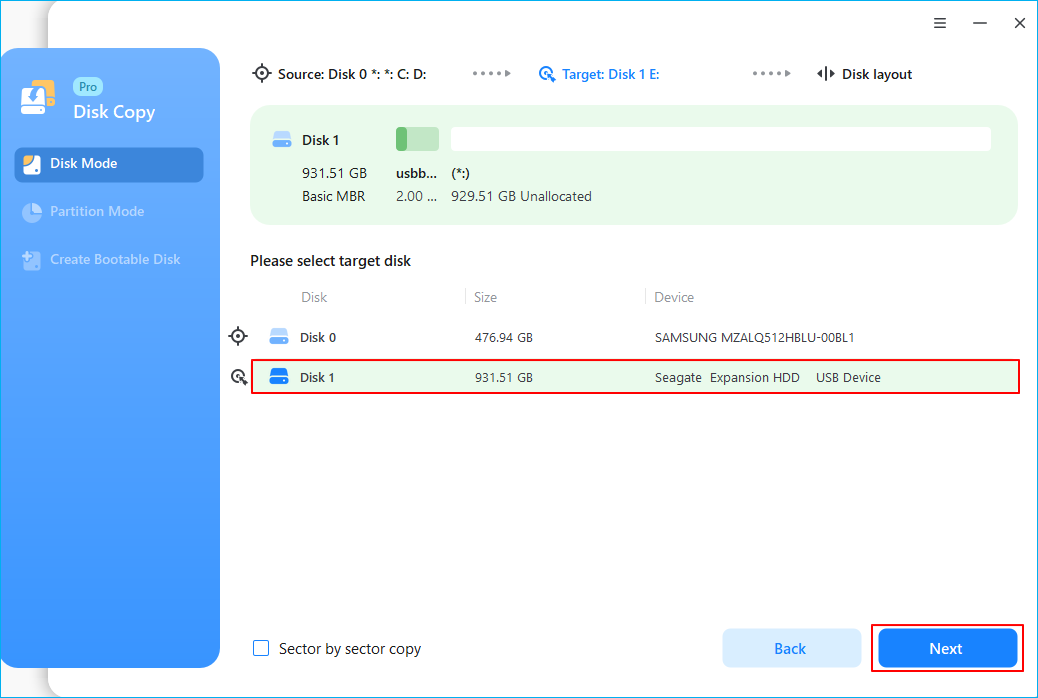 Step 3. Click "OK" to confirm if the program asks to erase data on the destination disk.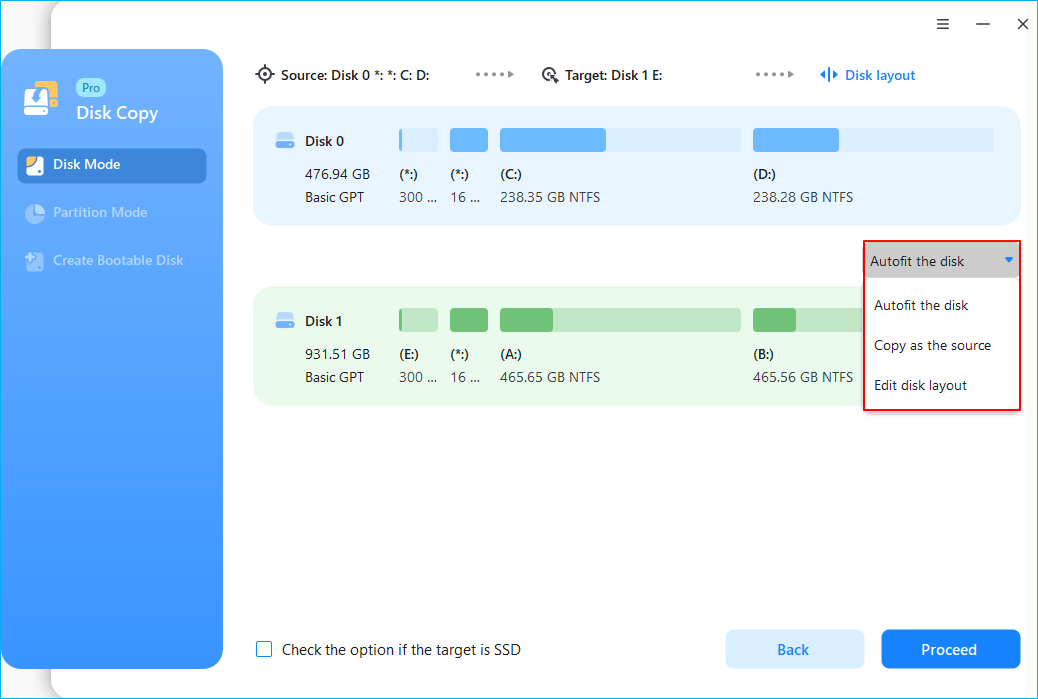 Step 4. Check and edit the disk layout.
If your destination disk is an SSD drive, do remember to Check the option if the target is SSD.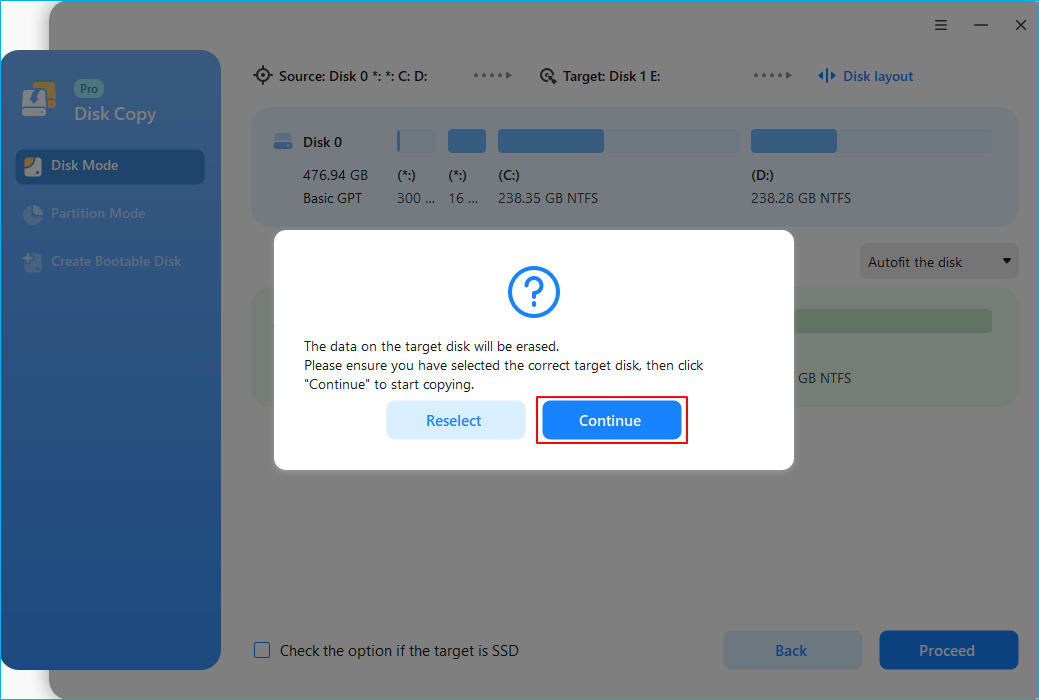 Step 5. Click "Proceed" to start the hard drive cloning process.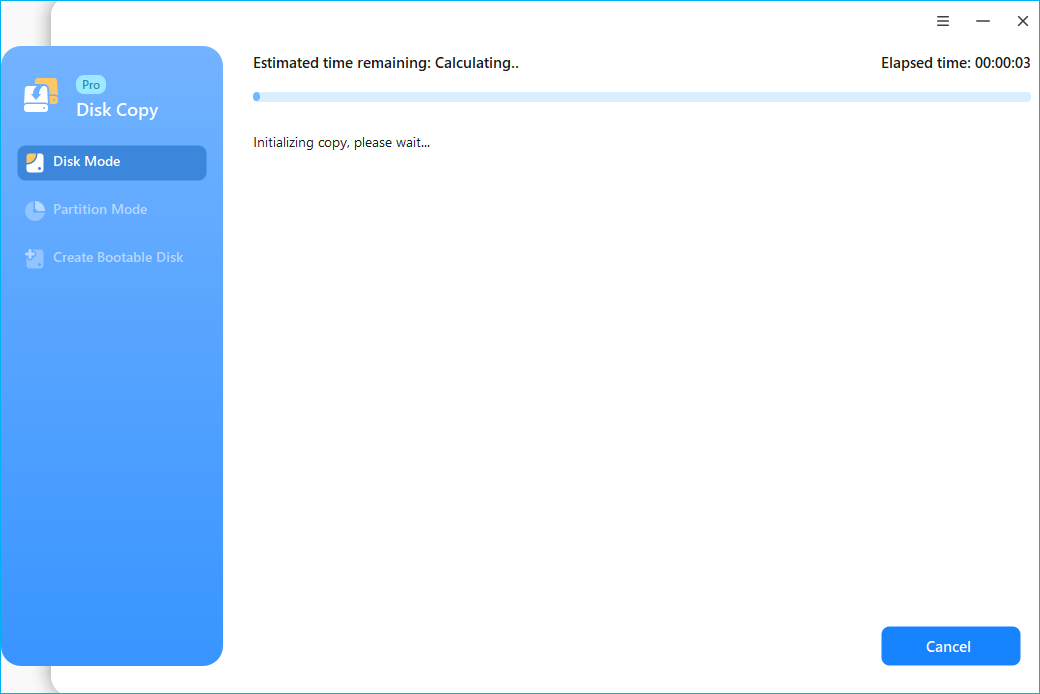 Conclusion
Deciding on the clone vs clean install alternatives depends on your computer system. If your Windows operating system and hard drive are well functional, disk/partition cloning software is all you need. Otherwise, you should go for the Windows Clean Install option when having challenges with the performance/operation of the OS and hard disk.
However, getting software that can perfectly clone your computer system and provide backup support for a clean install is the best solution to the clone vs clean install question. The EaseUS Disk Copy has always been our stand-out pick. The tool does not require much technical expertise to utilize. So why not give it a try?
EaseUS Disk Copy
Clone an old disk to a new one
Clone a small disk to a large one
Clone HDD to SSD
TRY IT NOW
Video Tutorial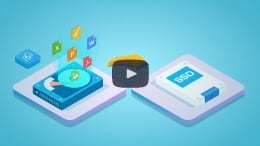 How to Clone HDD to SSD on Windows 10/8/7