Microsoft Windows does not include a disk cloning utility in the system. If you're a reader looking for the difference between "clone" and "Entire machine backup", you might have already downloaded third-party backup software integrated with the clone feature. EaseUS Todo Backup is one of the comprehensive data protection software for Windows computer backup and hard drive/partition clone.
Why Do People Get Confused by Clone or Backup?
Despite the two terms being totally different in technology and application scenarios, people cannot distinguish them when they are put together. We guess that the reasons can be as follows:
Lack of basic knowledge because we're not all IT professionals
Both can make a full copy of your data and operating system
Both require an additional drive to save the data on the selected drive
Either a backup image or a cloned drive can be used for the purpose of recovery
What's Disk Clone?
* Disk Clone vs System Clone: What's the Difference?
The disk clone is to build a new identical hard drive as the original drive. Cloning a disk is the process of making an exact copy of the source hard drive contents to the new drive, including data, installed programs, partition style, and hard drive configurations as well. As a result, after the cloning procedure, there will be two hard drives containing the exact same content in the same disk layout.
Important: There are some users who prefer to take a clone as the backup solution. It works and the advantage of this method is that you can have access to your backed-up files anytime you want without restoring them.

What's Backup?
*Find out what is a system backup image.
While backup can be applied to separate files/folders, operating systems, or the entire computer hard drive contents. The backup process is to save an image file that contains the selected items on the current drive. For example, when you use EaseUS Todo Backup to create a backup of individual files, OS, or a hard drive, the backup will be saved as a .pbd image file, which can be restored to the current hard drive or to a new hard drive.
Important: You can't open a backup image file and directly access the backup content. Only when you execute a restore to the backup image can you open and access those backed-up files.

5 Differences: Disk Clone vs. Entire Machine Backup
According to the short description of both clone and backup, we know that they are quite different from each other in the creation process and the results. To sum up, there are five differences between the clone and the entire computer backup, generally the computer hard drive.
1. Clone makes two identical hard drives, while the backup is to create a backup image file.
2. Clone is to copy everything on the hard drive, but backup can be executed to only files, operating system, or a hard drive.
3. Clone must require a physical & empty hard drive bigger than the used space of the source drive, while a backup file is much smaller and you can save a backup file to a local drive, network drive, NAS, or cloud.
4. A cloned hard drive with an operating system is bootable, but you can only use a backup image by performing recovery.
5. Clone is a one-time behavior and backup is continuous.
When to Use Clone
If you're not sure whether you should make a clone or make a backup, here we will guide you. The following scenarios are common clone cases. Follow the below examples so you can know "clone" better, and make sure that you've downloaded EaseUS Todo Backup to start cloning a hard drive in similar situations. By disk cloning, you can get rid of the hassle of rebuilding a computer by downloading programs or reinstalling the operating system.
Upgrade a small HDD to a large HDD
Change an old hard drive to a new hard drive
Replace a failing hard drive without losing data
Swap a slow HDD with a fast SSD

Clone Hard Drive in Windows 11
Clone hard drive windows 11 effortlessly with this instruction book. Click now for a step-by-step guide on how to clone a hard drive in Windows 11.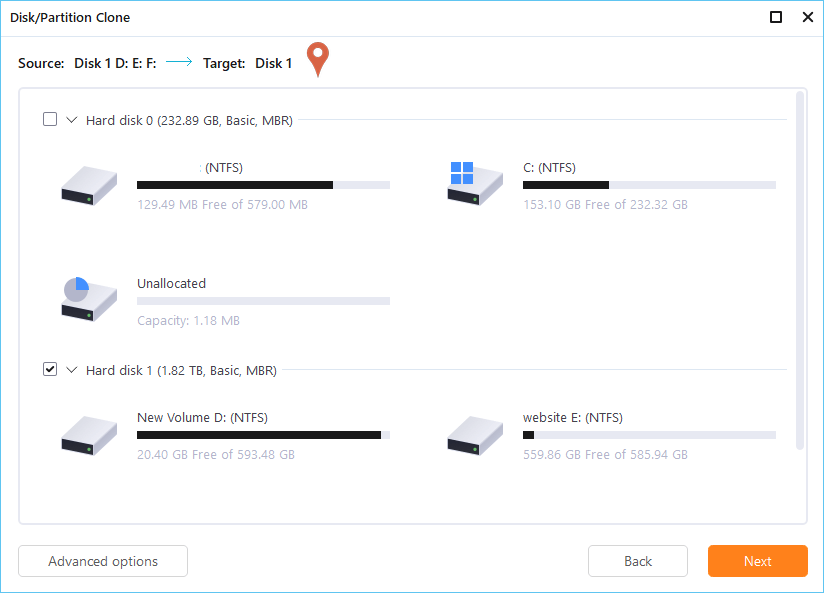 When to Use Backup
Data backup is a long-run task to maintain data security, so it should be a daily routine for everyone who plays around or works with a computer. Business owners should pay more attention to cyber security and database safety. EaseUS Todo Backup provides a home to business users with rich-featured backup solutions and flexible backup schedules. As long as you have the following demands, add a backup to your routine job.
Have ever lost important data due to accidental deletion, formatting, hard drive corruption, or sudden power off.
Lack of the system installation skill or experience
Prevent system crash or data loss from virus/malware attack
EaseUS Todo Backup: A Companion of Backup and Clone
Clone and backup are two different methods applied in different situations, and both have their pros and cons. EaseUS Todo Backup is a globally renowned Windows backup utility, at the same time integrated with the clone feature.
As a backup tool, it allows users to create backups of files, folders, operating systems, and an entire computer hard drive. After a first full backup, you can set a backup schedule to execute the next backup automatically by means of differential backup or incremental backup. Furthermore, you can create a bootable rescue media to access a dead computer and perform a system restore!
Being a robust cloning tool, however, it's ranked on the top 5 hard drive cloning software in 2022, due to the simple wizard guide, support of MBR and GPT cloning, and the ability to create a Windows portable USB drive if you choose the system clone.
In a word, this post guide mainly demonstrated the difference between clone and backup, and analyzed the application scenarios of each. We hope all of you have already figured out the two confusing terms. Now feel free to coordinate with EaseUS Todo Backup. Make either backup or clone easy!
Gemma is member of EaseUS team and has been committed to creating valuable content in fields about file recovery, partition management, and data backup etc for many years. She loves to help users solve various types of computer related issues.

Author Jean has been writing tech articles since she was graduated from university. She has been part of the EaseUS team for over 5 years. Her special focuses are data recovery, disk partitioning, data space optimization, data backup and Mac OS. By the way, she's an aviation fan!