We have reviewed 20+ disk cloning software in the market, developed by companies from the US., Australia, UK, and China... and finally picked up the five best hard drive cloning software for you to choose from. The overall ranking of EaseUS Todo Backup is on the top, and the result is based on an unbias product review and in-depth comparison of reliability, usability, popularity, compatibility, success rate, and customer support.
Infographic of the 5 best hard drive cloning software & cloning speed comparison:
What's Hard Drive Cloning Software?
Hard drive cloning software, usually refers to as HDD or SSD cloning software, is used to replicate a computer's one hard drive to another hard drive or one disk volume to another. Everything on the original hard drive, such as the operating system, drivers, software, patches, and data will be copied block by block, sector by sector, and bit by bit.
After disk cloning, the two hard drives or disk volumes will keep identical with the same disk layout, partition style, and content. Disk cloning software is useful for eliminating the time-consuming technical process of reinstalling and reconfiguring a system from scratch if you're trying to replace an old hard drive with a new one for your PC or laptop. In general, hard drive cloning software is essential for hard drive replacement without repeatedly migrating data or reinstalling Windows.

Top 1. EaseUS Todo Backup
 - The Preferred Hard Drive Cloning Software of 79% of People
★

Trustpilot Rating: Excellent 4.4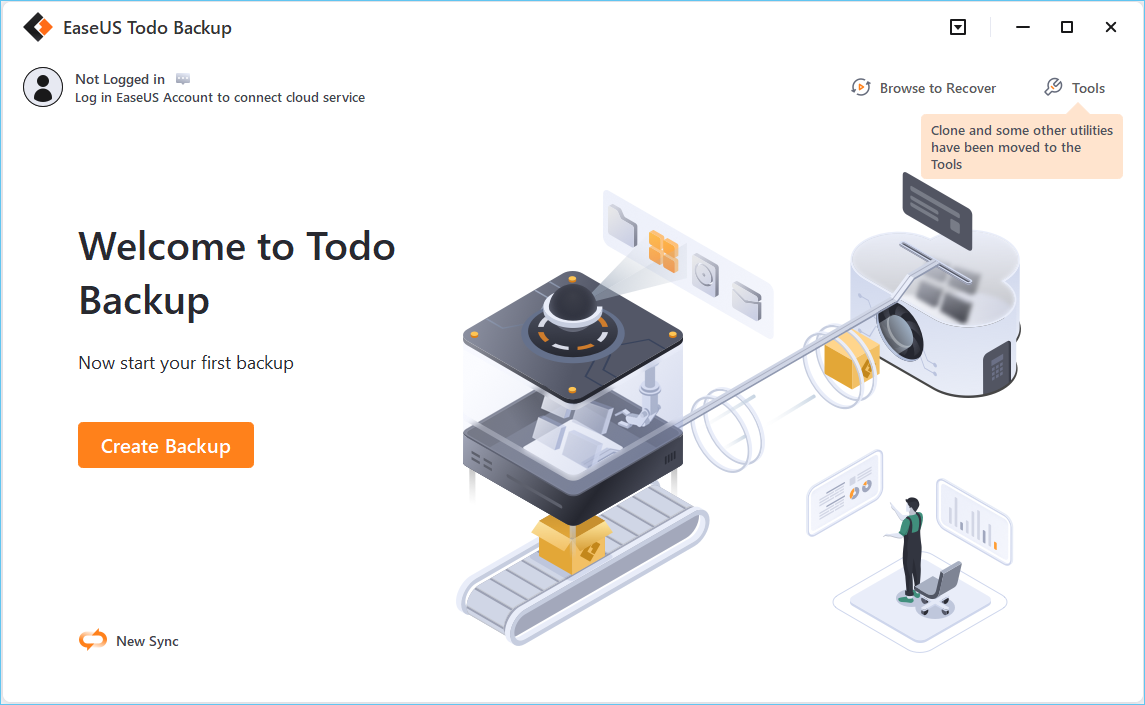 EaseUS Todo Backup is an exclusive Windows backup and recovery program with a powerful cloning feature integrated. It provides a comprehensive solution to Microsoft Windows users with PC backup, system restore, OS migration, HDD/SSD to SSD cloning, C drive/boot drive clone, and Windows portable USB creation.
Why People Choose EaseUS Cloning Software:
Windows 11, Windows 10, Windows 8, Windows 7 and previous Windows versions are fully supported.
Pre-OS can be enabled to make sure that when your computer fails to start. You can still restore a system image to revive the computer or clone a hard drive or partition to rescue data.
Even if you didn't turn on the Pre-OS function, creating a bootable EaseUS Todo Backup WinPE or Linux emergency disk can also perform the same system restore and data migration task.
Tick the option "Create a portable Windows USB Drive" during the process of system clone. This is a way to put a customized Windows operating system to a USB drive, which can be used on any other PC and even a Mac. A portable Windows USB is useful for Mac users who want to play Windows games. 
Super easy and fast to operate each function due to the intuitive user interface and guide wizard on each step.
Ability to adjust the disk layout and resize partition upon finishing the cloning process.
Supports cloning a bigger HDD to a smaller HDD or SSD.
Direct clone between MBR to MBR, GPT to GPT, MBR to GPT, or GPT to MBR without a booting issue.
Goes compatible with all storage devices, including the internal HDD, SSD, M.2 SSD, NVMe SSD and hybrid drive as well.
Combine the Windows backup and disk/partition clone features together, to maximumly protect your computer's system and data.
A completely free version for essential data backup and restore purposes is available. A 30-day free trial with all advanced features is accessible.
24x7 phone call, online chat, email, and remote support are available.
Pricing starts at $19.95.
Our Verdict:
EaseUS Todo Backup is overall a powerful, reliable and high-quality disk cloning tool with simple operations. It's best for individuals to upgrade to a faster SSD because it's so far the most beginner-friendly software we've tested out. Meanwhile, its enterprise editions are best for businesses and IT technicians to create system images for disaster recovery, image hard disks and deploy Windows 11 to multiple computers at the same time to enhance work productivity.
Top 2. Macrium Reflect
- 67% of Experienced users and business people think it's great
★

Trustpilot Rating: Excellent 4.7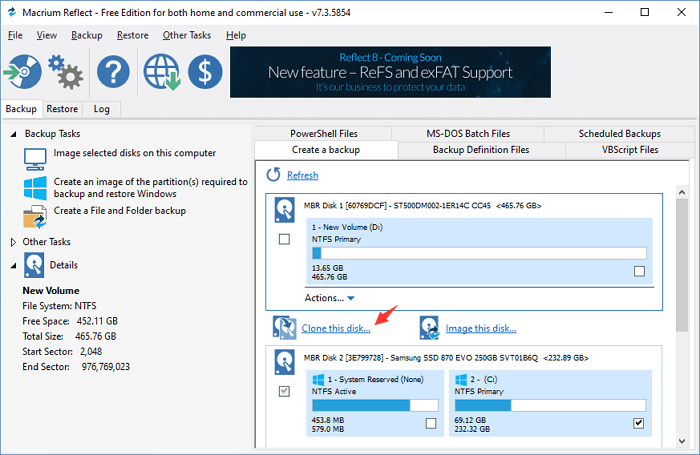 Though not so user-friendly for beginners, Macrium Reflect is still an option for advanced users who can handle a wide selection of jargon on its menu. As it said, "It's our business to protect your data", Macrium is regularly featured on the ranking lists of the best disk cloning software, most of the time for good reason. Open Macrium Reflect, you'll find that the interface is tidy and packed full of useful tools.
Why People Choose Macrium Cloning Software:
Supports Windows 11 back to Windows XP.
Displays the disk or volume's details once you choose one, like the file system, free space, total size, etc.
Comes with Rescue Media Settings based on Windows Boot Menu and ISO file.
Rapid Delta Cloning increases cloning speed by copying file system deltas.
Adding a destination disk is flexible, you can drag partitions to the destination disk or click "Copy selected partitions".
Supports MBR disk and GPT disk.
A free version is available for basic backup scheduling and a 30-day free trial in its Home version.
The phone call and online support are available.
Pricing starts at $69.95.
Our Verdict:
Macrium Reflect receives the most positive comments and feedback from its users, which truly reflects itself as a dependable disk cloning product. When we try to clone a disk or partition for the first time, we get lost at the first step to find the entry. It's not so clearly navigated as EaseUS Todo Backup does, and the process gets a little complex. For average users, it needs some learning curve to make full use of all the practical features, while for experienced users the navigation is not a big problem. The common issue when we use the Macrium Reflect clone is about the cloning error 0, error 8, and error 9. Try to contact tech support when you happen to get a similar error.
Top 3. Acronis True Image
- Most popular though issues were found the most
★

Trustpilot Rating: Bad 1.6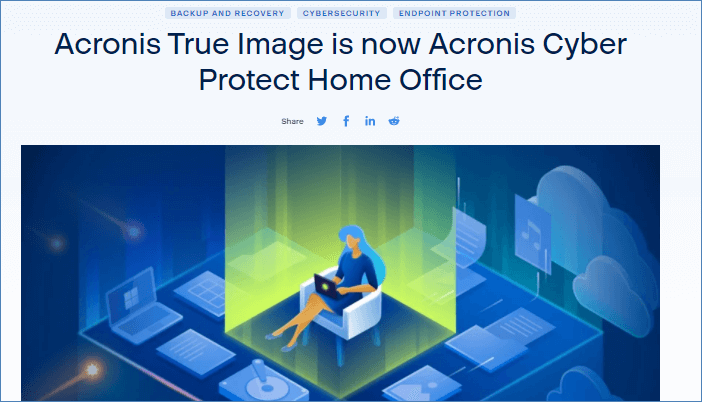 When it comes to ransomware protection and local/cloud backup, Acronis True Image (rebranded as Acronis Cyber Protect Home Office) is the most popular selection among worldwide users. It's previously known to create a disk image for backup, meanwhile, it also allows users to clone a disk and resize a partition after cloning. It seems that recently Acronis True Image has received many bad comments about bloated software, terrible support, and frequency of product failure. But from our point of view, it's not that useless. Each old brand like Acronis has its value and specialty.
Why People Choose Acronis True Image:
Multiple OS platforms are compatible, including Windows and macOS.
A modern and intuitive user interface makes it super easy for beginners to perform a task.
It's been a cooperative brand of hardware manufacturers like M.2 Crucial, Western Digital, and Sabrent.
It comes with a powerful online cloud backup service.
Be good at cloning a hard drive to another hard drive with a different capacity.
Besides backup, cyber protection and disk clone, extra features like system cleanup and disk partitioning are also included.
Pricing starts at $49.99.
Our Verdict:
The original Acronis True Image edition is with well-looking design and a very neat interface, and a wide array of practical solutions are integrated into one product. The bad side is that user ratings are low, and after we browsed Acronis's official website and mobile pages, we feel deeply disappointed. The web portal and mobile experience are very poor, which cannot compete with most of the rivals. We cannot even find the download button on its home page. The new product name Acronis Cyber Protect Home Office is hard to remember, too. These essentials make us feel difficult to recommend it to individual users. Plus, the price is comparatively high than others while only several basic features are available. But if you're willing to pay $124.99 for the Premium edition, it's absolutely a contender for the top best hard drive cloning software.
Top 4. Paragon Hard Disk Manager
- 56% of people choose HDM to migrate data and OS
★

Trustpilot Rating: Bad 1.4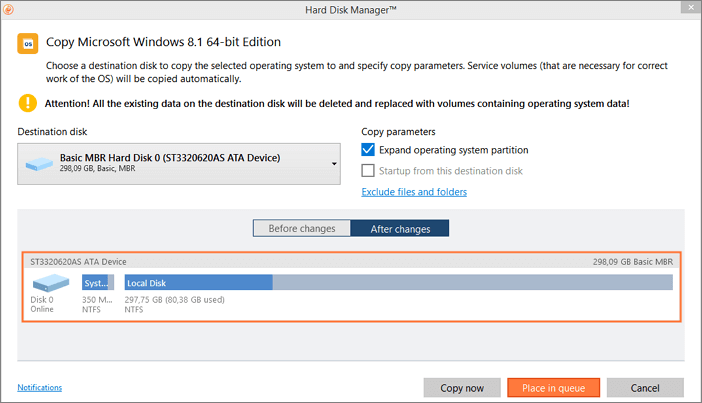 Paragon Hard Disk Manager, aka HDM, is all-in-one data management software with several useful features on it. It lets you backup and restore data, manage partitions, copy disk/partition, wipe data and create a disk image. What we like about Paragon Hard Disk Manager the most is how it guides visitors to try the product! It provides us with an elaborate product tour guide. On the contrary, what we don't like is also about how it lures visitors to buy the product. Unless you close the purchase window, you cannot return to the home page anymore.
Why People Choose Paragon Hard Disk Manager:
An exclusive hard disk management tool for both Windows PC and Mac.
Recovery Media Builder is now part of the Hard Disk Manager app.
The interface is Windows-friendly, keeping the software's style closest to the current Windows version you're running.
4-in-1 software lets you protect, maintain and manage your PC's hard disks after a one-time purchase.
Copy disk wizard is as simple as that of the EaseUS Todo Backup.
Able to exclude files and folders when copying the operating system to a new drive.
Pricing starts at $79.95.
Our Verdict:
Paragon Hard Disk Manager offers all-in-one solutions to manage your hard disk and partitions in every way, and none of the features are redundant. You may find that even a home user license is expensive enough (the business license is from $99 to $899), but we still think it is worth considering when you are only looking for a disk cloning software for a fast speed and a successful cloning result. It's another competitive software that suites for both home users and businesses. Note, if you need a free trial first, Paragon doesn't give you a chance to do that.
Top 5. Clonezilla
- The one and only free-to-use disk cloning software for simply all platforms
★

Trustpilot Rating: /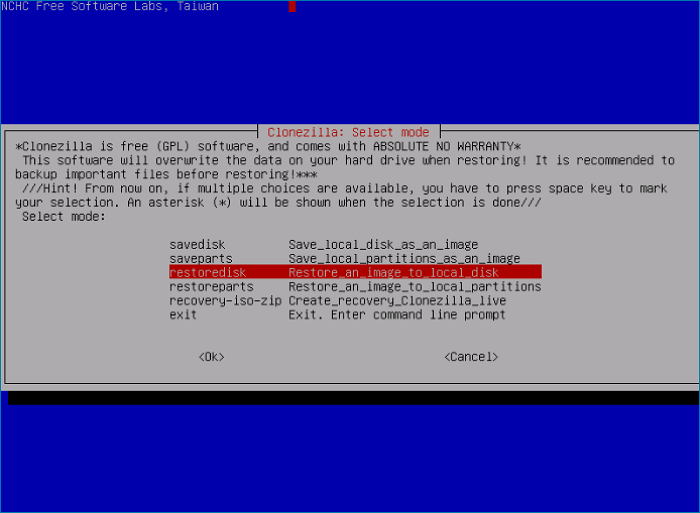 When you learned the previous four pieces of recommendation, you'll find that they are basically an all-around utility that offers more than a disk cloning feature, and they are all for Windows platforms. But here with Clonezilla, you'll find a totally different partition and hard disk imaging/cloning program. First of all, it's designed for all operating systems available. What's more, it's a free and open-source disk cloning software based on command lines rather than a graphics interface.
Why People Choose Clonezilla to Clone a Hard Drive:
Covers almost all operating systems including Windows, macOS, Linux, Chrome OS, etc.
100% free without any charge fees.
Runs independently of the operating system to backup, restore or clone a hard disk.
It's flexible to use and modify the software because it's based on command lines.
A single image can be restored to multiple local devices at one time. 
Supports cloning through an image or directly to another physical disk.
Our Verdict:
There is no reason not to mention Clonezilla when ranking the top best hard drive software each year, because of its great system compatibility, rich-featured imaging and cloning, and customizable settings that make every detail perfect to go. Since its interface is apparently not for normal computer users, we recommend system administrators give it a try if you don't mind consuming time to type long command lines each after each for even a simple procedure.
Guide: How to Clone a Hard Drive with the Best Hard Drive Cloning Software
The five products we reviewed are reputed hard drive cloning software with the same goal to help users replicate one hard drive system, data and applications to the other drive, with nothing to lose. The manner of cloning a disk can greatly improve work efficacy and gain productivity, and that is the reason why we always need one.
Nothing is perfect unless it suits your goal well enough. We're trying to find out one piece that can maximumly help achieve our goal at a low cost with the most responsive support. It's finally EaseUS Todo Backup. If you agree with us, start a free trial now.
Step 1. Launch EaseUS Todo Backup and click "Tools" at the top right corner, you can see clone and other utilities.
Step 2. Choose the source disk or partition as well as the target disk. (Make sure the space of the target disk is larger than that of the source disk or partition.)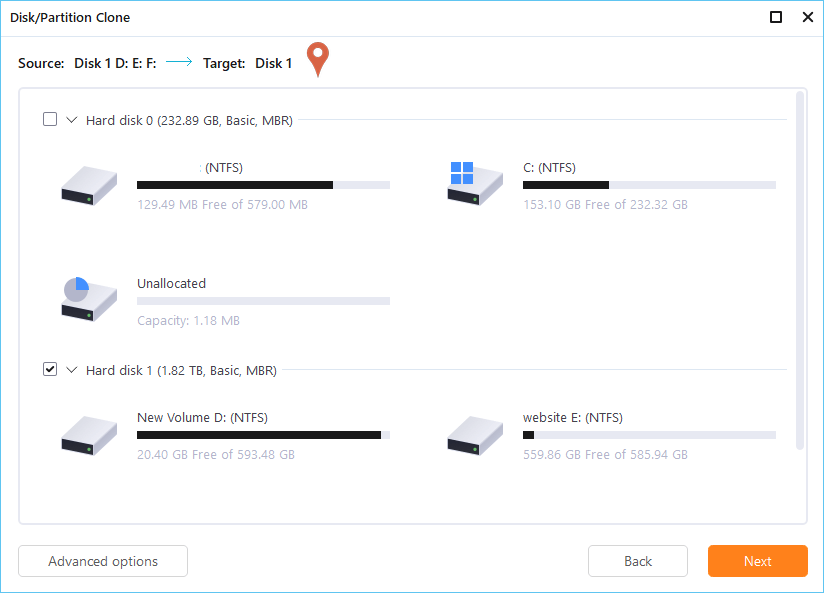 Step 3. The clone would permanently wipe out all data on the target disk/partition. If you have backup your data in advance, just click "Continue."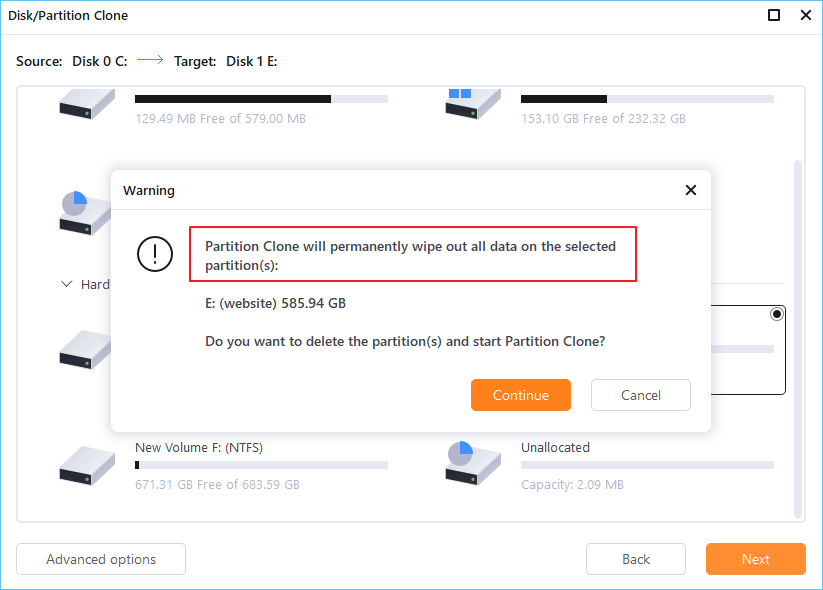 Step 4. Click "Proceed" to start cloning.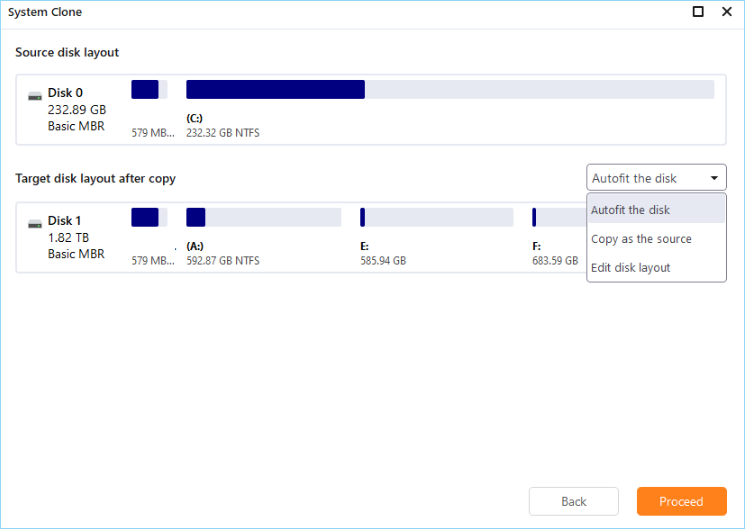 Updated by Larissa
Larissa has rich experience in writing technical articles. After joining EaseUS, she frantically learned about data recovery, disk partitioning, data backup, and other related knowledge. Now she is able to master the relevant content proficiently and write effective step-by-step guides on computer issues.

Jean has been writing tech articles since she was graduated from university. She has been part of the EaseUS team for over 5 years. Her special focuses are data recovery, disk partitioning, data space optimization, data backup and Mac OS. By the way, she's an aviation fan!