Workable Solutions
Step-by-step Troubleshooting
1. Cloud Backup VS Local Backup

1. Advantages and disadvantages of cloud...Full steps

2. Advantages and disadvantages of local...Full steps

2. A Comprehensive Software
Click the "Select backup contents" button to...Full steps
Cloud backup vs. local backup is an everlasting debate. We all wonder which is more suitable for us. If you can not decide which backup option to choose, we are here to help. We are going to enlist the merits and demerits of both the backups. This blog will analyze in-depth both the pros and cons of each backup option so you can decide what is best for you. 
Prefer a convenient cloud backup way, but also want a backup copy on a local drive for double protection? That's even better! EaseUS Todo Backup can take you there→
What's Cloud Backup?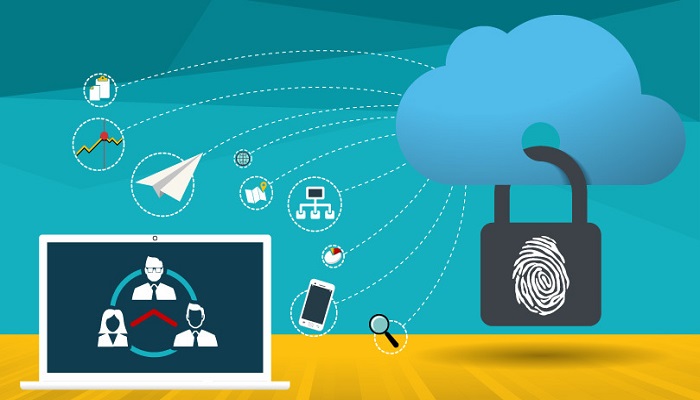 You probably already know what cloud backup is but to refresh our memory we are going to explain it again. Cloud backup refers to backing up your data online on a cloud server. For example, Google Drive, OneDrive, and Dropbox are all online platforms that store your data. You upload your data to your chosen cloud service and that is it. Your data will now be available at all times on that server. Most of the cloud servers offer up to 5 GB of storage for free. If your data exceeds the provided limit, you have to pay every month to keep using their services. Cloud servers are usually affordable and have a very small monthly fee. 

Advantages and Disadvantages of Cloud Backup
We are going to delve deeper into the cloud backup option for you to see if this kind of backup is ideal for you or not. Cloud backup offers many benefits but like every other backup option, it has some drawbacks too.
#Advantages of Cloud Backup#
It is a convenient method to back up your data. You can easily make an account on one of the cloud servers and upload your data on it. You only need login details to create a cloud backup. There are no other steps involved in creating a cloud backup. Just an email and a password would do the trick. You can turn on the synchronization feature to automatically backup your data. It is an effortless way to back up your data.
Access to cloud everywhere
The data becomes accessible remotely and that is the biggest benefit of using a cloud server for backup. The cloud backup vs. local backup debate is incomplete without mentioning that cloud backup is always at hand. Unlike local backup, cloud backup is obtainable no matter where you are. It is just a click away which is not the case with other kinds of backup. 
Economic: less money but more storage space
Cloud backup is way more pocket-friendly than local backup. You do not have to buy a hard drive or SSD to create a backup. Cloud servers offer free storage up to a particular number as well. For instance, Google Drive gives you 15GB of storage space for free. Even if you exceed the limit, you will have to pay an insignificant amount to continue to utilize their service. 
Security: stay away from disasters, and cyberattacks
Cloud servers are generally a secure way to back up your data. Some people might not agree as they think that public cloud servers are not very secure. Private cloud servers are indeed more secure than public cloud servers but public cloud servers are not unsafe. You can rely on cloud servers to keep your data safe and secure. For businesses, cloud backup is a must-have to stay wary of cyberattacks and other threats. 
Scalability: upgrade storage space anytime
Cloud servers are very flexible. You can always upgrade the storage space. You do not have to keep buying new external hard drives to store your data. You can also customize your plan if you are a big business. Cloud backup vs. local backup has this major difference.
#Disadvantages of Cloud Backup#
Carefully peruse your contract and make sure your provider allows you to download your data upon the cancellation of the contract. In many cases, your data becomes invalid when the contract ends. Extend the contract in time and talk to your provider about how long your data will be available after the cancellation of the contract. 
It takes a lot of time to download your full backup from the cloud. It can take days for you to get all your data back to your computer. 
Certainly, there are times your cloud service is not syncing your data promptly, due to server downtime or internet interruption. Look for help if by chance OneDrive is not syncing issue arises.
What's Local Backup?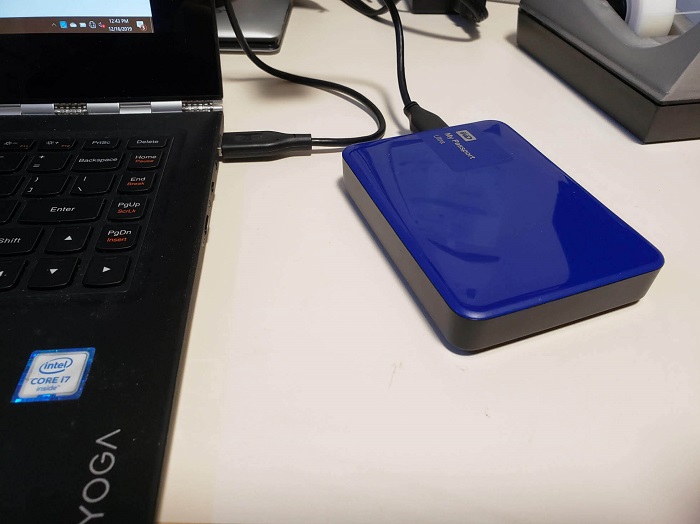 Local backup refers to the use of a local device to create your backup. Devices like a flash drive, hard disk, CD, external hard drive, and SSD, etc are used to create backups. It is quite a popular way to store your data but it also has pros and cons. 
#Advantages of Local Backup#
Manage the drive yourself
The greatest advantage of having a local backup is managing it yourself. You are not exposing your data to a third-party server. Your data is more secure this way. 
Multiple options to choose from
You can choose from many devices like HDD, USB flash drive, memory cards, hard disk, etc. You can select any device that suits you. Buy the device that meets your backup needs. 
#Disadvantages of Local Backup#
Vulnerable to physical disasters like your drive can catch fire or can get rusty. You can spill water on them accidentally. They can get lost or get stolen. All these are potential risks that can destroy your local backup. 
Device corruption due to improper use, or long time use
Local devices can get corrupted. They can get old after a long time and not work properly. 
They are prone to viruses and malware. They can get hacked. Local devices are often easy to hack and that is a major drawback. 
They can run out of space. You will have to buy a new device if you want more storage. They are not upgradable. 
Which Is Better? Cloud or Local?
We have given you an honest review of both options. The selection depends on your requirements. In most cases, you will need both backups. We recommend all businesses have both backups. This will be the safest way for them to never lose their data. If you are an individual who wants a backup of his picture and files, cloud backup is good enough for you. In case your data needs a lot of storage space, buy an HDD or SSD. Many people are cautious of uploading their data online as it is managed by the cloud server so they should also use an SSD. 
EaseUS Todo Backup Solution - A Comprehensive Cloud Backup and Local Backup Option
To have all your backup needs sorted, we recommend the EaseUS Todo Backup solution. You can get this tool to back up your data. It is the fastest solution to create a backup. 
#Main Backup Features#
Smart Backup - Every half an hour, a scheduled backup is performed in case you make any changes. You do not need to worry about losing your data with this brilliant feature. It automatically creates a backup freeing you from the stress of creating a backup again and again manually.
Cloud Backup - It is a feature that provides a safe backup for all your files. It is the best way to protect your files. Cloud backup can be accessed remotely. It is the greatest advantage of having a cloud backup. You do not have to carry an external disk everywhere. You can access your data from any corner of the world with just a click. 
Local backup feature - It supports a wide array of different locations from physical drive to network/NAS drive. This is important because without this feature you will face device compatibility issues. This feature ensures a smooth transfer of data between your desired devices.
Different backup options - It offers numerous backup options. You can backup systems, files, and even create a clone using this genius tool. 
#Other Useful Features#
Disk clone/partition clone
Outlook email backup & recovery
Universal Restore
Image- reserve Strategy 
It is a great tool to safely backup your data. It offers extra tools as well if you buy the business version. The pricing is very affordable. It is probably the most cost-effective tool you can buy on the internet. It also offers a free version for everyone looking for a free backup option. Perform all the backup tasks from the comfort of your home using this mind-blowing tool. If you are wondering how to backup files using the EaseUS Todo backup tool, we have compiled a super informative guide for you. You can backup your data in no time with this tool. EaseUs Todo backup tool will surely bring ease to your life. Scroll down to read the guide. 
Step 1. To start backup, click the Select backup contents.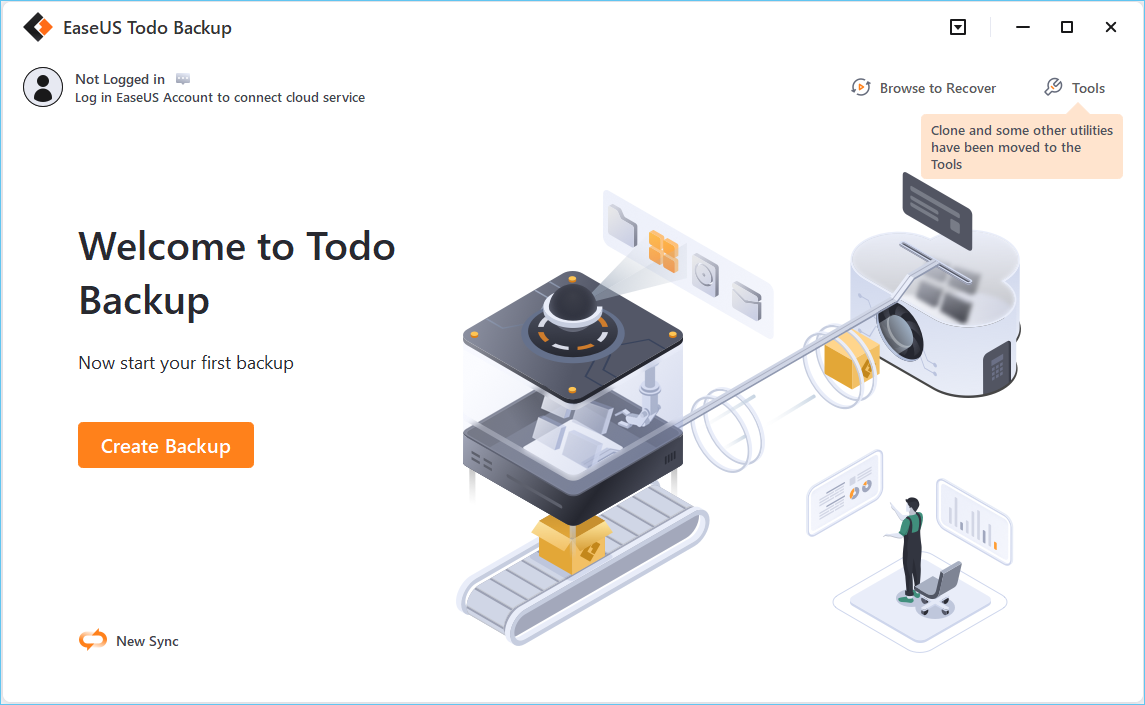 Step 2. There are four data backup categories: File, Disk, OS, and Mail.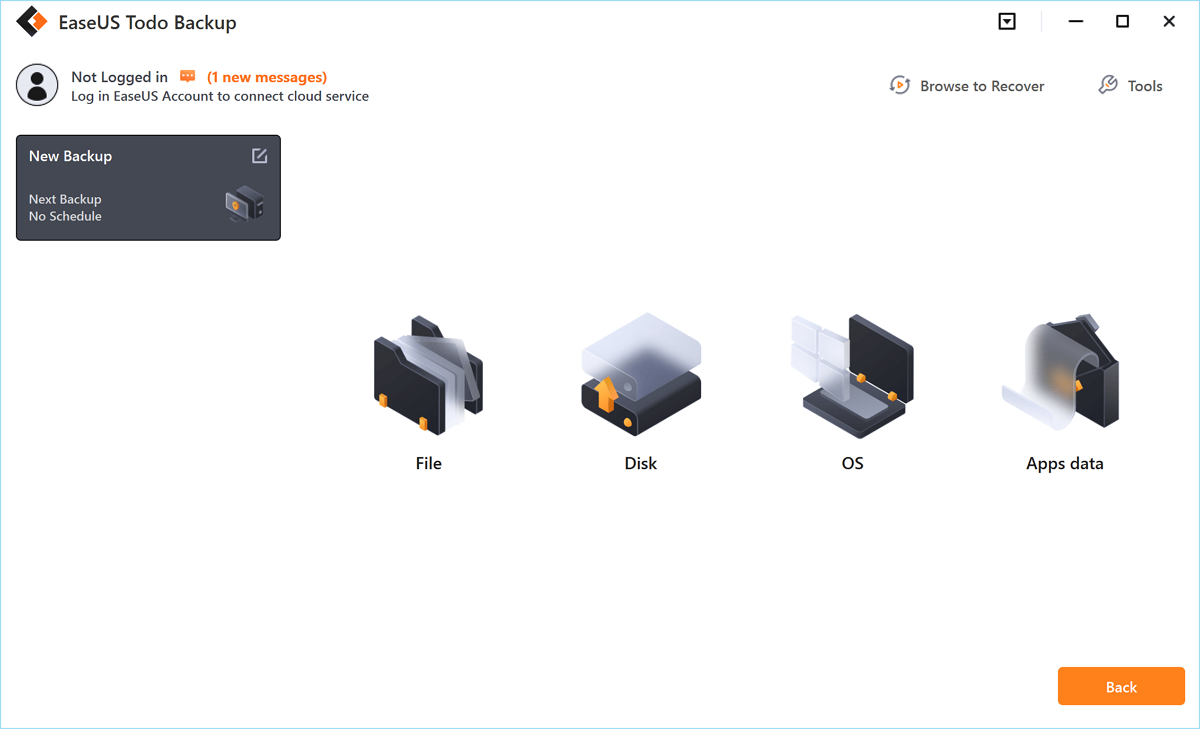 Step 3. On the left-hand side, you'll see a list of local and network files. Selecting the files to be backed up by expanding the directory.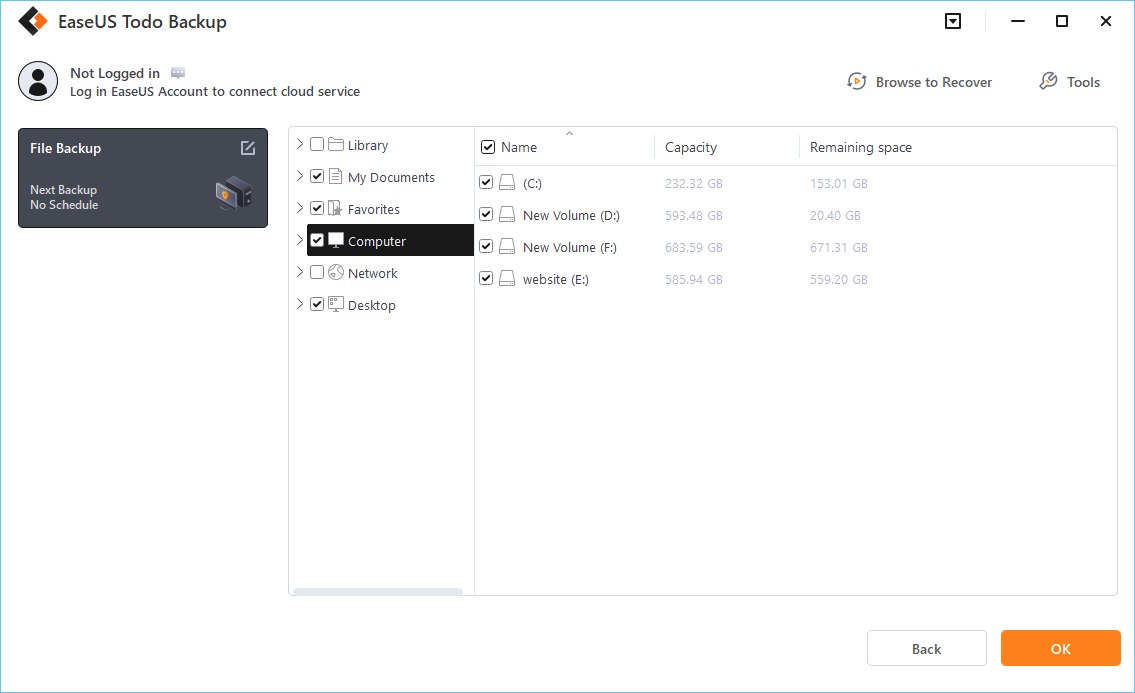 Step 4. Follow the instructions on the screen and pick the location where you wish to store the backup.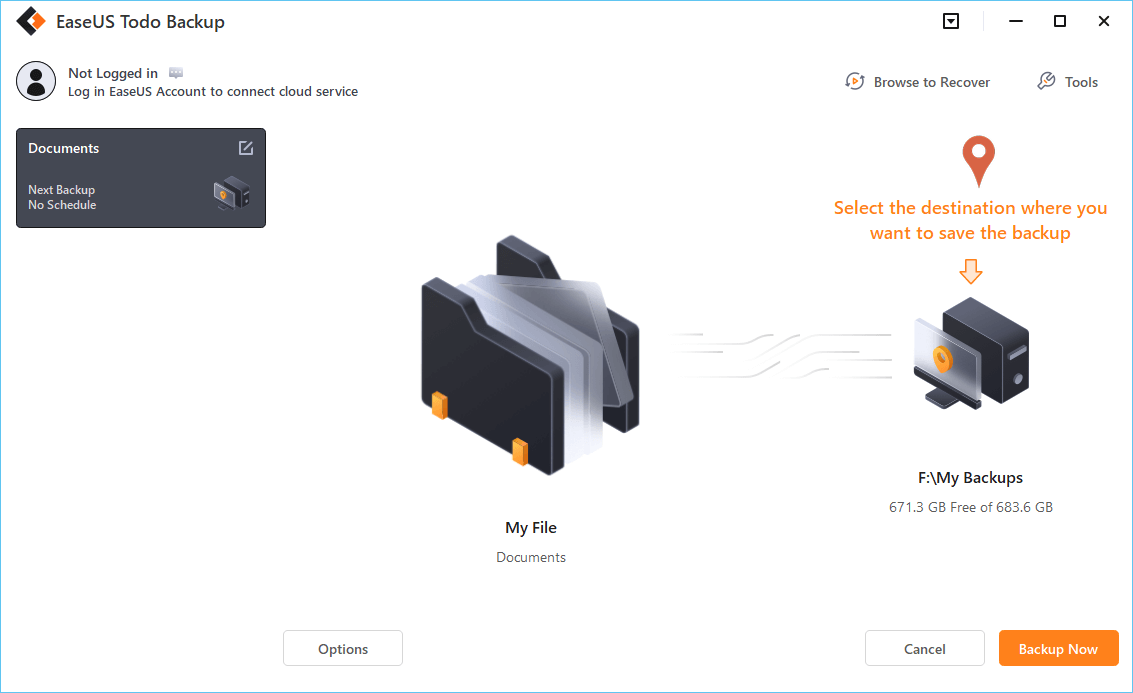 In Backup Options, click Options to encrypt the backup with a password, specify the backup schedule, and choose whether or not to start the backup at a certain event in Backup Scheme. There are a variety of customizable features available for you to explore, and you may tailor the backup operation to meet your specific requirements.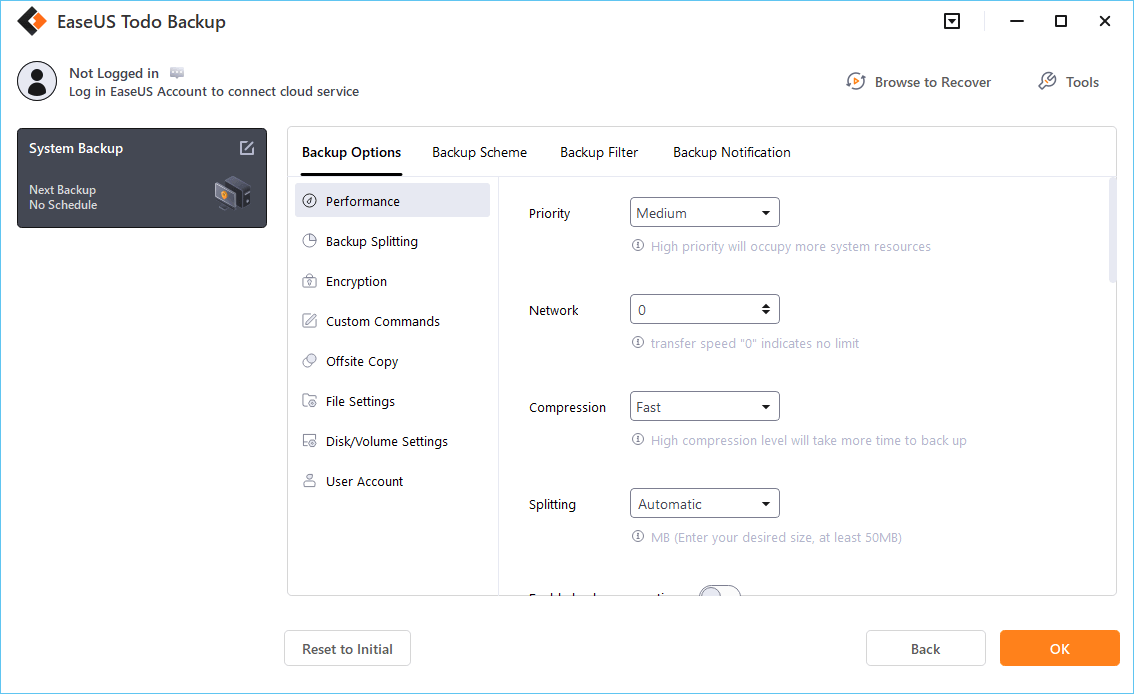 Step 5. Backups can be stored on a local disk, in EaseUS's cloud service, or on a network attached storage device (NAS).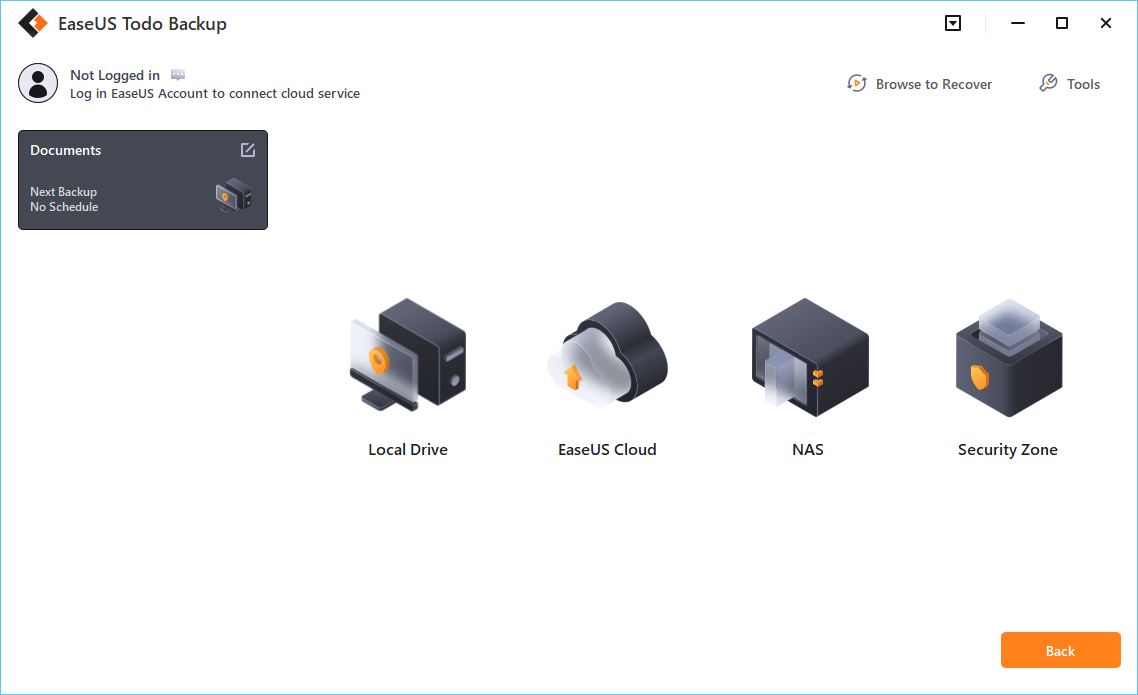 Step 6. EaseUS Todo Backup allows customers to back up data to a third-party cloud drive or the company's own cloud storage.
If you wish to back up your data to a third-party cloud drive, select Local Drive, scroll down to add Cloud Device and enter your account information.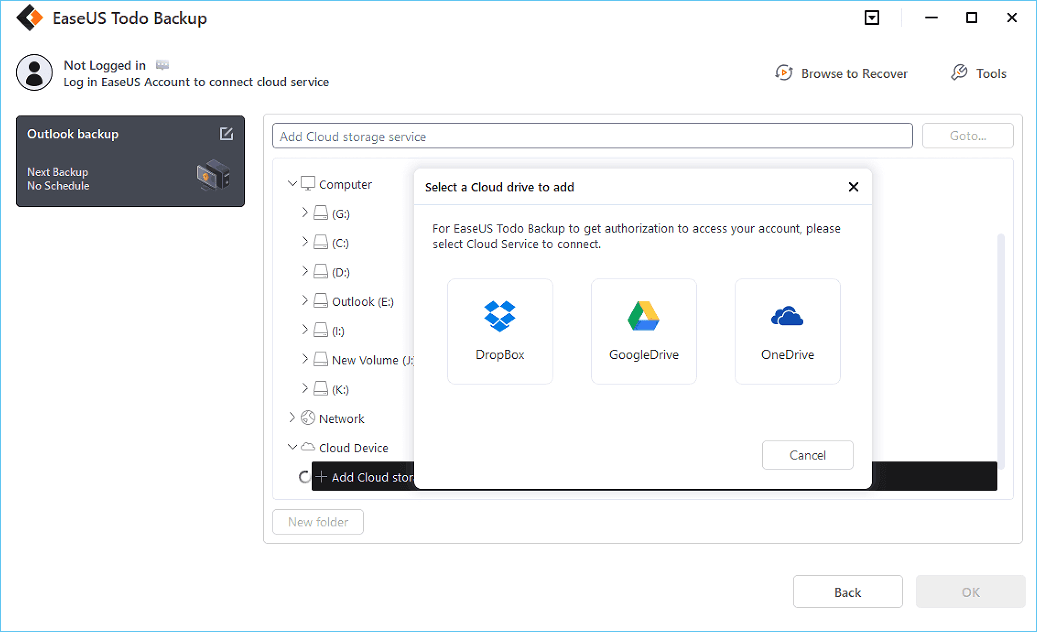 You may also use EaseUS's own cloud storage service. Click EaseUS Cloud, create an account using your EaseUS Account, then log in to your account.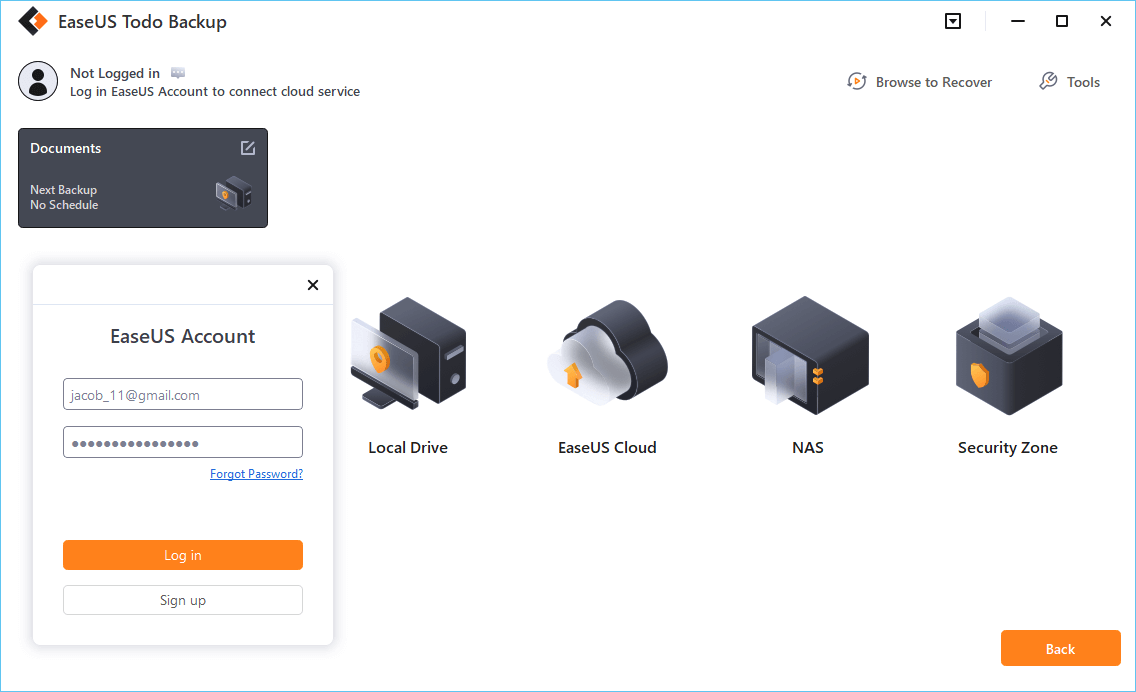 Step 7. To begin a backup, choose Backup Now. It will appear in the shape of a card on the left-hand panel when the backup process has been successfully finished. To handle the backup job in more detail, right-click on it.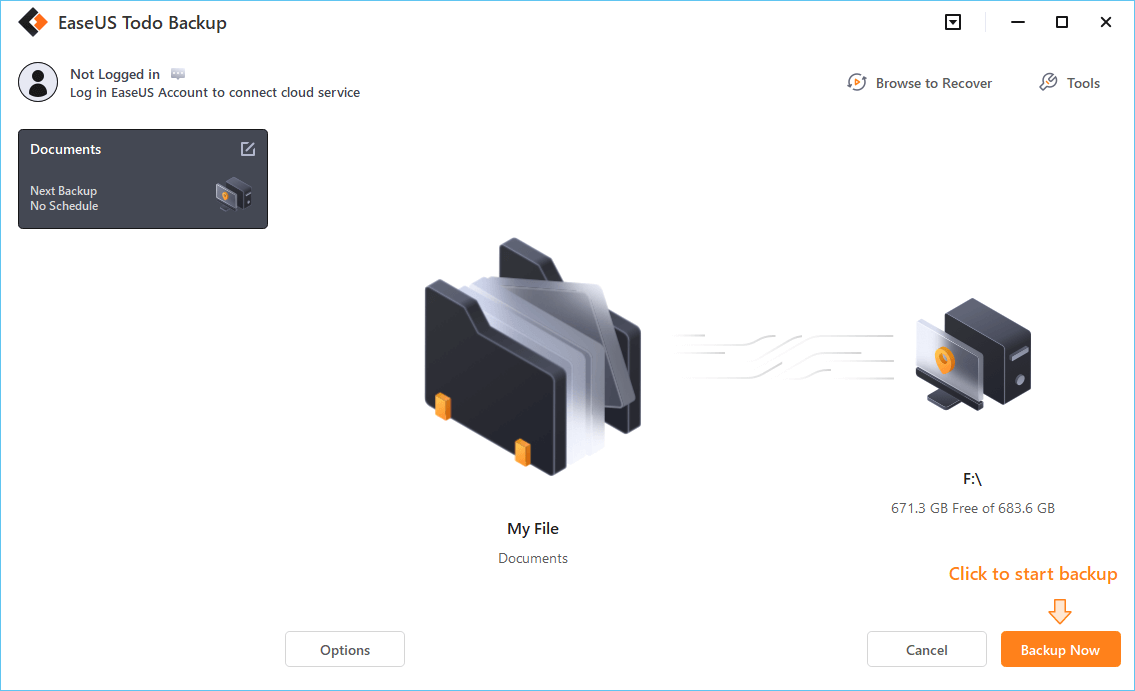 Jean has been writing tech articles since she was graduated from university. She has been part of the EaseUS team for over 5 years. Her special focuses are data recovery, disk partitioning, data space optimization, data backup and Mac OS. By the way, she's an aviation fan!
Taking everything into consideration, we can say that EaseUS Todo Backup Home can offer you a little extra sense of security with a set of advanced tools. The interface provides quick adaptation, every process guiding you all the way through so you don't get stuck or further damage your system rather than keeping it safe.

 Read More

EaseUS Todo Backup Free lets you create backups of your important files or your entire computer through its streamlined interface. Just choose the backup type you'd like to get started, and let the program do the reset.

 Read More

EaseUS includes all the features I expect from backup software like versioning, incremental backups, and scheduling. For more advanced users, EaseUS allows you to install a pre-boot environment onto your hard drive so you can use it to restore files without burning a CD or putting it on an external USB drive.

 Read More

EaseUS Todo Backup
Smart backup tool for your files and entire computer in Windows 10/8/7.
Install Windows on Multiple Computers at Once? No Problem!
Learn how to install Windows 11/10/7 and special programs/software on a batch of computers. Use 10 minutes to do the 10 hours work without making a single mistake!
Get Free Solution!