Microsoft Outlook stores a PST file that contains various important elements. This includes calendar events, messages, inboxes, outbox items, etc. The name PST stands for Personal Storage Table, and since it contains important elements, it's important to back it up.
But, how do you go about backing it up if you can't even find it? In this article, we're going to explore how you can find it by looking for the Outlook PST file location. Once you find it, you can back up and restore your Outlook, so let's get started and find this Outlook file location.
An Overview of Outlook PST File
Microsoft Outlook uses a variety of storage and configuration files to keep operating smoothly. One such file is the PST file, which stands for Personal Storage Table. This file stores all the personal data of a user, as indicated before. The data in this file include:
Emails such as inbox, outbox, draft, etc.;
Calendars and events;
Tasks, scheduled or otherwise;
Other data associated with the user's profile.
Depending on the type of user, this file is commonly stored within the computer or on the server storage. A lot of companies set it up so that the PST file can only be accessed by the administrator. However, in most cases, the computer with the Microsoft Outlook software contains the Outlook PST file location.
Looking for more information about Outlook backup? These articles may satisfy your needs:
How to Find Outlook PST File Location
Finding the location of the Outlook PST file is quite a straightforward affair. However, it might be a bit different for users on older Windows, such as Windows 7, 8, or the earlier builds of Windows 10, such as the 1507 version.
However, you don't have to dwell on the AppData local folder of Microsoft Outlook. You can easily find the location of your Outlook file by doing this:
Step 1: Open Microsoft Outlook on your PC.
Step 2. Head into the File option.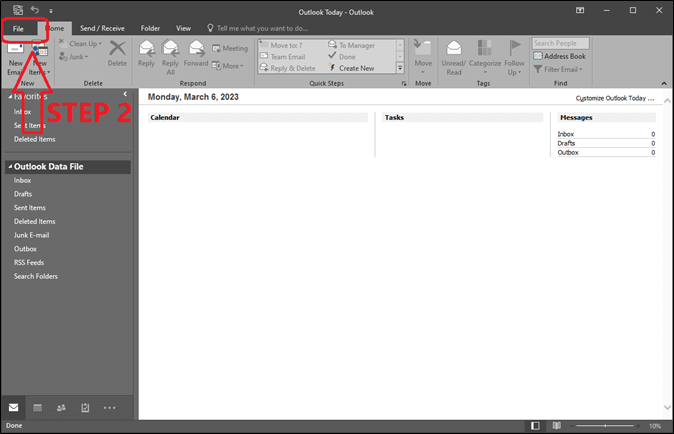 Step 3: Tap on Account Settings to trigger a drop-down menu.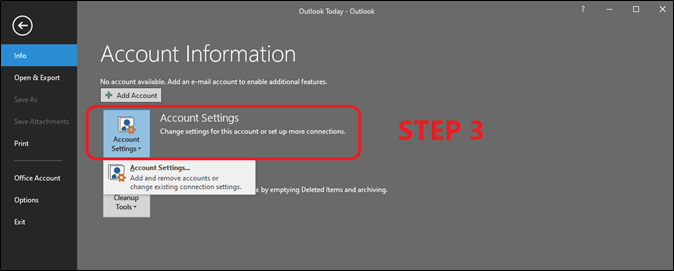 Step 4: Then tap on Account Settings once more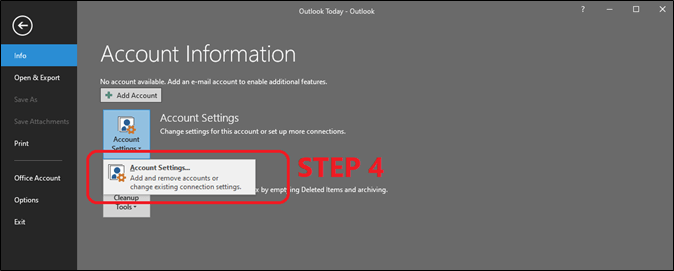 Step 5: In the account settings, switch to the Data Files tab.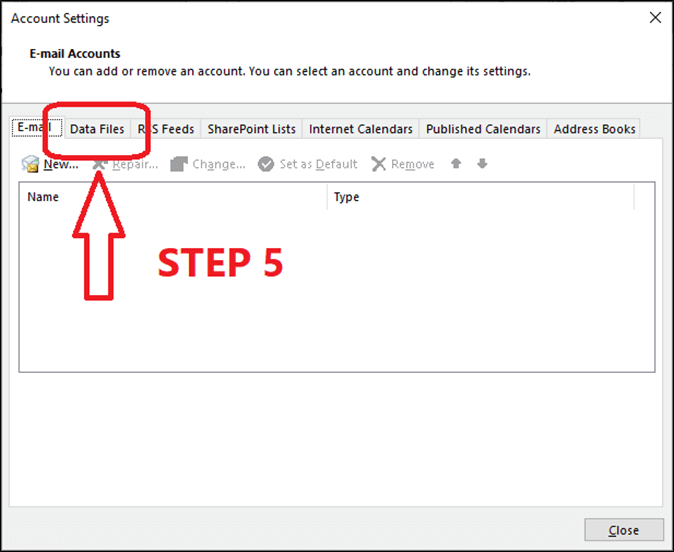 Step 6: Check your Outlook file location and tap on Open File Location…
Step 7: Check the file in the folder.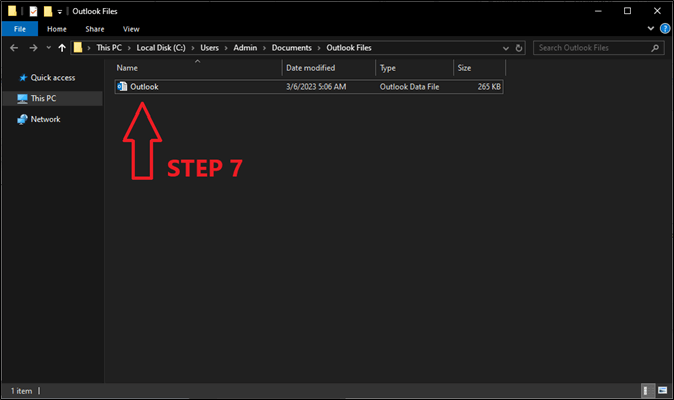 Once you find this Outlook PST file location, you can easily copy and paste it anywhere to back it up at a location of your choosing. This file contains all the important data of your Outlook profile. Therefore, finding the Outlook file location should ensure that you're able to create a backup easily.
How to Change/Move Outlook PST File Location
There are various methods to change or move the Outlook PST file location. One of the most common options you have is to change the Outlook PST file location from the Microsoft Outlook account settings. The other is the registry method. Here is how to do both:
Step 1: Open Microsoft Outlook.
Step 2: Head into the Account Settings once more.
Step 3: Stay in the E-mail tab this time.
Step 4: Find the Change Folder option.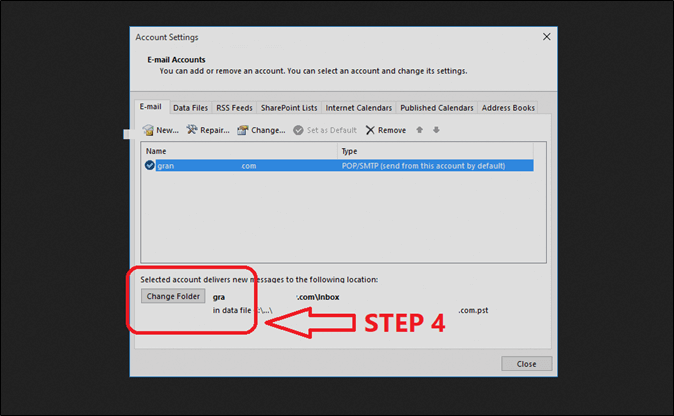 Step 5: Choose a location you wish to save the PST file, and press Close.
This method will ensure that the new file is saved on the location that you choose. However, the other method is to use the Registry Editor. Here's how you're going to do it:
Step 1: Press Windows + R and type Regedit.

Step 2: Copy and paste the following location into the registry address bar
"HKEY_CURRENT_USER\Software\Microsoft\Office\16.0\Outlook"
Step 3: Right-click anywhere, then select New and click on Expandable String Value.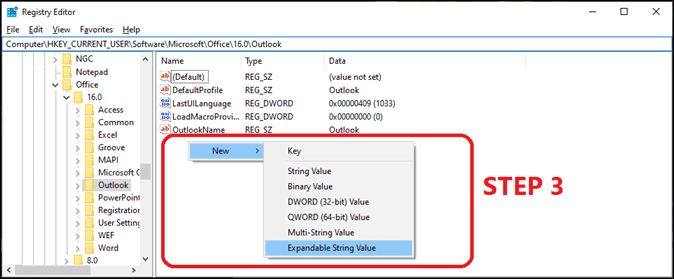 Step 4: Name the entry ForcePSTPath.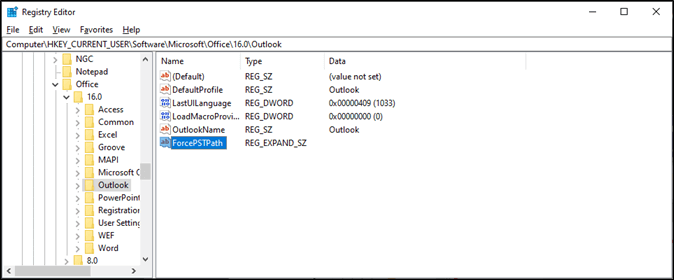 Step 5: Right-click the ForcePSTPath entry and click on Modify.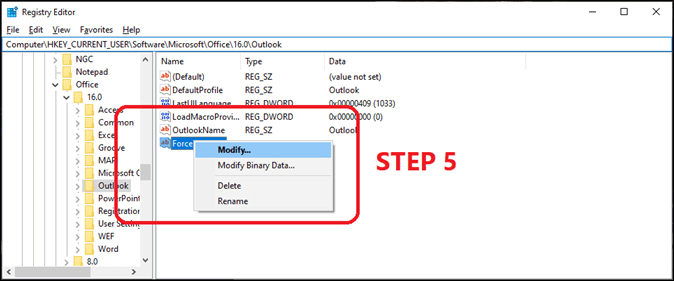 Step 6: In the next dialogue box, type/paste the new file location for your PST File.
Step 7: Press OK and close the Registry editor.
Once you do this, you will have to restart your PC for the setting to take effect. Once done, the new path that you have entered will be the default PST file location on your MS Outlook 2016 or others.
Backup Outlook PST File to Keep it Safe
The final and perhaps most important thing you should do is keep your PST file safe by creating a thorough backup for it. Therefore, you're going to need a professional tool that can help you secure your PST file, and the tool we're talking about is EaseUS Todo Backup.
This exceptionally reliable tool allows you to create a full, incremental backup and differential backup. This allows you to save your files easily and quickly. So, how do you go about using it for your Outlook PST file? Here's how:
Step 1. Download and install EaseUS Todo Backup on your computer. Click the "Create Backup" button on the main interface.
Step 2. You got to make a backup of your software applications, so go with the option by clicking "Apps data".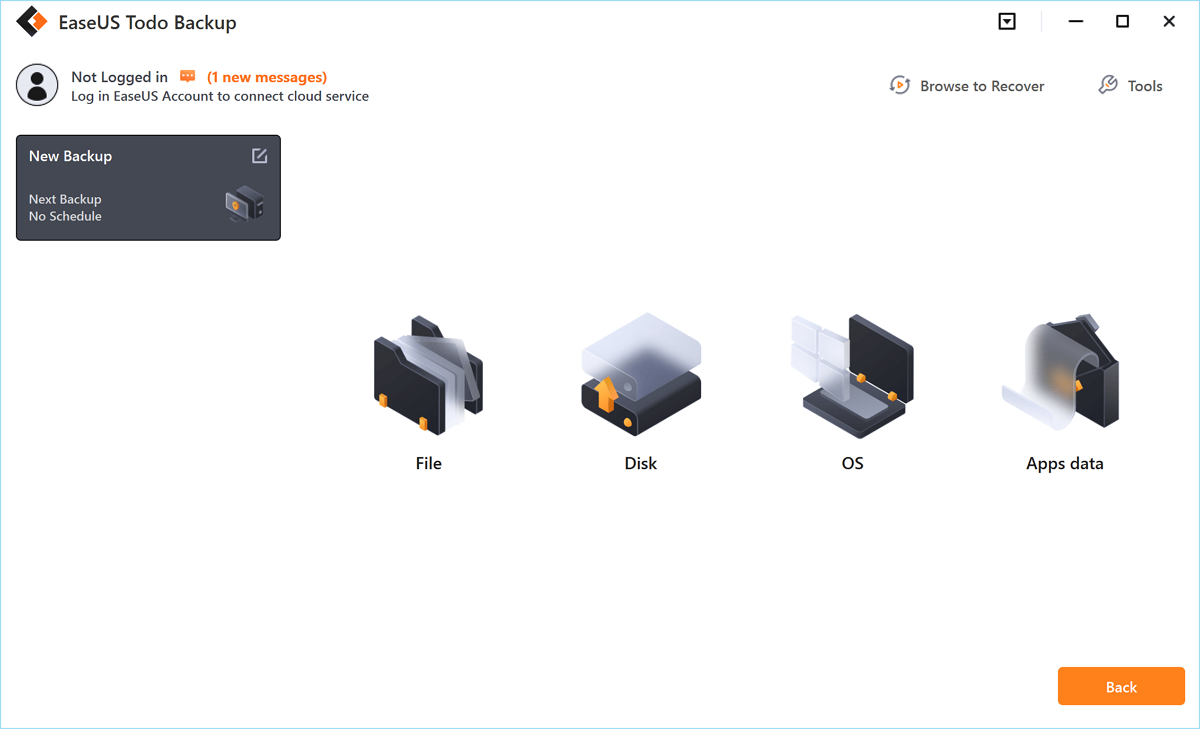 Step 3. All the apps that can be backed up are shown on the screen. (Outlook is supported now, and we will gradually develop and support more application backups, such as game applications and other mailboxes like thunderbird, Gmail, Microsoft 365 applications, and so on.) Scroll down to find the app that you need to back up, and click "OK".
Step 4. Follow the guidance and select a place where you want to store the backup. It is recommended that you choose Cloud service, NAS, or an external hard drive to avoid the computer failing or crashing.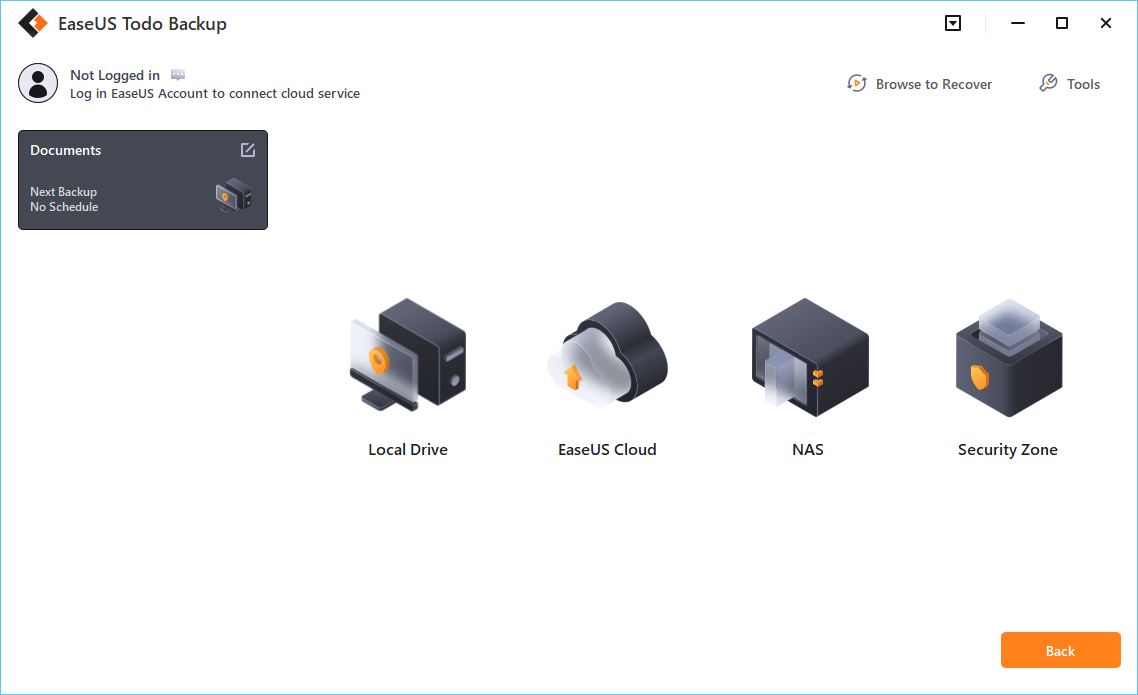 Step 5. You can set customized backup by clicking the"Option" button. It allows you to set a scheduled backup daily, weekly, monthly, or upon an event. It sets differential or incremental backup according to your needs.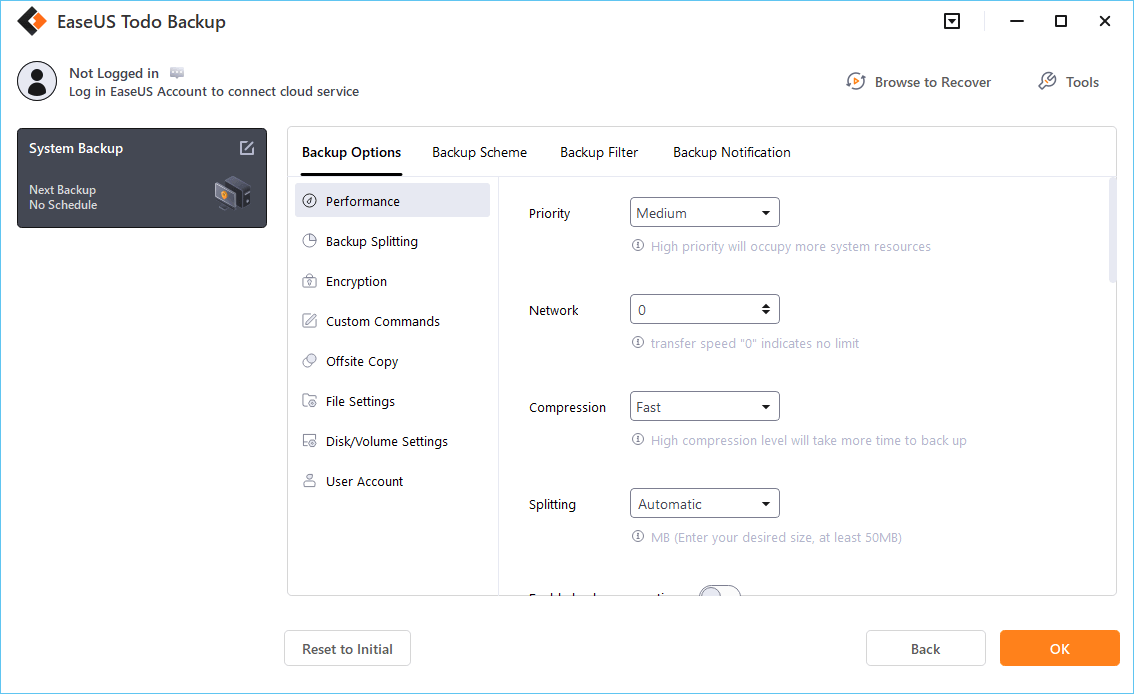 Step 6. When you finish settings, click "Backup now" to start the backup process. The time will depend on the size of your source data, but it won't take too much time.
Outlook PST File Location FAQs
1. Where is the Outlook PST file in Windows 10?
In most Windows 10 builds, you can find the Outlook PST file in the same location as the others. You can either head in to Account Settings into your Outlook, or copy or paste this address into the Explorer's address bar:
"C:\Users\Admin\Documents\Outlook Files"
Either of the two ways will take you to the PST file in Windows 10.
2. What is the PST file and where it is located?
PST file stands for Personal Storage Table and it stores messages, calendar events and other personal information of a user profile in Microsoft Outlook. It's located usually in the \Documents\Outlook Files folder.
3. Why can't I find my PST file?
It might be that your PST file has been corrupted. Therefore, you will have to use your backup, and if you don't have one already, try to restore an older version of your PST file to minimalize the damage of a corrupted PST file.
Was this page helpful? Your supoport is truly important to us!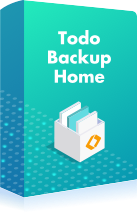 EaseUS Todo Backup
EaseUS Todo Backup is a dependable and professional data backup solution capable of backing up files, folders, drives, APP data and creating a system image. It also makes it easy to clone HDD/SSD, transfer the system to different hardware, and create bootable WinPE bootable disks.
Updated by

"I hope my articles can help solve your technical problems. If you are interested in other articles, you can check the articles at the bottom of this page, and you can also check my Facebook to get additional help."…

Read full bio

Written by

Larissa has rich experience in writing technical articles. After joining EaseUS, she frantically learned about data recovery, disk partitioning, data backup, and other related knowledge. Now she is able to master the relevant content proficiently and write effective step-by-step guides on computer issues.…

Read full bio