Are you feeling short of storage at this moment? Are you searching for larger free cloud storage? If yes, stay connected with us till the end to explore the world of opportunities more.
Free cloud storage is something that grabs the attention of almost everyone. A wide range of service providers today provides a lot of free online storage space that you can use for storing your data online, sharing photos and videos, and listening to your favorite tracks.
How to Understand 1TB Storage?
TB is an acronym used for Terabyte. It is a unit of digital data where 1 TB equals 1 trillion bytes. The majority of people today rely on cloud services to store all kinds of data, such as video photos, documents, and other things, which is the main reason they need to have larger storage space. 
1TB storage is a huge number that is more than enough for many people. In simple words, it is 1000 GB. If we explore the things in detail, this amount of storage is quite sufficient for storing about 250,000 photos taken with a 12 MP camera. It can also store about 6.5 million document pages, files, and presentations. 
From downloading wedding videos to saving games like GTA 5 and Watch Dogs, 1TB of storage can efficiently do all these things.
Chat with Our Experts!
Click here to contact our experts for a free evaluation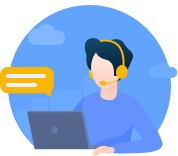 Start a live chat with an EaseUS Expert to tailor an enterprise backup solution specific to your requirements. We are here to assist you with the following as well:
Commence a free trial
Obtain a quotation
Arrange a free demonstration
How to Get 1TB Free Cloud Storage?
Cloud storage services have become quite common these days. One can easily find a wide range of service providers in the marketplace providing free cloud storage to the users. The free cloud storage provided by the services is usually limited. If you search the marketplace, you will hardly provide a free cloud storage solution providing you with 1TB of space. The main reason is that 1TB of cloud storage space is enormous and usually exceeds the profit line.
Despite many limitations, you can still find some good plans that offer free cloud storage from 5GB to 250GB. This amount of cloud storage space is quite enough for enjoying personal usage.
We are here to provide you with one of the best cloud storage solutions available in the market that offers you enough free cloud storage capacity, security, functionality, and performance along with absolute sync, backup, and recovery.
Let's read about the features of each.
Top 1. EaseUS Todo Backup (250GB Free Cloud Storage)
EaseUS Todo Backup is a one-click backup and instant recovery software offering 250GB of free cloud storage without hassle. The one-click backup solution ensures users have instant recovery with higher efficiency. Users here are free to perform disk imaging and can save backups in safe conditions. Since backups can be large, and external storage can run short of it, the additional 250Gb space helps. The cloud storage space comes free though one can easily opt for the enterprise package here at $49.00.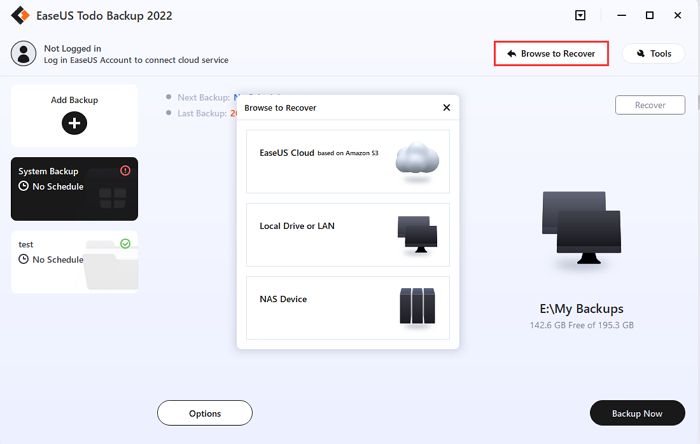 Pros:
No Setup Free
Ensures disk imaging and backup saving
One-click backup solution
Ensures instant recovery of data
Value for money option
Offers 250 GB of free storage
Cons:
Available only for Windows.
Here are some specific steps for you to get free storage by using this tool:
Step 1. To start backup, click the Select backup contents.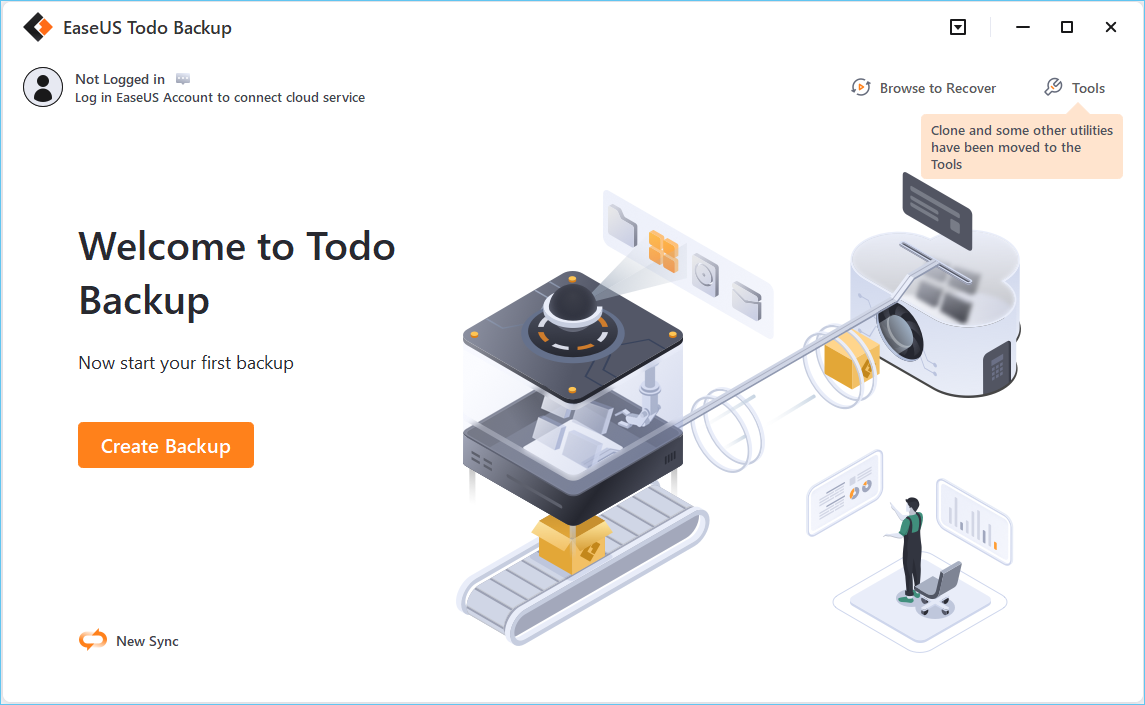 Step 2. There are four data backup categories: File, Disk, OS, and Mail.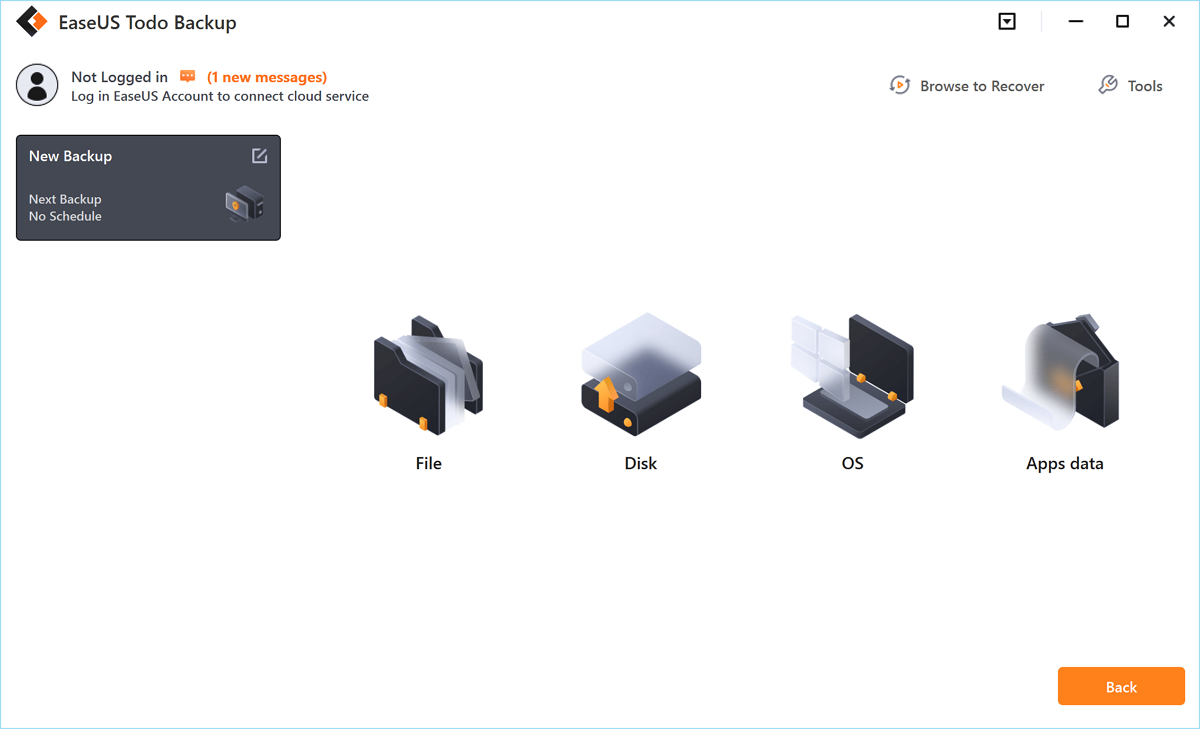 Step 3. On the left-hand side, you'll see a list of local and network files. Selecting the files to be backed up by expanding the directory.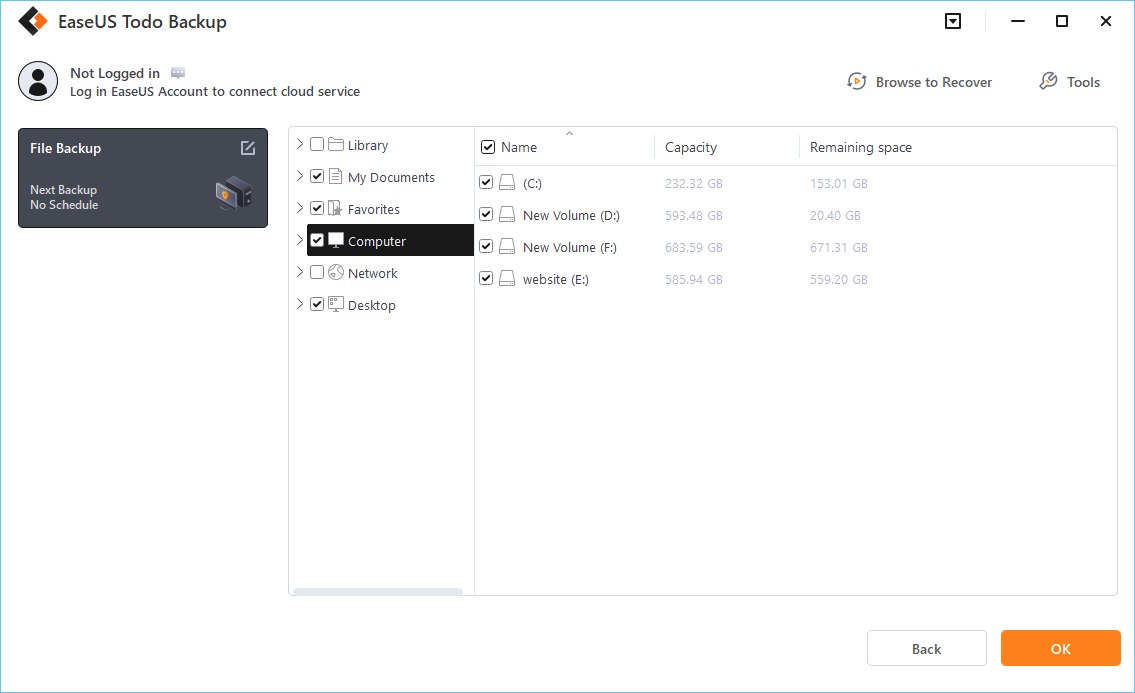 Step 4. Follow the instructions on the screen and pick the location where you wish to store the backup.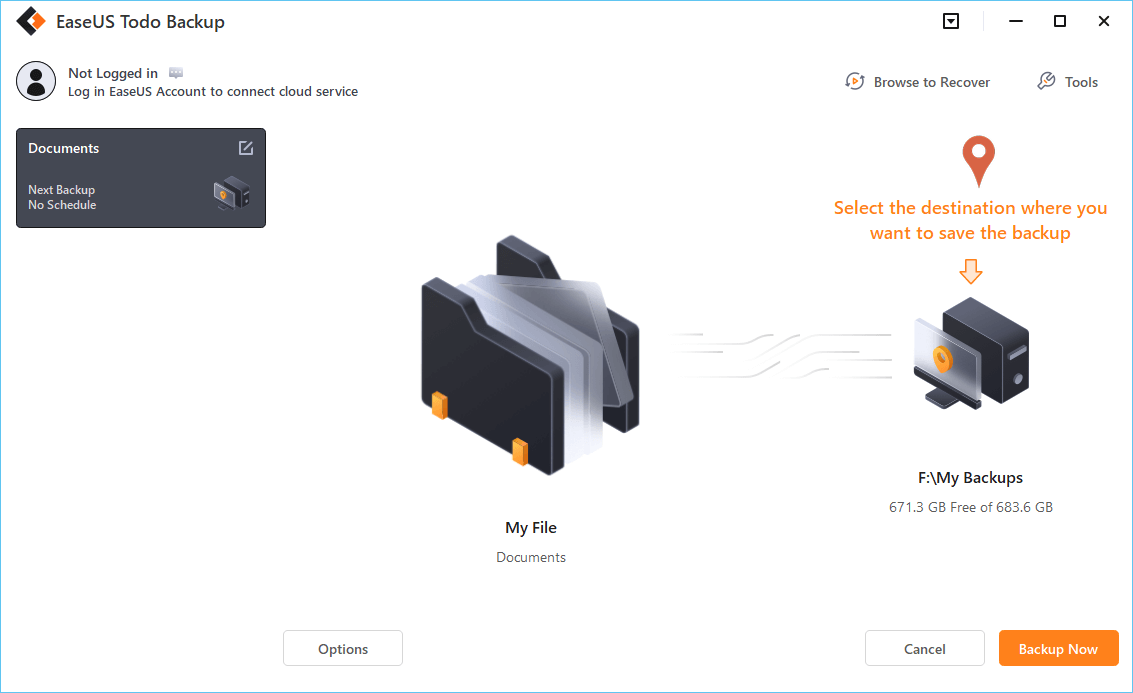 In Backup Options, click Options to encrypt the backup with a password, specify the backup schedule, and choose whether or not to start the backup at a certain event in Backup Scheme. There are a variety of customizable features available for you to explore, and you may tailor the backup operation to meet your specific requirements.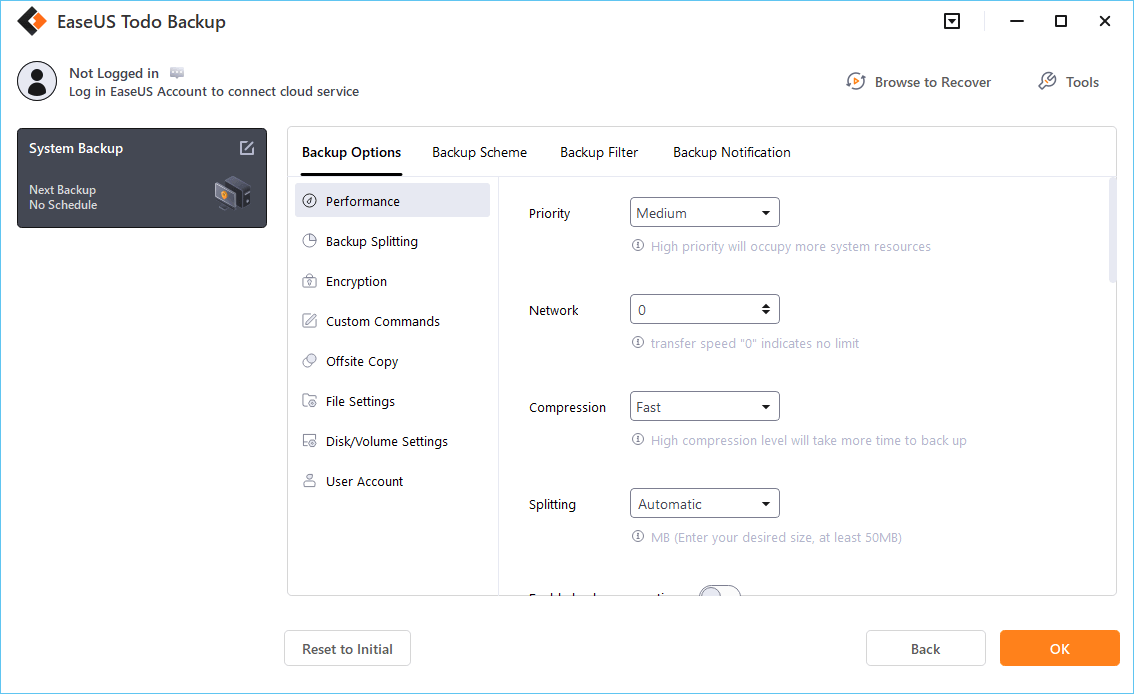 Step 5. Backups can be stored on a local disk, in EaseUS's cloud service, or on a network attached storage device (NAS).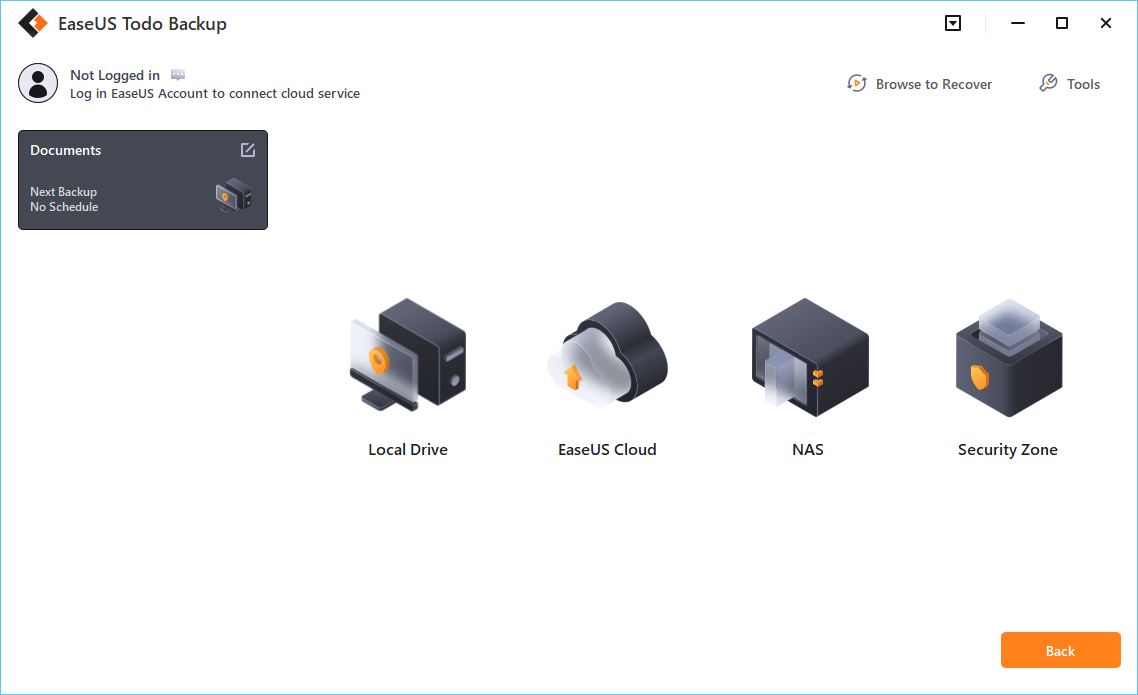 Step 6. EaseUS Todo Backup allows customers to back up data to a third-party cloud drive or the company's own cloud storage.
If you wish to back up your data to a third-party cloud drive, select Local Drive, scroll down to add Cloud Device and enter your account information.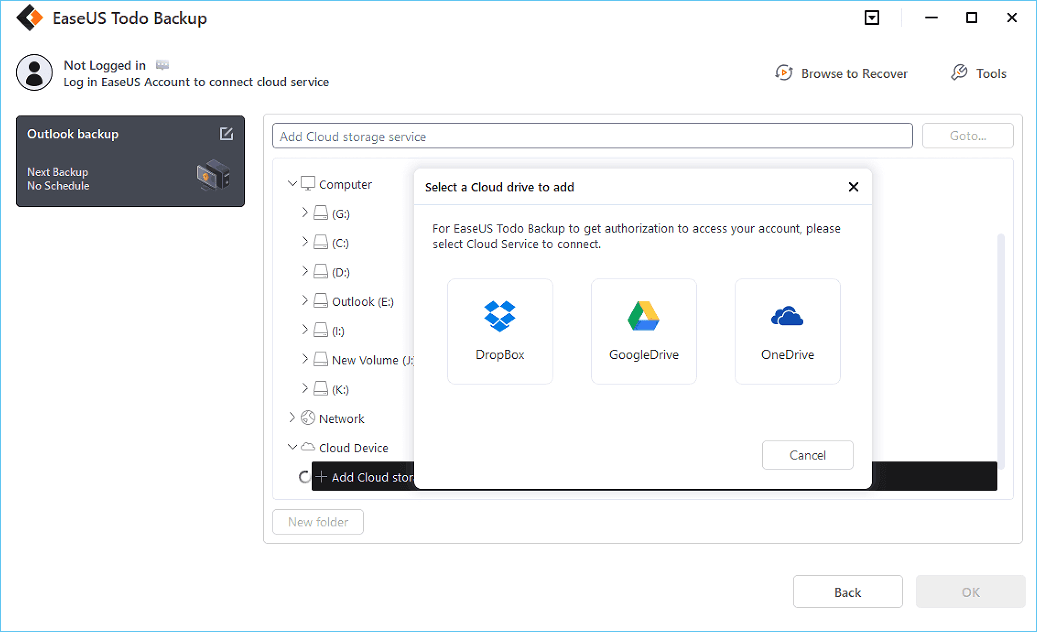 You may also use EaseUS's own cloud storage service. Click EaseUS Cloud, create an account using your EaseUS Account, then log in to your account.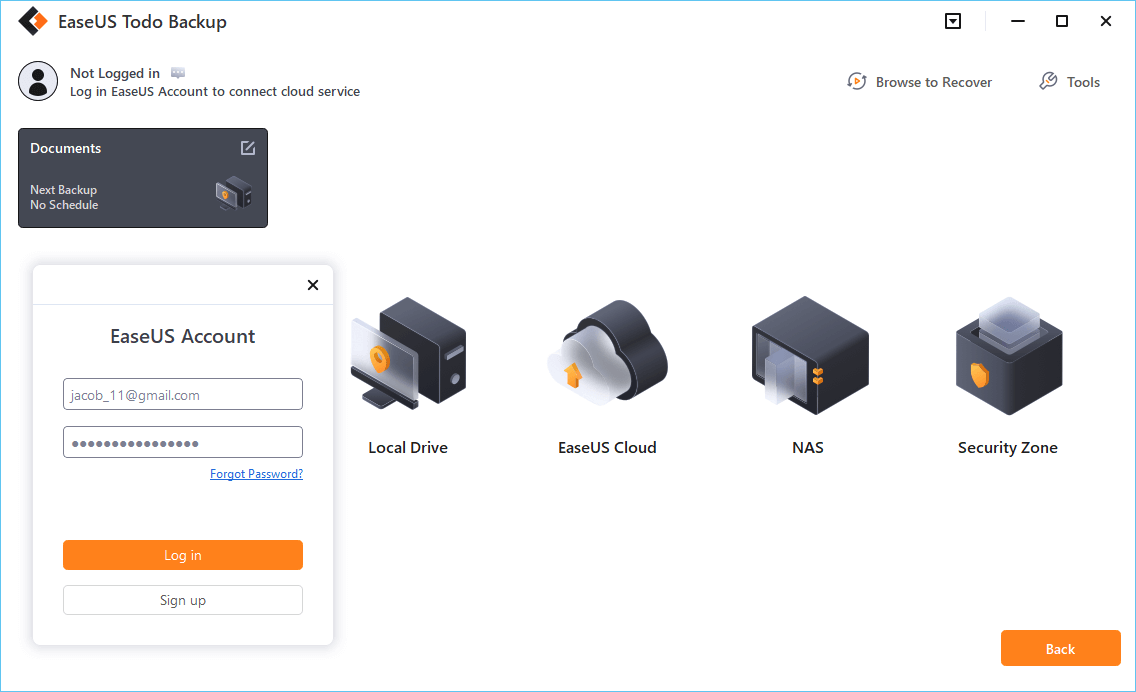 Step 7. To begin a backup, choose Backup Now. It will appear in the shape of a card on the left-hand panel when the backup process has been successfully finished. To handle the backup job in more detail, right-click on it.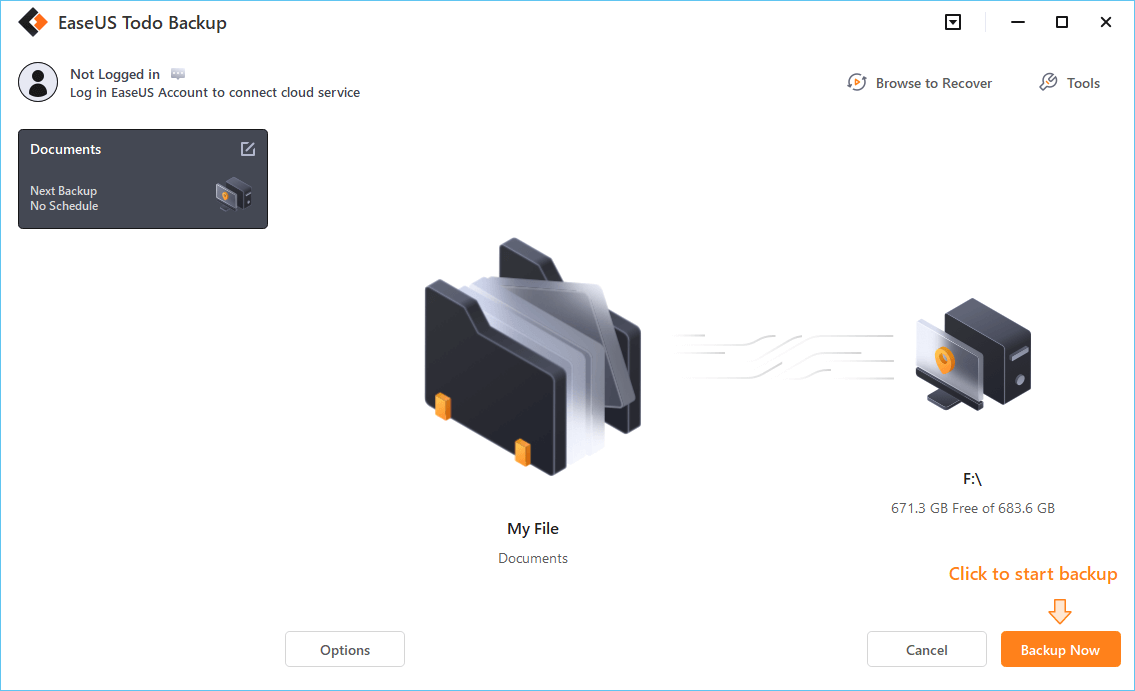 Top 2. YouTube (Free Unlimited Video Storage) 
YouTube offers free unlimited video storage space to users. It is not only a perfect video streaming service but also a cloud video platform. Users here can easily store different videos effortlessly, even if they are not public. 
Since it doesn't count against the Google Drive storage space, you can upload any number of videos and virtually any size. According to the official listing, the maximum file size you can upload is 256 GB or 12 hours, whichever is less.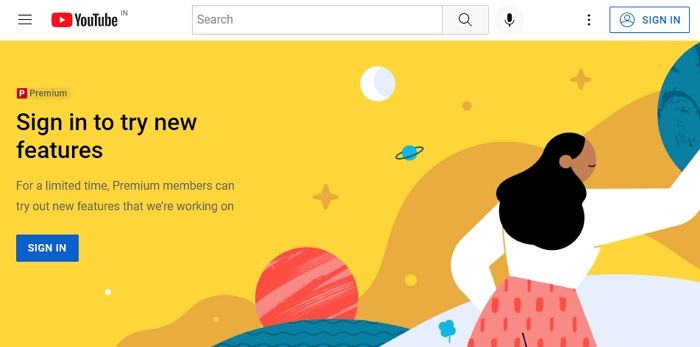 Pros:
Offers unlimited video storage space
Absolute cloud video platform
Ensures free streaming over a wide range of videos
It offers an easy preview of the stored services
Cons:
It doesn't guarantee backup of the stored videos.
Top 3. Degoo
Degoo is another excellent cloud storage solution that offers users 100GB of free storage and a cloud backup service aiming to improve users' productivity. The platform offers mobile device support. Users here can opt for unlimited storage space at the cost of $7 per month.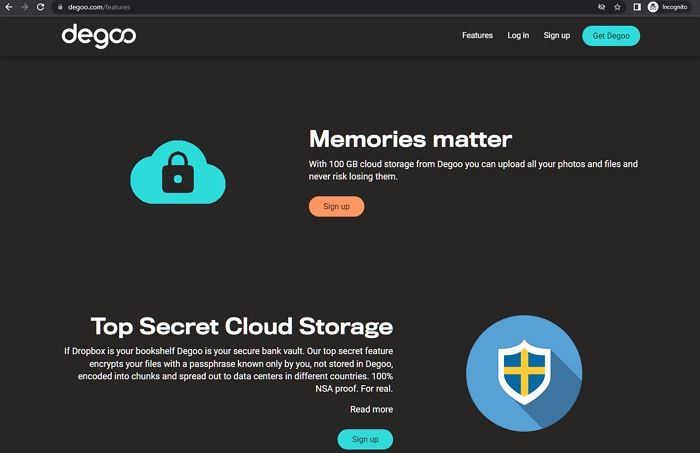 Pros:
100GB free storage
Ensured mobile device support
Great value for money
Improved productivity
Cons:
It doesn't provide easy syncing
Top 4. Koofr (10GB Free Cloud Storage)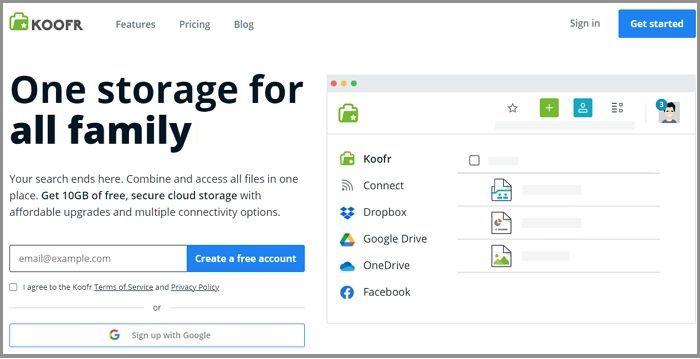 Koofr is solid cloud storage with GDPR protection offering users about 10GB of storage space. The platform aims to provide third-party integrations without any hassle. Users here are free to link to the other cloud storage accounts and can easily manage the different files stored on them while sitting in one place. The paid plans are expensive and charge about $ 2.36 per month for 100GB of cloud storage space.
Pros:
EU-based cloud solution
Quite convenient to use on
Ensures good speed 
Cons:
It doesn't feature zero-knowledge security
Top 5. Google Drive (15GB Free Cloud Storage)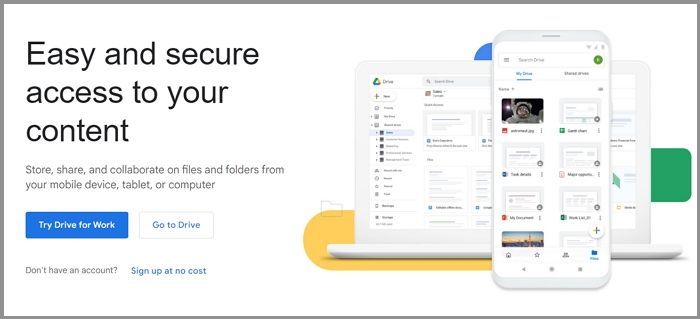 Google Drive is one of the best free cloud storage solutions that offers users 15GB of free cloud storage. The platform tends to provide seamless integration with Google docs and can also provide the best backup to your google photos. The platform is designed to be highly convenient to use. The best thing about this cloud storage solution is that it features tools and apps for almost all types of files. The platform charges up to $1.99 per month for enjoying 100GB of cloud storage space. 
Pros:
It can be easily integrated with google services
Provides 15GB of free cloud storage
Designed to be extremely easy to use
Works great for collaboration
Cons:
The privacy regulation included are quite unclear
Top 6. Microsoft OneDrive (5GB Free Cloud Storage)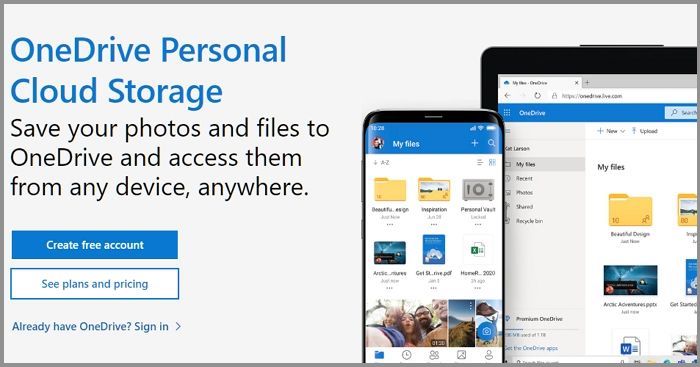 OneDrive is one of the absolute cloud solutions for Windows users offering free 5GB of cloud space. The platform offers easy integration with cloud storage. The platform helps users directly integrate Microsoft's mobile and desktop apps. Users can easily use this cloud service for storing Word Documents and other Microsoft Office files. Users of Microsoft OneDrive can easily opt for 100GB of cloud storage at the cost of $1.99 per month.
Pros:
Ensure users have good collaboration with the integrated tools
It can be easily integrated with Office 365 & Windows
Easy-to-use interface
You can easily store your Word documents
Cons:
It doesn't provide zero-knowledge security
Editor's Pick - EaseUS Cloud Storage is Overall the Best Pick for Free PC Backup to Cloud
Finding free cloud storage solutions has no longer remained a hectic task now. We have added one of the six leading best free cloud storage solutions for you that not only help you provide unlimited cloud storage but are pretty effective in providing related backup. If we talk about picking the best one, EaseUS Cloud Storage is one of the leading options that will take on the crown of the winner here. 
It is one of the finest cloud storage solutions that ensure free backup to your files, photos, documents, videos, operating systems, and even the entire hard drive. The best thing about this cloud solution is that it offers the users 250GB of free space to store a vast range of data and documents. 
FAQ on Free Cloud Storage Available
What free cloud storage is available?
As we mentioned in the post, EaseUS Cloud Backup, YouTube, Degoo, Koofr, Microsoft OneDrive, and Google Drive are all excellent Cloud storage services. EaseUS Cloud Backup is our most recommended because it offers 250 GB of free Cloud storage space.
How do I get 1TB of Cloud storage for free?
So far, no Cloud service offers 1TB of free Cloud storage. You can refer to the following information to choose the one that fits you:  
EaseUS Cloud Backup: 250GB of free Cloud storage
OneDrive: 5GB of free Cloud storage
Google Drive: 15GB of free Cloud storage
iCloud: 5GB of free Cloud storage 
Degoo: 100GB of free Cloud storage
Koofr: 10GB of free Cloud storage
Yandex.Disk: 10GB of free Cloud storage
pCloud: 10GB of free Cloud
Was this page helpful? Your supoport is truly important to us!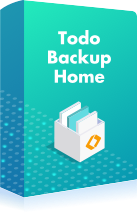 EaseUS Todo Backup
EaseUS Todo Backup is a dependable and professional data backup solution capable of backing up files, folders, drives, APP data and creating a system image. It also makes it easy to clone HDD/SSD, transfer the system to different hardware, and create bootable WinPE bootable disks.
Updated by

"I hope my articles can help solve your technical problems. If you are interested in other articles, you can check the articles at the bottom of this page, and you can also check my Facebook to get additional help."…

Read full bio

Written by

Jean is recognized as one of the most professional writers in EaseUS. She has kept improving her writing skills over the past 10 years and helped millions of her readers solve their tech problems on PC, Mac, and iOS devices. …

Read full bio