Adding email accounts signatures, rules, etc., in Microsoft Outlook is cumbersome and time-consuming. As a result, it's imperative to back up the user's Outlook profile before making any changes. Additionally, it saves you time when transferring account information and the user's Outlook profile to a new computer. Detailed information on how to back up Outlook profiles will be discussed in this article.
What Is an Outlook Profile & Why Need to Backup It
An Outlook profile is a critical part of your Outlook. The profile includes the accounts, data files, and settings that define where your email messages are saved.
When you initially use Outlook, it will automatically create a new profile. Outlook saves each email account you add to the profile. You can also customize profiles if you wish to manage your email accounts more effectively. When you want to update your Windows to a new operating system, you can back up your Outlook profile in case something goes wrong. Therefore, all you need to do for Outlook email accounts and password backup is to back up your Outlook profile.
Without ado, I will show you how to back up your Outlook profile on Windows in the next part. Keep reading.
Export Outlook Profile Using Windows Registry
Outlook maintains profiles as registry keys, unlike other email clients that keep them as folders. Thus, you can back up the profile via the Registry.
Windows Registry is a hierarchical database storing low-level settings for the Windows operating system and applications that use the registry. To back up your Outlook profile, you can use Registry to export the profile. Please do as follows:
Step 1. Type Registry Editor in the search box to open it.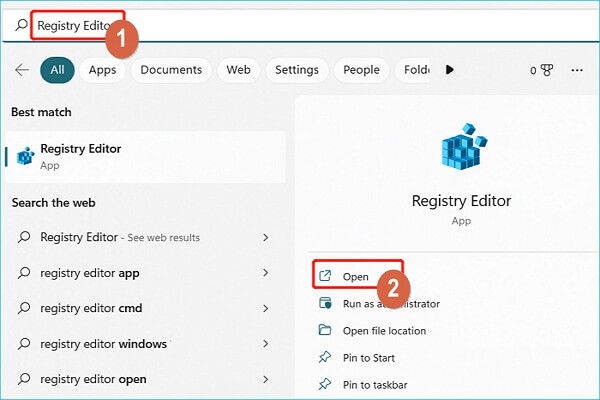 Step 2. When Register Editor opens, Find the Outlook profile folder.
 Tip

Different Outlook versions have different location paths. You can try to find the Outlook profile folder with the following paths.

Outlook 2010 and 2007: HKEY_CURRENT_USER\Software\Microsoft\Windows NT\CurrentVersion\Windows Messaging Subsystem\Profiles

Outlook 2013:

HKEY_CURRENT_USER\Software\Microsoft\Office\15.0\Outlook\Profiles

Outlook 2016/Outlook 365: HKEY_CURRENT_USER\Software\Microsoft\Office\16.0\Outlook\Profiles
Step 3. Right-click on the profile folder and select Export.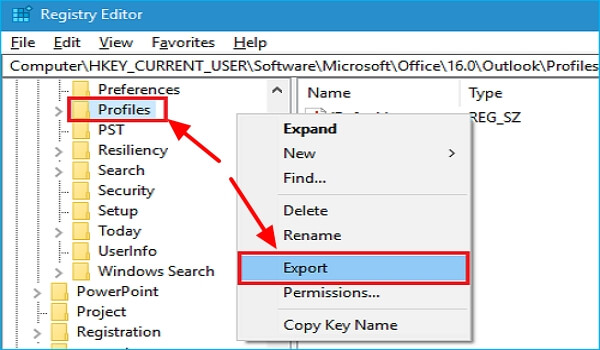 Step 4. In the next window, please select where you wish to save the file, name it, and click on Save. Ensure the "Save as type" is set to "Registration Files (*.reg)".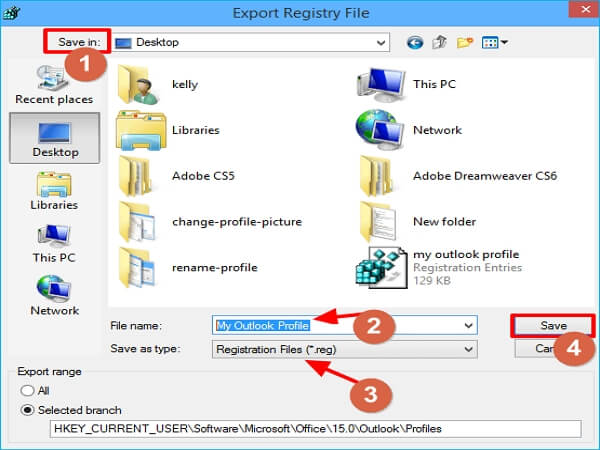 Step 5. Exit the Register Editor window.
The Outlook profile backup was successful. You may find the backup file by going to the target location.
Is Outlook Profile Backup Enough
We all know that emails play a pivotal role in today's world, both for work and for life. Outlook is among Windows's most widely used email programs due to its features and simplicity. You may add as many email accounts as you like to Outlook and manage them all in one location. Losing the Outlook profile will be a tragedy for Outlook users because it contains your essential accounts, data files, and settings.
However, only backing up your Outlook profile is not a troubleshooting method to protect all your Outlook data. Other data on Outlook, including emails, contracts, etc., still stand a chance of losing. Therefore, it will be better to back up your Outlook instead of the Outlook profile. So, what can we do to help keep our Outlook safe and sound? The answer is using Outlook backup software.
Outlook Backup: Better Solution to Protecting Outlook Data
When it comes to Outlook backup, you may wonder what backup software should choose from the available software on the market. Do not worry. Here, I will introduce the best Outlook backup software: EaseUS Todo Backup, to you.
EaseUS Todo Backup Home is a professional backup and recovery software for Windows computers. It can allow its users to back up Outlook emails and create various backup types, including full, incremental, and differential backups. It also enables you to back up PC game saves and your favorite games, such as Minecraft worlds, Red Dead Redemption 2, Cyberpunk 2077, etc. The following are some valuable features:
Automatically back up files, systems, disks, etc.
250G free cloud storage.
Security Zone to safeguard data.
The following are the detailed steps to back up your Outlook.
Step 1. Launch EaseUS Todo Backup on your computer, and click Create Backup on the home screen and then hit the big question mark to select backup contents.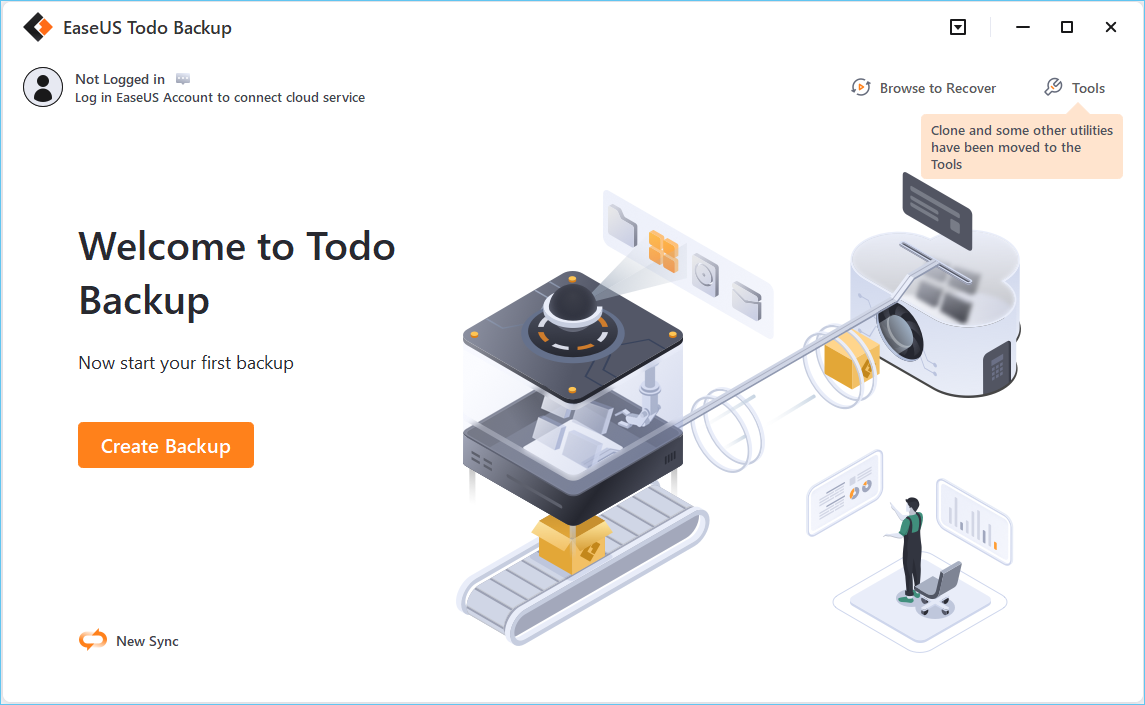 Step 2. Among the four backup options, click "Apps data".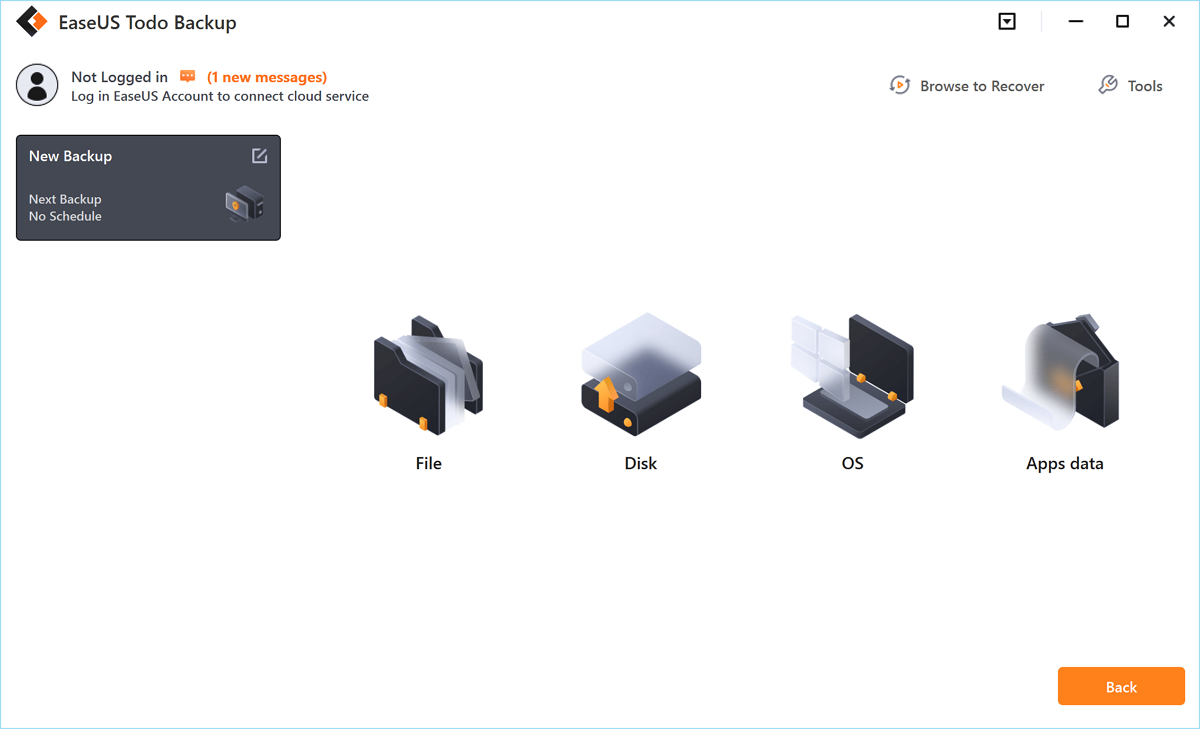 Step 3. Then you can see all the apps that can be backed up. Find and chekc the "Microsoft Outlook" option. Select the mailbox addresses you want to make a backup of the mails, contacts or calendars and click "OK".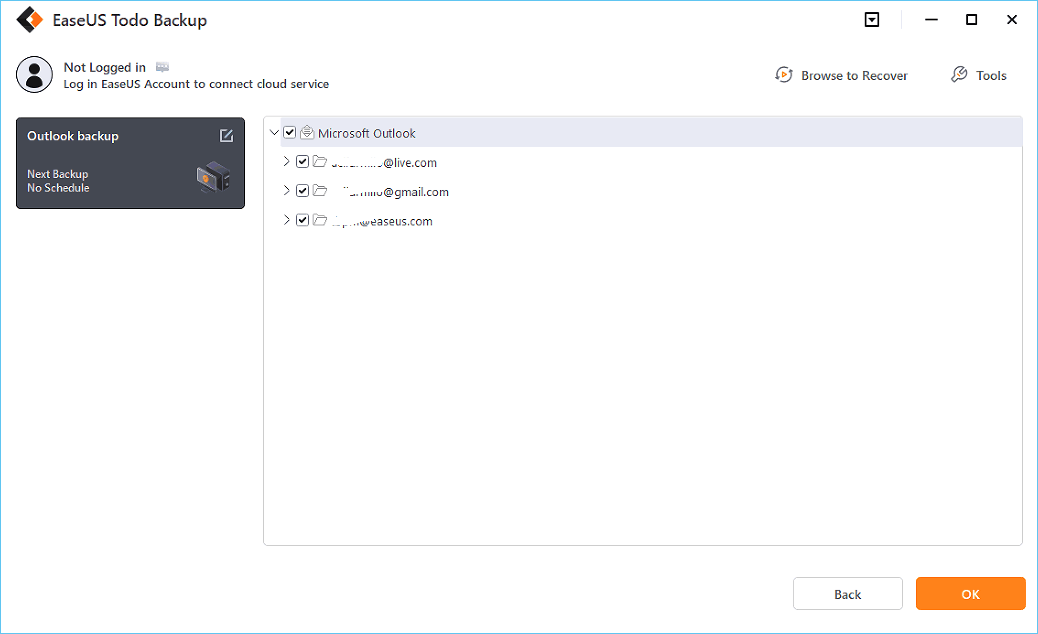 Step 4. Next, you'll need to choose a location to save the Outlook backup by clicking the illustrated area.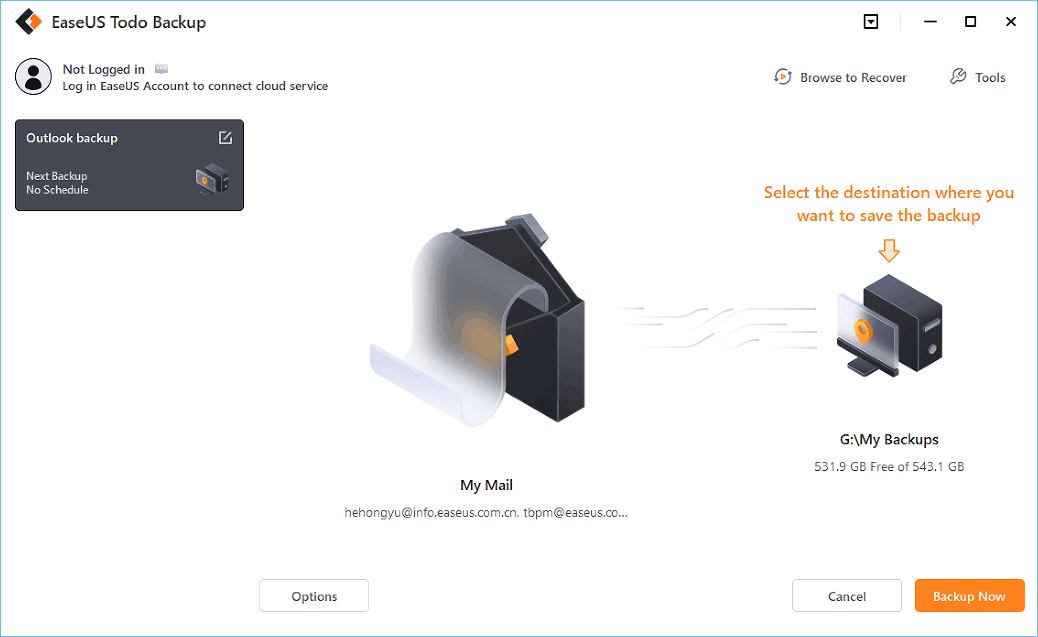 Step 5. The backup location can be another local drive on your computer, an external hard drive, network, cloud or NAS. Generally, we recommend you use an external physical drive or cloud to preserve the backup files.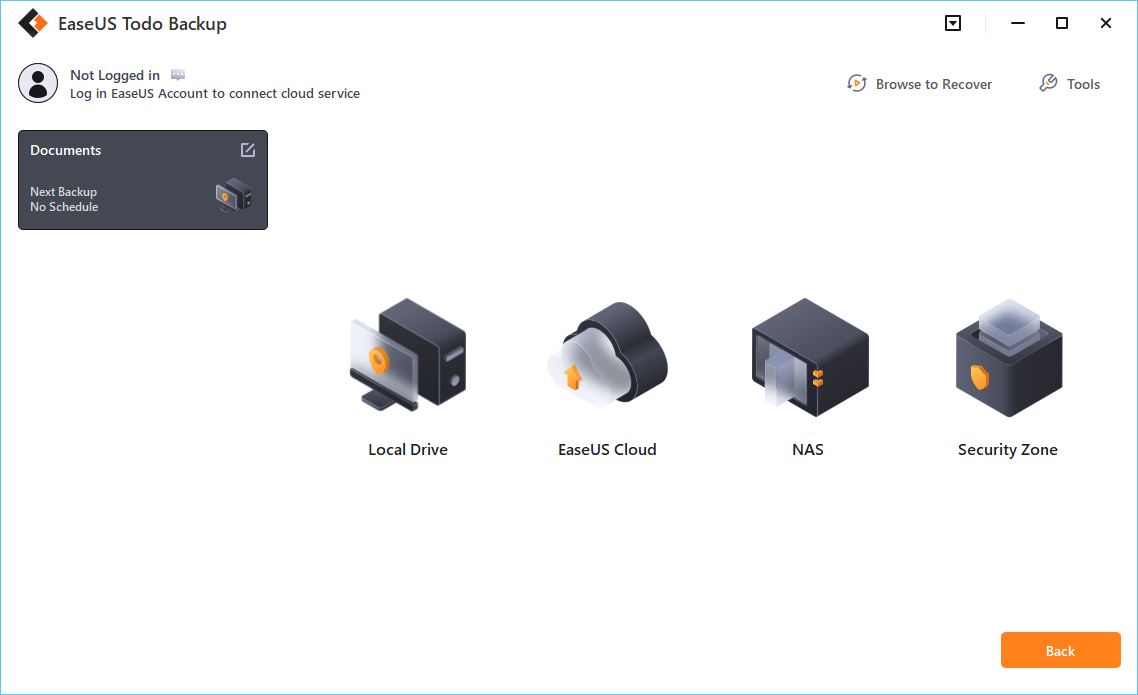 Step 6. Cusomiztion settings like setting an automatic backup schedule in daily, weekly, monthly, or upon an event, and making a differential and incremental backup are available in the Options button if you're interested. Click "Backup Now", and the Outlook backup process will begin. The completed backup task will display on the left side in a card style.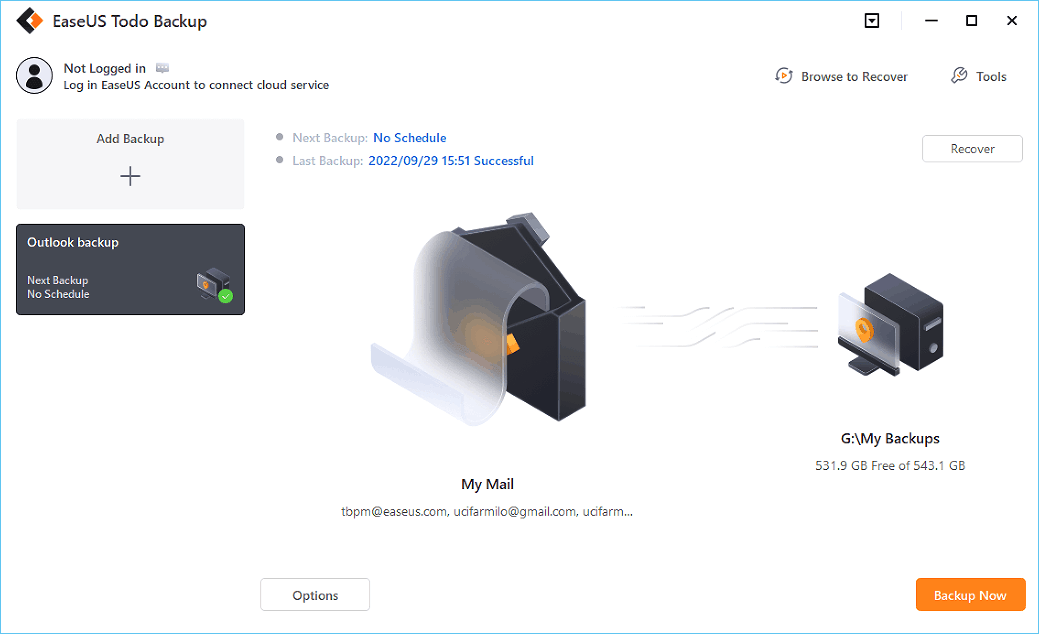 The Final Say
That is all about how to backup Outlook profile. Backing up your Outlook profile is not as challenging as you might expect. You can use the way in this article to help you back up your Outlook profile easily. 
But what needs your attention is that Outlook profile backup is not enough to protect your Outlook data. Therefore, we suggest you try EaseUS Todo Backup Home to create a backup of your Outlook. It can not only allow you to back up your data on the computer but also easily restore the backup data to the computer. So, what are you waiting for? Try it!
FAQs
1. What happens when you remove an Outlook profile?
Deleting a profile will delete all email accounts stored in the profile. Any Personal Folders Files (. pst) related to that profile will keep on your computer. But if you want to access data, you need to open the Personal Folders File from another profile.
2. How do I create an empty Outlook profile?
After pressing the Windows key, type Run. Type Outlook.exe / PIM in the Run window, then click OK. By doing this, a new Outlook profile without an email address will be created.
3. Where are Windows profiles stored?
You can right-click the Start menu, choose Run, type %userprofile%, and then press Enter. You will be redirected to the profile folder. It might contain some secret folders, such as AppData.
Was this page helpful? Your supoport is truly important to us!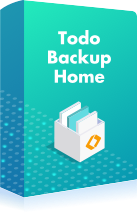 EaseUS Todo Backup
EaseUS Todo Backup is a dependable and professional data backup solution capable of backing up files, folders, drives, APP data and creating a system image. It also makes it easy to clone HDD/SSD, transfer the system to different hardware, and create bootable WinPE bootable disks.
Updated by

Daisy is the Senior editor of the writing team for EaseUS. She has been working in EaseUS for over ten years, starting from a technical writer to a team leader of the content group. As a professional author for over 10 years, she writes a lot to help people overcome their tech troubles.…

Read full bio

Written by

"I hope my articles can help solve your technical problems. If you are interested in other articles, you can check the articles at the bottom of this page, and you can also check my Facebook to get additional help."…

Read full bio