Are you looking for trustable and user-friendly SanDisk SSD Backup Software to back up your data? You will find what you want on this page. Please continue reading to know why it is essential to back up your data, and 2 optations SanDisk SSD Backup Software to easily back up everything on your SanDisk SSD card.
Everything About SanDisk SSD Backup Software
With the fast growth in the digital generation, protecting our data in case of loss has become vital. We may lose our data due to computer crashes, virus attacks, hackers, ransomware, and natural disasters. The SanDisk SSD Backup Software is an excellent way to back up valuable data (documents, photos, music, videos, files, etc.) from any device on your SanDisk SSD Backup USB flash drive.
Here are SanDisk Backup Software Key Features:
User-friendly: One-touch backup button.
Support incremental backup, automatic backup, and Live Backup
Can access an earlier version of a file by going back in time.
Custom Configuration
Cross-Platform Support: Windows and Mac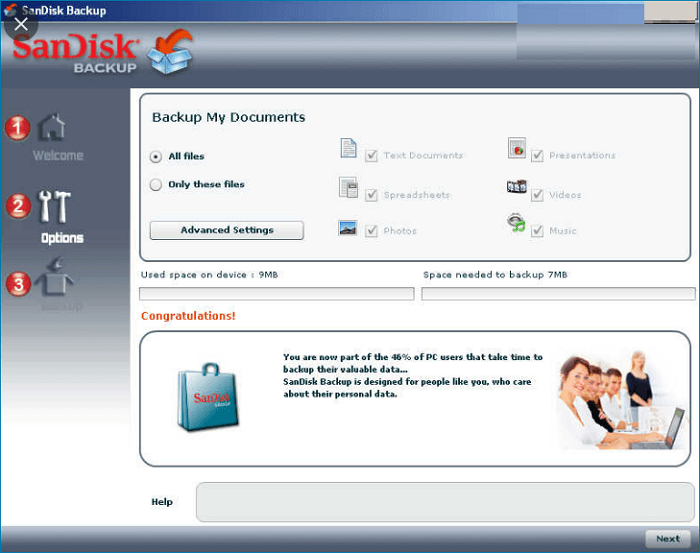 How to Use the SanDisk SSD Backup Software
Notices before beginning your backup:
1. Supported operating systems: Windows 7/Vista/XP.
2. Supported backup type: Only support file backup. It doesn't support system backup or disk backup.
3. Required Hardware: Available USB Por and SanDisk Ultra Backup USB flash drive
4. Supported Internet Browsers: Windows Internet Explorer (v5.0 and higher) and Mozilla Firefox (v1.0 and higher)
If your equipment can't meet the requirement above, you can choose EaseUS Todo Backup as an alternative. This backup software has more functions to meet your needs. We will introduce its highlighted features later.
If your equipment meets all the needs. you can begin your backup. Here is a step-by-step guide to tell you how to use SanDisk SSD Backup Software.
Step 1. Plug the drive into a USB port on your computer. Then it will play automatically and detect the drive. If installed correctly, the Ultra Backup should appear in the Device Manager.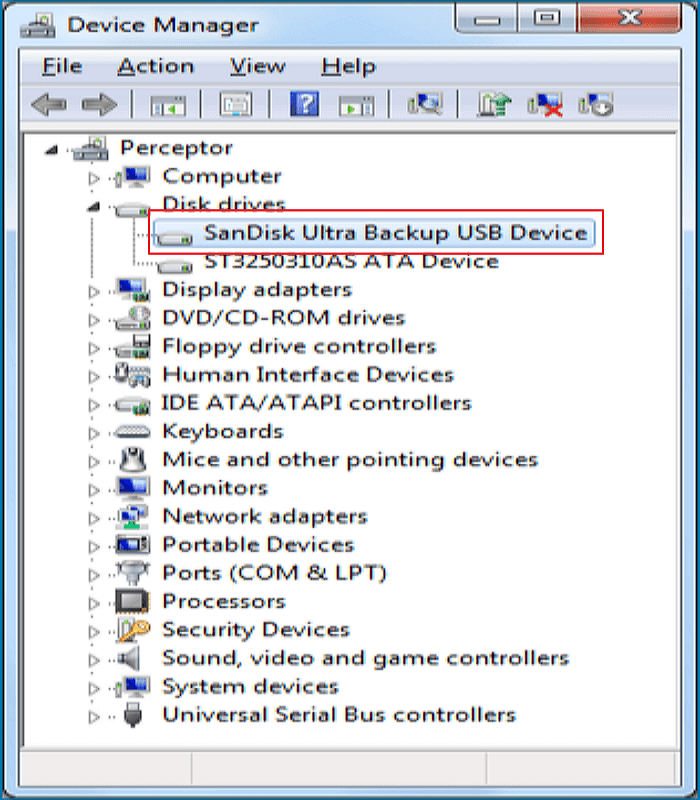 Step 2. Select the language from the drop-down menu, then click Next.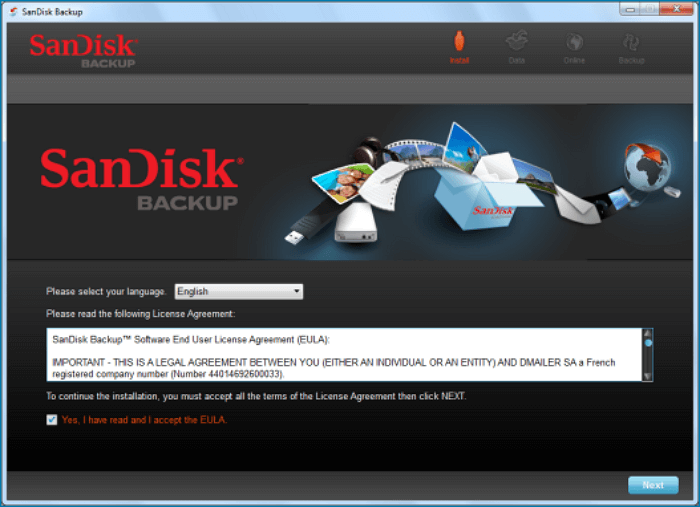 Step 3. Choose an external storage device to save your backups.
Step 4. Create a new backup. 
The software will automatically back up your data. You can customize this further by selecting specific file types and folders you want to back up. You can protect the data by creating a password and software-based encryption.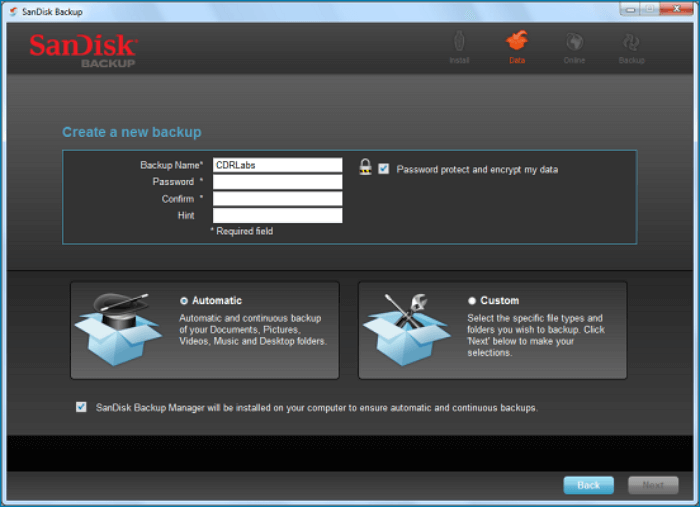 If you want to customize the backup, please read on for the next steps.
Step 5: Select the file you want to back up and click Apply to begin your backup.
Step 6. You can change the Backup Settings as you want.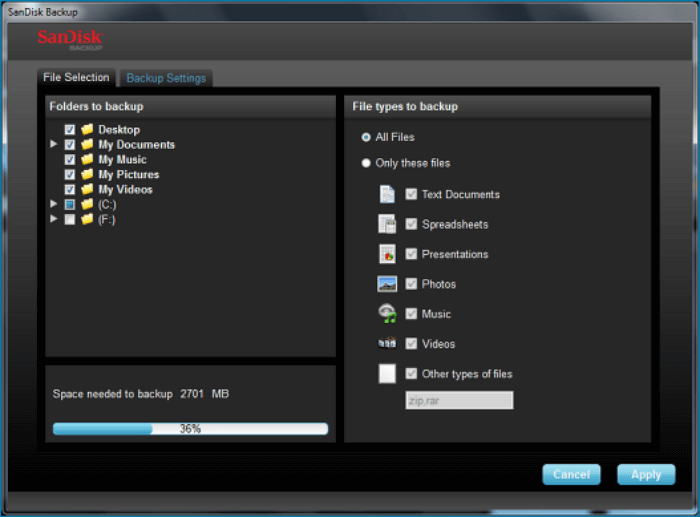 Reliable Alternative of SanDisk SSD Backup Software
As we mentioned before, SanDisk SSD Backup Software has many shortages, such as it has limitations on operation systems and Internet Browsers. What's more, it can only do a file backup. So to offset it insufficient, we must find a better and more powerful backup software. I strongly recommend EaseUS Todo Backup Home as an alternative.
EaseUS Todo Backup is professional backup software with 13 years of experience in the data security field. Here are some highlighted features of it.
Highlighted Features:
Supported operating systems: Windows 11/10/8/7
Meet various backup needs: File backup, system backup, disk backup, partition backup, and external hard drive backup.
Three kinds of backup methods: Full backup, incremental, and differential backup.
Backup Storage Devices: SSD, HDD, USB Drive, NAS, DVD, etc.
Other vital functions: system image, clone, recovery
Here is a step-by-step guide to using EaseUS Todo Backup to create a system backup.
Step 1. Launch EaseUS Todo Backup on your computer, and click Create Backup on the home screen and then hit the big question mark to select backup contents.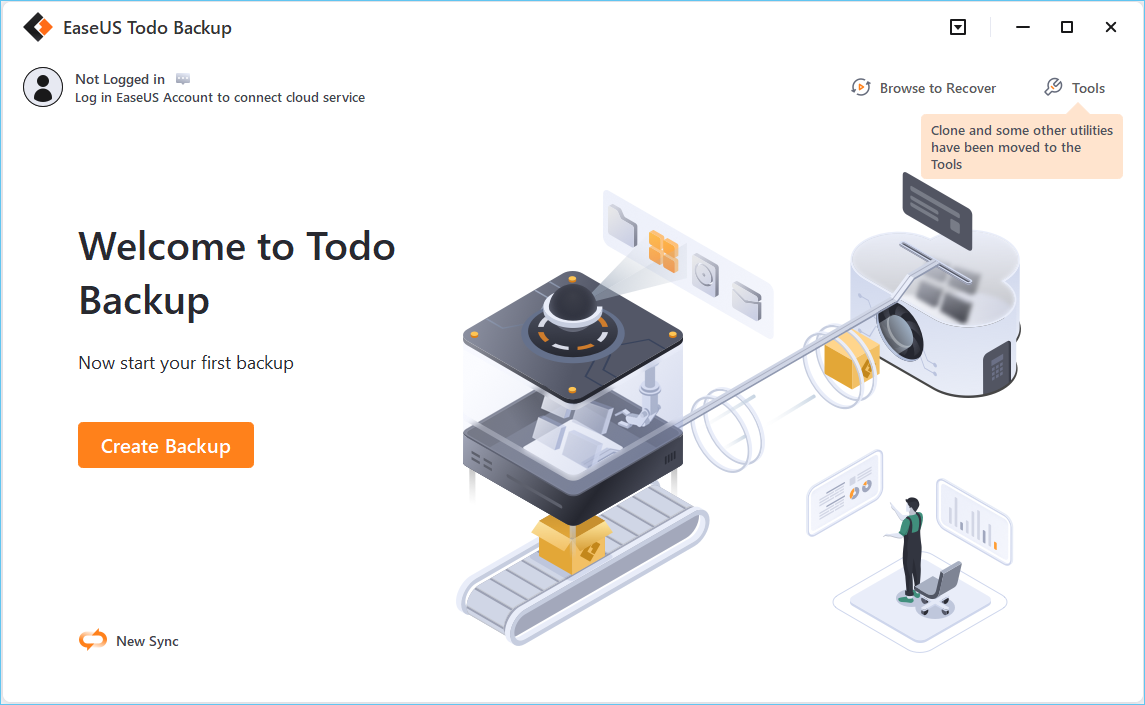 Step 2. To back up your Windows operating system, click "OS" to begin the backup task.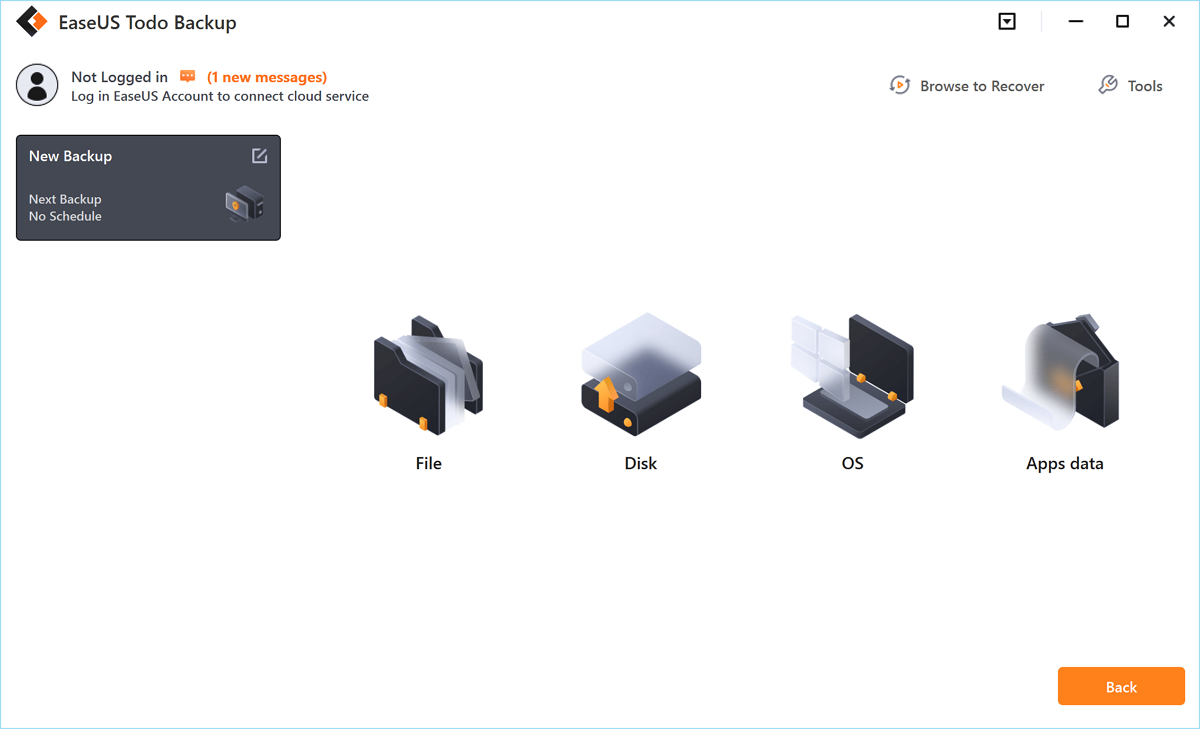 Step 3. Your Windows operating system information and all system related files and partitions will be automatically selected so you don't need to do any manual selection at this step. Next, you'll need to choose a location to save the system image backup by clicking the illustrated area.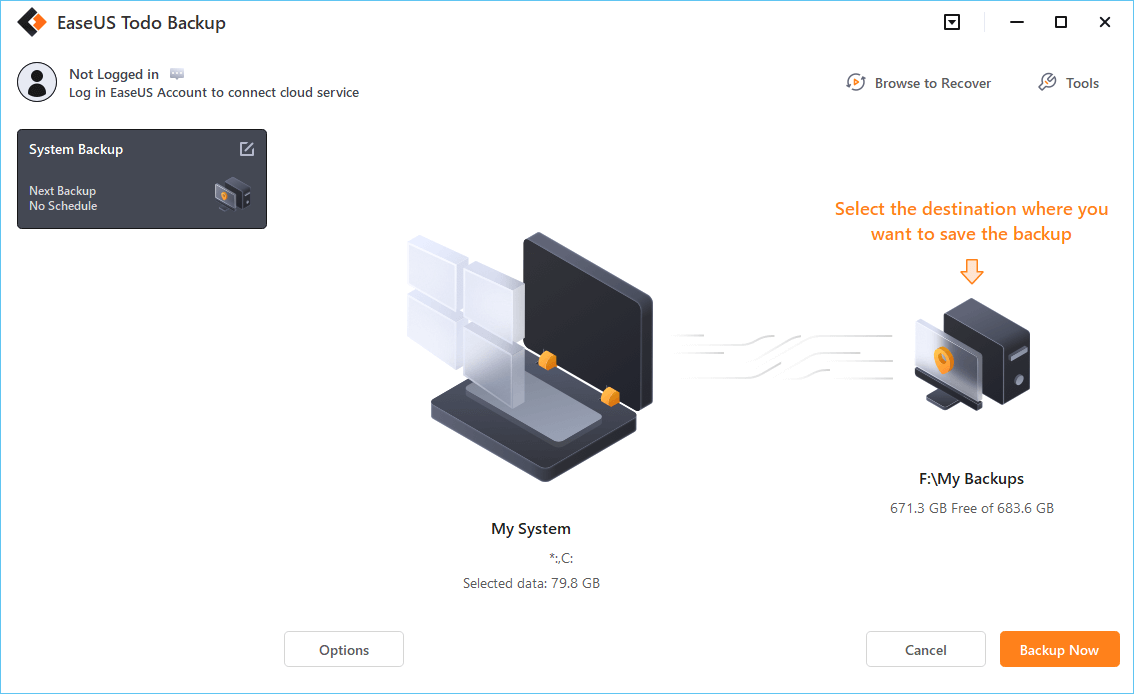 Step 4. The backup location can be another local drive on your computer, an external hard drive, network, cloud or NAS. Generally, we recommend you use an external physical drive or cloud to preserve the system backup files.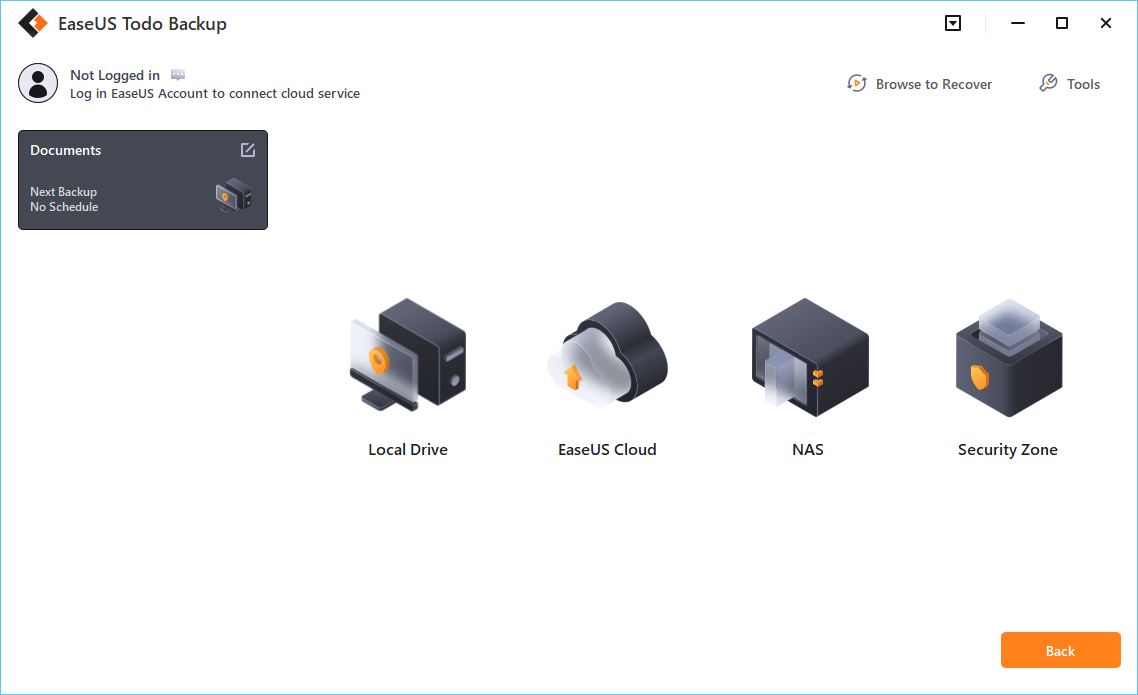 Step 5. Customiztion settings like enabling an automatic backup schedule in daily, weekly, monthly, or upon an event, and making a differential and incremental backup are available in the Options button if you're interested. Click "Backup Now", and the Windows system backup process will begin. The completed backup task will display on the left side in a card style.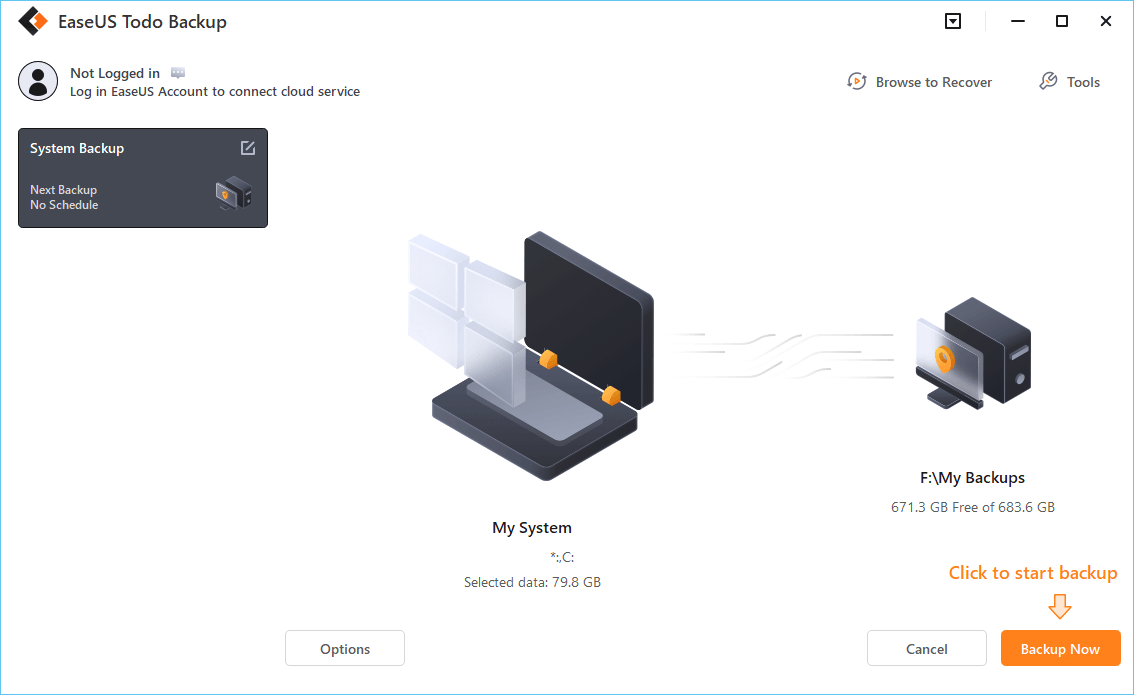 The Bottom Line
After looking through this page, you must know how to use SanDisk SSD Backup Software. Considering its limits, EaseUS Todo Backup is the best SanDisk SSD Backup Software alternative. Besides the highlighted above, you can also use it for automatic or scheduled backups. Depending on your needs, you can back up daily, weekly, and monthly. Moreover, EaseUS Todo Backup's Security Zone generates a protected and encrypted partition for users with only stored backups in the local drive. 
More importantly, you can also use this all-in-one software to do cloning since SanDisk doesn't have specific software to clone your data. It uses EaseUS Todo Backup to recover deleted or lost files from a SanDisk pen drive, SanDisk Extremo Pro, memory stick, USB, or SanDisk Cruzer. It can recover deleted photos from a SanDisk SD Card or recover your lost files from a formatted or damaged SanDisk.     
FAQ
1. What is SanDisk software?
SanDisk Secure Access allows users to create a password to protect their files in SanDisk SSD. Additionally, users can back up vault data to 2 GB online. SanDisk Backup Software can ensure that crucial data is safe and available even if the SSD is stolen or lost.
2. Why won't my PC recognize my SSD?
The BIOS will not recognize an SSD if the data cable is harmed or the connection is wrong. Mainly serial ATA cables may lose their connection. Ensure that your SATA cables are securely attached to the SATA port.

Jean has been writing tech articles since she was graduated from university. She has been part of the EaseUS team for over 5 years. Her special focuses are data recovery, disk partitioning, data space optimization, data backup and Mac OS. By the way, she's an aviation fan!
Taking everything into consideration, we can say that EaseUS Todo Backup Home can offer you a little extra sense of security with a set of advanced tools. The interface provides quick adaptation, every process guiding you all the way through so you don't get stuck or further damage your system rather than keeping it safe.

 Read More

EaseUS Todo Backup Free lets you create backups of your important files or your entire computer through its streamlined interface. Just choose the backup type you'd like to get started, and let the program do the reset.

 Read More

EaseUS includes all the features I expect from backup software like versioning, incremental backups, and scheduling. For more advanced users, EaseUS allows you to install a pre-boot environment onto your hard drive so you can use it to restore files without burning a CD or putting it on an external USB drive.

 Read More

EaseUS Todo Backup
Smart backup tool for your files and entire computer in Windows 10/8/7.
Install Windows on Multiple Computers at Once? No Problem!
Learn how to install Windows 11/10/7 and special programs/software on a batch of computers. Use 10 minutes to do the 10 hours work without making a single mistake!
Get Free Solution!