What Is ISO Image & What Can It Do for You?
An ISO image is a file containing operating system-related items. An ISO image is also known as an ISO file. It includes everything needed to boot up a computer or install the operating system (OS). Creating a Windows ISO image from the existing OS means making a system image file based on the current Windows OS.
It is vital to back up your operating system. Therefore, when your system crashes, you can quickly get it back to the state where the backup was taken. If the backup is an ISO image, you can enjoy some benefits compared with other image backup formats:
The ISO image is bootable, so you can use it to restore your computer when you have boot issues.
It is easy and convenient to deploy it to other computers.
It can be standalone from backup tools or cloud services.
You can run the ISO image on a virtual machine.
2 Available Ways to Create an ISO Image of the Windows Operating System
Then, how to create a Windows ISO image from the current OS? Here are two ways to make an iso image of your Windows computer.
Method 1. Create a Windows Computer ISO Image via Third-party Tool
The primary purpose of creating an ISO image from the current operating system is to make a bootable recovery drive or deploy the system to a different computer. Therefore, you can create a system backup or a bootable media to help you achieve this purpose. At this time, professional backup software, such as EaseUS Todo Backup, comes in handy.
EaseUS Todo Backup Free is a powerful backup tool for creating a system backup. It allows for automatic backup, which means you can set it up to run a backup at regular intervals. It can automatically backup files to external hard drive. This is extremely helpful if you want to keep the backups up-to-date. 
Now, let us see how to use EaseUS Todo Backup to create a system backup of your Windows computer.
Step 1. Launch EaseUS Todo Backup on your computer, and click Create Backup on the home screen and then hit the big question mark to select backup contents.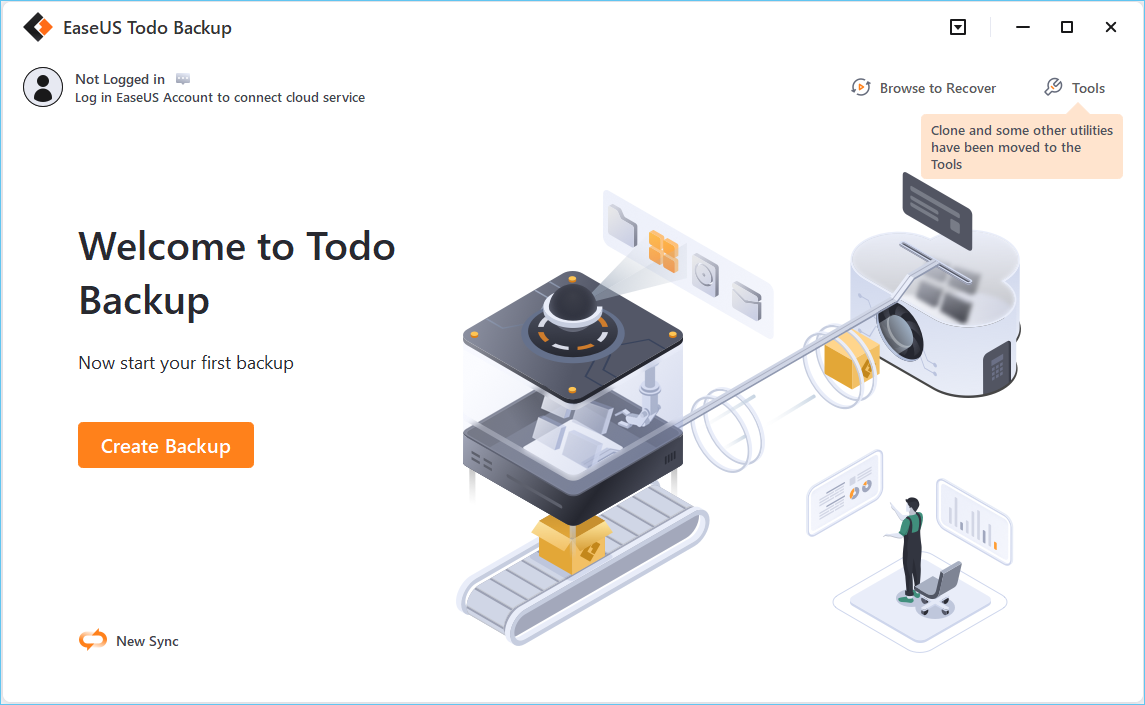 Step 2. To back up your Windows operating system, click "OS" to begin the backup task.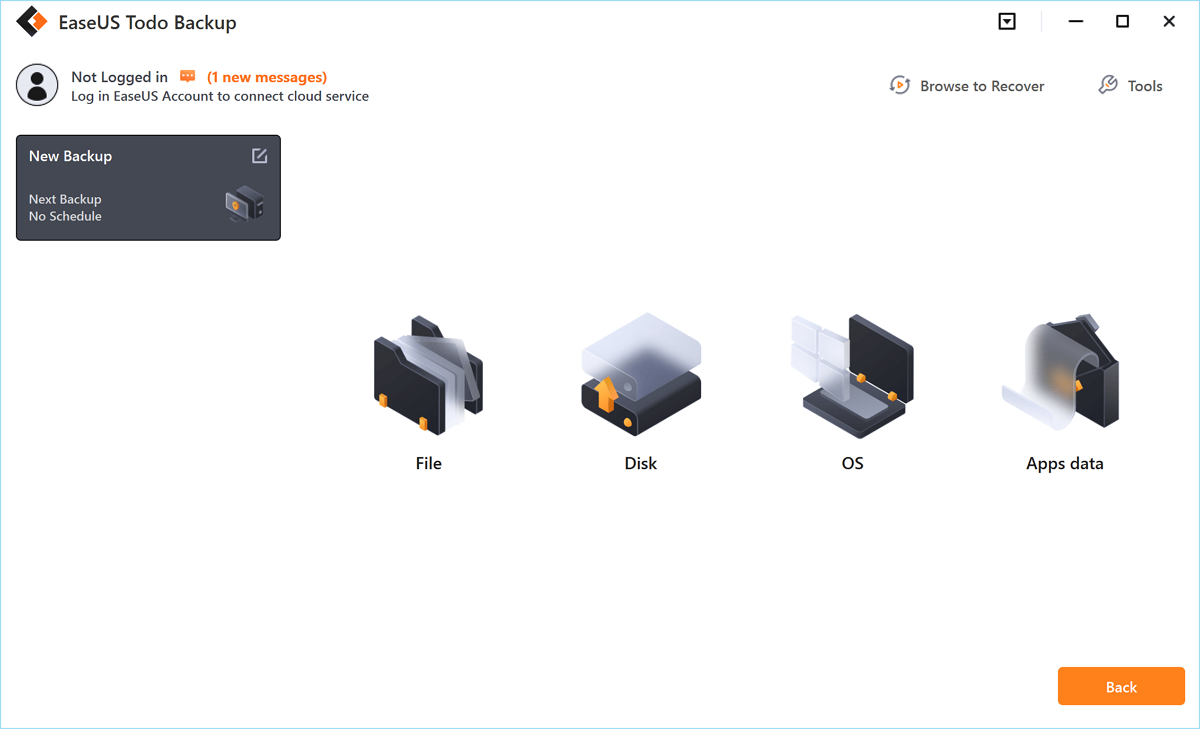 Step 3. Your Windows operating system information and all system related files and partitions will be automatically selected so you don't need to do any manual selection at this step. Next, you'll need to choose a location to save the system image backup by clicking the illustrated area.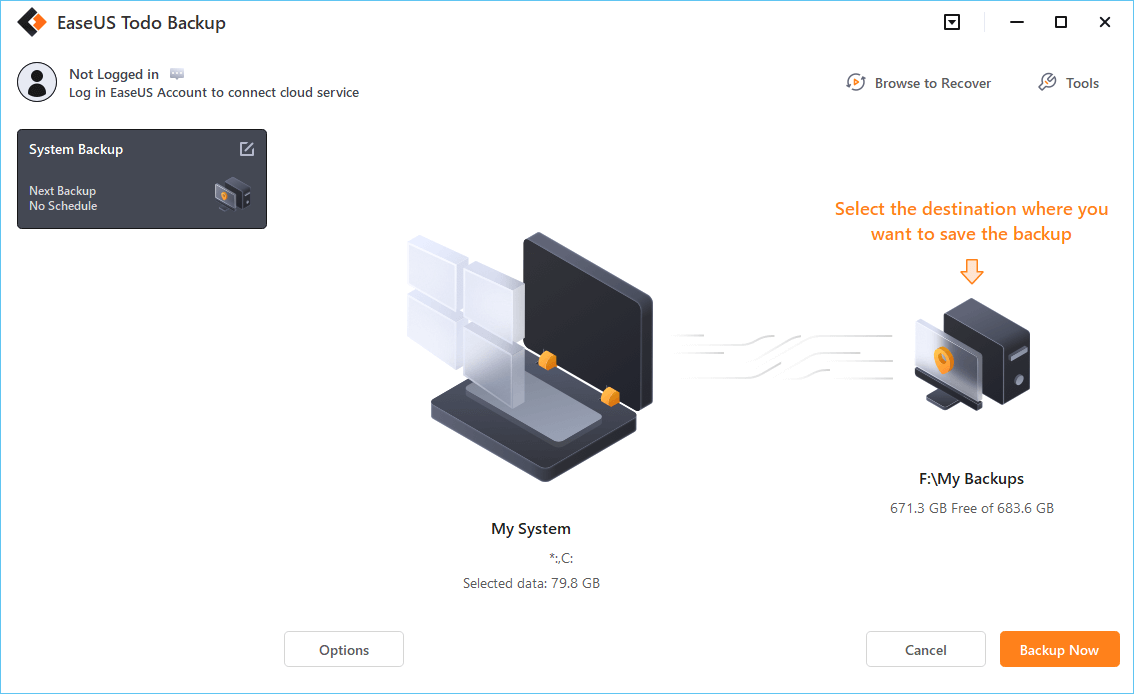 Step 4. The backup location can be another local drive on your computer, an external hard drive, network, cloud or NAS. Generally, we recommend you use an external physical drive or cloud to preserve the system backup files.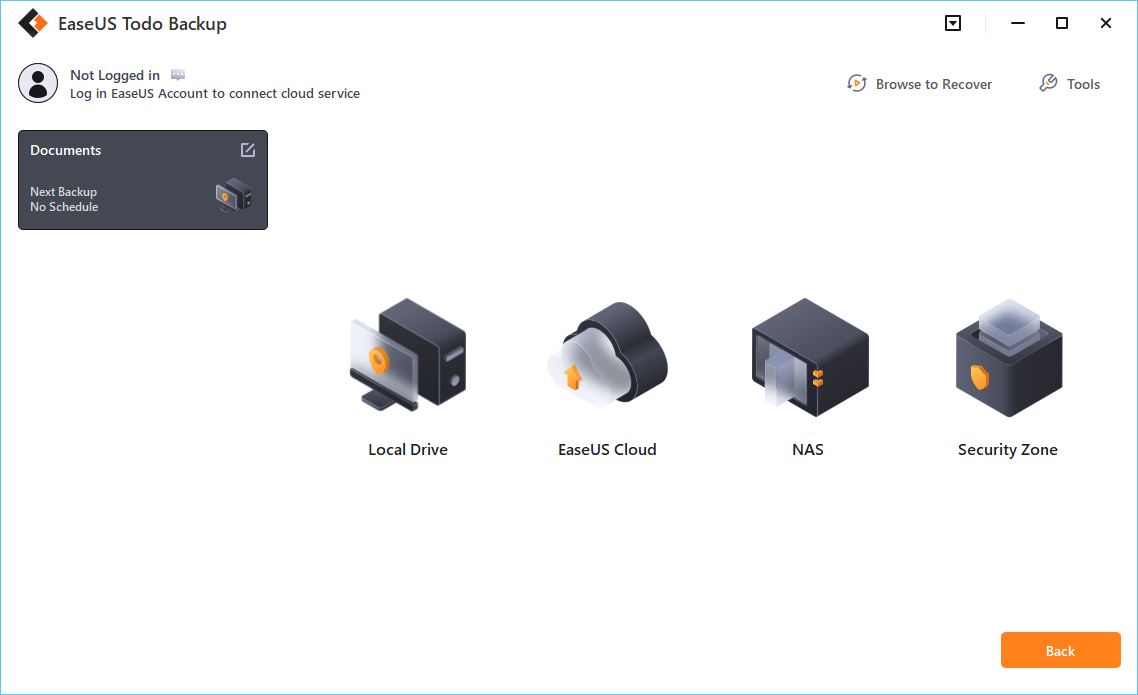 Step 5. Customiztion settings like enabling an automatic backup schedule in daily, weekly, monthly, or upon an event, and making a differential and incremental backup are available in the Options button if you're interested. Click "Backup Now", and the Windows system backup process will begin. The completed backup task will display on the left side in a card style.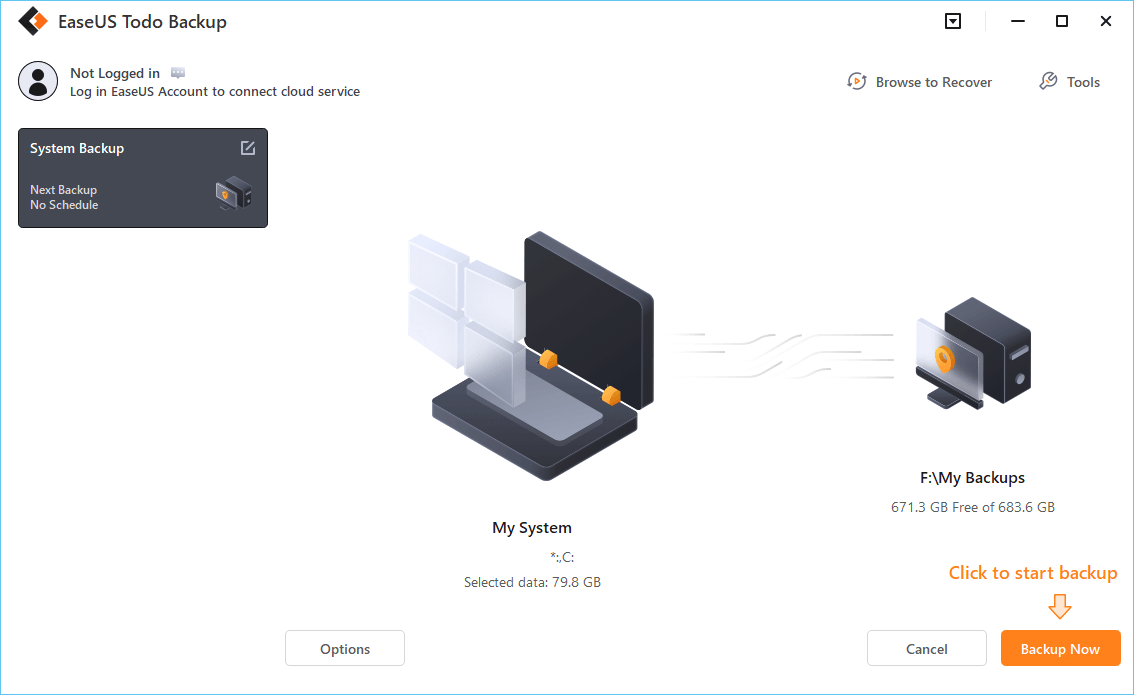 Method 2. Create a Windows 10 ISO Image with Windows 10 Media Creation Tool
Microsoft recommends that Windows computer users create an ISO image of their Windows 10 using the Windows Media Creator Tool. Windows 10 computer users can download this tool for free from Microsoft's official site. You can use the tool to create a bootable Windows 10 USB stick easily and quickly or create the Windows 10 ISO image.
The following are the detailed steps for creating Windows 10 ISO image.
Step 1. Download the Windows 10 Media Creation Tool from Microsoft's official website and follow the instructions to get to the following page. Then, select Create installation media (USB flash drive, DVD, or ISO file) for another PC, and click on Next.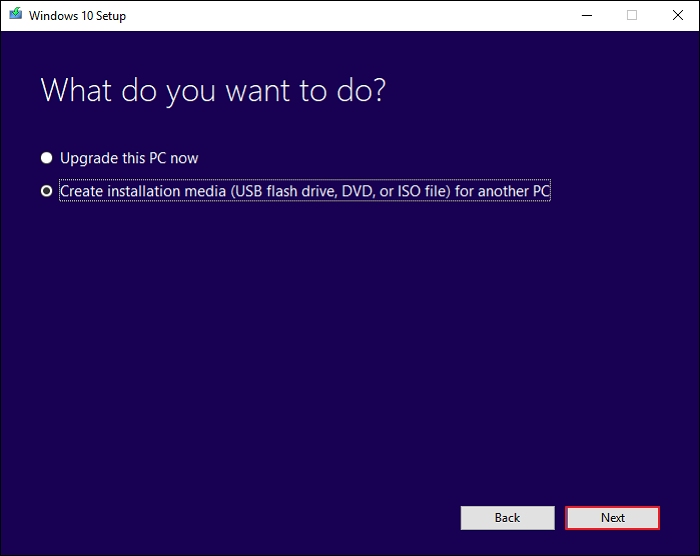 Step 2. Select the Language, Windows Edition, and Architecture you want to use for creating the installation media. Then click on Next.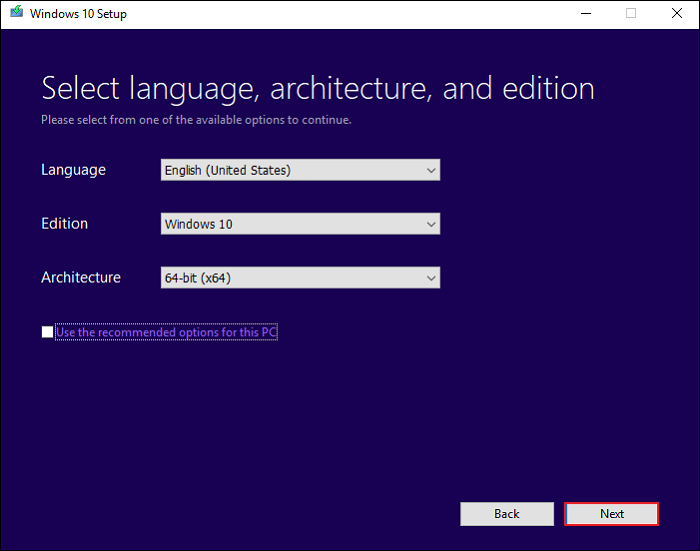 Step 3. Select what kind of media storage device. Here, I take a USB drive as an example. Select USB flash drive and then click on Next.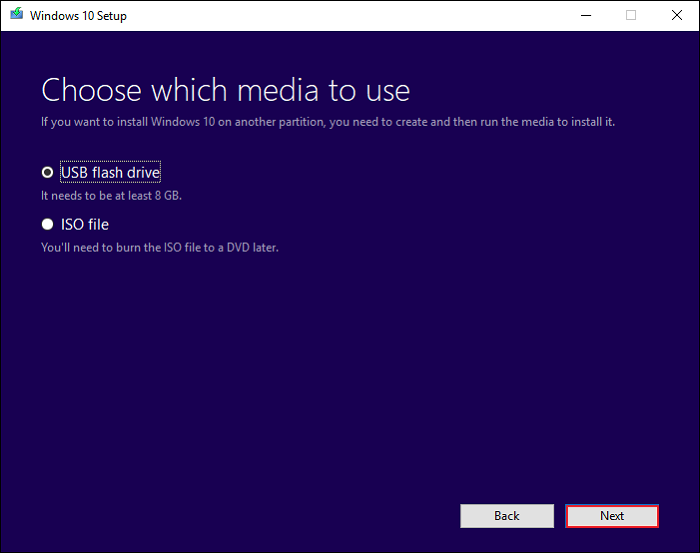 Note: The USB flash drive needs to be at least 8GB.
Step 4. Choose the USB drive for creating Windows 10 installation media and click on Next.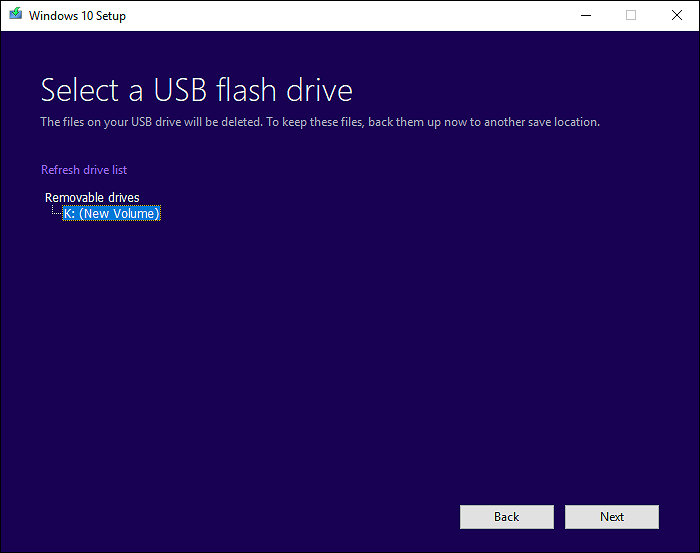 Step 5. Then Microsoft Media Creation Tool will start downloading the Windows 10 installation files on your computer.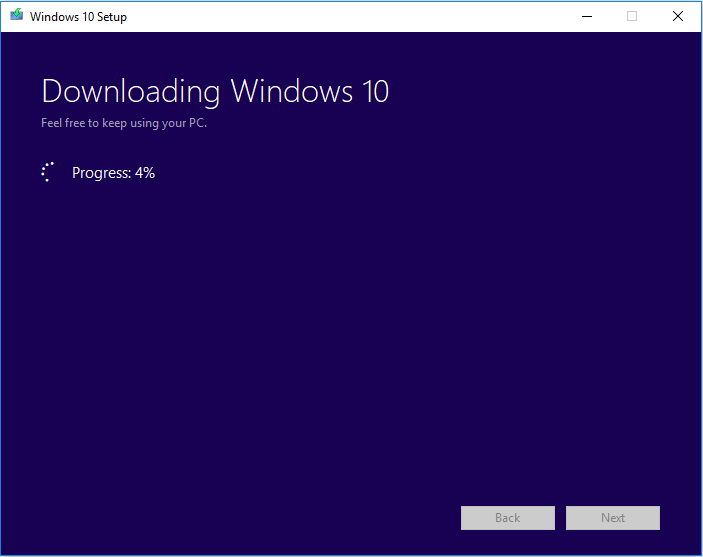 Step 6. When the download is done, it will start to create Windows 10 media.
Step 7. When it is completed, click on Finish, and then you can use the USB drive to boot up the computer and install Windows 10.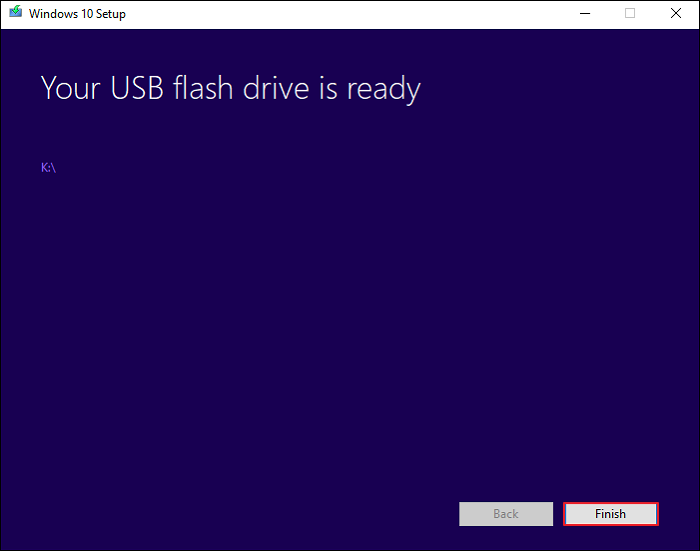 Free ISO Image Creator Software vs. Windows 10 Media Creation Tool
EaseUS Todo Backup and Windows Media Creation Tool can help you create an ISO image of your operating system. But there are stark differences between the two tools.
EaseUS Todo Backup Free is one of the best backup tools on the market. It is compatible with different versions of the Windows operating system, such as Windows 11/10/8/7. Besides, it is a multi-purpose backup utility. It supports multiple backup types, such as system backup, file backup, disk backup, and partition backup. It allows you to make a scheduled backup, full backup, differential backup, and incremental backup. Moreover, it provides 250G of free cloud storage space. Most importantly, it is easy to use because you can finish the backup process in a few simple clicks.
Windows 10 Media Creation Tool is a very top-rated utility. With it, you can easily upgrade Windows 10 to its latest version without a hassle. You can also use it to create a Windows 10 installation USB drive or DVD to perform a clean installation or repair a problematic computer. However, it only supports Windows 10/11; it cannot work on other versions of Windows systems. Unlike EaseUS Todo Backup, it is a dedicated tool for creating a Windows 10 ISO image, which means you cannot use it to do other things. Furthermore, compared with EaseUS Todo Backup, it has a more complex procedure for creating the Windows 10 ISO image.
Final Thoughts
Creating an ISO image of your Windows system is beneficial for backing up before a significant system upgrade. An ISO image for Windows 10 can simplify computer deployment and installation. In short, you can use EaseUS Todo Backup and Windows 10 Media Creation Tool to do a Windows 10 ISO Image. We recommend you use the EaseUS Todo Backup since you can also use it to do many other things.
EaseUS Todo Backup is a good tool for creating an ISO image of your Windows computers.
FAQs
1. Can WinRAR make ISO files?
After WinRAR's associations have been set, an ISO can be created. Select a file you would like burned as an ISO file format and select "Add", then select the "RAR" format under Archive type. Your newly created RAR can be burned as an ISO file in your DVD-burning suites such as WinDVD, Nero, or Imgburn.
2. Is an ISO file bootable?
An ISO file combines all Windows computer installation files into a single uncompressed file. If you try to download an ISO file, you can accordingly create a bootable file from a USB or DVD drive, then copy the Windows ISO file onto your drive, and run the Windows USB/DVD Download Tool.
3. What is the importance of creating ISO file?
Creating an ISO file from discs can make a digital backup of your physical discs. You can use the files by mounting them on new computers that do not have an optical drive. You can also use the files in the future to burn another copy of your disc. Besides, you can share that ISO with other people.

Jean has been writing tech articles since she was graduated from university. She has been part of the EaseUS team for over 5 years. Her special focuses are data recovery, disk partitioning, data space optimization, data backup and Mac OS. By the way, she's an aviation fan!
"I hope my articles can help solve your technical problems. If you are interested in other articles, you can check the articles at the bottom of this page, and you can also check my Facebook to get additional help."
Taking everything into consideration, we can say that EaseUS Todo Backup Home can offer you a little extra sense of security with a set of advanced tools. The interface provides quick adaptation, every process guiding you all the way through so you don't get stuck or further damage your system rather than keeping it safe.

 Read More

EaseUS Todo Backup Free lets you create backups of your important files or your entire computer through its streamlined interface. Just choose the backup type you'd like to get started, and let the program do the reset.

 Read More

EaseUS includes all the features I expect from backup software like versioning, incremental backups, and scheduling. For more advanced users, EaseUS allows you to install a pre-boot environment onto your hard drive so you can use it to restore files without burning a CD or putting it on an external USB drive.

 Read More

EaseUS Todo Backup
Smart backup tool for your files and entire computer in Windows 10/8/7.
Install Windows on Multiple Computers at Once? No Problem!
Learn how to install Windows 11/10/7 and special programs/software on a batch of computers. Use 10 minutes to do the 10 hours work without making a single mistake!
Get Free Solution!