It's simple to become confused by the variations among the various computer discs offered. Hard disc drive (HDD) and solid-state drive (SSD) are the two primary drives that you should be familiar with. You might want to know what distinguishes an SSD from an HDD. Which is better for backup SSD or HDD? Which type of drive has a higher failure rate?
We spend a lot of time considering HDDs and SSDs, so we know each disc has its benefits and drawbacks. A side-by-side comparison of each option is helpful if you want to upgrade your computer with a new drive or are interested in the best applications. There is a complete copy of all data in one location; restoring it doesn't take long. Additionally, maintaining and restoring several backups is simple. A full backup requires more time to complete than other types, and repeatedly running complete backups will deplete the available storage capacity. Let's discuss SSD and HDD and which is better for backup SSD or HDD.
What Are SSD and HDD?
HDDs are conventional storage devices that read and write data on rotating platters. SSDs employ more recent technology that saves data on memory chips that are readily accessible. SSDs are more dependable, faster, quieter, and use less energy. HDDs are more affordable, offer excellent storage space, and simplify data recovery from damage.
A new generation of computer storage devices is called a solid-state drive (SSD). A standard mechanical hard disc is substantially slower than SSDs, which use flash memory. One of the best methods to speed up your computer is to upgrade to an SSD. Here are some features that are mentioned below;
Features
Interface Type: SATA, SAS, and NVMe are the three most popular SSD storage interface types that are now vying for market domination.
Storage Capacity: SSDs come in capacities ranging from 120GB to 30.72TB which is not normal for the users to buy such a large capacity. 
Prices: Dollar for dollar, SSDs are more expensive than hard discs. A 1TB internal 2.5-inch hard drive costs $40 to $60, whereas the cheapest SSDs with the same capacity and physical factor start at roughly $80 as of this writing.
Usages: Anywhere that hard drives may be installed, SSDs are used. Personal computers (PCs), laptops, computer games, digital cameras, digital music players, cellphones, tablets, and thumb drives here are a few examples of consumer goods that utilize them.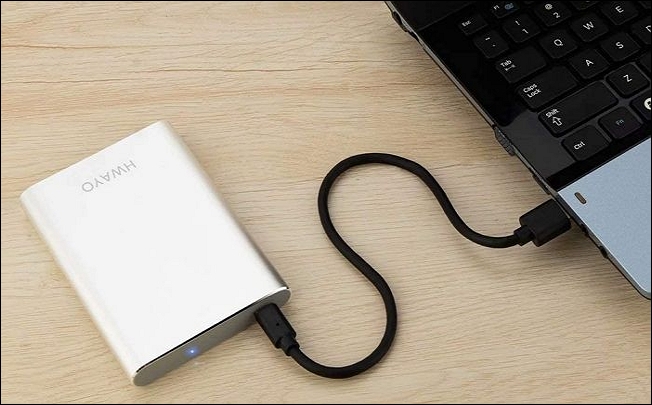 A non-volatile data storage device is a hard-disk drive (HDD), are those that retain data even after being turned off. HDDs are merely one form of storage device, yet all computers require them.
Desktop computers, mobile phones, consumer devices, and enterprise storage arrays in data centers are frequently equipped with HDDs. They can use magnetic discs to store operating systems, applications, and other things.
Hard disk drives regulate the reading and writing of the hard disc that houses the data storage. HDDs are used as a computer's primary or secondary storage device. They are frequently located in the drive bay and linked to the motherboard using cables in various formats, including Advanced Technology Attachment (ATA), Serial ATA, Parallel ATA, and Small Computer System Interface (SCSI). The HDD can retain stored data even when powered down because it is also attached to a power supply device.
Features
Interface Type: To get demands for high-speed data transfer, serial interfaces have been added to hard disc drives (HDDs) interfaces. Fiber Channel (FC), Serial ATA (SATA), and Serial Attached SCSI are the three primary interfaces involved (SAS).
Storage Capacity: 16 to 2 TB even more than that. It is common to find older and smaller devices in this class, which is among the lowest for HDD storage space. 120 and 256 gigabytes. Generally, this price range is considered entry-level for HDD devices such as laptops or computers.
Prices: HDD 1TB is $49.99
Usages: They can use magnetic disks to store operating systems, applications, and other things. Hard disc drives, more particularly, regulate the reading and writing of the hard disc that houses the data storage. In a computer, HDDs are either utilized as the primary storage device or the backup storage device.
If you are still confused about which is better for backup SSD or HDD. Read the next part and get your answer.
Which Is Better for Backup, SSD or HDD? Get Your Answer Here
Let's analyze which is better for backup SSD or HDD. SSDs are more energy-efficient, quieter, faster, robust, and portable. HDDs are not expensive and can simplify data recovery in the event of damage. Given that modern SSDs are almost as dependable as HDDs, SSDs prevail over HDDs as long as price is not a deciding factor. Since HDDs have been used longer than SSDs, they are considered legacy technology. They are generally less expensive and useful for data that is not frequently accessed, like backups of pictures, videos, or business information. So, it is good to use HDD for backing up.
1. Is SSD or HDD for Storage?
SSD and HDD are both used for storages. The maximum storage capacity for SSDs is about 2 TB, allowing you to save data and files on your system. In contrast, HDDs have a higher memory capacity than SSDs and can hold up to 16 TB of files. Data storage is another choice for individuals who use the SSD cloud.
Here's the list of different usages of SSD and HDDs.
SSD Usage:
Gaming
Running big programs
Speeding OS
digital cameras
digital music players
smartphones, tablets
thumb drives
incorporated with graphics cards.
HDD Usage:
Storing data
Upgrading the OS drive to a bigger disk
Extend data storage on local disk
run programs
Enhances performance
The flash storage market is unstable and fluctuates according to supply and demand. SSDs are far less expensive, but the price gap is still substantial. A 1 TB internal HDD typically costs $60, while a 1 TB internal SSD often costs $150.
HDDs are more affordable and make data recovery easier in case of damage. Given that modern SSDs are almost as dependable as HDDs, SSDs prevail over HDDs as long as price is not a deciding factor. Currently, HDDs are only preferable if you need to store a lot of data without regularly accessing it. Otherwise, an SSD offers better speed and a faster computing experience if you can afford the additional price.
2. SSD vs. HDD, Which Is for Long-Term Storage
In harsh and hazardous environments, SSDs are often more resilient than HDDs because they don't have moving parts like actuator arms. In comparison to HDDs, SSDs are more resilient to magnetic fields, vibration, extreme temperatures, unintentional drops, and other shocks. 
Unlike hard disc drives, solid-state drives don't have any moving parts, as the name implies. Instead, information is kept on several NAND chips, which may continue to function without electricity. On several platters, which are a series of rotating magnetic discs, hard disc drives (HDDs) store data.
Users who work with high-resolution files, need to store or house a lot of data or wish to use that space for backup and redundancy should use anything with an HDD capacity exceeding 2 TB.
The largest HDD available today has a capacity of 20 TB. The operating system, file system architecture, and other data redundancy techniques require a portion of an HDD's space; therefore, it has less space than stated.
3. Best HDDs for Backup in 2022
Here are some HDDs for backup
Seagate Backup Plus 5TB external hard drive
So the following article is provided for you if you wanna learn more about Seagate backup plus: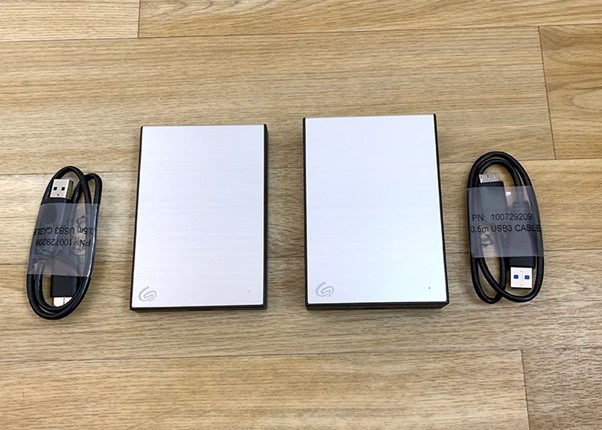 WD Elements 12TB external hard drive
SanDisk G-Drive Professional 18TB external hard drive
ADATA HD710 PRO rugged external hard drive
Sabrent Rocket XTRM-Q 4TB USB / Thunderbolt external SSD
How to Backup Data on HDD? The Easiest Backup Solution Is Here
Known for its reliability, EaseUS Todo Backup provides complete data backup and recovery for Windows and Mac devices. It is perfect for companies and users who place a high priority on data security and data accuracy. Both technical and non-technical persons can use it effectively daily. Tools for data backup, data recovery, and system data transfer are the main features of EaseUS Todo Backup. It is a very secure platform that offers all of its users 250GB of free cloud storage. All tools and functionalities may be accessed in the cloud, which will appeal to users constantly on the go. Relatively low speed during image creation.
Some features are mentioned below;
Support file backup, system backup, disk partition backup
Support cloud backup
Centralized Backup Management
Disk Clone
Migrate OS to SSD/HDD
16TB Hard Drive Capacity
Command-line Backup
Download it today to back up your data and store data with security and a more extended period of time.
And the following steps are provided for you to use EaseUS Todo Backup better:
Step 1. Click "Select backup contents" to initiate a backup.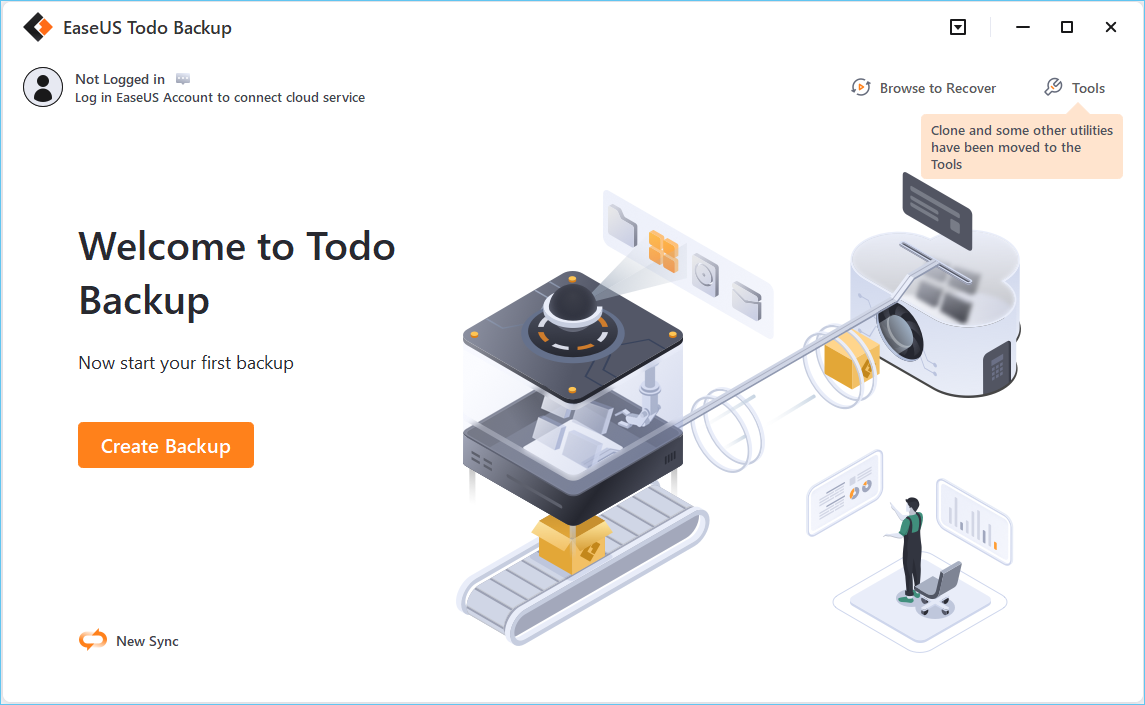 Step 2. There are four data backup categories, File, Disk, OS, and Mail, click File.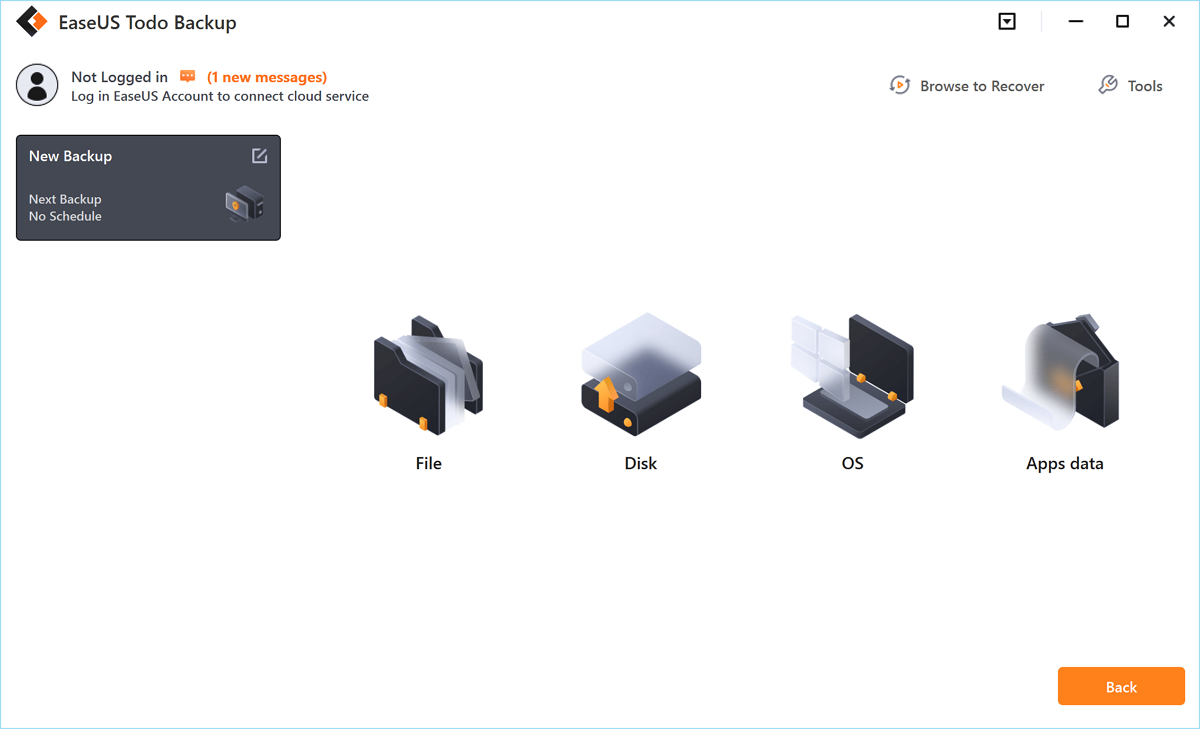 Step 3. Local and network files will be displayed on the left side. You may extend the directory to choose which files to back up.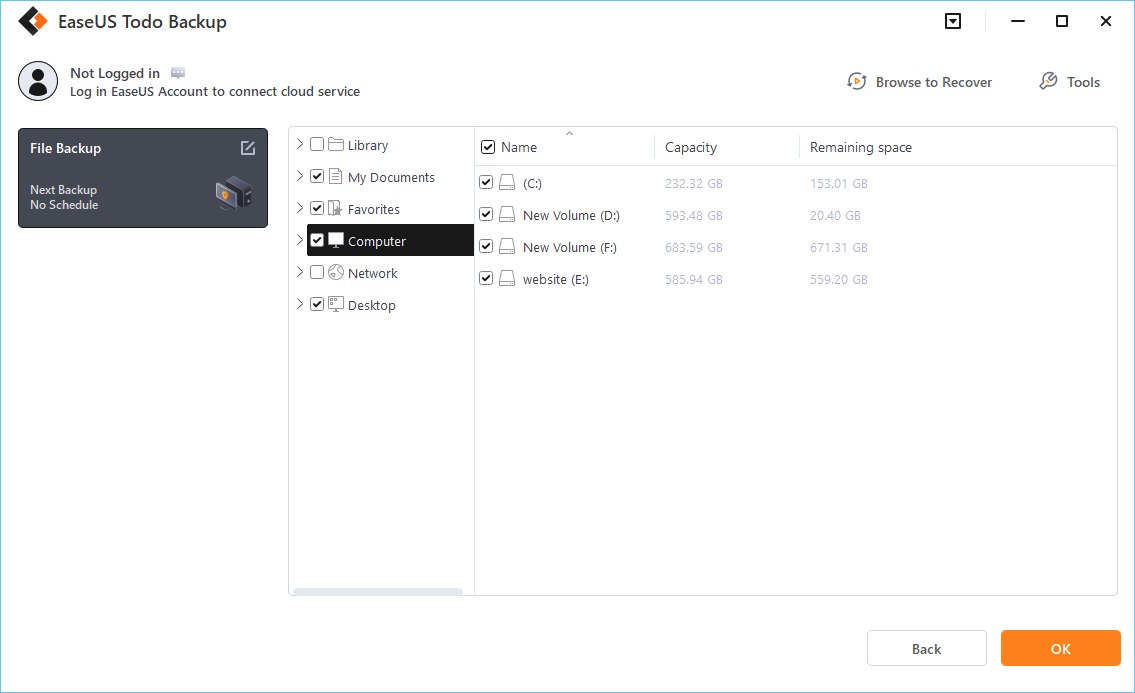 Step 4. Select the location where you want to store the backup by following the on-screen instructions.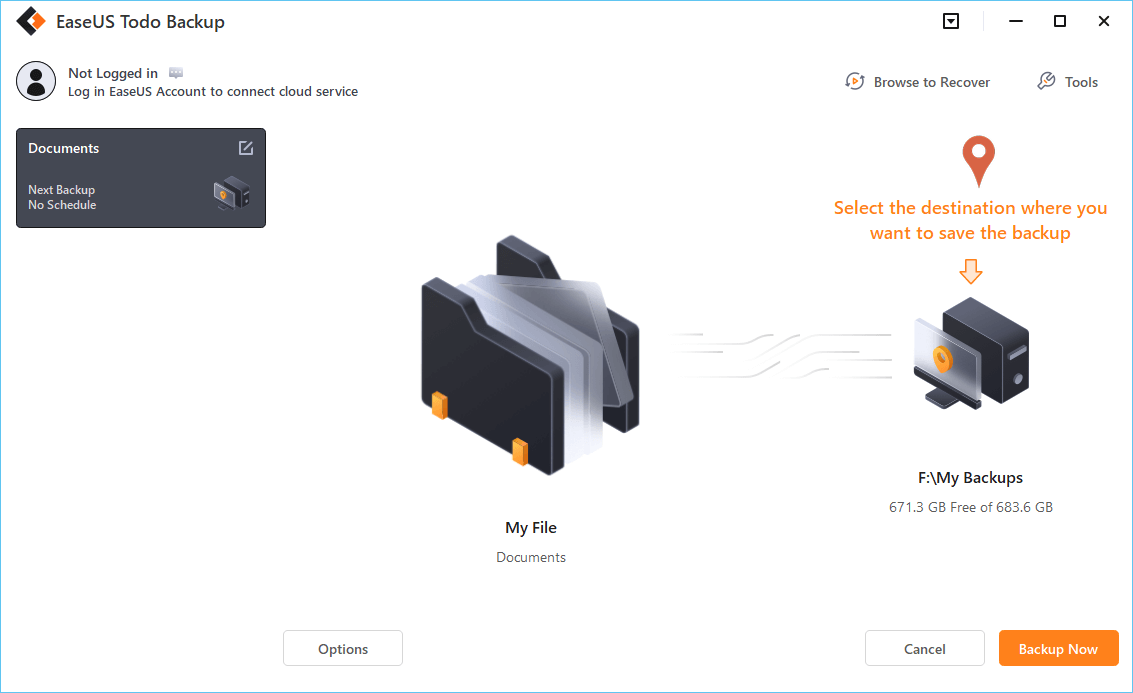 Click "Options" to encrypt the backup with a password in "Backup Options," and to setup a backup schedule and choose to initiate a backup at a certain event in "Backup Scheme." There are a variety of other customization options available for the backup process.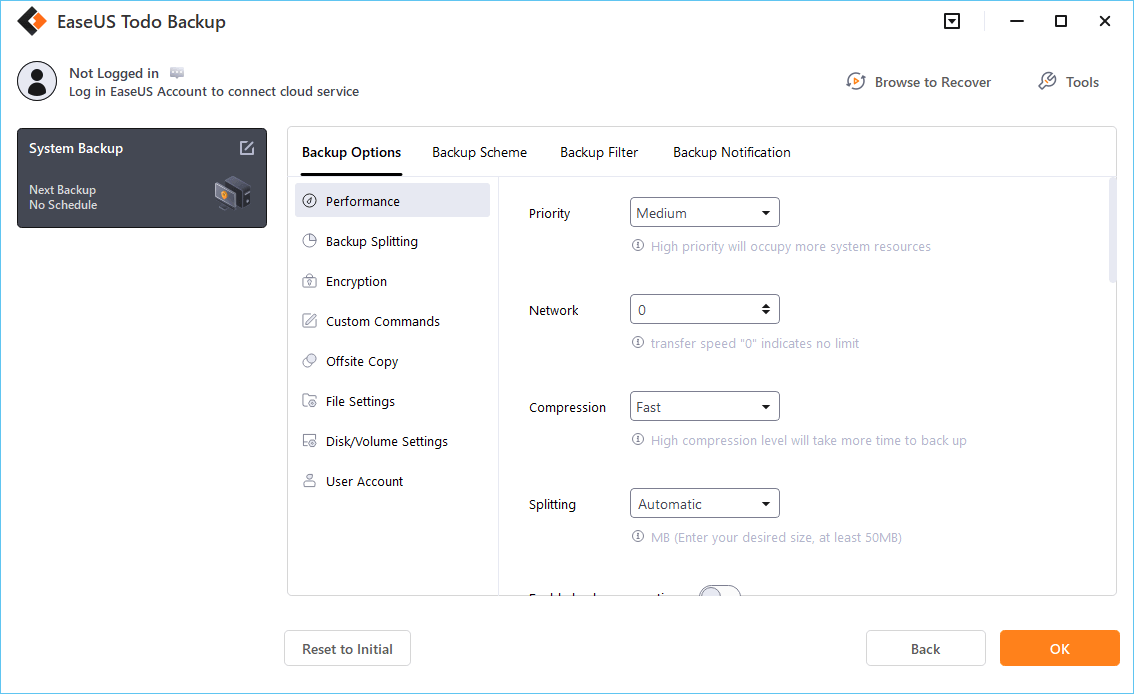 Step 5. You may save the backup to a local disk, EaseUS' online service, or a NAS.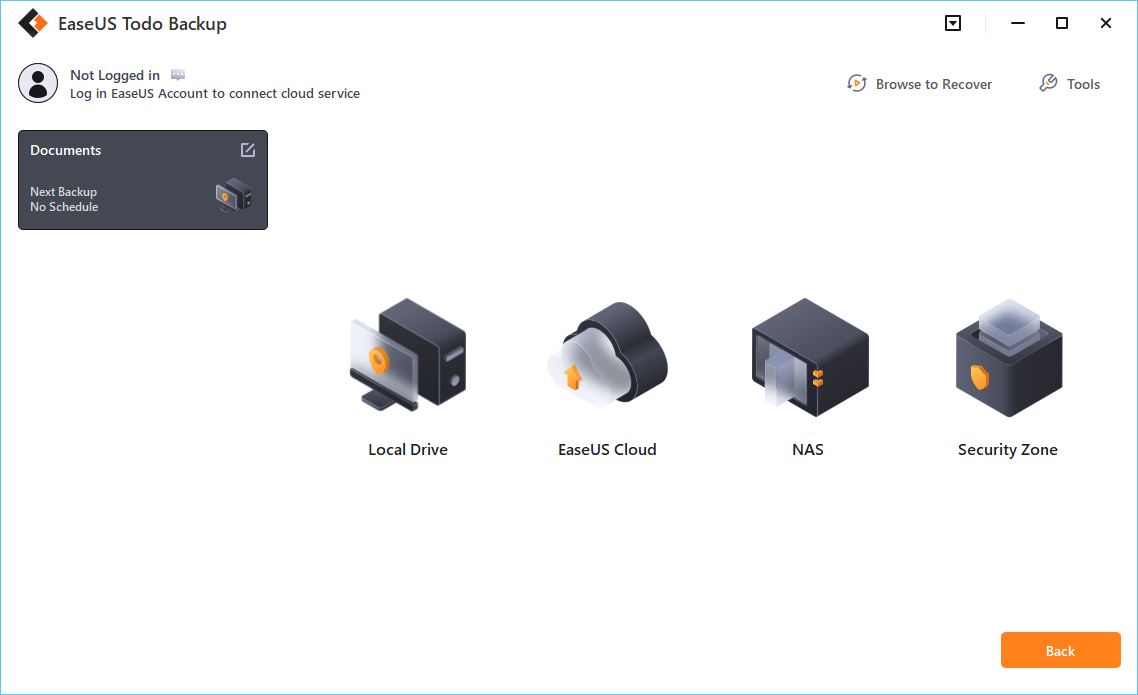 Step 6. EaseUS Todo Backup enables customers to back up data to a third-party cloud drive and its own cloud drive.
If you want to back up data to a third-party cloud drive, choose Local Drive, scroll down to add Cloud Device, add your account, and then log in.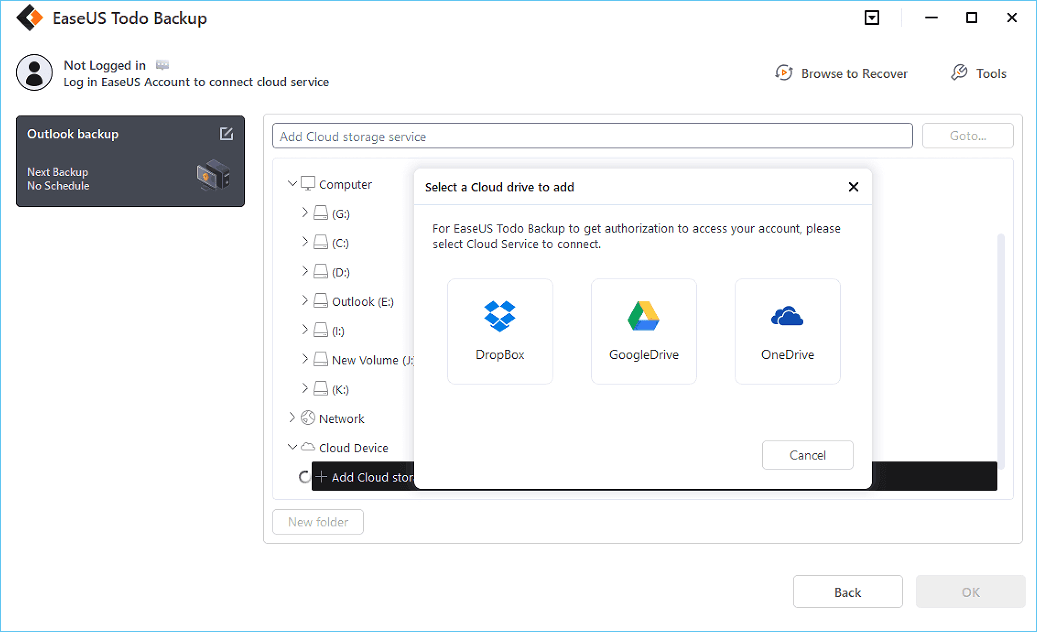 You can also save backups to EaseUS's cloud storage service. Sign up for an EaseUS Account and log in after clicking EaseUS Cloud.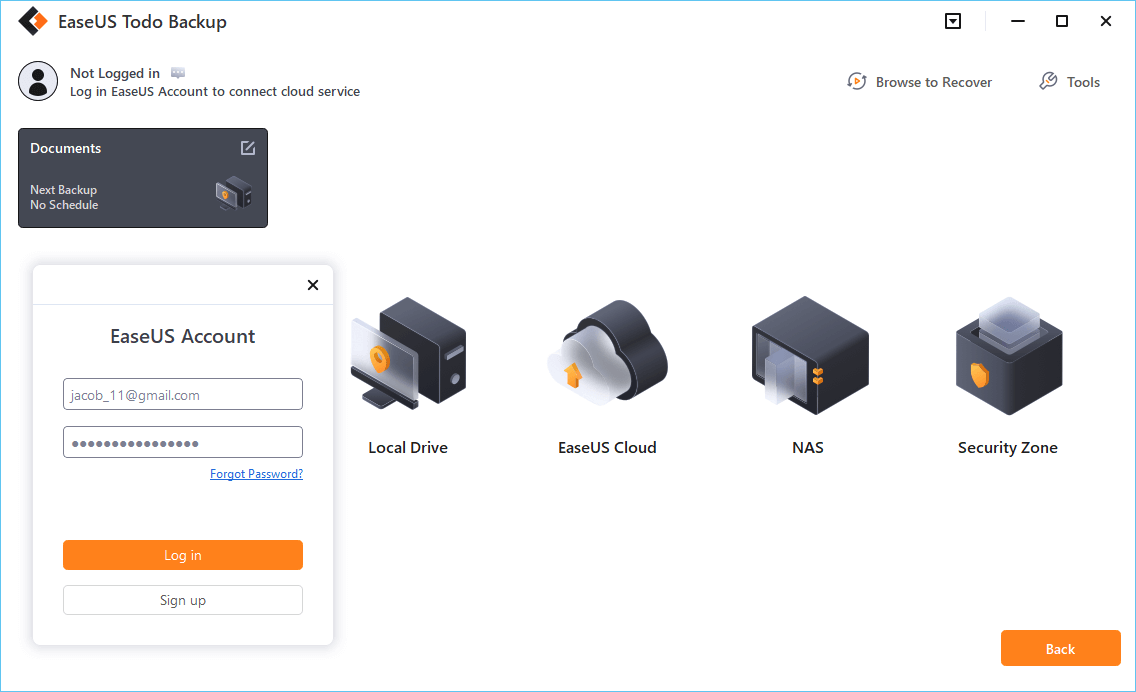 Step 7. To begin backup, click "Backup Now" Once the backup process has been finished, it will be shown as a card on the panel's left side. To further manage a backup job, right-click it.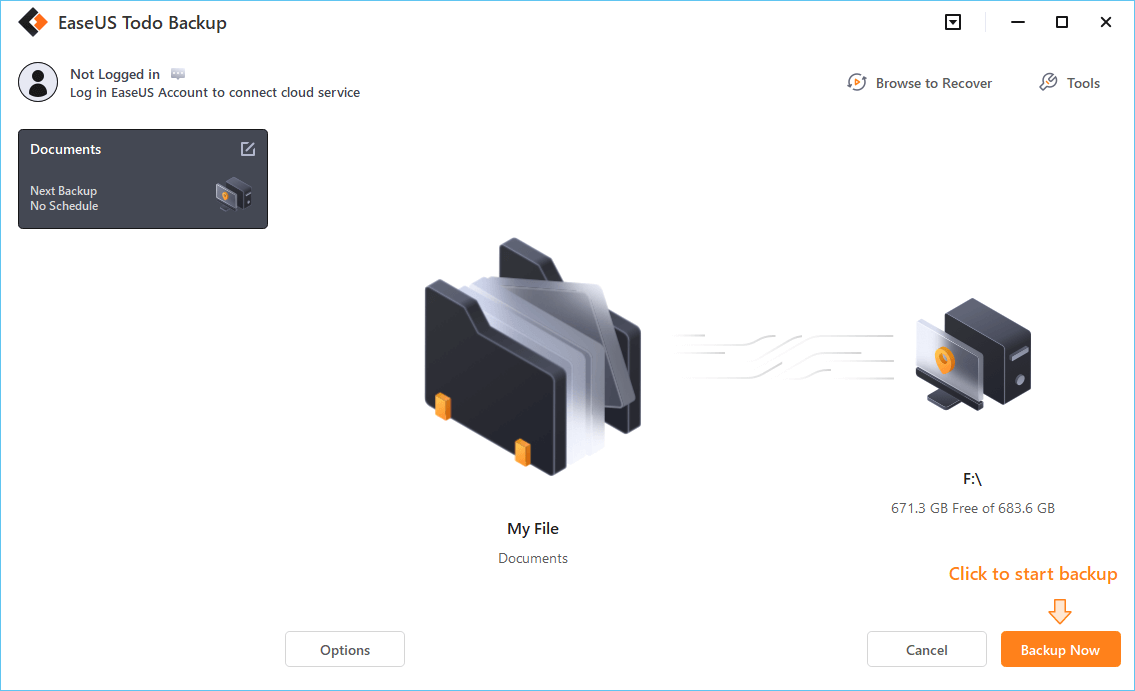 Wrap Up
Although most PC users now prefer SSDs, HDDs and magnetic tape are still routinely employed to store significant amounts of data. This is partially due to the higher price per gigabyte of SSDs compared to HDDs. To save money while delivering speed, many enterprise storage arrays come with a combination of HDDs and SSDs. SSDs also have a predetermined lifespan and can only perform so many writes before performance deterioration. SSDs degrade more quickly than HDDs do. HDD is best for backup and SSD for OS installation, gaming, etc. We can recommend the third party, EaseUS Todo Backup, to back up everything at once.
FAQs About SSD or HDD for Backup
If you still have doubts, then read a few answers to the questions.
1. Which Is Better, External SSD or HDD for Backup?
Due to their more compact size, higher speeds, and general longevity, SSDs will be a superior choice for an external drive. The most significant disadvantage of SSDs is that they cost more money to purchase than HDDs for the same amount of storage. However, the cost of SSDs will continue to decrease as technology advances.
2. Is an SSD Suitable for Backup?
Yes, SSDs are safe to use for backup purposes.
3. What Storage Is Best for Backup?
Flash drive (also known as a thumb drive or USB drive/stick) and solid-state drive (SSD) The most effective physical technique to back up your PC is with flash drives and SSDs. Fast backups are made possible by flash drives and solid-state drives' ability to write and scan data.
Updated by Tracy King 
Tracy joined in EaseUS in 2013 and has been working with EaseUS content team for over 7 years. Being enthusiastic in computing and technology, she writes tech how-to articles and share technical solutions about Windows & Mac data recovery, file/system backup and recovery, partition management and iOS/Android data recovery.

Roxanne is one of the main contributors to EaseUS and has created multiple posts on digital devices like PCs, Mobile phones, tablets, Mac, etc. She loves to share ideas with people of the same interest.
Taking everything into consideration, we can say that EaseUS Todo Backup Home can offer you a little extra sense of security with a set of advanced tools. The interface provides quick adaptation, every process guiding you all the way through so you don't get stuck or further damage your system rather than keeping it safe.

 Read More

EaseUS Todo Backup Free lets you create backups of your important files or your entire computer through its streamlined interface. Just choose the backup type you'd like to get started, and let the program do the reset.

 Read More

EaseUS includes all the features I expect from backup software like versioning, incremental backups, and scheduling. For more advanced users, EaseUS allows you to install a pre-boot environment onto your hard drive so you can use it to restore files without burning a CD or putting it on an external USB drive.

 Read More

EaseUS Todo Backup
Smart backup tool for your files and entire computer in Windows 10/8/7.
Install Windows on Multiple Computers at Once? No Problem!
Learn how to install Windows 11/10/7 and special programs/software on a batch of computers. Use 10 minutes to do the 10 hours work without making a single mistake!
Get Free Solution!