Have you ever imagined what would happen if your computer crashed in the middle of your work day and you couldn't retrieve your data?
One thing: You'd be devastated.
A backup and restore software alternative can cover you when your primary drive crashes. Since our PC storage drives don't last forever, and hardware issues can make vital files inaccessible, backing up data and files should be everyone's regular routine.
So, in this guide, we'll discuss the best backup and restore software for Windows 10 in 2022 to help you choose one that can serve your needs.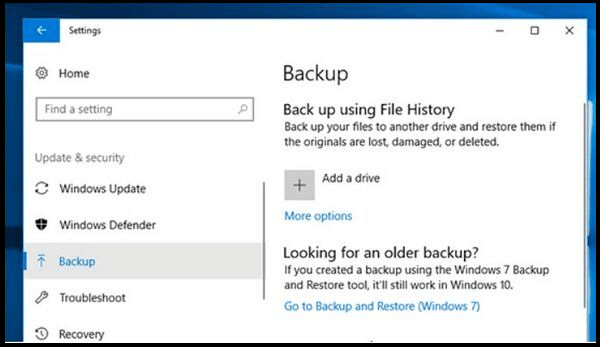 An Overview of Backup and Restore in Windows
First, what do you understand about backup and restore software in Windows? And, does Windows 10 have a backup and restore program?
Backup and restore (recovery) involves creating and storing copies of your PC's data where you can find them in case of a PC crash or data loss. 
Windows operating systems have a built-in (native) backup and restore utility, allowing users to create data backups and restore points automatically. It also helps create a system image that users can use to restore Windows in case of system failure or a crash.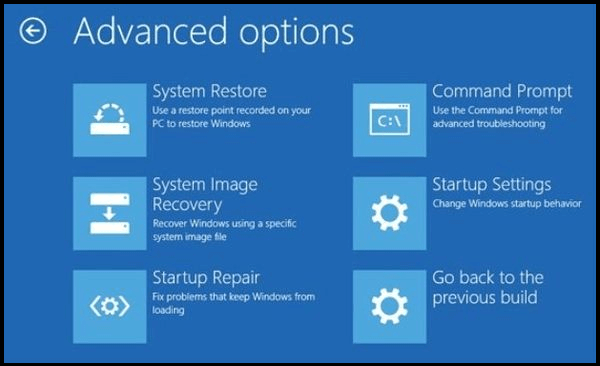 It was first introduced in Windows Vista and is available in other Windows versions up to Windows 10. Backup and restore is available through the control panel or search. 
Some versions of Windows have their native Windows backup and restore utility installed by default. But in some versions, you must install the utility to create a backup location.
Although important, Windows native backup and restore utility only allows users to create basic backups and restore points for their important data, files, or folders. This limits the amount of data one can store. Large data backups can also choke your hardware.
The Windows Backup and Restore also only allows users to backup Windows 10 and data to a local or external hard drive. This can be unsafe and expose you to data loss. 
So, if you want to have unlimited data backup and restore, you may want to consider backup and restore software for Windows.
If you want to know some methods to backup your Windows 10, you can read the following article: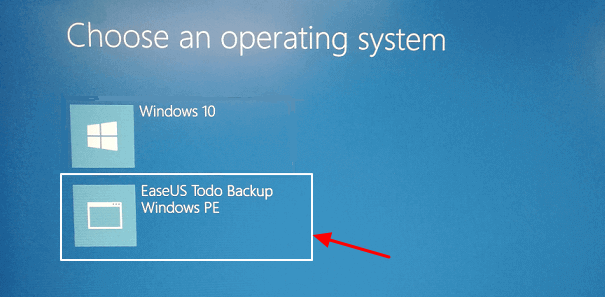 What Can Backup and Restore Software for Windows Do?
Data backup is important because it allows us access to data files and folders in case of any data loss or inability to access the computer.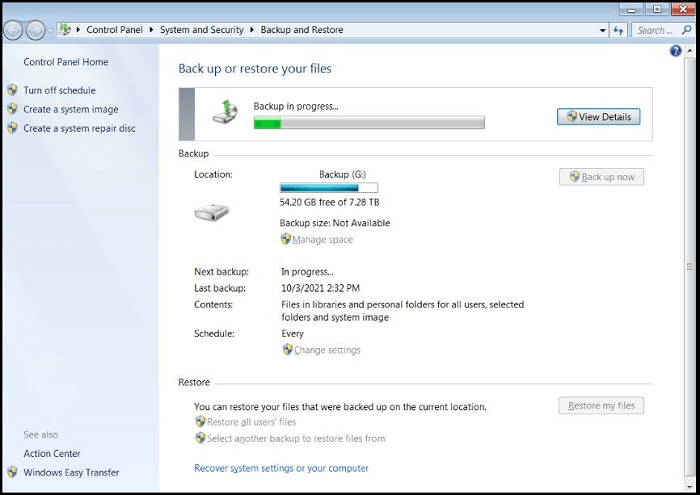 Windows Backup and Restore is a great utility but has limitations. 
So, backup and restore software for Windows can help in different ways:
Create file and folder backups or entire computer data. They create the exact duplicate computer files or folders that can be used for restoration in case of hardware. malfunction, accidental deletion, file corruption, etc.
Provide unlimited storage space to back up specific files, folders, or the entire computer data.
Allows access to files, folders, and data outside of your computer.
Create system image backups that can be used for operating system recovery in case of malware infection, hard drive failure, or data corruption.
Provide safe backup storage of computer data without the risk of access by third parties.
Compress data to reduce the backup storage space required and support versioning control to help maintain different versions of the same data file.
Backup software can be used for individual/local computers or an enterprise's servers, computers, and networking devices.
 Notice:

Backup and restore software shouldn't be confused with cloud storage services like OneDrive, Google Drive, iCloud, and others. Cloud storage services only sync files on your devices. If you delete a file from your device, it may also get deleted from the Cloud unless you change the settings. In addition, cloud storage doesn't provide entire PC sync and cannot create system image backups, so you won't restore a Windows operating system plus your files in case of a system disaster. 
5 Best Backup and Restore Software for Windows 10
Because there are many backup and restore software for Windows 10 to choose from, settling on one can be difficult.
The backup and restore software differ in features, performance, support, number of devices, ease of use, and prices. The best backup and restore software for Windows 10 also depends on what you want to restore: files, Windows Image, or both.  
Backup software for Windows fall into two categories: file-based or imaging. 
If you want to create a complete hard drive backup to help you restore the applications and operating system, you'll need to go for a system images backup and restore software.
If you only want to backup files and documents on your PC, a file-based backup software might suit your needs.
Although most backup and restore software support both types, you must check and ensure you're getting the right product.
So, here below are 5 best backup and restore software for Windows 10 based on our review:
Let's discuss them in detail below: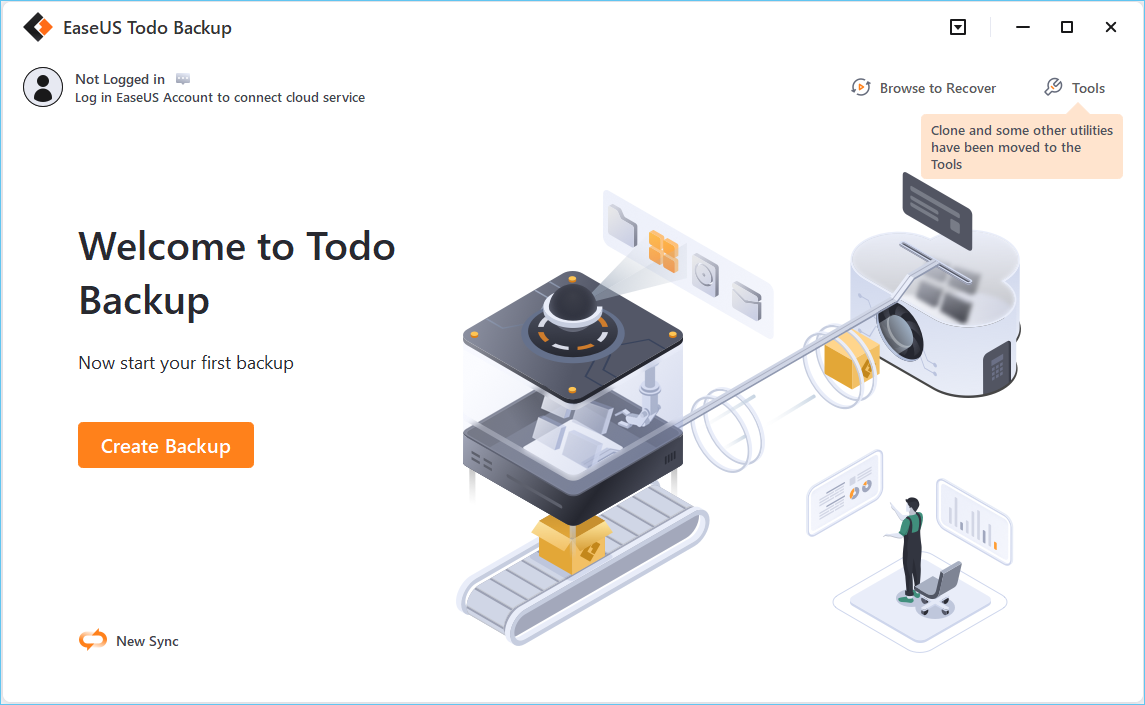 EaseUS Todo Backup is the best overall on-premise backup management and best for Windows and new users.
EaseUS Todo Backup is a user favorite backup and restore software for Windows. With its ease of use, excellent user interface, versatile features, and cloud storage, it's a great tool for home and enterprise backup needs. 
Price
Basic account: Free with limited features. 
Advanced plan:  $59 (lifetime/perpetual license); $29.95 – $39.95 2 years subscription | 30-day free trial.
Main Function
EaseUS Todo Backup offers both file/folder backup on local drives and drive/partition imaging, making it one of the best backup and restore software to settle on. It also can backup Outlook Emails (Microsoft 365).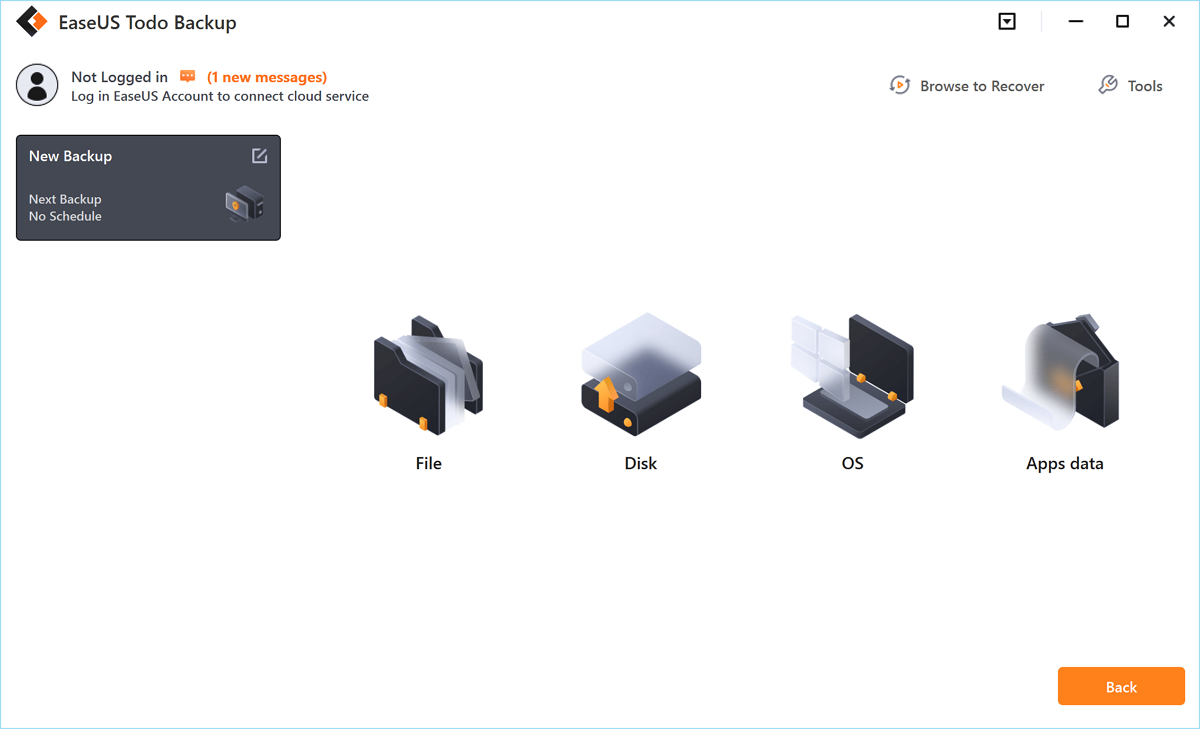 Deployment
Main Features
Local and Cloud backup and backup logs
Incremental, Differential, and continuous backup
Backup Scheduling (automatic 'smart' backup)
Encryption and Secure Data Storage
Outlook email backup
Support 
Knowledge Base forum 
Email/Help Desk
Chat
Free users get email support and the EaseUS knowledge base forum
Verdict: EaseUS Todo Backup is an affordable backup and restore software for Windows 10 with all the regular features, like encryption, email backup, and smart backup. You can start with the free option and advance to paid plans.
Next, we will provide the detailed steps for you to learn how to backup Windows 10 via this software:
Step 1. On the main page, click "Select backup contents".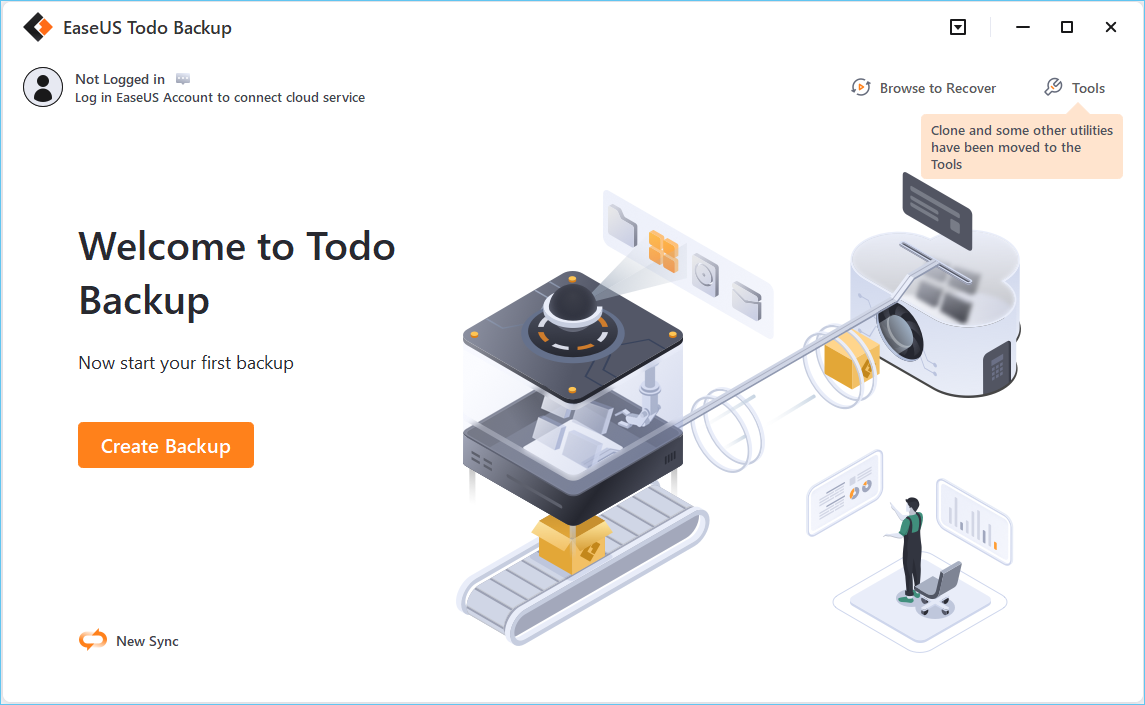 Step 2. Among the four available categories, click OS.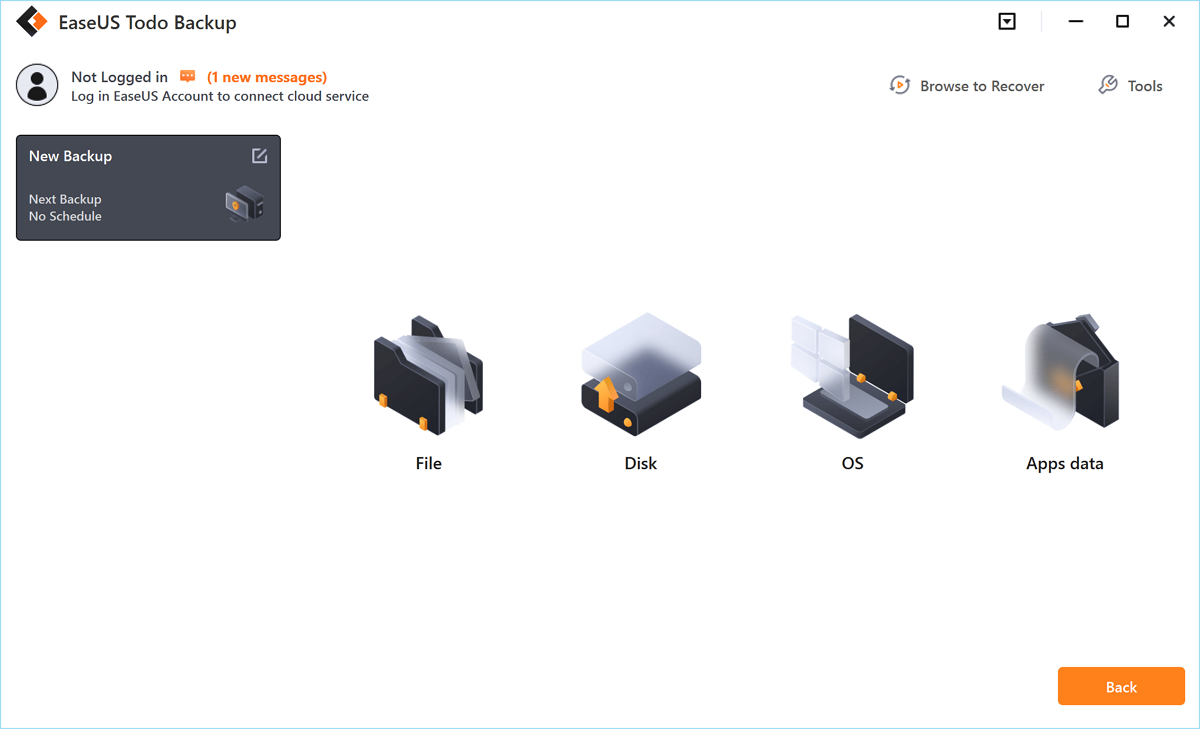 Step 3. EaseUS Todo Backup will automatically select your system partition, you only need to select the backup destination.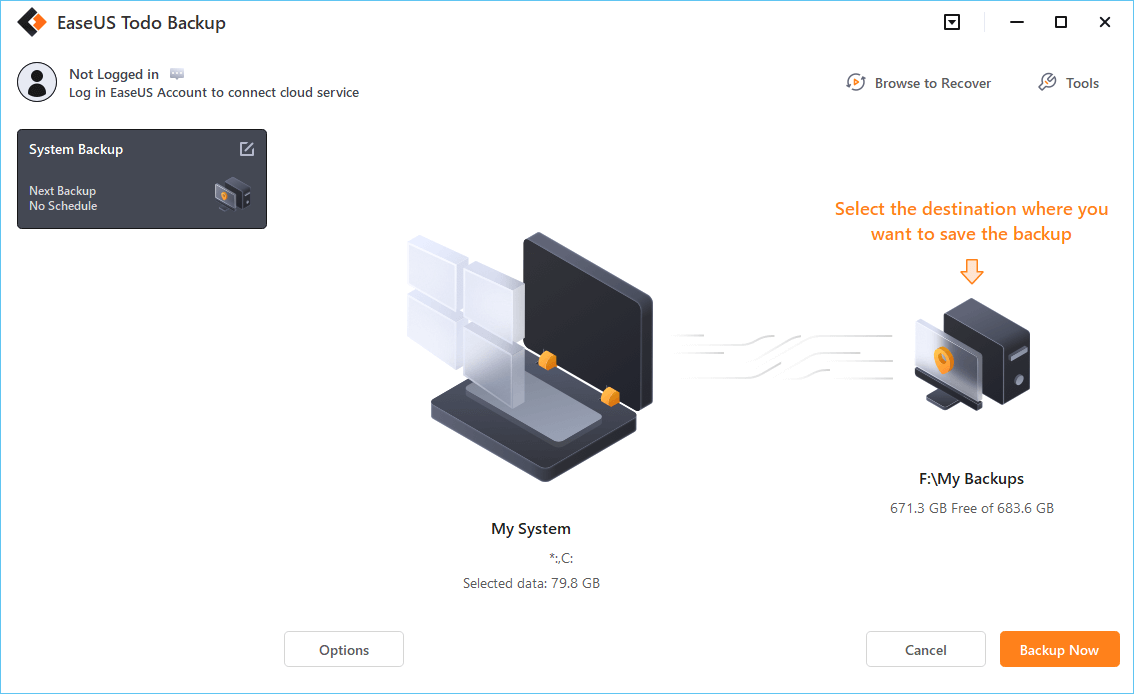 Step 4. Both Local Drive and NAS are available for you to save the backup file.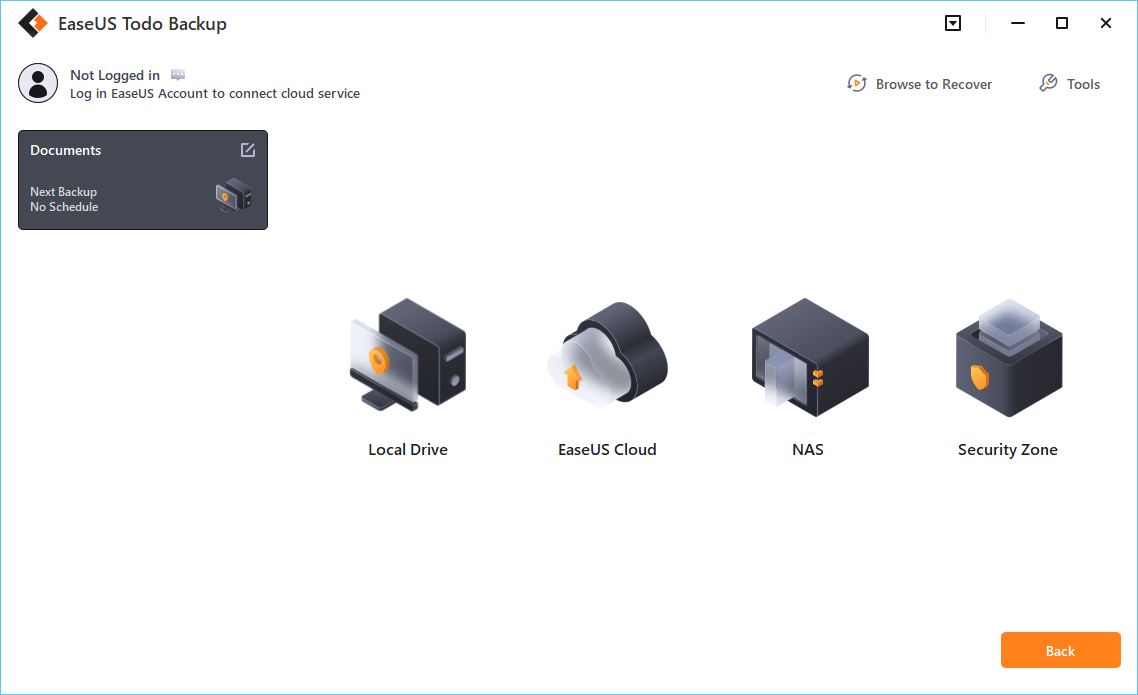 Step 5. After finishing the backup process, you can check the backup status, recover, open, or delete the backup by right-clicking the backup task on the left.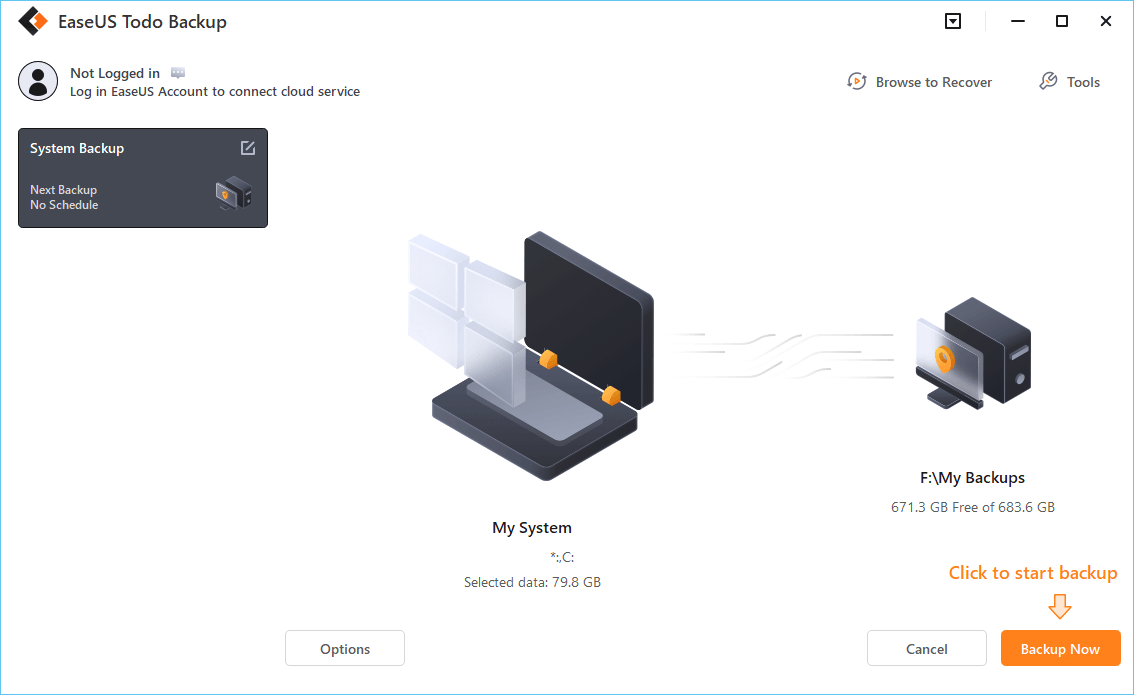 Description: Active Real-Time Protection from Cyberattacks.
Acronis Cyber ​​Protect Home Office: Best for full system image backup and cybersecurity; best applicable in Mac.
Acronis Cyber Protect Home Office began as a disk imaging solution and rose to be an all-in-one backup software for full system imaging with advanced cybersecurity protection. It's one of the best and most comprehensive backup and restore software with data safety solutions.
Price
Basic (Standard): $59.99 (lifetime license) without cloud storage| 30-day free trial.
Advanced: $49.99 with 250 GB cloud storage THAT can be raised to 500 GB for an additional $10) | 30-day free trial.
Premium $99.99 per year with 1 TB cloud storage that can be increased to 5 TB for an additional price | 30-day free trial.
Main Function
Comprehensive, feature-rich, and easy to use, Acronis Cyber Protect Home Office is used to create full-disk image backups with cybersecurity protection features.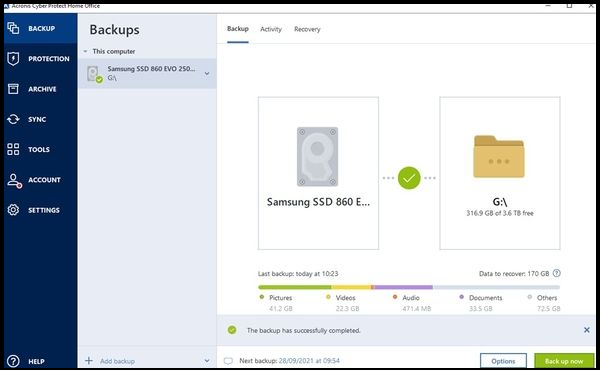 Deployment
Windows
Mac
Android mobile devices 
Main Features 
Full system (Windows and Mac) image backup. Disc cloning.
Enables local and Cloud backup (Acronis Cloud).
Backs up mobile devices (iPhone and Android).
Migration of iOS to or from Android.
Microsoft 365 backup (Cloud-to-cloud backup). This includes emails and attachments from your OneDrive and Outlook.
Machine-intelligence (MI)-based (AI) cybersecurity to block real-time attacks — before ransomware, malware, or cryptojackers cause damage. It also offers online protection.
Cons 
Has heavy installation data footprint
Offers all-or-nothing installation without the capability to choose modules
Slow restore time 
Support
Phone: 24/7 technical phone support for registered users. 
The trial period gets support from Acronis Forum.
Email support.
Verdict: Acronis Cyber Protect Home Office is a comprehensive, best backup and restore software for Windows and Mac, with advanced cybersecurity protection. Although the prices are high, the advanced features mean you won't regret paying the price.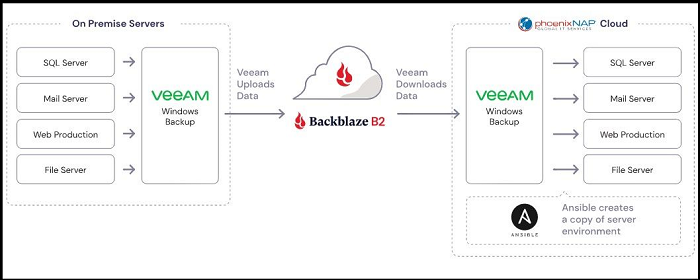 BlackBlaze is the best for file/document backup and Cloud backup and storage.
BackBlaze is a cost-effective, easy-to-use, feature-rich cloud backup, restore, and storage software for Windows and Mac. It's a top name in the cloud backup niche. It's a files/documents only backup and restore software, not Windows images.
Price 
You get a 15-day trial to try out the software for every Backblaze subscription.
1 month subscriptions or Individual and business: $7/month per computer.
1 year license: $70/year per computer.
Basic Function 
Backblaze is designed for cloud storage with service provisions for file/document backup and advanced cyber security.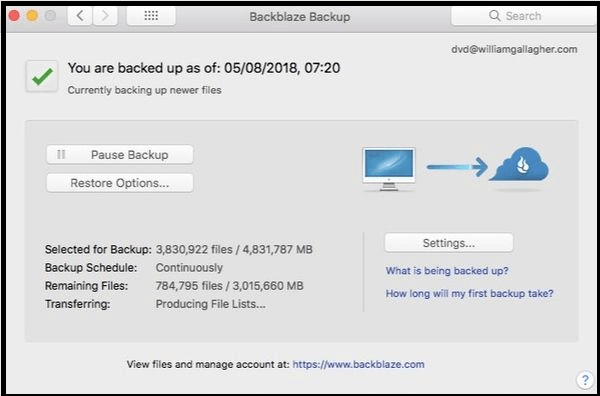 Deployment 
Main Features 
Backup & Archive. Store files and documents securely in the Cloud, including safeguarding data on servers, VMs, computers, and NAS.
Manage Media. You can manage and store large media files/libraries without altering your daily workflows.
Develop. Work with native APIs, CLI, and GUI or S3 compatible with managing and moving data with minimal coding.
Unlimited Computer Backup to an unlimited number of files and unlimited file sizes.
Easy integration with hundreds of apps such as Cloudflare, Vmware, AWS, Facebook, fastly, etc.
Easy and simple to use, with simple signup.
Cons
Doesn't backup operating systems, applications, or other temporary data created by active apps.
Support 
Email support.
Online access to solution centers including Knowledge Base, Product Documentation, Support Forums (and archive).
Verdict: Backblaze is the best and most cost-effective cloud backup solution. It offers unlimited cloud storage for unlimited file sizes that don't consume your hardware.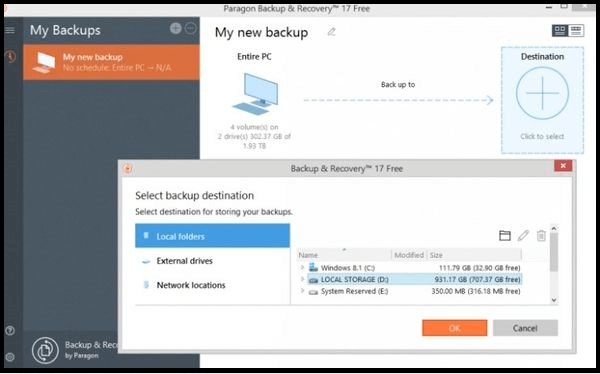 The Paragon Backup & Recovery is the best free backup and restores software with encryption and advanced features. Over 6 million people have downloaded its free plan, which is impressive.
Price
Community edition: Free for non-commercial use only.
Commercial edition: $99 – $899 per year | 30-day free trial.
Basic Function 
Paragon Backup & Recovery is used for backing up files/folders and hard drives on Windows PC. It supports version control, allowing backup and recovery of particular backup files. It also supports advanced Windows recovery environments, including ISO images and Windows PE. You can use it to create bootable USB and ISO.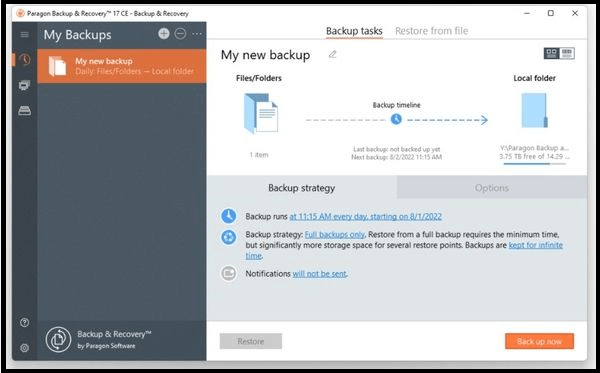 Deployment
Main features
Backup files, documents, and system. Copy files, disks, and operating system.
Backup schedule. Set the rules for backups kick-off.
Disk space management. Automatically delete old backup images based on specified value.
Version control.
Partition disks/volumes, manage your backups, and recover what you need.
 Notice:

The premium version, referred to as Hard Disk Manager, which supports backup scripts, VM operations, contains support, and data wiping, is right for Businesses. 
Cons 
Does Not support Mac.
Does Not support old Windows OS such as Windows 7 and below.
Support 
Paragon account. You can submit a service request through your MyParagon account if you need support. Your problem will be resolved within 3 business days. 
Paragon forum. Submit a question in the forum and wait for an answer.
Knowledge base.
Verdict: With Paragon Backup & Recovery, you can back up almost everything you may need to backup and recover your data files, partitions, discs, or entire system on the spot. The free version meets the backup and restore needs of most users.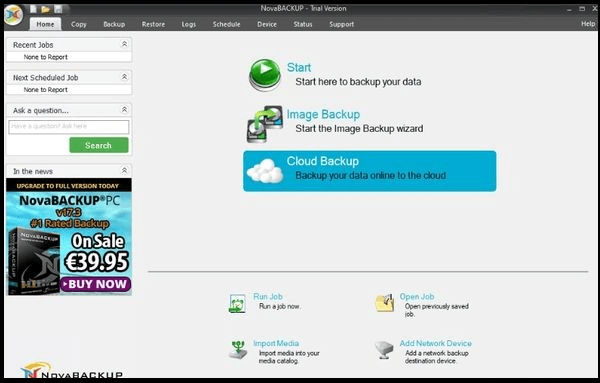 NovaBackup is the best for file, folder, and system backup and restore on Windows (PC) and corporations.
NovaBackup is a local and cloud backup and restore software for individual PC users, business owners, and IT service providers. It's a great solution for small and medium-sized organizations that need both local and Cloud data backups. It supports advanced backup features, including NAS, AWS, Azure, and other cloud storage solutions.
Price 
1 Windows PC: $49.95 /yr with 5 GB Free Cloud Storage | free, 30-day trial.
3 Windows PCs: $79.95 /yr with 5 GB of Free Cloud Storage | free, 30-day trial. 
5 Windows PCs: $99.95 /yr with 5 GB of Free Cloud Storage | free, 30-day trial. 
Cloud storage plans/prices
1 device with 2TB of online storage: $2,449.95/year.
5 devices with 500GB of online storage: $699.95/year.
1 device with 100GB online storage: $169.95/year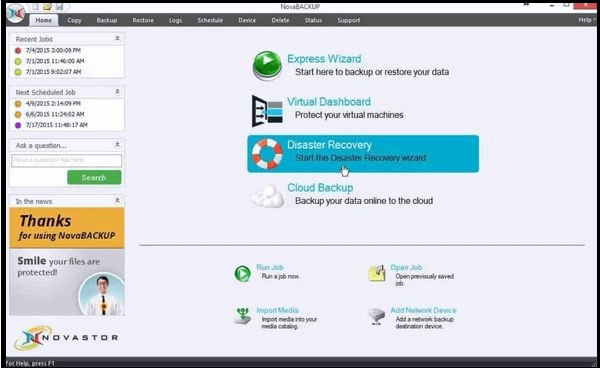 Main Features 
Local and Cloud backups with unlimited file version retention 
AES encryption with private keys
Quick local backup performance
Disk-imaging capabilities
Cons
No app support for macOS and Android
Extremely expensive on online storage
Slow upload performance 
Cluttered, confusing interface
Support
Support options include setup assistance, General Support Request, managed service support.
Online Support Options include manuals and guides, Knowledgebase, and Product FAQs.
24/7 phone support.
Online chat.
Email.
Verdict: Although more expensive than its peers, NovaBACKUP's advanced features are a great option for corporations. It's an easy-to-use software with fast backup and restore.
Final Thought
Settling on a backup and restore software for Windows is challenging because most of them have similar features and uses.
From the editor's desk, the best backup and restore software for  Windows 10 is EaseUS Todo Backup.
This software qualifies as the best based on its features, price, performance, and support that both individuals and corporate may need. It also provides both file/document backup and system imaging. Above all, it provides cloud storage and web access/restore solutions. Also, its ease of use makes it easy for new users to navigate and operate.
The EaseUS Todo Backup provides comprehensive and advanced backup and restore services for individuals and businesses. 
FAQs About Backup and Restore Software for Windows 10 
Here are answers to some of the commonly asked questions about backup and restore software for Windows 10:
1. Does Windows 10 have backup software?
Yes. The Windows 10 backup software is called Backup and Restore. An alternative version is called File History. They allow users to recover previous file versions in case of corruption or deletion.
2. What is the best way to backup Windows 10?
To backup Windows 10, first, determine whether you need to backup only your files or both files and the operating system. Once you decide this, you can first use the Windows 10 built-in Backup and Restore utility and File History, then find a quality Backup and Restore Software for Windows to back up your files and/or Windows.
3. How do I backup my entire computer?
If you want to backup an entire PC, you'll find a Backup and Restore Software for Windows that supports backup for Windows operating system. Backup software for Windows fall into two categories; file-based or imaging. Choose the imaging software to backup your entire PC.
Was this page helpful? Your supoport is truly important to us!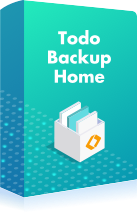 EaseUS Todo Backup
EaseUS Todo Backup is a dependable and professional data backup solution capable of backing up files, folders, drives, APP data and creating a system image. It also makes it easy to clone HDD/SSD, transfer the system to different hardware, and create bootable WinPE bootable disks.
Updated by

Jean is recognized as one of the most professional writers in EaseUS. She has kept improving her writing skills over the past 10 years and helped millions of her readers solve their tech problems on PC, Mac, and iOS devices. …

Read full bio

Written by

Tracy became a member of the EaseUS content team in 2013. Being a technical writer for over 10 years, she is enthusiastic about sharing tips to assist readers in resolving complex issues in disk management, file transfer, PC & Mac performance optimization, etc., like an expert.…

Read full bio