Windows 10 offline update is absolutely an ideal method for Windows users to get new systems without network or the weak Internet. Obviously, Microsoft has released quite a lot of versions of Windows 10 cumulative updates for Windows users. And it might be really annoying when they have limited bandwidth based Internet connections to install Windows 10. And sometimes, it really causes quite a long time for us to wait for Windows 10 online update.
To quickly install latest Windows 10 on PC or laptops, here below, we'll offer you methods for Windows 10 offline and guide you to install and update to Windows 10 offline with simple steps.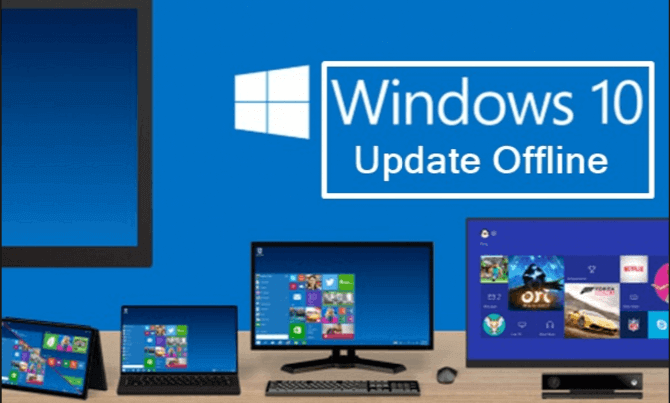 Why is Windows 10 offline update recommended
Here below, we'll list you some reasons and advantages for Windows 10 offline update and the list may help you to better understand whether you need to update Windows 10 online or offline:
1. Safer update circumstance
The offline update needs no access to the internet, which means that you'll have a safer update circumstance that no virus or unknown files will be downloaded or hacked into your PC.
2. Shorter update time
It will save you much time for updating Windows system offline that you don't need to wait for the Internet downloading and analyzing your system configurations. You can directly update to Windows 10 from the downloaded Windows 10 offline installation files.
3. Lower risks for meeting update error
Windows 10 offline update requires to install the whole system and drivers from a complete update patch, which means that you'll have lower risks for meeting update errors during or after Windows 10 update.
4. Fasting installing speed
With the early downloaded Windows 10 installing package, it will be faster in installing and updating Windows 10 on your PC by updating system offline.
Backup system and data before start Windows 10 offline update
To avoid system problems or unexpected problems from happening in PC while updating Windows 10 offline, it's always a wise decision for you to backup system and data before making any changes in your computer or laptops.
Here we'd like to introduce a Windows backup software for helping you backup whatever you want in PC including the system, personal files, and even some other important partitions. You may not feel like the backup software but it still worth to try. EaseUS Todo Backup allows you to free backup Windows system and data within 30 days and simply 3 steps will finish the backup process. Free download it and backup your present system with ease now.
After backing up system and data, you can directly follow the below-recommended methods and tutorial steps to update Windows 10 offline now. Here below you'll find two recommended methods and you can choose to follow either one of them to start your Windows 10 offline update job now:
Method 1. Offline update Windows 10 with updates & patches
We prefer to recommend you to try this method to update Windows 10 offline with updates and patches. It makes the installing process straightforward without any extra operations:
1. Download Windows 10 specific .msu / .exe update files.
Choose the exact Windows 10 update version that you want to install and download.
2. Double click on the downloaded installing patch and install.
The system will check if the update is already installed or not.
If it's available, it will proceed and all you need is to follow the updating procedure to let it finish the installing process.
3. After installing, do remember to restart the computer and then the offline update is complete.
Note: If you need to install multiple .msu files, do it by installing each one of them one by one but don't restart the computer till the last one is installed.
Here below, we'll offer you some latest Windows 10 update installing .msu update files and you can directly download to start Windows 10 offline update then.
If you need earlier download patches, please go to Microsoft Windows 10 download website and search relative update to download and perform the offline update by following about steps.
When you need to fast install Windows 10, this will be the most ideal way.
Method 2. Update Windows 10 offline with Portable Update
This method for Windows 10 offline update requires users to use a freeware Portable Update, with which, you can update Windows 10 offline without an Internet connection.
It won't leave a trace in the Windows registry and if you come across errors, it shouldn't be caused by this software.
However, it still requires Internet when you download the software and new Windows 10 update. The advantage of using this software is that the same file can be used to update different computers or update many times in the same PC.
And the program will use standard Windows Update API services to update your computer one the update is installed. If you wanna try this software, search it and download it to update Windows 10 offline now.
After updating Windows 10 offline, you can choose to restore the backups through EaseUS Todo Back or even revert to the previous system by restoring system when you don't like a new Windows system. Anyway, if you are trying to update Windows 10 offline, or need a way to install Windows 10 offline, follow the above methods, you'll make it.
100% of people found this article helpful.
Frequently Asked Questions
Why choose EaseUS Todo Backup?

"The easiest way to protect your data and system files." —techradar

"EaseUS Todo Backup Free is one of the most popular free data backup applications available. This software offers a myriad of features and is extremely user-friendly. It provides a full system backup, meaning you can back up your entire operating system." —TopTenReviews

"EaseUS ToDo Backup Home is a great backup program, well suited to the home and SMB space." —PCWorld
What is the difference between Clone and Backup? In what cases should I use Clone?

Clone will copy one disk to another or one partition to another (unallocated space is also supported). Usually, this option is used to upgrade the current disk by creating an identical copy. Backup will generate a .PBD image file containing the selected files or system that can be restored from the .PBD image if needed.
What is the difference between System Backup and Disk Backup?

System Backup will auto-select the system boot related partition(s) as the backup source to make sure the system image can be restored properly. Disk/Partition Backup will allow you to manually select a whole disk or speficy a certain partition as the backup source. You will get the same backup result as System Backup if you manually select the system and boot partitions with the Disk/Partition Backup option.
As a computer newbie, what features should I use to protect my computer?

You can use System Backup to back up the system and boot partitions, use Disk/Partition backup to back up the data partition and add plans to run an automatic backup. If you use the computer frequently or have software that may cause boot failure of the computer, we would suggest you back up the computer every 1 to 2 days. For other situations, you can backup the computer once a week. In addition, you can schedule File Backup to back up the files which are changed frequently.
What kind of storage service should I use to save my backup images?

EaseUS Todo Backup can save backup images to internal disks, external disks, network drives, or free cloud(Google Drive, Dropbox, and OneDrive) and CD/DVD. It is suggested to save the images to the internal/external/network drives to save time as those kinds of disks have a better read-write speed. It is suggested NOT to save the image on the source disk, because once the disk is damaged, all the files on the disk will become unavailable and you will be unable to restore the image.
As a company network administrator, what features should I use to protect our internal computers?

It is recommended that you use the SQL Backup feature to back up your company's SQL server and Exchange Backup feature to back up the Exchange server. In addition, you can execute System Backup to back up the system and boot partitions on every computer and set a plan to execute the backup once a day or twice a week to ensure that the computer can be restored timely when it has boot issues. File Backup feature can be used to back up important user data. If there are a large quantity of computers, you can purchase EaseUS Backup Center to manage the backups on the client computers centrally.
About EaseUS Todo Backup
Be it a file, system, partition, or disk, EaseUS Todo Backup will help you back up or clone the item and provide you with multiple backup plans.