Updated by
Larissa
on Oct 28, 2022
| Workable Solutions | Step-by-step Troubleshooting |
| --- | --- |
| Method 1. Through Updates & Patches | Download Windows 10 specific .msu / .exe update files...Full steps |
| Method 2. Through Portable Update | It requires users to use a freeware Portable Update...Full steps |
Windows 10 offline update is absolutely an ideal method for Windows users to get new systems without network or the weak Internet. Obviously, Microsoft has released quite a lot of versions of Windows 10 cumulative updates for Windows users. And it might be really annoying when they have limited bandwidth based Internet connections to install Windows 10. And sometimes, it really causes quite a long time for us to wait for Windows 10 online update.
To quickly install the latest Windows 10 on PC or laptops, here below, we'll offer you methods for Windows 10 offline and guide you to install and update to Windows 10 offline with simple steps.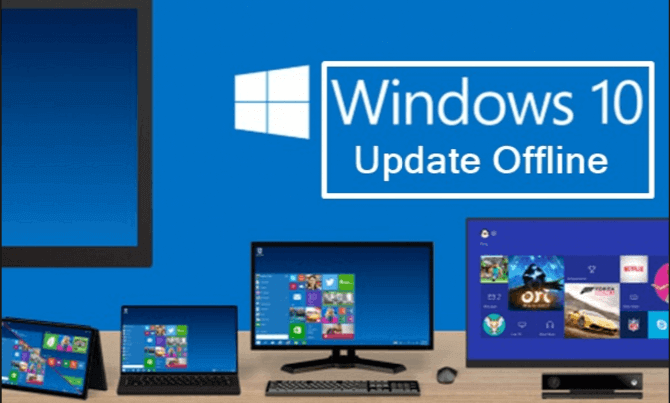 Why is Windows 10 offline update recommended?
Here below, we'll list you some reasons and advantages for Windows 10 offline update and the list may help you to better understand whether you need to update Windows 10 online or offline:
1. Safer update circumstance
The offline update needs no access to the internet, which means that you'll have a safer update circumstance that no virus or unknown files will be downloaded or hacked into your PC.
2. Shorter update time
It will save you much time for updating Windows system offline that you don't need to wait for the Internet downloading and analyzing your system configurations. You can directly update to Windows 10 from the downloaded Windows 10 offline installation files.
3. Lower risks for meeting update error
Windows 10 offline update requires to install the whole system and drivers from a complete update patch, which means that you'll have lower risks for meeting update errors during or after Windows 10 update.
4. Fasting installing speed
With the early downloaded Windows 10 installing package, it will be faster in installing and updating Windows 10 on your PC by updating the system offline. 
Backup system and data before starting Windows 10 offline update 
To avoid system problems or unexpected problems from happening on PC while updating Windows 10 offline, it's always a wise decision for you to backup the system and data before making any changes to your computer or laptops.
Here we'd like to introduce a Windows backup software for helping you backup whatever you want on your PC including the system, personal files, and even some other important partitions. You may not feel like the backup software but it is still worth trying. EaseUS Todo Backup allows you to backup the Windows system and data in 3 simple steps. Free download it and backup your present system with ease now.
Step 1. On the main page, click "Select backup contents".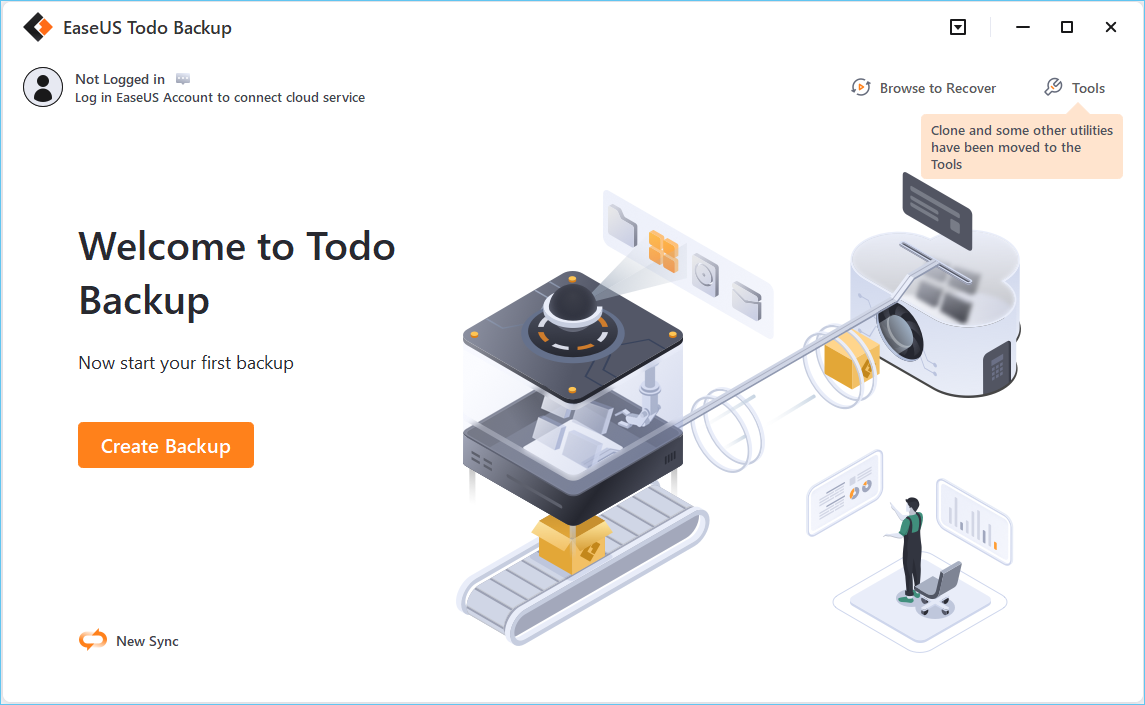 Step 2. Among the four available categories, click OS.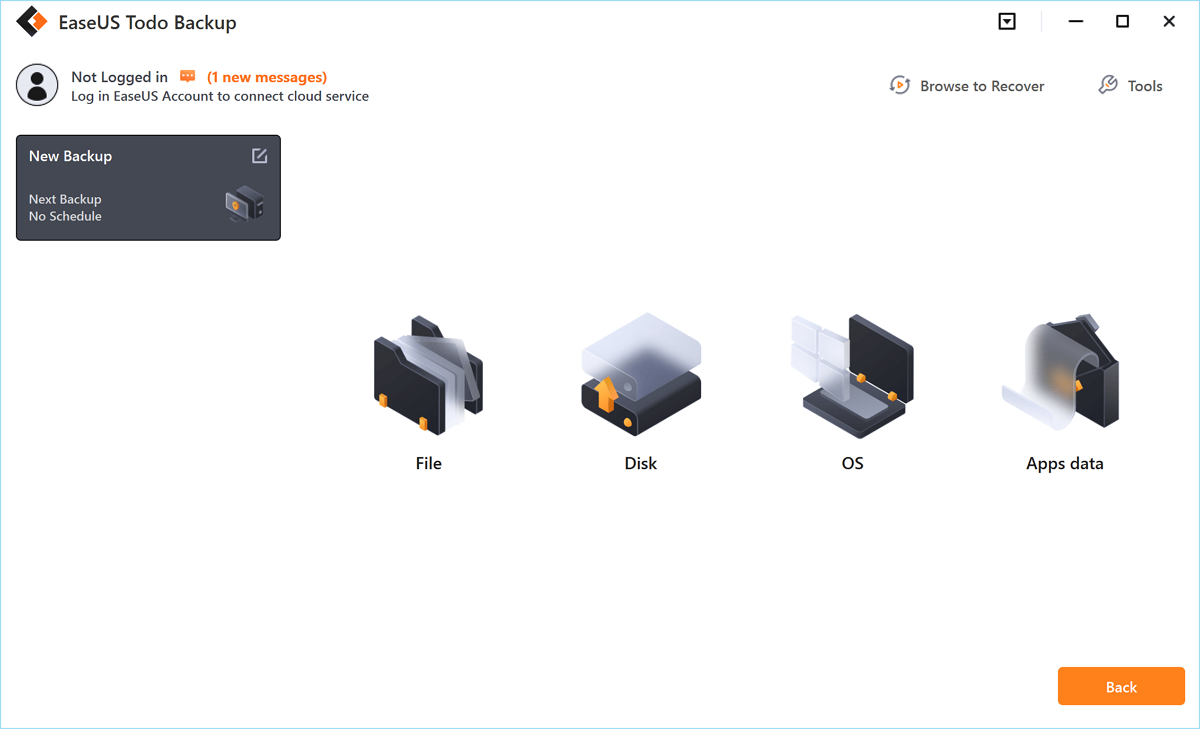 Step 3. EaseUS Todo Backup will automatically select your system partition, you only need to select the backup destination.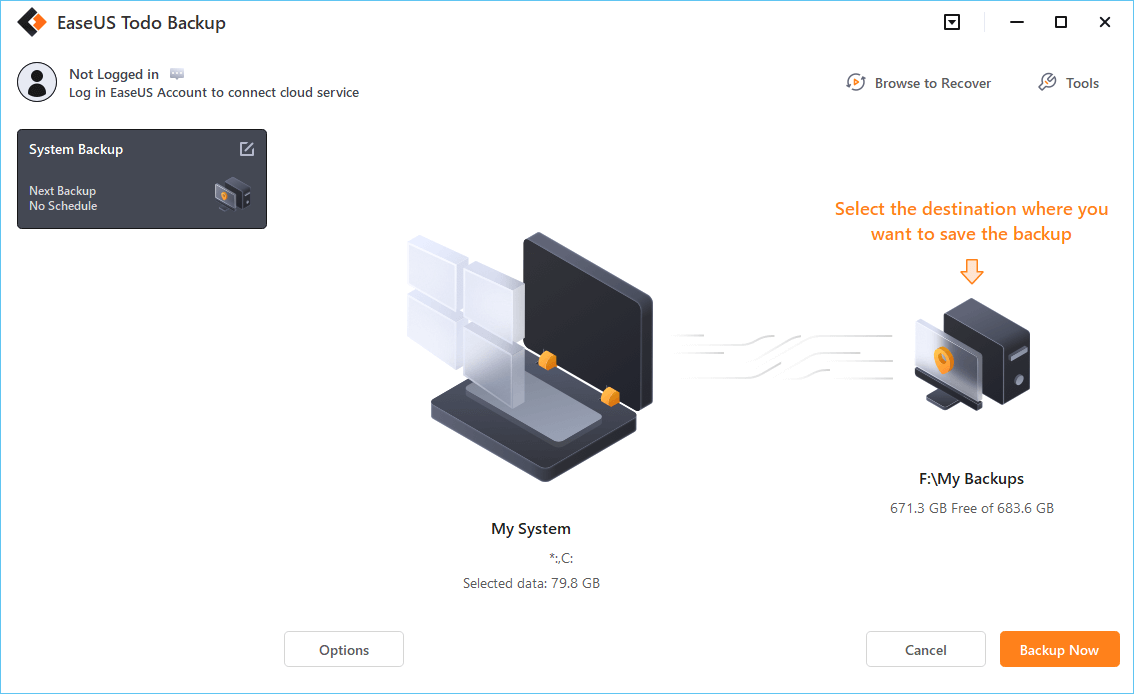 Step 4. Both Local Drive and NAS are available for you to save the backup file.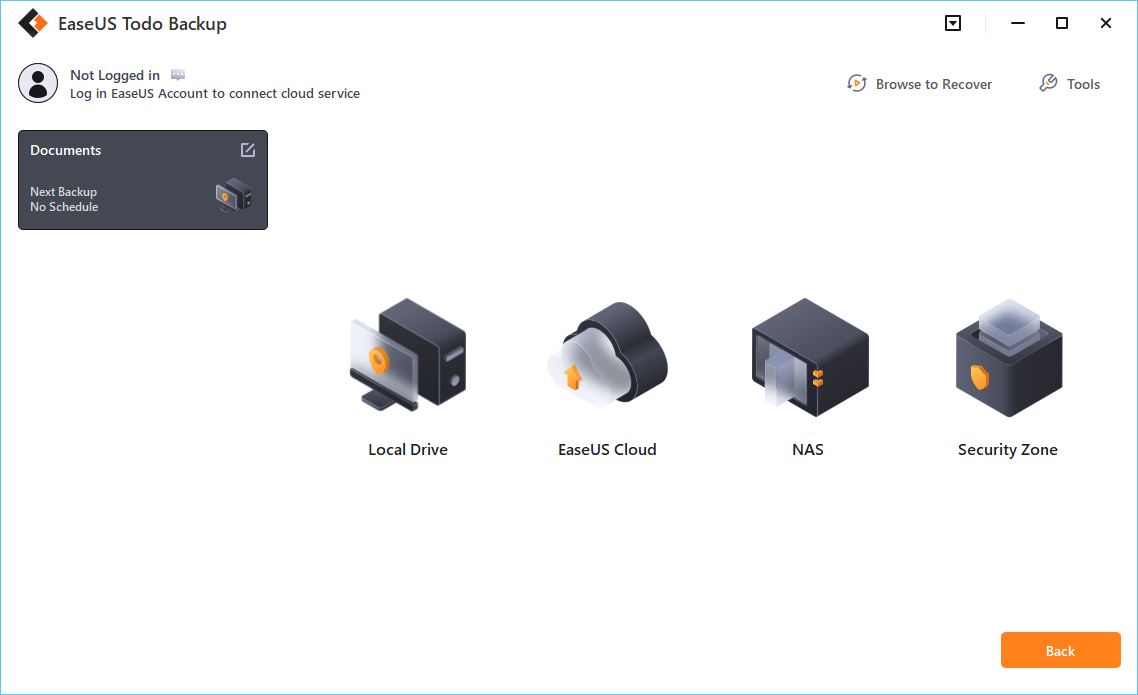 Step 5. After finishing the backup process, you can check the backup status, recover, open, or delete the backup by right-clicking the backup task on the left.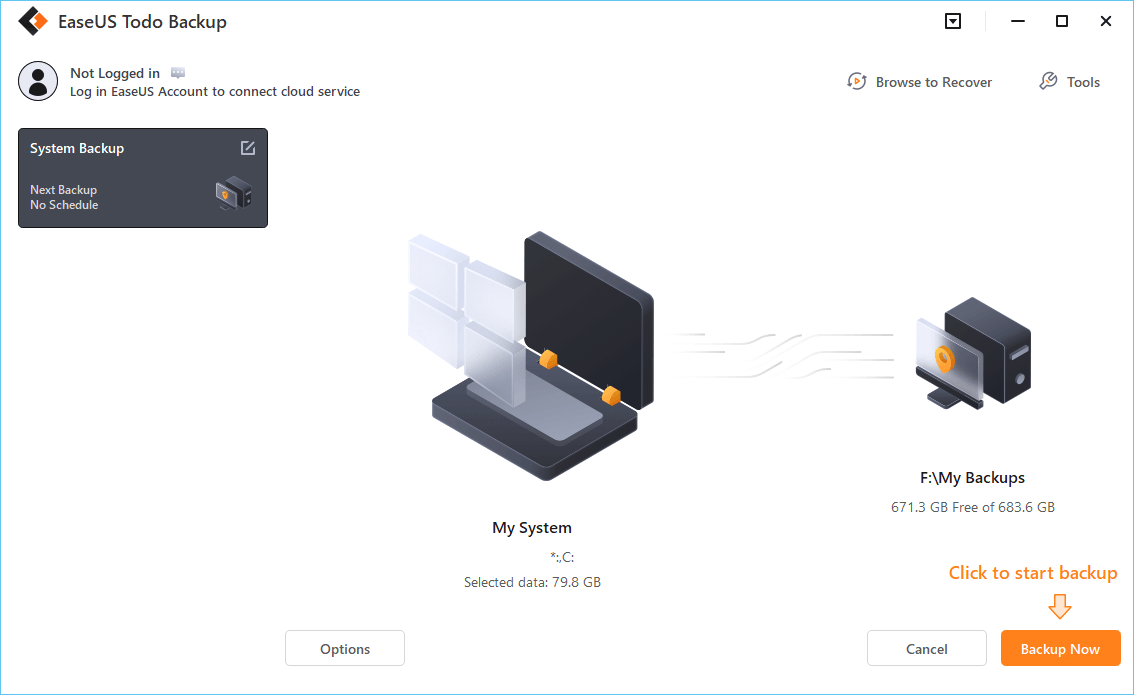 After backing up the system and data, you can directly follow the below-recommended methods and tutorial steps to update Windows 10 offline now. Here below you'll find two recommended methods and you can choose to follow either one of them to start your Windows 10 offline update job now:
Method 1. Offline update Windows 10 with updates & patches
We prefer to recommend you try this method to update Windows 10 offline with updates and patches. It makes the installing process straightforward without any extra operations:
1. Download Windows 10 specific .msu / .exe update files.
Choose the exact Windows 10 update version that you want to install and download.
2. Double click on the downloaded installing patch and install.
The system will check if the update is already installed or not.
If it's available, it will proceed and all you need is to follow the updating procedure to let it finish the installing process. 
3. After installing, do remember to restart the computer and then the offline update is complete. 
Note: If you need to install multiple .msu files, do it by installing each one of them one by one but don't restart the computer till the last one is installed.
If you need earlier download patches, please go to Microsoft Windows 10 download website and search relative update to download and perform the offline update by following about steps.
When you need to fast install Windows 10, this will be the most ideal way.
Method 2. Update Windows 10 offline with Portable Update
This method for Windows 10 offline update requires users to use a freeware Portable Update, with which, you can update Windows 10 offline without an Internet connection.
It won't leave a trace in the Windows registry and if you come across errors, it shouldn't be caused by this software.
However, it still requires Internet when you download the software and new Windows 10 update. The advantage of using this software is that the same file can be used to update different computers or update many times in the same PC.
And the program will use standard Windows Update API services to update your computer one the update is installed. If you wanna try this software, search it and download it to update Windows 10 offline now.
After updating Windows 10 offline, you can choose to restore the backups through EaseUS Todo Back or even revert to the previous system by restoring system when you don't like a new Windows system. Anyway, if you are trying to update Windows 10 offline, or need a way to install Windows 10 offline, follow the above methods, you'll make it.
FAQ on Windows 10 Offline Update
Can I download Windows 10 update manually?
Yes, you can manually download the Windows 10 updates from the Microsoft website. However, we recommend that you only do this if you are comfortable with working with technical information and understand how to install updates on your computer. Otherwise, it is best to wait for the updates to be automatically installed through Windows Update.
Can your PC update without Internet?
Technically, it is impossible to update Windows without the Internet.  However, you can temporarily disable your Internet connection and then enable it again after the updates are installed. This will allow you to update Windows without actually using the Internet. It is important to note that you should only do this if you are comfortable working with technical information and understand how to install updates on your computer. 

Updated by Larissa
Larissa has rich experience in writing technical articles. After joining EaseUS, she frantically learned about data recovery, disk partitioning, data backup, and other related knowledge. Now she is able to master the relevant content proficiently and write effective step-by-step guides on computer issues.
Written by Tracy King 
Tracy joined in EaseUS in 2013 and has been working with EaseUS content team for over 7 years. Being enthusiastic in computing and technology, she writes tech how-to articles and share technical solutions about Windows & Mac data recovery, file/system backup and recovery, partition management and iOS/Android data recovery.
Taking everything into consideration, we can say that EaseUS Todo Backup Home can offer you a little extra sense of security with a set of advanced tools. The interface provides quick adaptation, every process guiding you all the way through so you don't get stuck or further damage your system rather than keeping it safe.

 Read More

EaseUS Todo Backup Free lets you create backups of your important files or your entire computer through its streamlined interface. Just choose the backup type you'd like to get started, and let the program do the reset.

 Read More

EaseUS includes all the features I expect from backup software like versioning, incremental backups, and scheduling. For more advanced users, EaseUS allows you to install a pre-boot environment onto your hard drive so you can use it to restore files without burning a CD or putting it on an external USB drive.

 Read More

EaseUS Todo Backup
Smart backup tool for your files and entire computer in Windows 10/8/7.
Install Windows on Multiple Computers at Once? No Problem!
Learn how to install Windows 11/10/7 and special programs/software on a batch of computers. Use 10 minutes to do the 10 hours work without making a single mistake!
Get Free Solution!