What Is the Backup and Recovery of Data?
The retrieval and backup of data is the procedure of getting back your data after any misplacement. It develops secure systems that permit you to get back all your information as an outcome. Moreover, data backup is a form of accidental recovery, making it an imperative element of any smart, logical restoration plan. It is also important for you to know how to backup data without booting into windows 10.
How to Choose Examples of Backup Software?
We choose examples of backup software mainly based on our requirements, besides their recommendations from large IT companies. It is one of the many criteria. Here are examples of some software: Synback, Gs richcopy 360, Duplicati, SecureCopy, Syncthing, Carbonite, and GoodSync.
Furthermore, let's take an example: you have chosen a data backup and recovery solution as software. When you are 100% sure that it is the right software according to your drive and device requirements, then connect it to your device and configure it all. Once it's over, you can easily run your business.
If you want to choose the best free backup software for Windows 10, you can read the following article to learn about something: 

What Is the Best Free Backup Software for Windows 10?
If you plan to back up your computer data, congratulations, you have built a good sense of data protection.  Here in this article, we have listed the top 8 best free backup software. Choose the one that suits you the best.
There are three recognized types of plans for choosing backup software, which is quite interesting.
The lazy person's plan: It requires minimal effort with the data and just nothing to pay. The reason is what you have to backup includes only your photos, contacts, songs, scanned documents, etc.
The Goldilocks Plan: This needs just a little payment. The backup plan you get as an outcome can have a lot more value for you. Or, it can be called a mid-level effort with a huge restoration option.
The perfectionist plan: You make 3 copies of your files in this plan. The first one is the original and is there on your device. The second one is done by an online file-synching service. Finally, this one is in a primary lock hard drive as a backup.
Check the Backup Tools List of 15 Best Backup Software Examples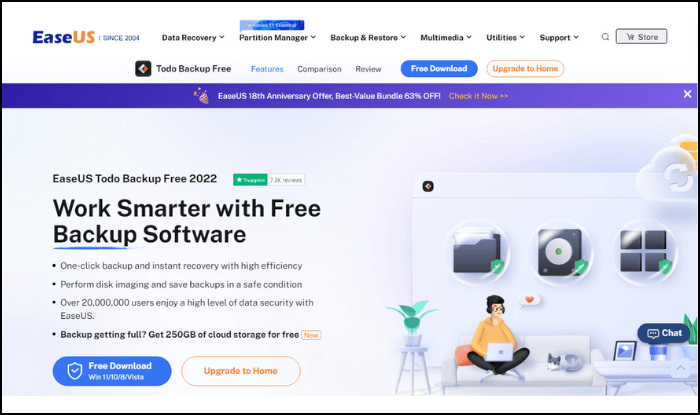 This software is known as securing the whole future. It has powerful abilities to make backups. It has a simple UI and capability of backup at the disk, OS, partition, and files and keeps backup to cloud, NAS, network, and local drives.
Its unique feature includes cloud backup, system image, file backup, and disk/partition backup. In addition, the advance option includes encrypted backup, differential backup, incremental backup, scheduled backup, image reserve policy, etc. It is the best incremental backup software.
This software is recommended if you want multi-path backup storage, i.e., the 3-2-1 backup rule. Choose this to save data to a cloud drive, external hard drive, or network drive.
If you have any problems with this backup tool, you can follow the steps we provide below:
Step 1. Click the "Select backup contents" button to start backup.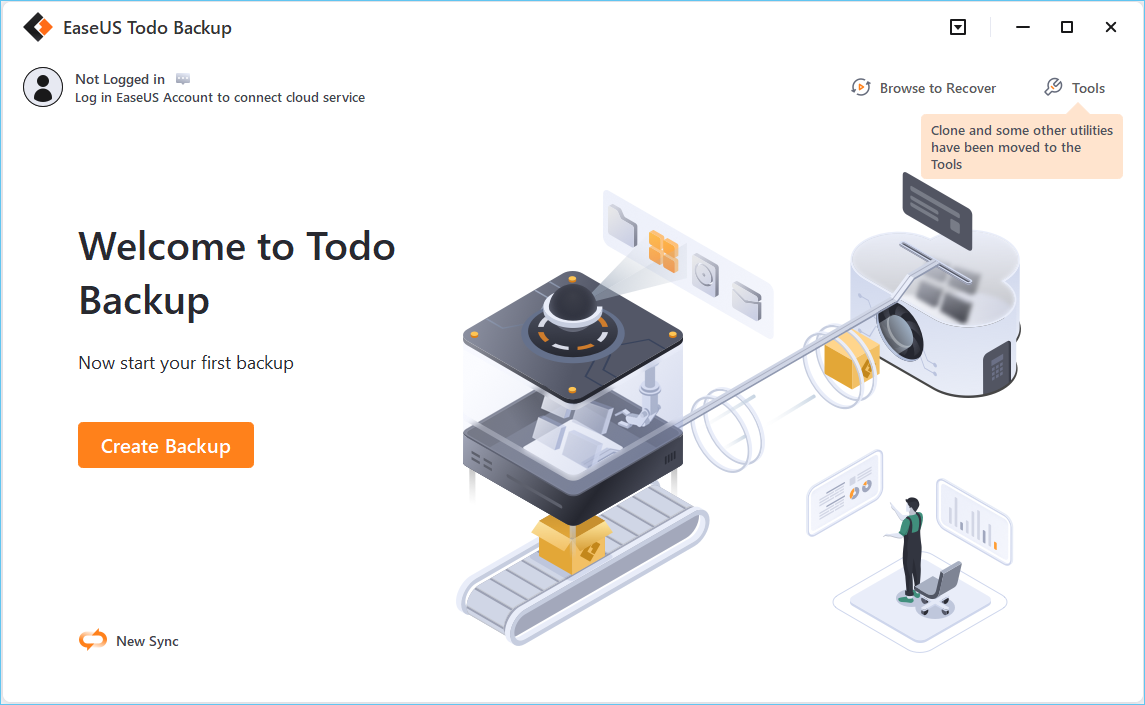 Step 2. There are four data backup categories, File, Disk, OS, and Mail, click File.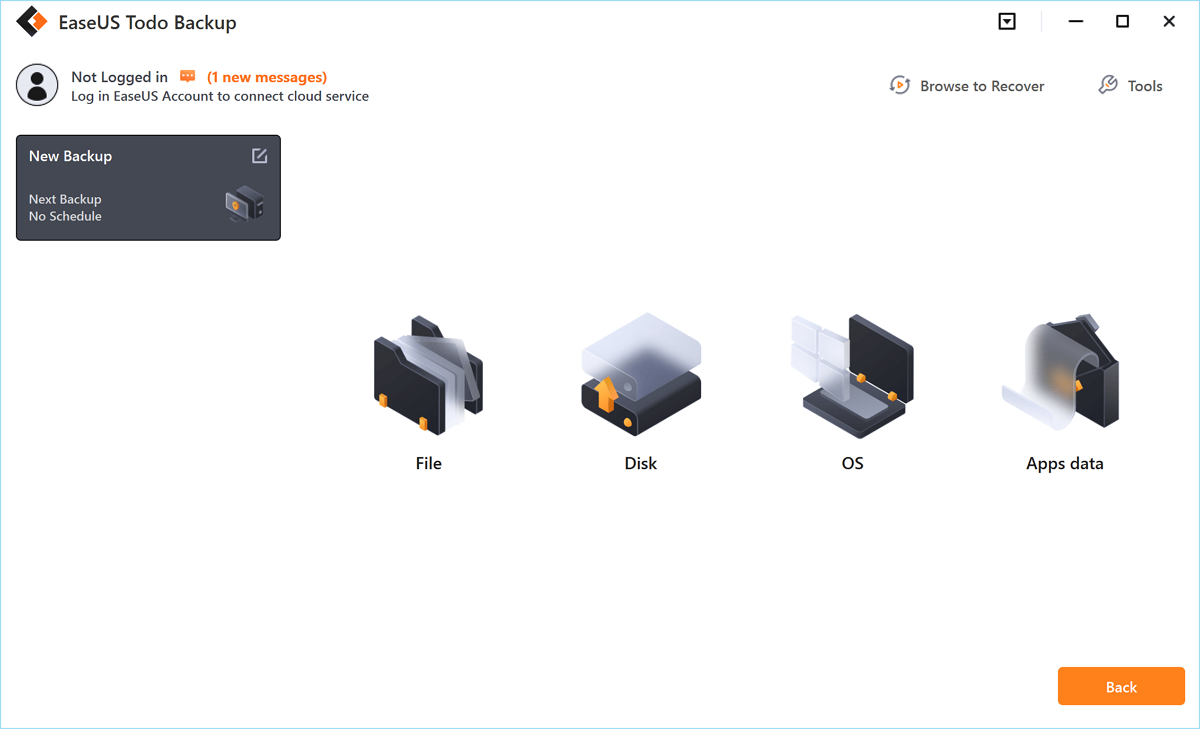 Step 3. Both local and network files will be listed on the left. You can expand the directory to select the files to be backed up.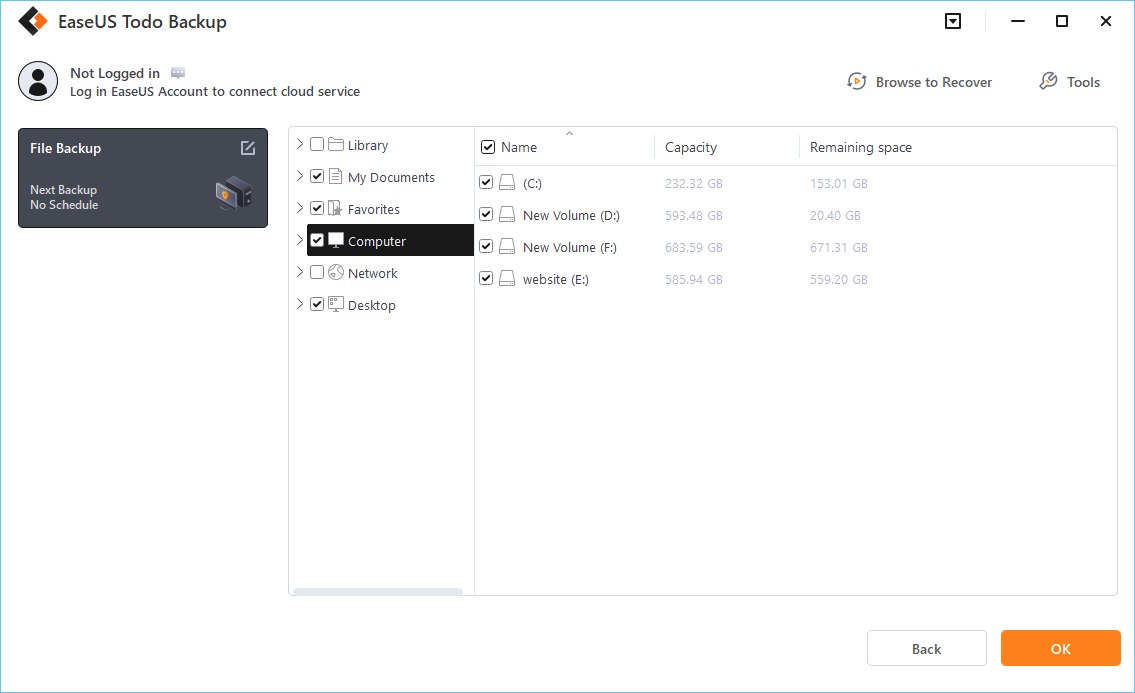 Step 4. Follow the on-screen guide, select the destination where you want to save the backup.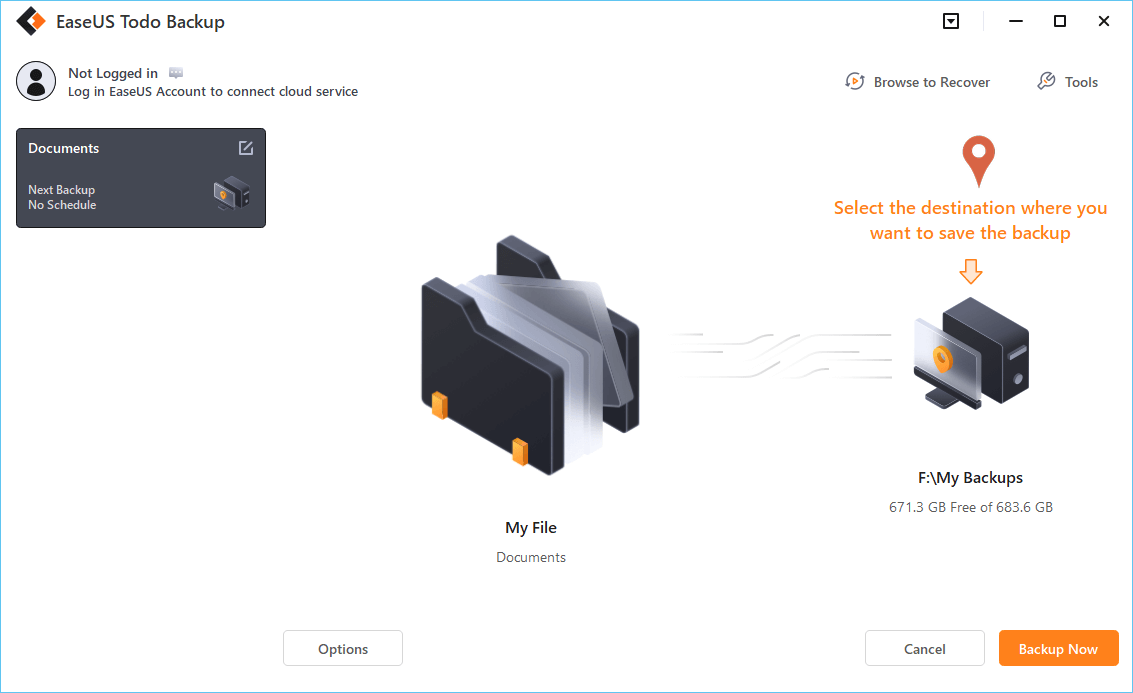 Click "Options" to encrypt the backup with password in "Backup Options", set the backup schedule and choose to start back up at certain event in "Backup Scheme". There are also many other options you can explore, customize the backup task according to your need.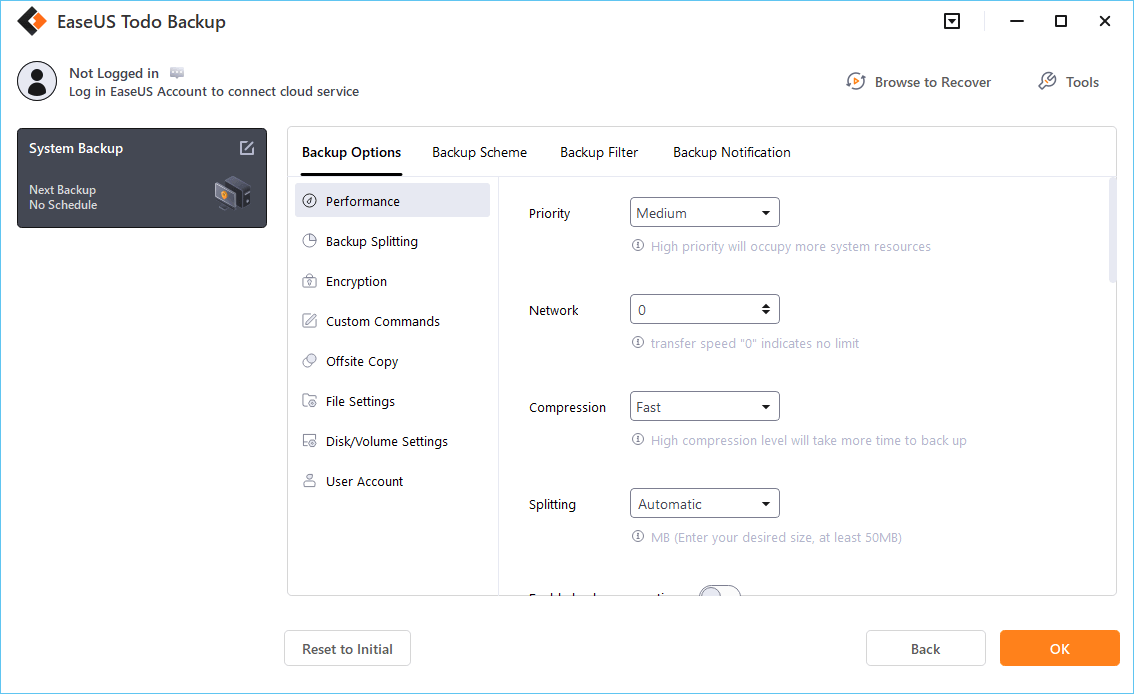 Step 5. You can store the backup to local drive, EaseUS's cloud service, and NAS.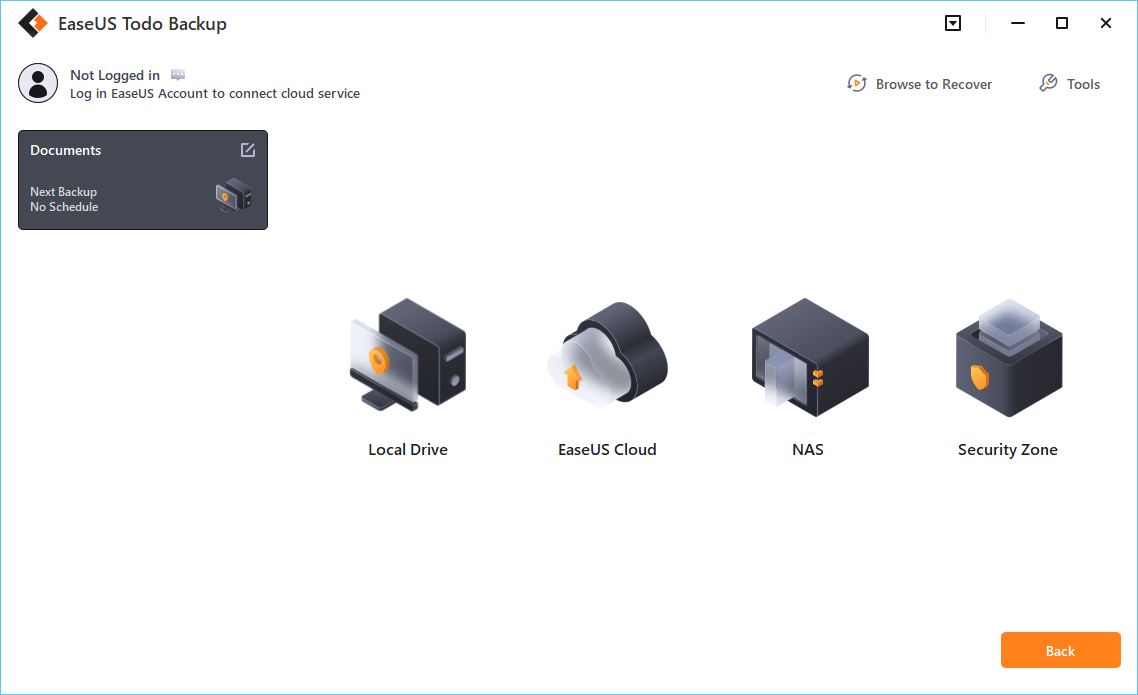 Step 6. EaseUS Todo Backup enables users to back up data to both third-party cloud drive and its own cloud drive.
If you want to back up data to third-party cloud drive, choose Local Drive, scroll down to add Cloud Device, add and login your account.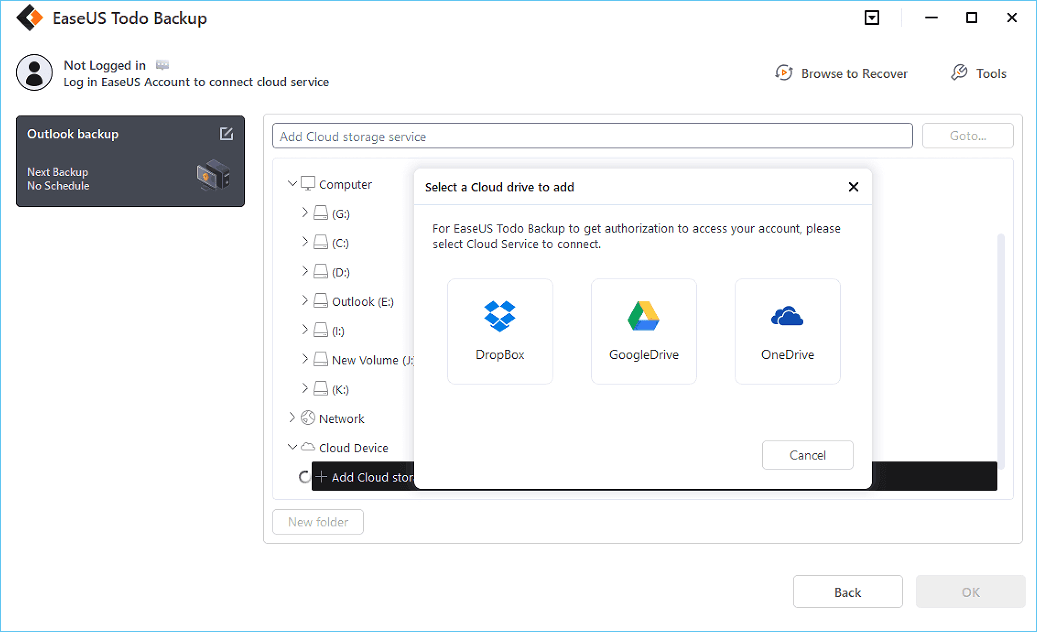 You can also choose EaseUS's own cloud drive. Click EaseUS Cloud, sign up with your EaseUS Account and log in.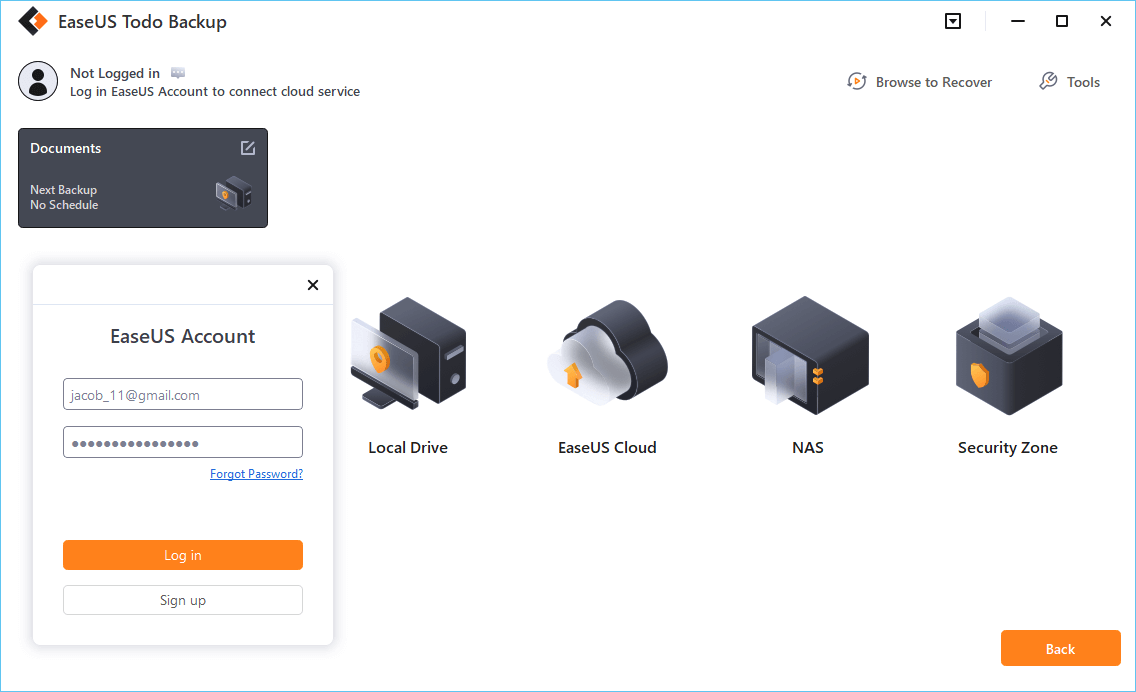 Step 7. Click "Backup Now" to start backup. After the backup task is completed, it will be displayed in the form of a card on the left side of the panel. Right-click the backup task to further manage it.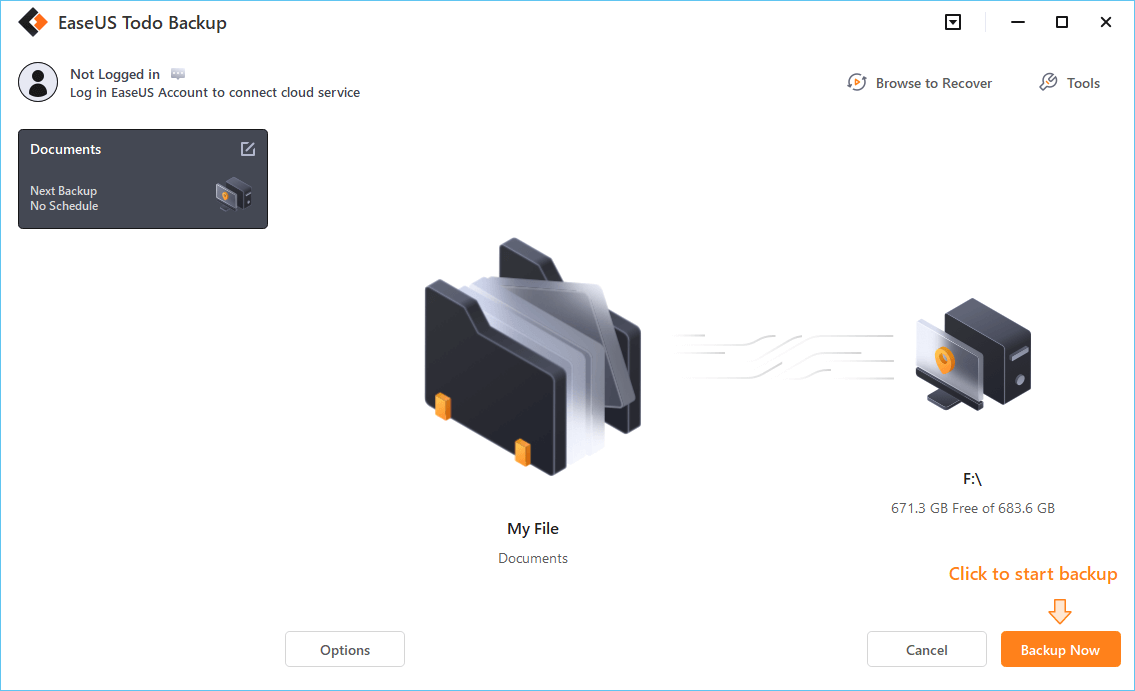 Example 2. Clonezilla Backup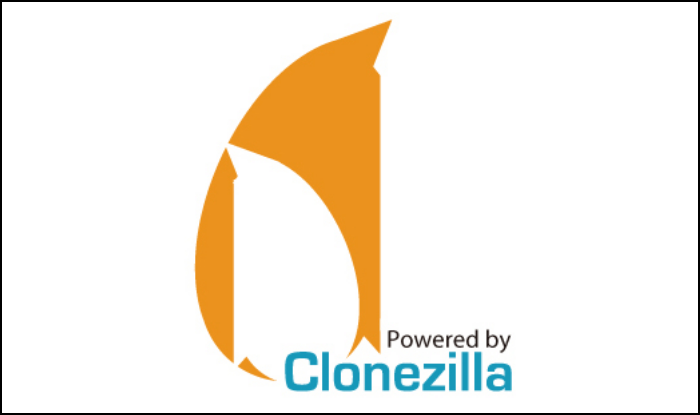 It is a cloning/imaging program of disk and partition that is similar to Norton Ghost and True Image.
Its features include multi-file-system support, LVM2  under GNU/Linux, LUKS, syslinux and boot reloader or re-installer, both GPT and MBR partition formats, supporting unattended mode, image encryption, Multicast and BitTorrent (BT) supportive and much more.
This software is recommended if you want single-machine backup and restore. It will store and save only used blocks in your hard drive. Moreover, if you wish to bare metal recovery and backup, and system deployment, it is the best possible software for you with unlimited unmentioned features.
Example 3. Macrium Reflect Backup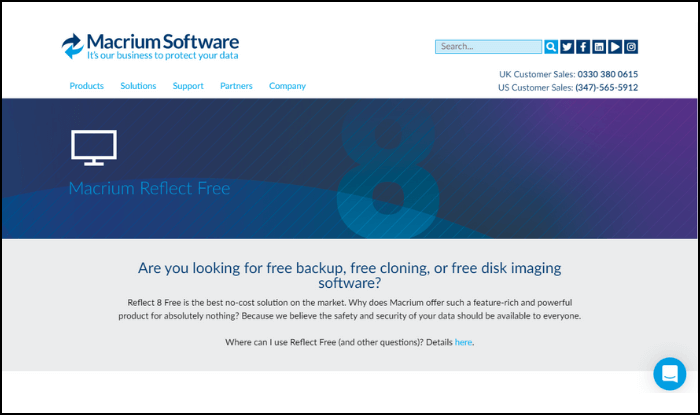 Macrium reflects free, also known as reflect 8 free, is known as the no-cost best solution with no cost in the back soft-wares world. The software claims the security and safety of your data at its peak.
Its improved and new features include a drag and drop interface, server redeploys, integrated email component, direct disk cloning, resize/reorder partition, restore multiple partitions, backup destination rotation, and much more.
It is a risk-free backup software recommended to you. Moreover, if you are looking for Free cloning, free imaging, and free backup software, this is the best option you can have.
Example 4. Acronis True Image Backup
This software is for Cyber protection solutions. It protects applications systems and all data anywhere. It easily handles cyber attacks, human errors, natural disasters, and Hardware failures.
Its important features include full image backups, active disk cloning, All-in-One recovery drive, Microsoft 365 backup,  file sync, and share, file and folder backup, Dual protection, cloud restore, non-stop backups, event-based backups, incremental and differential backup, resume-able replications, version control, virtual environment support, memory card backup and much more.
It is highly recommended if you are a victim of cyber protection problems.
Example 5. R-drive Image Backup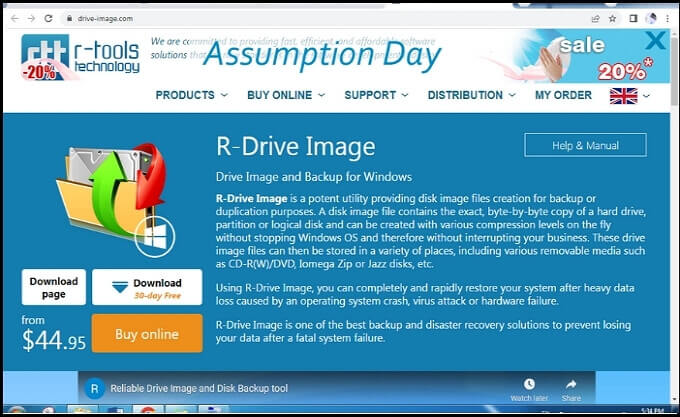 It is a fantastic software that has the potential to duplicate and backup disc image files. So, the disc image file is much more beneficial in keeping the copy of a hard drive byte-by-byte, logical disk, partition, and compression levels without disturbing Windows OS and your business.
Its best features include disk-to-disk copy, scheduler, startup version, unattended script and actions, a broad range of supported file systems, file imaging and advanced drive, and advanced image restoration.
If you are a victim of a system crash, hardware failure, virus attack, or heavy Data loss and want to rapidly restore your Windows, this is the best-recommended software for you.
Example 6. Cobian Backup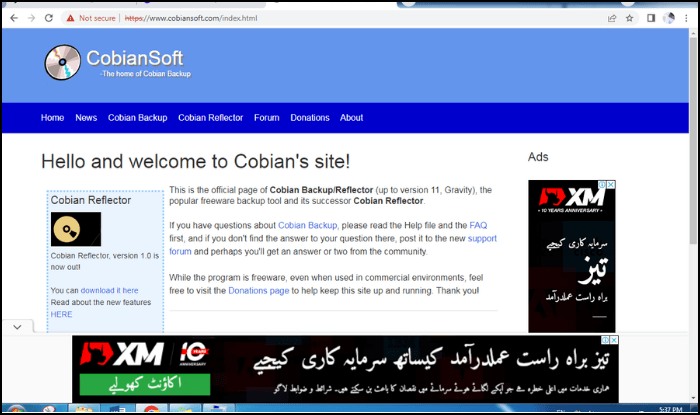 It is a file backup program that makes an automatic backup for your documents. You can run it as a regular application or a service. The software supports encryption and compression. Using the same computer, you can keep your backup data in another location.
The most valuable features of Cobian backup 11 are remote access, automatic backup, Unicode file names, command line use, several backup jobs groups, run as an application or a service, remover for Windows Explorer, and others.
Cobian is the best recommendation for you if you want to use backup software easily in a commercial environment.
Example 7. Retrospect Solo Backup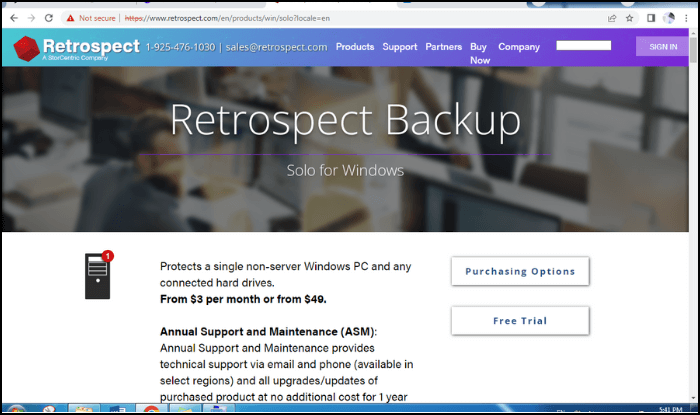 This software's specialty is that it protects any connected hard drives to your Windows PC; non-server, single. Moreover, its annual maintenance and support system provides you Technical Support through their contact sources (phone, emails).
The best key feature includes complete data protection, proactive AI, cloud backup, email protection, centralized management, end-to-end security, cross-platform support, smart incremental backup, fit any storage budget, smart restore, and many more.
If you want backup software that you can monitor on your iPhone while using 3G/4G or Wi-Fi, then this one is the best recommendation.
Example 8. Iperius Backup
If you want to enhance and extend your data protection, Iperius backup is the best. However, if you are away from your laptop, you can still customize and set backup jobs and scheduling while using this backup software.
Iperius Remote has one of the best features, which includes connection time statistics, unattended access, full rebranding, folder/file transfer, remote desktop for Windows, iOS, and Android, management of user and group permission policies, SQL databases, and Office 365 backup, and much more.
If you are a businessman running a company and want to monitor your customers and all systems remotely, this remote backup software is the best recommendation for you.
Example 9. MSP 360 Backup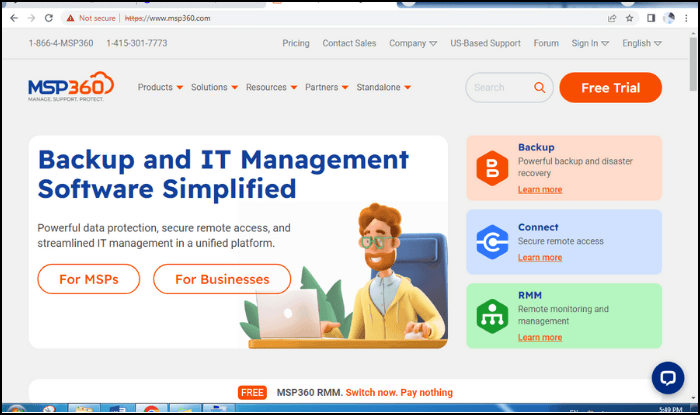 This cross-platform backup is easy for reporting, monitoring, centralized management, and many other things. In addition, in almost all public extensive cloud services, this software is integrated natively because it helps in best-in-class data protection for Microsoft 365 and any kind of Windows.
Its most remarkable features include remote access backup and recovery and IT management. In addition, there is a full synthetic backup and no storage limits. It also covers images and database backup.
Suppose you are looking for simplified IT management software that gives you remote access to streamlined IT management and powerful data protection on a single platform. In that case, you will find this the best option.
Example 10. FileCloud Backup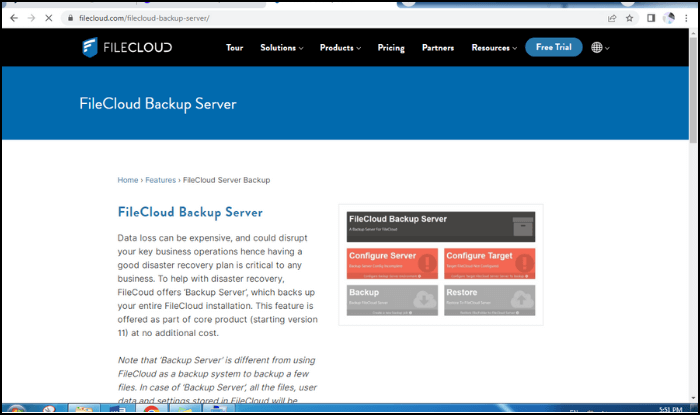 It is a cloud-based backup software that is available anywhere, anytime. The best thing about it is that it constantly makes a copy of your data which you can recover in any part of the world.
Its best features are that it is affordable, scalable, has automated backups to avoid losses due to cyber crimes, and has secure servers. The other includes the recovery of deleted files, unlimited versioning files, file sharing with online security, sharing and uploading large-size files, document previews without downloads and custom branding, etc.
It is highly recommended to people with a lot of useful data in MS office 365. Just agree to the terms of the backup software and enjoy its free trial.
Example 11. IvyBackup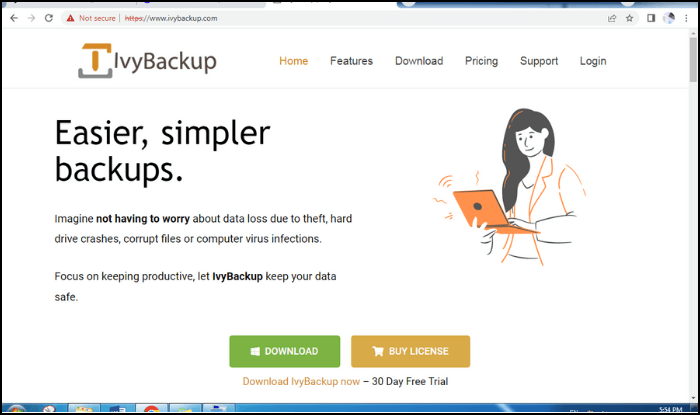 This user-friendly backup software is intuitive and easy to use for Windows. It saves you from big headaches along with your time and money. You can protect your data from partial or total loss on the spot. It is efficient and lightweight.
Its potential feature includes command line options, Backup Manager automatic backup test cloud integration, and much more.
It is mainly recommended due to its ease of use, efficiency, and fast progress.
Example 12. IDrive Backup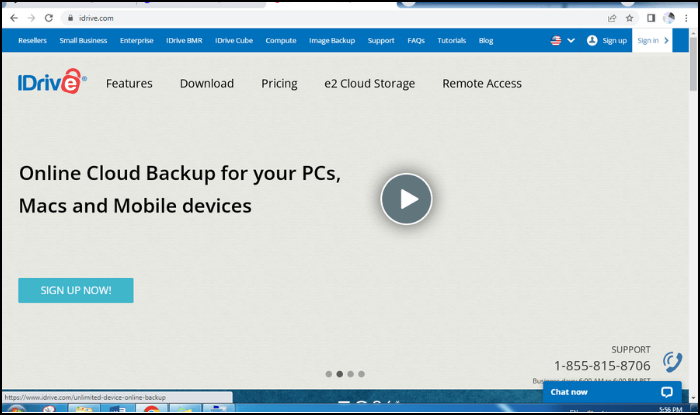 It is an online cloud backup service with a lot of recommendations from big IT brands. It is regarded as a top-notch, effortless, with excellent security and trust element, paid but cheapest cloud storage service.
One of its best features includes its NTFS drive secure tracking, protection of internal drive data, significant versions of Windows, and the entire machine.
This is the best for you if you want to go for a paid version of any backup software due to its high trust-winning graph.
Example 13. Backblaze Backup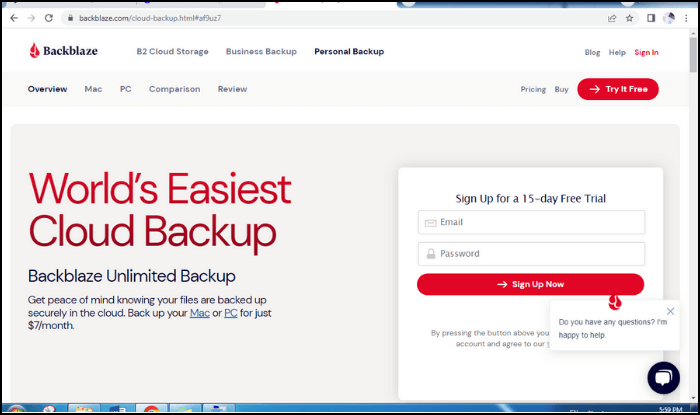 This software claims to be the world's most accessible computer backup making you never lose a file.
Its best feature includes unlimited file retention, automatic backups, unlimited file size, secured and encrypted, unlimited storage, and offsite backup.
The software is highly recommended by The New York Times, The Verge, Tom Guide, TNW, PC World, Lifewire, 9to5 Mac, and Daring Fireball.
Example 14. O&O DiskImage Backup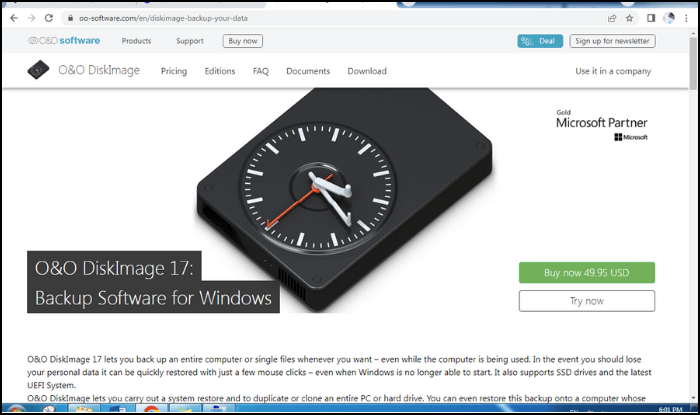 The unique thing is that you can backup your entire computer while running other programs on it with the help of this software. If you lose some of your personal data, you can get it back after a few Mouse clicks. It can also help you when your window is not at all able to start. It supports the new UEFI system and SSD drives.
It has all the features that all other backup software has. However, the prominent feature is the computer's backup while it is being used.
The best recommendation is that you can use this backup software if you want to restore the data from your old Windows to the new.
Example 15. Veeam Backup & Replication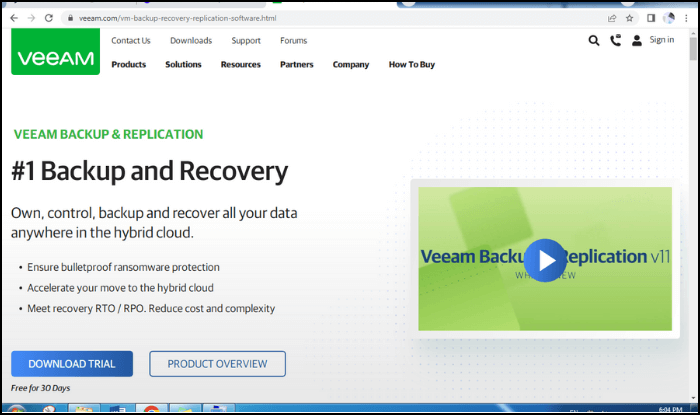 This backup software is for you if you have the hybrid cloud version. It does modern data protection with 4 attributes in it; simple, powerful, reliable, and flexible.
Its 2 distinct features are retention for a long time and DR options in the cloud. It is highly recommended backup software if u want a single platform for all workloads.
To conclude, all backup soft-wares have the best ability to run the system on Windows. These are distinct from each other, just on minor differences. The best thing is that most of these are in the free version. So you can utilize them while saving your money and time.
FAQs About Backup Software Examples
Here we have collected several hot topics about backup software examples. You can check the topics below to see if there has more information you need.
1. What are the 3 types of backups?
There are 3 most common backups: differential backup, full backup, and incremental backup. Differential backup has only the copies of those files and documents that were there in the last complete backup. Incremental backup works on the changed documents from the last backup. Finally, the full backup is a comprehensive process of changing the whole data location.
2. What is the best example of free backup software?
The best example of free backup software is EaseUS Todo Backup because it is a free trial with the best recommendations from top-notch IT companies. You can find all the important features you need in it. It is a third-party tool with limited storage but high potential. It gives you more confidence and security than other free software.
3. Why do we need a backup software?
Backup copies allow data to be restored from an earlier point in time to help the business recover from an unplanned event. Storing the copy of the data on a separate medium is critical to protect against primary data loss or corruption.
Was this page helpful? Your supoport is truly important to us!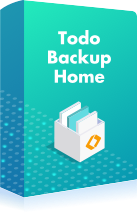 EaseUS Todo Backup
EaseUS Todo Backup is a dependable and professional data backup solution capable of backing up files, folders, drives, APP data and creating a system image. It also makes it easy to clone HDD/SSD, transfer the system to different hardware, and create bootable WinPE bootable disks.
Updated by

Jean is recognized as one of the most professional writers in EaseUS. She has kept improving her writing skills over the past 10 years and helped millions of her readers solve their tech problems on PC, Mac, and iOS devices. …

Read full bio