Introduction
To back up collected data is critically important in today's data management. Backups protect against human errors, hardware failure, virus attacks, power failure, and natural disasters. Did you try to back up files or the Windows 10 operating system, only to find Windows 10 backup say Windows 7? Well, this article is bound to help you find out the answers and provides you with a step-by-step guide on how to back up your data. In this article, for example, we will introduce the ways of backup by Windows built-in tools: Backup and Restore (Windows7) and File History. Besides, we also offer the best free backup software – EaseUS Todo Backup, to help you out.
Why Does Windows 10 Backup Say Windows 7?
According to the official answers from Microsoft Community, Microsoft has included the old Backup and Restore feature from Windows 7. This was deprecated in Windows 8 and removed in Windows 8.1, but it's back. It's also known as "Windows Backup".
Therefore, don't worry, this tool will still allow you to back up your PC in Windows 10 and restore system image windows 10 to new computer. But you can also use it to know how to backup windows 10 PC in the same way you'd back up a Windows 7 PC. 
How to Backup Computer Though Windows 10 Backup Say Windows 7?
Bad things sometimes happen to our computers, data corruption or loss in particular. Fortunately, Windows has several tools we can use to make sure data are backed up properly. Speaking of backup, file history windows 10 comes as the first backup tool in windows 10. File History offers not only backups but also restores previous files. Though Microsoft still retains the old version of Windows 7 Backup and Restore in 10, it works the same way when you need to back up and allows you to perform selective or even full backups. 
However, it's not a once-for-all backup solution, the inclusion of the free backup software – EaseUS Todo Backup does let you build perfect data protection. Let's take a look at all of them one by one.
Fix 1. Backup by Backup and Restore (Windows 7)
Backup and Restore (Windows 7) allows you to save backups on a network, on a USB flash drive, a CD or DVD, or even on an external hard drive. Windows and PC experts recommend making frequent backups on an external drive and then storing it in a safe, secure place. So, how to backup data by Backup and Restore (Windows7)? Please follow the steps below:
Step 1. find the tool by hitting "Start", typing backup in the Start Search box, and then selecting "Backup and Restore (Windows 7)" in the program list.
 Notice:

If you close programs, please make sure that you have saved documents and closed those programs. Or else, you may click "Close Programs".
Step 2. Scroll down to click "Go to Backup and Restore (Windows 7)" under the Looking for an older backup.
Step 3. Click "Set up back-up" when you come to Back up or restore your files.
Step 4. Select an external hard drive you plugged in to store the backup image.
Step 5. Select "Let Windows choose (Recommended)" to back up all the user files and system partition. Or you can choose "Let me choose" if you want to customize backup items.
Step 6. Click "Save settings and run backup" to start Windows 10 Backup and Restore (Windows 7).
After a couple of hours, the Windows 10 system backup and data backup will be finished.
Fix 2. Backup through EaseUS Todo Backup
Because the Windows Backup and Restore (Windows 7) has restrictions, and sometimes it's unstable, it's a good choice to try another professional but free backup software – EaseUS Todo Backup. Its reliable performance and easy-to-operate features enable unaccountable users to recommend and praise it. Below are some features for you to use to protect your data:
Various kinds of backup (including full backup, incremental backup, and differential backup).
Save the backup to a third location (local drive, Cloud, and NAS).
You can schedule any time of backup according to your needs.
Encrypted Backup with password protection.
Back up and recover multiple types of data.
Tremendous free Cloud storage.
Ready-to-use backup files.
With EaseUS Todo Backup, you can easily and automatically back up your data. Here are the specific steps, download this tool and follow these steps:
Step 1. Launch EaseUS Todo Backup on your computer, and click Create Backup on the home screen and then hit the big question mark to select backup contents.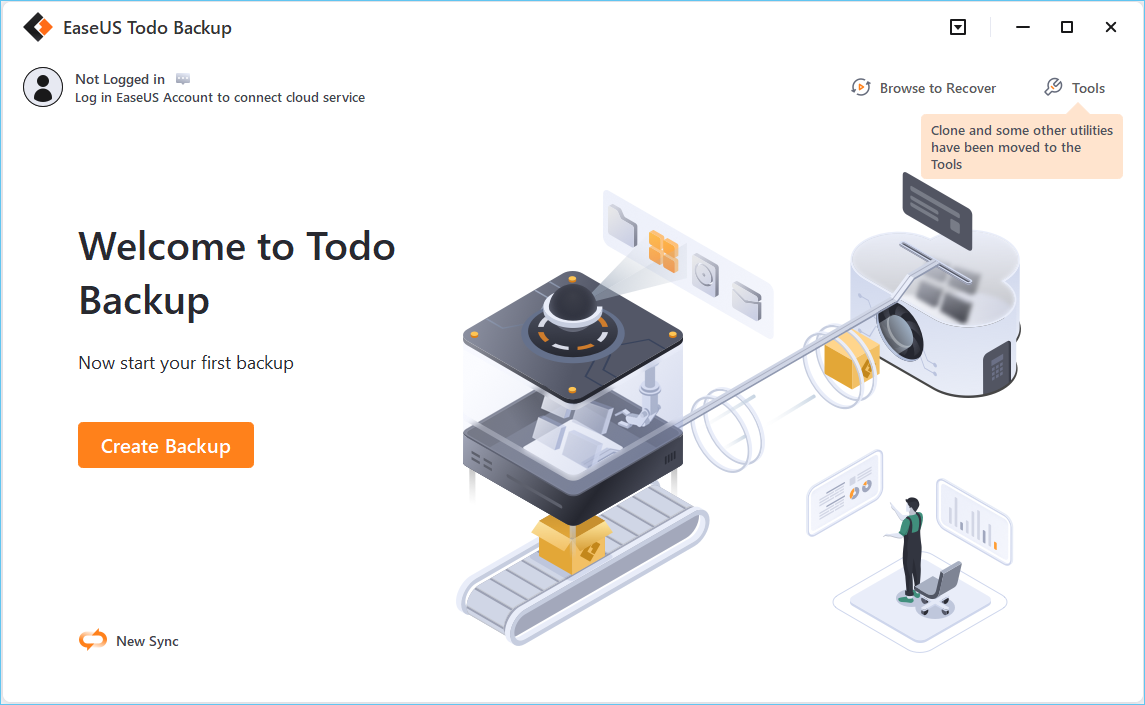 Step 2. To back up your Windows operating system, click "OS" to begin the backup task.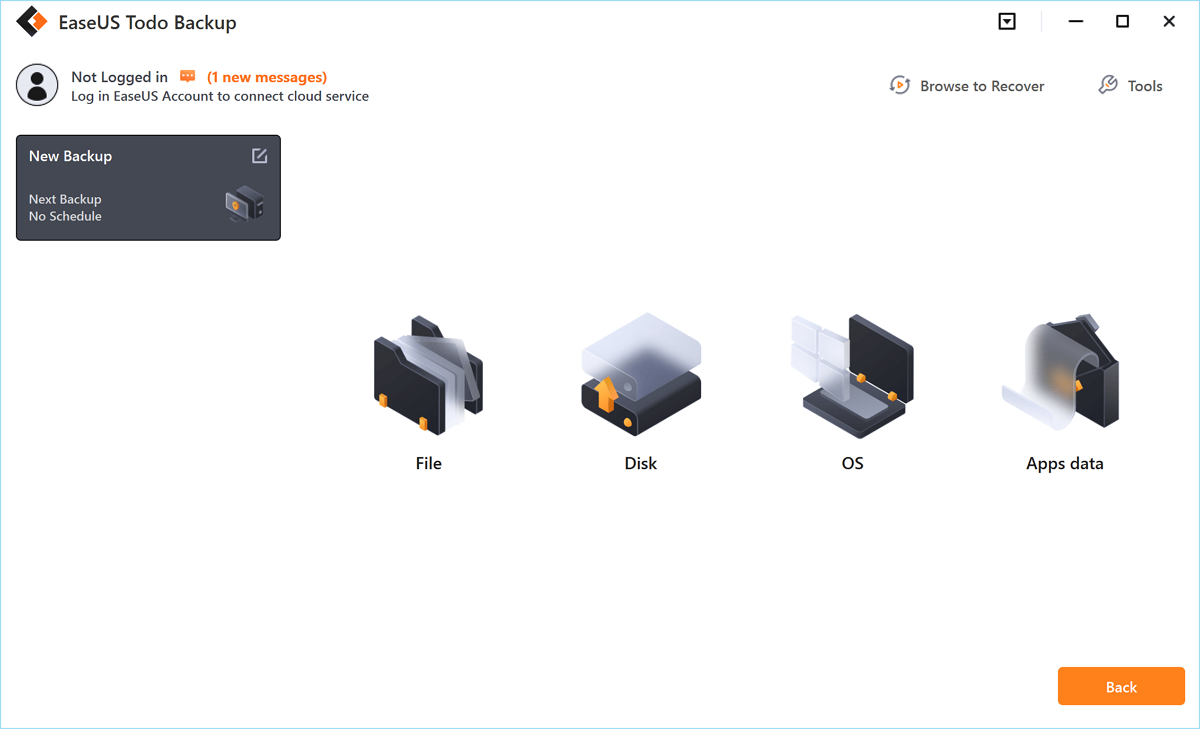 Step 3. Your Windows operating system information and all system related files and partitions will be automatically selected so you don't need to do any manual selection at this step. Next, you'll need to choose a location to save the system image backup by clicking the illustrated area.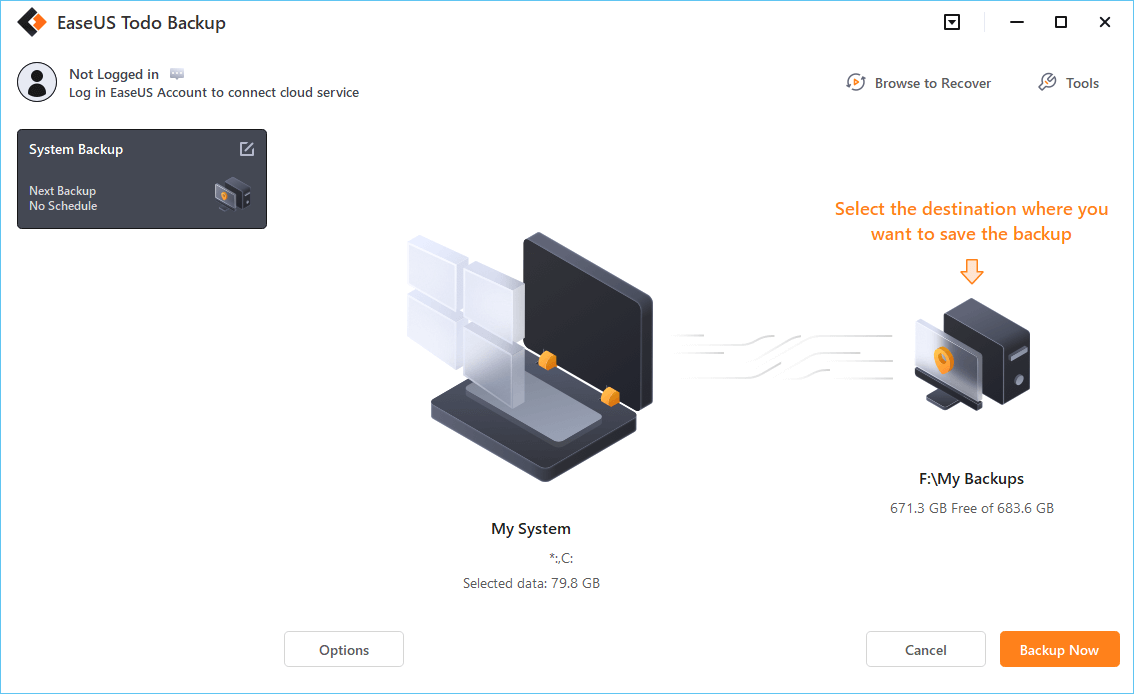 Step 4. The backup location can be another local drive on your computer, an external hard drive, network, cloud or NAS. Generally, we recommend you use an external physical drive or cloud to preserve the system backup files.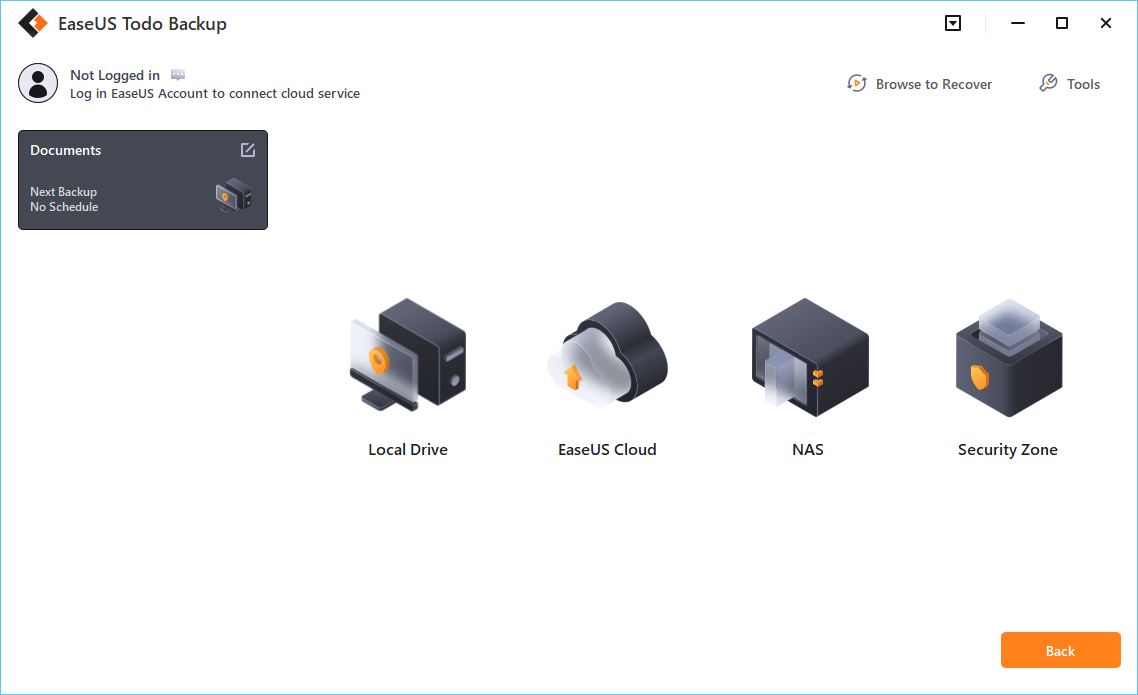 Step 5. Customiztion settings like enabling an automatic backup schedule in daily, weekly, monthly, or upon an event, and making a differential and incremental backup are available in the Options button if you're interested. Click "Backup Now", and the Windows system backup process will begin. The completed backup task will display on the left side in a card style.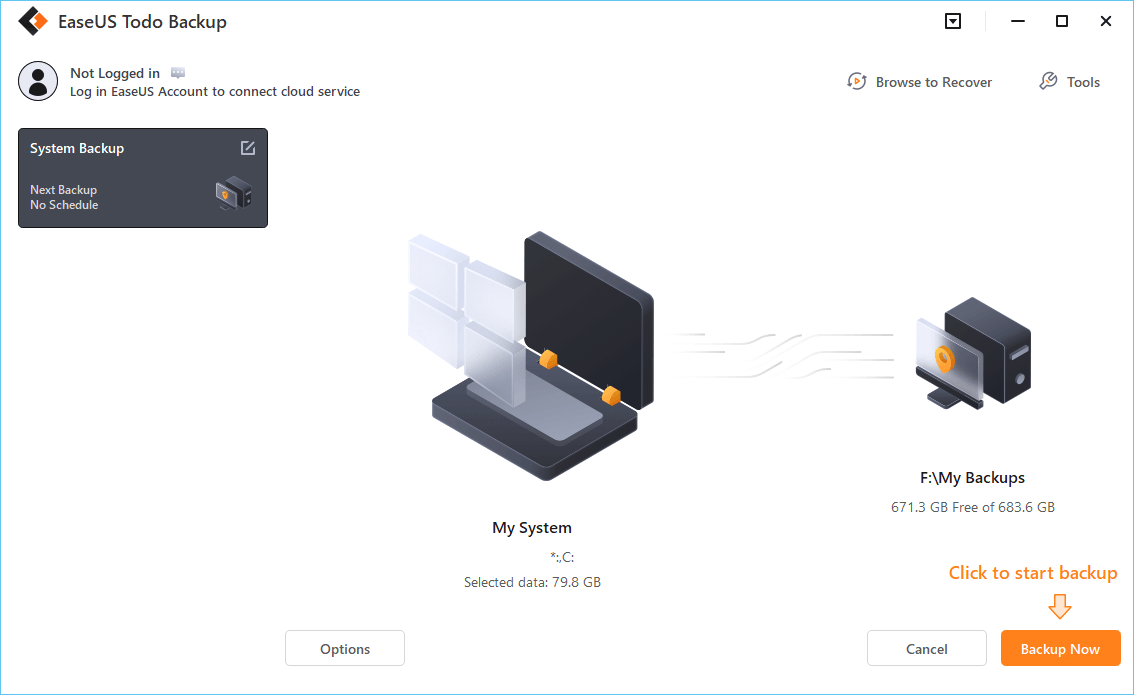 Fix 3. Backup via File History
We already know how to back up by Backup and Restore (Windows 7) and professional software. Next, let's move on to another method - backup via File History which is pre-installed in Windows 10. Unlike the Backup and Restore (Windows 7), File History saves only users' data. However, the Backup and Restore (Windows 7) keeps the latest version of files, by contrast, File History can save many versions. Thanks to this tool, you can restore an older version of a file in a very short time. Now, I'll walk you through the necessary steps to back up by File History:
Step 1. Connect an external drive to your computer.
Step 2. Then click the "Windows" in the task list, and then click "Settings".
Step 3. Click "Update & Security".
Step 4. Click "Backup", next click "Add a drive", and select your external drive in the list.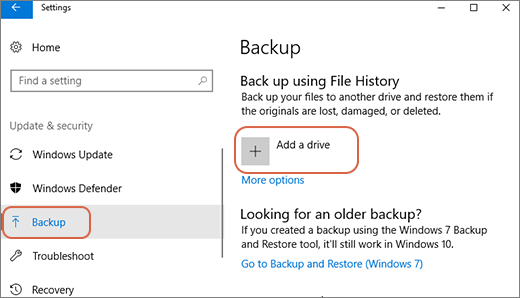 Step 5. When you choose a drive, your computer will turn on the Automatically back up my files button to operate automatic backup. Whenever you put the connection of your external hard drive with your computer, the File History will automatically make file backups.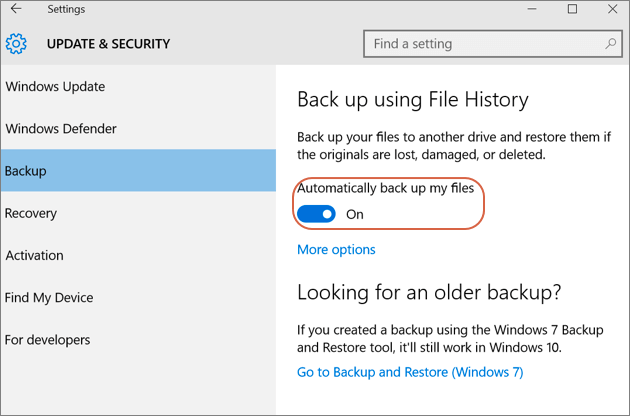 Conclusion
Whether it's data or your health, it's better to be safe than sorry. Windows 10 offers two excellent built-in tools that enable you to back up your data or system. However, it has many restrictions and even it's not working, so I recommend the professional backup tool- EaseUS Todo Backup to help you free yourself from the anxiety of data loss.
Why Does Windows 10 Backup Say Windows 7 FAQs
Other questions about Windows 10 backup say Windows 7 you may ask:
1. What does Backup and Restore Windows 7 mean on Windows 10?
It means you can also use it to back up a PC in the same way you'd back up a Windows 7 PC.
2. Does Windows 7 backup still work with windows 10?
Yes, you can use your PC's Backup and Restore feature in Windows 10 to back up all your favorite files. This option is best when you have an external storage device available. 
3. What is the difference between Windows System Restore and Windows Backup?
Windows Backup needs a manual operation while Windows System Restore is automatic; Windows Backup needs an external hard drive to allow the copies of files while Windows System Restore is done only on your computer; Backup of your system by Windows Backup can secure the complete protection of your data while Windows System Restore cannot.

Updated by Roxanne
Roxanne is one of the main contributors to EaseUS and has created multiple posts on digital devices like PCs, Mobile phones, tablets, Mac, etc. She loves to share ideas with people of the same interest.
Taking everything into consideration, we can say that EaseUS Todo Backup Home can offer you a little extra sense of security with a set of advanced tools. The interface provides quick adaptation, every process guiding you all the way through so you don't get stuck or further damage your system rather than keeping it safe.

 Read More

EaseUS Todo Backup Free lets you create backups of your important files or your entire computer through its streamlined interface. Just choose the backup type you'd like to get started, and let the program do the reset.

 Read More

EaseUS includes all the features I expect from backup software like versioning, incremental backups, and scheduling. For more advanced users, EaseUS allows you to install a pre-boot environment onto your hard drive so you can use it to restore files without burning a CD or putting it on an external USB drive.

 Read More

EaseUS Todo Backup
Smart backup tool for your files and entire computer in Windows 10/8/7.
Install Windows on Multiple Computers at Once? No Problem!
Learn how to install Windows 11/10/7 and special programs/software on a batch of computers. Use 10 minutes to do the 10 hours work without making a single mistake!
Get Free Solution!