PAGE CONTENT:
In light of the backup and recovery field, Acronis True Image is a name that has to be mentioned. It is a practical backup utility to help make your data safe and secure. But have you ever been stuck on a question like "Is Acronis True Image free?"
This post from EaseUS will describe whether Acronis True Image is free or paid and introduce a better backup solution - EaseUS Todo Backup to help you safeguard your data on your computer. Hurry up and learn.
What Is Acronis True Image
Acronis True Image, a former name of Acronis Cyber Protect Home Office, is a backup program that aims to protect the computer system from ransomware and allows its users to back up and restore files or entire systems previously created using the software.
It is an excellent utility for creating a bootable USB, transferring an operating system from one computer to another, migrating Windows to SSD, backing up and recovering the entire PC, cloning a hard drive, and more.
In addition, it can function as full-featured antivirus software since it uses integrated AI technology to block all cyberattacks by inspecting every file you interact with for signs of harmful activity and taking appropriate action.
🔣Main Features of Acronis True Image
Acronis True Image is a practical backup and recovery tool for professionals and beginners to use, which has many useful features. Let's see some of its key features:
File sync-and-share
End-to-end encryption
On-demand antivirus scan
Automatic mobile backups
Back up on selected WiFi
Other: cloning and universal restore
✅Pros of Acronis True Image
iOS/Android Apps
Including file syncing
Protecting multiple devices
Excellent imaging and backup capabilities
Protecting against ransomware and malicious URLs
⛔Cons of Acronis True Image
Relatively costly
Occasionally slow
UI needs improvement
Many unwanted advertisements
Cloud backup for subscription users only
Possible incompatibility between versions
If you're looking for offline backup software, Acronis Cyber Protect Home Office has many features and options - probably more than you'll need and some of which you might decide not to use. But is Acronis Cyber Protect Home Office free? You can find your answer in the next part. Keep reading!
Is Acronis True Image Free or Paid
After knowing the basic information about Acronis True Image, it is high time to answer the question: Is Acronis True Image free?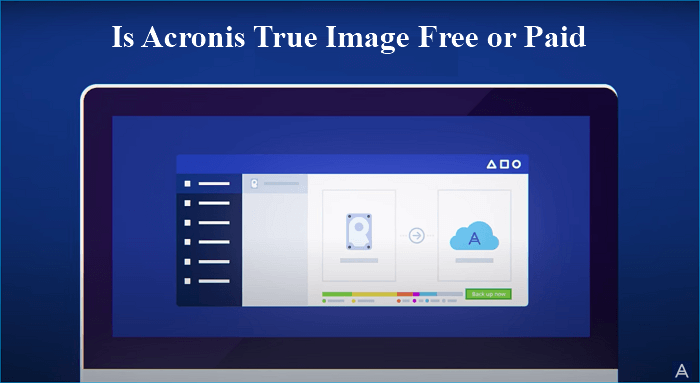 Unfortunately, Acronis True Image is not free, so you must pay a subscription or license to use Acronis True Image without limitations. But before choosing whether to buy a license, you can download and enjoy a 30-day trial. It is worth noting that the Trial edition does not let you access functions like notarizing files or cloning disks.
💰Pricing Plan of Acronis True Image
The price for Acronis True Image starts at $49.99 per year, and it has 3 different pricing plans:
Essential at $49.99 per year per computer
Advanced at $89.99 per year for 3 computers
Premium at $124.99 per year per computer
Undoubtedly, Acronis True Image is an excellent backup and recovery for computer users, but it is relatively expensive, which is not suitable for tightly budgeted users. Most importantly, the Essential version provides no Cloud storage option, and the Advanced version 50G.
In addition, when you use it to clone a hard drive, you may experience the Acronis clone disk failed error.
Under such circumstances, you can find an alternative to Acronis True Image to help you back up your computers.
Best Acronis True Image Alternative
Considering functions, effectiveness, flexibility, and price, we suggest using EaseUS Todo Backup to help back up your computer and files if you are looking for an alternative to Acronis True Image.
EaseUS Todo Backup Home is also a famous name in the backup and recovery field. It can work smoothly on Windows 11/10/8/7, and it lets you automatically back up files, systems, disks, partitions, and apps and store them in diverse locations, such as local disks, external disks, NAS, Cloud, and Security Zone.
In addition, you can utilize it to make bootable USB drives and install Windows 10 on external hard drives for another computer. It can serve as a good alternative to Acronis True Image.
💰Pricing Plan of EaseUS Todo Backup
Free Version: No any pay to use its Free version.
Home Version: Standard Yearly-$39.95; Premium Yearly-$59.85; Standard Lifetime-$79.95.
Business Version: Workstation-$49/year; Server-$199/year; Advanced Server-$299/year.
Note: You can still use 250G Cloud storage for free even if you use the Free version.
🔣Key Features of EaseUS Todo Backup
One-click backup and restore
Clone a hard drive/system/partition
Mount/unmount backup images
Full/differential/incremental backup
Universal restore and encrypt backup
250G free Cloud storage
Multi-path storage locations provided
Compress backup to save storage space
✅Pros of EaseUS Todo Backup
Free version available
Mount/unmount backup images
250G free Cloud storage
Prime technical support
⛔Cons of EaseUS Todo Backup
Require an email account to use it
Here is how to use EaseUS Todo Backup to back up your computer.
Step 1. Launch EaseUS Todo Backup on your computer, and click Create Backup on the home screen and then hit the big question mark to select backup contents.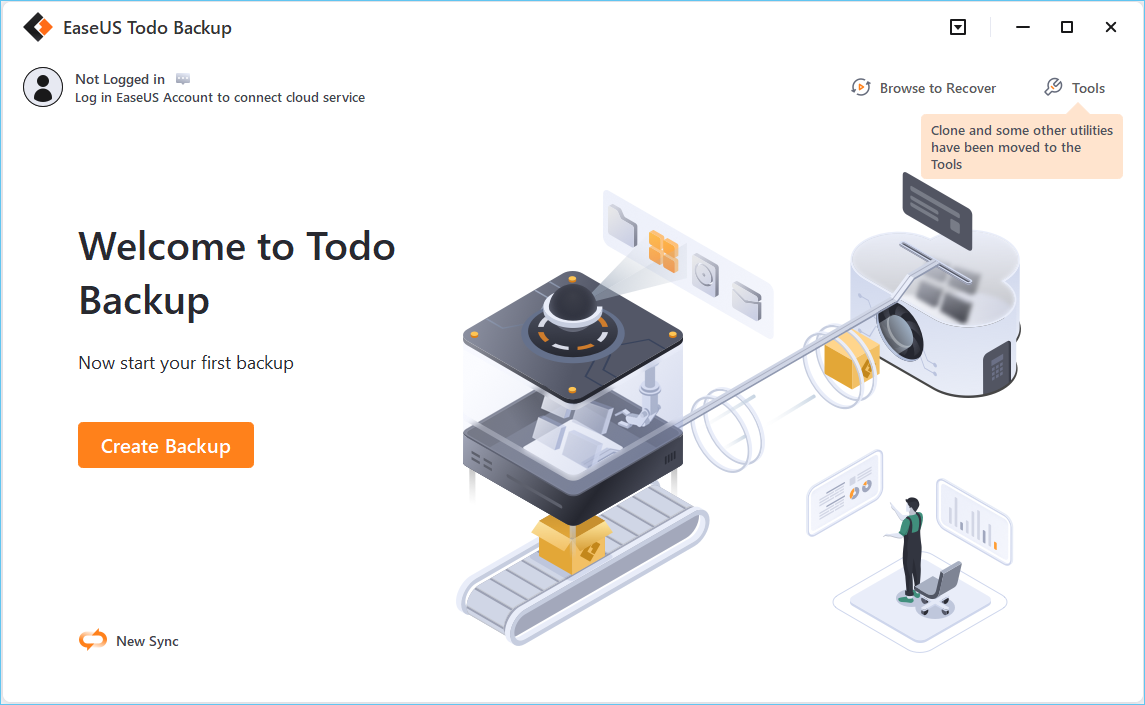 Step 2. To back up your Windows operating system, click "OS" to begin the backup task.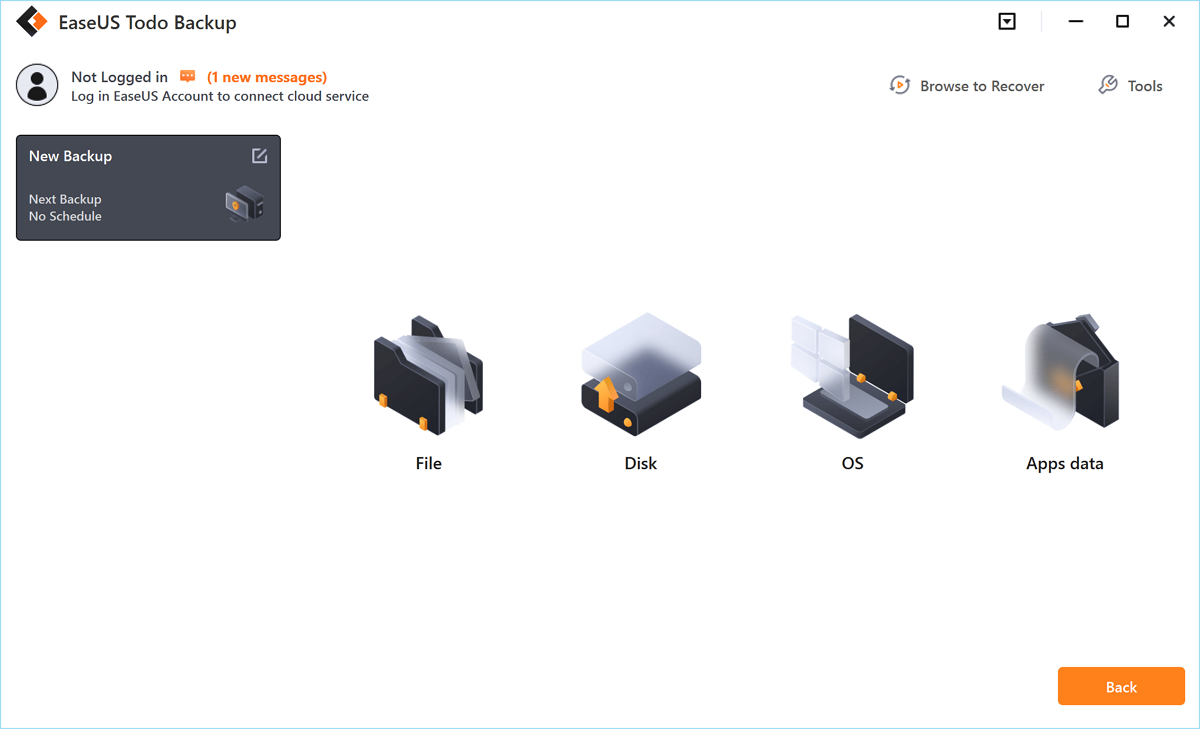 Step 3. Your Windows operating system information and all system related files and partitions will be automatically selected so you don't need to do any manual selection at this step. Next, you'll need to choose a location to save the system image backup by clicking the illustrated area.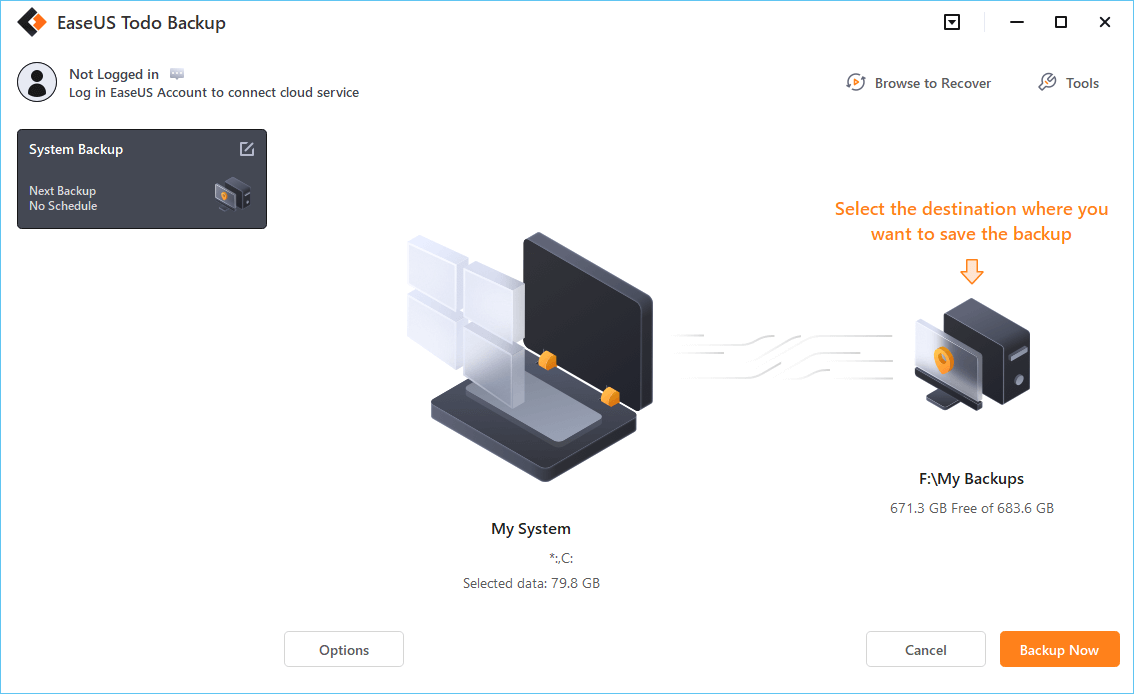 Step 4. The backup location can be another local drive on your computer, an external hard drive, network, cloud or NAS. Generally, we recommend you use an external physical drive or cloud to preserve the system backup files.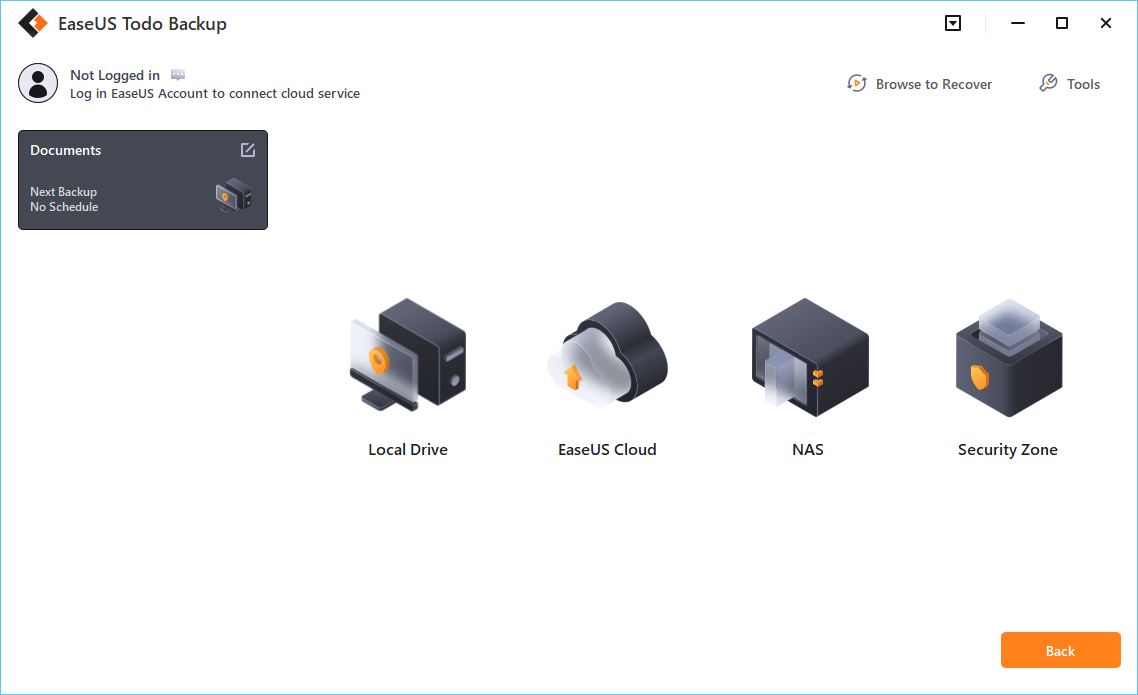 Step 5. Customiztion settings like enabling an automatic backup schedule in daily, weekly, monthly, or upon an event, and making a differential and incremental backup are available in the Options button if you're interested. Click "Backup Now", and the Windows system backup process will begin. The completed backup task will display on the left side in a card style.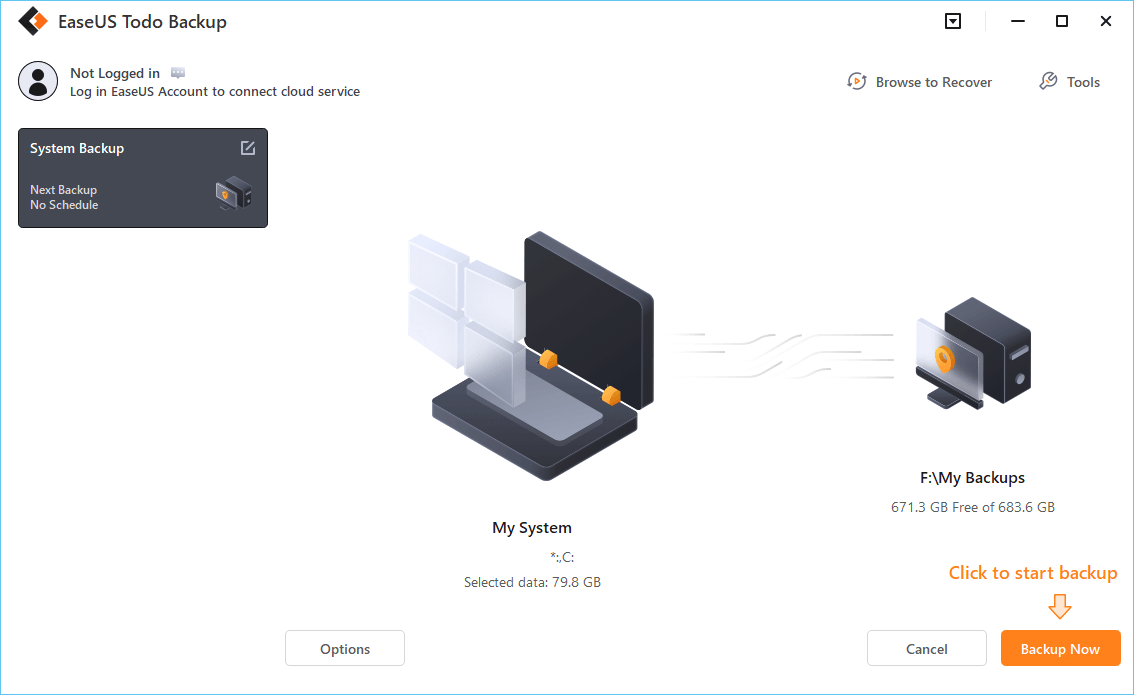 To Wrap Things Up
Is Acronis True Image Free? No, Acronis True Image is not free, and you need to pay a lot for its unlimited functions. Sometimes, you may encounter a slow backup or cloning speed when using it. Therefore, it is highly recommended you use EaseUS Todo Backup, the best free alternative to Acronis True Image, to perform a backup, imaging, or cloning task.
EaseUS Todo Backup is a multi-functional utility for backup and recovery. It can help you to image a hard drive and back up an SSD to an image. Most importantly, it is a more affordable backup solution for all computer users. You can consider downloading and using EaseUS Todo Backup to eliminate data loss fears.
FAQs on Is Acronis True Image Free
1. Can you clone a drive for free?
Yes, you can clone a hard drive for free, and there are some free cloning utilities, such as Macrium Reflect, allowing you to clone a hard disk without any cost. But it's worth noting that when you use these free cloning tools, you may encounter some issues, such as the Macrium Reflect clone failed error.
2. Why does Acronis True Image take so long?
A malfunctioning external drive is the most frequent cause. In addition, the speed of Acronis Cyber Protect Home Office and Acronis True Image is impacted by the reading process of outdated, corrupted, or incorrectly connected drives, which can take some time.
Was this page helpful? Your supoport is truly important to us!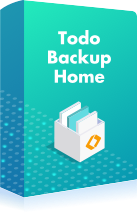 EaseUS Todo Backup
EaseUS Todo Backup is a dependable and professional data backup solution capable of backing up files, folders, drives, APP data and creating a system image. It also makes it easy to clone HDD/SSD, transfer the system to different hardware, and create bootable WinPE bootable disks.
Updated by

"I hope my articles can help solve your technical problems. If you are interested in other articles, you can check the articles at the bottom of this page, and you can also check my Facebook to get additional help."…

Read full bio