What Is Backup Data Compression?
Backup data compression is one of the most efficient ways to reduce the size of backup copies. Backup data compression is a data compression method. In this process, the size of a backup file is reduced to save disk space for easier and faster transmission. Data compression enables the creation of a version of a file or backup file with the same data at a size substantially smaller than the original file.
There are two main types of compression: lossless and lossy. Lossless compression allows users to shrink the data size without losing the ability to restore the original data. However, the user may lose the original data in the process when it comes to lossy compression.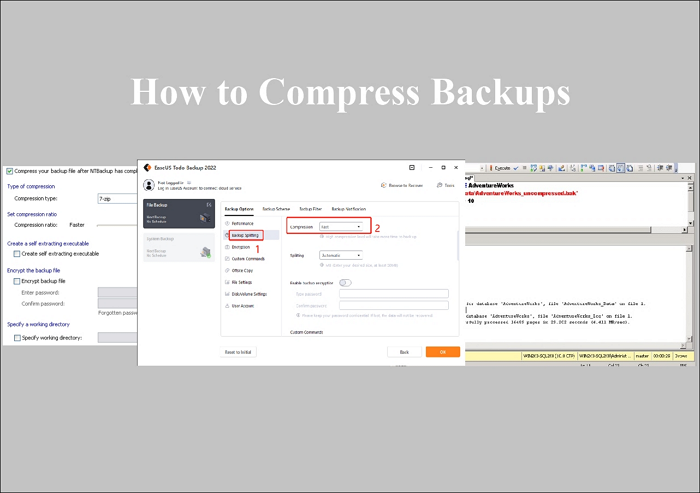 Why Do You Need to Compress Backups?
Everyone knows it is important to back up files, and compressing backups also matters. You can benefit a lot from compressing your backups. There are some advantages of making backup compression:
Backup compression is conducive to freeing up storage space. This is because compression can take data and make it smaller by removing redundancy and repeated patterns. In other words, it can reduce the file size by encoding the data more effectively.
Backup compression helps you save your network bandwidth. If you work in a bigger company, the network is probably under much pressure. During the backup process, copies are sent to the backup server, thus adding additional loading to the network. However, by using backup compression, you can greatly decrease the backup size and thus offload an IT network. 
How to Compress Backups with Free Backup Software
EaseUS Todo Backup Free is professional and free backup software. It is an all-in-one and easy-to-use backup tool. It allows you to automatically create system backup, disk backup, file backup, etc. In addition, you can use it to create backups of different types of files, including pictures, videos, documents, audio, etc.
Moreover, it also allows you to create a system backup or disk backup even if you do not have the know-how to operate a computer. It can help backup files in safe mode. There are some features of this free backup utility:
High compatibility. It is compatible with Windows 11/10/8/7 and Windows Vista.
More storage options. It allows you to store your backup files in more than one location. You can save the backups to local drives, NAS devices, security zone, and the cloud.
Different backup modes. With this software, you can create different types of backups, such as full, incremental, and differential backups.
Guide: How to Make Backup Compression with This Backup Tool
The detailed steps for compressing backups are as follows; therefore, you can follow the guide to create backup compression with EaseUS Todo Backup Free. 
Step 1. Launch EaseUS Todo Backup on your computer, click "Add Backup" on the home screen, and then hit the big question mark to "select backup contents".
Step 2. There are four data backup categories, File, Disk, OS, and Mail, click "File".
Step 3. Both local and network files will be listed on the left. You can expand the directory to select the files to be backed up.
Step 4. Follow the on-screen guide, and select the destination where you want to save the backup.
Step 5. Click "Options" for advanced settings, next, click "Backup Splitting", and then choose the compression degree.
Note: A backup file can be compressed with different compression levels. In most cases, images with High compression are in a smaller size than the ones with None or Fast compression.
Step 6. Click "Backup Now" to start the backup. After the backup task is completed, it will be displayed in the form of a card on the left side of the panel. Right-click the backup task to further manage it.
The Best Way to Create Backup Compression
It is apparent that the superior advantage of compressing your backups is that it can make your backup data smaller, thereby saving a lot of space on the backup storage device. Therefore, if your device tends to run out of space, it is a good option to compress the backup data.
With EaseUS Todo Backup Free, creating backup compression on a computer will be a breeze. It is the backup software we highly recommend.
EaseUS Todo Backup Free can not only back up files, disks, and partitions but also can backup SSD to image. More importantly, it can offer 250 GB of free cloud storage and can meet the demand of different users, such as home users, free users, and business users.
In a word, EaseUS Todo Backup Free is a good choice for you to compress backups. In addition, you can conduct a variety of tasks using this backup tool.
FAQs
1. What happens if you compress backup?
A compressed backup is smaller than an uncompraessed backup of the same data. Compressing a backup typically requires less device input or output and, therefore, increases backup speed significantly.
2. Is it worth it to compress files?
Compressed files contain fewer bits of data than uncompressed ones. Therefore, it would take less time to transmit a compressed text file than it would take to transmit that uncompressed file. That is why compressing larger files before sending them over the Internet can help you save considerable time.
3. What type of data can be compressed?
All types of data are compressible, such as audio, video, text files, pictures, etc. Compression essentially takes an input data set and encodes it using fewer bits than the original file would have taken up on its own.
4. Should I compress my external hard drive?
No, you should not compress your hard drive. Compressing your hard drive may help save you some space. However, compression is actually a two-part process: compression and decompression. Although decompression is not as taxing on the computer as compression, it still requires CPU, RAM, and disk cycles. 

Jean has been writing tech articles since she was graduated from university. She has been part of the EaseUS team for over 5 years. Her special focuses are data recovery, disk partitioning, data space optimization, data backup and Mac OS. By the way, she's an aviation fan!
"I hope my articles can help solve your technical problems. If you are interested in other articles, you can check the articles at the bottom of this page, and you can also check my Facebook to get additional help."
Taking everything into consideration, we can say that EaseUS Todo Backup Home can offer you a little extra sense of security with a set of advanced tools. The interface provides quick adaptation, every process guiding you all the way through so you don't get stuck or further damage your system rather than keeping it safe.

 Read More

EaseUS Todo Backup Free lets you create backups of your important files or your entire computer through its streamlined interface. Just choose the backup type you'd like to get started, and let the program do the reset.

 Read More

EaseUS includes all the features I expect from backup software like versioning, incremental backups, and scheduling. For more advanced users, EaseUS allows you to install a pre-boot environment onto your hard drive so you can use it to restore files without burning a CD or putting it on an external USB drive.

 Read More

EaseUS Todo Backup
Smart backup tool for your files and entire computer in Windows 10/8/7.
Install Windows on Multiple Computers at Once? No Problem!
Learn how to install Windows 11/10/7 and special programs/software on a batch of computers. Use 10 minutes to do the 10 hours work without making a single mistake!
Get Free Solution!