PAGE CONTENT:
How to Choose Good Backup Software | Necessary Tips
We always need good backup software for mac and windows to protect essential data on our computers, including images, videos, and documents. The issue is that we can lose our data because of the threat of viruses, hackers, ransomware, and natural disasters.
Therefore, good backup software for Mac and Windows is essential to protect our data. But how can we choose good backup software, and what features good backup software should have. It will be explained in detail for you next.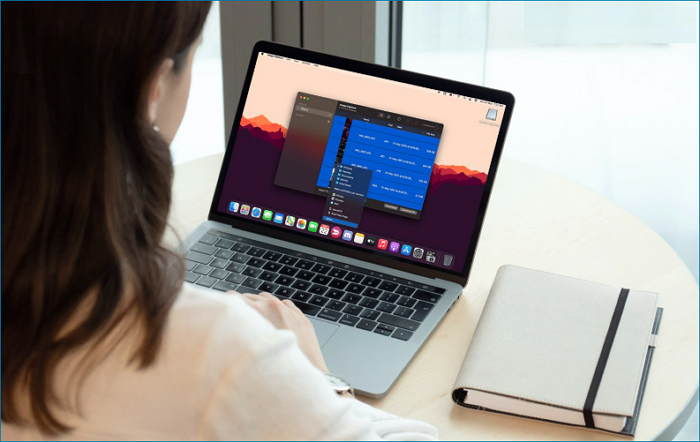 The features of good backup software:
User-Friendly.
Good compatibility.
Wide range of applicable versions.
Data Security and Compliance.
Free or Cost-effective
After learning what a good backup software should have, next followings are some good backup software for you.
10 Best Software to Backup Your Windows Computer and Mac
Because both Windows and Mac systems are widely used, but not all software supports these two systems. So I will introduce the ten most popular backup software for these two systems. To avoid confusing the software for the two systems, I'll cover them separately.
| 10 Best Software to Backup Your Windows and Mac | Software Name |
| --- | --- |
| 7 Best Backup Software for Windows | |
| 3 Best Backup Software for macOS/Mac OS X | |
TOP1. EaseUS Todo Backup
Tag: Best for system/file backup, it also provides recovery and cloning services.
An all-in-one backup tool is EaseUS Todo Backup Home. It may back up the entire system and individual files to various sources. You can use it back up a file, system, disk, partition, Outlook emails, or have a system image if you lose your data in unexpected conditions. After finishing your backup, you can save it to many locations, such as an external hard drive or cloud drive.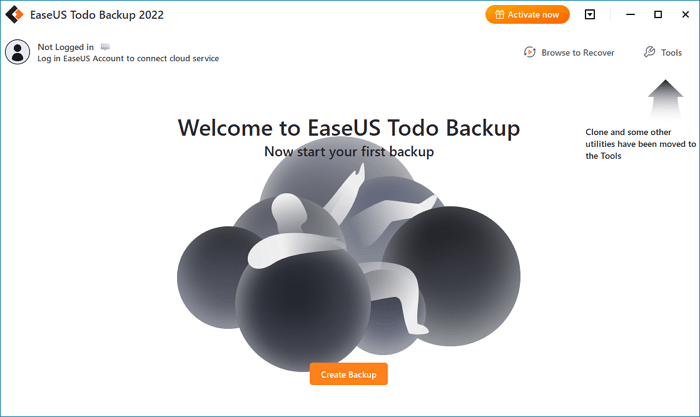 Pricing:
Free: 250GB Free storage, 30-day Free Trial
Paid: 39.95$/year for Home; 49.95/year for Business.
Features:
Multiple backup storage devices
Smart backup---full/incremental/differential backup
100% safe to protect data from ransomware
High-speed backup
Cons: Many adverts are in the free version.
TOP2. IDrive
Tag: Backs up unlimited computers and mobile devices.
IDrive, a California-based company, has been in the backup industry since 1995. Although its cloud backup package is not the cheapest or most feature-rich, it scores highly in all crucial areas, including pricing, sophisticated backup options, and performance.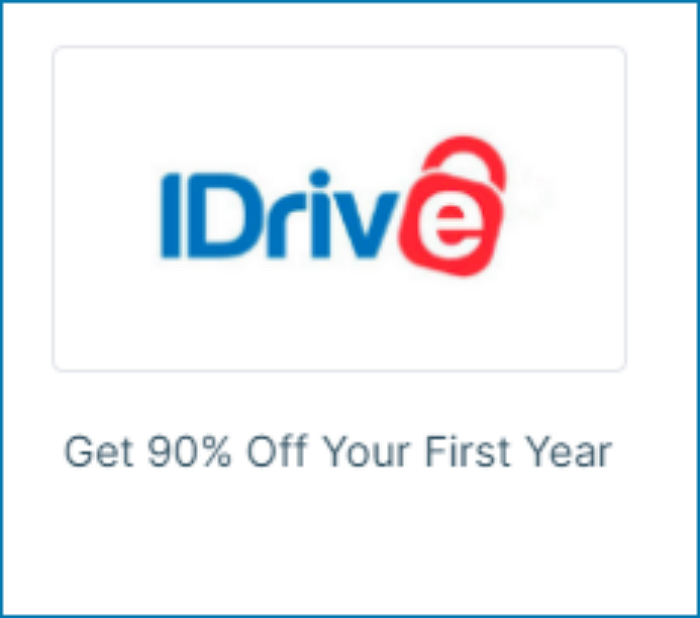 Pricing:
1 TB: 69.5$/year; 139$ for two years
250TB: 99.5$/year; 199$ for two years
Features:
Expert Support
Fast upload speeds
Ease of use
Providing Office 365 backups, MS SQL, MS Exchange, Oracle, and MS SharePoint.
Cons:  Don't have massive storage needs.
TOP3. Iperius Backup
Tag: Best for backup and protecting the data.
Iperius Backup offers backup solutions and encrypted file protection from ransomware and can execute several parallel backups. There won't be any restrictions or license expiration. With the free plan's functionalities, you can perform incremental backups to NAS, HDD, USB, RDX, and the network.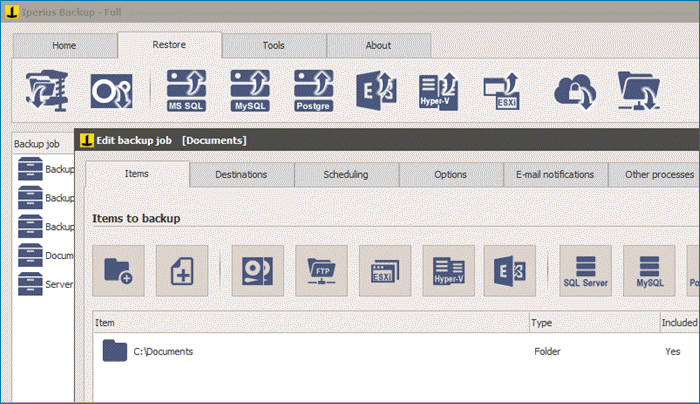 Pricing:
Free Plan: Desktop(1PC): $32; Desktop(3PC): $65
Essential: $76 Provided five more plans.
Features:
Send backups to Cloud Drive
Provides Disk image
File/Tap/FTP Backup
Cons: Only for Windows OS
TOP4. Zoolz
Tag: Best for features like file filtering, schedule setting, file encryption while transferring, etc.
Using cloud storage and backup solution for homeowners is called Zoolz Home. We can use it to back up your network drives, external disks, and computer systems. It also provides long-term storage. With this platform, you can permanently store your data on the cloud. More importantly, it offers Military-grade 256 AES encryption.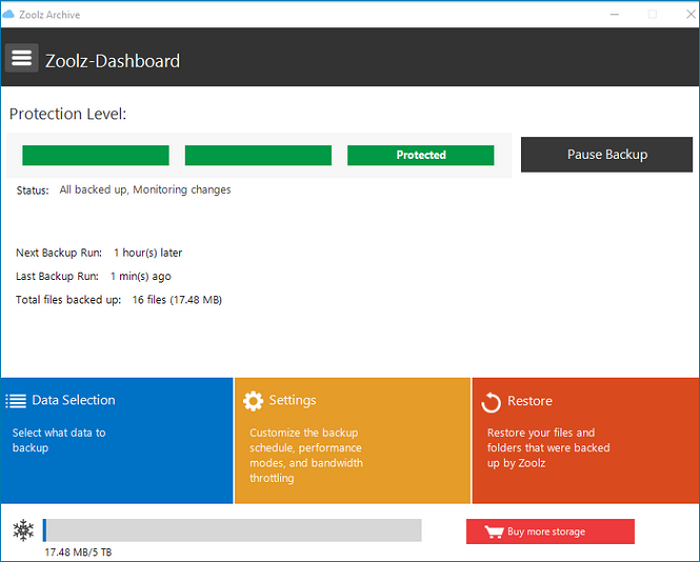 Pricing: $19.95 per year
Features:
Use AES 256 encryption to protect your data.
Can Filter files
Can set up scheduled backups
Same for Mac
Cons: Long file retrieval time.
TOP5. NovaBackup PC
Tag: Best for backing up systems, data, and directories. 
A superb backup option for both small and large businesses is NovaBACKUP PC. Advanced backup features supported by the software include support for NAS, Azure, AWS, and various cloud storage options. Compared to the average download speed of other apps, which is 20 hours, it can complete a 1TB hard disk download in just 11 hours.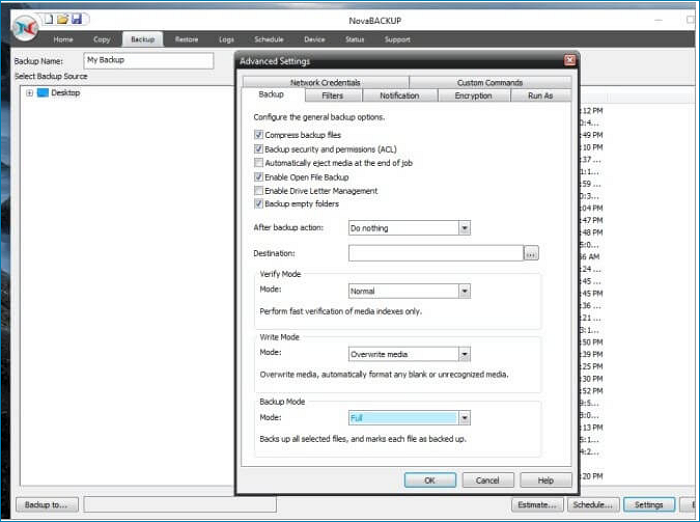 Pricing:
Free:15 days for a free trial
Paid version: $49.95 – 299.95 per year
Features:
Support NAS, RDX, Single Tape, AWS, Azure, Wasabi, and Blackblaze
Local and Cloud backups
AES encryption
Cons: No compatible with File Explorer; Not user-friendly
TOP6. Ashampoo® Backup Pro 15
Tag: The best compatibility for saving backups on a hard drive, USB stick, network drive, or cloud service.
For Windows platforms, there is backup software called Ashampoo® Backup Pro 15. It is compatible with any hard drive, USB stick, network drive, or cloud service for storing the backup. It is a robust application with a good design.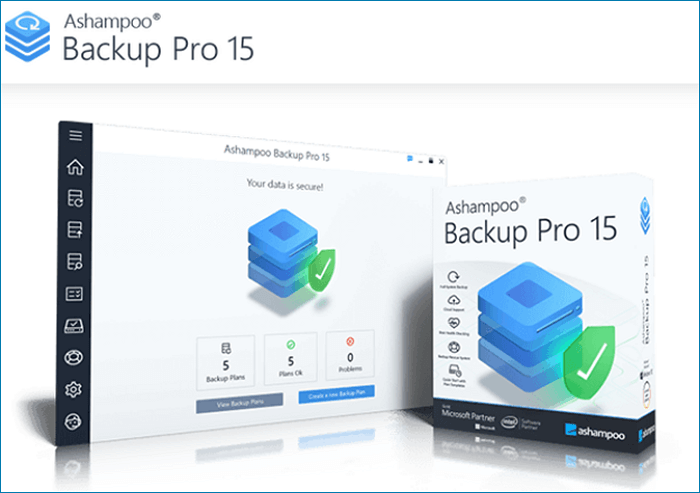 Pricing: $49.99 one-time payment.
Features:
Use a bootable rescue system
It has features for restoring backups
Maple storage options
Cons: Only for Windows 10.
TOP7. Cobian Backup
Tag: Best for system/file/FTP backup.
Cobian Backup is a free backup application that offers a wide range of capabilities. The program may back up files and folders to several destinations. It enables network backups and FTP capabilities by allowing remote system backup.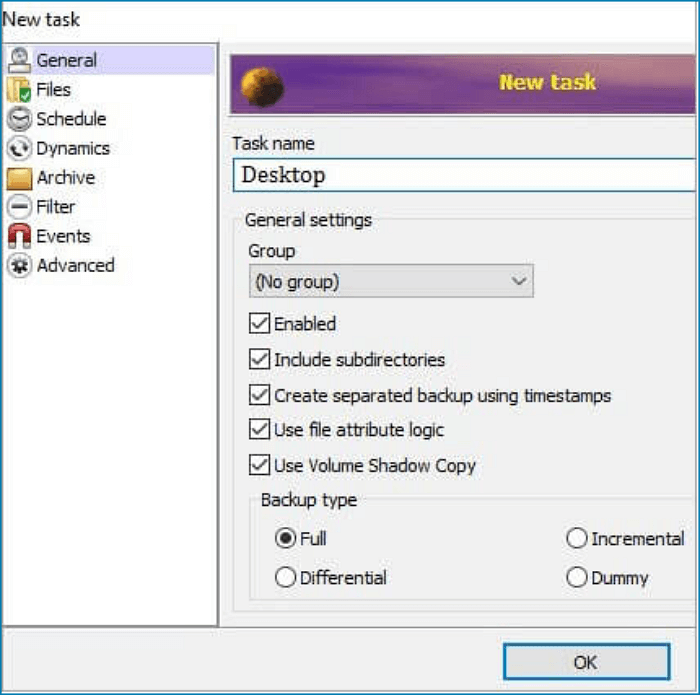 Pricing: Free
Features:
Supports simultaneous backup of multiple devices
Incremental and differential backup
Strong encryption to protect your data
Cons: No technical support
TOP8. EaseUS Todo Backup for Mac
Tag: Best for system/file backup, clone, upgrade or transfer your system.
EaseUS Todo Backup for Mac is a software designed for mac users. Its smart backup and other professional functions, such as system image and clone, make it stand out in crowds. It can backup daily, weekly, and monthly. It provides full backup, Incremental backup, and differential backup.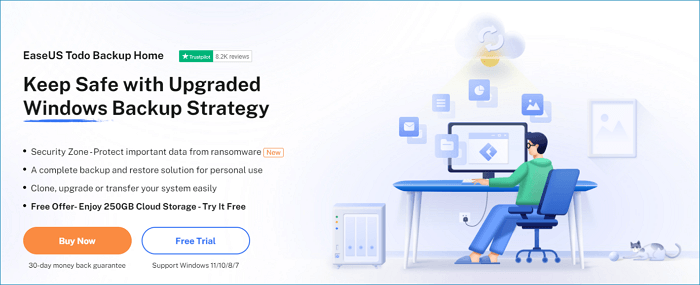 Pricing:
Home: 39.9$/year
Business: 49$/year
Features:
Fast Backup and recovery speed
File/system/partition/disk backup
Transfer the system to a different PC
Security Zone Backup
Cons: The home version doesn't support Windows Server, Centrally Management, and SQL/Exchange Backup and Restore.
TOP9. Time Machine
Tag: Best for Incremental File Backups.
The hardware for Apple's Time Capsule, which is being phased out along with their Airport routers, was initially intended for use with Time Machine. However, Time Machine will still be supported and compatible with other hard disks. It should continue to be a top backup choice for many years.
Time Machine is a free feature of macOS that backs up your files and folders to a networked or attached hard drive. It's convenient, uses a local hard disk, and continuously backs up your files as they are modified or produced, ensuring that you will lose little to nothing if a calamity strikes.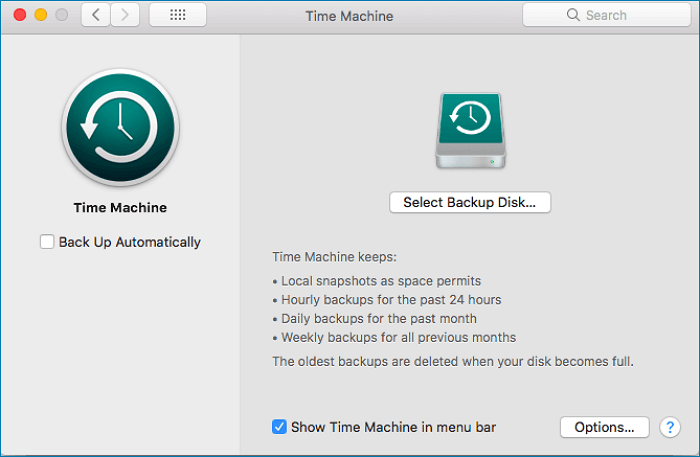 Pricing: 49.99$ for 1000GB; 69.99$ for 2000GB; 249.99$ for 8000GB;
Features:
Pictures were taken locally as space allows
Daily backups are made every hour
Daily backups during the previous week
Backups every week during the prior months
Cons: Too expensive
TOP10. SuperDuper
Tag: Best for fully bootable backup and mirror image.
SuperDuper has been more than created for 14 years. To only update the files that have been added or changed, SuperDuper can build a bootable drive that duplicates the internal drive of your mac. You can use this drive to start your computer in an emergency and carry on as usual. Once you buy a new drive, you can use it to restore your files.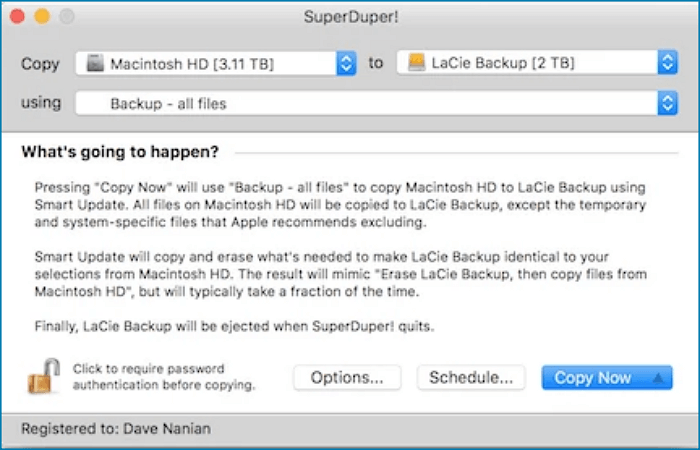 Pricing: Free
Features:
Can back up hourly, daily, weekly, monthly, and more.
Can set up scheduled tasks.
Offer guided setup and restoration to get lost data easily
Cons: complex interface
Final Thought
After looking through this article, you may know the best 10 backup software for mac and windows. I strongly recommend EaseUS Todo Backup since it has Windows and Mac versions. For the price, it is cost-effective, and for the function, it can meet almost all my needs, including backup, system image, data recovery, and cloning.
FAQs
1. Does Microsoft back up your data?
Contrary to what many people think, Microsoft does offer a simple backup. Your Office 365 data is backed up by the company every 12 hours and is retained for 14 days. For instance, you can contact Microsoft in the event of a ransomware attack, and they can help you restore your data.
2. Does Windows 10 have built-in backup software?
Although numerous third-party tools are available, Windows 10 comes pre-installed with the classic Backup and Restore experience, enabling you to create full backups at regular intervals automatically.
Was this page helpful? Your supoport is truly important to us!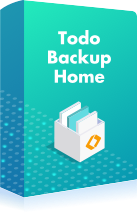 EaseUS Todo Backup
EaseUS Todo Backup is a dependable and professional data backup solution capable of backing up files, folders, drives, APP data and creating a system image. It also makes it easy to clone HDD/SSD, transfer the system to different hardware, and create bootable WinPE bootable disks.
Updated by

Daisy is the Senior editor of the writing team for EaseUS. She has been working in EaseUS for over ten years, starting from a technical writer to a team leader of the content group. As a professional author for over 10 years, she writes a lot to help people overcome their tech troubles.…

Read full bio

Written by

Jean is recognized as one of the most professional writers in EaseUS. She has kept improving her writing skills over the past 10 years and helped millions of her readers solve their tech problems on PC, Mac, and iOS devices. …

Read full bio