The general steps to install Windows OS on a USB flash drive are like this:
First, create a bootable USB flash drive.
Second, download the Windows image on the bootable USB drive.
Third, go into the BIOS settings, set the USB as the boot priority and choose to boot from USB.
But here comes the problem, you took the right steps and enter into the BIOS environment with success, only see that the bootable USB drive not showing up there! Why doesn't BIOS recognize or detect the bootable USB flash drive then?
Why Doesn't the Bootable USB Drive Show up in the Bios
Here we have many thinkings on solving a bootable USB not working problem, which appears to be missing somewhere. You may perhaps have attempted to reconnect the USB installation media for several times, but why the computer still doesn't recognize it? Answers are now given.
1. USB Connection Issues Resulting from Loose or Broken USB Port
Solution - Try to connect the USB drive through every USB port that is available to use on either a desktop or laptop. If necessary, find another working computer and repeat until completely exclude the factor of a not working port.
2. Incorrect BIOS Settings
Solution - You must configure the boot order sequence in BIOS settings so that your computer can make its own decision which physical device it should select to boot from. So, to make BIOS correctly detect your USB drive and pick it to boot the computer, make sure that you choose the USB as the boot sequence priority.
To make bootable USB show up in BIOS, try to specify the boot order:
Depending on the BIOS manufacturer, press and hold ESC, F1, F2, F8 or F10 during the initial startup screen, a menu shall appear.
Choose to enter the BIOS setup and select the BOOT tab. System devices appear in order of priority.
To give a USB device boot sequence priority over the hard drive, try to move the hard drive device to the top of the boot sequence list, expand the hard drive device to display all hard drives and move the USB device to the top of the list of hard drives.
Save and exit the BIOS setup utility.

Besides the fixed BIOS settings, some experienced users suggest disable Safe boot and change the Boot Mode to "CSM" or "Legacy" instead of "UEFI". So, you could possibly take this piece of advice!
3. Making Bootable USB Flash Drive Is Unsuccessful
Solution - Have you checked whether your USB is really bootable or not? Some people didn't see a USB drive appearing in the BIOS boot menu only because the "bootable" USB drive they've created is not bootable at all! Especially by means of using cmd to create bootable USB drive without any software.
To deal with bootable USB drive not showing up or recognized the issue in BIOS boot menu in Windows 10/8.1/8/7, a piece of USB bootable software could help. For example, EaseUS Todo Backup offers a feature to install Windows OS on a USB drive that ensures 100% bootable on any other computer. That is to say, using this system backup software to create a new bootable USB drive from scratch, you can easily repair bootable USB flash drive that is not showing up, detected, read or recognized!
Preparations:
Make sure that your USB or flash drive has enough free space - larger than the system disk.
Connect the USB to your computer.
Then, you can start to copy or clone your Windows 10/8/7.
1. Launch EaseUS Todo Backup and click System Clone. The current system partition and boot partition will be automatically selected.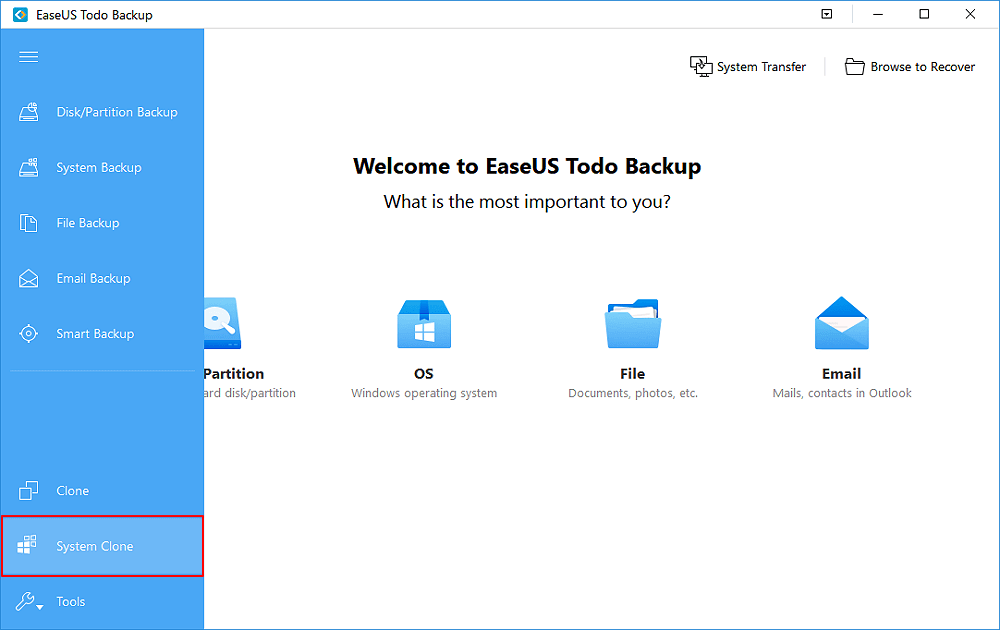 2. Choose the target drive - the USB flash drive as the destination disk to clone Windows 10/8/7. Click on Advanced options and then Create a Portable Windows USB drive.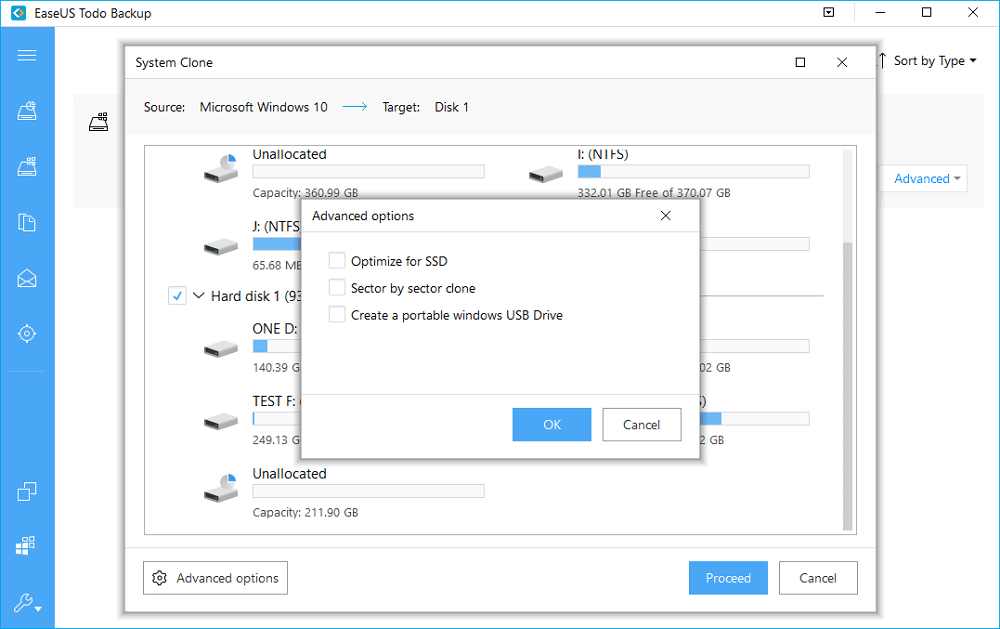 3. Click Proceed to start to cloning Windows 10/8/7 to your USB.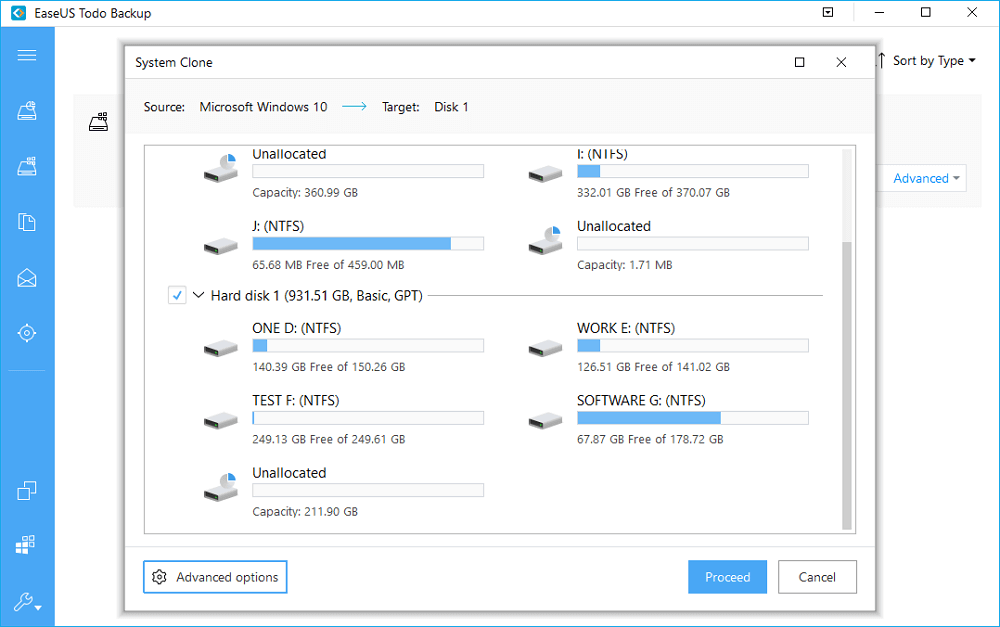 100% of people found this article helpful.
Frequently Asked Questions
Why choose EaseUS Todo Backup?

"The easiest way to protect your data and system files." —techradar

"EaseUS Todo Backup Free is one of the most popular free data backup applications available. This software offers a myriad of features and is extremely user-friendly. It provides a full system backup, meaning you can back up your entire operating system." —TopTenReviews

"EaseUS ToDo Backup Home is a great backup program, well suited to the home and SMB space." —PCWorld
What is the difference between Clone and Backup? In what cases should I use Clone?

Clone will copy one disk to another or one partition to another (unallocated space is also supported). Usually, this option is used to upgrade the current disk by creating an identical copy. Backup will generate a .PBD image file containing the selected files or system that can be restored from the .PBD image if needed.
What is the difference between System Backup and Disk Backup?

System Backup will auto-select the system boot related partition(s) as the backup source to make sure the system image can be restored properly. Disk/Partition Backup will allow you to manually select a whole disk or speficy a certain partition as the backup source. You will get the same backup result as System Backup if you manually select the system and boot partitions with the Disk/Partition Backup option.
As a computer newbie, what features should I use to protect my computer?

You can use System Backup to back up the system and boot partitions, use Disk/Partition backup to back up the data partition and add plans to run an automatic backup. If you use the computer frequently or have software that may cause boot failure of the computer, we would suggest you back up the computer every 1 to 2 days. For other situations, you can backup the computer once a week. In addition, you can schedule File Backup to back up the files which are changed frequently.
What kind of storage service should I use to save my backup images?

EaseUS Todo Backup can save backup images to internal disks, external disks, network drives, or free cloud(Google Drive, Dropbox, and OneDrive) and CD/DVD. It is suggested to save the images to the internal/external/network drives to save time as those kinds of disks have a better read-write speed. It is suggested NOT to save the image on the source disk, because once the disk is damaged, all the files on the disk will become unavailable and you will be unable to restore the image.
As a company network administrator, what features should I use to protect our internal computers?

It is recommended that you use the SQL Backup feature to back up your company's SQL server and Exchange Backup feature to back up the Exchange server. In addition, you can execute System Backup to back up the system and boot partitions on every computer and set a plan to execute the backup once a day or twice a week to ensure that the computer can be restored timely when it has boot issues. File Backup feature can be used to back up important user data. If there are a large quantity of computers, you can purchase EaseUS Backup Center to manage the backups on the client computers centrally.
About EaseUS Todo Backup
Be it a file, system, partition, or disk, EaseUS Todo Backup will help you back up or clone the item and provide you with multiple backup plans.