EaseUS Todo Backup is recognized as a Windows backup utility and a disk cloning tool, with both free and paid versions available. As renowned Windows backup and recovery software of 10 years of history, now it owns millions of customers from all over the world. Though there are enterprise users and advanced IT engineers in the customer group, who request sophisticated backup strategies for their business, around 67% of users are individuals and small-to-medium size companies, whose purpose of backing up data tends to be more fundamental and most of all, economical.
Lucky for you. EaseUS Todo Backup Free is a completely free backup solution that comes with a considerable amount of free yet practical features in file backup, disk/partition backup, and operating system backup.
Top 10 free features in EaseUS Todo Backup infographic:
#1. Back up 1000+ Types of Computer Files & Folders
We work with files on a computer every day. Office workers deal with documents, contracts and presentations quite often, while designers make drawings a lot. If a critical and irreplaceable file that is of great importance has been suddenly lost or inaccessible, what would you do to recover it? Though data recovery software is available nowadays, it's not the 100% guranteed solution to protect data from permanent loss. You need file backup recovery software to monitor, sync and make a copy on a regular basis. 
EaseUS free file backup software lets you back up whatever files you concern, without limitations in file types and file sizes. Your Library, Favorites, Desktop files, My Documents and all the folders you keep in certain places can be chosen as a backup target. Most of all, it's all free to set up the backup.
#2. Back up an Entire Hard Drive or Selected Disk Partitions
Instead of a category of files and folders to back up, sometimes it's more convennient to put all the valued data, programs and files onto a single hard drive or partition to backup at one time. There is an opiton of Disk/partition Backup in EaseUS Todo Backup Free, and users can take a backup of an HDD, SSD, a USB drive, SD card or flash drive with ease.
#3. Create a Free System Backup Image
Nothing is going to be a problem unless your operating system crashes or shuts down unexpectedly. Our average computer users are not able to clean install or reinstall an operating system by themselves. And, it's usually costly and troublesome to take a heavy machine to a maintenance center for repair. Why not back up your system with EaseUS Todo Backup Free? It's all about a matter of restoring a system backup image to a previous working state.
Follow to see how to create Windows 10 backup image.
#4. Automate a Backup Task on Schedule
Beging a free backup method is not worth mentioning, but a free and automatic backup method is worth your notice.
While choosing files, disk, partitions or OS to back up, you can set a backup schedule so that the next backup task can take effect automatically. The free version allows schedule types including one-time backup, daily, weekly and monthly, and you can decide when to exute the backup task, like at what time in what day.
#5. Image-reserve Strategy
The image-reserve strategy is useful for managing your backup images, by deleting the older useless ones or merging several backups into one. Actually, the system reserve policy or strategy is kind of an advanced backup option in many other backup and recovery programs, but with EaseUS Todo Backup you can just enjoy the feature for free.
#6. Enable Backup Encryption
Some backups are containing sensitive data accossicated with your business, and it needs adding an extra layer of security to it. Our backup software lets you create a full backup of what you matter, at the same time, offers an encryption feature. 
While you create a certain backup, go to the Advanced option and locate the Encryption tab. There you can set a password and confirm once to password protect your current backup file. Now the backup file you created can only be accessed after granting your permission with a strong password.
#7. One-click Recovery
Any disaster occurs when you need to perform a recovery to rescue files or operating system, it's time to perform the recovery with EaseUS Todo Backup. One of the highlights to make the software a second-to-none choice of a comprehensive backup approach is that the recovery process is all about a matter of one click. Everyone can do a full backup followed by a simple recovery.
Step 1. Launch EaseUS Todo Backup, click "Browse to Recover".
Step 2. Guide to your backup destination, choose the backup file you want to recover. (The backup file created by EaseUS Todo Backup is a pbd file.)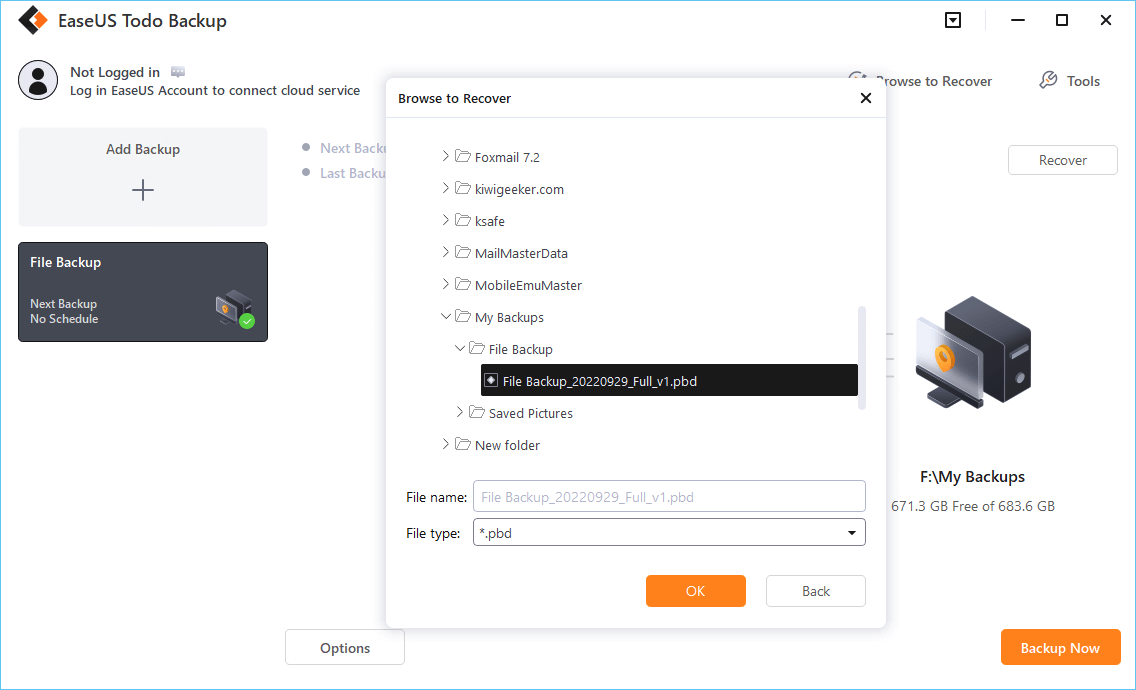 Step 3. Choose the recovery location. You can recover data to a specific location or to original location.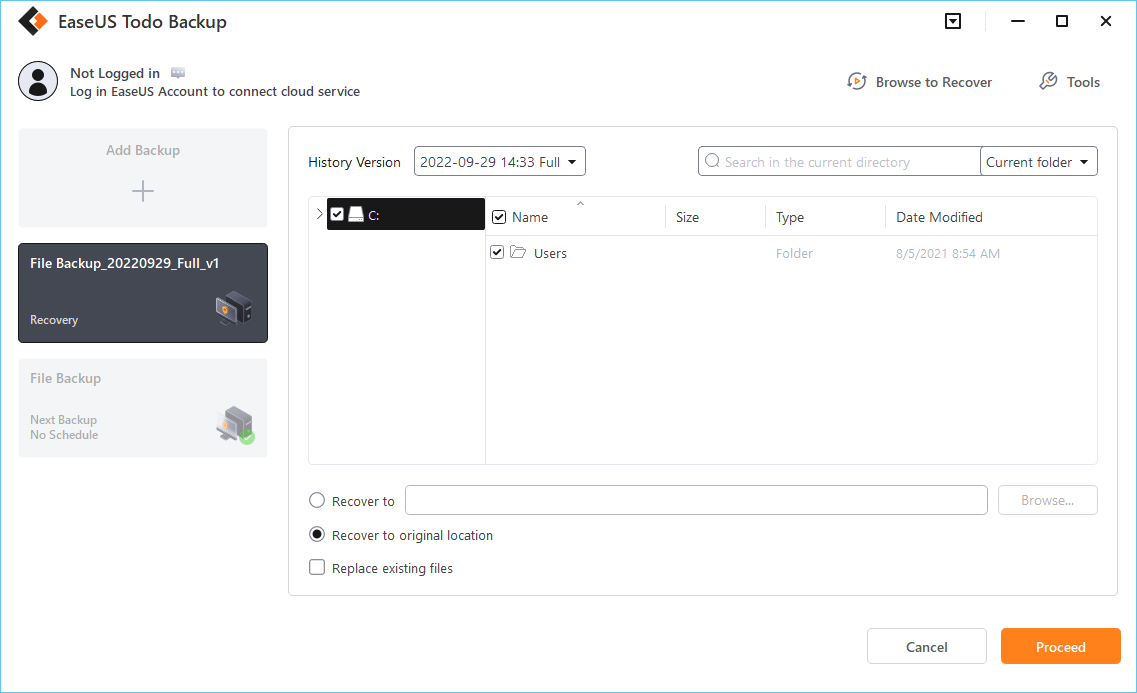 Step 4. Click "Proceed" and the recovery would start.
#8. Save Backup to Local Disk and Cloud Drive
No matter what software you choose in the final to back up important data, the same golden rule is to keep at least two backup copies in different locations.
So far the most two popular backup locations are either a local/external physical drive or a cloud drive. EaseUS Todo Backup facilitates the whole process of saving several backup copies in both local disk and cloud drives like Google Drive, Dropbox and OneDrive. 
* EaseUS cloud is also available in the software, but it's only accessible for commercial users.
#9. Create Emergency Disk
What's an emergency disk of EaseUS Todo Backup? It's used to recover a backup without booting into Windows OS, usually when something goes wrong with your operating system and your computer won't be able to boot normally.
Windows system corruption, crash and freezing issue is quite common, so it's significant to make a regular backup at hand. With the EaseUS Todo Backup bootable version, you can do a risk-free and worry-free backup recovery even when your system is dead and unbootable. This is quite a useful and powerful free feature you can find in a free program.
#10. Full, Differential, and Incremental Backup
One of the big trouble many customers meet after a long time using the backup software is that their backup task becomes more and more time-consuming, and the backup file size is growing larger and larger.
This kind of trouble can be eliminated by using free EaseUS Todo Backup because it provides customers with a backup method ranging from a full, differential and incremental backup.
Full backup: It takes the longest time to finish the backup and the backup size is the largest.
Differential backup: It starts with a full backup and subsequent backups only contain data that has changed. It consumes less storage than a full backup but slower recovery speed than an incremental backup.
Incremental backup: Only back up the data that has changed since the previous backup. It's a backup method to increase backup speed and decrease the storage space.
Upgrade EaseUS Todo Backup Free to Enjoy Other 10 Best of Windows Backup Features
On this page, we mainly introduce you to the top 10 free features in EaseUS Todo Backup, and all of the 10 features are practical to use for free. We hope you like it.
Nonetheless, we still kindly suggest you upgrade the free version of EaseUS Todo Backup to a pro version to explore more fantastic and useful features, which will greatly assist your life and work and improve productivity. 
Follow the video guide to learn more features in EaseUS Todo Backup, including disk clone, OS migration, USB portable creation, system transfer, Exchange/Outlook mail backup and so on.
Was this page helpful? Your supoport is truly important to us!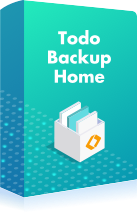 EaseUS Todo Backup
EaseUS Todo Backup is a dependable and professional data backup solution capable of backing up files, folders, drives, APP data and creating a system image. It also makes it easy to clone HDD/SSD, transfer the system to different hardware, and create bootable WinPE bootable disks.
Updated by

Larissa has rich experience in writing technical articles. After joining EaseUS, she frantically learned about data recovery, disk partitioning, data backup, and other related knowledge. Now she is able to master the relevant content proficiently and write effective step-by-step guides on computer issues.…

Read full bio

Written by

Jean is recognized as one of the most professional writers in EaseUS. She has kept improving her writing skills over the past 10 years and helped millions of her readers solve their tech problems on PC, Mac, and iOS devices. …

Read full bio