Driver backup software is first of all a software product that helps you create backups of your computer drivers of hardware and software. Second, it lets you restore these drivers if something goes wrong. That way, you can always keep your drivers up to date and safe.
There are plenty of driver backup software programs for all kinds of different devices, including printers, scanners, sound cards, video cards, and more. Many driver backup software programs also offer support for multiple languages, making them ideal for use in countries where English is not the primary language.
Most driver backup software offers a wide range of features and allows you to make backup copies of your drivers with just a few clicks. They also let you schedule driver updates and install them automatically, so you don't have to worry about doing it yourself.
We've rounded up the five best driver backup software programs for Windows 11, 10, 8.1, 7, and XP. They're all coming with free plans, developed by reliable companies and offering robust features to make driver backup and restore easy. They are:
Facts Checking: What Makes the Best Drive Backup Software for PC/Laptop
When you are wondering what is the best driver backup software, it is important to first understand what a driver is. In computing, a driver is a small piece of computer code that allows one piece of hardware to communicate with another piece of hardware. This could be something as simple as allowing your computer to print to a printer or to connect to the internet. If you've ever used GPS for driving, you can consider a driver to a computer as a GPS for your car.
Most driver backup software programs will support all the major hardware brands, including Intel, AMD, NVIDIA, and Realtek. They will also support a wide range of devices as well.
Drivers are constantly being updated as new versions of the hardware are released and as new software is developed that needs to communicate with that hardware. This means that it is important to have driver backup software so that you can create backups of your drivers and restore them if something goes wrong.
There are a few things that you should look for when you are choosing satisfactory driver backup software.
Ease of use: The best driver backup software programs are easy to use and require no technical knowledge. They should be able to create backups of your drivers with just a few clicks.
Compatibility: Windows operating system is complex for installing various different drivers, so the best driver backup software must be compatible with all the major hardware brands and a wide range of devices. Usually, a refined driver backup tool can support several millions of devices' drivers.
Automation: Automated driver backup software program should let you schedule driver updates and install them automatically, so you don't have to worry about doing it yourself.
Features: In addition to creating backups of your drivers, the best driver backup software programs offer a wide range of features. These can include the ability to create an emergency boot CD or USB drive, driver uninstall, driver restore, driver update, and more.
Pricing: The available driver backup software on the market is usually free to download and use. Even for the paid software, it usually starts at several dollars, which is relatively cheaper than comprehensive Windows backup software.
* Driver is a small part of essential elements to make a computer functional. Apart from drivers, pay attention to OS as well, which is prone to be attacked by ransomware, new Windows update installation, and system file corruption. It's critical to create a system image for Windows as well. EaseUS Todo Backup is an all-around backup utility for Windows devices.
Top 1. DriverMax - Best Choice for Audio/Video Driver Backup
Tags: free, rich-featured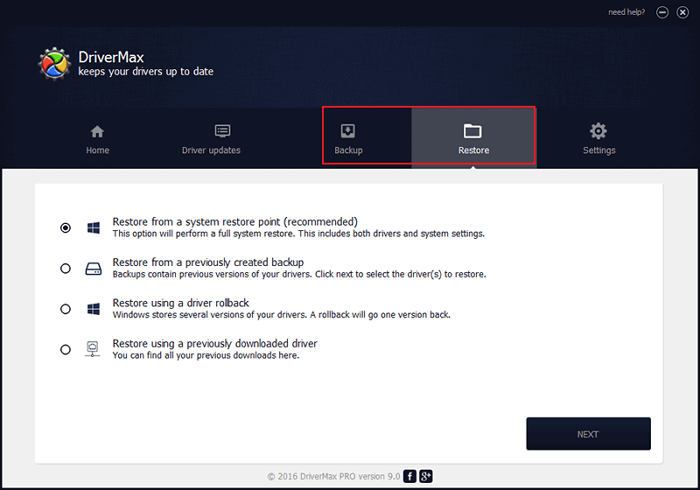 DriverMax (secured website: https://www.drivermax.com)is a driver updater that finds and downloads the latest driver updates for your computer. It offers a simple interface that makes it easy to find, download, and install drivers. DriverMax also lets you create backups of your drivers and restore them if something goes wrong.
Features:
Analyzes existing drivers and provides the latest version for over 2 million devices
Automated installs, scheduled scans, and full device driver backups
Backs up the current drivers and creates a system restore point
Allows a quick rollback of the Windows installation and drivers
Pricing:
DriverMax permits 2 updates per day for its free users, but the driver backup function is completely free to use.
Top 2. Double Driver - Best Portable Driver Backup Tool
Tags: free, portable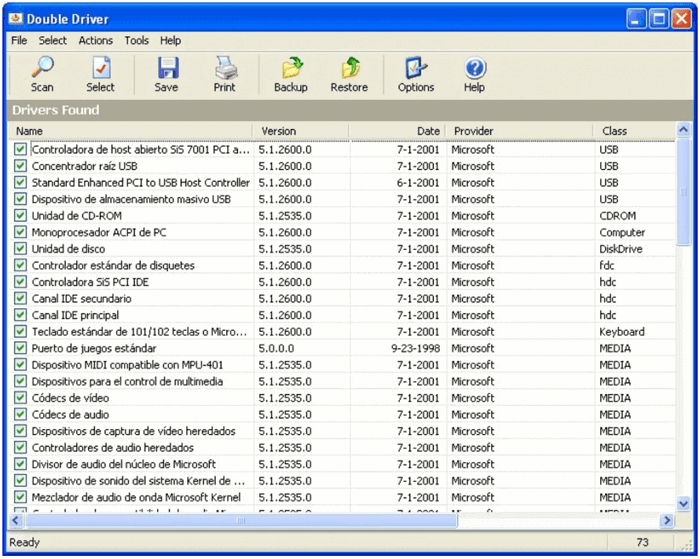 Double Driver is able to scan, select, save, print, backup and restore drivers on your computer. It's a very competitive driver backup and recovery application due to the portable feature, which means that there is nothing to install. You can take it anywhere with you on a USB flash drive and use it on any computer.
Features:
Scans driver information from offline or non-booting Windows system
Supports viewing all installed drivers on your system
Backup, restore, save and print all chosen drivers
Analyze the system and list the most important drivers with detailed information for you to make a backup
Lets you select which drivers to backup or restore
Pricing:
Double Driver is donationware, which is free to try.
Top 3. Driver Genius - Driver Expert with 20 Years of Experience
Tags: user manual available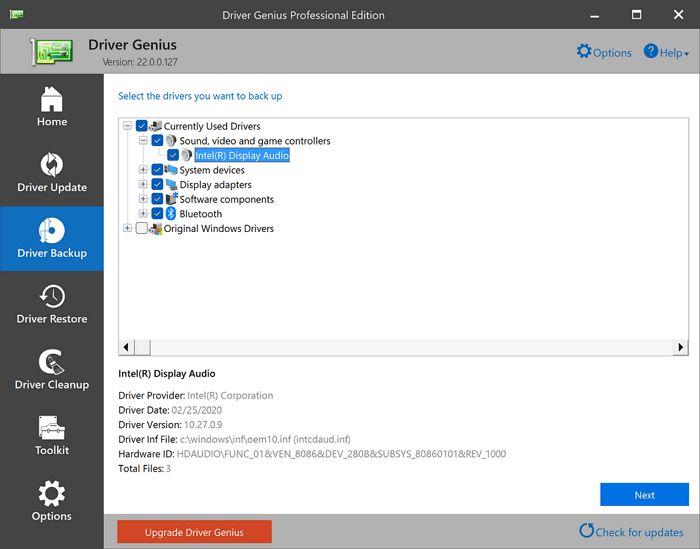 Driver Genius (secured website: https://www.driver-soft.com) detects and quickly backs up the drivers on your current system. It ensures a smooth Windows reinstallation because you no longer need to install the necessary drivers. It can also find drivers for devices that are not working properly or are not recognized by Windows. Driver Genius can scan your computer to find driver problems and then fix them automatically or recommend fixes.
Features:
Automatic notifications and updates for driver changes
Backup, restore, and update drivers
Roll back driver changes
Create driver backups by driver type or device
Well-organized user interface design
Pricing:
The price for Driver Genius starts at $29.95 for a single-user license. There is also a free trial available with limited driver features.
Top 4. DriverBackup! - Open Source Free Driver Backup Software
Tags: free, open source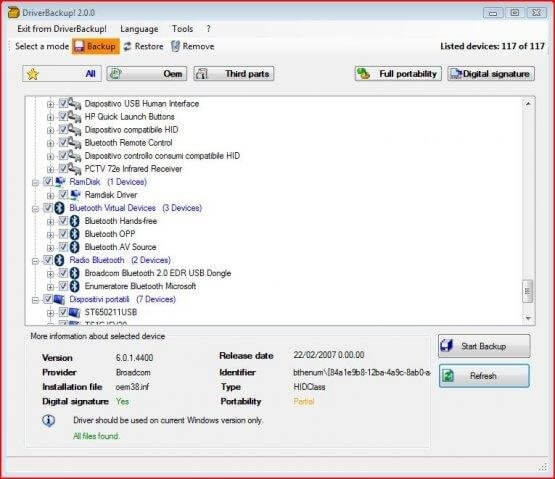 DriverBackup! is an Open Source driver backup utility that creates backups of your driver files in a compressed file. By simply unzipping the program to a location, you can run it out of the box without installation. It lets you choose which drivers to backup and where to save them, which makes it easier and faster to manage driver backups of different kinds. DriverBackup! also lets you restore driver backups and install them on other computers.
Features:
Choose all or specific drivers to backup
Allows to filter specific lists for OEM drivers or third-party drivers
Simple, professional, and easy to use for driver backup purposes
Integrated with command line switches (English is not available)
Pricing:
DriverBackup! is free and open-source software. There is no paid version available.
Top 5. Driver Magician - Driver Backup and Update in One Tool
Tags: built-in database to receive driver updates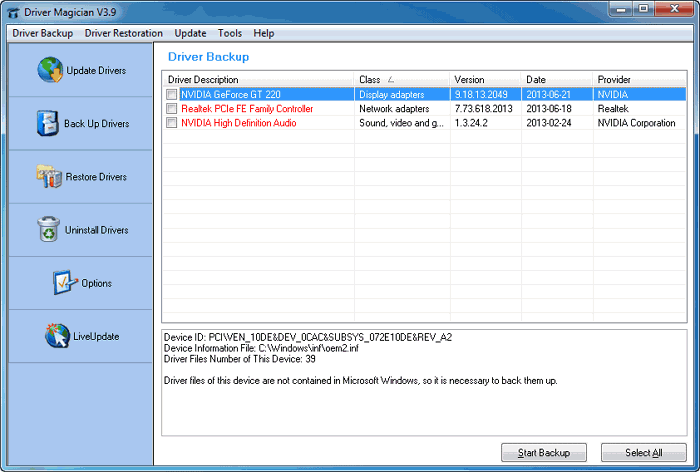 Driver Magician (secured website: http://www.drivermagician.com/index.htm) offers a professional solution for device driver backup, restoration, update, and removal in Windows operating system. It can help you to extract, backup, and restore driver files from your current system or from a driver file that you have downloaded. Driver Magician has a built-in database of more than 100,000 drivers, which are constantly updated to support the latest hardware devices.
Features:
Drivers database keeps updating
Back up My Documents and Desktop folders besides drivers
Clone all drivers to an auto-setup package (.exe) so you can restore drivers without installing Driver Magician
Pricing:
Driver Magician is for commercial use, the more units of volume licenses you purchase, the cheaper. There is a freeware version called Driver Magician Lite, in which you can enjoy the free features of identifying hardware drivers and extracting associated drivers from the hard disk for backup.
Is Driver Backup Enough?
We know that drivers play an important role in the proper functioning of a computer's software and accessories. Losing or damaging driver files can lead to big problems. Driver backup can save our day to redownload or reinstall a critical driver if we encounter driver issues like driver corrupted, driver missing, driver not compatible with Windows 10/8.1/8/7, etc.
Although driver backup is a good idea and driver backup software can really make our life easier, it's not enough to completely protect our computer. We should know that driver backup software only backs up driver files instead of the entire system or hard drive. So what should we do to keep our computers safe and sound? The answer is disk imaging or an entire system backup.
Disk Imaging: All-in-One Solution to Protect Your Computer, including Drivers
What if there is a hardware failure or other catastrophe strikes and your computer crashes? You may have to reinstall the operating system and all your programs from scratch, which would be time-consuming and could lead to data loss. Rather than backing up individual files or folders, you can create an image of your entire hard drive, including the operating system, the associated drivers, installed programs, and all your data. This is called "disk imaging," and it's an essential step in any comprehensive backup strategy.
EaseUS Todo Backup is one of the best free disk imaging software which offers disk/partition backup, system backup, and file backup for Windows 11/10/8.1/8/7/XP users to ensure zero data loss. Therefore, if you think the driver is important, you can take driver backup first and then create an image of your entire hard drive to keep everything safe.
This is a simple guide for you to backup a Windows computer with EaseUS Todo Backup.
Step 1. Launch EaseUS Todo Backup on your computer, and click Create Backup on the home screen and then hit the big question mark to select backup contents.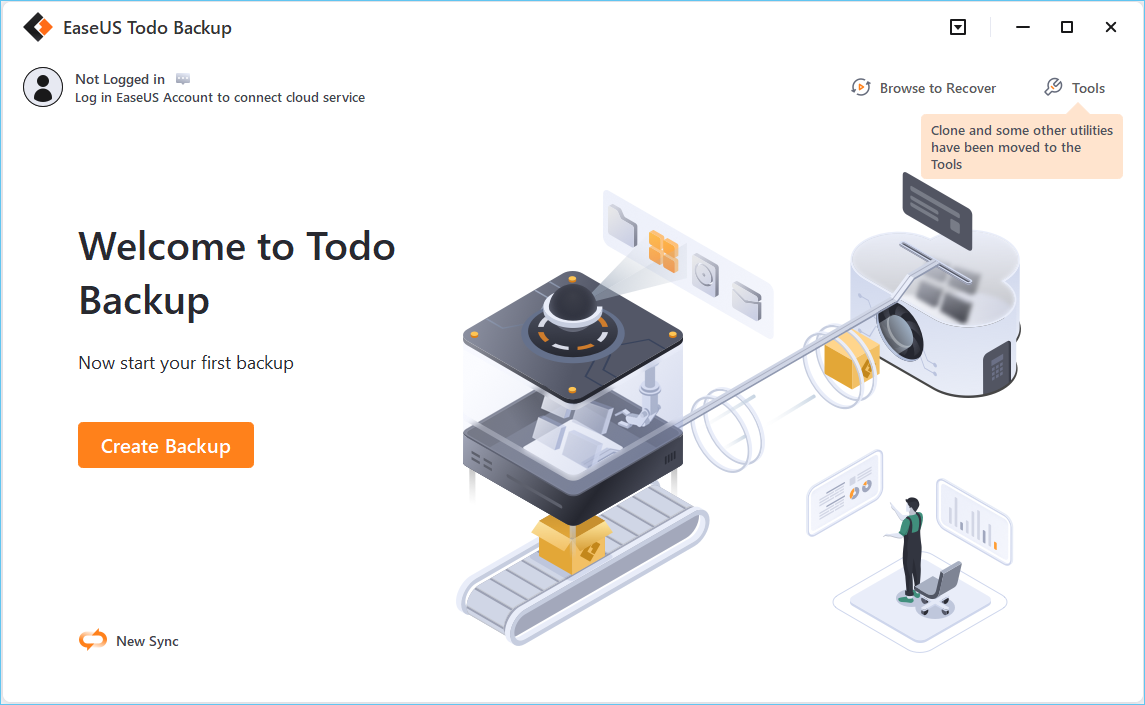 Step 2. To back up your Windows operating system, click "OS" to begin the backup task.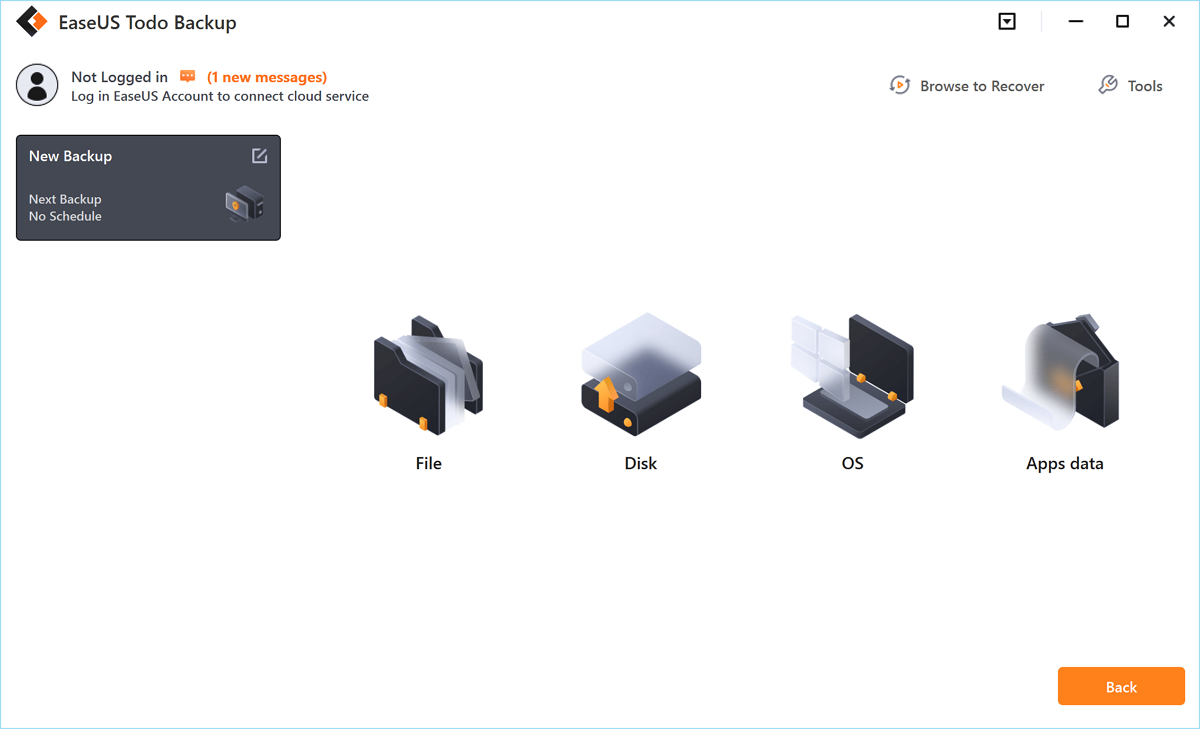 Step 3. Your Windows operating system information and all system related files and partitions will be automatically selected so you don't need to do any manual selection at this step. Next, you'll need to choose a location to save the system image backup by clicking the illustrated area.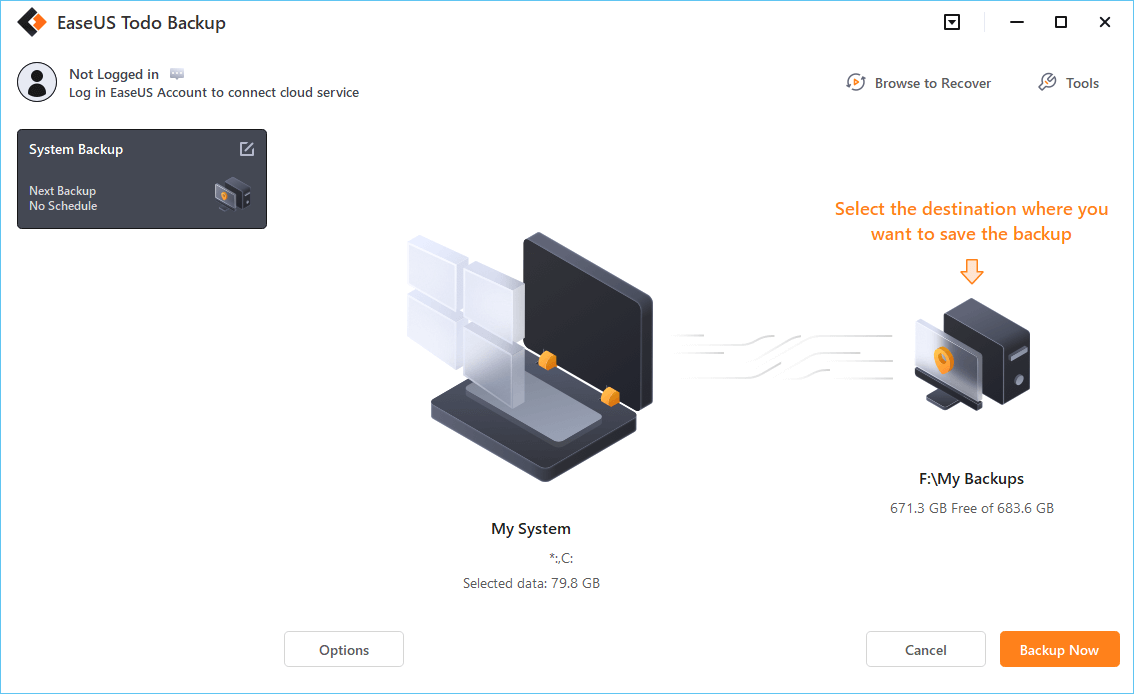 Step 4. The backup location can be another local drive on your computer, an external hard drive, network, cloud or NAS. Generally, we recommend you use an external physical drive or cloud to preserve the system backup files.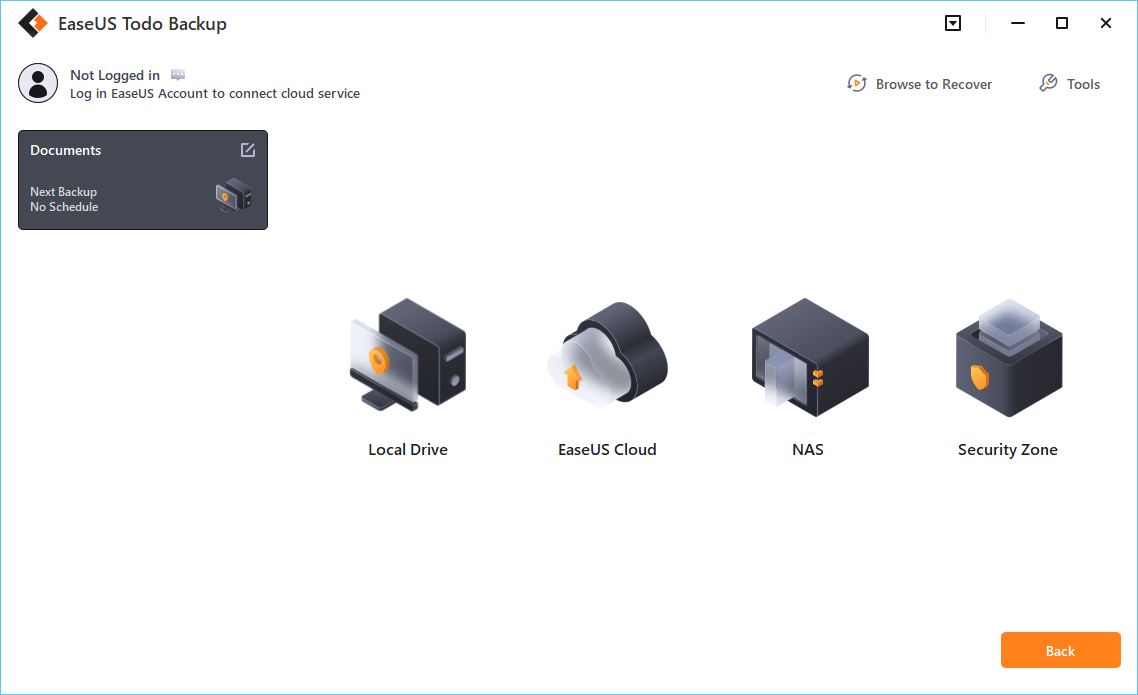 Step 5. Customiztion settings like enabling an automatic backup schedule in daily, weekly, monthly, or upon an event, and making a differential and incremental backup are available in the Options button if you're interested. Click "Backup Now", and the Windows system backup process will begin. The completed backup task will display on the left side in a card style.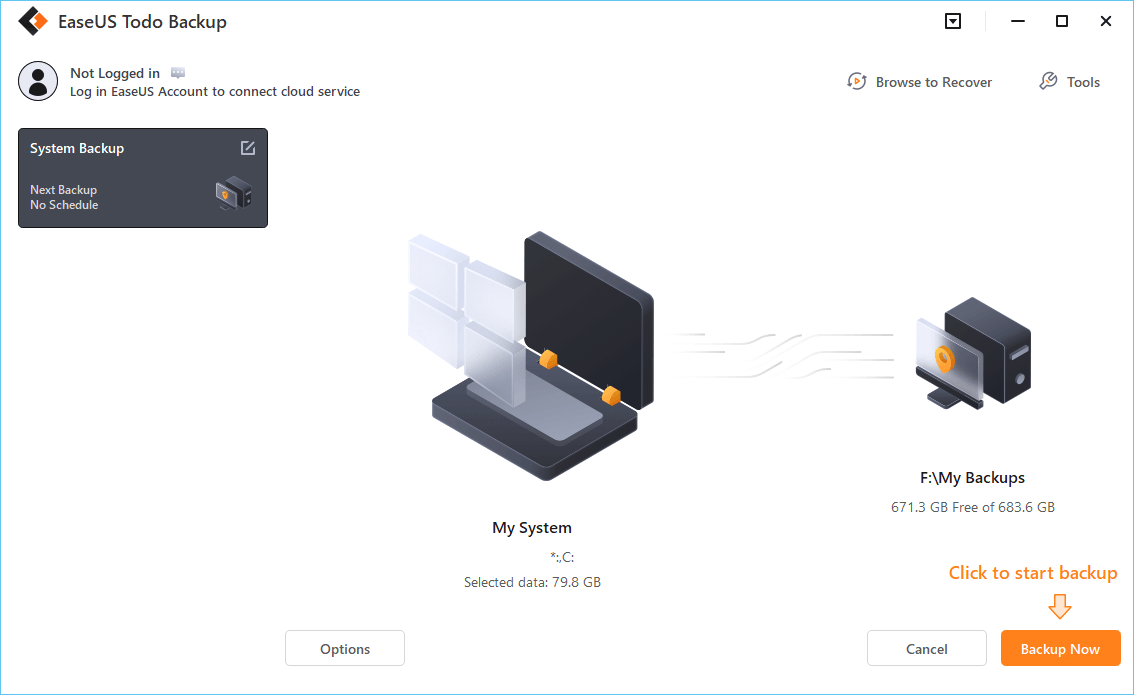 Final Thoughts
We have introduced the top 5 driver backup software for Windows 11/10/8.1/7/XP in this post. Driver backup is important and driver backup software can make driver backup an easy job. However, driver backup is not enough to protect our computers from data loss. We should take further backup strategy to keep us running in a secure computing environment.
EaseUS Todo Backup is a good choice for disk imaging with its intuitive interface and powerful features. Take it a good companion to provide driver and system backup for Windows computers.
FAQs
1. How do I backup and restore drivers for Windows 7?
You must be clear that Windows 7 doesn't include a native driver backup plan so you need to seek third-party driver backup software solutions. You can select any one of the five best driver backup software (DriverMax, Double Driver, Driver Genius, DriverBackup, and Driver Magician) to use on a Windows 7 computer.
2. What's the difference between driver backup and full system backup?
The concept of full system backup is larger than a simple driver backup. A driver is a part of computer operating system resources. So, a driver backup cannot fully protect a computer from being damaged, but a full system backup can.

Jean has been writing tech articles since she was graduated from university. She has been part of the EaseUS team for over 5 years. Her special focuses are data recovery, disk partitioning, data space optimization, data backup and Mac OS. By the way, she's an aviation fan!
Taking everything into consideration, we can say that EaseUS Todo Backup Home can offer you a little extra sense of security with a set of advanced tools. The interface provides quick adaptation, every process guiding you all the way through so you don't get stuck or further damage your system rather than keeping it safe.

 Read More

EaseUS Todo Backup Free lets you create backups of your important files or your entire computer through its streamlined interface. Just choose the backup type you'd like to get started, and let the program do the reset.

 Read More

EaseUS includes all the features I expect from backup software like versioning, incremental backups, and scheduling. For more advanced users, EaseUS allows you to install a pre-boot environment onto your hard drive so you can use it to restore files without burning a CD or putting it on an external USB drive.

 Read More

EaseUS Todo Backup
Smart backup tool for your files and entire computer in Windows 10/8/7.
Install Windows on Multiple Computers at Once? No Problem!
Learn how to install Windows 11/10/7 and special programs/software on a batch of computers. Use 10 minutes to do the 10 hours work without making a single mistake!
Get Free Solution!